These past few weeks have been a whirlwind. I recently wrote about our decision to move. While we are over the moon excited, our hearts are also torn because we love our current home so much. It just so happens that Better Homes & Gardens came over a year ago to shoot our house. They wanted to focus on the DIY projects that we had worked on over the years. And we honestly could not believe that the article came out the very month we sold our home and bought a new one. It's like it was meant to be and now we have a special keepsake.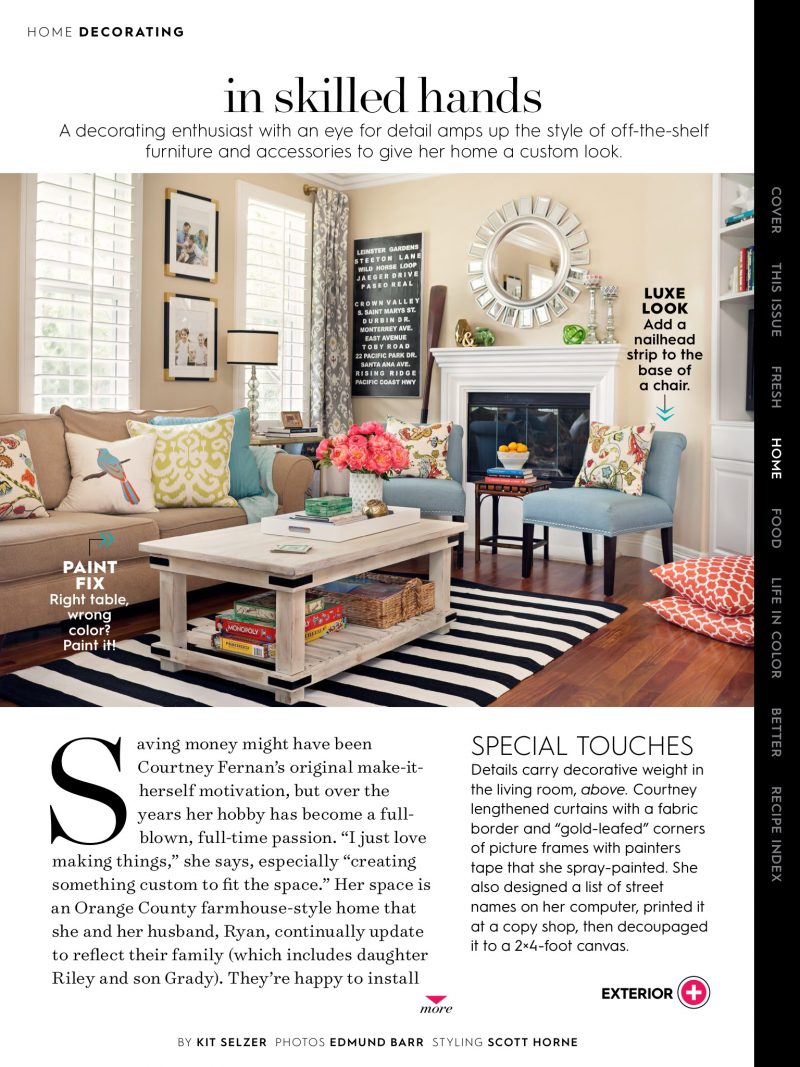 The Experience
These are a couple of pages from the layout (iPad edition) but you can see it all in the July issue which is on newsstands for another week or so. The experience was really fun. Behind the scenes it's a pretty long day of shooting to get a couple of shots. All in all it took a couple of days. I was sooooo excited when Scott Horne, the talented stylist brought these flowers in. These are the ones I so often buy for our home. While I may not buy 10,000 like you see here, I do often have these on our table.
I was excited that most of the styling was left alone. It made it feel more like our home when it actually came out in the magazine. I think the most eye-opening thing of the entire experience was seeing just how long it takes to get the lighting right for one shot. The photographer was constantly adjusting for light and viewing the photos on his computer.
EMBARRASSING STORY
One funny story to share. I am not going to lie. We pretty much killed ourselves cleaning and getting ready for this shoot. The one room I didn't touch was the laundry room. Quite frankly I had run out of steam. I just couldn't do any more picking up, scrubbing, cleaning and sorting. So I left it alone. Guess where the crew set up their laptop and had a mini office? Yep! The laundry room. Huh?! I almost died. Yep. Still had laundry baskets of dirty laundry in there. And for that I greatly apologize. At least it's something to laugh about now. But you better believe I was calling my husband from my closet saying, "You'll never believe this!"
And to those of you who saw the article and reached out with questions about my projects, I've just love that. That is exactly why we crazy bloggers blog. To share these ideas and DIY projects with all of you and have you respond in such a positive way makes it all worth it. Thank you.
Thank you to Kit Selzer and Lisa Mowry for thinking our home would be a fun feature for the magazine. It means the world to my family and me to have this as such a wonderful keepsake of the house we poured our hearts into. I hope you'll get the chance to check out the article in its entirety.