Good morning. Can you believe it's the week of Thanksgiving? While things are vastly different this year, I hope and pray you are still able to celebrate with a special dinner. We pretended it was Thanksgiving just this past weekend due to scheduling conflicts with sports. It was just the 10 of us and we were so thankful to be together. I shared my stuffing prep on stories and so many of you were interested in the recipe so I decided to dedicate the usual Monday wrap-up to all things Thanksgiving.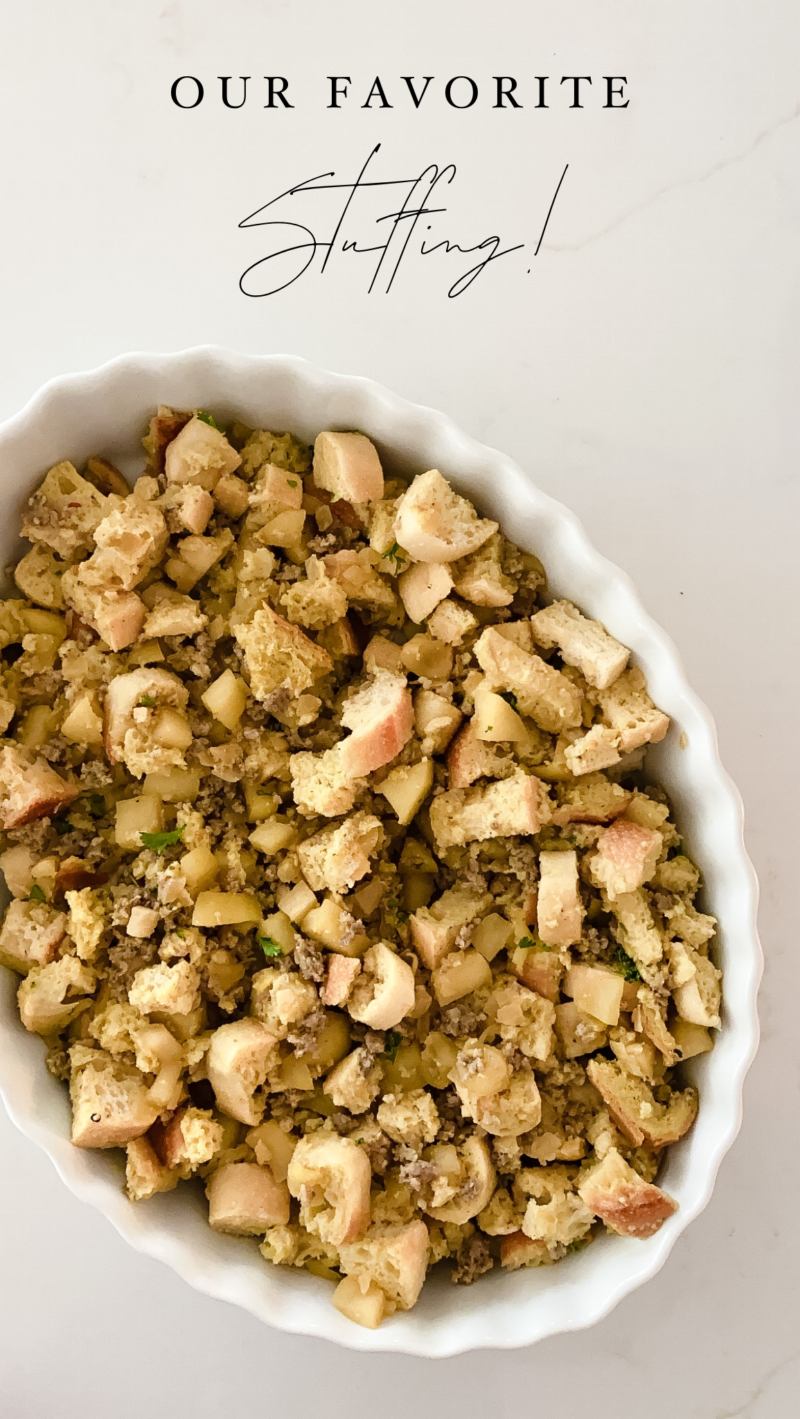 We absolutely love this recipe. I have to confess that I never liked stuffing growing up so I had always been on the hunt for one that might change my mind. This one did. It's the perfect combination of savory and sweet and it is great with leftovers. I have made this for the past 7-8 years and have taken notes of minor changes and will share them all with you.
THE DAY AHEAD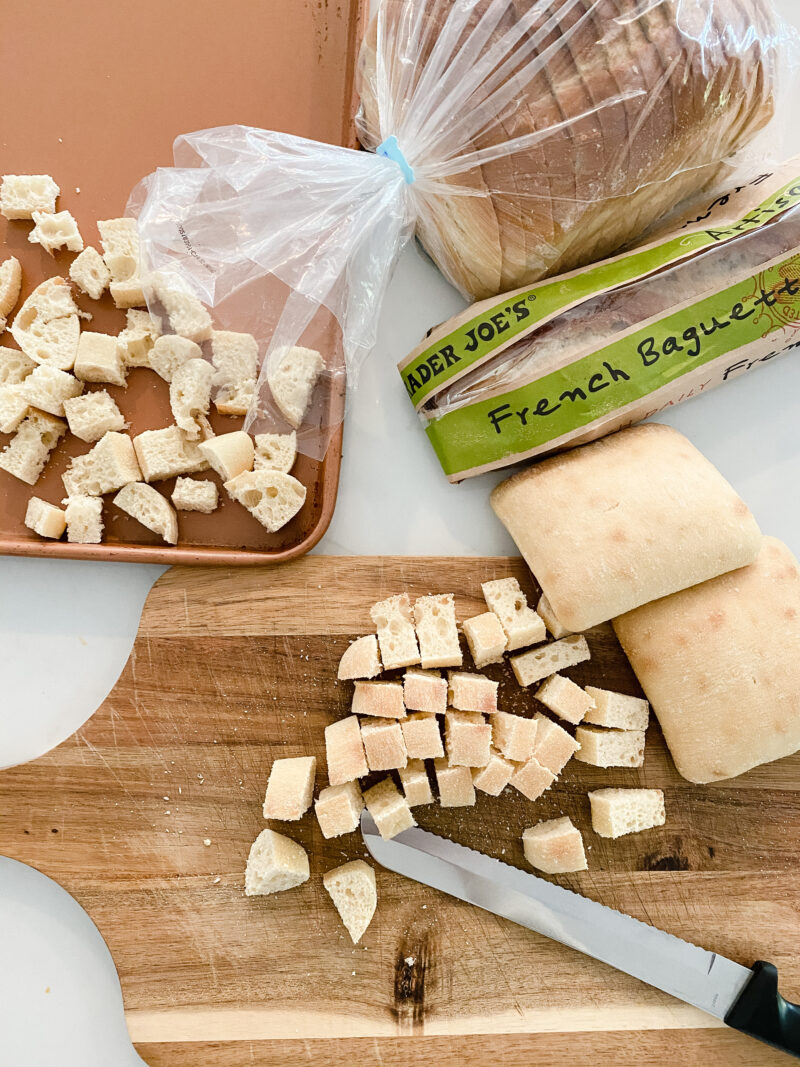 I prefer not to make the entire dish a day ahead. I do prep the bread and brown the sausage. I have experimented with different breads throughout the years and never seem to miss the cornbread it calls for. This year I used French bread and ciabatta. Just dice it into the size you prefer.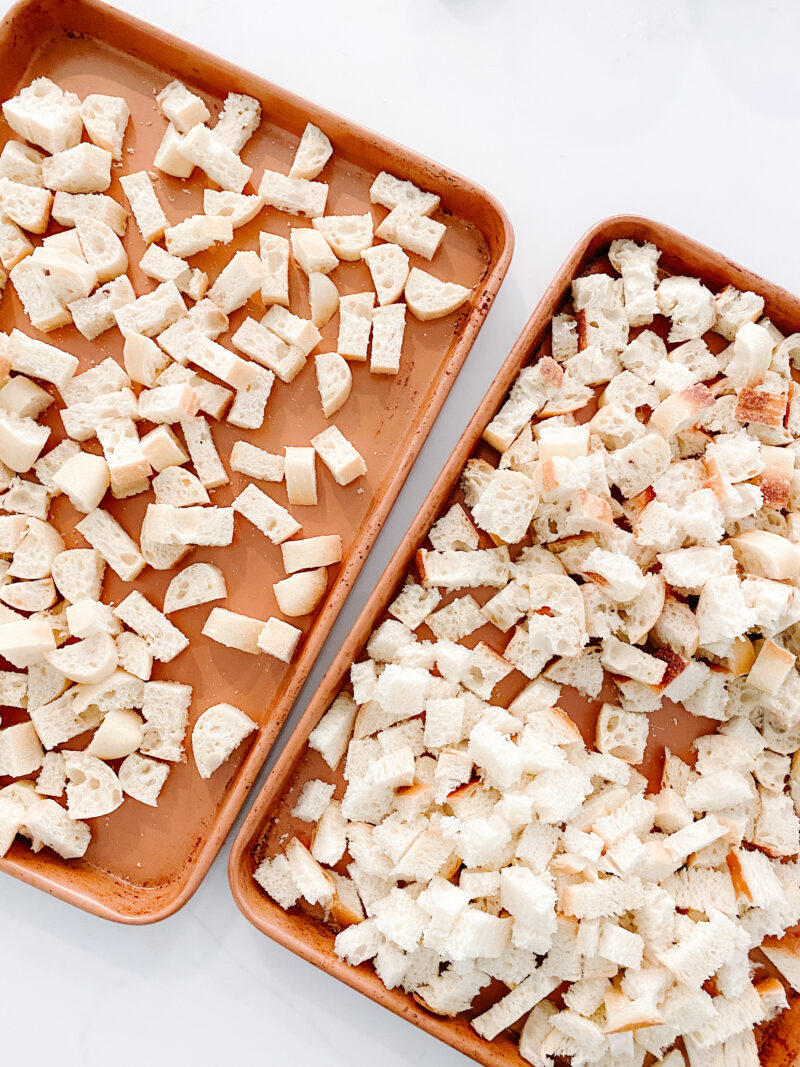 Leave the bread out on two large pans overnight to dry out. This recipe makes two casserole dishes so you can absolutely cut it in half. I always make the full recipe so we have one leftover for the week but that is your call. Back in the day we had really large gatherings and needed both. I miss those days.
PREPPING THE SAUSAGE
I like to brown the sausage ( I use Jimmy Dean hot for the extra kick) and set it on a paper towel lined dish to drain any excess grease. I toss it in the fridge until the day of Thanksgiving. Using this pan to brown is pretty dreamy.
BROWN THE APPLES AND ONIONS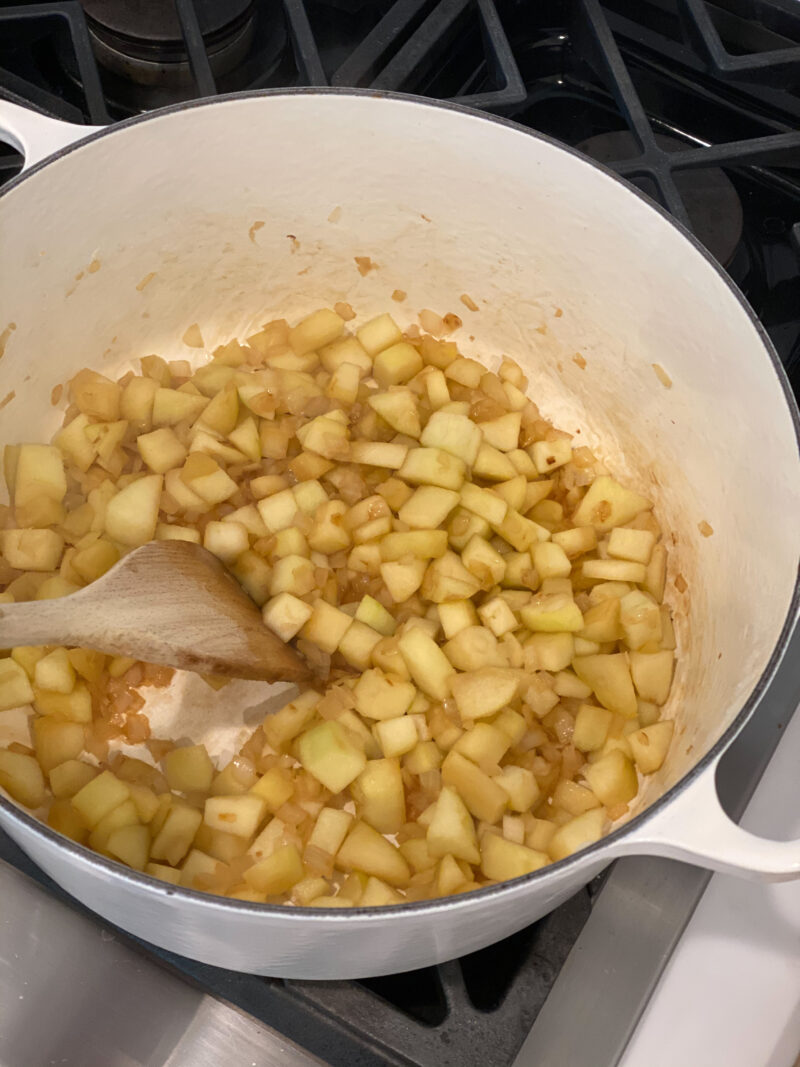 I used all five Granny Smith apples. But they definitely weren't very large and it was plenty. Peeling them and dicing them can take a bit of time so just plan for that.
MY NOTES
Prep the bread and sausage the day before. I suppose you can do the entire recipe the day before but I like to save the rest for the morning of. Makes it feel like Thanksgiving for me.
The recipe makes two casserole dishes. Cut in half if you would like.
If you are close to a Trader Joe's grab their pre-chopped onion to save time.
We have always left out the mushrooms only because our family is split on them. I feel like those are love/hate. But it's fantastic without! Plus it eliminates a step.
I usually use all but one cup of the prepared liquid.
You can taste it as soon as it's assembled to know if you want more liquid or extra seasoning. I never need to add anything. I use a soup ladle to transfer the liquid into the big pot of stuffing. Then I divided into the baking dishes.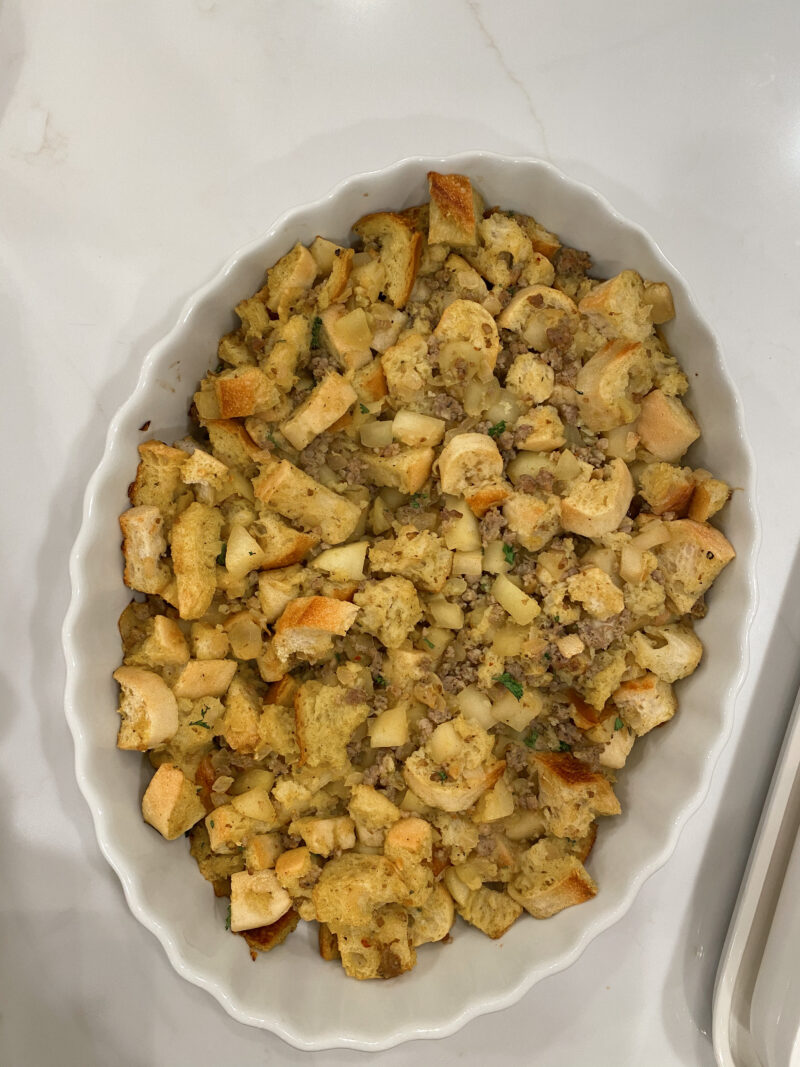 Happy to answer any of your questions. And if you are looking for a dessert, we tried this apple crisp recipe and it was delicious. Easy to make and everyone went back for seconds. I had it bake in the oven while we ate dinner. We served it with the salted caramel topping from Trader Joe's (warmed up, of course). So yummy!!!!
OUR TABLE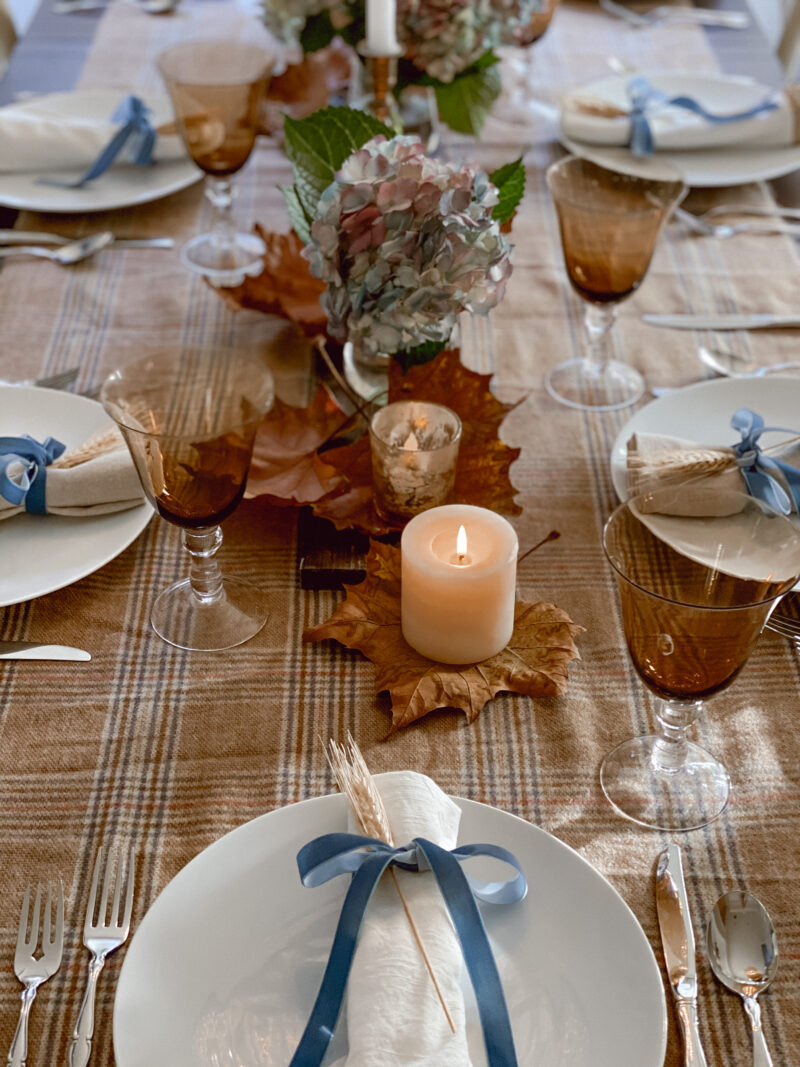 If you missed the table we set, you can check out the details here.
A FEW SNAPSHOTS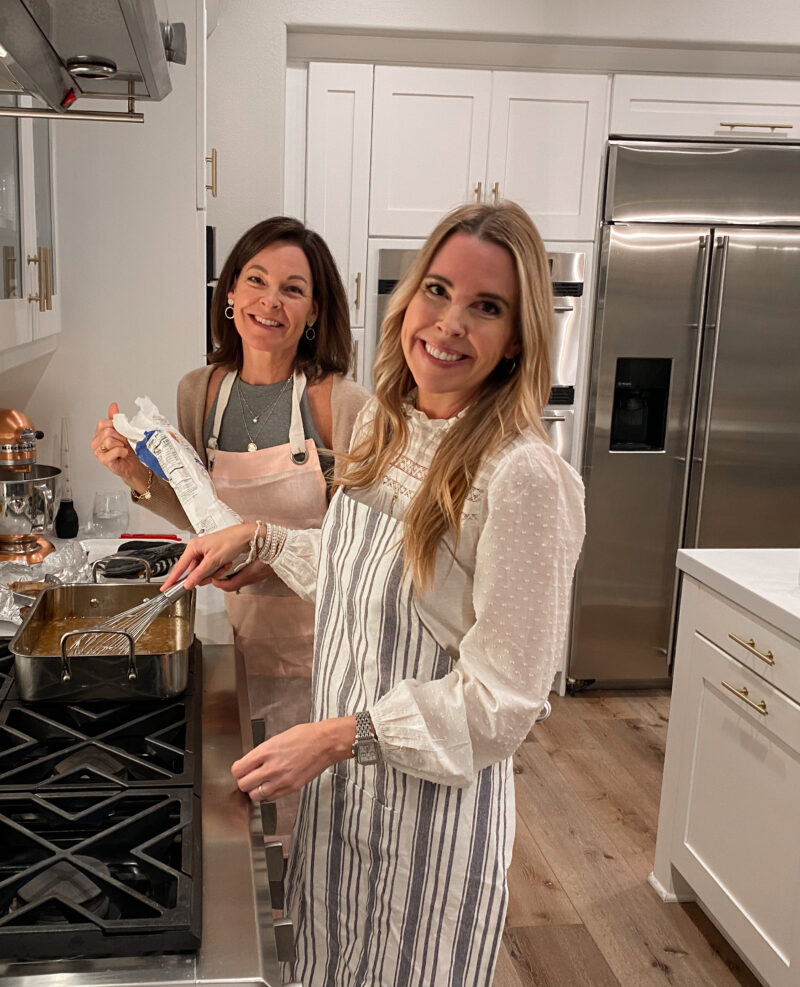 This is always my favorite part of Thanksgiving. My mom passed down the love of making homemade gravy and it's something my sister and I always do together.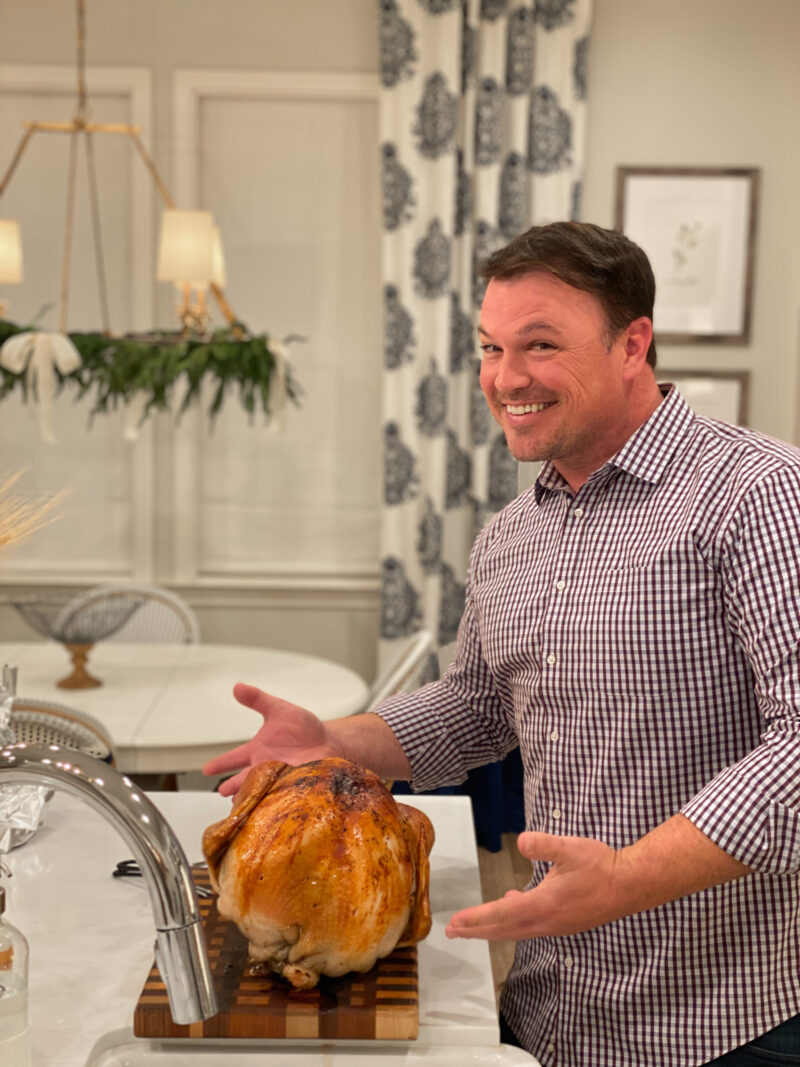 And the day wold not be complete without a photo of Ryan and his turkey. We've been snapping this photo since our very first Thanksgiving together. He rocked it. He chooses to brine the turkey each year and it's always so delicious.
I hope this is helpful if you are planning on cooking this year. So thankful for all of you and this wonderful community we've built. Have a great Monday. We are busy decking the halls and it is currently in the disaster phase. Looking forward to clearing the clutter today.