Hi, all! Super excited to share some of the behind-the-scenes photos of our renovation progress. We had time prior to moving in to make some changes. Knowing we were fortunate to have that time, we wanted to get the biggest bang for our buck so we lightened everything up and gave it a fresh look.  We chose to go with a white kitchen and pale gray walls. Here is a bit of how the process occurred. Oh, and if you missed the before photos of the downstairs, you can see them all here.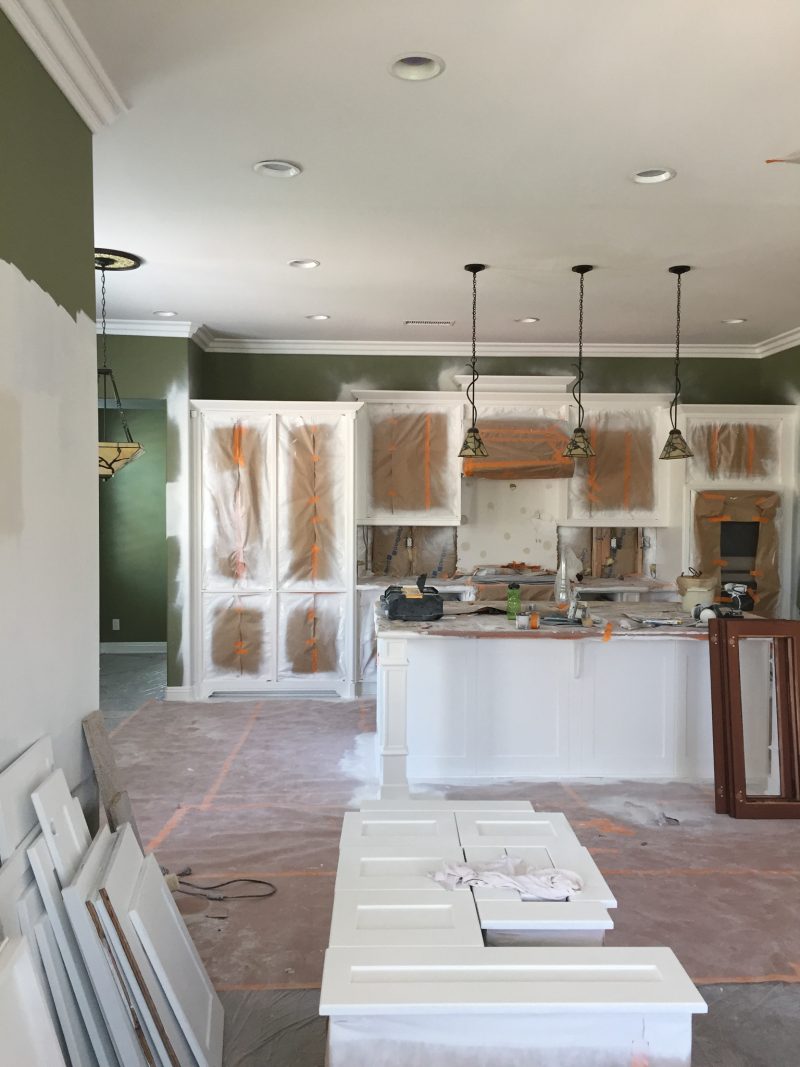 The power of paint
One of the reasons we fell in love with this house is because of the great room and the layout of this kitchen. It fits our family so well. The shaker style cabinets were beautiful to begin with and we knew having them lacquered would really make it blend well with the pretty woodwork throughout the front of the house. So off came all of the doors and the priming began. When you are painting over such a dark color, it's imperative to prime before spraying with lacquer. Otherwise you run the risk of them appearing PINK over time. Not really our style. Ha.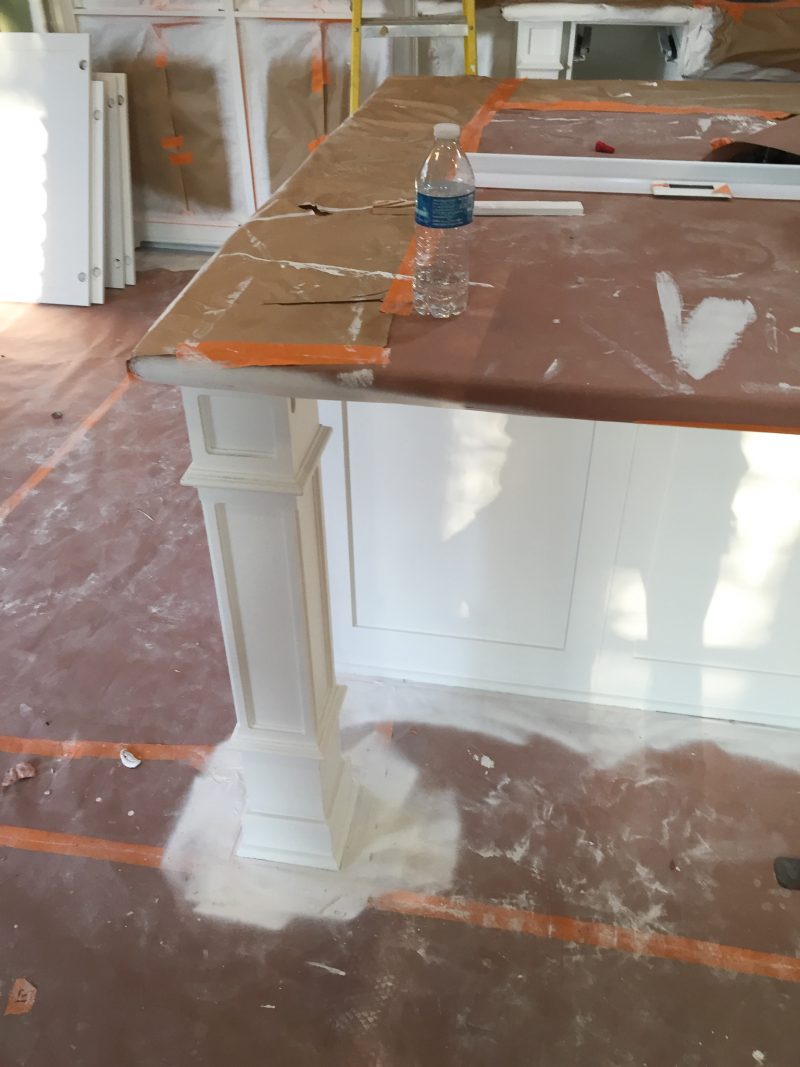 Just seeing the primer go on made me absolutely giddy. What a difference.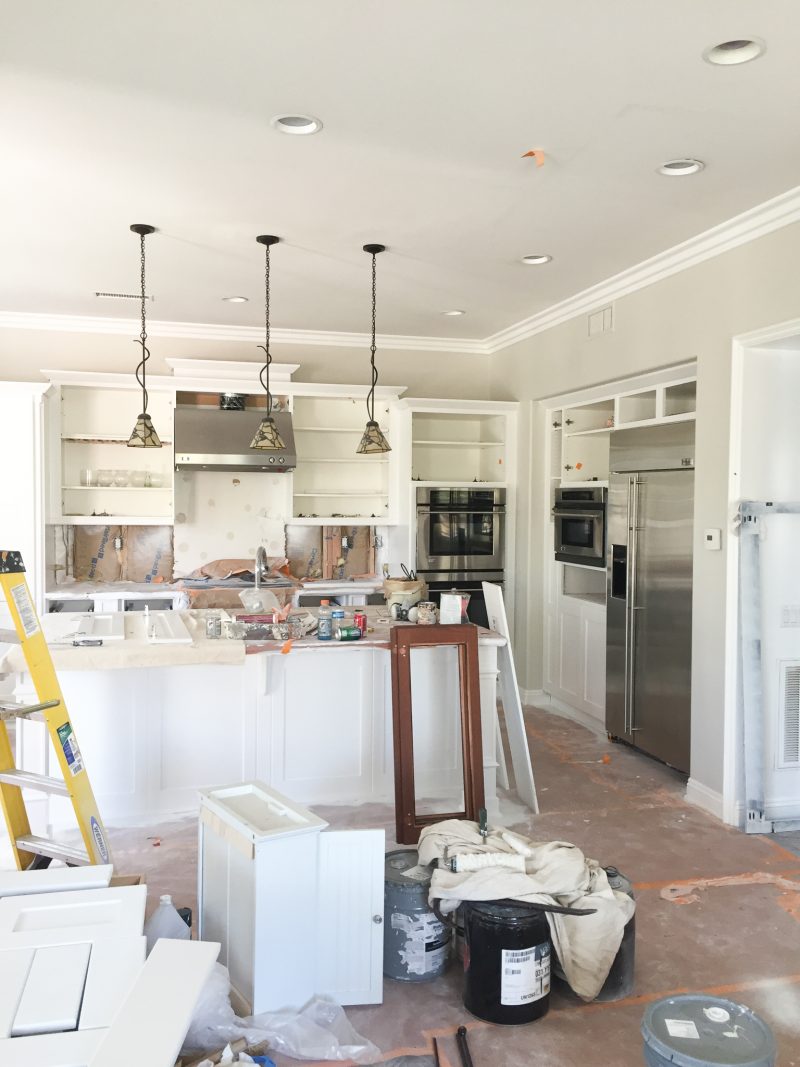 Fast forward to the cabinets being done (except for the doors going back on) and the Pale Oak (by Benjamin Moore) on the walls. It really is my all time favorite color to paint a house and I have always wanted to have it throughout my own home. I can go crazy with color through textiles, decor and furnishings but we really wanted our long-term home to be a blank canvas.
HICCUPS ALONG THE WAY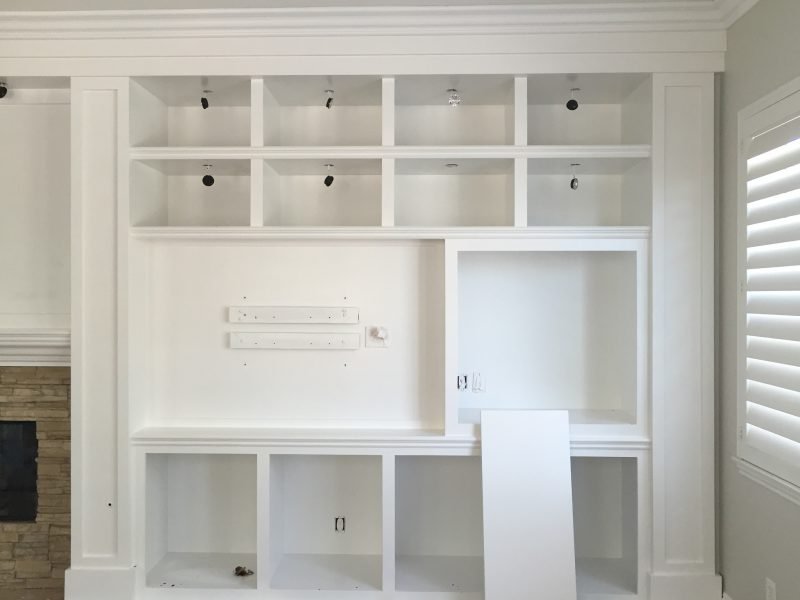 Hiccup #1: For me, the built ins really took on a dramatic change. Have you read, 'If You Give a Pig a Pancake?' Well in this case, if you paint your cabinets white, your built-in puck lights no longer match. Oops. So the hunt was on to find white covers to replace them. To no avail so we had to replace them altogether. The joy of renovation. . . the budget gets pushed here and there with unexpected twists and turns. Always try and set aside funds for things you didn't expect.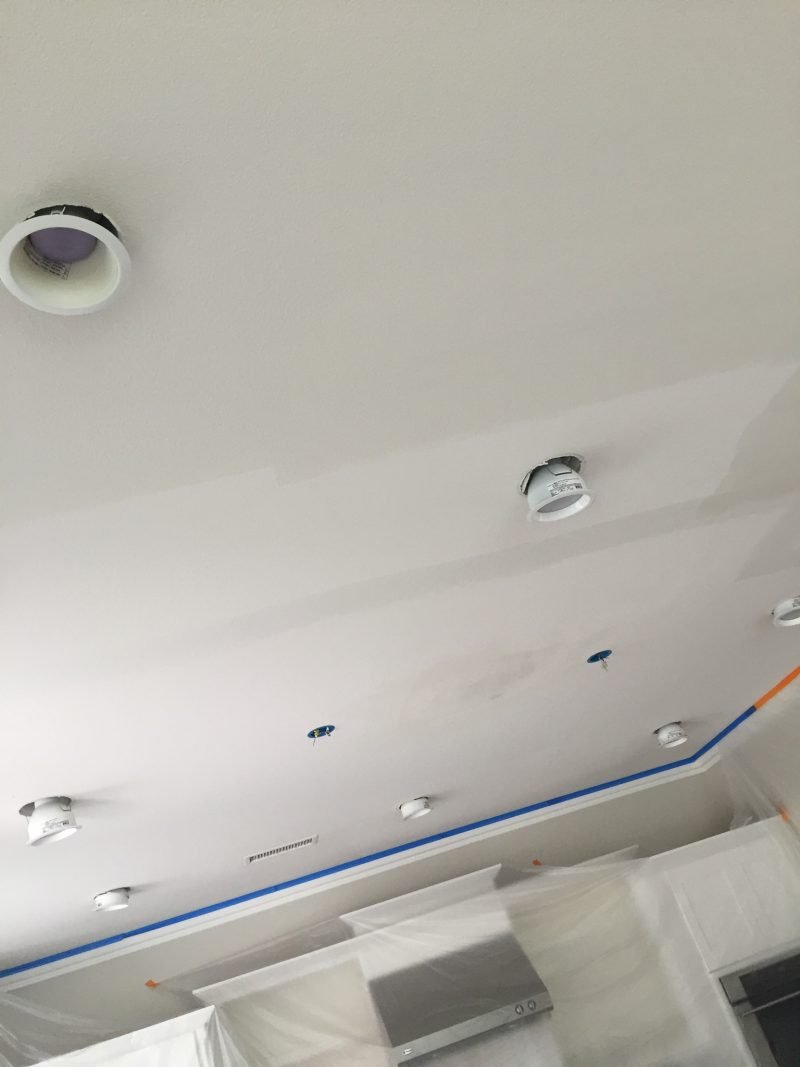 Hiccup #2: That time I decided I only wanted two pendants above the island rather than three. You know what that means, right? You have a hole to patch and paint. And if you have a hole to patch and paint you better know the ceiling color used years ago. Well we didn't. And when it was matched it was all kinds of wrong. Notice how much darker? The painters were almost done with it when they called me to come and look.  Ummmm?! I stood there staring at the ceiling knowing it wasn't ok. But they had worked hard and were so wanting me to say it was fine. After all they had purchased 5 gallons of it to paint the interiors of the closets in the house.
The people pleaser in me wanted to say, "Sure! It's great." But the reality was that it was going to be a different color than all of the other ceilings in the home and would forever bother me. They graciously worked hard to figure out a closer match and we were once again on a roll. But if you are the contractor on your own job site, you have to pay attention and you have to speak up for yourself. It's your money and it's your home. I've learned over the years to always go with your gut if you know something is off. Oh, and we ended up using the 5 gallons in the closets. It is still white just a bit warmer and who cares with it being in the closets. That saved us from having to waste the paint and buy more.
more progress
And here is a peek at Pale Oak (first coat) going on elsewhere in the house. We also had the handrail stained darker to create more of a contrast. It had faded in so many spots so it was ready for a fresh coat. It's little things like that which end up making a pretty significant difference in the end.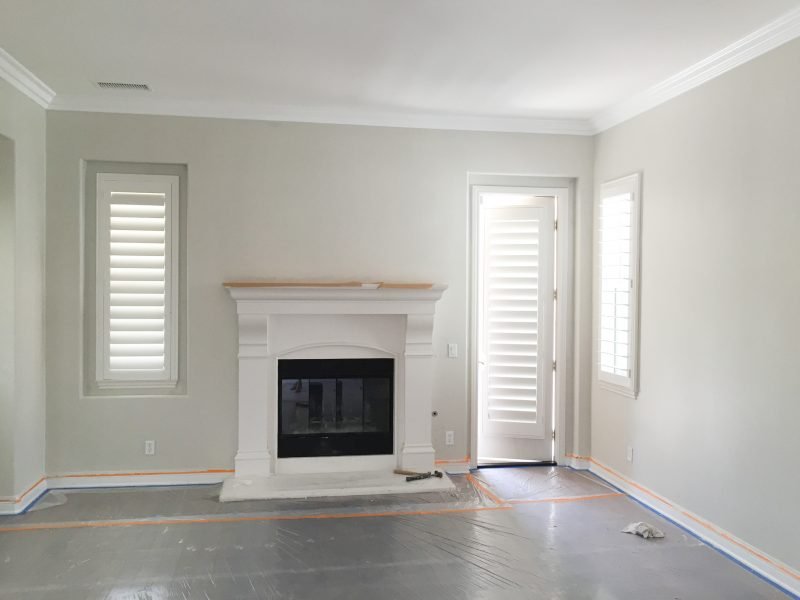 And here is the front room taking shape! The fireplace needs some fresh paint but I will do that on my own. I tried to go with the things that would be too hard for me to accomplish all on my own. Painting a fireplace has my name written all over it!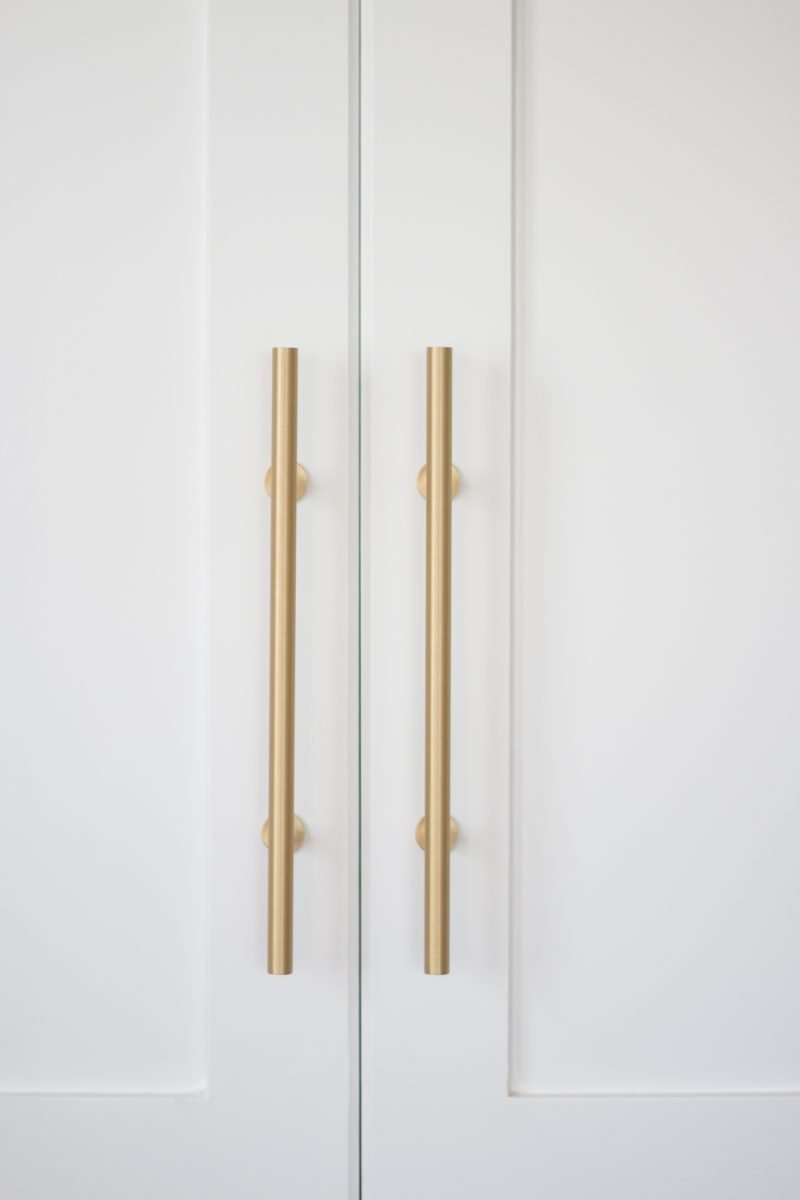 And just a little sneak peek! Can't wait to show you how it's shaping up.  Stay tuned.
Thanks for stopping in to check out our renovation progress. We are in the home stretch of moving. Unpacking is an entirely different beast. (Before photos here).