I am beyond excited to show you our downstairs powder bathroom reveal today. We have slowly been working on this space for the last four months. I took my time pulling it all together and thanks to the artwork, it's now complete. While most of our home is neutral, we aren't afraid of color. I've used a splash of blue and white throughout our downstairs and this bathroom was the perfect spot to go bold with saturated color. Here it is!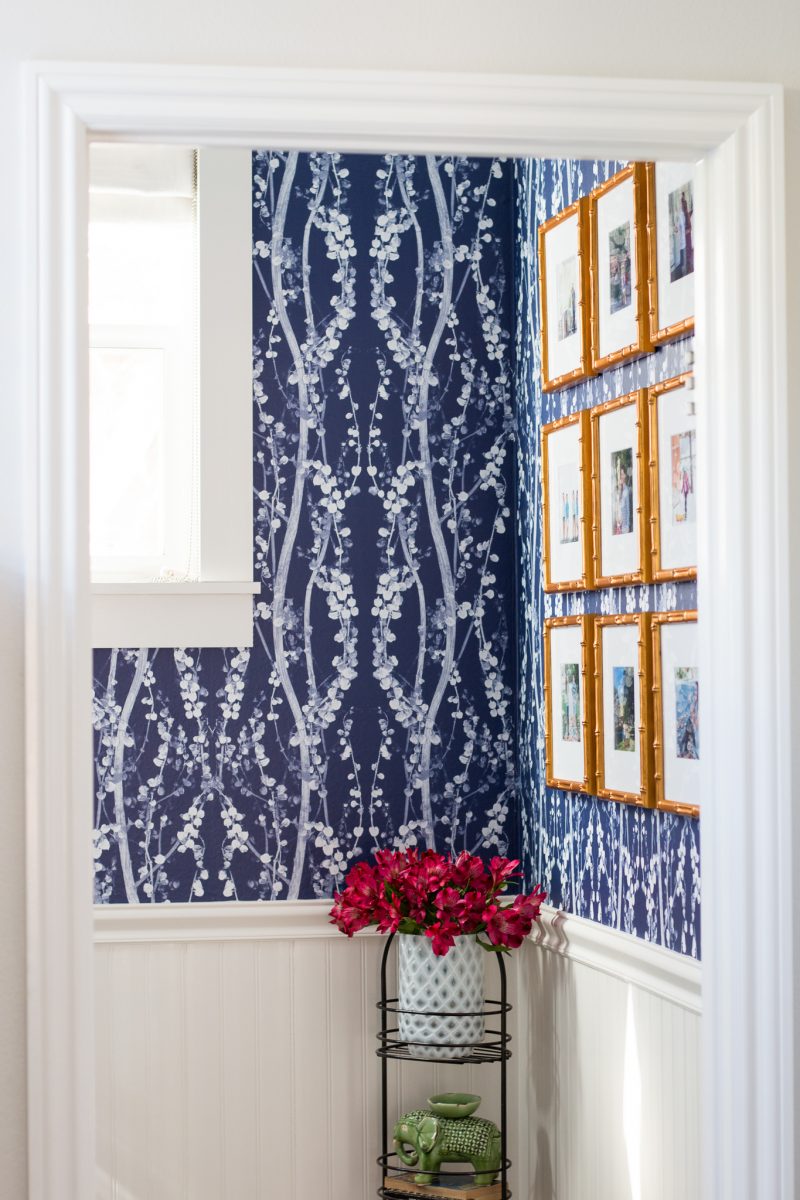 GALLERY WALL
Welcome! In all honesty, I wish you could just pop over and see it for yourself. Bathrooms are beyond difficult to shoot and it reads very warm and welcoming in person. The wall to the right is a series of nine frames thanks to Framebridge. I was able to select Instragram photos that are special to our family and they framed them beautifully. It's important to give credit where credit is due. I receive a good amount of things shipped through the mail because I purchase online. No company comes close to their packaging and ease of opening and hanging. Truly top-notch. Kudos, Framebridge. My husband and I were saying that this might be our new favorite gift to give. There's a discount code at the bottom of this post for you in case you want to give it a try.
BOLD PATTERN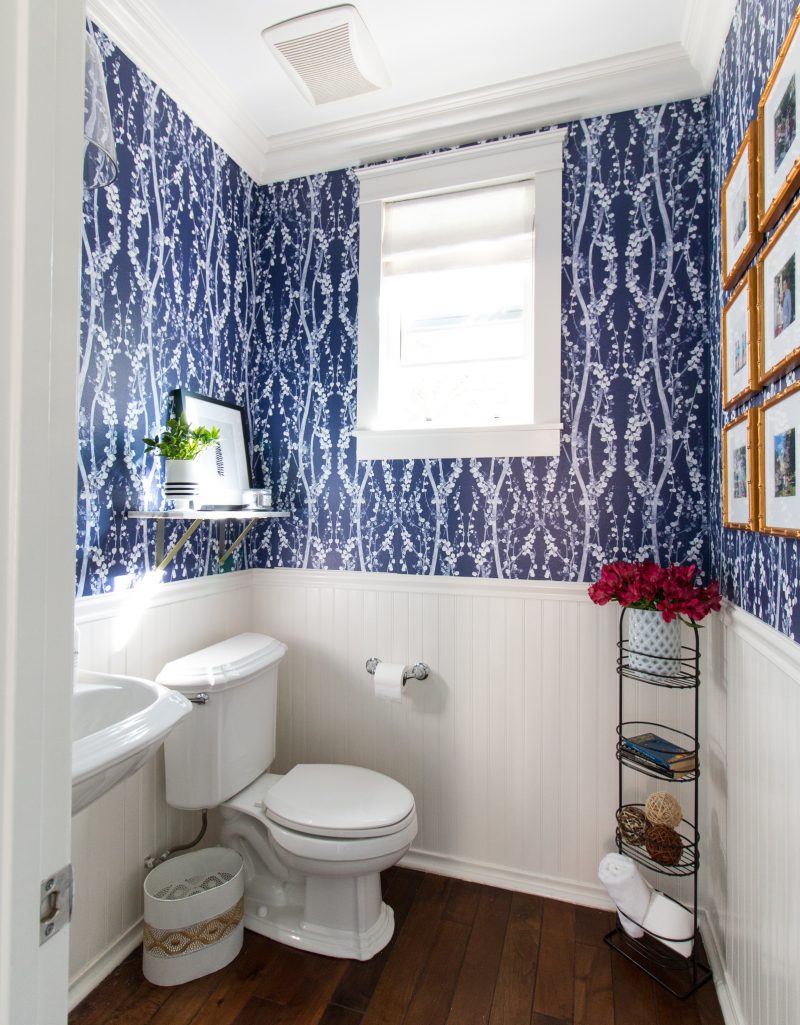 We went super bold with this temporary wallpaper by Tempaper.  Sort of obsessed with it and the amount of color and energy it provides in this little bathroom. The wallpaper is self-adhesive and can be removed. Genius! I think most people tackle focal walls so jumping into a four walled bathroom was a bit daring but I would do it again.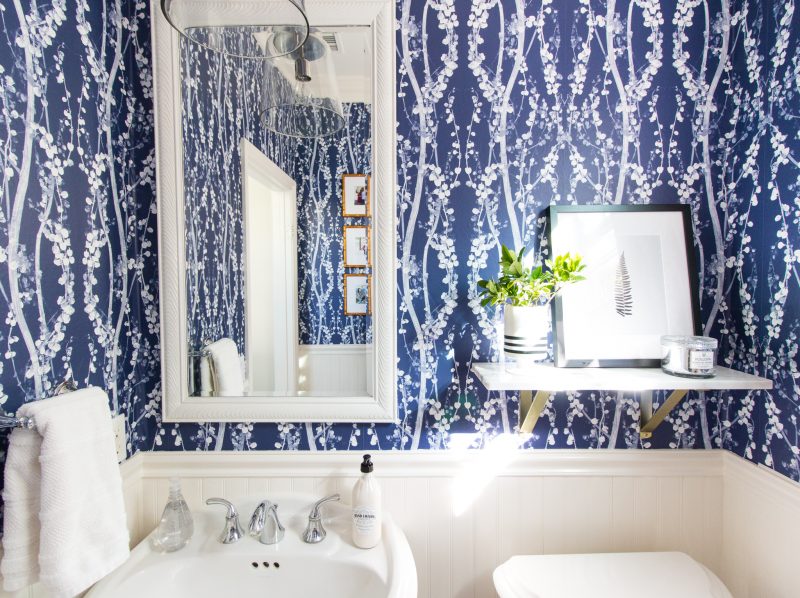 While the gallery wall adds gold to the space, I wanted the rest of the bathroom to be blue and white with a touch of black. The marble shelf adds a bit of glam and is a great space to style. These ceilings are 10′ high which can be very tricky. The mirror is quite tall and I didn't want to have to fill the entire space to the right so the visually heavy shelf adds enough weight to that side of the wall. It was difficult to capture a great shot of the pendant, but that was a lucky HomeGoods find.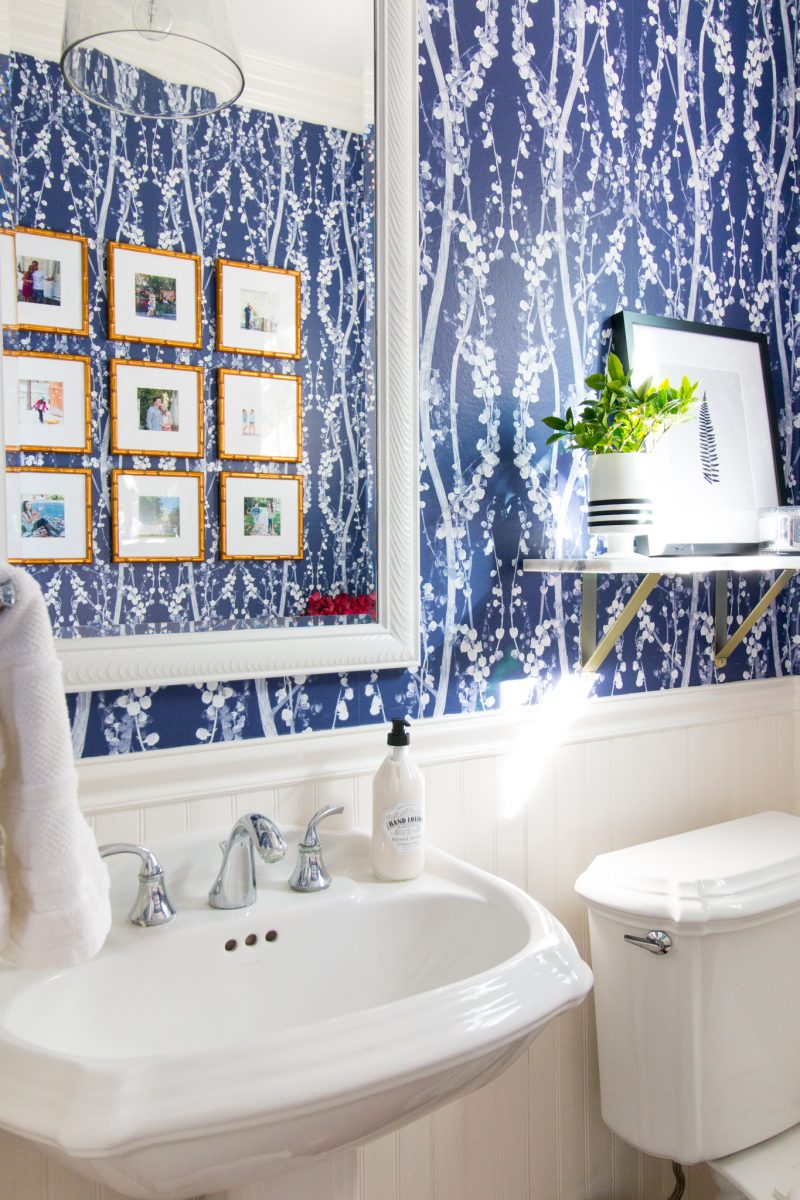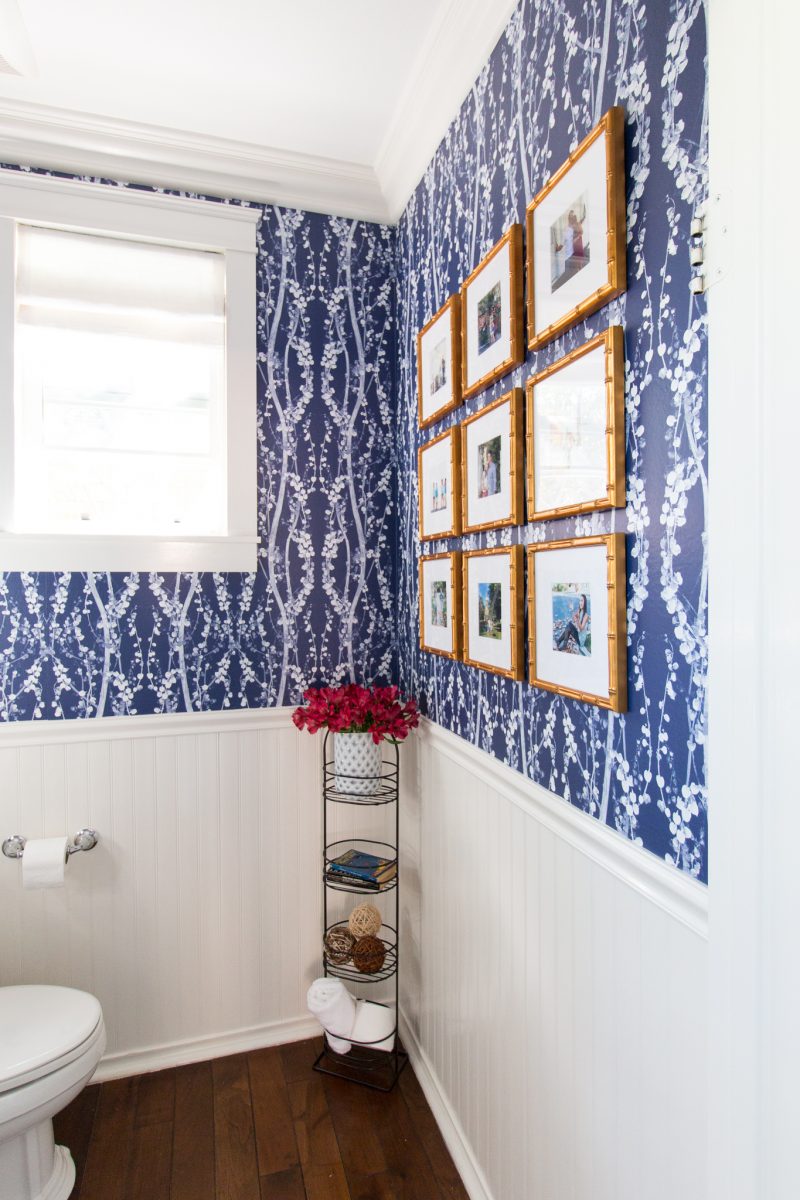 My husband cased out the window which made a huge difference. Really just so much more substantial and custom now. We chose a craftsman style casing to go with the rest of the home. The roman shade is from Barn & Willow. The same company that made the roman shades for our breakfast nook. There is obviously a lot going on with the blue wallpaper so the gallery wall breaks it up just enough.
THE DETAILS
The combination of the gold bamboo on the blue paper makes me so happy.
Not sure if you remember, but this little vase was a DIY project I did a while back. So easy and a fun way to add fresh greens cut from the yard and a little bit of black and white.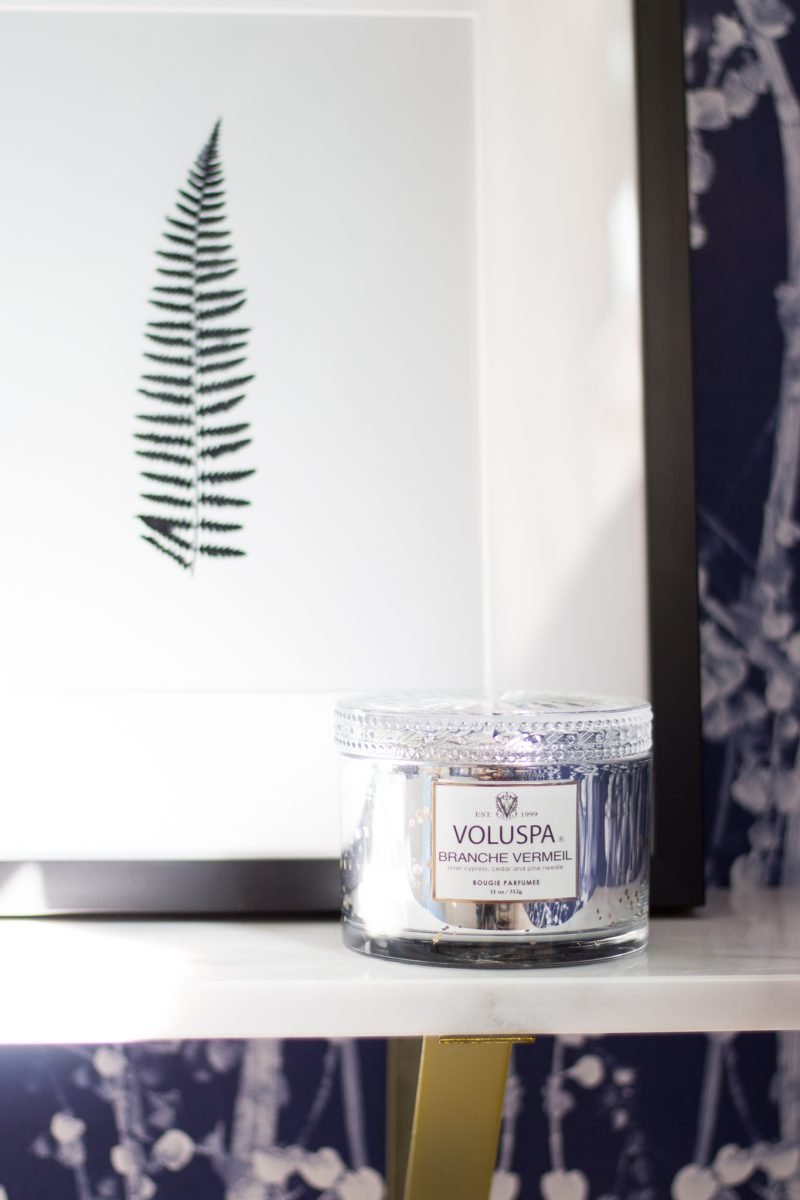 I downloaded this leaf print and then had Framebridge frame it. It turned out really well and I love it on this shelf. This candle was given to us as a house-warming gift from my sweet friend Elizabeth over at Pretty Smitten.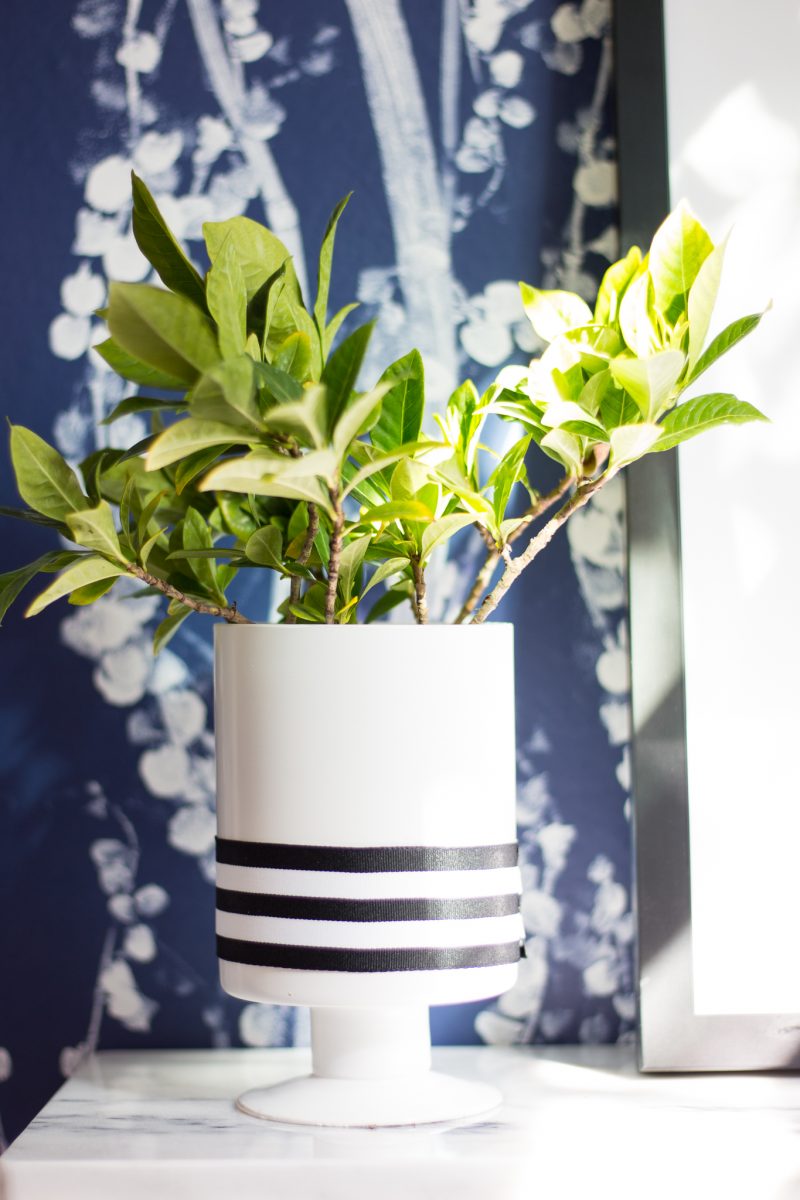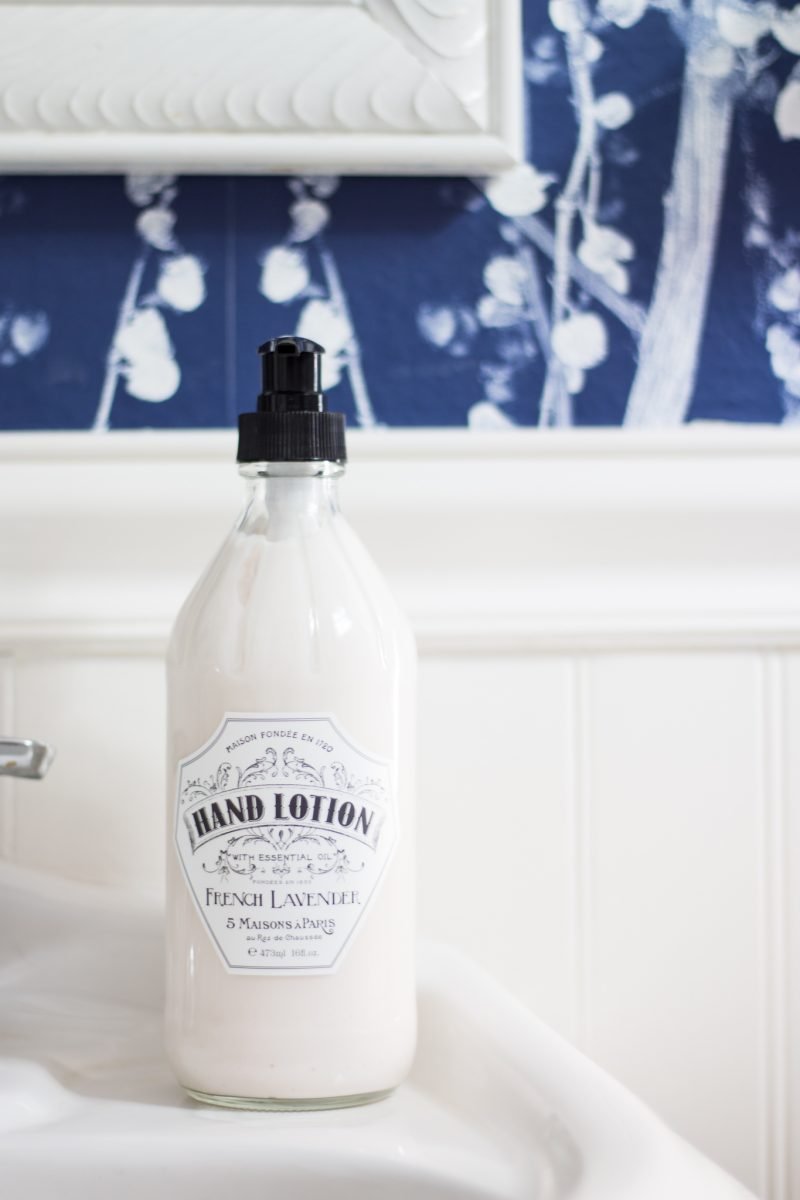 My towel bar secret for smaller spaces is using a toilet paper holder. Yep! Works like a charm and I prefer the look to the towel rings which take up more visual space. I will confess that this white towel will only come out when we entertain. I have a blue one for daily use as my kiddos are in and out of here nonstop washing their hands after playing outside. There is no hope for keeping a white hand towel white on a daily basis.
BEFORE & AFTER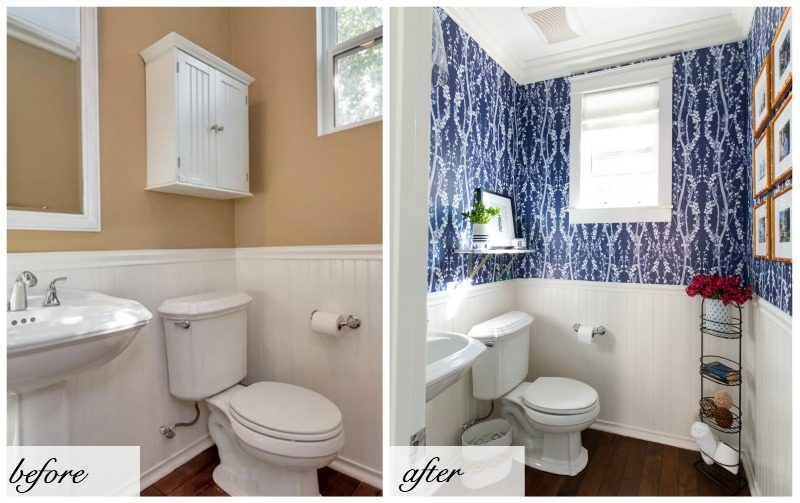 Here is a look at the before and after. We had so much that was already pretty. We really just added the color and pattern through wallpaper and artwork. Don't be afraid to step out of your comfort zone when it's such a small space.
ONE LAST LOOK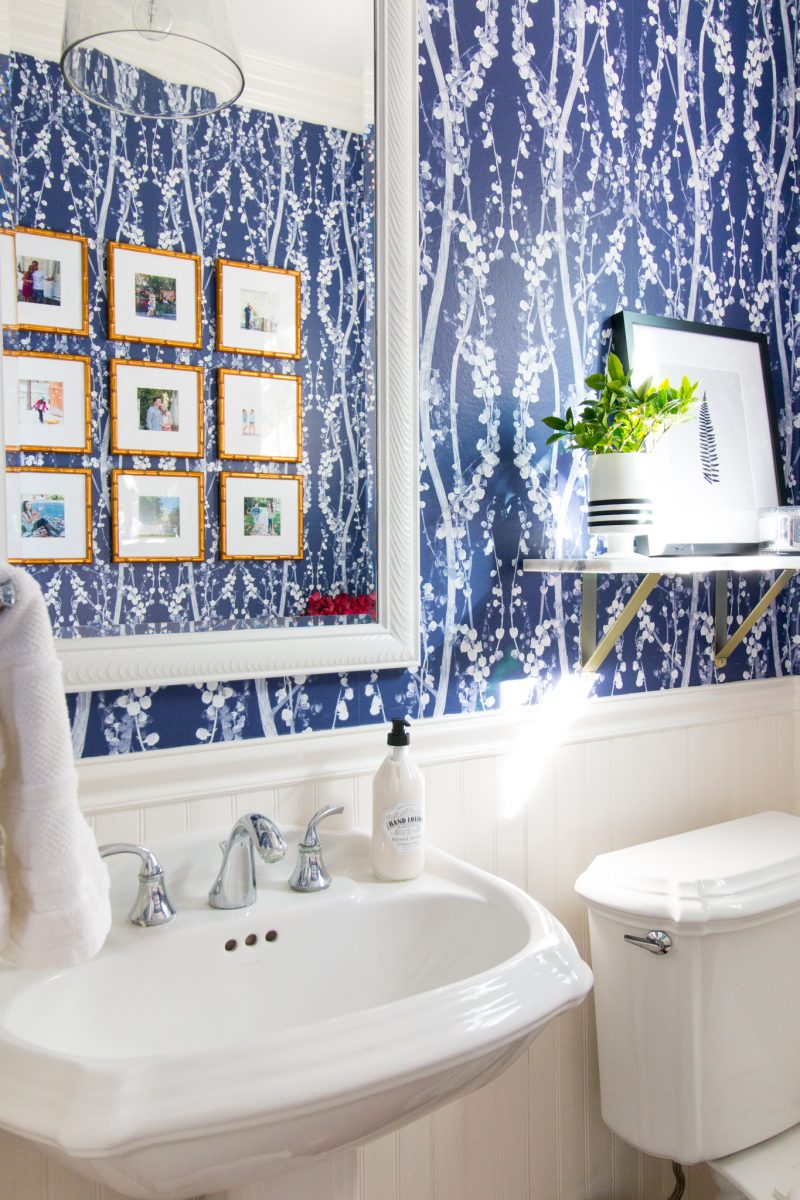 A huge thank you to Framebridge for providing the artwork for this space. They really hit it out of the ballpark and if you want to order something for your own home or as a gift, they are offering 15% off with the code: athoughtfulplace15
Thank you for letting me share! It's been a really fun bathroom to design. Watch for an upcoming post where I share tips and tricks for hanging the self-adhesive wallpaper. Have a great day. All sources are listed below.
Bathroom Sources
Roman Shade | Barn & Willow
Gallery Wall Frames & Framed Leaf | Framebridge
Marble Shelf | Anthropologie (similar, mine is sold out)
Wallpaper | Tempaper Designs
Candle | Nordstrom 
Lotion | World Market
Pendant | HomeGoods
Black & White Striped Vase | DIY project
Sink & Toilet – original to the bathroom