Good morning, beautiful friends. I have been out of town and away from the laptop so that is why Saturday Shopping is going up on Sunday. But there are so many great deals this weekend so I wanted to be sure to share what I found. I also stepped into the dressing room to try on some fun new Spring pieces. Let's get to it.
MAJOR SCORE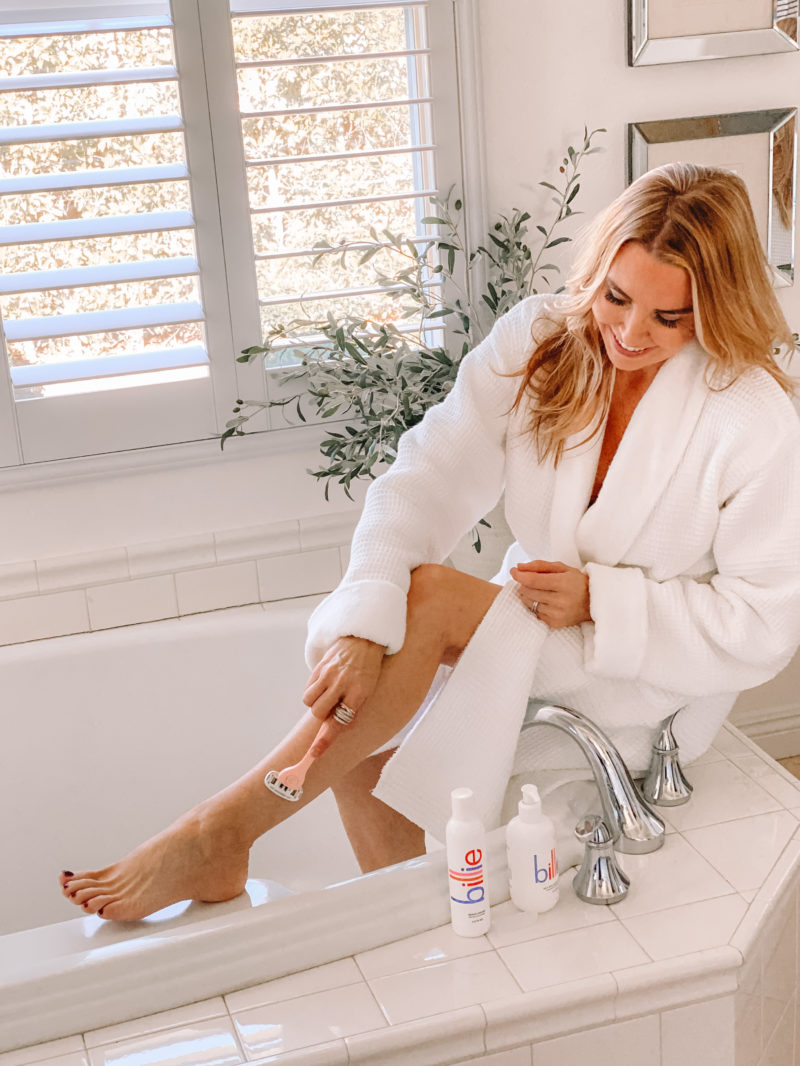 Girl, this bathrobe is wonderful. I honestly feel like I am at a high-end spa when I put it on. It's fluffy and comfy but not too heavy. We were just in a hotel this past weekend and I was so disappointed when I wore their robe. That tells you something. And this one is almost 50% off right now. I am wearing a small and it is quite roomy. If you are normally a small or medium I think the size small will be perfect. Also a really generous and lovely gift idea for someone special.
The flannel pajamas are also on sale.
LOFT TRY ON SESSION
There were so many darling new pieces at Loft. I was on my way to meet a friend so I had to make my time count. I loved every piece with the exception of the plaid blouse (white and red) you see in the background (my tummy showed . . . just way too short for me).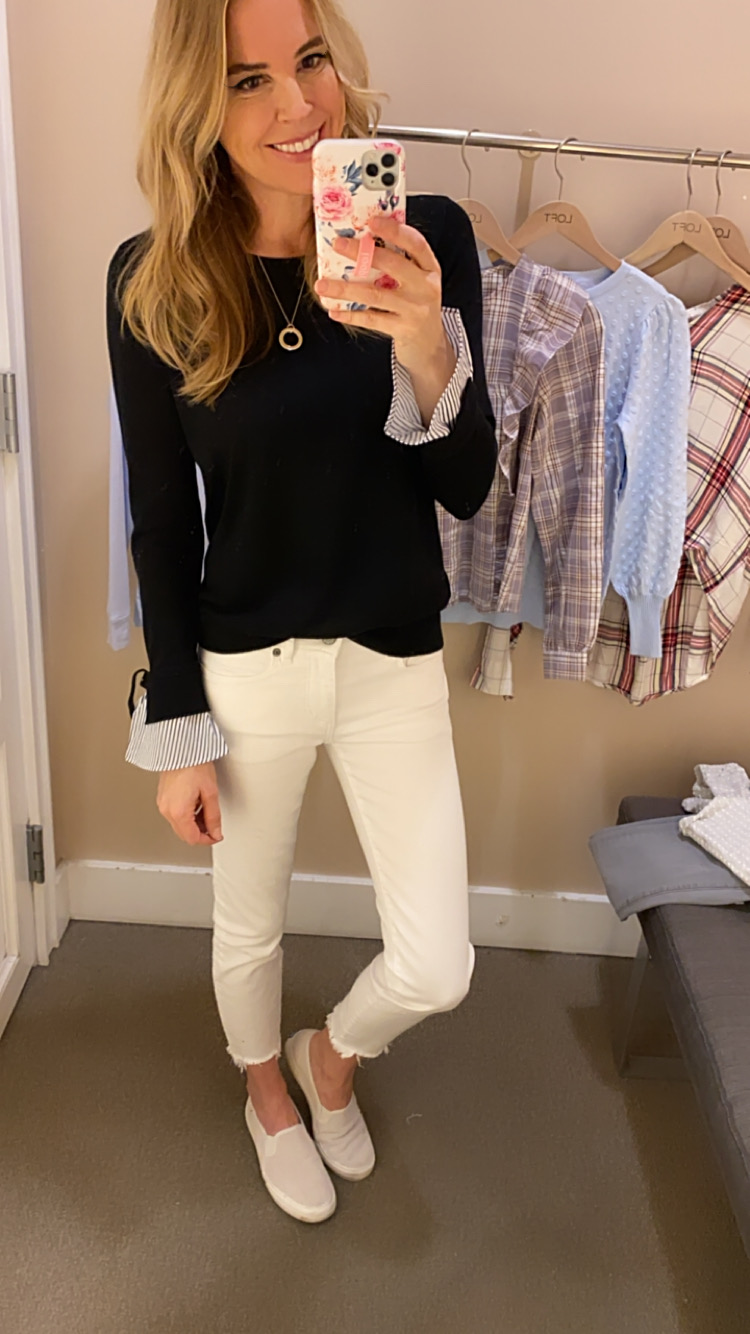 First up is this adorable mixed media sweater that I ended up buying. I LOVE it. This is a size small. It's black with blue and white detailing on the sleeve. I like that it's a bit dressier and can be worn with pants or a skirt, too. A really nice addition to your work wardrobe as well.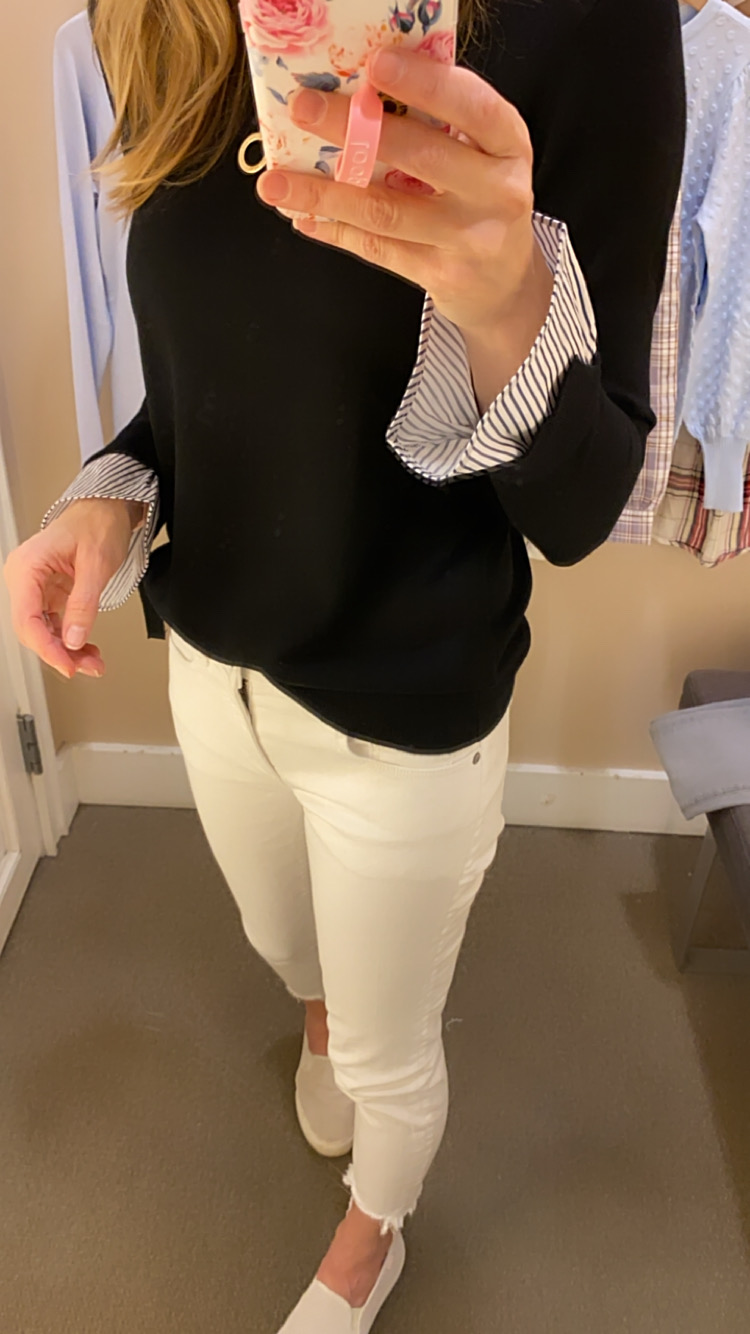 As for the white jeans. They get a five star review for fit and cut. I really like them. But I have to say that they are a bit thin and see through. Nothing crazy, but I will be on the lookout for a pair that is less see through for you.
PALE BLUE LOVE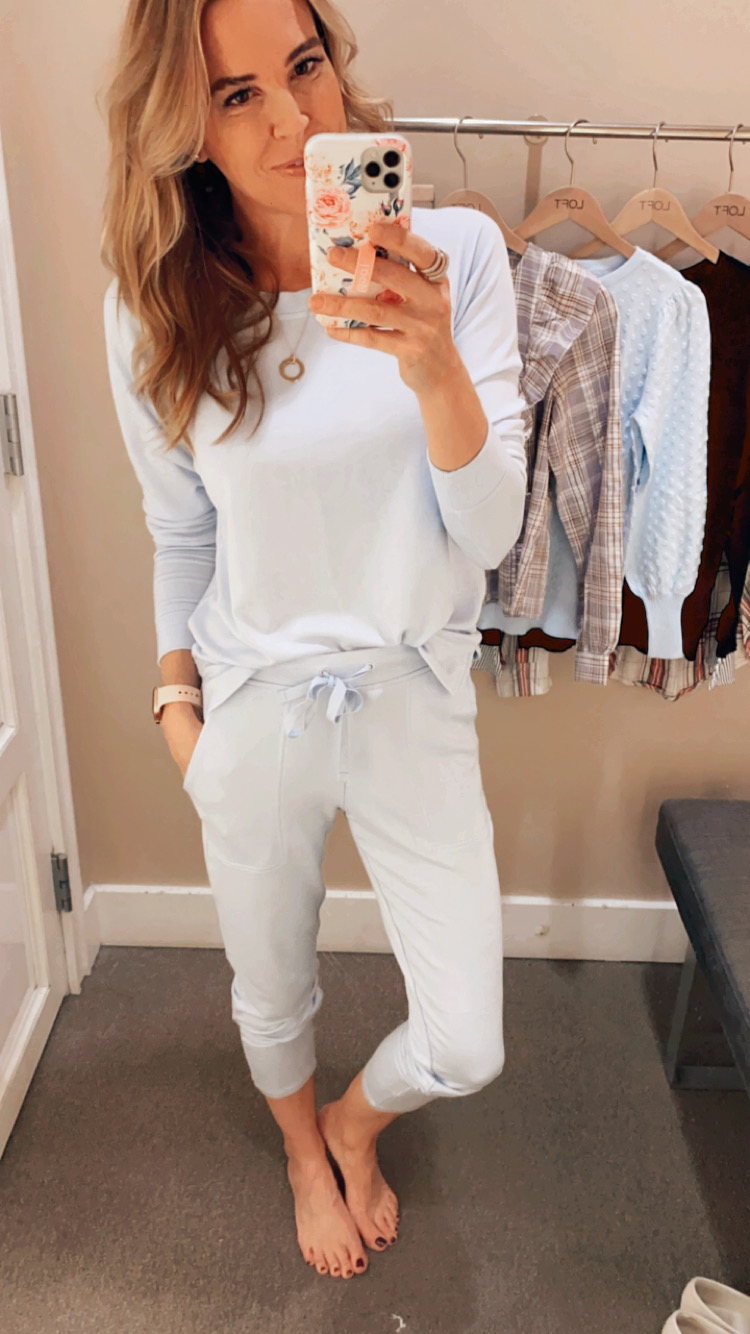 My favorite lounge outfit is back in this pretty cafe blue color. I am wearing my gray set now. The reviews seem to be mixed on these so I'll fill you in on what I think. They are incredibly soft. I look forward to putting them on every evening. The material is thin but incredibly warm and cozy. They really are softer than soft. I am a big fan.
I also love that I don't look like a complete bum in them so if someone comes to the door or if I need to run carpool I can slip on a pair of sneakers and run out the door. They feel like jammies but look so cute. This is the outfit I always take with me when we travel with the kids. They double as jammies which I like.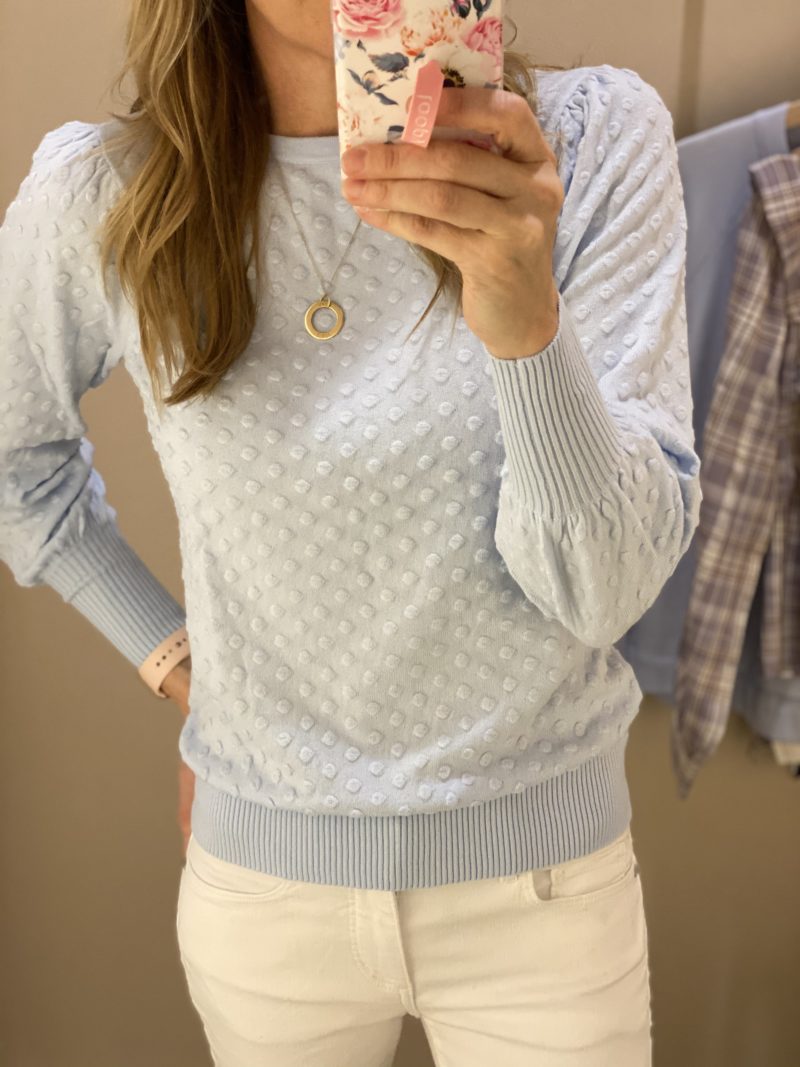 Can you tell I am attracted to this pale blue color this season. Just so soft and pretty. This sweater was also a winner. Beautiful puff sleeves but not over the top. I can picture this look so cute with denim cut offs, too.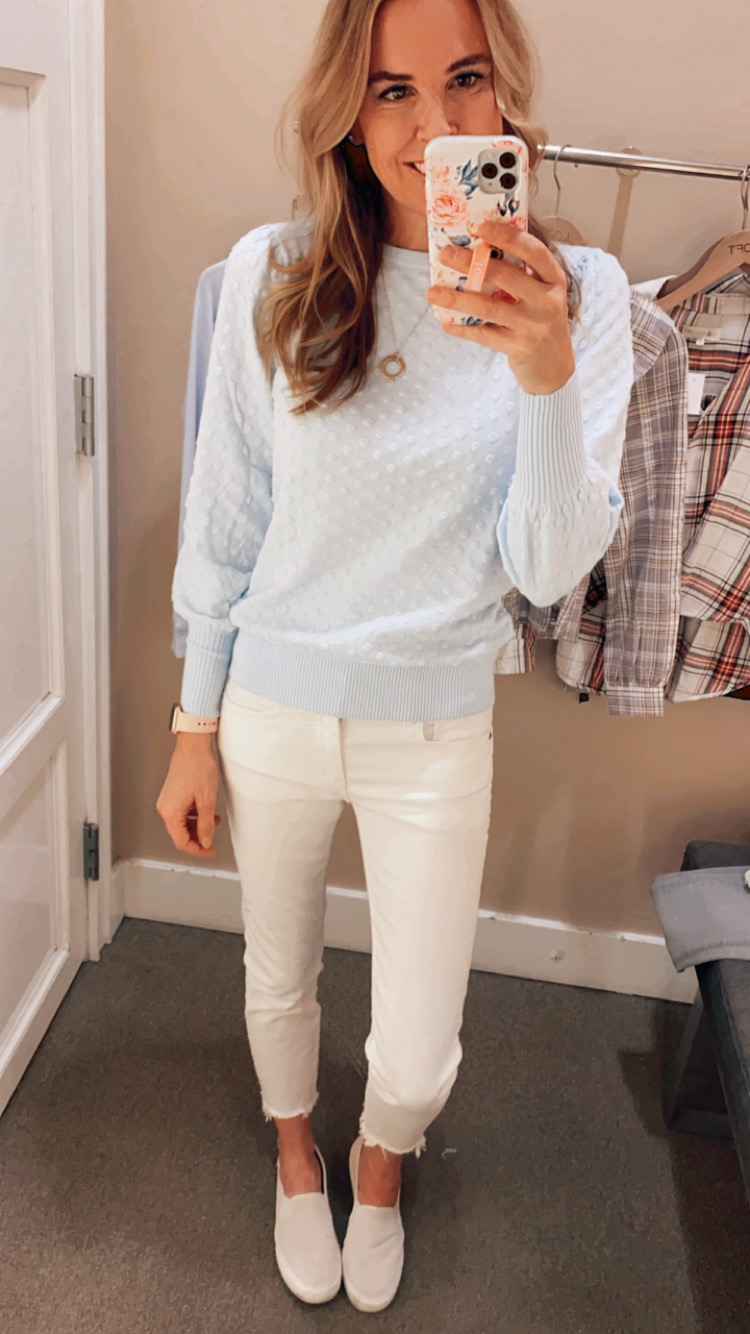 sweater | jeans | sneakers | necklace
These slip on sneakers have been in my wardrobe for two years, I believe. They still look great. I highly recommend them. They are incredibly cushiony (is that word) on the inside and look cute with pretty much anything. They come in this gray color, too.
FEMININE DETAILS
This feminine plaid blouse is really sweet. It falls perfectly at the waist and does not puff out when you turn to the side. The soft colors are beautiful for Spring. I like that this is a bit different. It reminds me of an Anthro top.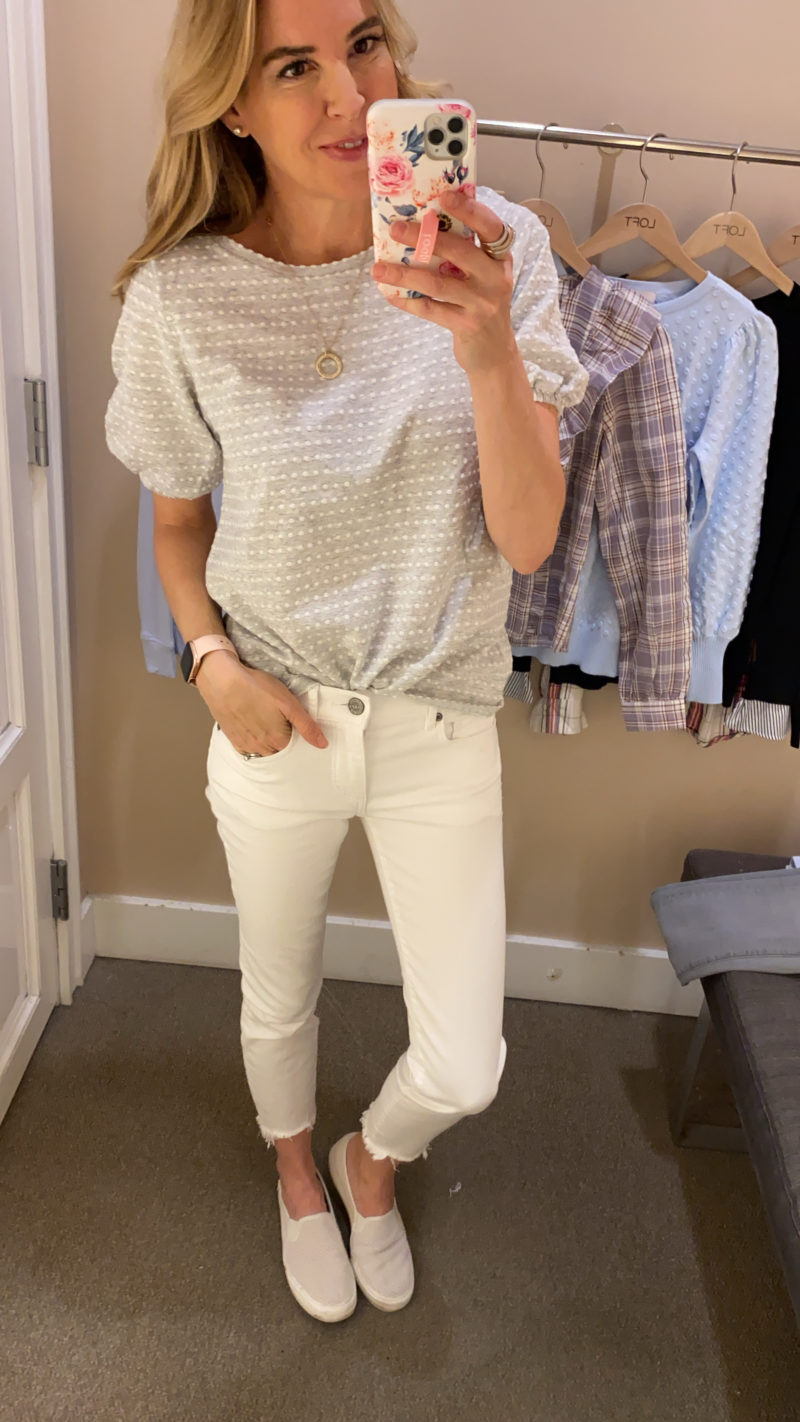 Yes, to this! Such a fun and casual tee. The little bit of a puff sleeve takes it to the next level. Would look great with a pair of shorts this summer. To be honest, I never would have looked twice at it from the online photo. This is why I go in store and try things on to share with you. So many pieces look so different in person.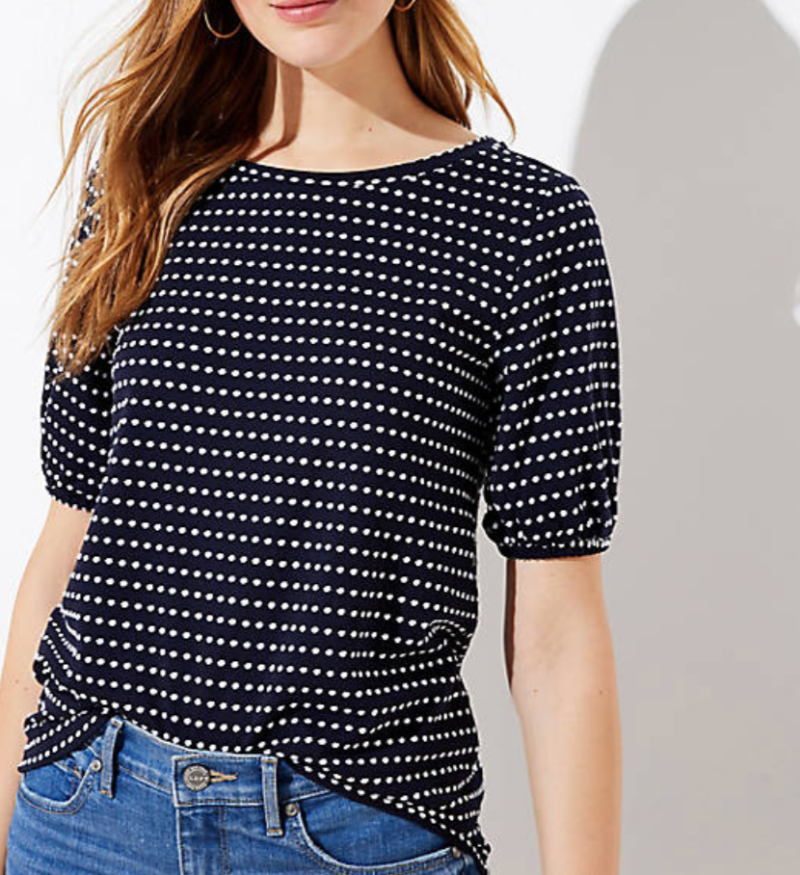 It also comes in this cute navy version.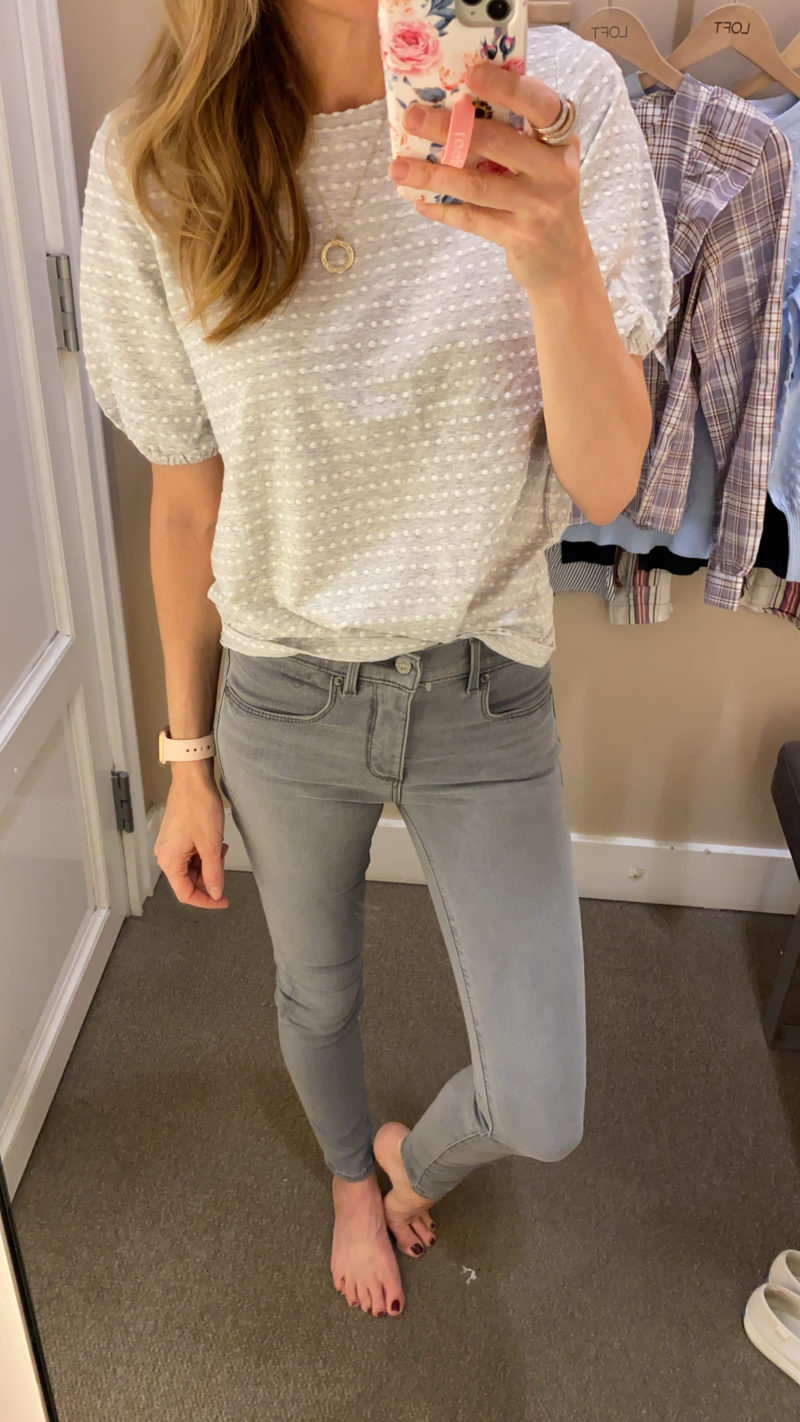 I like the gray on gray with this look. I've shown you these jeans before. Highly recommend. Such a nice color to add to your wardrobe. Right now they are only $35! That is a great deal.
CLASSIC BLOUSE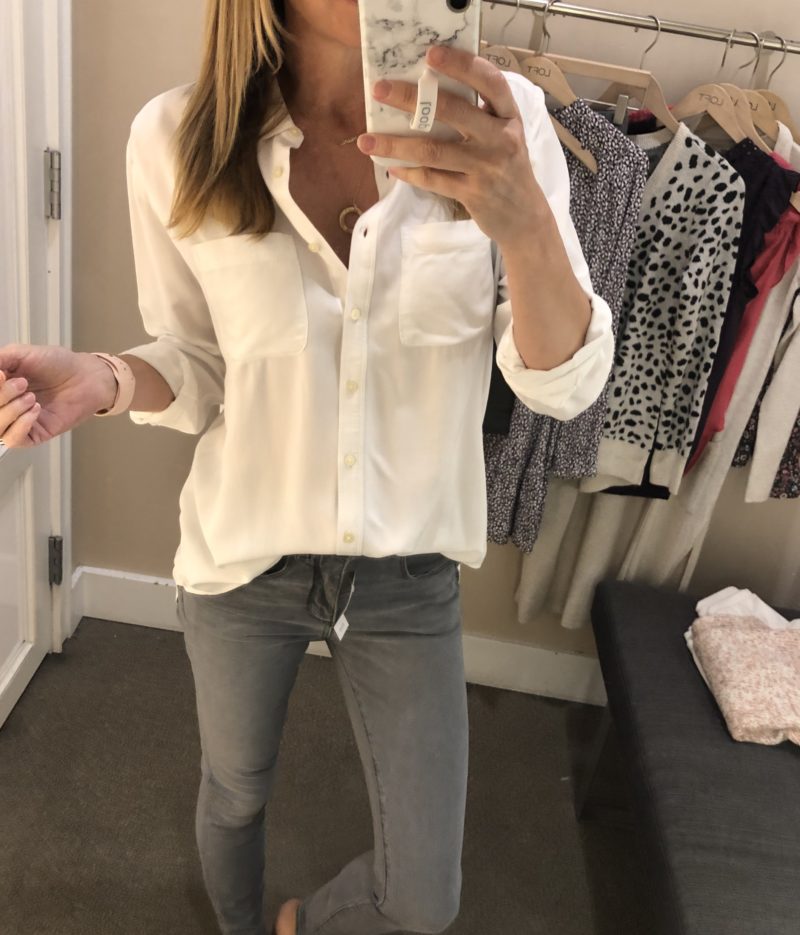 I am also a fan of these jeans with a basic white button down. So good for Spring.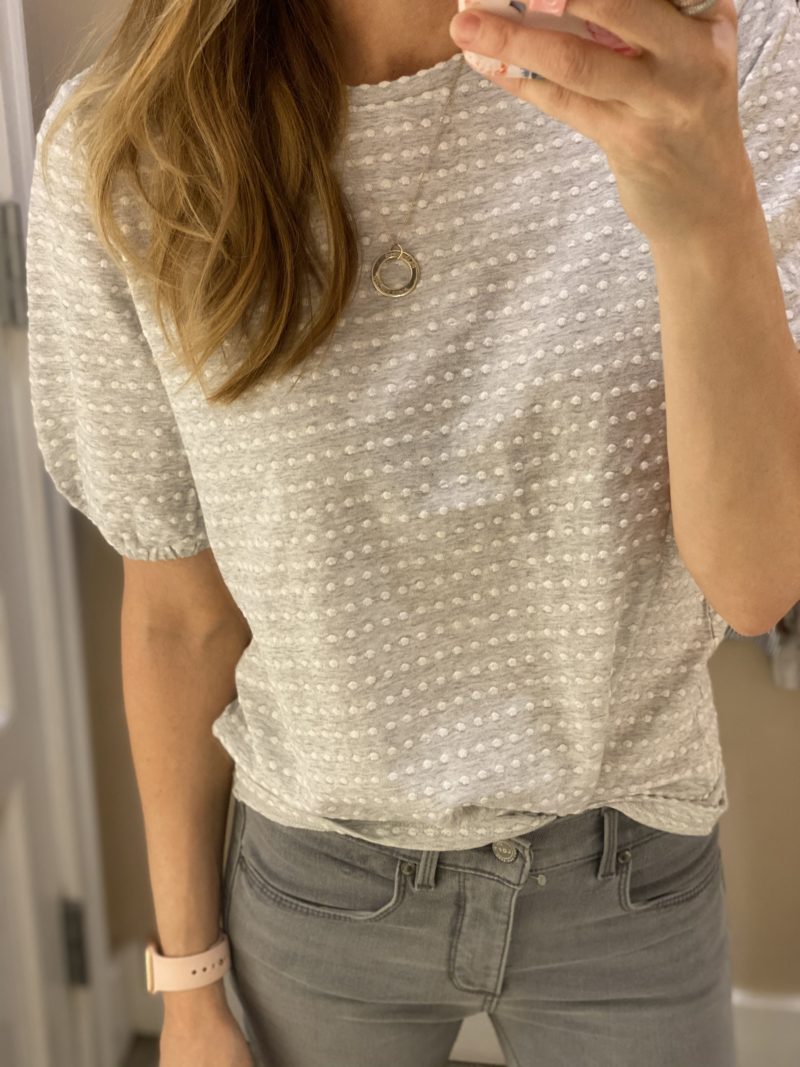 NORDSTROM SALE
The 40% off Winter Sale is in full swing at Nordstrom.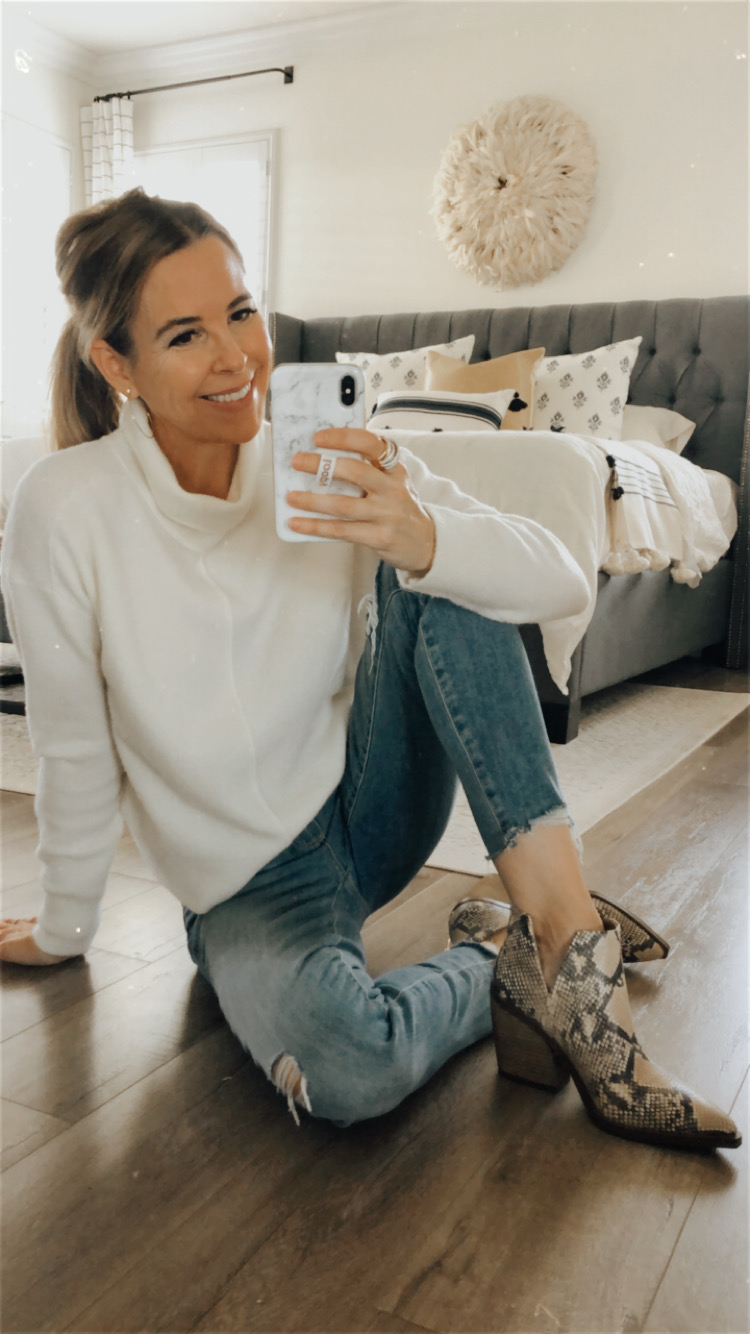 The snakeskin booties are part of the sale and come in so many different colors.
ANTHRO SALE
You girls have to check out the sale section of Anthro this week. Everything is an extra 50% off which is fantastic.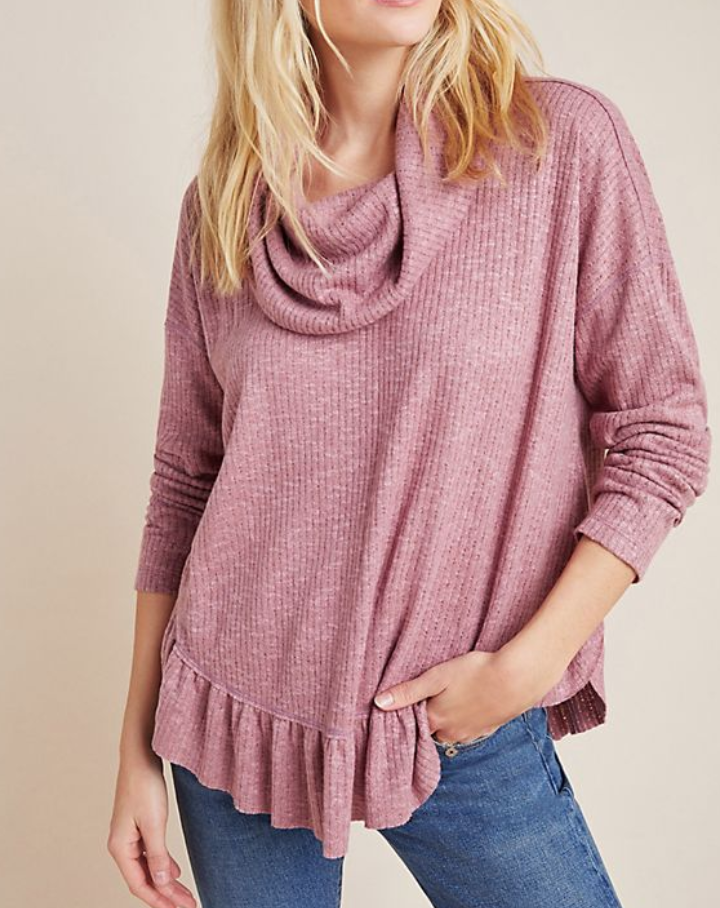 This top is so fun. The ruffle detail makes it unique and it comes in a few different colors. Now only $25.
Letters are going quickly because this necklace is now $15. Such a good gift idea.
AMAZON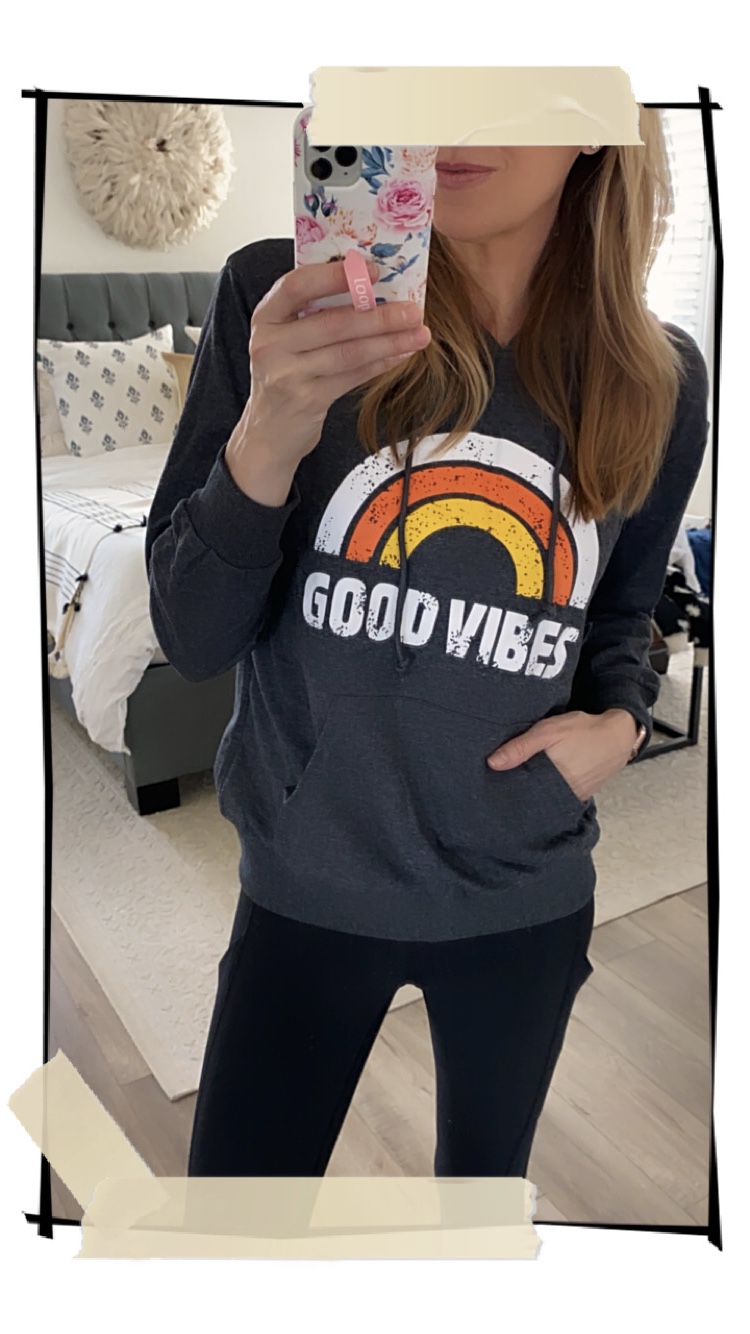 My Amazon order arrived and there are so many good things to show you. Especially when it comes to work out wear so stay tuned. My friend Megan bought this Good Vibes hoodie a while back and I have loved it ever since. It's a great one. In fact when I was trying it on, my husband came in and was like, "Oh, wow. I really like that on you." It's a steal at $20 and very comfy. I am wearing a size small.
SNEAK PEEK
This top hits the blog this week. Girls, it's so good. Even my daughter asked where I got it. A great workout shirt and the price can't be beat.
AMAZON HOME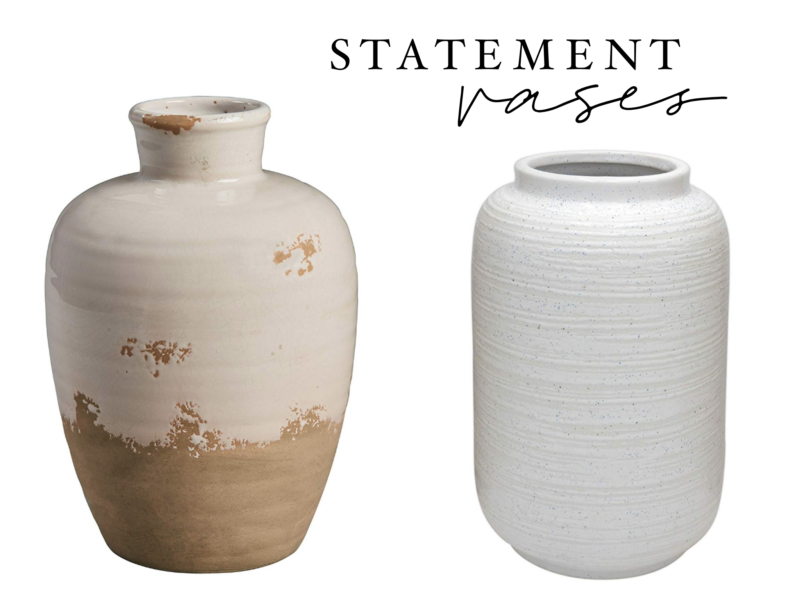 In case you missed my post on decorating with greenery, you can get caught up here. Can you believe these are both from Amazon. Such great vases that look high-end. I bought both.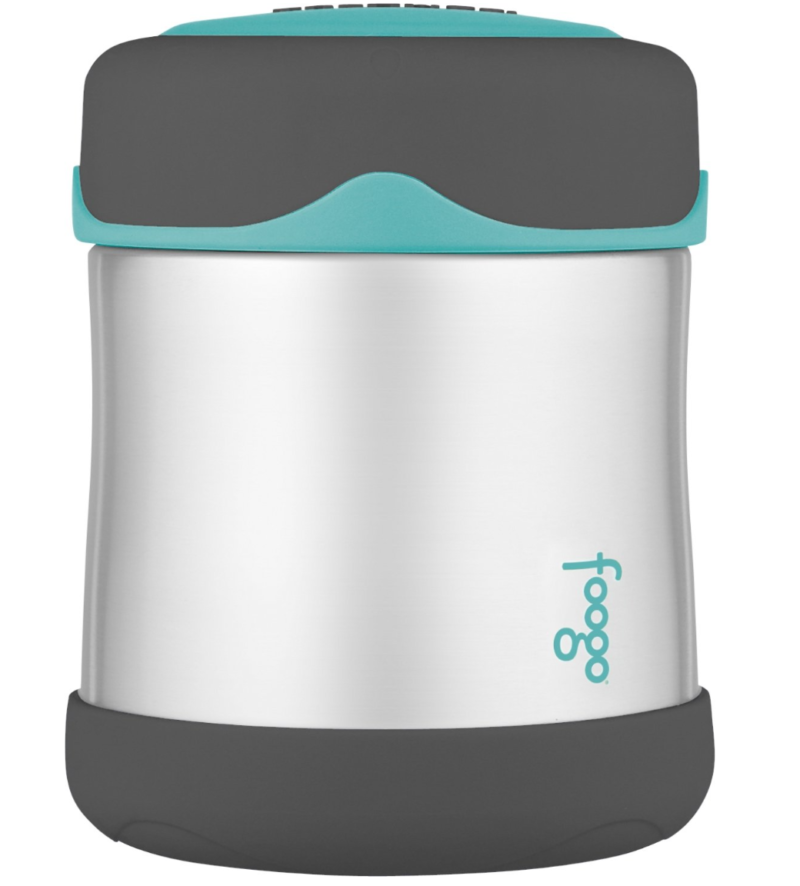 To all the moms and dads packing lunches out there, this has been our go-to thermos for YEARS. We've never had to replace them and they really keep the food warm. My children often take hot food to school. Whether it's soup, chicken fingers, leftovers from dinner, etc. These have been good to us for so long. Highly recommend.
POTTERY BARN
If you have had your eye on a faux fiddle leaf fig, the President's Day sale at Pottery Barn is hooking you up. No worries about keeping it alive!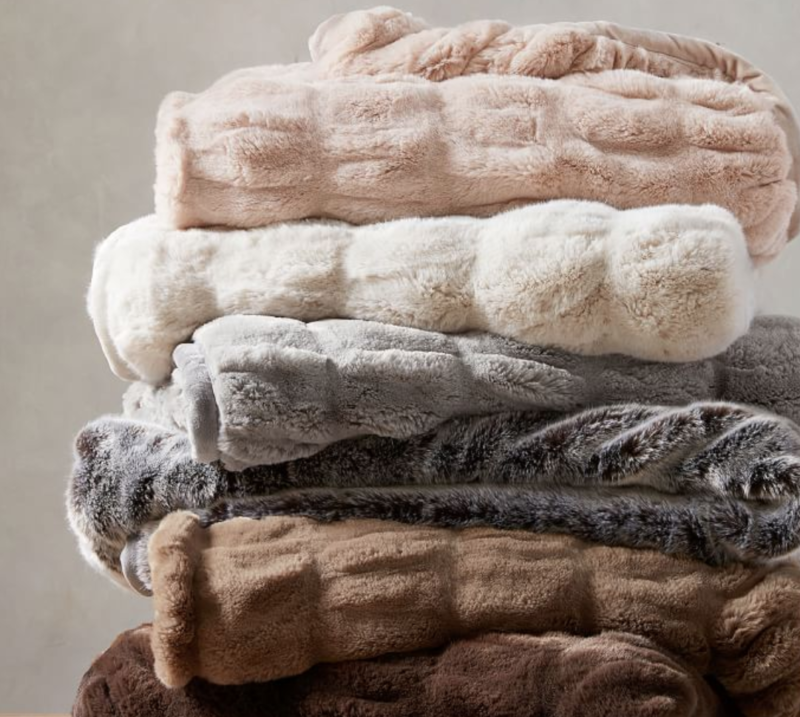 These luxuriously soft throws are more than $50 off. So good.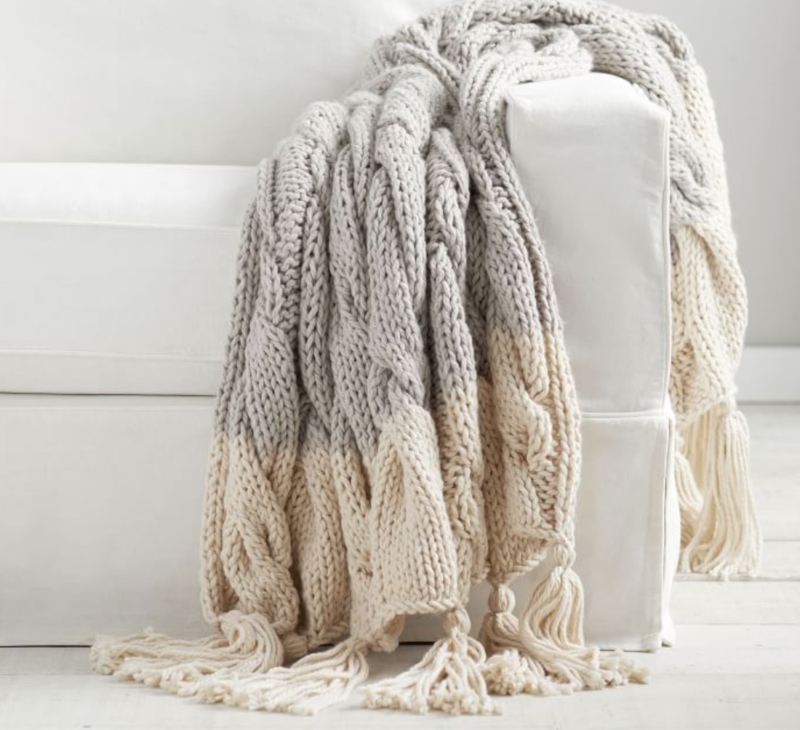 A really good quality, thick blanket can set you back. This one is a on sale right now. I highly recommend incorporating one into your decor to add texture. It makes a huge difference on a sofa.
SERENA & LILY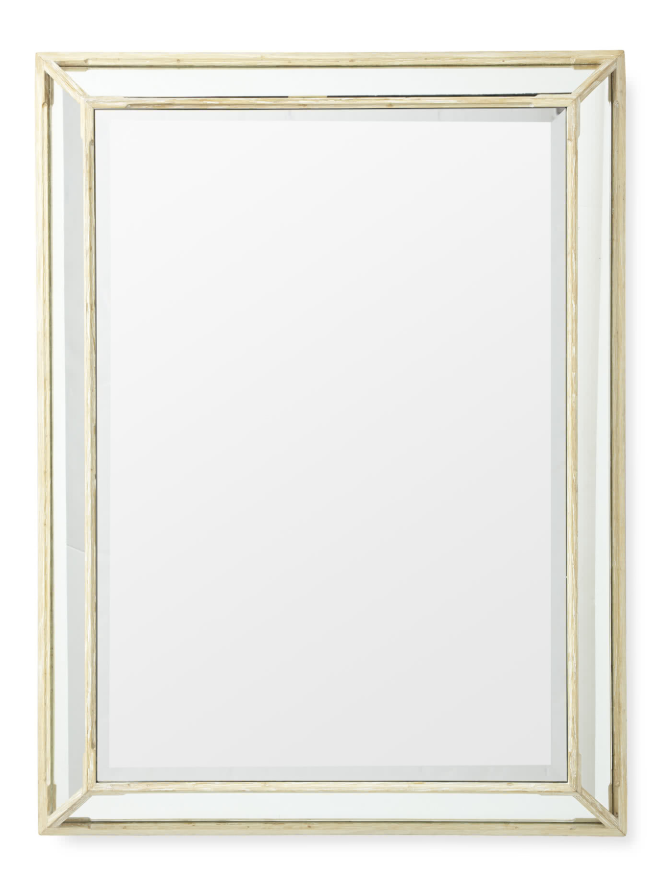 This gorgeous mirror is $200 off! That is awesome. Would be beautiful in an entry or above a vanity in a bathroom.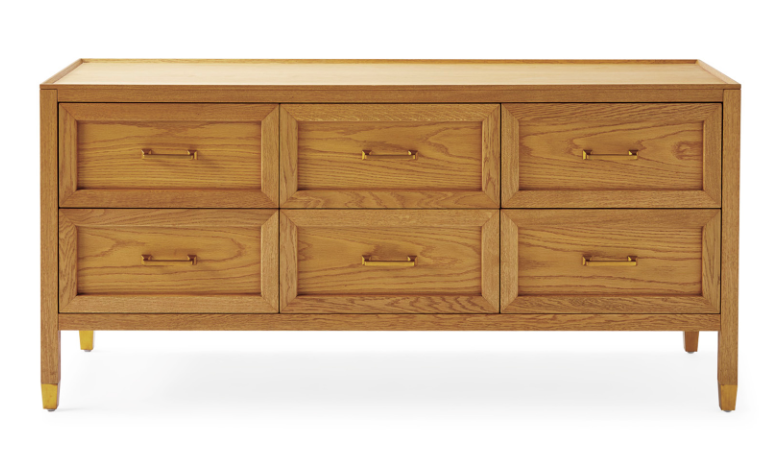 This dresser is such a pretty piece. It's currently $1500 off.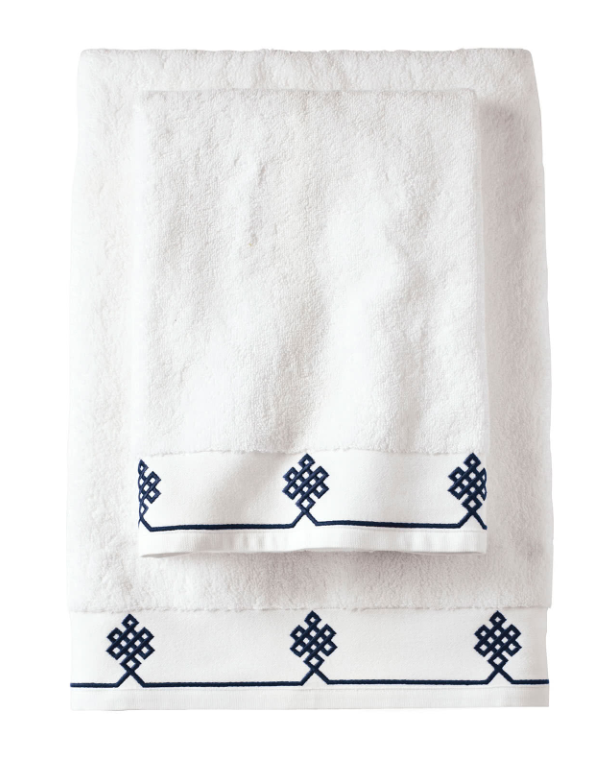 When guests stay and use our son's bathroom, these are the towels I bring out. They are on sale right now so it's a good time to scoop them up if you have had your eye on them.
What are you all up to on this long weekend? We are in the midst of a hockey tournament and it's been a really fun few days together as a family. I will share more in our Monday Morning Wrap-Up. Make it a great day.