Good morning. How are you today? I unexpectedly took a week away from the blog. Between the events in Texas and things happening in our own lives, it just felt right. I have spoken to many of my readers who live in Texas. It's truly unimaginable. If you are in that area, please know we are pulling for you. I suddenly want to become a plumber overnight so I can quickly fix what is broken in so many homes. The pivot to frivolous posts is never an easy one. Some of you may not be up for Saturday Shopping and that is understandable. Those that are, I'm sharing some inexpensive Spring finds.
SPRING OUTFIT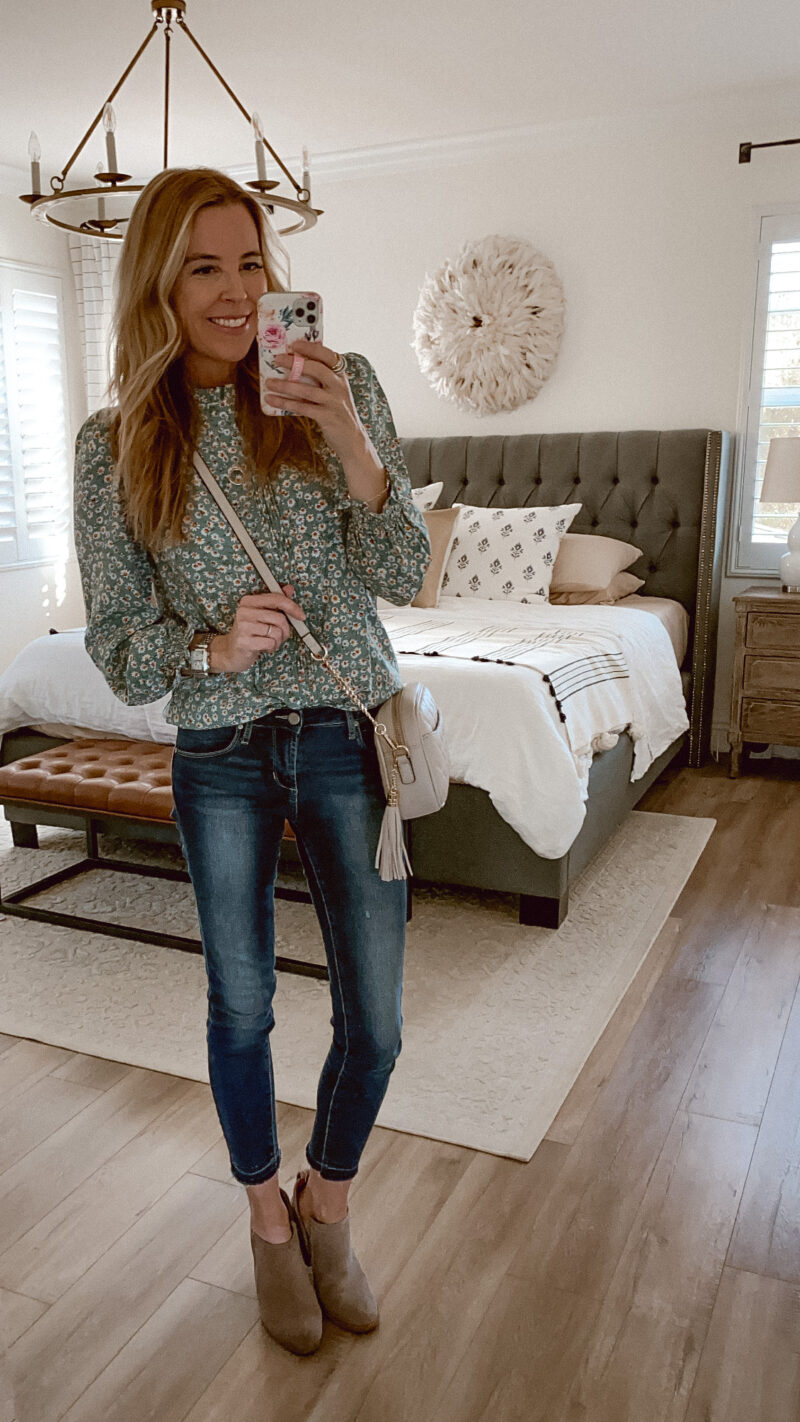 Found this blouse on Amazon and I LOVE it. It doesn't wrinkle, is incredibly soft and falls nicely. Plus it has pleats down the front and smocking detail at the wrists. The feminine details I always look for. This turquoise color is beautiful but it comes in so many other choices. This is a pair of similar booties.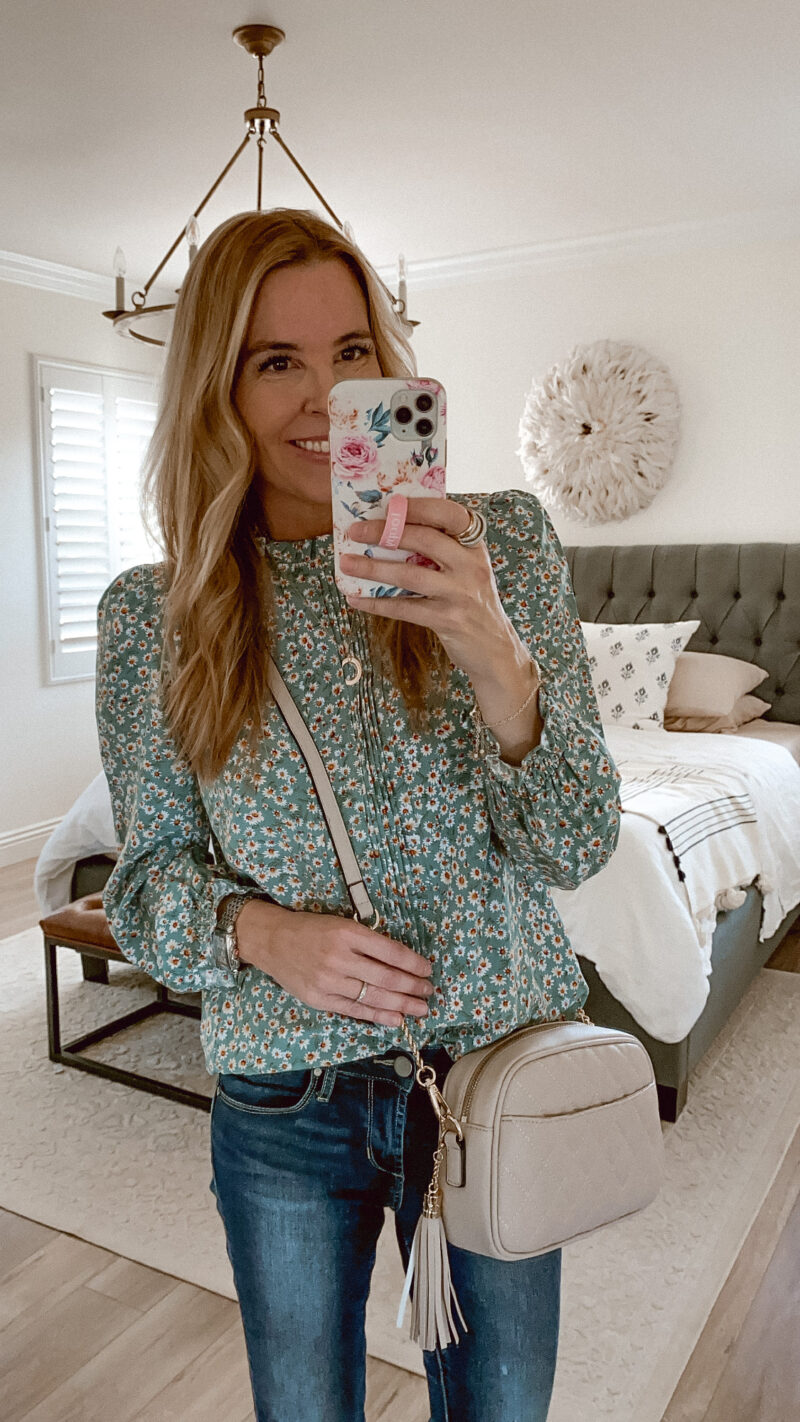 You honestly can't beat the $22 price. I am wearing a size small and think I may order it in another color.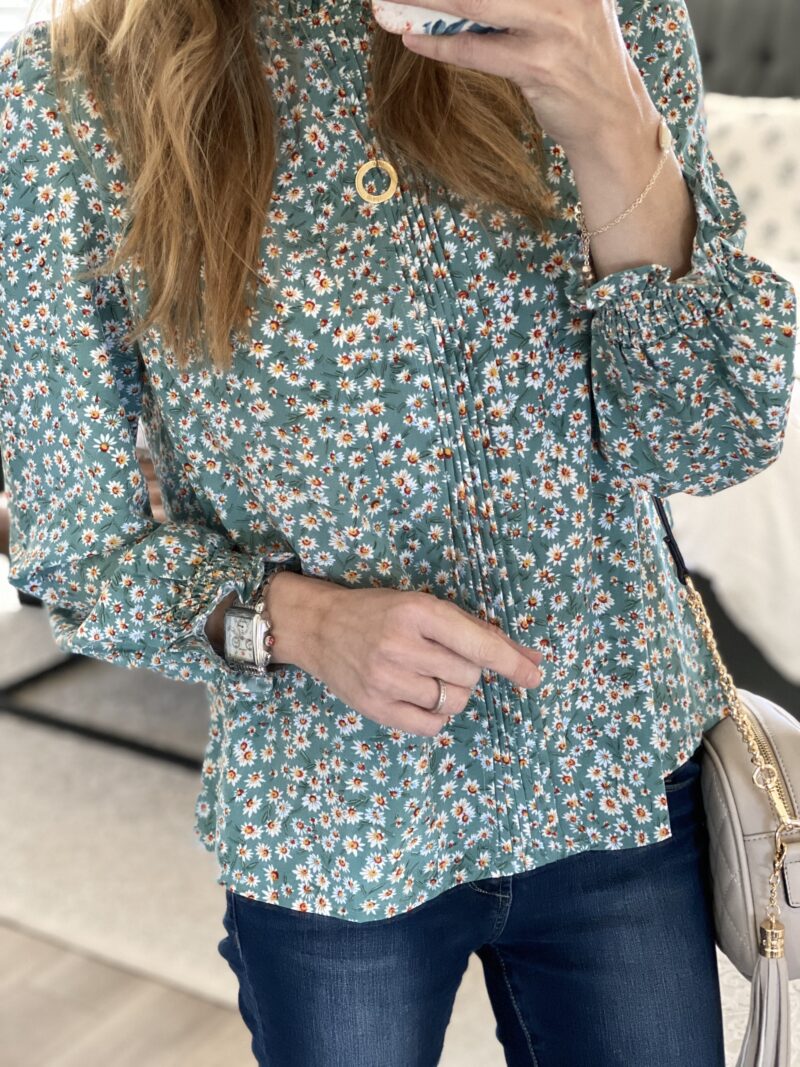 The blouse also looks cute untucked. The material falls so nicely so it doesn't appear too boxy. This is a better look at the smocking around the wrists as well as the pleats.
QUILTED CROSSBODY BAG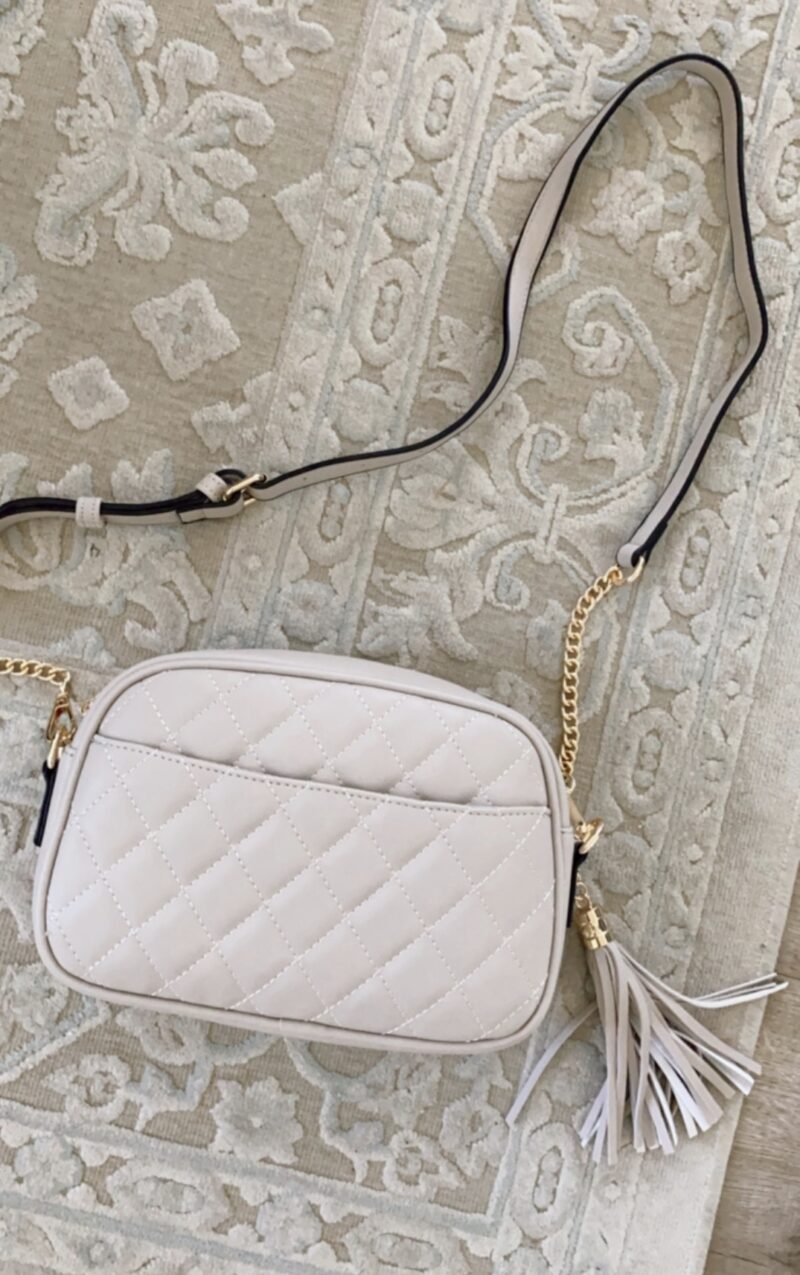 This inexpensive crossbody bag exceeds my expectations by a long shot. I didn't know what to expect but it's darling. It feels substantial and I love the gold detail. The long strap comes folded inside so it has a few kinks but those quickly fall away when you wear it.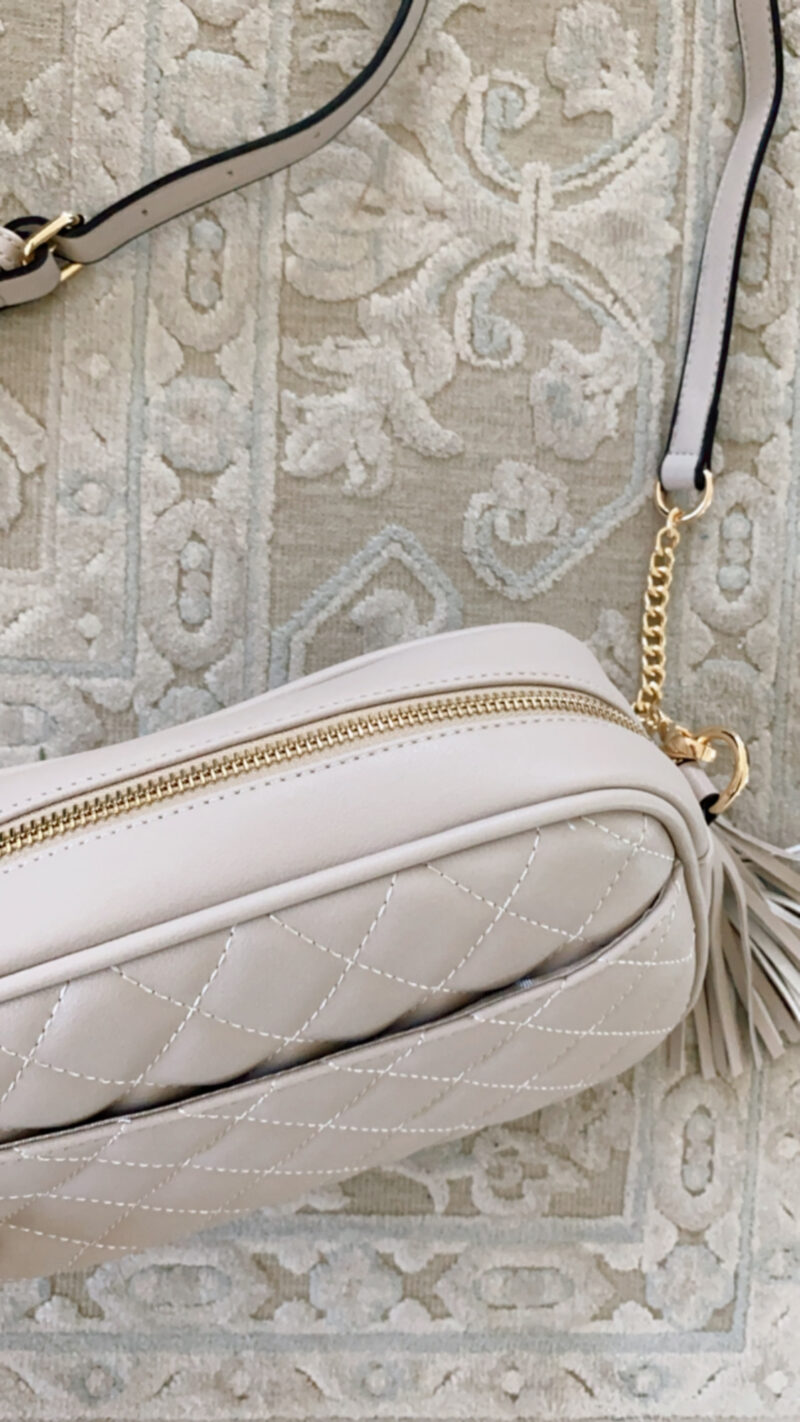 This is the "stone" color but there are a ton of options. I love that this handbag is only $20. It absolutely looks more expensive than that in person.
VANILLA KICKS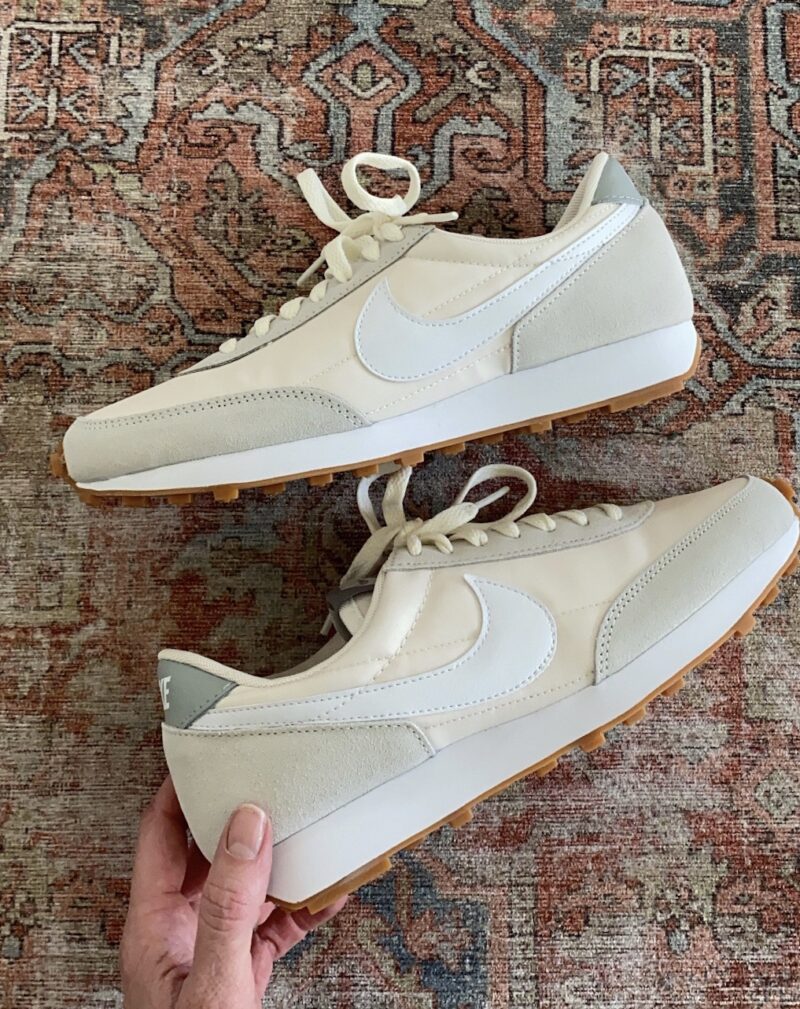 Hello, cute kicks. The best way to describe this color is vanilla. It's so pretty and soft in person. They are comfortable and run true to size. These are definitely a classic and won't go out of style.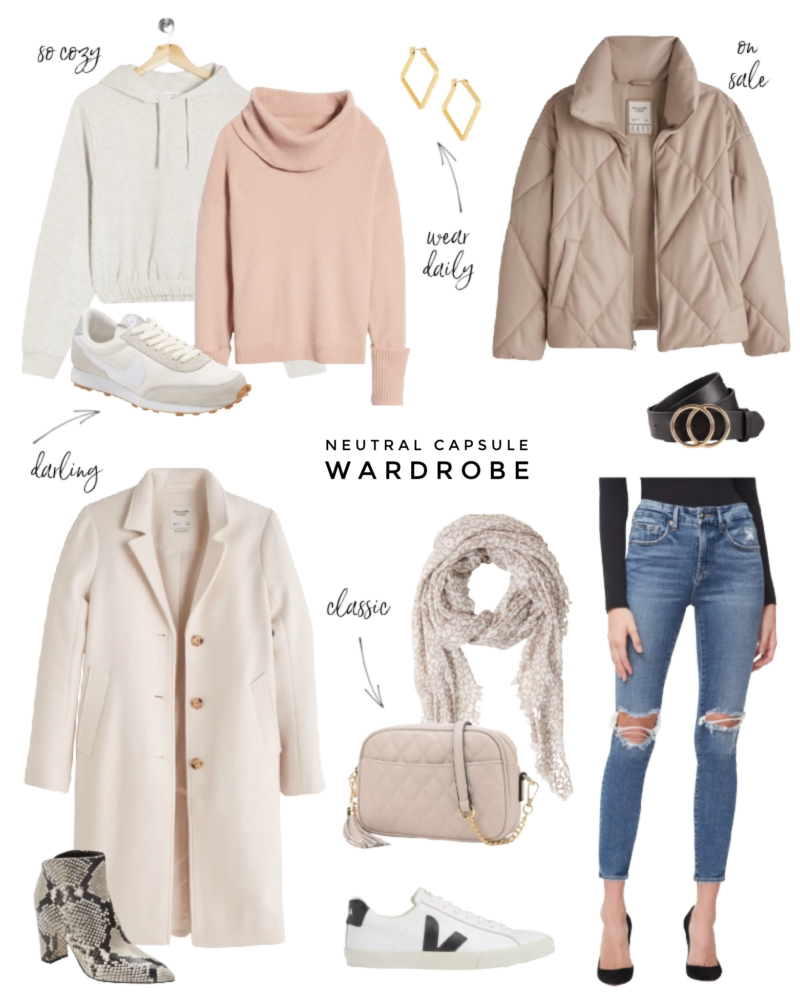 I shared these sneakers as part of this capsule wardrobe. A clean and classic pair of sneakers go a long way. The links to all of these pieces can be found here.
CUTE SALE FINDS
This cute dress is marked down to $30. I love the smocked waist and cut.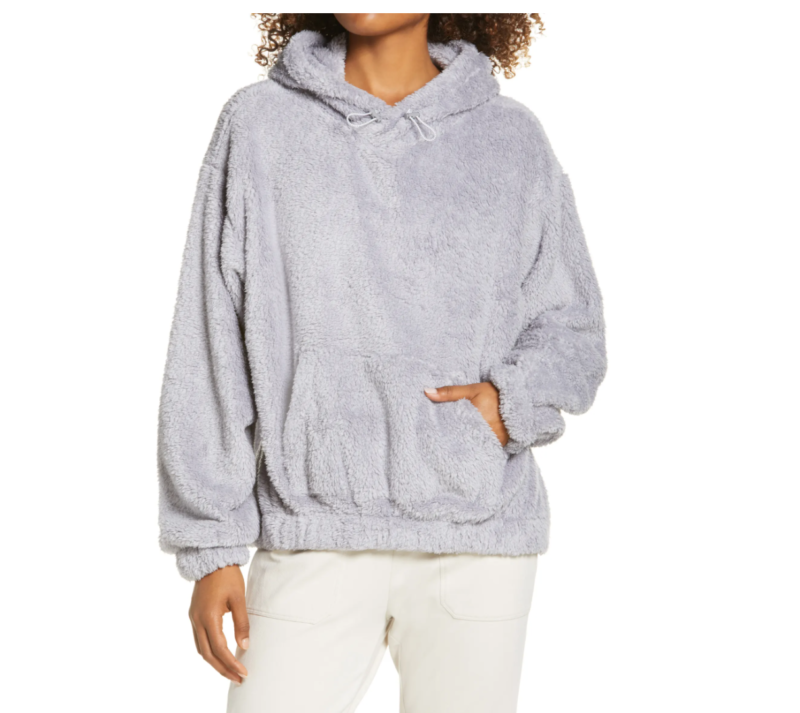 If you like to be snuggly, this hoodie is now 50% off. Great color but it also comes in black.
HOME FINDS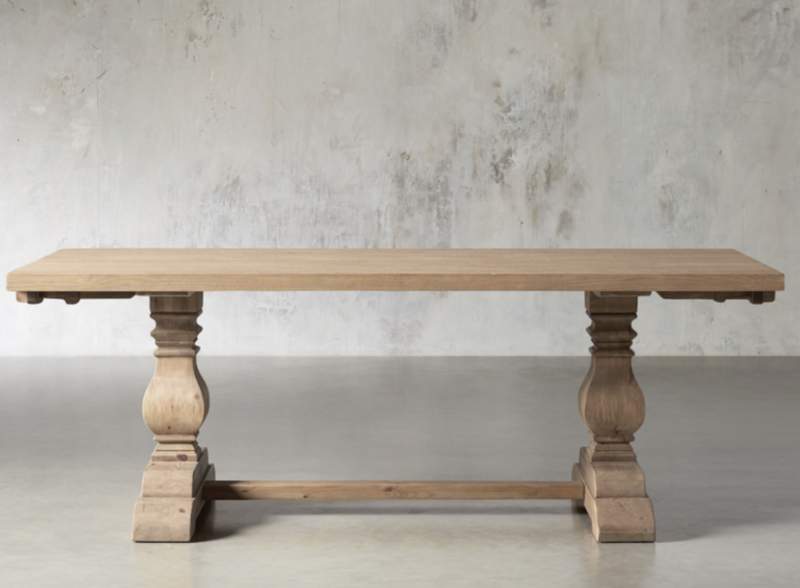 I have always loved this style for a dining room table. There are three size options and this one is currently on sale.
Another great piece that is on sale. I love the simplicity of this coffee table. It also comes in a square version.
INSTANT PHOTO PRINTER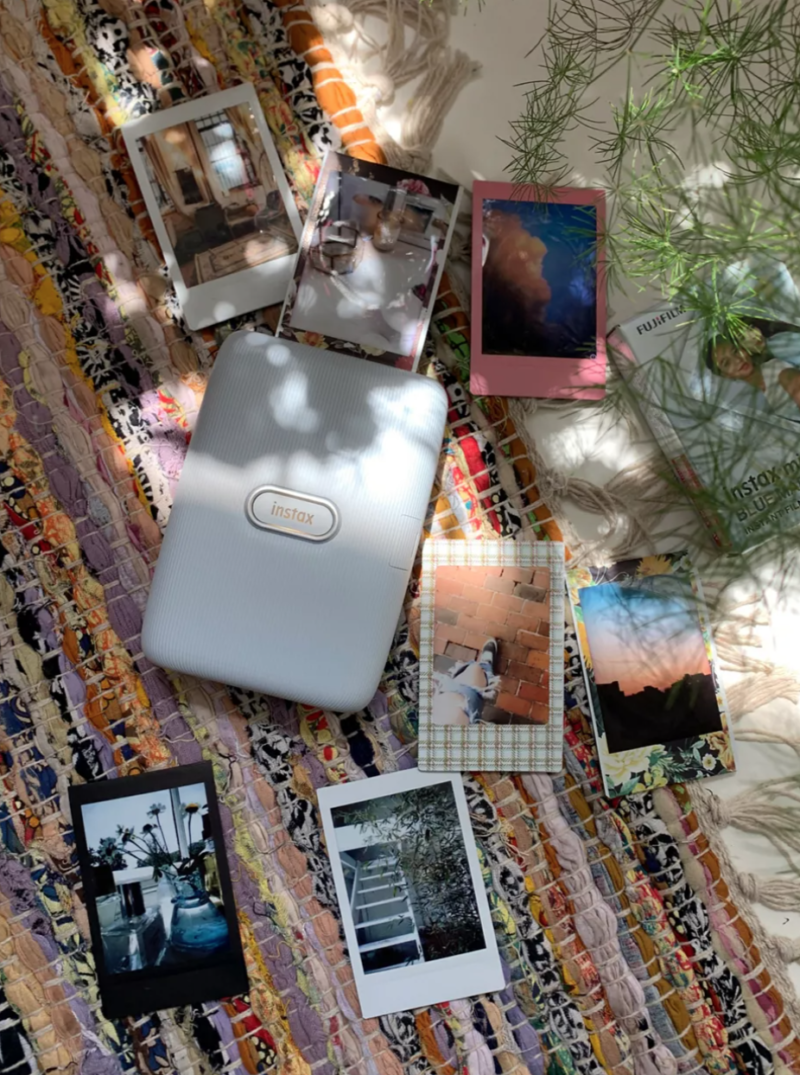 Do you have one of these printers? They are so much fun. My daughter printed out a bunch for her room and I love that I can choose any photo on my phone and instantly print it. It's currently on sale and a great gift idea for any upcoming birthdays.
PRETTY FIND
These candle holders are so lovely. And on sale. You could use them with these awesome Amazon flameless candles. They are an amazing deal (and come with a remote and timer).
STORAGE DREAM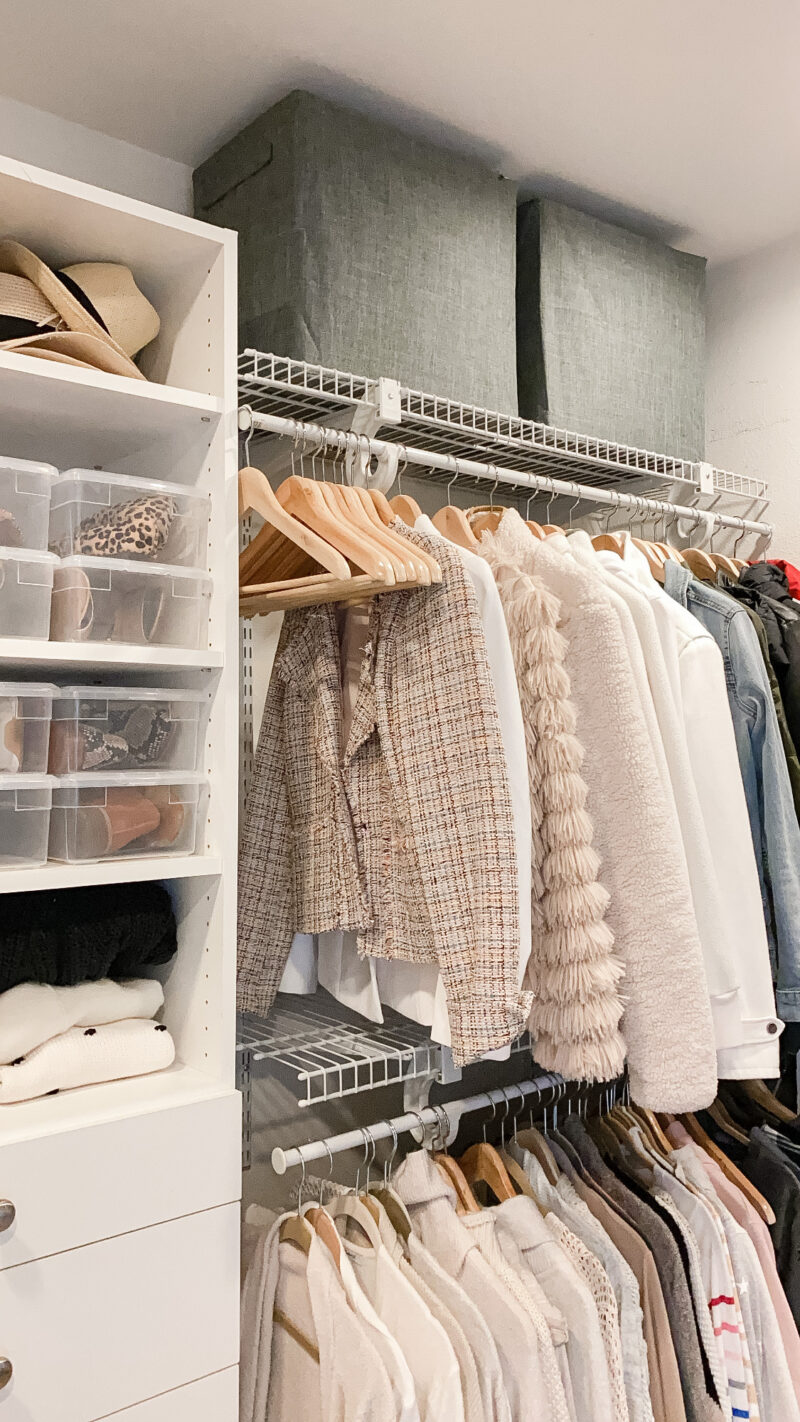 Here are my storage bins in action. I keep telling my husband what a great find these were and I think he is over it. But they hold so much and are incredible sturdy. They fold flat and you can see what is inside. Plus you can access the contents from the side or top. I place them on my shelf backwards just for a cleaner look.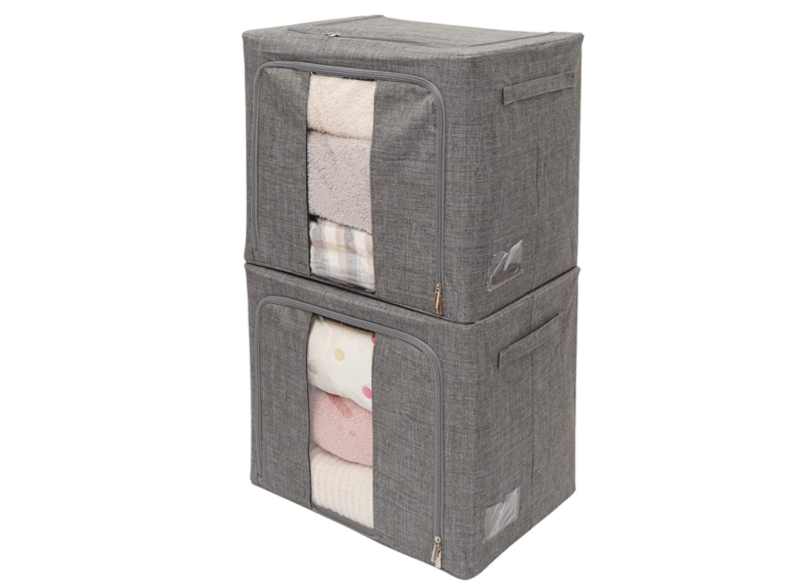 You can save a few dollars on these bins right now. They come in a pack of two.
MAYBE I HAVE A TYPE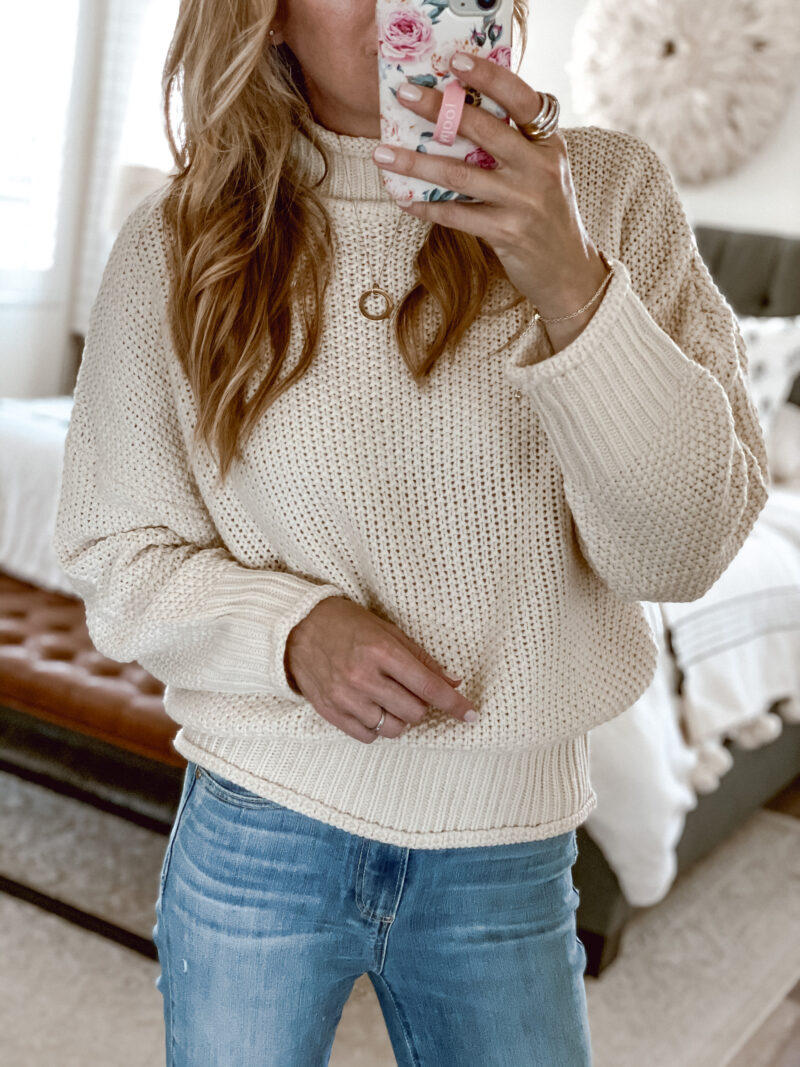 I was laughing looking at my closet photo. It's clear I have a type . . . ivory sweaters. They really are my favorite. I have paired my closet down and this one from Amazon remains a favorite. I also wear this one all the time.
COLLAGEN TIP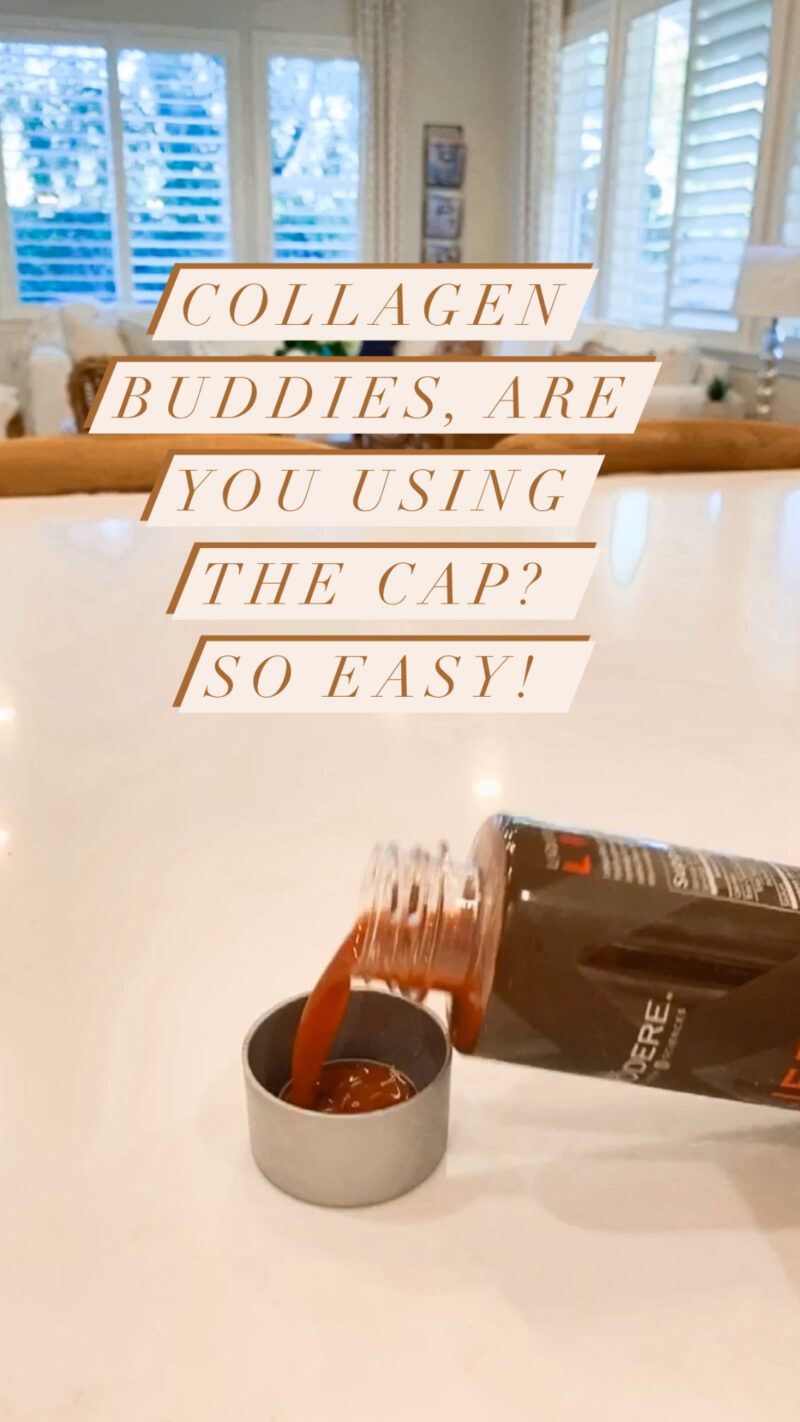 That's right, girls. You can use the cap! It took me a minute to figure that out. So easy to get in my morning and evening tablespoon. There is no question it's helping with nail and hair growth but I also notice far less fallout. I used to have to sweep the bathroom all the time. It's made a huge difference. Wondering if any of you taking the liquid collagen notice the same change. (Using my link will take $10 off if you are a new customer).
*Two tablespoons equates to two bottles a month.
EQUILIBRIA SALE
Need help managing stress? Equilibria has helped me so much. Not only do I sleep better but I handle the stressors of life in a much calmer manner. If you don't know where to start, I always recommend the Balance Box. I have an extensive Q & A post that may be help, too.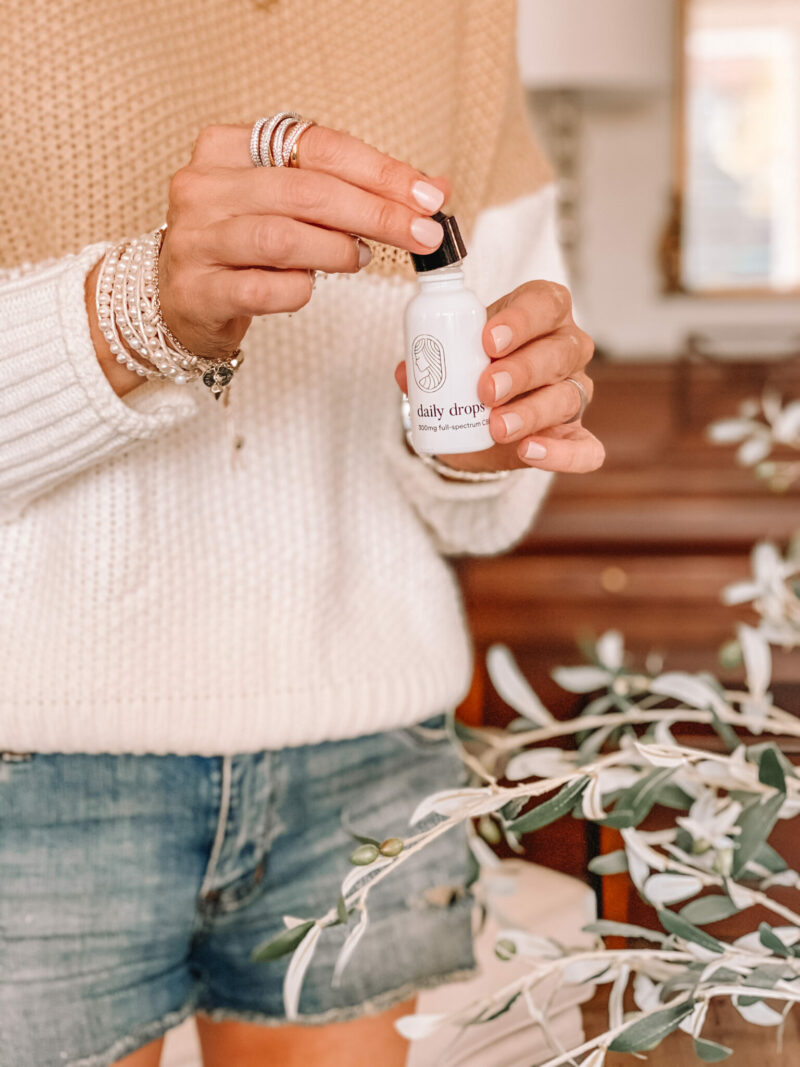 This weekend there is a buy one get one free sale going on which is fantastic. If you buy anything on the site, you can get any other product for 50% off. With my code it's an extra 15% off. Just type in: ATHOUGHTFULPLACE for the extra discount.
Here's to warmer and safer days for all. Hug your loved ones extra tight today. I hope it's a lovely weekend for you. See you back here on Monday.