Morning. I was certain our house might blow away last night with all of the wind. I couldn't wait to climb in to bed a get a good night's rest but Mother Nature had other plans. All is well, but it's a two cup of coffee morning. I'm excited for this edition of Saturday Shopping so let's jump right in.
LOFT TRY ON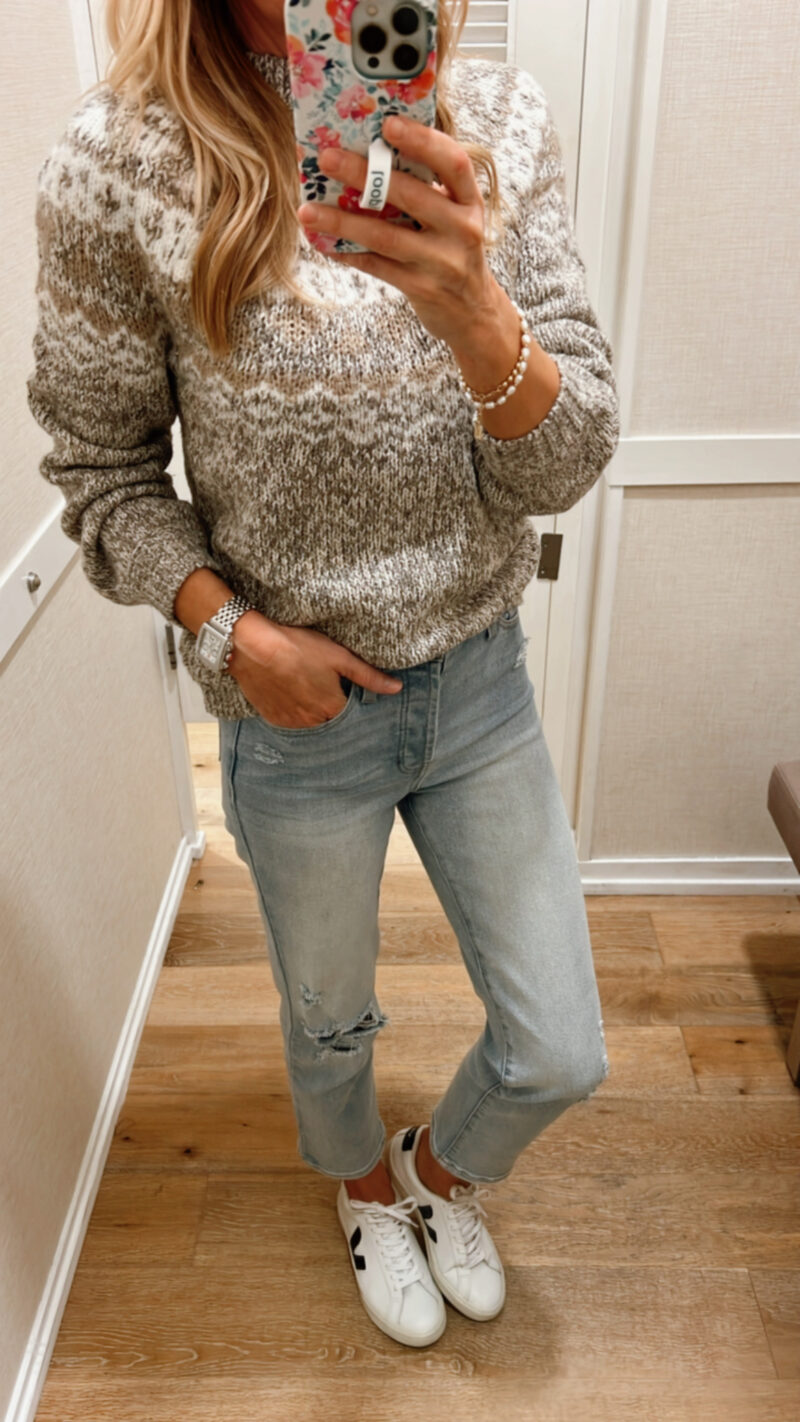 I love popping into Loft because each time I do, the entire store is different. So many winter and holiday pieces. While I can't say I was blown away with the selection in general (some odd cuts right now), I did find a few gems and I bought them immediately. This sweater is SO GOOD. The colors are warm and soft and the Fair Isle design is always classic. I bought a small in this and it's on sale.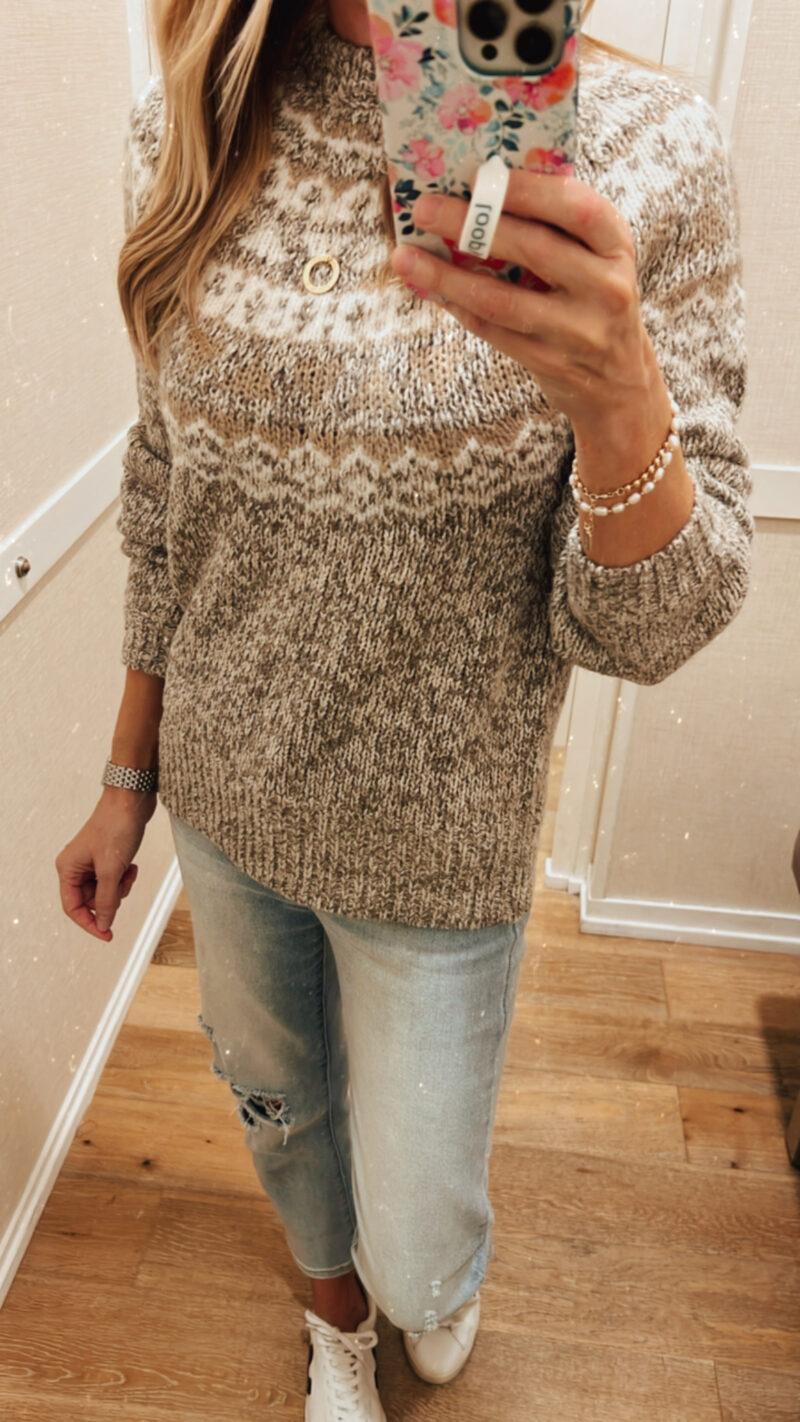 This sweater makes me want to go sip coffee in a ski chalet! What I really appreciate is that when you wear it straight it's not huge and boxy. I love this soft sweater and can't wait to wear it. My sneakers (a favorite) are from here. Oh, and I didn't have a top on underneath and it's soft against the skin.
THE SOFTEST PULLOVER
I guess I could have tucked that string in. Girls, this pullover would be a wonderful Christmas gift. I gifted myself. I really wanted to wear this out of the store but it was 75 degrees outside. This is incredibly soft and cozy. You can use the drawstring to cinch the waist or wear it straight.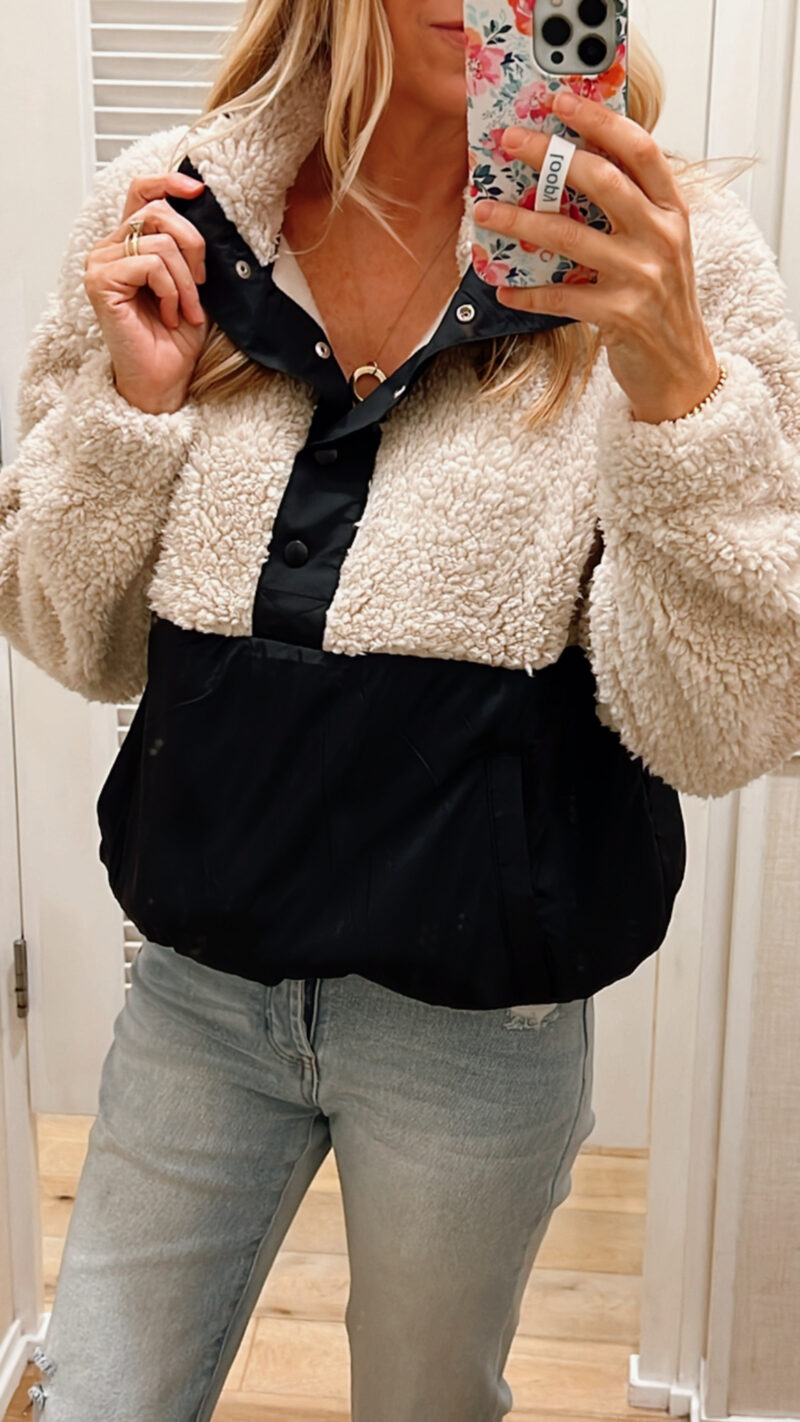 I was trying to do a close up so you could see the black material is different (almost like a cotton/nylon blend) so it lays really well. It's not bulky and stiff so if you want the collar open for a more feminine look you can do that. Or you can button it all the way up. This cozy pullover is a home run for me. What you see in the photos is a small but I purchased the XS and it's still perfectly room. So I might suggest going down one size. Grab it while it's 50% off.
*Color: the sherpa on this is more of a light taupe. I even tried to take a photo at home and it still comes out a bit more ivory. It's a really pretty warm taupe in person. The new iPhone auto edits and it pretty much drives me nuts. Rant over.
THE VEST VERSION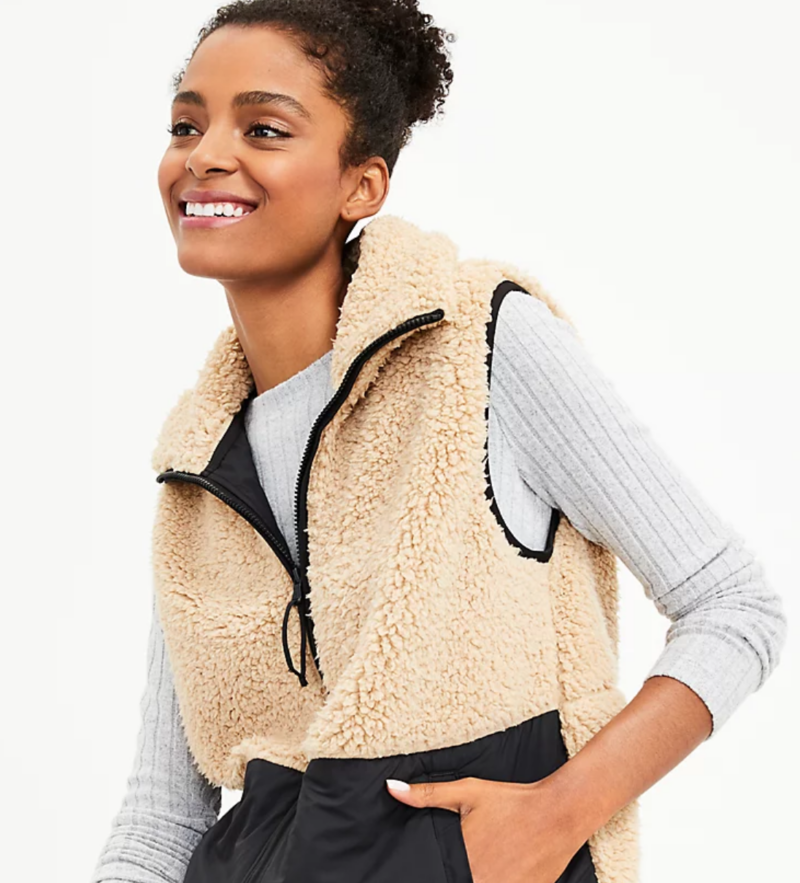 The vest version is also really cute (you can see the black material here). The only difference is that on the vest, the sherpa material is a bit darker.
A CLASSIC SWEATER
This striped sweater is beautiful in person. The heather gray stripes look just like this (my photos make it look a tad darker than it is). The buttons are a sweet touch and I love the shoulders.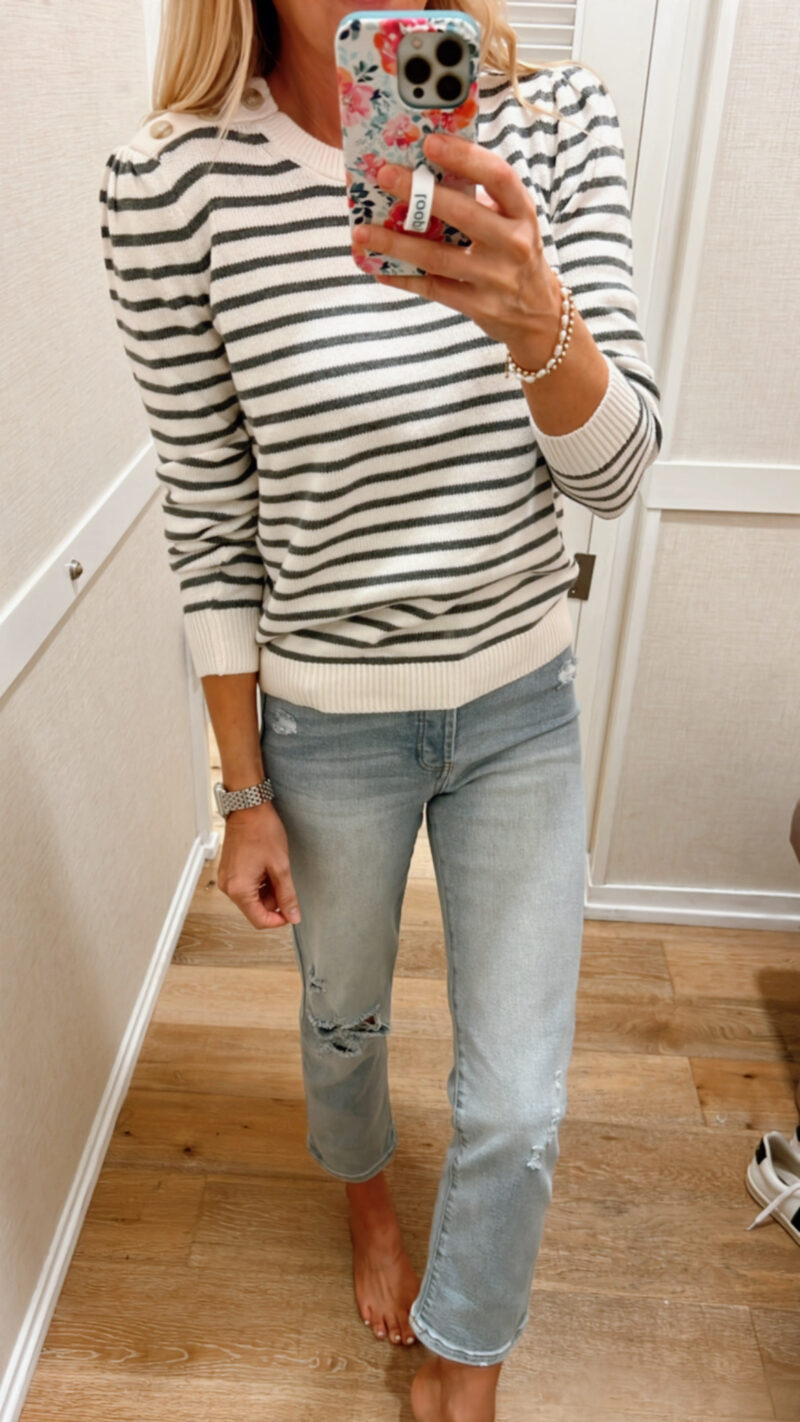 I fell in love with this sweater. It's a really pretty sweater and the heather gray stripes are different than you normally see.
HOLIDAY PARTY PANTS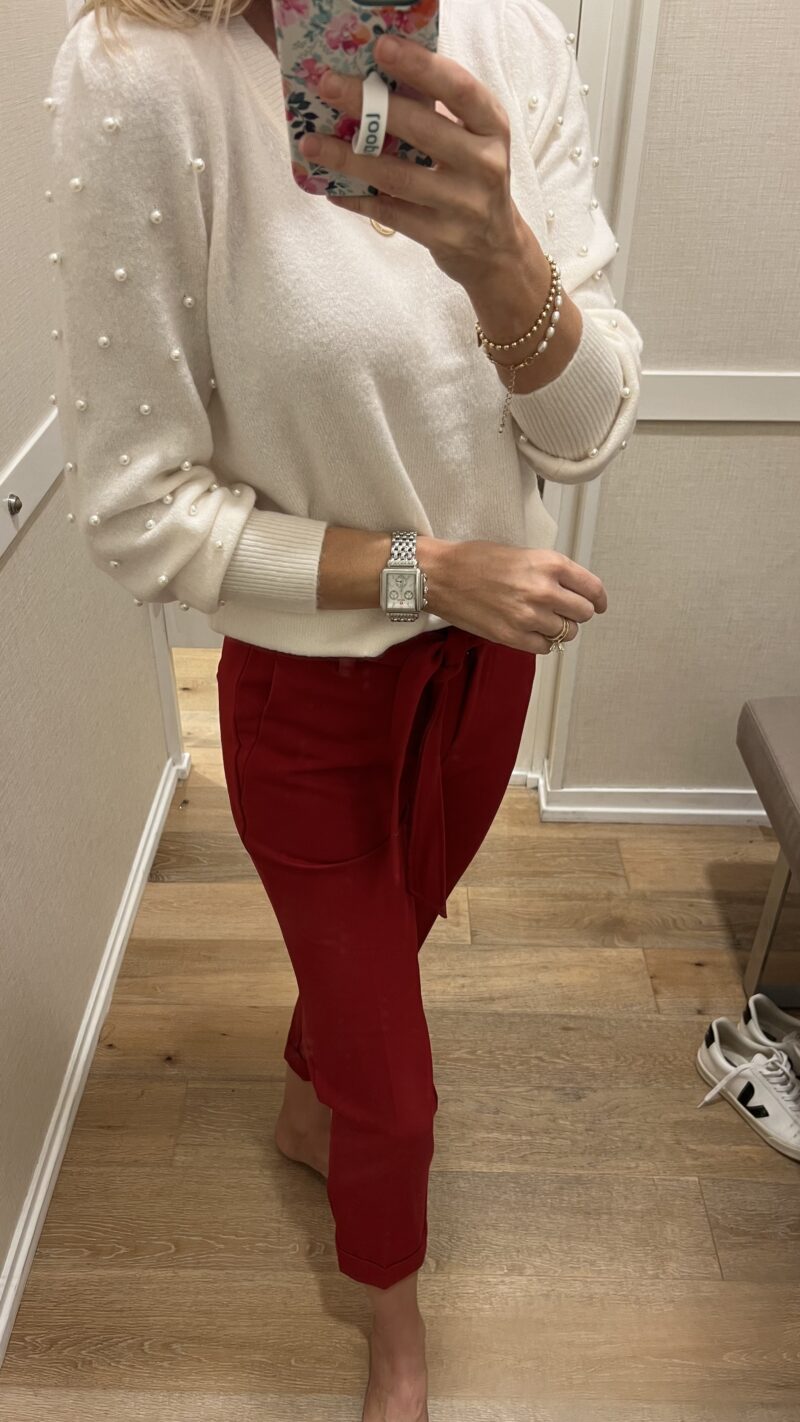 Ok, lots to say about this outfit. I wanted the whole thing. They did not have my size in the pants so I tried on the petite (hence a little too short). I would go down one size in these pants. They are GORGEOUS in person and I was so frustrated because no matter how I set the camera, it would not capture the pretty Christmas red. This is the only photo that did so excuse the awkward shot. Dressing room lighting messes with colors for sure.
I am absolutely ordering these red pants. They are perfect for the upcoming season. They would be cute with a sexy top for date night or fun with this sweater for a holiday luncheon ( I say that as if I am invited to holiday luncheons??!). The color red is PERFECT. Not too bright and just so classic.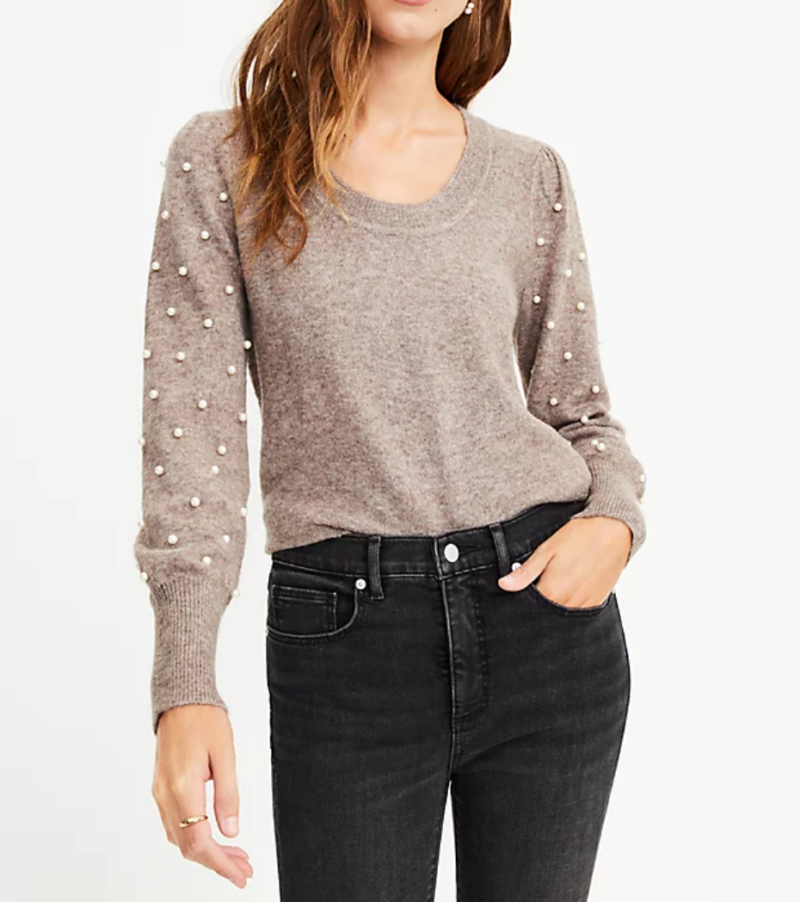 This festive sweater also comes in this beautiful color. I really like this.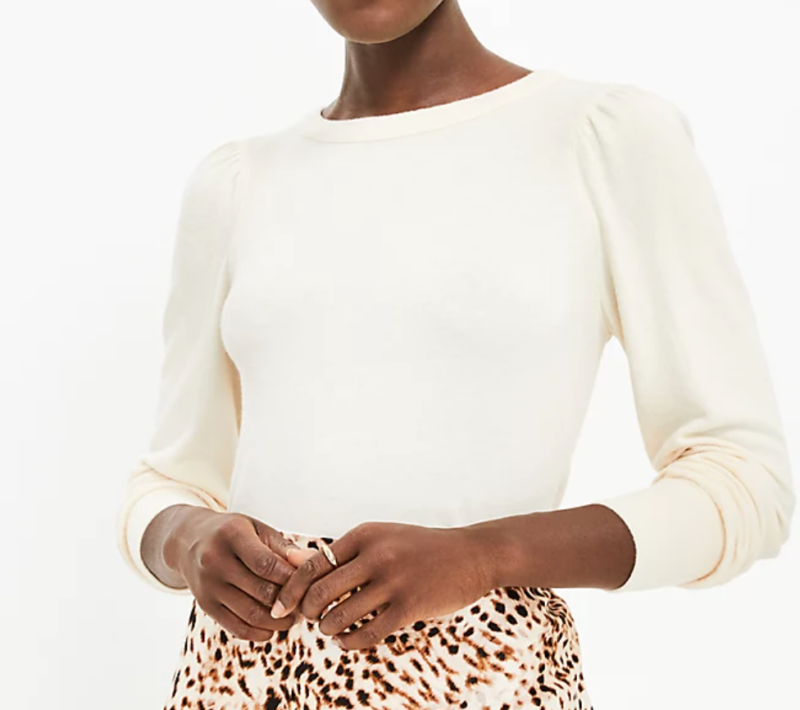 This top feels like jammies. There was a cute gal in the store who told me she came back to buy the other two colors in these. I have something similar so it didn't make it home, but I can assure you it's incredibly soft. Buy your usually size.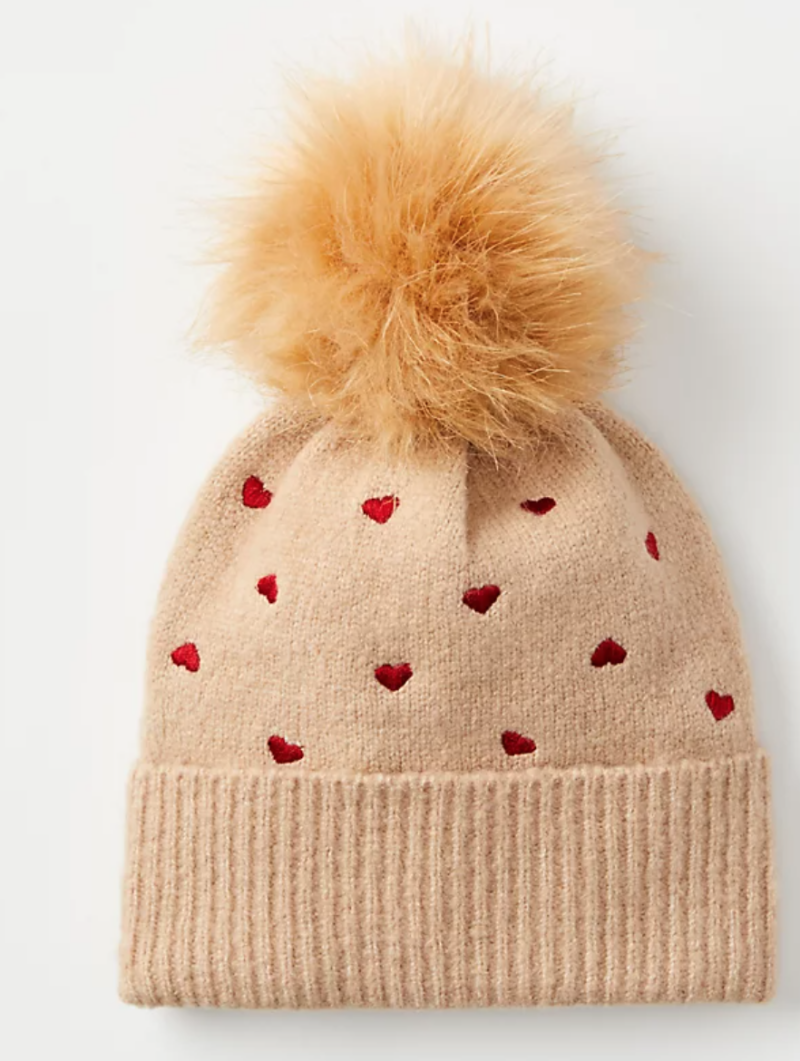 This is going to sound random, but this is the cutest hat if you have a daughter. I wanted to buy this but I could tell by looking at it it looked more like a child's size. So maybe elementary age . . .it's darn cute (would be fun for holiday photos).
MOM UNIFORM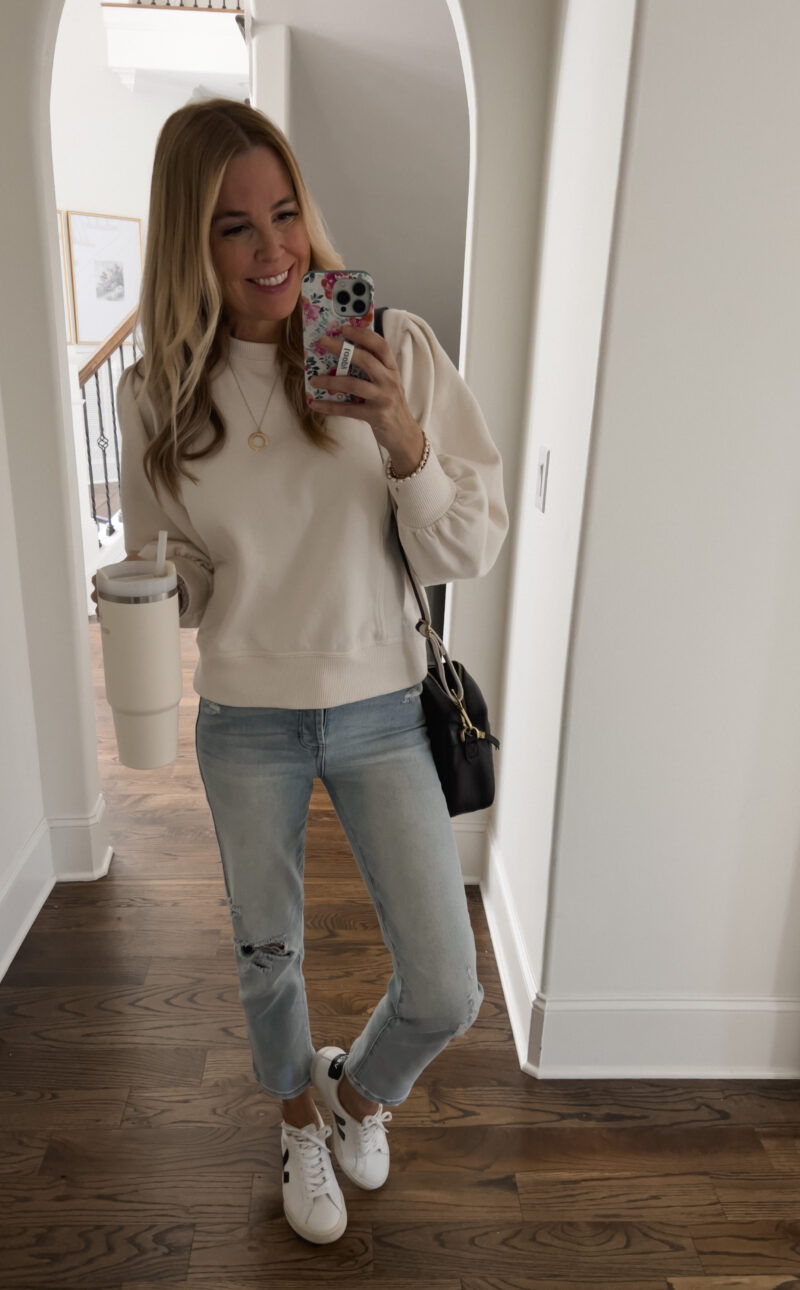 Yep, you will see me in this most days running around town. This is my exact Stanely cup $30 (love) and I can't quite my Target sweatshirt. It's the thing I grab the most. I think because it's a little bit more feminine than a usual crewneck and it's so soft. My sneakers and handbag are used pretty much daily.
GIFT IDEAS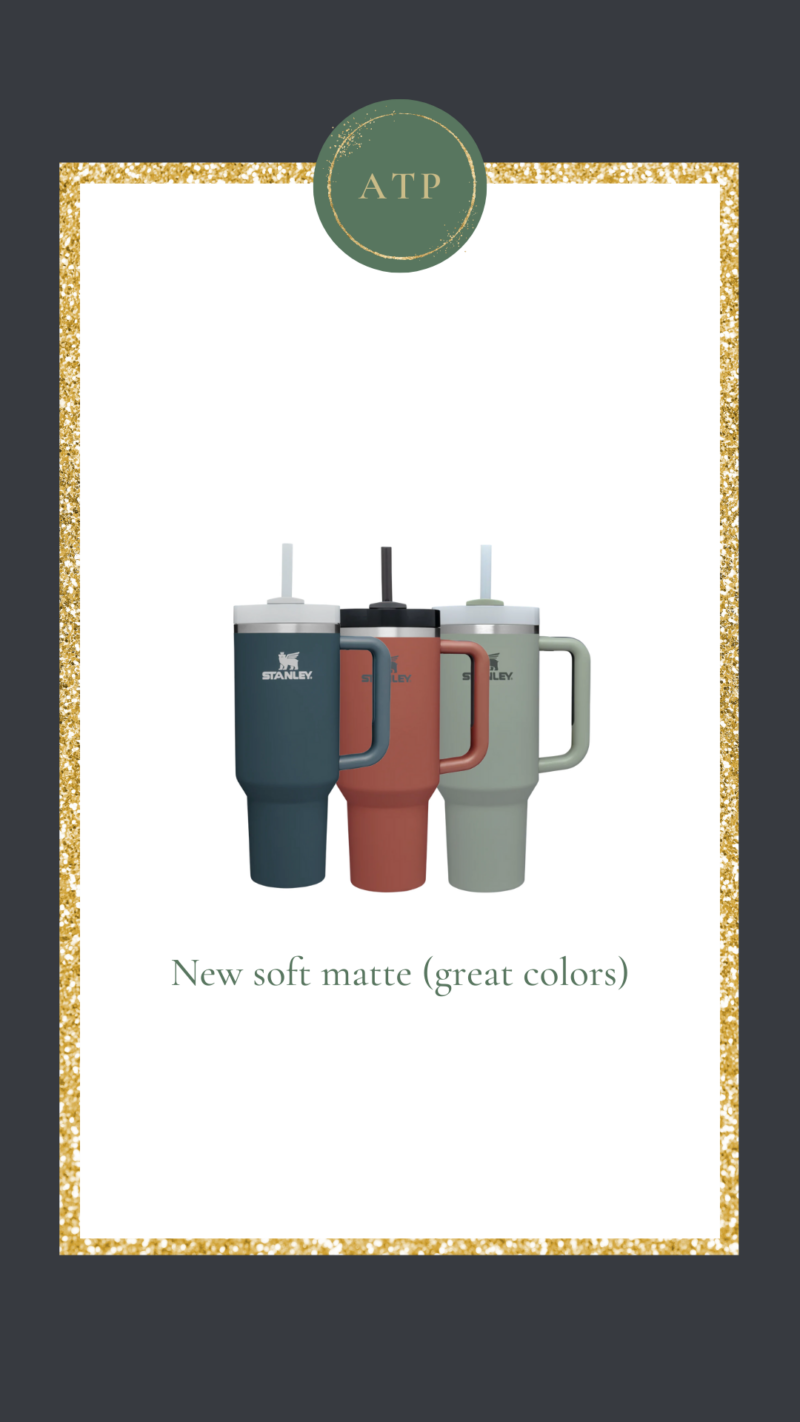 Guess what's back? Back again. The famous Stanley cup (which I fought for so long) is back in a matte, soft sided finish in such pretty colors. I really do love mine despite thinking I wouldn't. Why? I drink way more water (once I got used to the straw), love that it fits nicely in my cup holder, it doesn't leak, and it's comfortable in your hand. Love this as a gift for anyone.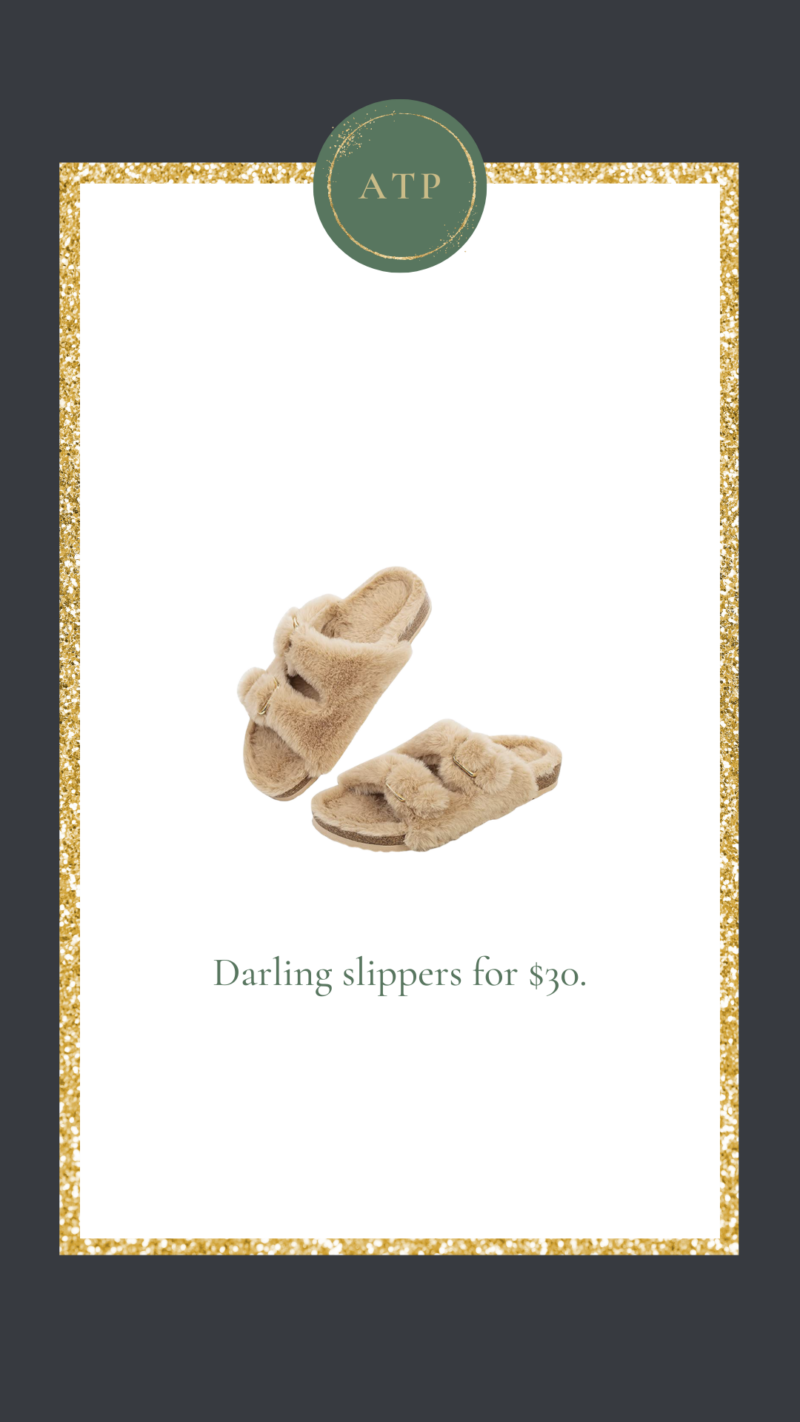 Nothing makes me happier than when I post things and I hear from you. My dear friend from college reached out to say she was gifted these slippers and LOVES them. That was all I needed to order a pair. These would make such a great gift. Was thinking about these for my nieces. If you need extra arch support, I stand by these. They are fantastic.
FAUX LEATHER PANTS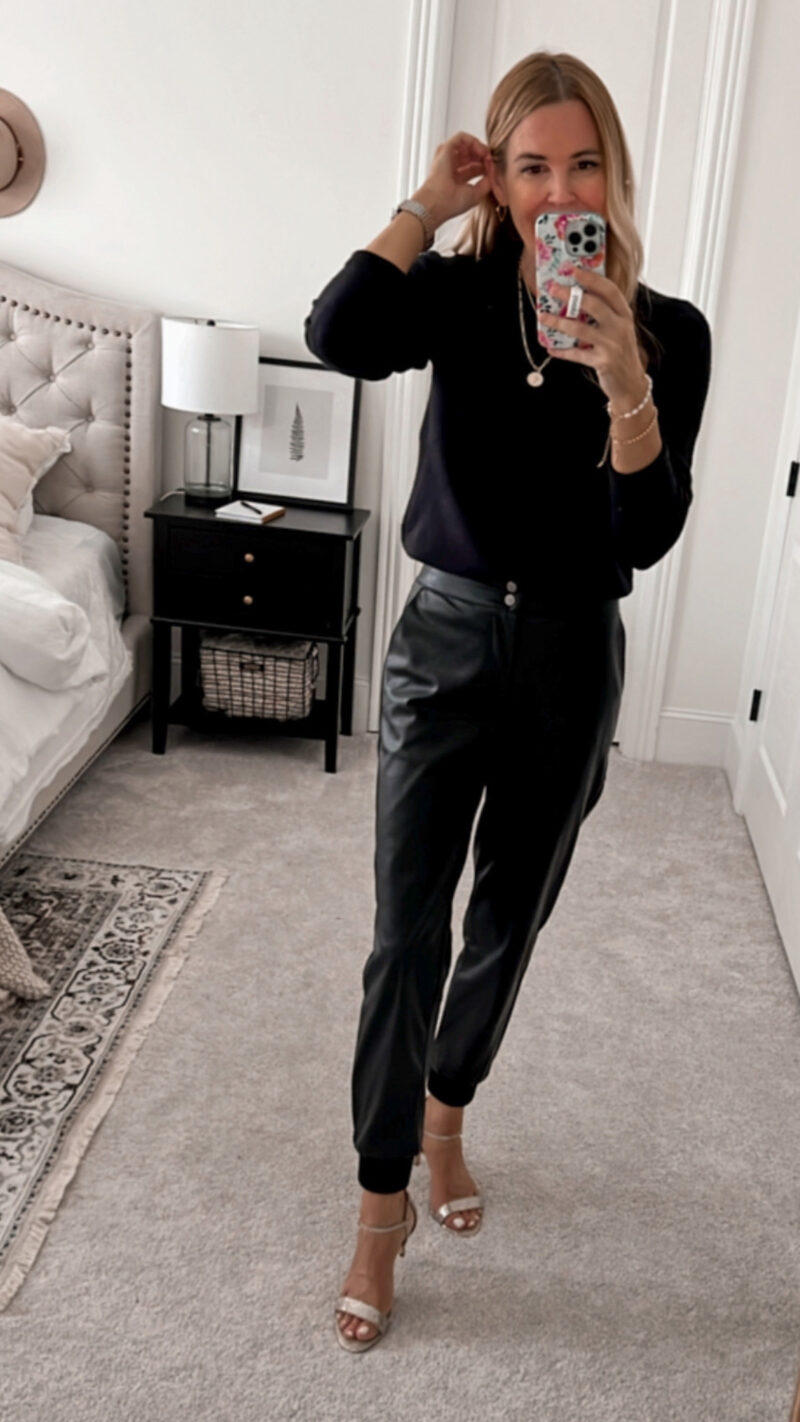 I had so many questions about these faux leather joggers. I went down one size to an XS. I just didn't want them to be too puffy looking. They are also really cute with black sneakers for a casual look. They are very comfy around the waist because the back is an elastic band. And if you are going to buy something that you aren't wearing on a daily basis, the price point is great $36. I can't believe these sweaters are $40. So many colors and lovely for the holidays. I bought the XS in the black sweater.
HOLIDAY HEEL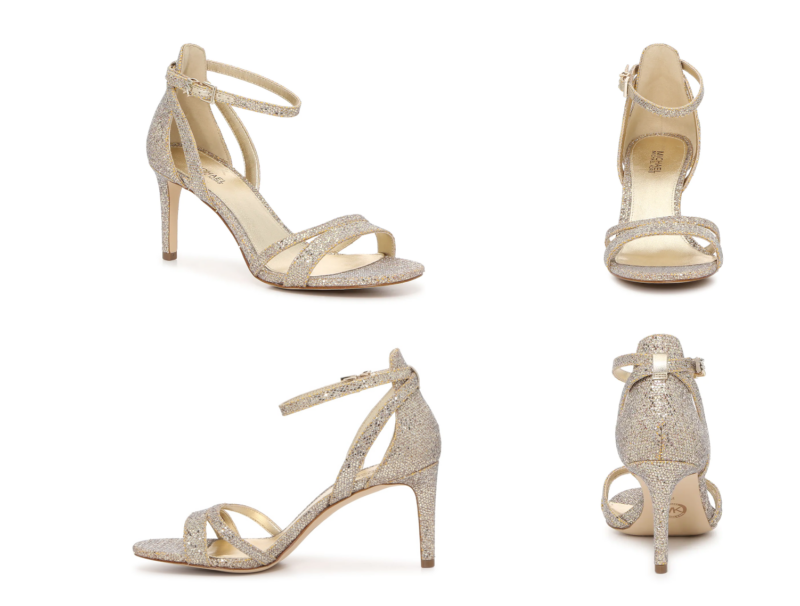 This is my pick for a holiday heel. They are not too high but still so sexy and pretty. This is the updated version of mine. They sparkle isn't too much and they go with every single holiday outfit.
HOLIDAY DRESSES
Love a good chocolate brown dress for the holidays. This wrap style is so pretty.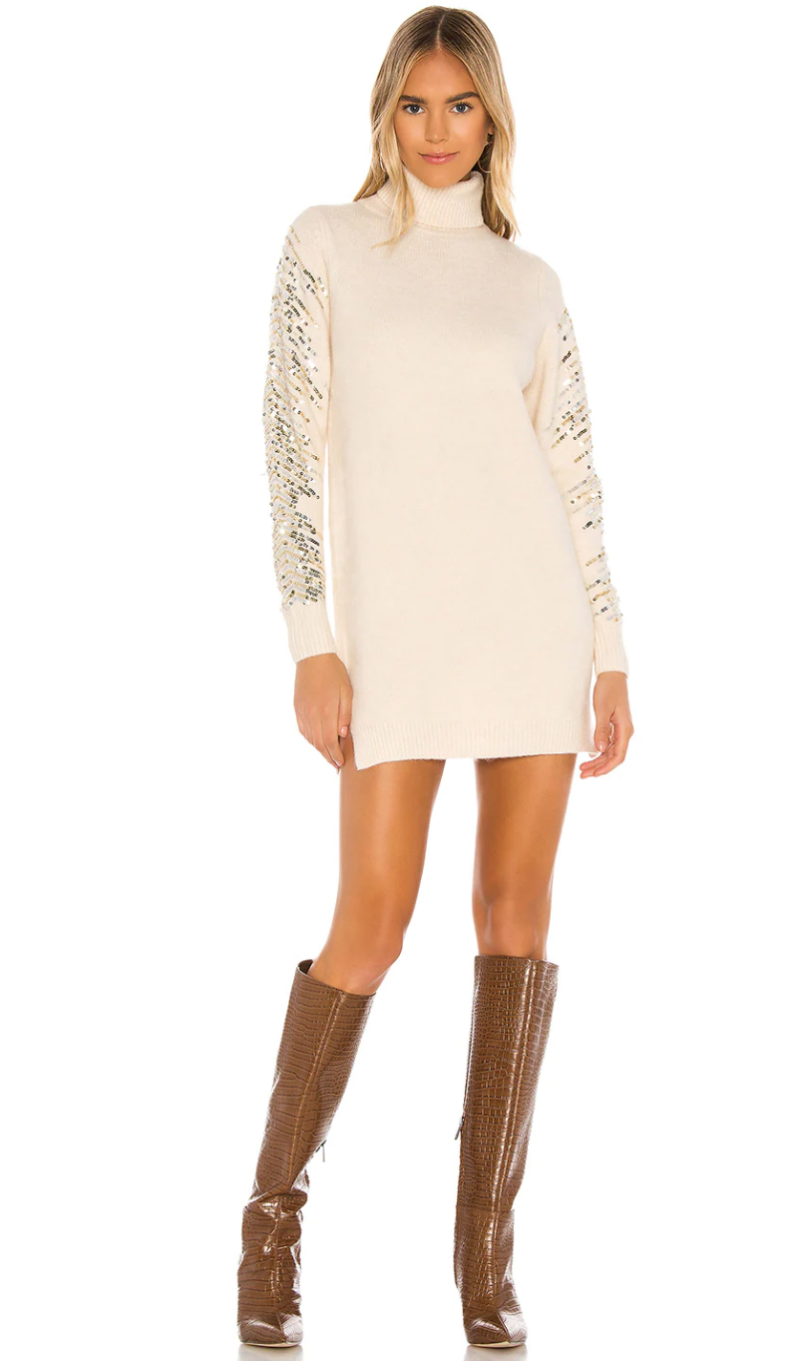 I know New Year's is a long way off, but when I saw this I immediately thought of that. This sweater dress would be amazing and it's under $100.
I DID A THING
I did a thing! I bought this rug for the kids' movie room space. I can't wait for it to arrive. It has the cloud pile technology so it's crazy soft and perfect for lounging.
HOLIDAY HOME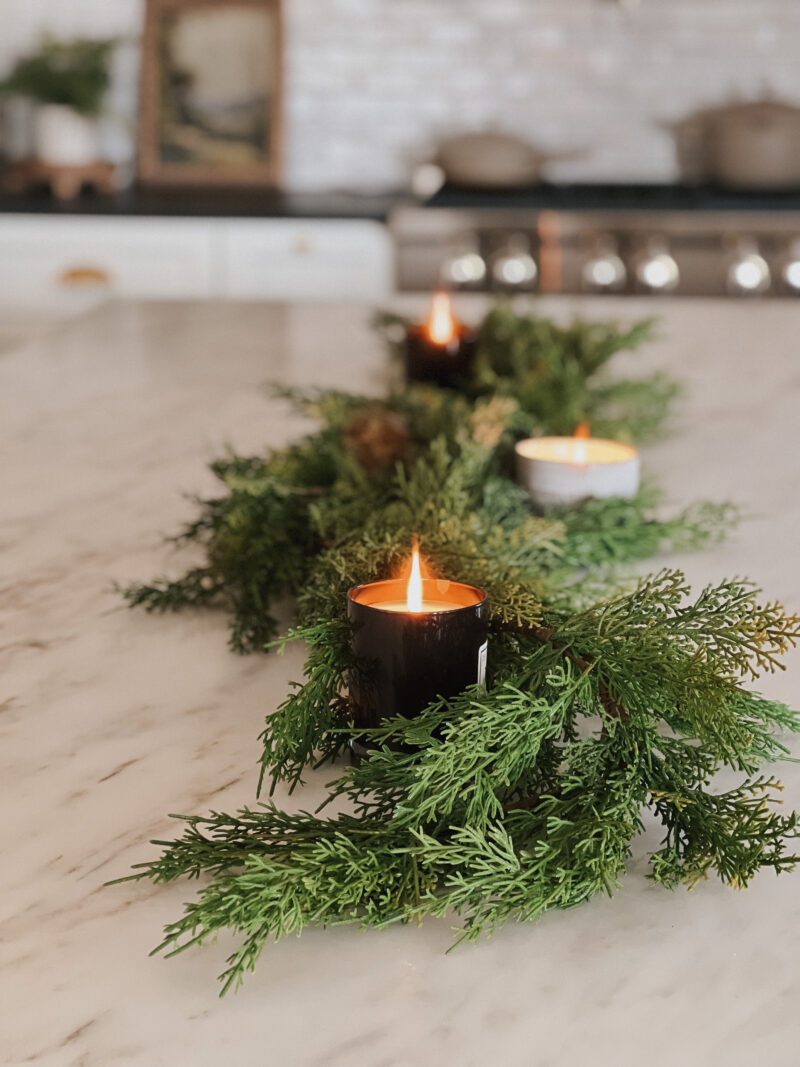 These cedar garlands are so pretty. They look so realistic. When we entertain we mix in a couple of real stems for the great smell. Plus it really makes it look like the entire garland is real. I am envious of everyone who gets to buy the longer length. I wish the ones for my staircase were the longer lengths.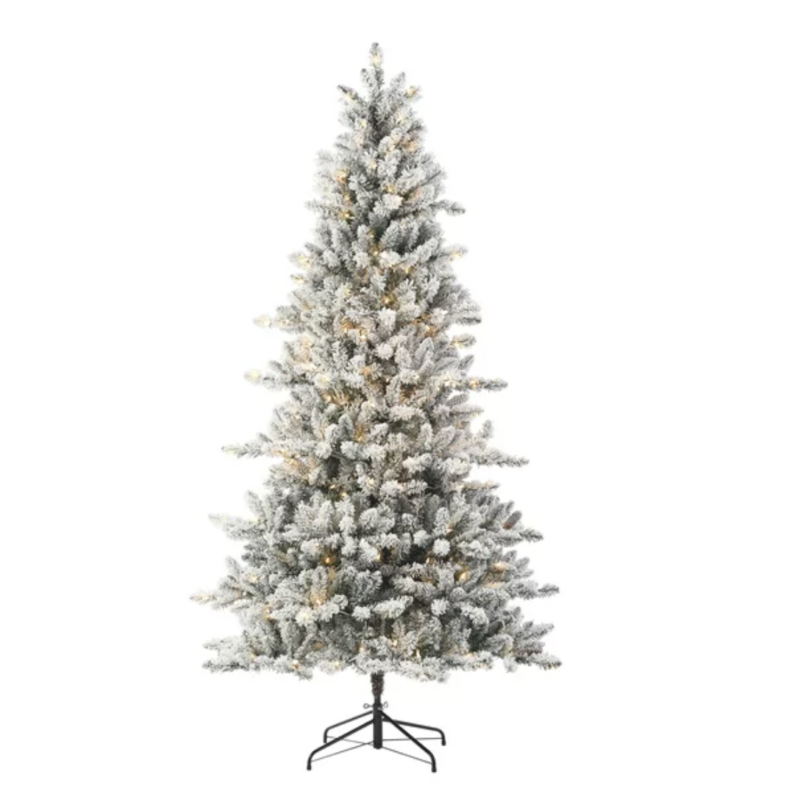 I know I have shared this before, but this is the flocked tree $199 we put on our porch each year and I can't say enough good things about it. It's easy to set up, does not shed and is so pretty. We truly love this tree.
I just adore this banner. It would work well on a tree, mantel or above a bed. Really anywhere.
HUGE JEWELRY SALE (ALL $15)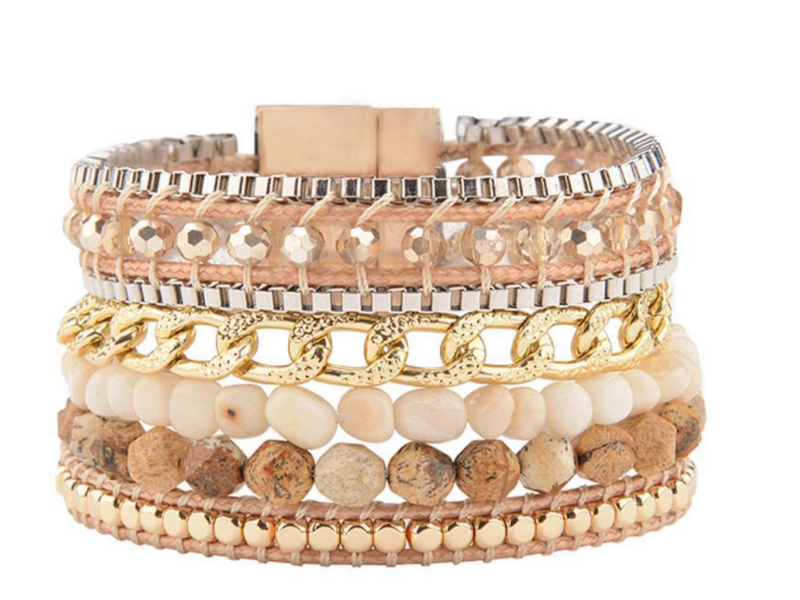 Don't sleep on this!!! I have been wearing Victoria Emerson for years. They hold up so well and I love the designs. This cuff is usually $68 but EVERYTHING is $15. What?!!! Gifts, gifts, gifts. I actually even love having a couple of these on hand for unexpected birthday gifts. The entire site is $15. THIS. IS. GOOD.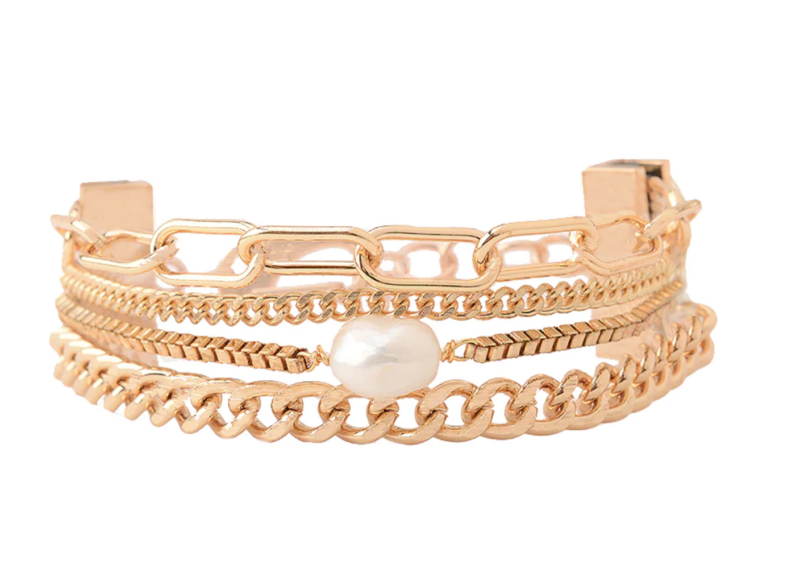 This pretty bracelet is usually $48 but now $15. These make great gifts for favorite things parties and for teachers.
TEEN GIFT IDEA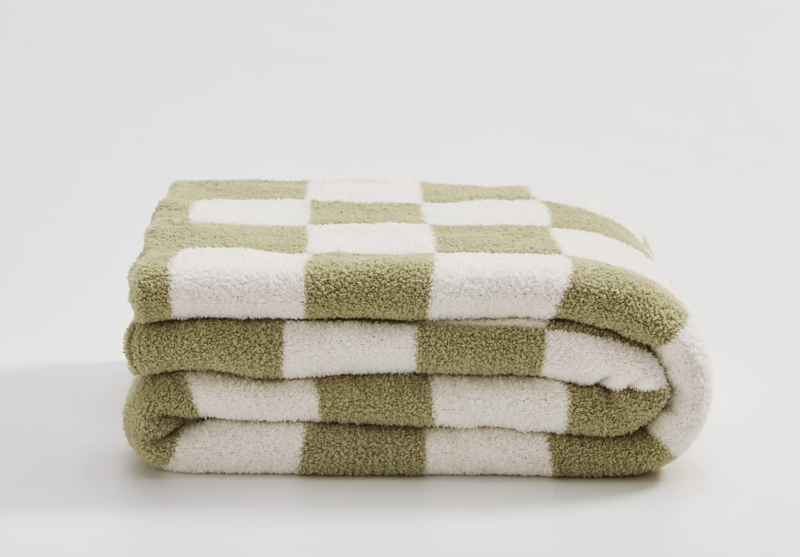 This Cozy Blanket is a great gift idea for teens. Or for teens to gift each other. It comes in so many colors. If you missed my teen girl gift guide you can see that here.
What are your plans today? It's cold and rainy here so I may try and tackle my closet. It's a complete and total disaster. I also get to watch my son play hockey which is always a highlight. Wishing you a restful weekend. See you on Monday.