Good morning! We are celebrating the kick off of Fall break over here. The kids are over the moon to have a respite from homework and studying. And I'm excited to spend some quality time with them. Our temps dropped overnight (literally) so I am excited to officially welcome sweater weather. So many fun things in this edition of Saturday Shopping. Let's get to it.
LOVE THIS OUTFIT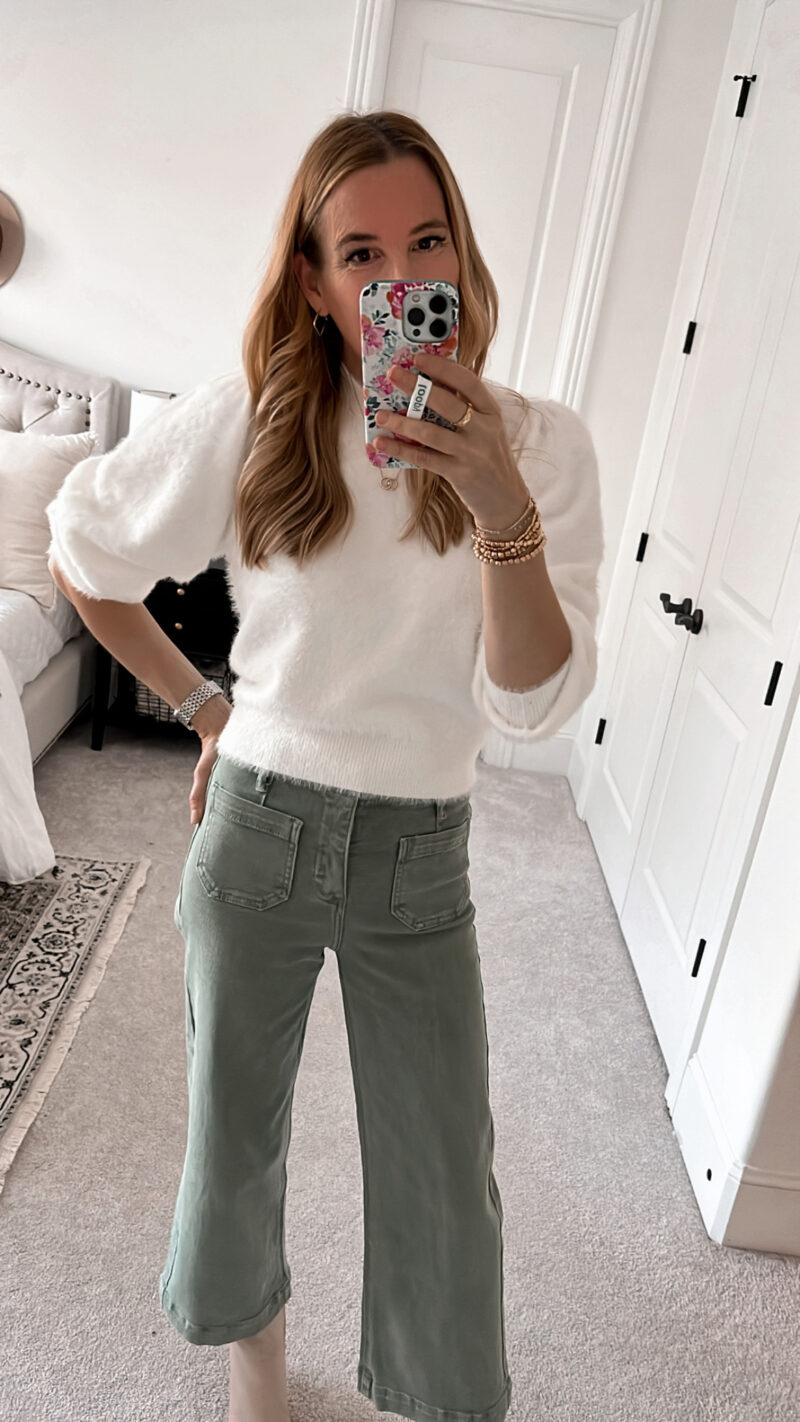 First up is this ivory sweater paired with olive jeans. I LOVE this outfit. I wish I could gift every one of you this sweater. It feels incredible on. This is one of those outfits I put on and I didn't want to take it off. The olive pocket front jeans are not only darling, but very comfortable. They have nice give at the waist and fit really well (true to size). This sweater is going to be beautiful for the holiday season. It will be so pretty with faux leather or velvet. It's a good one girls (and cute with sleeves pushed up or down).
My bracelet stack is $6! Yep. A couple of the bracelets were gifts but the chunky gold stack is a steal. But I wouldn't get it wet! Clearly at $6 it's not going to last forever. But it sure is cute.
Another look at the olive jeans paired with this pretty cardigan. I am also liking cropped jeans with taller boots (booties work but I think it looks a beat cleaner with longer boots where you don't see the ankle).
FEMININE BLACK TOP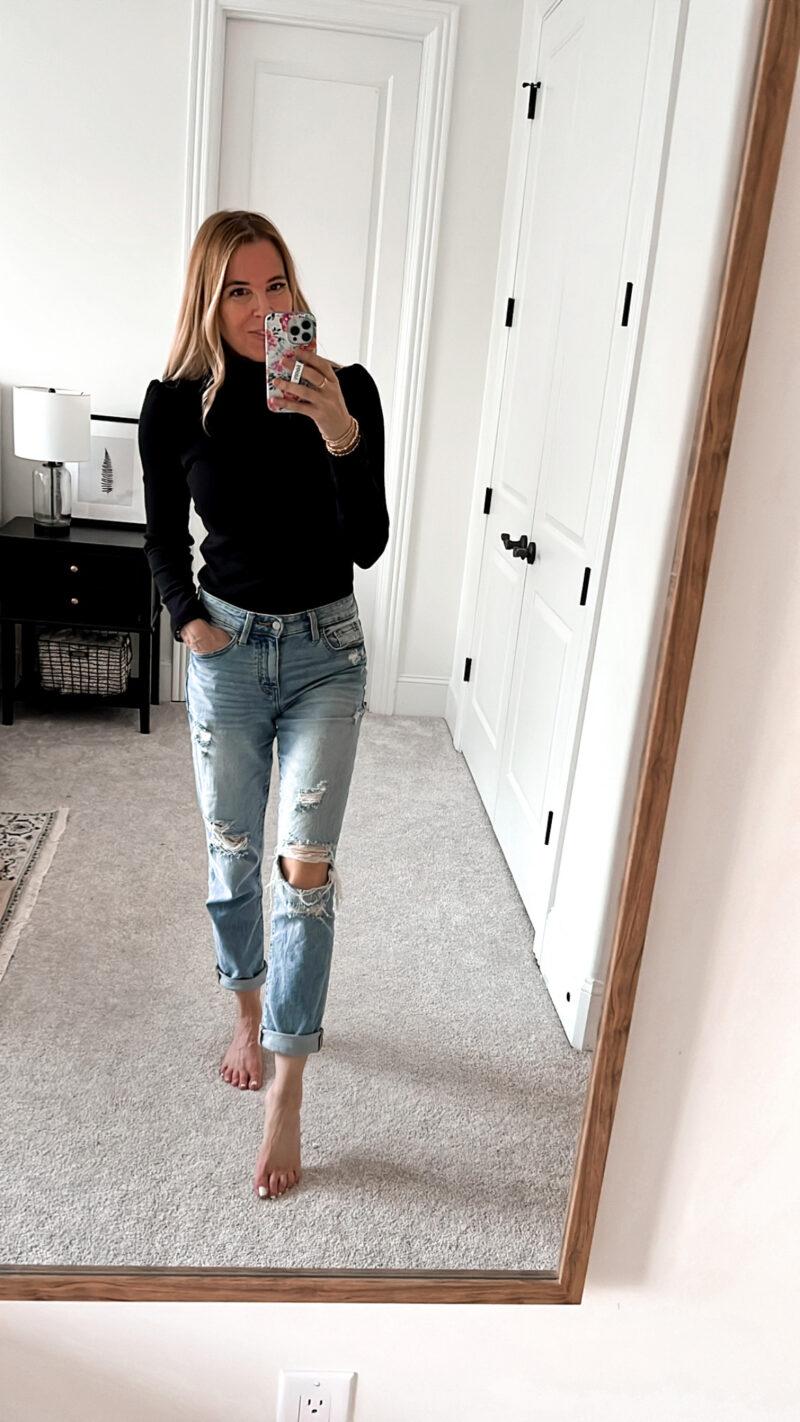 The sleeves on this turtleneck have a subtle puff and it makes it so feminine. Tucked in, it almost gives the appearance of a bodysuit without it being skin tight. My jeans are $59 and true to size.
RECREATING THIS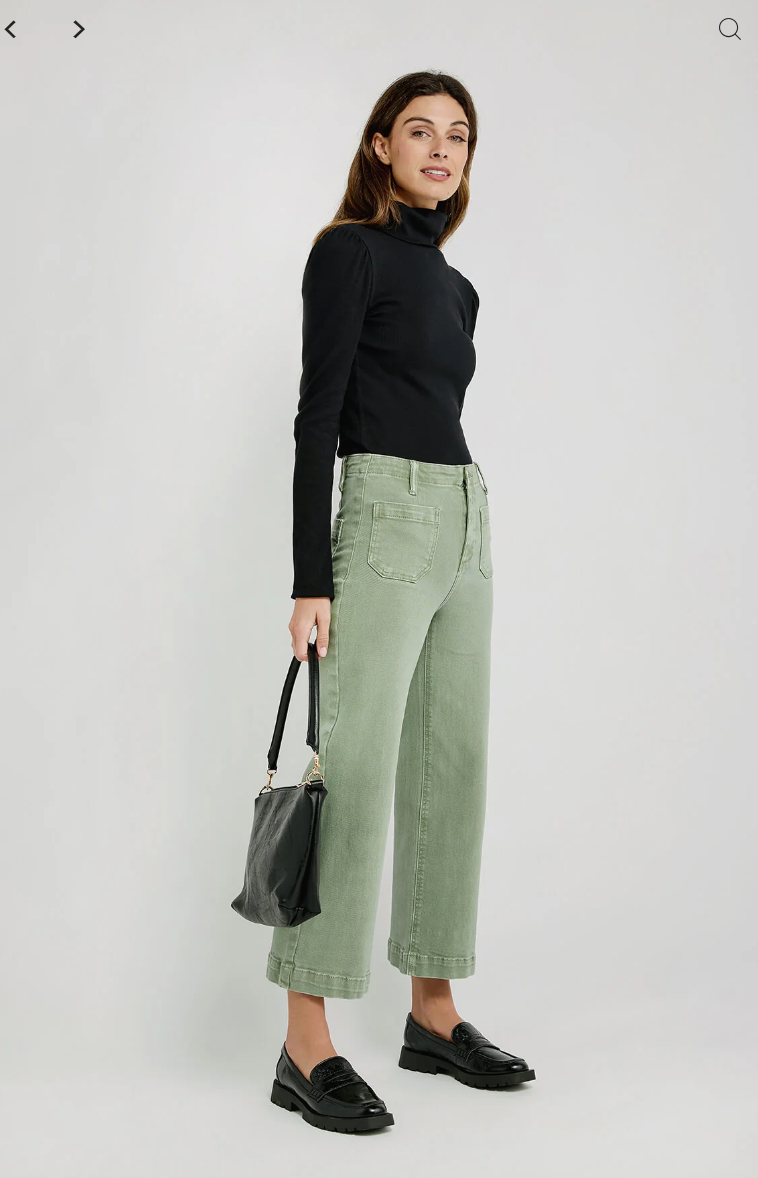 Yes, please to this outfit. I can't wait to pair the black top with the olive jeans. And I really like it paired with the chunky black loafers. (another great pair) Great look for fall.
CHANEL INSPIRED CARDIGAN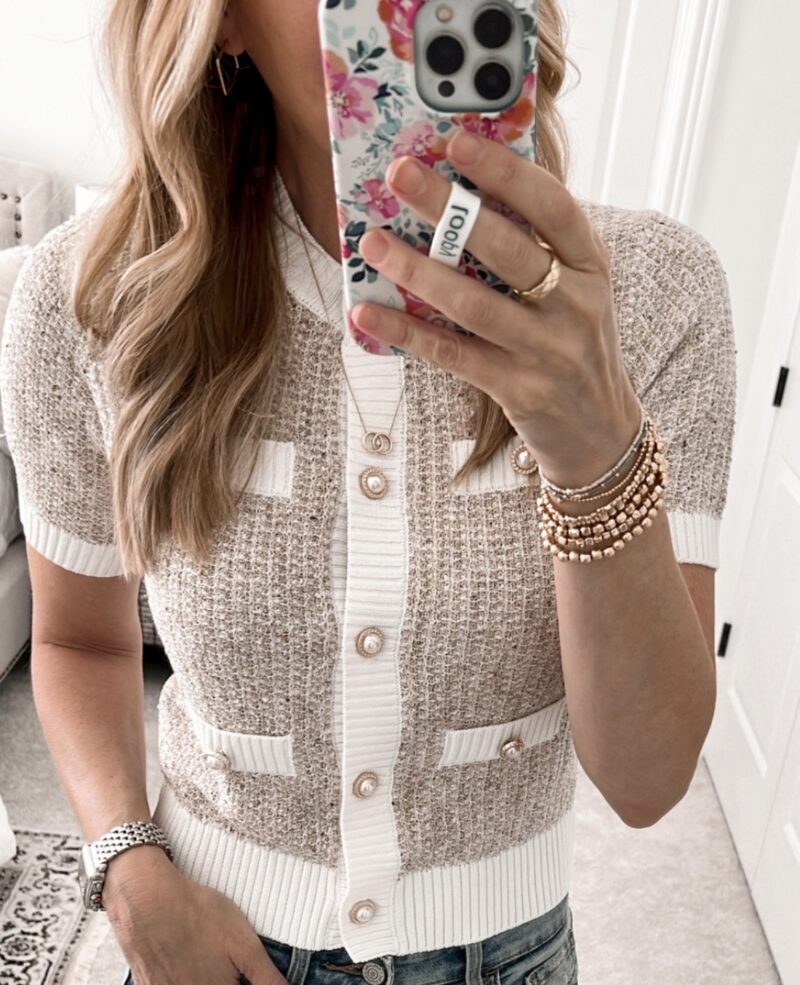 This is one of those pieces where people will ask you where it's from. I adore this Chanel inspired cardigan. The color is a bit softer in person and the buttons are so pretty. I am in the small and probably should have gone up to a medium. My advice is to go one size up. I can't wait to dress it up, too. It will be pretty with these faux leather pants.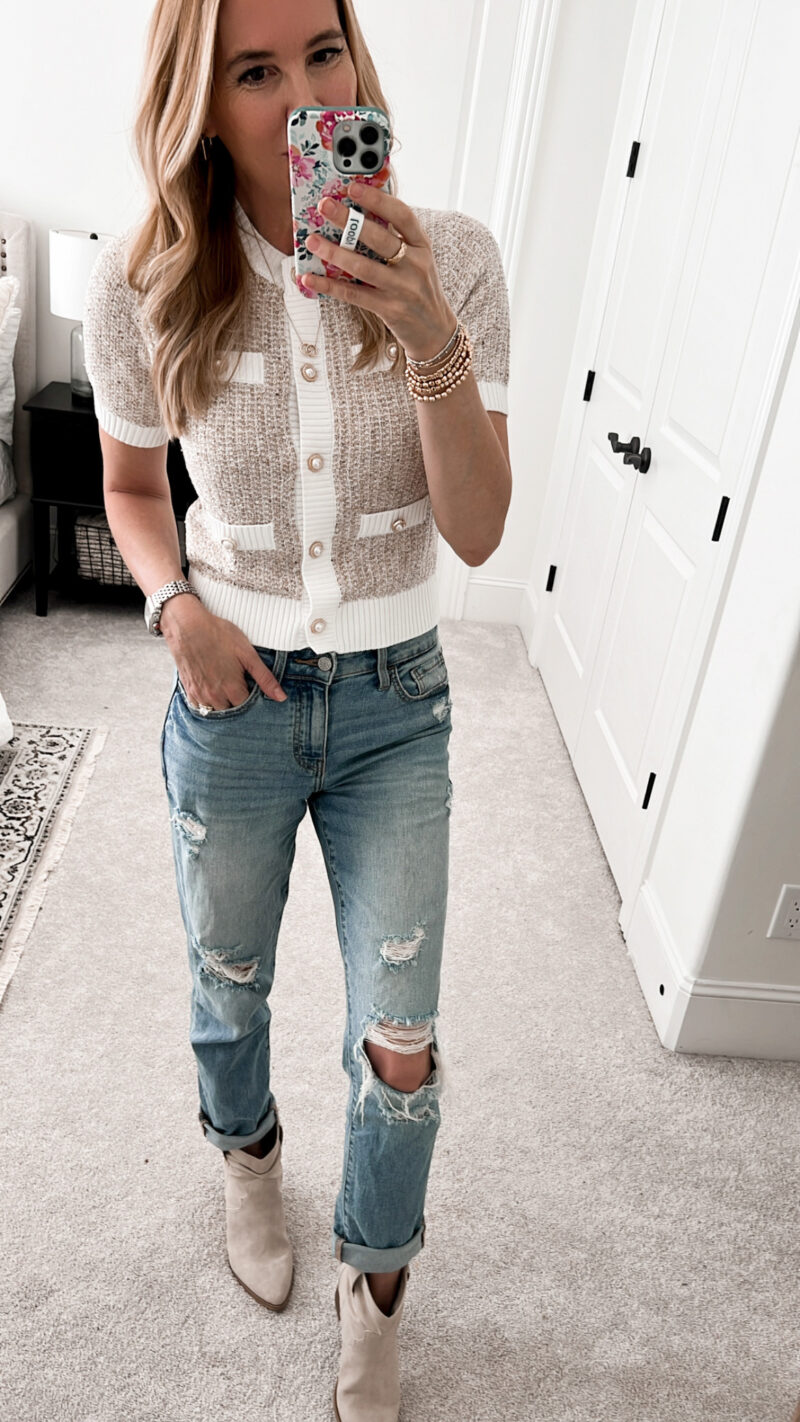 These are the distressed jeans I wear most often. Great fit and comfy (and well priced). The booties are $25. Can you believe it? And I get compliments whenever I wear them. They are very comfortable (have worn them to multiple concerts).
ANTHRO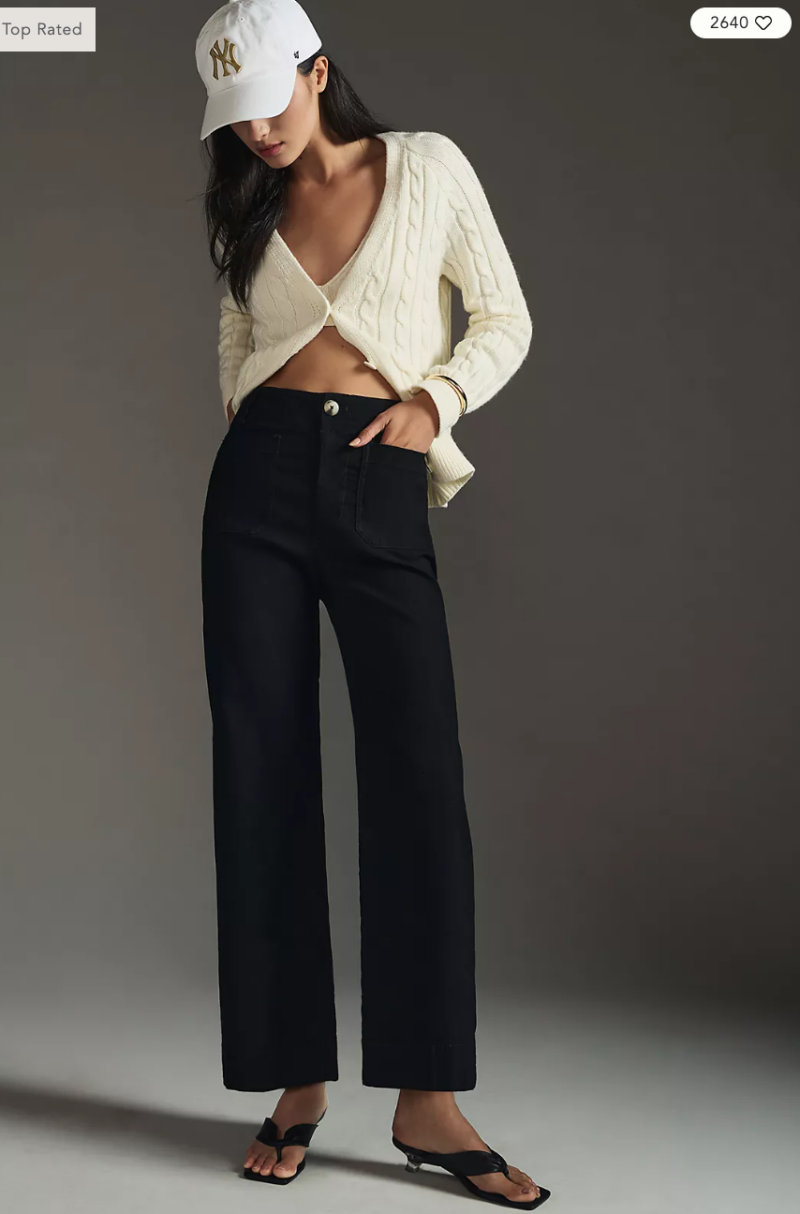 The cardigan above would look great with these pants (my favorite fit).
BACK IN STOCK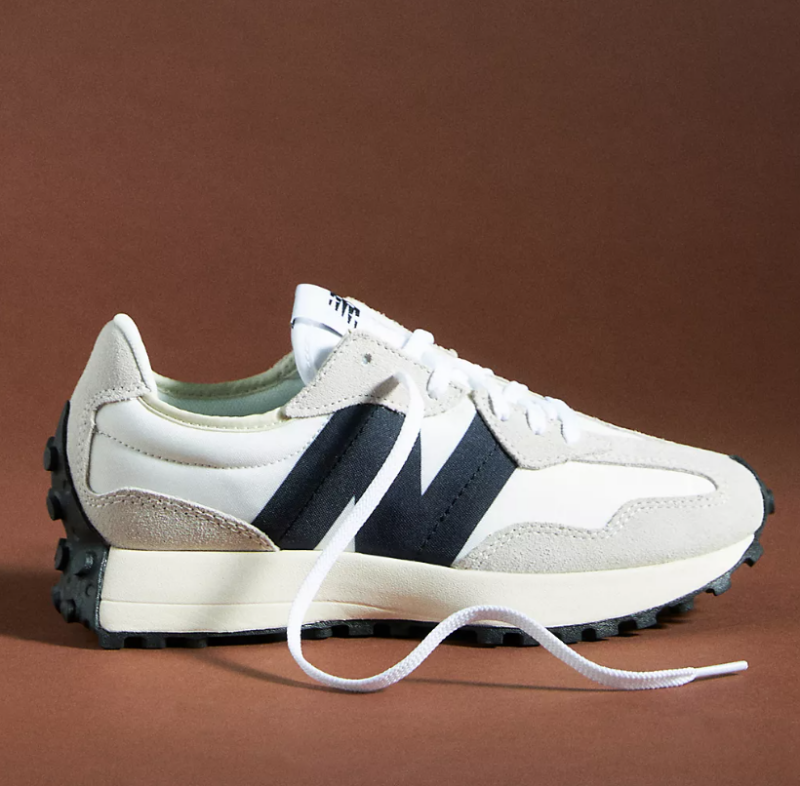 These are almost always out of stock so if you have had your eye on them, now is the time.
TIME TO DRESS UP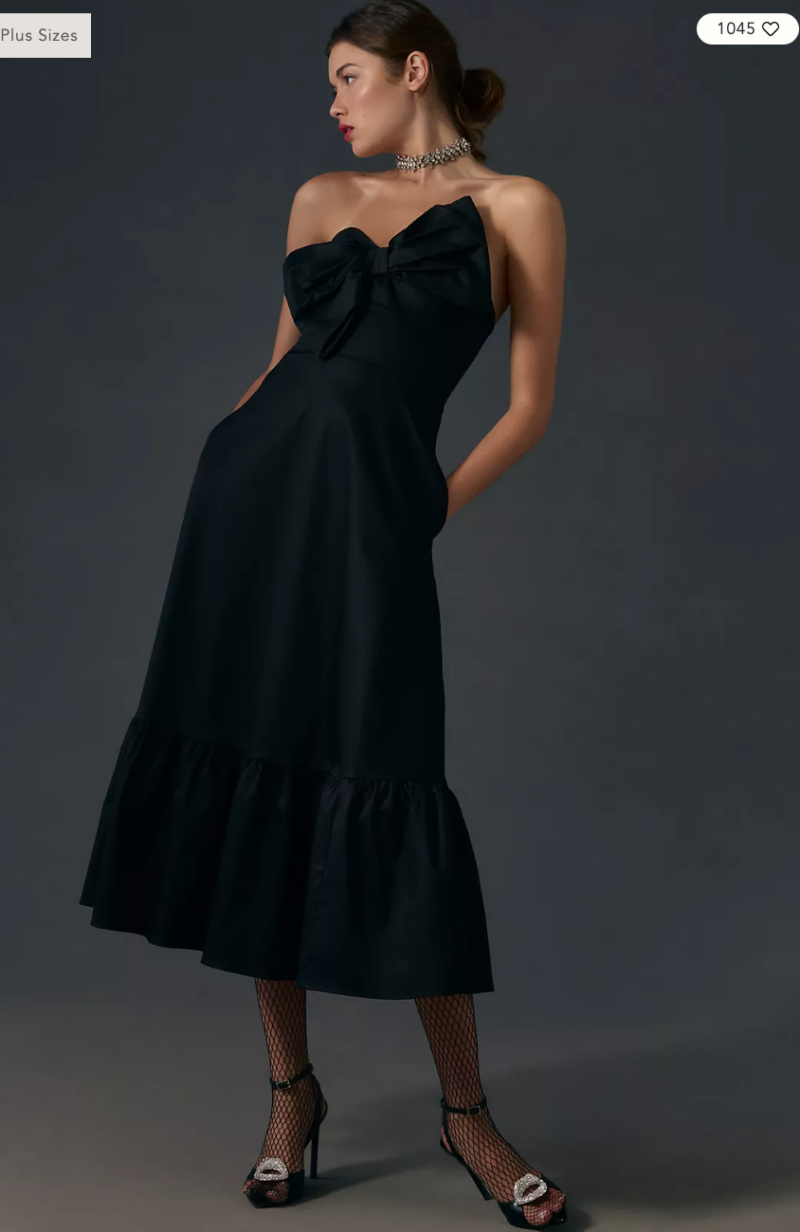 Formal event coming up? This dress is incredible. I will live vicariously through you. So good.
COZY LOOKS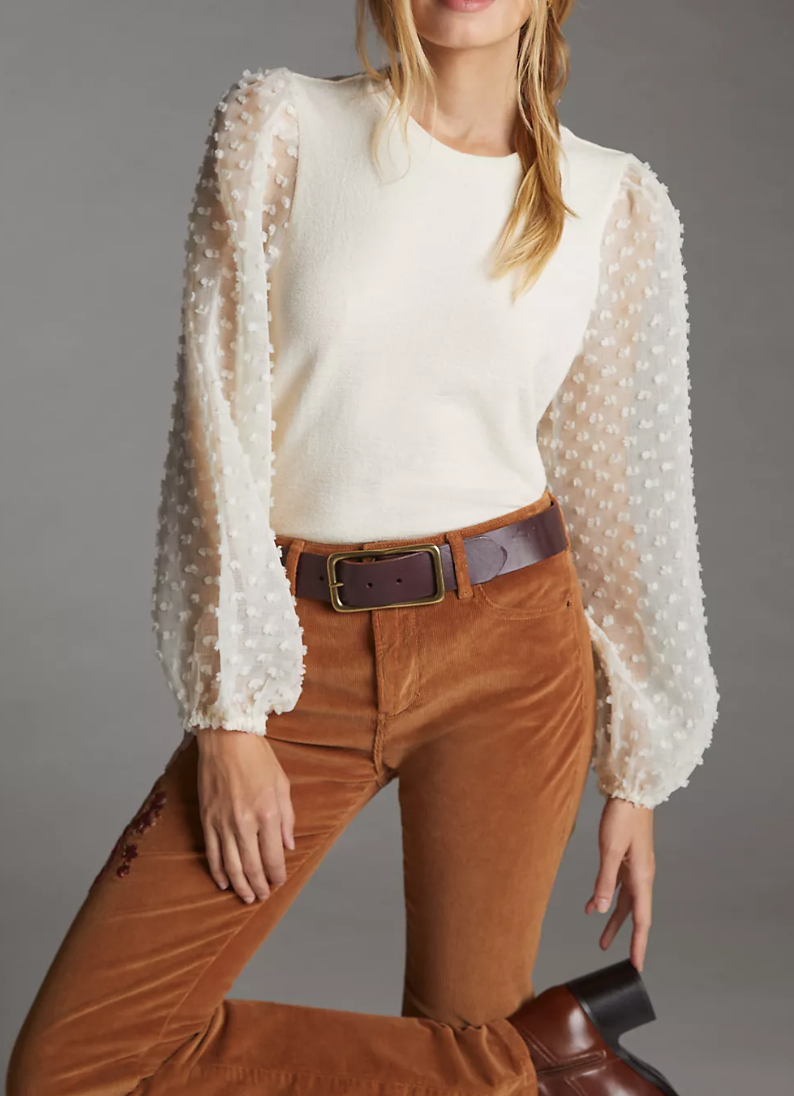 This is a beautiful top. Would be pretty all the way through the holiday season.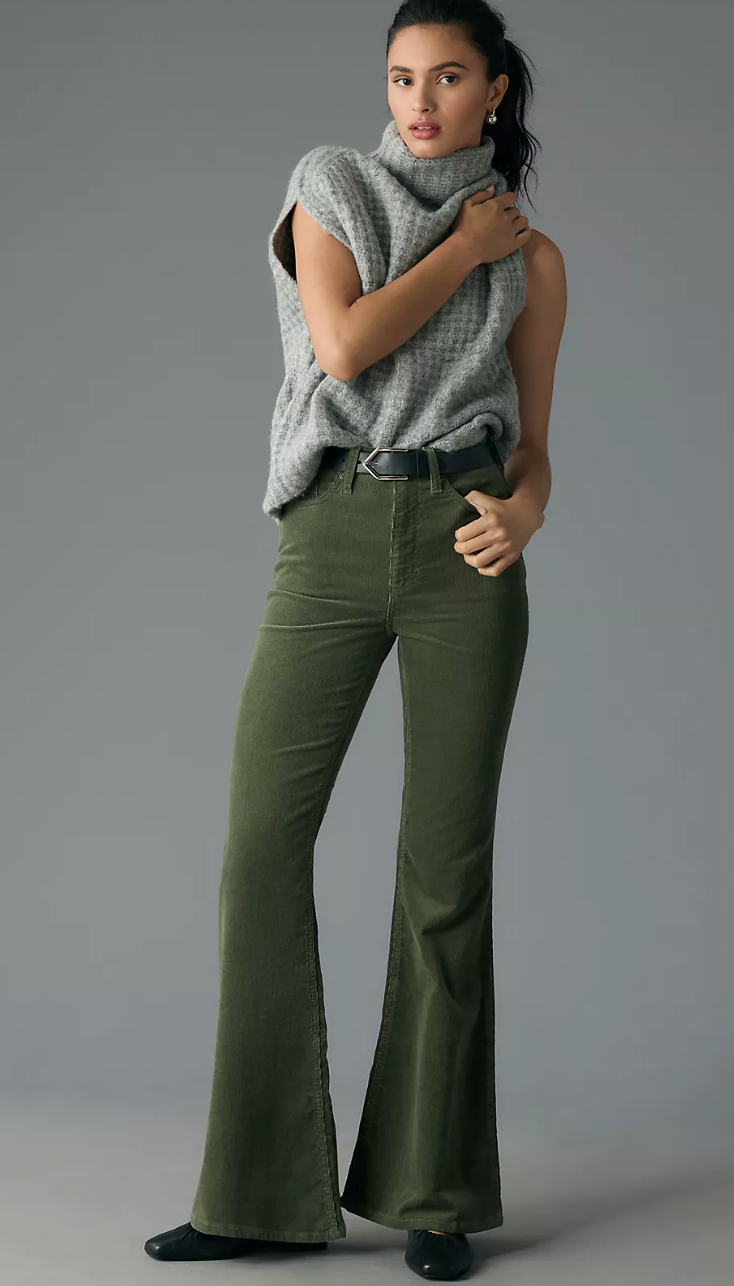 And it would look great with corduroy jeans. This color is so in right now.
SO DARLING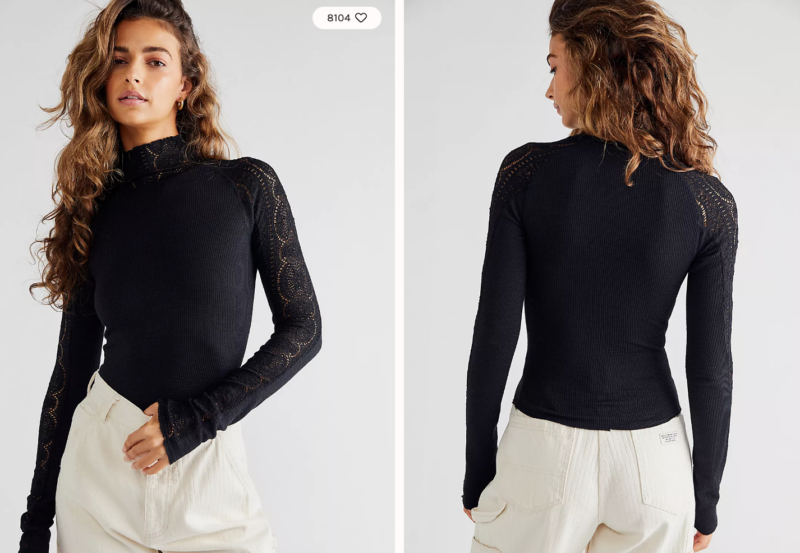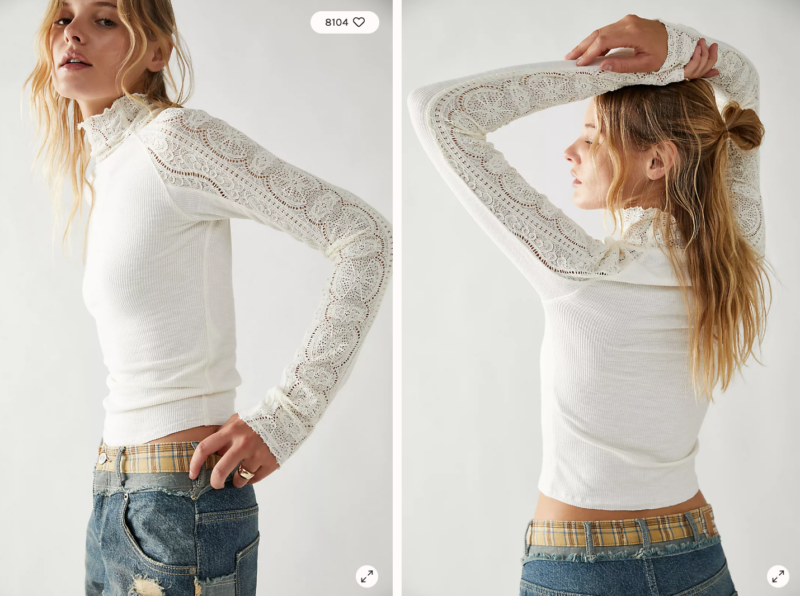 This top is darling in person. SO GOOD.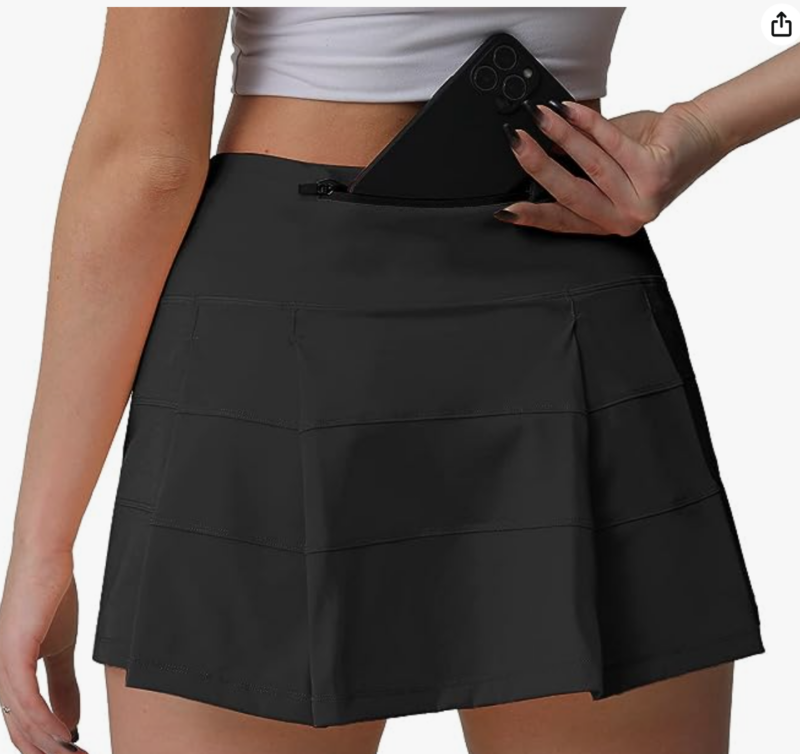 Hands down my daughter's favorite skirt right now. It looks just like the more expensive Lulu one. She has it in two colors. Highly recommend and it's under $30. (the blue water drop is so pretty)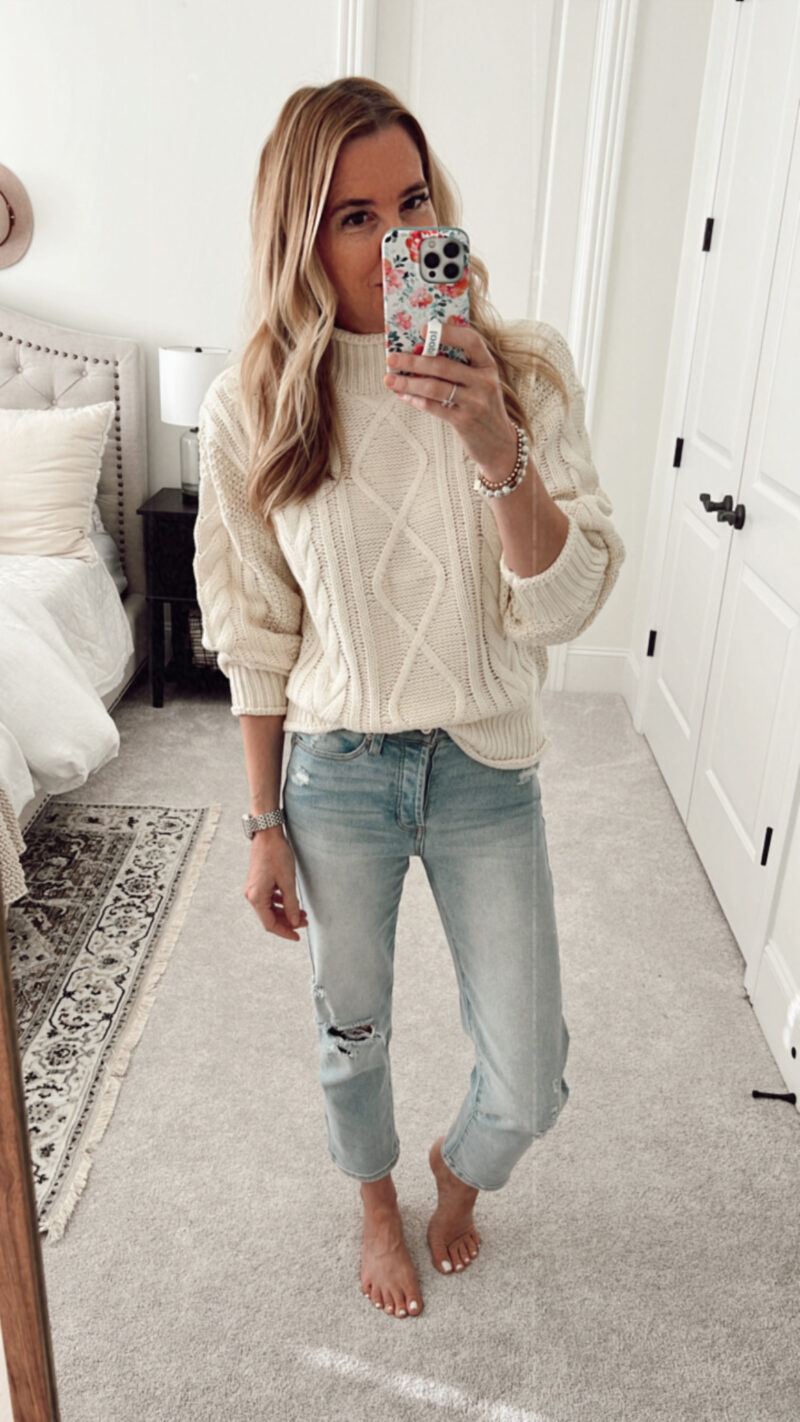 This cute cable knit sweater is on sale. Excited to finally be in sweater weather.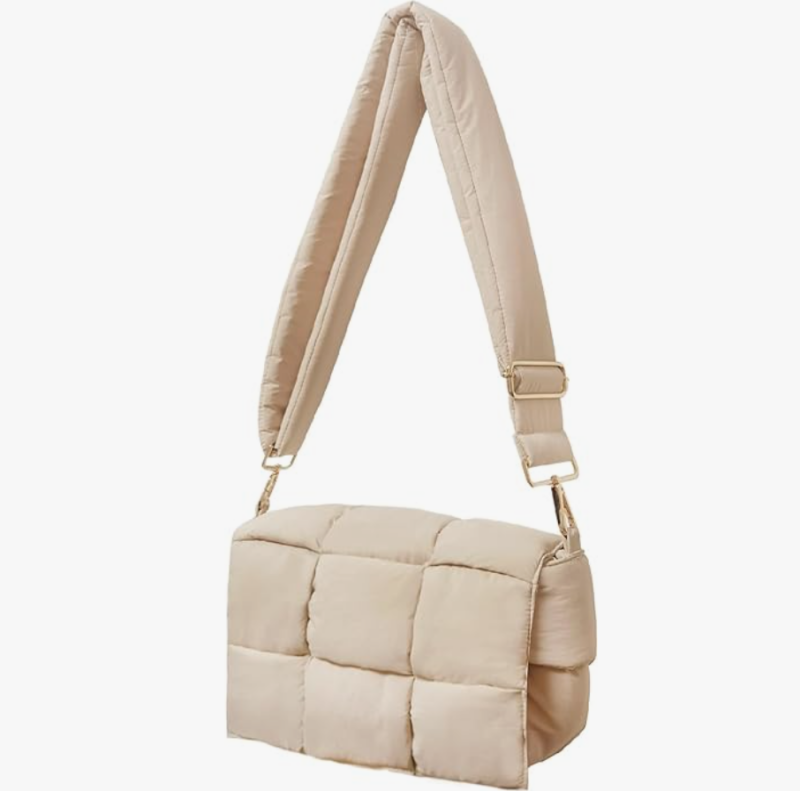 This bag just arrived and it's so cute. I am swapping out the strap with one I have but it's on sale so I wanted to share.
J.CREW
A heads up that this best selling coat is 30% off right now. Classic and will never go out of style.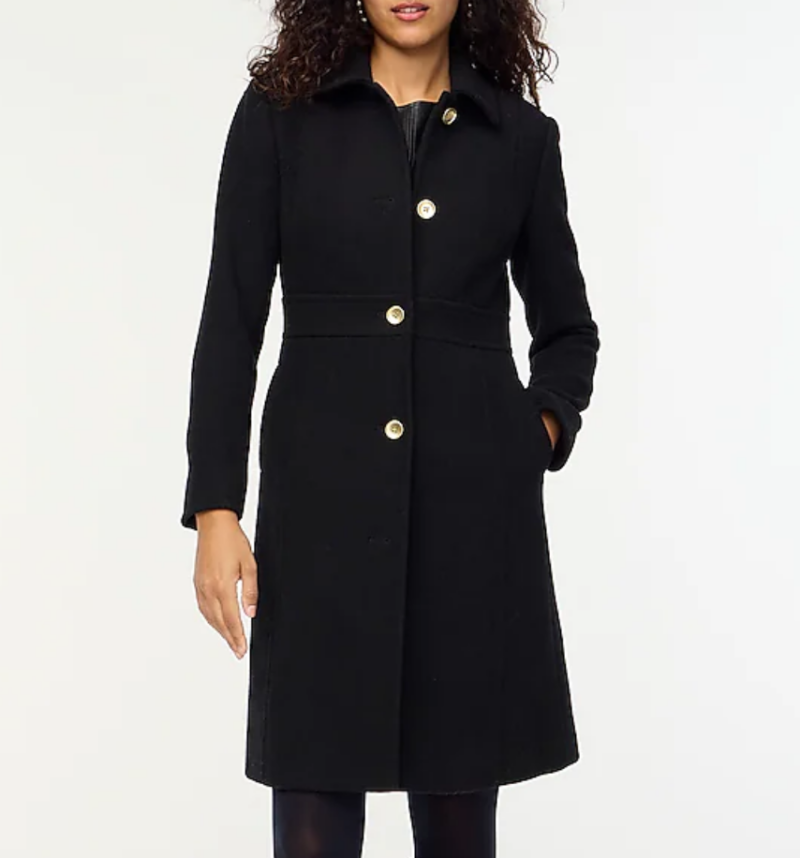 I bought this coat last year for my daughter and I to share. Couldn't love it more. Far prettier in person than this photo. And it's currently on sale. It's beautiful – especially around the holidays.
FALL DECOR
Looking for something other than mums on your front porch? These lit trees are so fun. They come in a few sized and add so much curb appeal. I am debating them because out poor yard is still looking rough after last year's freeze. We could use some color!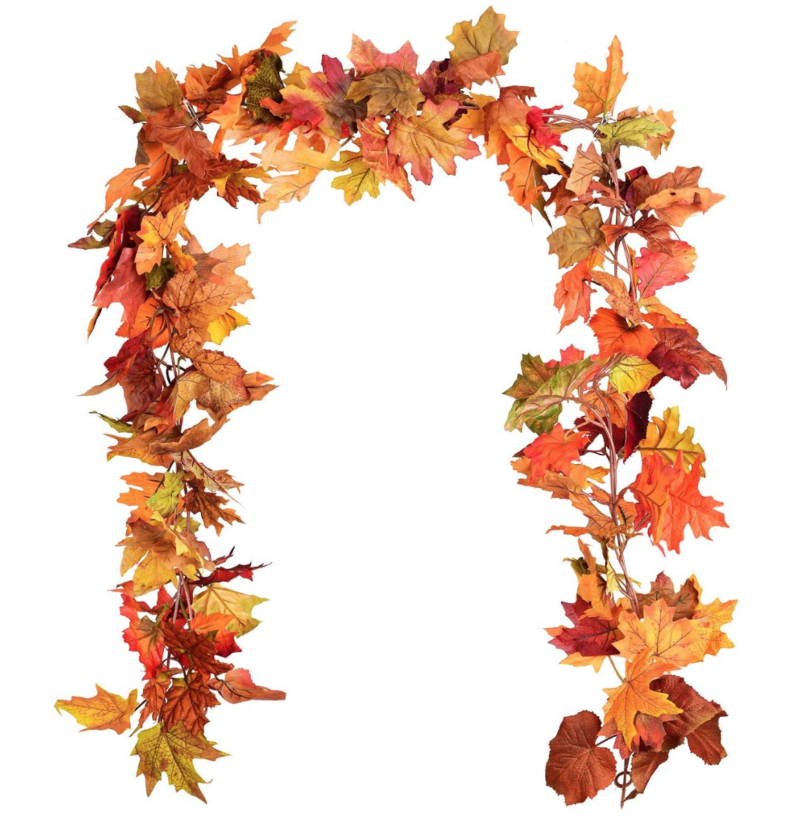 I've seen a couple homes in our neighborhood with these garlands around their front door and they look so cute. Plus things like this are easy to store year after year.
These stems are still going strong for us. Love these. This tablecloth gets 5 stars from me. Fantastic quality. I am actually considering buying it in the light brown for Thanksgiving.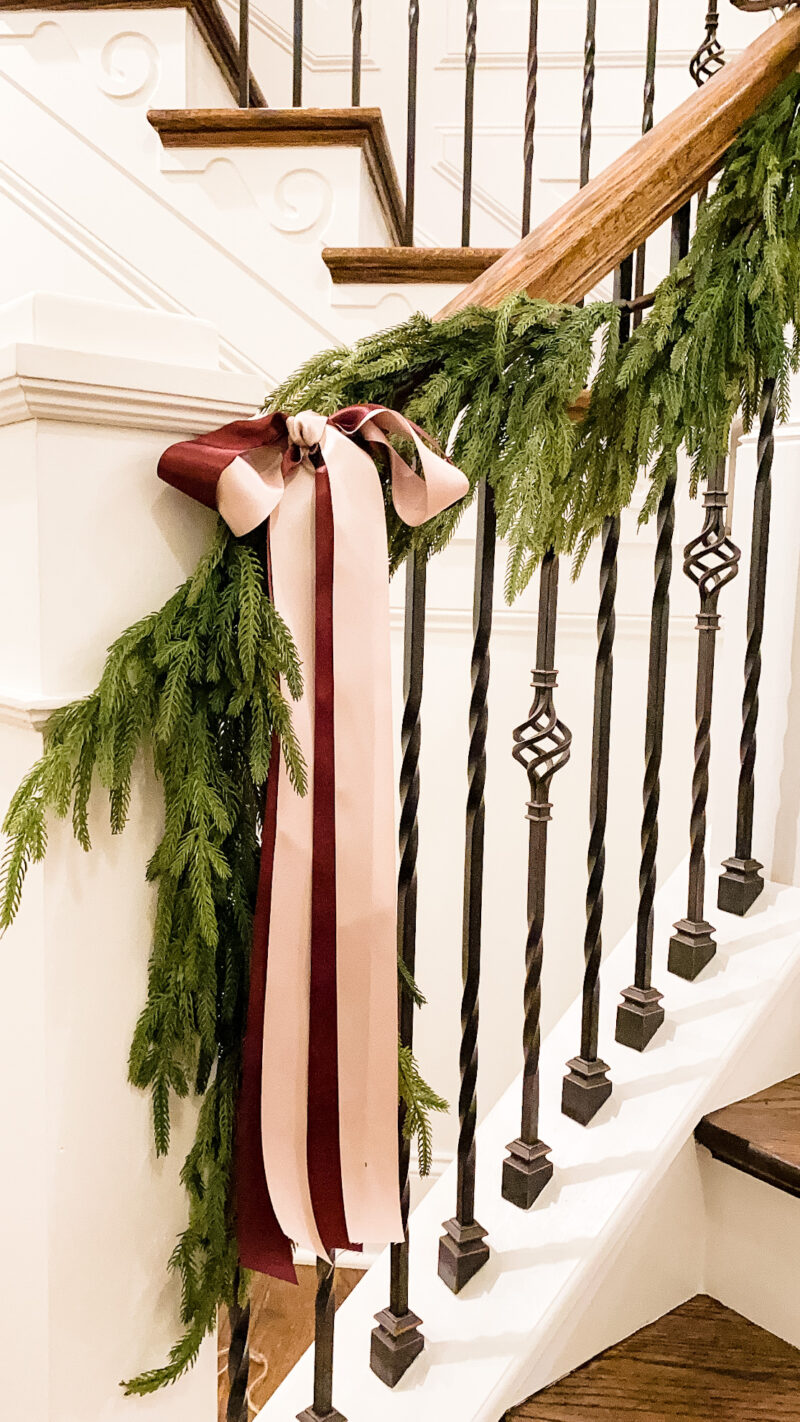 A few of you were asking about our stair garland. If I had it to do over again, I would do the longer version (weren't available at the time). This length is fantastic for stairs.
LOOKS FOR LESS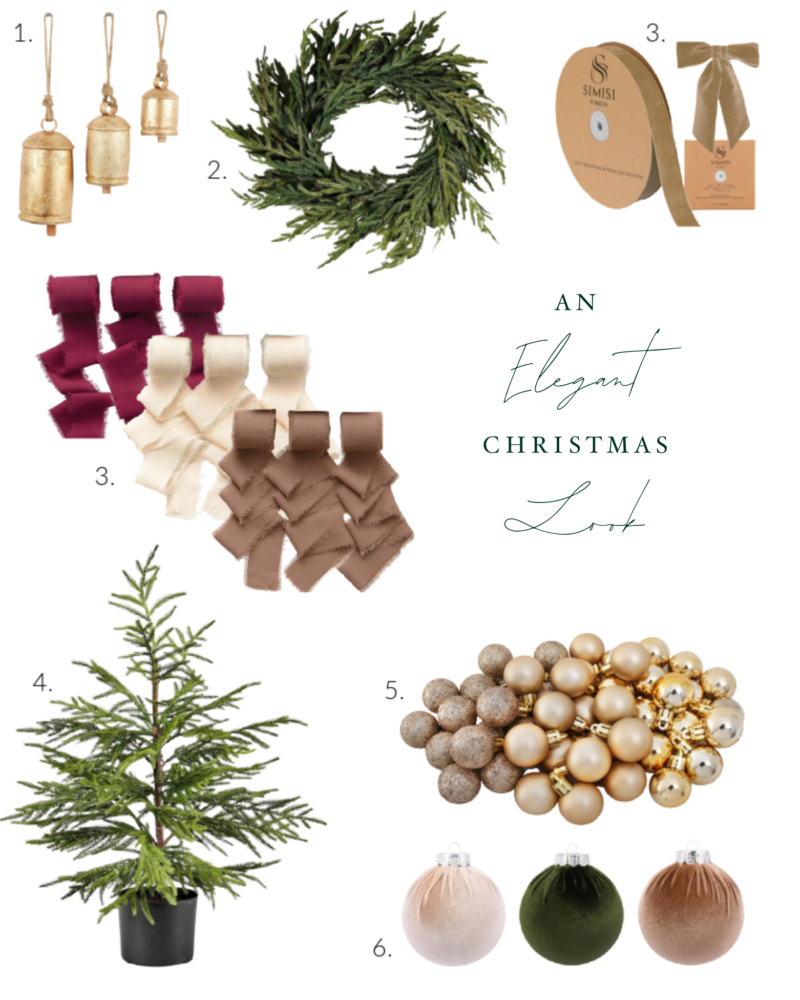 In case you missed it, I did a post on holiday looks for less. You can see the post here.
And that's a wrap on Saturday Shopping, my friends. Hope you are able to enjoy the fall day with your favorite people. See you back here on Monday.