Welcome to the weekend! We have some serious sleepy heads over here. It was a late night of baseball and the crew actually slept in. It's a small miracle. What are you up to today? This weeks Saturday Shopping has some great sale finds as well as a round up of pretty summer dresses at every price point.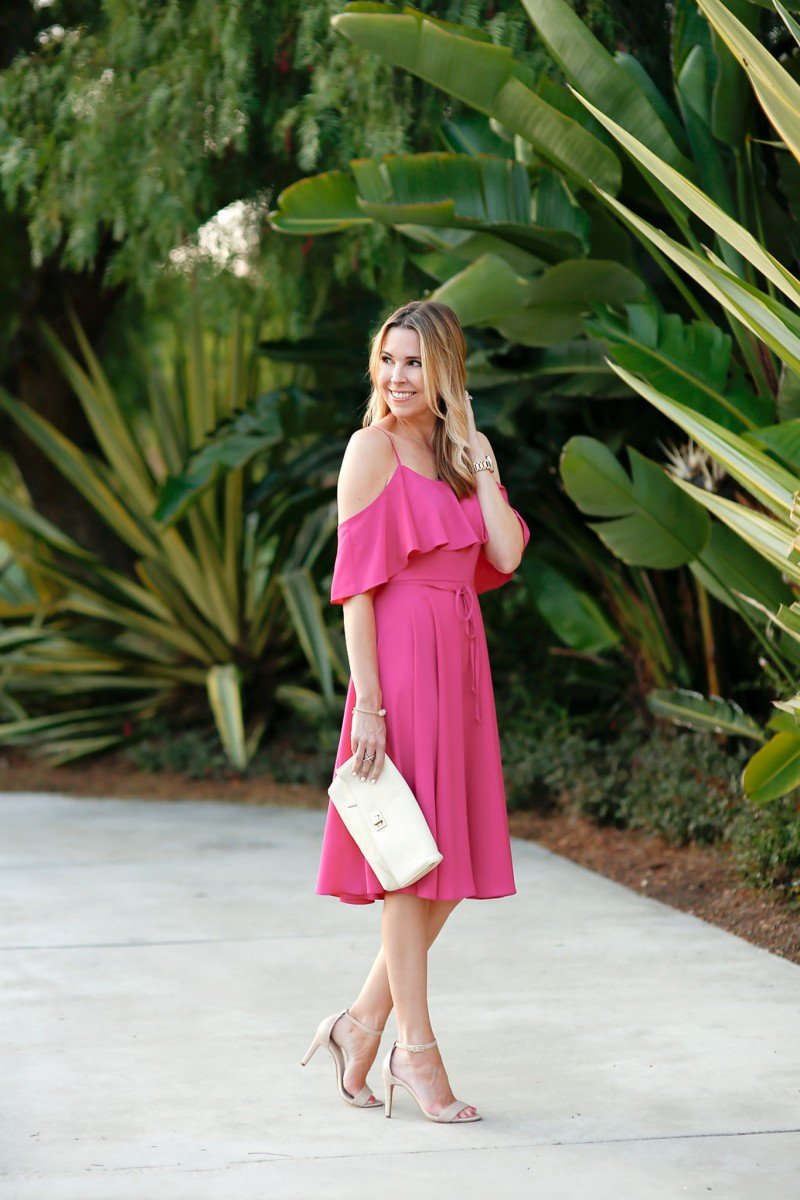 You may have seen this one on Instagram. I fell in love with this dress on the hanger and knew it would be a fun one to wear. The color is so saturated and pretty and the cut is very feminine. It also comes in a beautiful blue color. With two layers of fabric you don't necessarily need a bra. But if you want the support, a strapless bra will work just fine with this cut.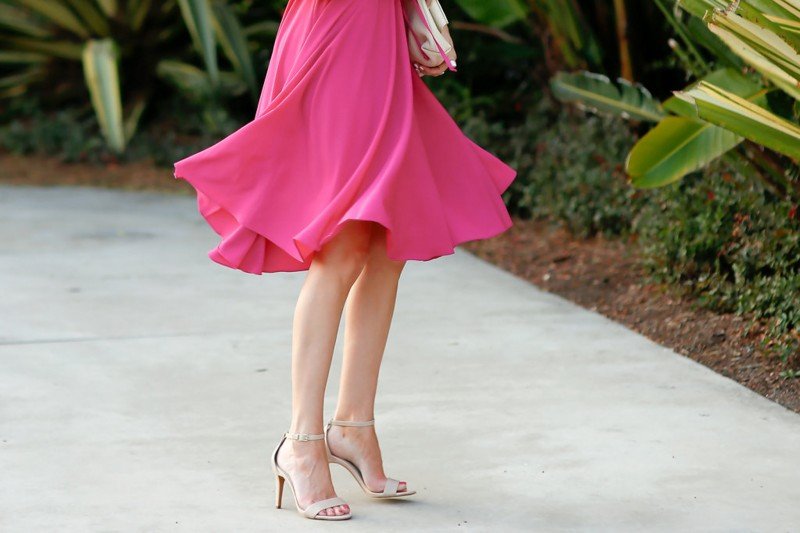 This dress makes you want to twirl. It moves so well. A great dress for a summer wedding or outdoor event.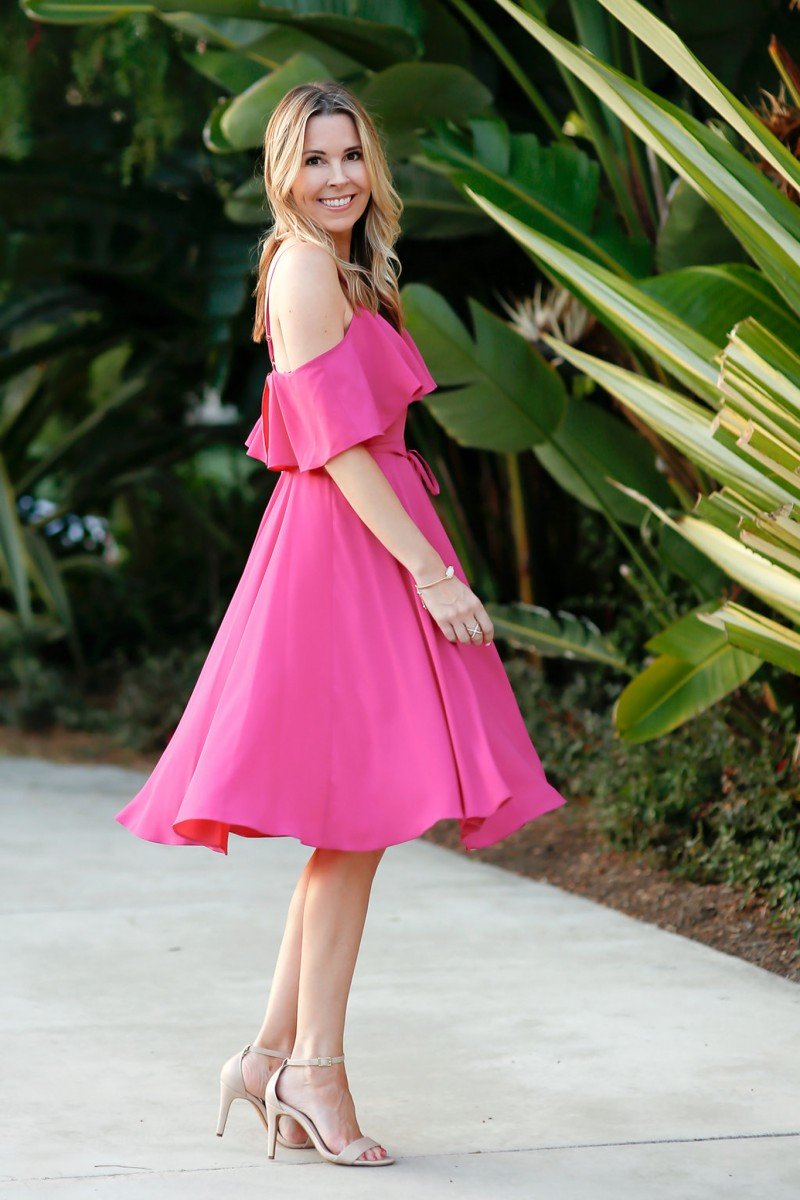 Shop This Summer Look

You may tire of seeing these heels but they are pretty darn perfect in my book. Nude, feminine, not too high of a heel and they are actually comfortable. I've tried on so many of these ankle heels by every maker and these are by far my go-to. And they are well under $100 so that's even better.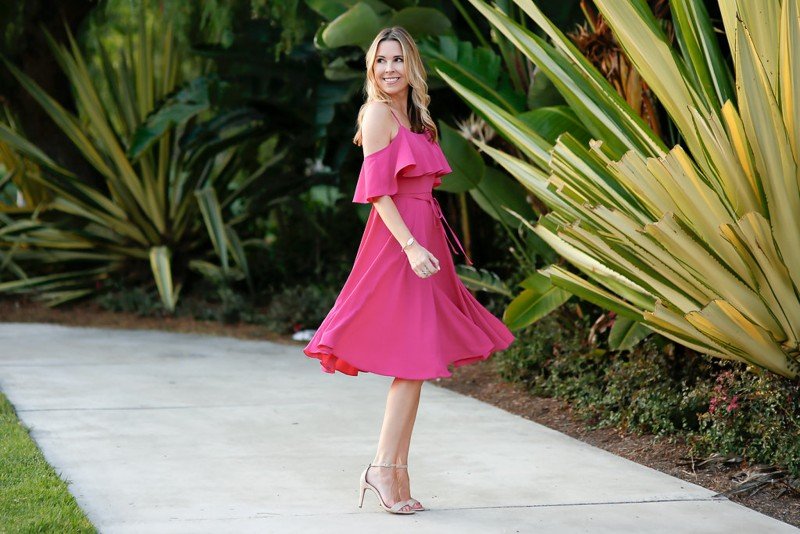 dress | heels | handbag | bracelet | pendant | watch
For formal events or when a dress has such a bold color, I think that less is more when it comes to accessorizing. I love a dainty pendant and bracelet. Especially when the dress has a life of it's own like this one. You don't want the jewelry to compete with the pretty ruffle and tie around the waist.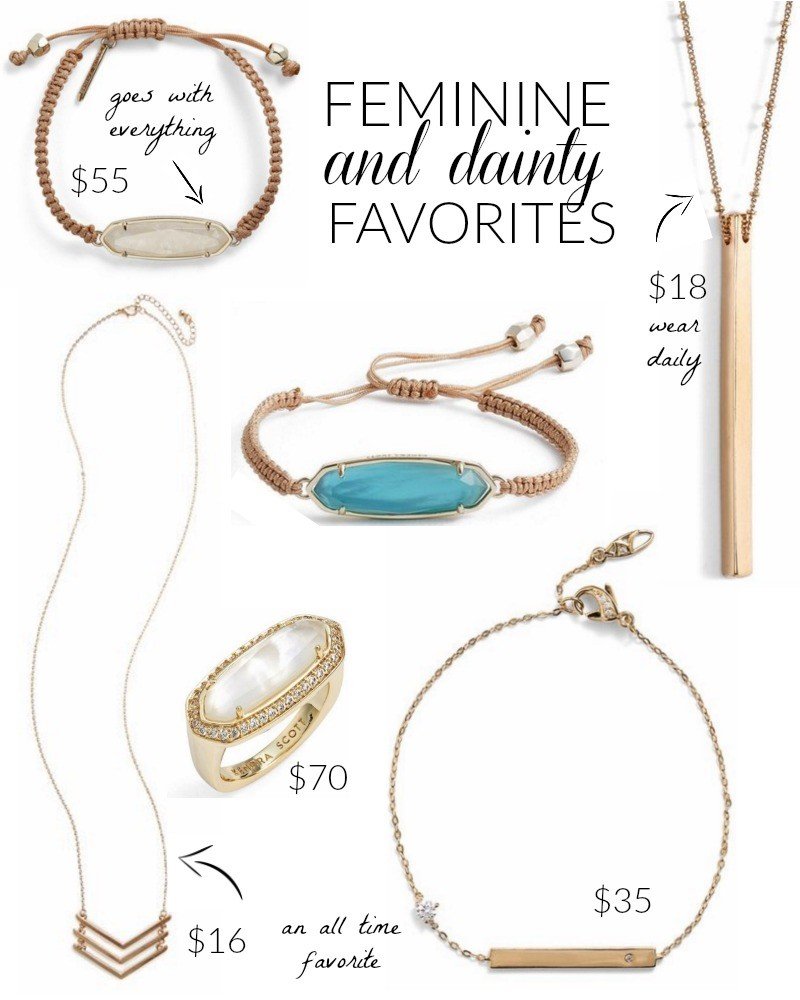 I've shared these before but they are worth repeating because they are such great staples that you can wear with anything. You can read more about my tips on accessorizing here. Without question, I have been wearing this bracelet daily. Just enough of a feminine touch and looks great with jeans or a dress.
Shop These Favorites

These are all so pretty and each one of them has enough detail to make them unique and stand out. One of each, please! Wouldn't that be nice. But if you do have a summer event coming up, these are all such darling options.
Shop Summer Dresses

dresses under $100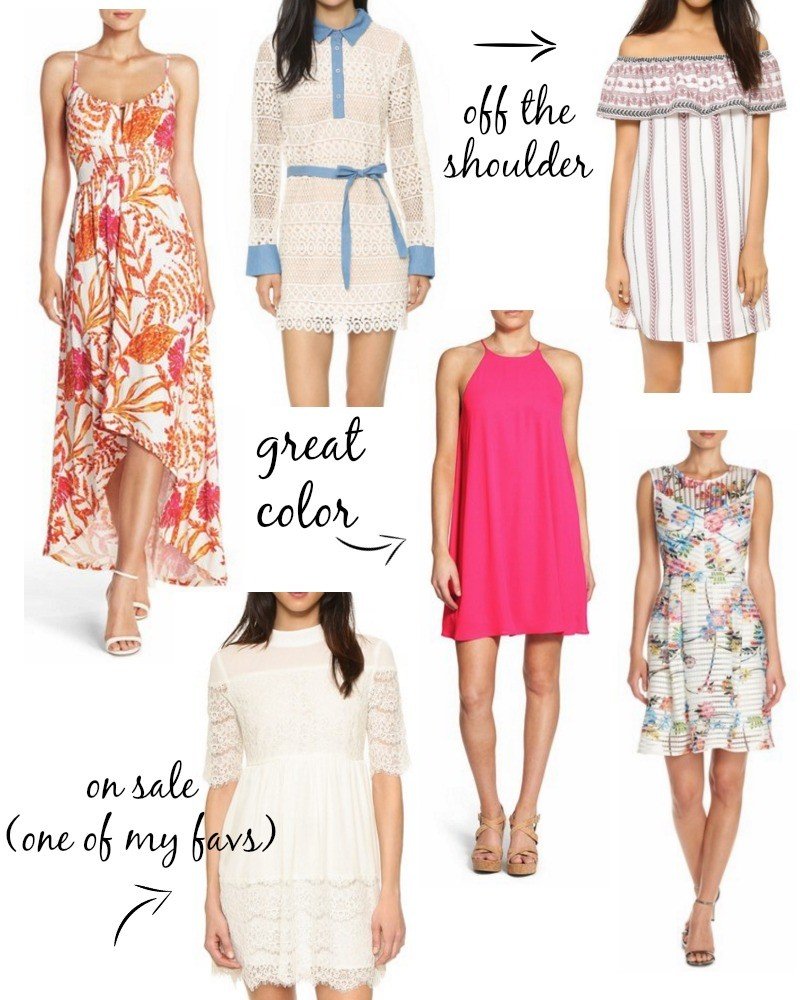 These are all under $100 and so cute. The babydoll dress is a favorite of mine and is now marked down to $60. I wear with a tank slip underneath and this is one of those dresses that always receives compliments. You really can't beat the price.
Shop These Dresses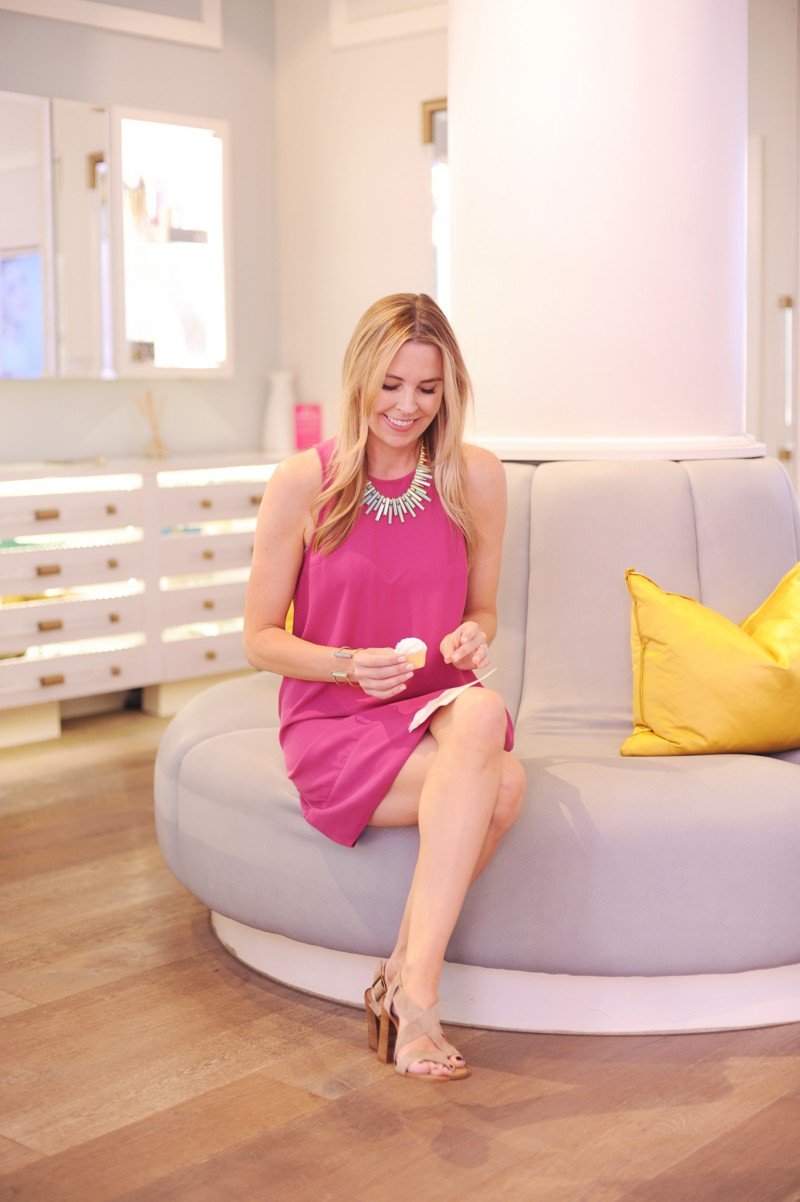 And if you're looking for a simple dress that works for any occasion, this one can't be beat. I've had it for a couple of years and still wear it all the time. Less than $50 and a great one to travel with. It's the racerback dress that comes in many colors, too.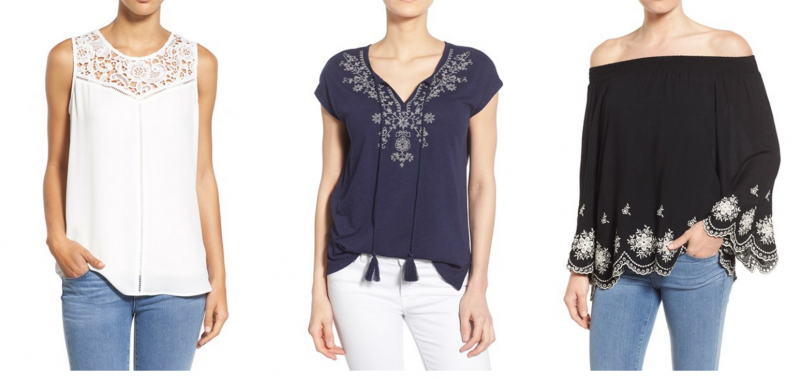 These are all new and super cute. They all touch upon the latest trends with lace, embroidery and off the shoulder.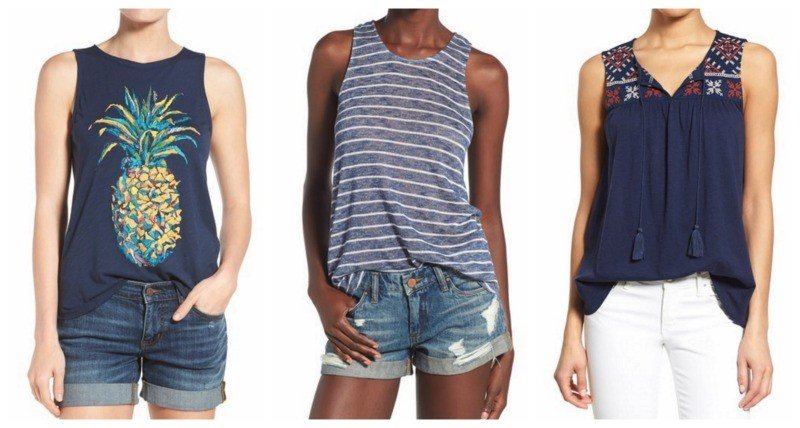 Have you seen this pineapple shirt? So cute. I also really like this tank and it's a good pricepoint. And this one has my favorite cut. I think I may order this. It reminds me of my favorite Free People tank only with stripes!!!
TOPS STARTING AT $8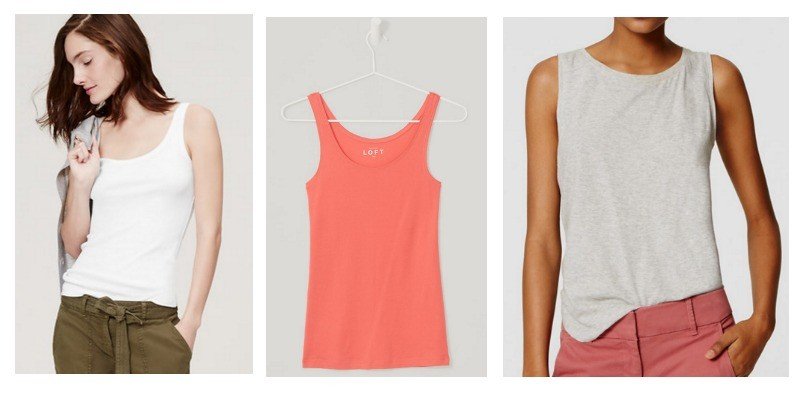 And how about a few cute basic tanks for only $8!!! Yes, please. Loft has major sales this weekend and these tanks are a steal. And they have a great selection of shorts on sale for $25.
And lastly, I don't know if it's my age or what but I can't wait to get into my pajamas pants each evening. I love PJ Salvage and noticed some of them are on sale. Worth checking out! Super comfy.
Other Sales Around Town:
Anthroplogie: 15% off Summer Dresses including this green one I have.
Loft: 40% off all sales items
Nordstrom: Always free shipping/returns. Up to 40% off.
Pottery Barn: Memorial Day presale . . up to 60% off
West Elm: Up to 30% off rugs and furniture
World Market: Extra 20% off plus free shipping (Over $150)
Have a great weekend, everyone. Hope you can savor some time with family and friends.
*Pink dress photos by Gabi Wells. Affiliate links used.