It's the weekend and I couldn't be more excited for a little R & R. We've been going full throttle for a couple of months now and my husband and I are long overdue for some serious down time. And a little getaway got me thinking about my travel necessities. There are a few tried and true pieces that are joining me on our getaway so I thought it would be fun to share.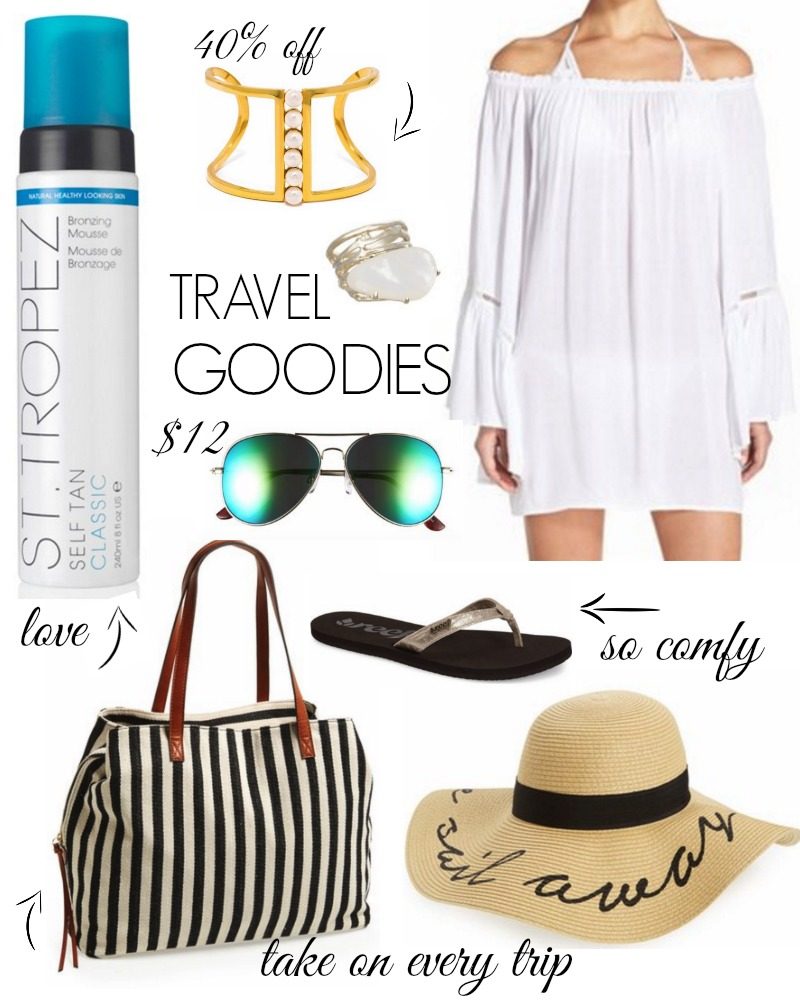 St. Tropez Bronzing Mousse:  Really love this self tanner. I use the mit in order to put it on smoothly and without the oils from my hands causing any issues. Works really well and gives a natural glow (something this pale skin girl can use). I always take the tiny bottle on trips with me just in case I want a touch up.
Gold Cuff: A large cuff bracelet elevates any outfit really easily. I just adds a bit of glam and is easy to pack or wear while traveling.
Kendra Scott Statement Ring: Just like the cuff, if you toss on a great ring, you instantly can look more pulled together. This is probably my all time favorite statement piece. I wear it constantly and always receive compliments on it.
White Cover-Up: I showed you this cover-up from our beach shoot. It's so comfortable and it looks like such a cute dress over any suit. And because it's a bit sheer you can see your suit but it's perfect for feeling more covered up and for walking to and from the beach or pool. I just love how feminine it is. The bell sleeves are perfect. It also comes in black.
Sunglasses: Still rocking these $12 sunglasses. While I do have nicer ones, I always take the inexpensive ones with me on vacation. That way if they got lost or something happened to them I wouldn't be super bummed. And they are just darn cute.
Flip Flops: I've been a Reef girl for years and years. You can't beat how comfortable they are. And sometimes you just want a great pair of flip-flops for getting to the beach or for doing some casual sight-seeing. Easy, tried, and true.
Striped Bag: Well you've all seen this one before. I adore this bag. Three separate compartments, light weight, easy to carry over your shoulder and it always travels with me. I honestly love this bag.
Sunhat: Just found this cute hat and love the saying on it. Typically these hats are more than $400. CRAZY. Like super CRAZY. So I am loving this knock off version. It's definitely floppy so if that isn't your jam you may not want to go with something more structured like this one ( I also have this and really like it). And of course the DIY girl in me wants to whip out a sharpie and right her own message on it.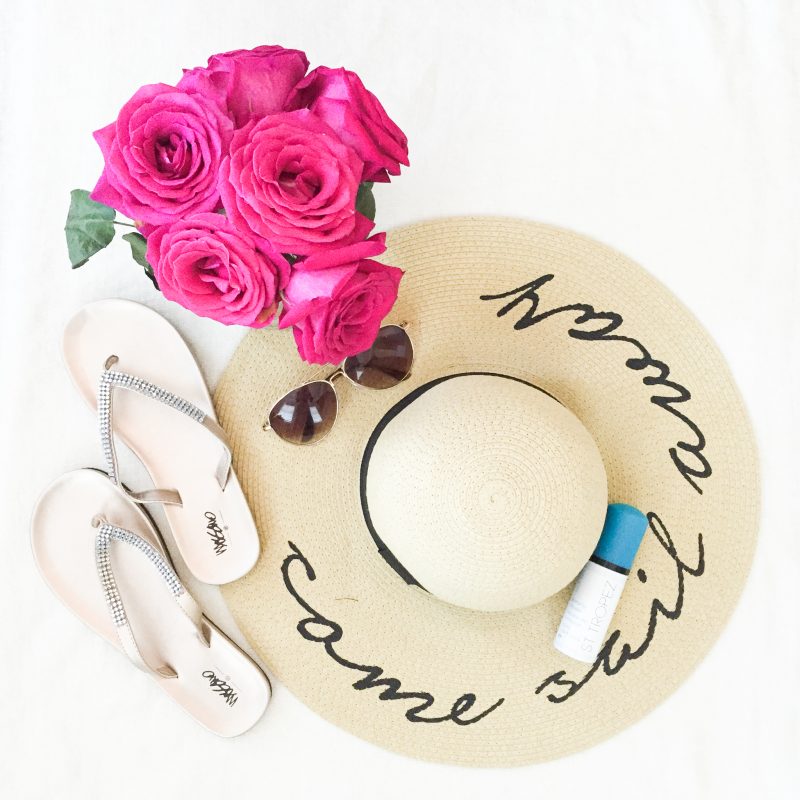 As luck would have it, I got my favorite Reef flip flops caught under something and they broke. Such a bummer as they are so darn comfortable. I didn't have time to run by Nordstrom so I picked up these sandals from Target and I have to say they are pretty darn comfy and I really like the gold color.
OTHER THINGS I ALWAYS PACK
#1: I always toss this black maxi dress in my bag. It comes in many colors but it's such a great one to travel home in or to wear out to dinners or lunches when your on vacation. Pair it with the cuff and a cute necklace and your ready to go.
#2: A wedge or block heel  are key when on vacation. I love to dress up but don't want my feet to pay the price. I adore these and they look great with pretty much any outfit.
#3: Cosmetic Valet: This one is only sold in stores but if you see one and don't have one they are the best. I used to pack 3-4 separate bags with everything but now all of my cosmetics and toiletries fit in this. LOVE. Here is a huge one if that is more what you need.
And in case you missed my post, the Nordstrom Anniversary Sale is just around the corner. I will be sharing all of the great finds and styles with you. For tips on how to best shop the sale (ahead of everyone else while things are still in stock) you can get caught up here. 
And lastly, in house news, we need a new coffee table for our living room and I have a crush on this one. Isn't it pretty. Trying to decide but the price is amazing.
Hope you all have a wonderful weekend. Cheers to fitting in some rest and relaxation of your own if possible. xo