Good morning, friends. How was your week? I was definitely a bit of an emotional roller coaster with all that is happening around us. Something tells me we are all feeling that way. Thank you for your sweet comments, direct messages and emails about my post on staying connected. They meant so much to us. Anyone up for a distraction? How about a little bit of Saturday Shopping? Let's do this.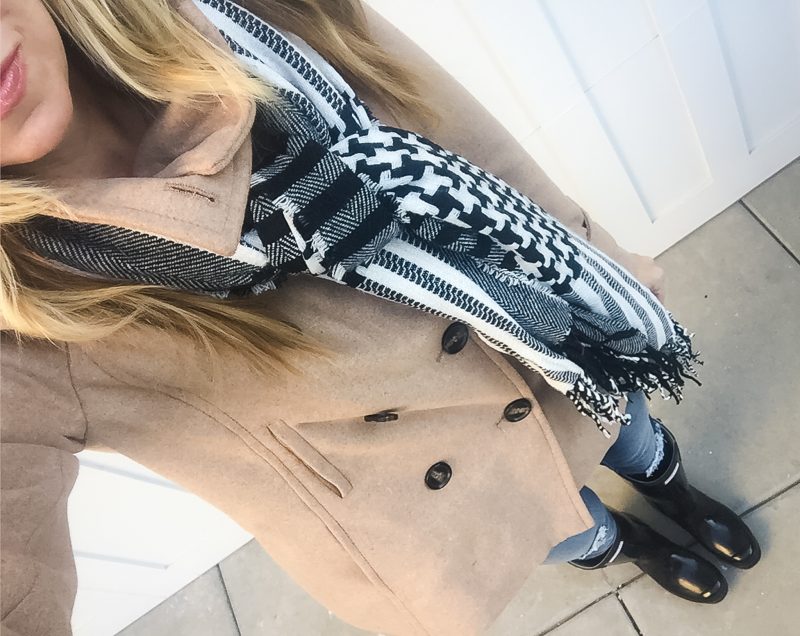 peacoat ($37) | jeans | shirt | boots scarf|
Just a heads up that one of my all time favorite coats is marked down to $37. What?! Such a steal. I bought this one last year and the pink one is very close to being in my cart. It's just so cute. Definitely order one size up in this little number. It runs small but is a great coat for when the temperatures actually drop (wearing a medium). I love the idea of pairing the pink one with this classic black and white scarf and boots. I recently did a post on mixing and matching classic pieces which you can get caught up on right here.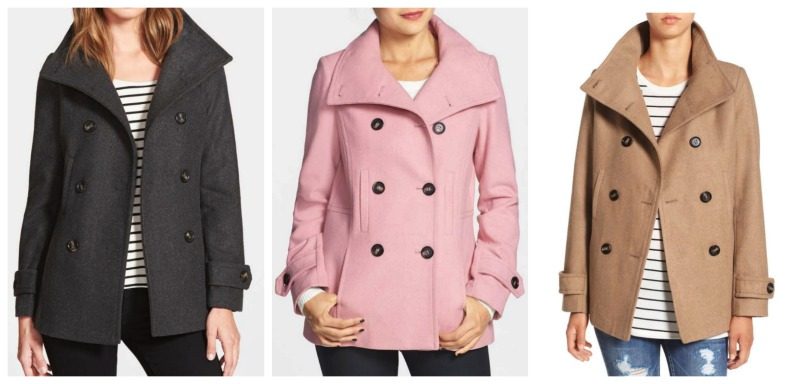 At $37 this would make a great Christmas gift, too. Timeless style that always looks great.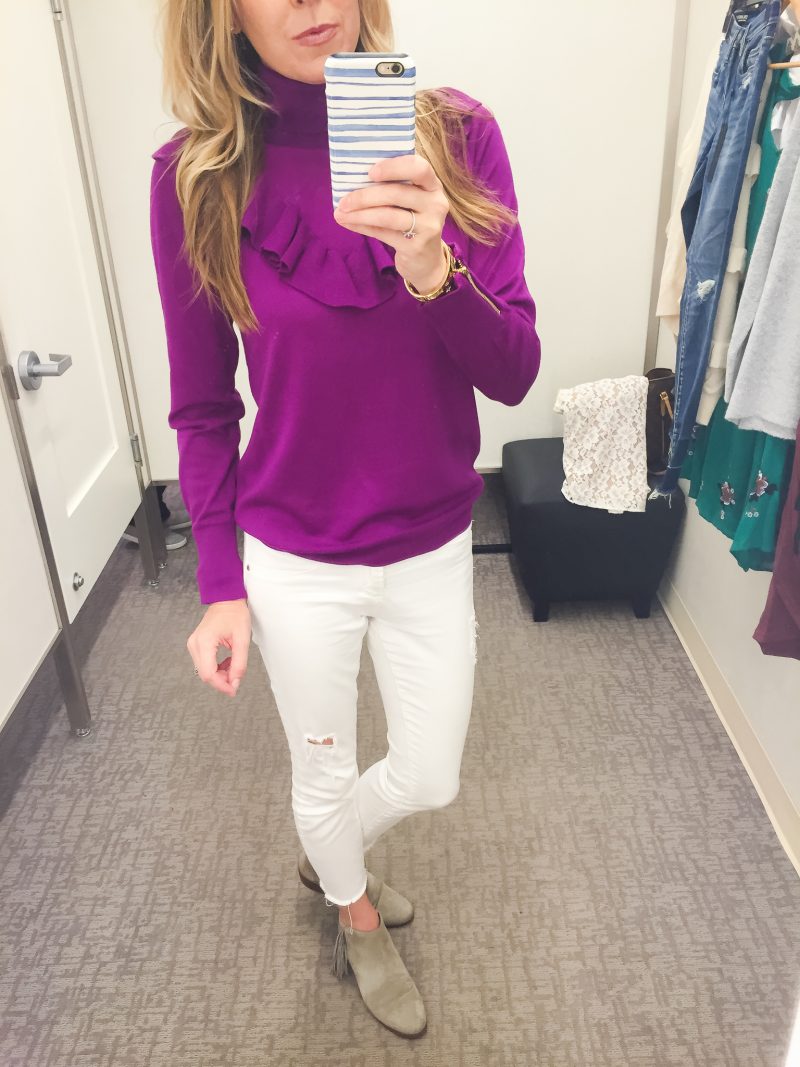 I stopped at the mall this week to pick up my dry shampoo and tried on a few fun things. I think I may have found my top for our holiday photos. I loved this online but it's so gorgeous in person. It's definitely a bold, bright hue but so so pretty. Three people asked what section it was from when I was buying it. If you look closely, it has gold zippers at the wrists. Such a pretty detail. And the ruffle continues around the back. I think the jewel tone will be really pretty for this year's photos. I went with a medium because I wanted it to be a bit loose. It comes in three different colors. The cropped white pants are part of my uniform these days!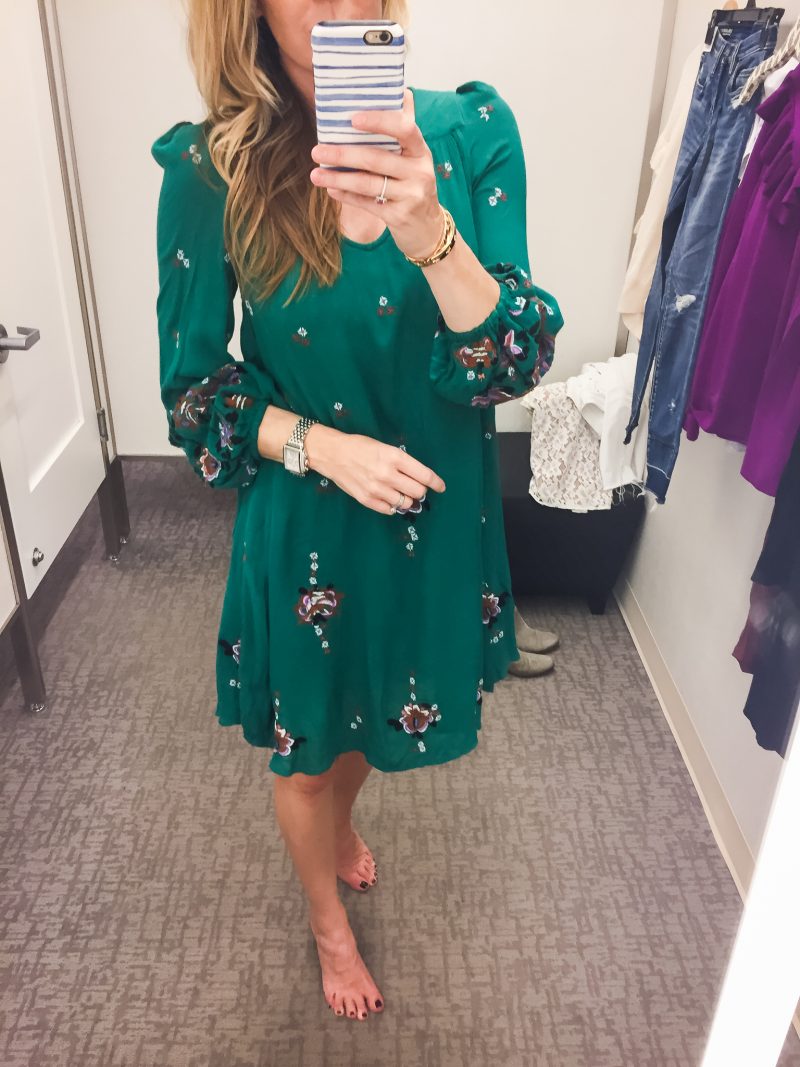 Gosh, I have had this dress in white for over three years and it remains one of my favorites. Love the cut and the flow of this. And you can eat all you want. Thought this would be pretty in holiday photos, too. Love the pretty green color.  It also comes in a fantastic pink color. I am wearing an XS. For reference, I am 5'7″.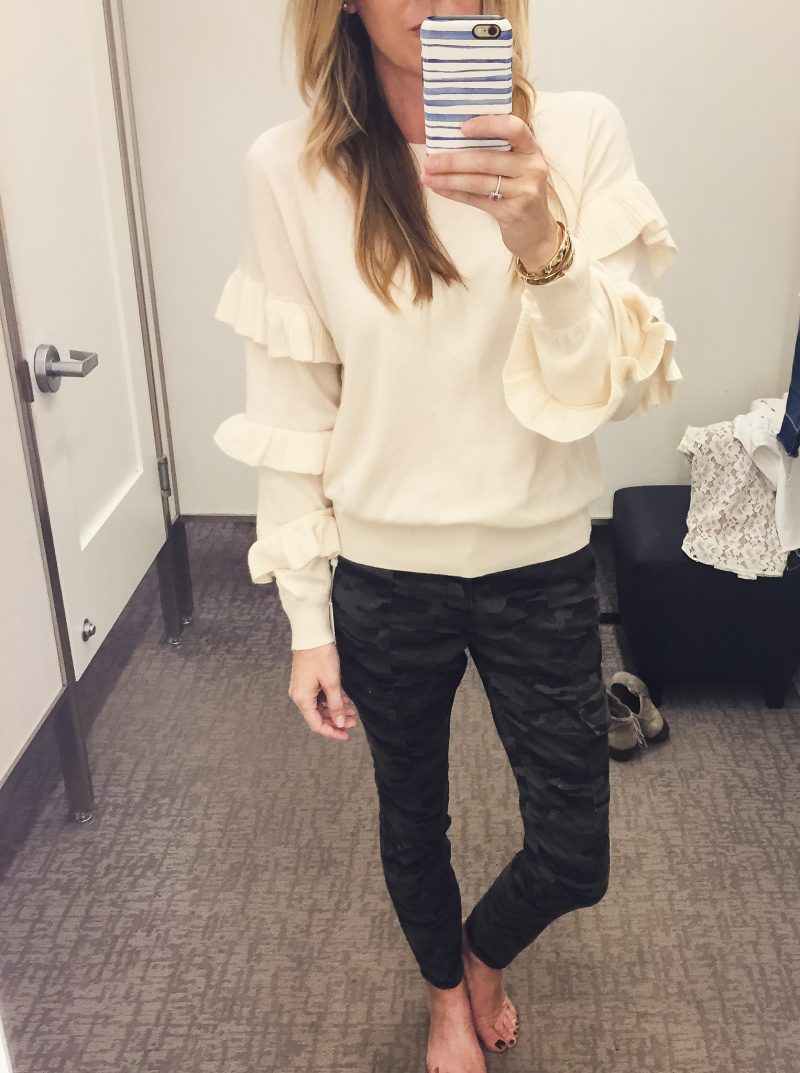 This is another sweater I fell in love with. It's so soft and fun to wear. It looks even cuter in person and I thought it was fun with these camo pants (which are super comfy by the way). I can see the sweater dressed up around the holidays with a cute pencil skirt or pair of black pants. I have always been a fan of winter white and this is such a good one for the holiday season.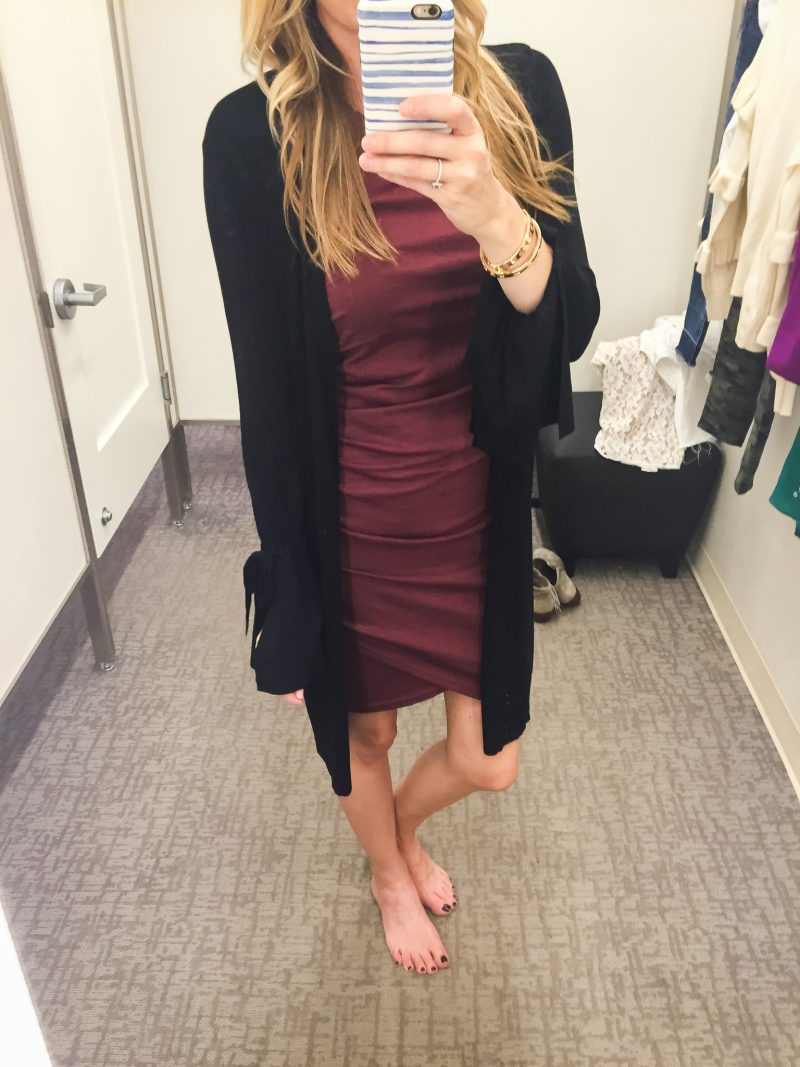 I have this sleeveless dress in a couple of colors and wear it all the time. But I love it paired with this pretty cardigan. It ties at the wrists and falls so nicely over this dress. Throw on a pair of heels and you have a great date night look. I like that the cardigan isn't too bulky.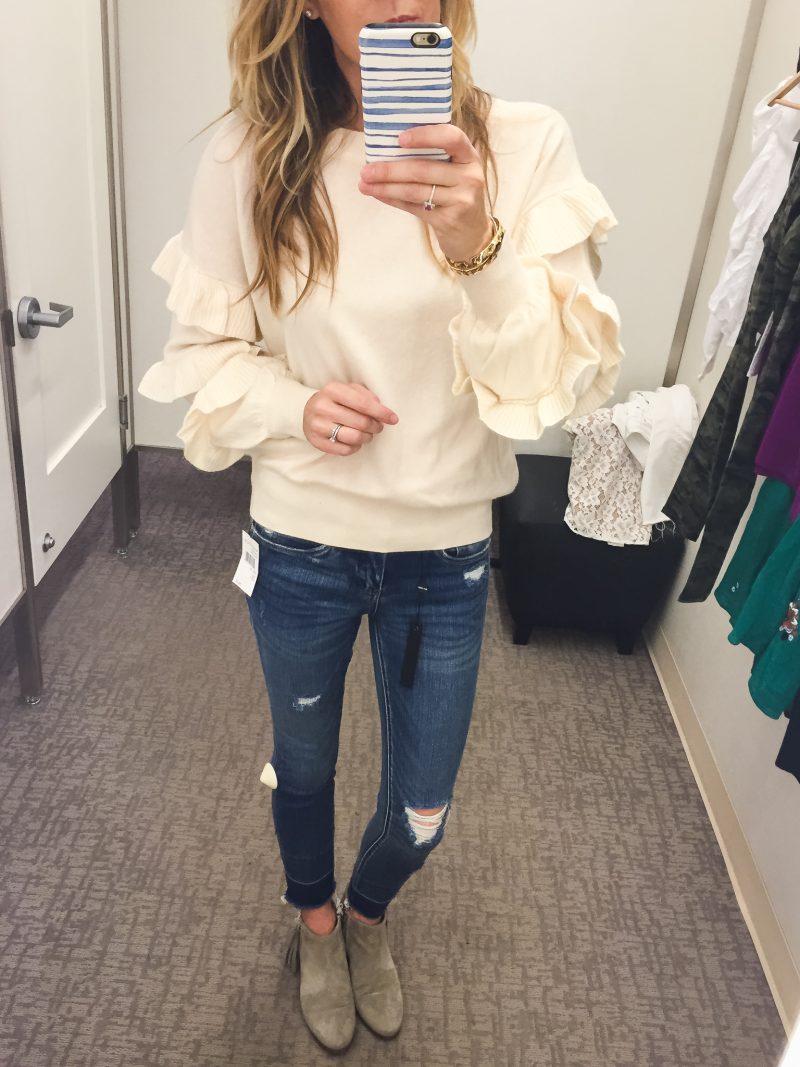 These jeans haven't hit the website yet but I will let you know when they do. So so soft. These are very similar and a great price. My booties are from last season but these are a great basic bootie.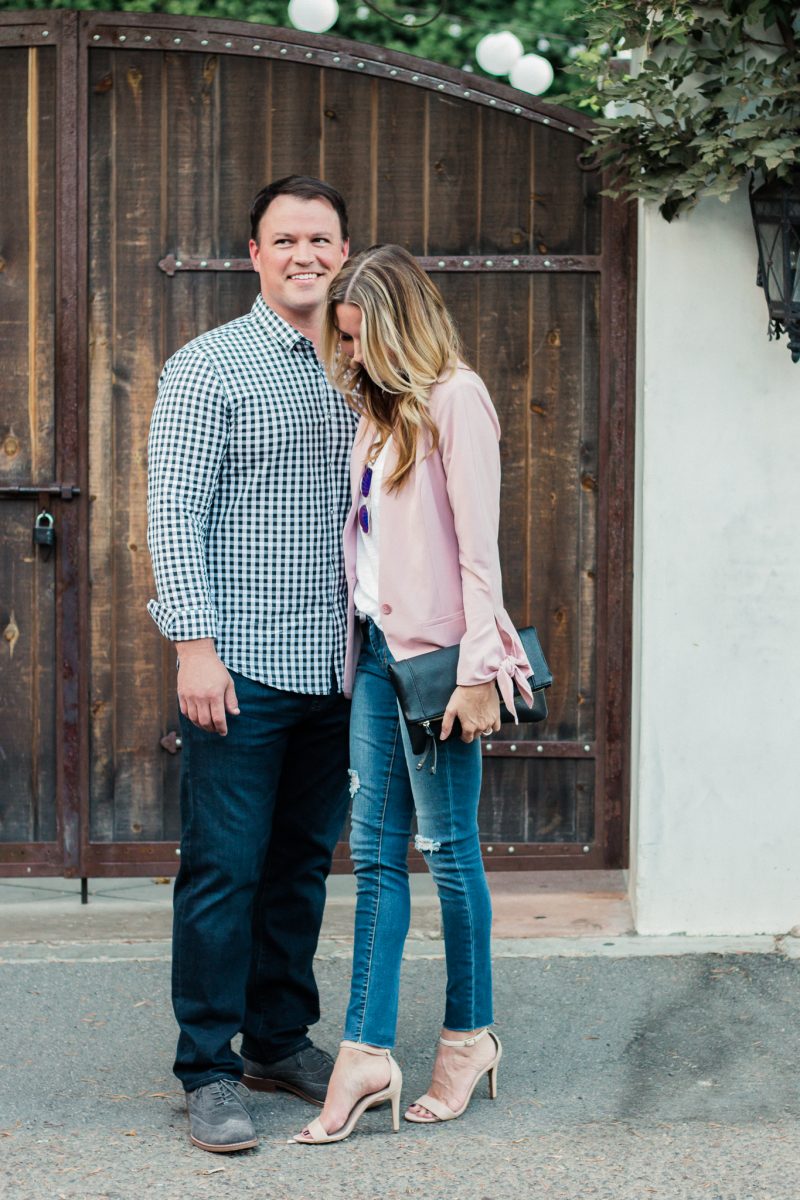 his look: jeans | shirt | shoes
her look: jeans | blazer | t-shirt | clutch ($15) | heels | sunglasses | necklace
These jeans are once again restocked. They keep selling out so move snatch a pair up if you have been eying them. I love them and am wearing a size 25. The blazer comes in a few different colors but it's the tie sleeves that won me over. Such a feminine take on a blazer. It's great layered over a t-shirt like this one or a camisole. I thought the pale pink was really pretty.
SALE AT LOFT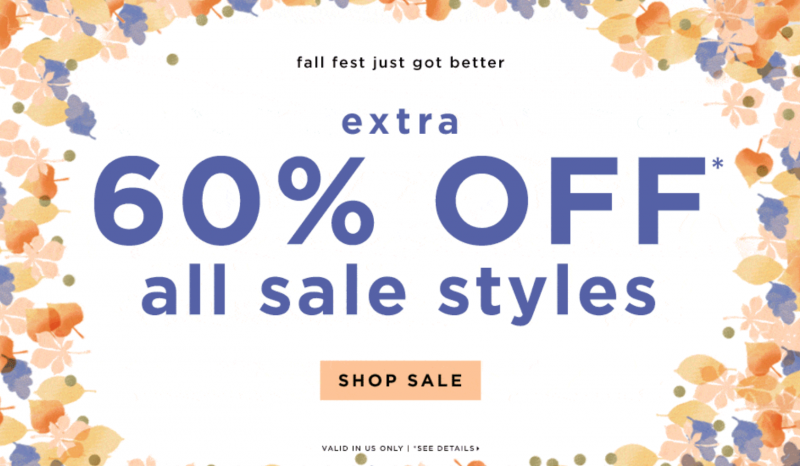 Taking an extra 60% off of the sale price is a darn good deal. This is one of the tops I love and this sweater is also darling. You can take a look at all of the sale pieces here.  You can also take 40% off of all regular priced items!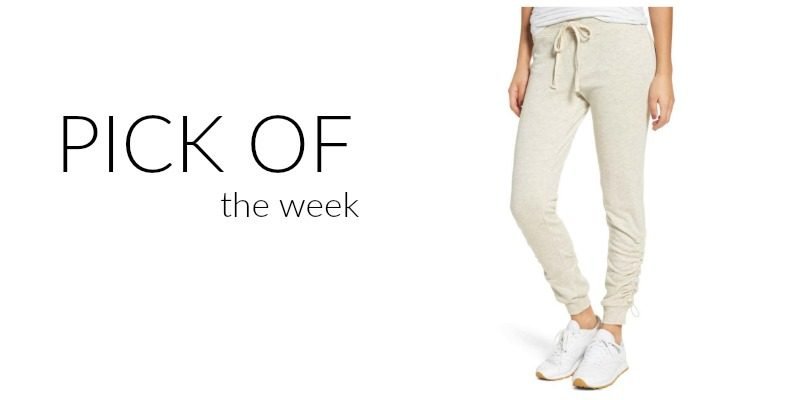 Tis the season for comfy loungewear. Am I right?! This is right about the time I start to hibernate and can't wait to get into soft pajama like clothes the second our activities are done for the day. But these are cute enough to wear around town or just around the house. Love the detail at the ankle. They also come in dark gray and are under $40. 
It's also worth nothing that Pottery Barn is having its Friends and Family sale. You can receive 20% of your entire order! It's a good time to think ahead and grab things like stockings before they sell out.
We are off to work on our pantry!! We are making so much progress. I'll be updating how things are coming along on my Instastories. If you don't follow along on Instagram, you can do so here! Enjoy your day, my friends.
*affiliate links used