Welcome, weekend! We are ready for you. It's a non-stop day for us but I am kicking it of with a bit of Saturday Shopping. Before I talk about this week's choices I have to thank all of you for the kind comments on yesterday's post. In case you missed our version of Girls' Night In you can get caught up here. You all made it so much fun so I can't wait for the next one! Today I am sharing ten great neutral pieces that can all be mix and matched for classic and feminine looks.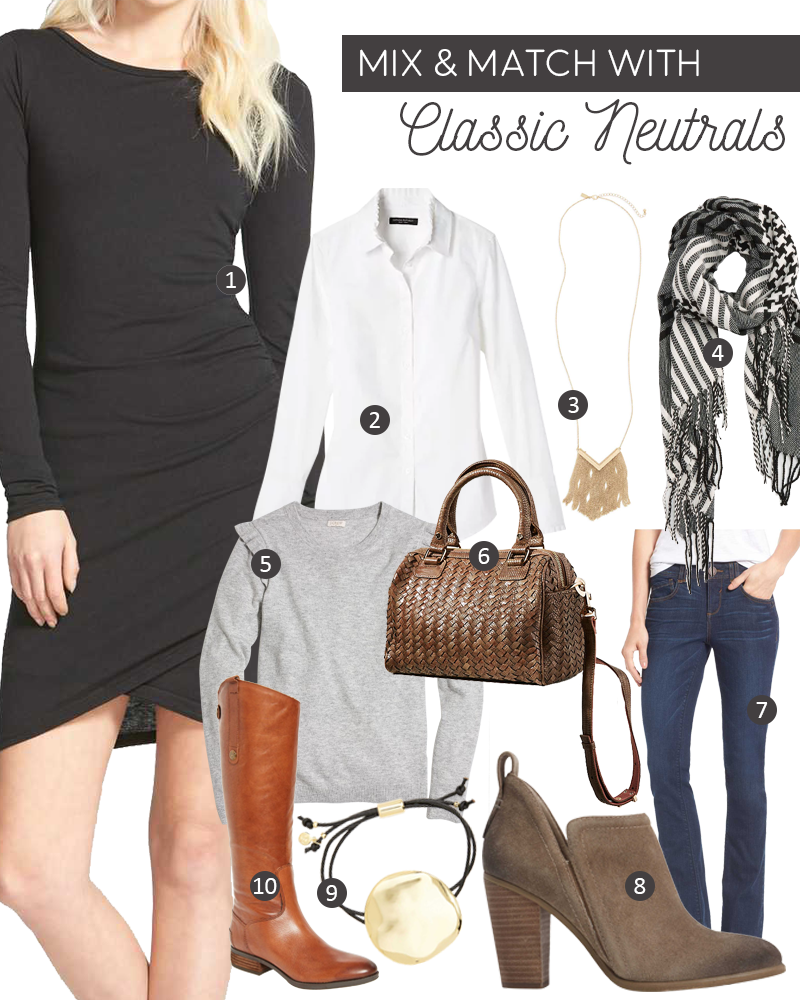 Love this dress so much. It's $59 and comes in a few different colors. Definitely size up unless you're only planning to wear it on date night. It is super snug and tight-fitting but if you go up one size it gives you some wiggle room while still being sexy. This is such a great neutral because it's a basic black dress that can be dressed up or down for Fall. I love the idea of wearing the gray sweater over it so it looks likes a sweater/skirt combo. Also great with the scarf or necklace. This is one that can be worn so many different ways depending on where you are headed.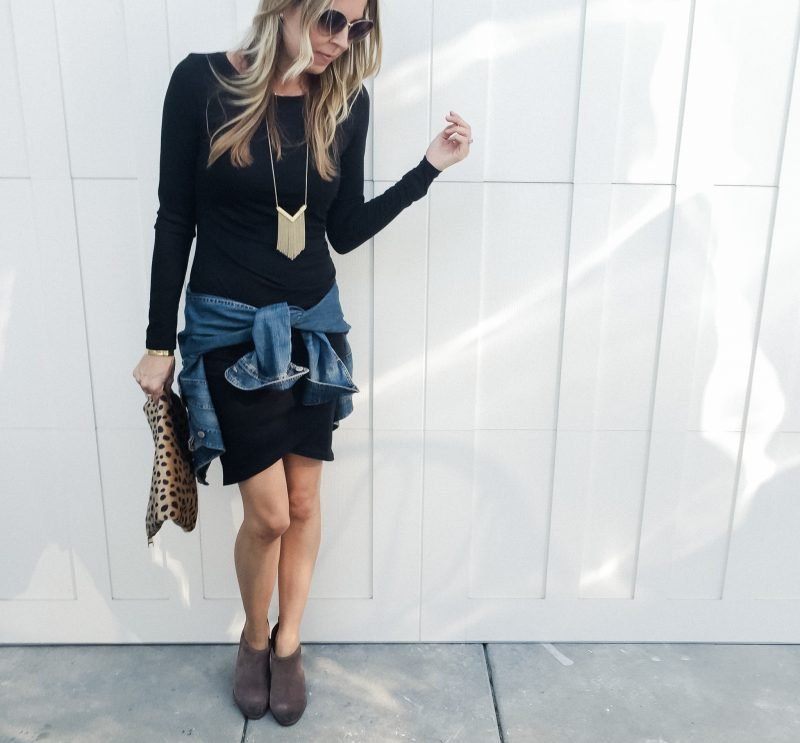 dress | booties (sale) | jean jacket | handbag | necklace | sunglasses
You can't deny that a white button down is 100% timeless and classic. So great with dark denim and boots. Also darling worn with a pair of booties. A classic button down never goes out of style and looks so crisp and nice around the holidays, too. Here is another classic option.
I came across this necklace just the other day and had to have it. It is a great price point and such a fun statement with dresses or tops. Also really cute with the white button down shirt.
A black and white scarf goes with almost anything. It definitely pairs well with all of the neutrals above. Great with the sweater, dress and button down. I also like the idea of the sweater over the dress and then layered with the scarf. Maybe you have pieces like that in your wardrobe already and can try it out.
Yes to everything about this sweater. Those ruffles and it the soft gray. But it also comes in a gorgeous fuchsia and black. This kind of sweater looks so classic with dark jeans or even a denim skirt. Toss on the black and white scarf or this classic one and you will look so pulled together.
I thought this was such a fun take on a classic style. It's a great price and I love the rich color. Brown and black are great when paired together especially in this dark hue.
A baby boot cut jean gives an outfit a bit of a dressier feel. I love that for the holidays. You can get away with a pair of jeans, booties and a button down. If you add in a great necklace or scarf it looks really pulled together.
I am sure you are tired of me singing the praises of these booties but they are on sale so I had to give you a heads up. I wear them all the time!! I really do.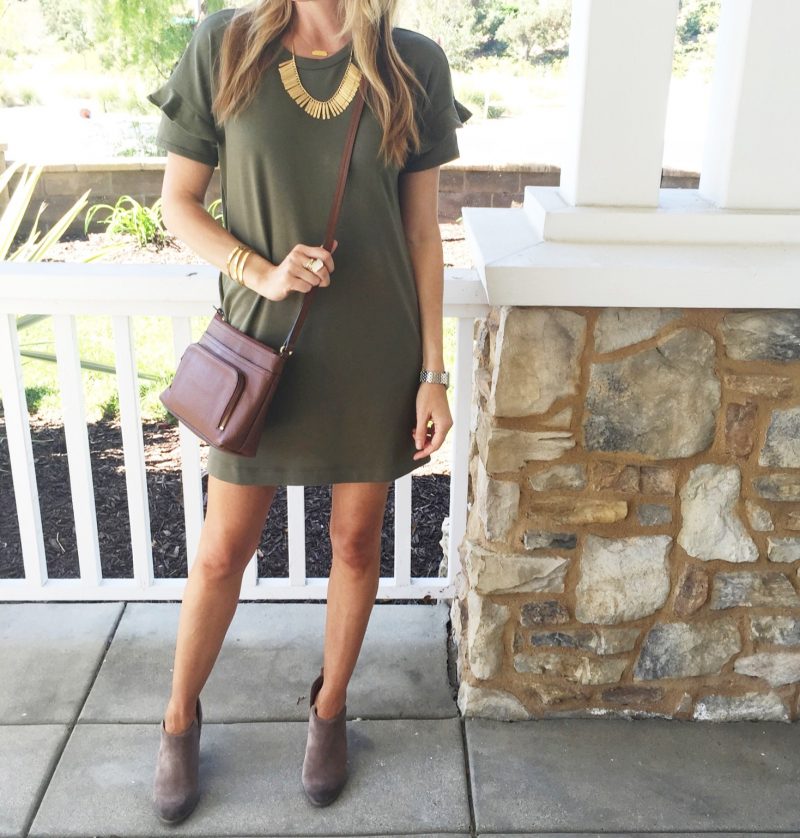 dress ($39) | booties | necklace | handbag | statement necklace | bracelets
Always fun to have a bit of arm candy and I like how this combines the edgy black with the pretty gold detail. It's fun whether you are dressing up or down. Gorjana is one of my favorite jewelry designers and I like how this is a bit funkier than her other dainty pieces.
Talk about classic. These are so beautiful and timeless. I love the whiskey color but they also come in black and are on sale. So cute with the dark denim or worn with the dress. Pair them with jeans and a gingham button down for another great look.
We are off and running today beginning with The Walk to End Alzheimer's. Followed up by sports for the kiddos and a birthday celebration for my dad. Speaking of, happy birthday to a man who is truly amazing. Dad, we are constantly blown away by your strength and unconditional love. You are an incredible father and a truly amazing husband. We love you so very much. You deserve to be celebrated. XO
*affiliate links used