It's the weekend!!! We did it, friends. Always nice to take a breath and enjoy a little down time in jammies. We have a busy day starting later but for now we are taking it easy and scheming the last part of our pantry project. I am sticking with one of my goals to finish what I start before jumping into a another project. So wish us luck. Today I am sharing some really great finds and most of the are on sale. Here is the latest edition of Saturday Shopping.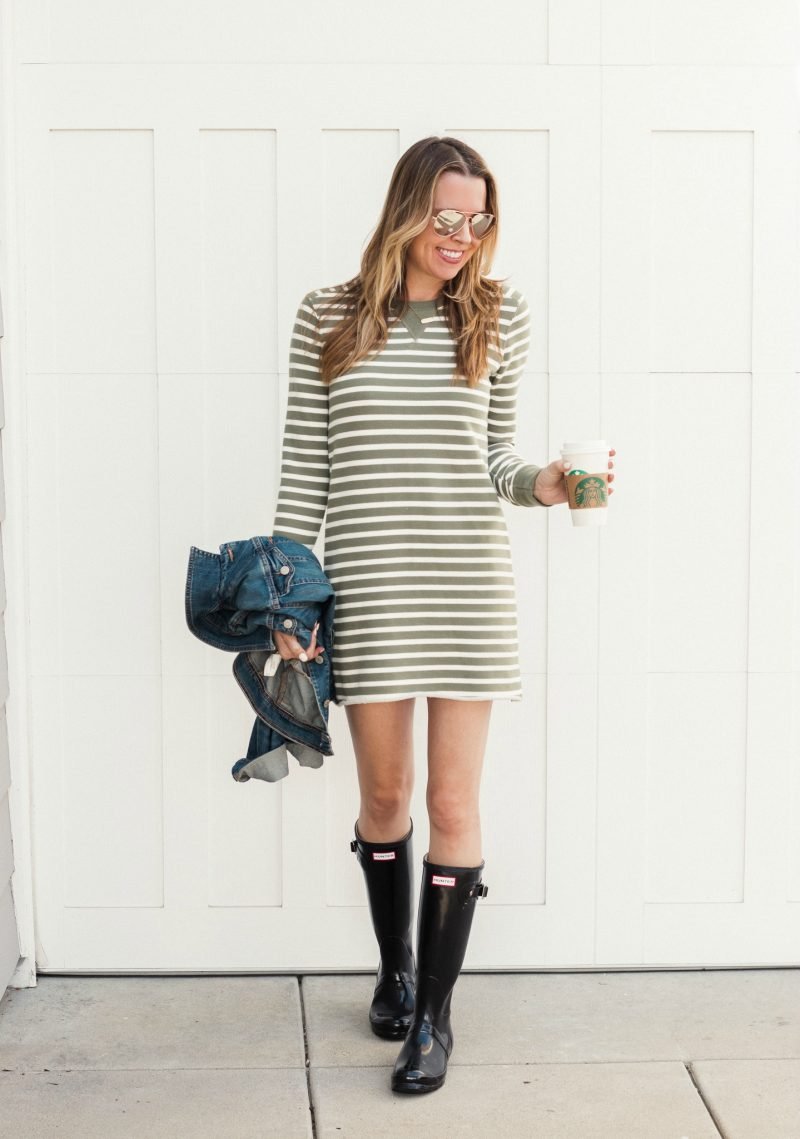 dress | jean jacket | boots | sunglasses
I shared this on IG but I sure wish you could feel how soft and comfy this dress truly is. It's a really nice weight sweatshirt dress and it's now marked down to $34! I love it so much so I am ordering the navy striped one as well. What I love is that even though this is the XS the sleeves are still long. That's a major bonus. I am 5'7″ for reference. While it's short on me, it's not crazy short but if I were any taller it could be an issue. Just FYI.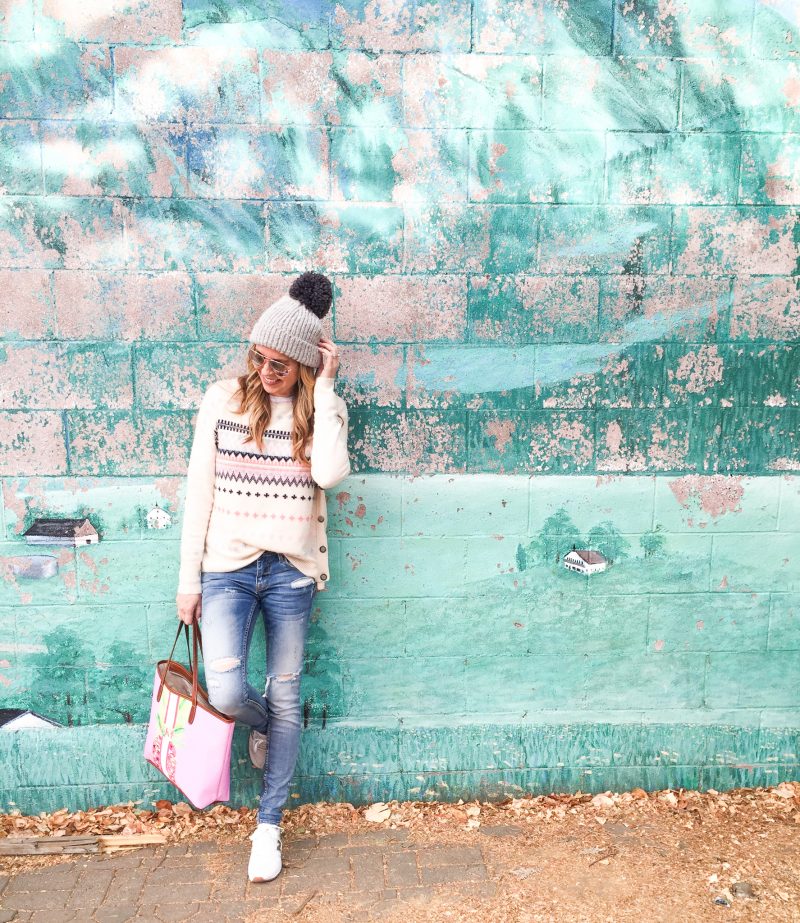 sweater | jeans | tote bag | beanie | sunlgasses | new balance
This cute sweater is still on sale and has been restocked. It is such a good one. Cute button detail and so darn soft. My exact beanie is sold out but this one is so similar and also Topshop. I wear it ALL THE TIME. It's the best hat to grab especially when you don't want to wash your hair. I have been wearing the New Balance shoes almost daily. They are SO COMFY. I like how light weight they are. I went down a 1/2 size and they fit great.
CLASSIC STYLE

This dress is absolutely darling. Great sale price and so cute with boots or booties. It also comes in ivory.
I love a great caramel colored bag. This one is great quality and on sale. I good time to scoop one up if you have had your eye on a Madewell bag.
I am ordering this immediately. LOVE everything about this scarf. Especially the price. Timeless.
Such a pretty set of bracelets. I wear a gold set every day. Takes a t-shirt and jeans to the next level.
I remember my mom having a coat like this. Classic. Beautiful.
Ummm. Aren't you the cutest clutch ever! Not kidding. I love this handbag.
My all time favorite booties are still 50% off and fully stocked. My color is Foxy.
LOFT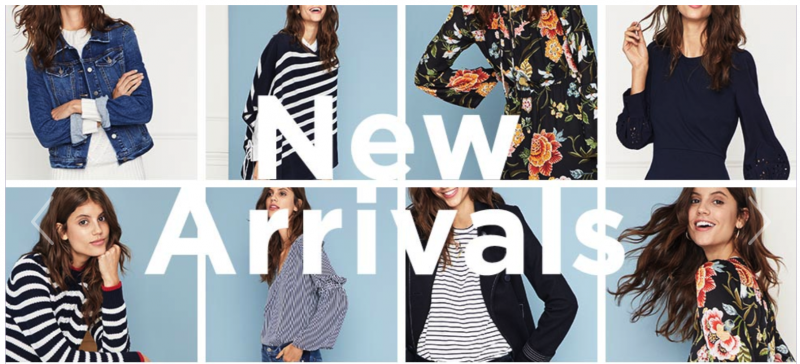 Loft is offering 40% off all regular priced items. They have some really darling new arrivals. My favorite picks are below.
You already know I think thee jeans are darling.
This floral blouse is gorgeous.
I love everything about the cut of this dress. Especially the ruffles. So feminine.
Have you seen this dress? Those sleeves! The eyelet is timeless.
This is one of my favorite cuts on a blouse. And it's now only $12!!!
COLLEEN ROTHSCHILD
When it comes to anti-aging you all know I love Colleen Rothschild products. I just had a friend try them and she texted me to say she absolutely loves them. That made me so very happy. I love when a recommendation works for all of you. That's exactly why I share. She tried the discovery kit so that may be a nice place to start. You can check out the products that are on sale here.  I just ordered more retinol  for myself.  I love it. The detox mask shown above is something I use once a week and it is currently marked down to $34!.
WILLIAMS SONOMA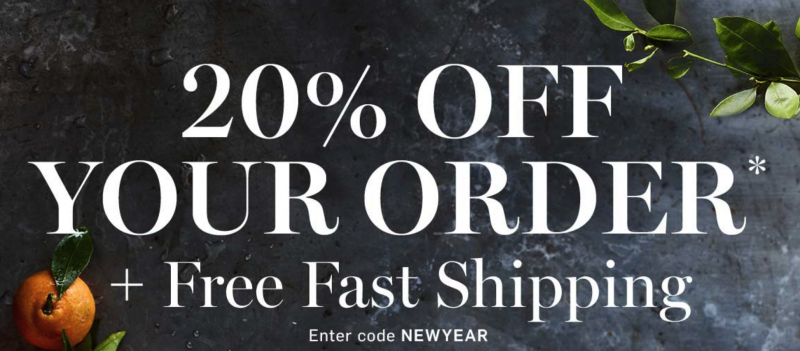 One of my favorite stores is offering 20% off off your entire order. That is awesome! Definitely worth checking out. My favorite bowls and kitchen towels are from here.
EIGHT GREAT FINDS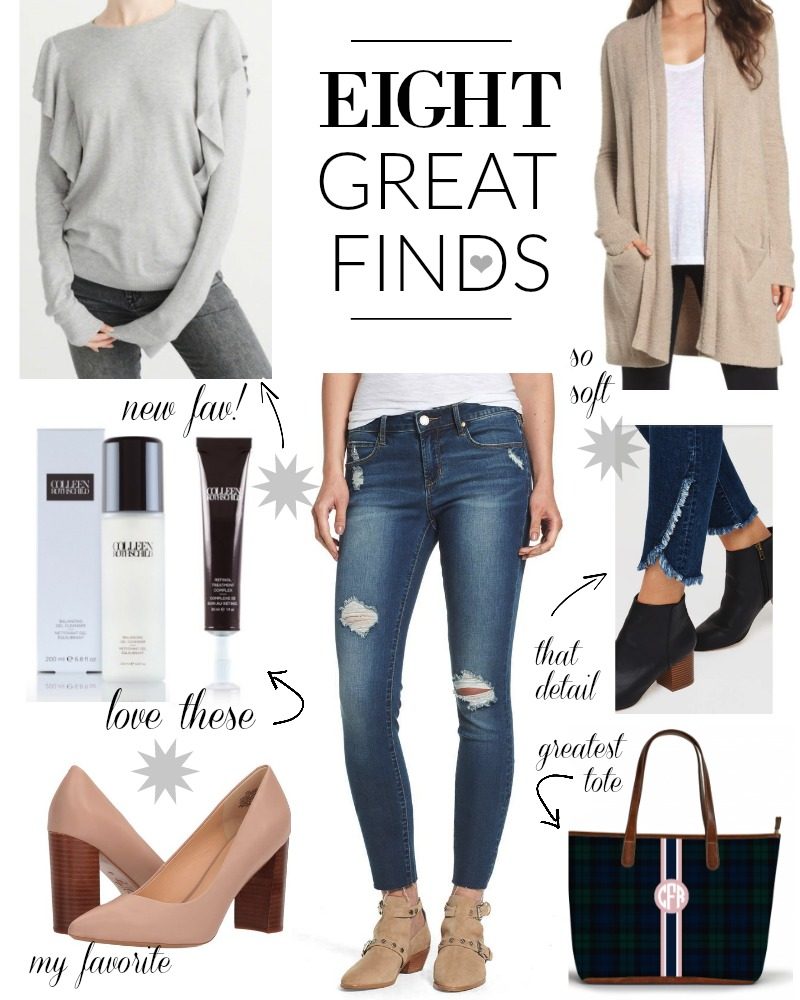 sweater | cardi | face wash | retinol | jeans | jeans | heels | tote bag
In case you missed my quick post yesterday,  I rounded up Eight Great Finds and they are worth a peek. You can find our more about each piece in that post.
What's on your agenda for the weekend? Work, fun, both? As I mentioned before we are trying to wrap up the pantry project. I know so many of you are anxious for me to get that post up on the blog. Working on it, my friends! xo
Enjoy your weekend and I'll see you back her on Monday.
*affiliate links used