Let's do this Saturday! How are you? How was your week? We had a hectic but really good week. It was one where I welcomed plans to see many people and stayed in the moment. Sometimes the planner in me has a hard time doing that. But it was good for the soul. This weekend finds us knee-deep in sports. Love watching my babies play so it's all good with me. Sharing some fun finds and great deals for this weekend's Saturday Shopping.
SWEET DRESS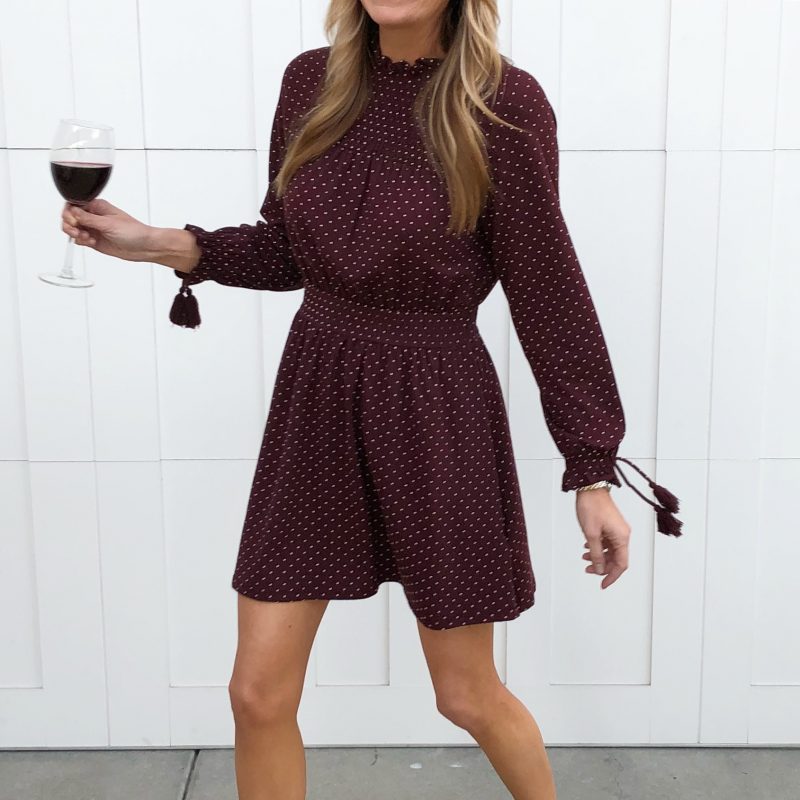 This dress caught my eye while I was in store. I love the cranberry color and polka dots. But it's one that looks a bit questionable on the hanger. As soon as I put it on I knew it was coming home with me. It's a super soft cotton and a great cut. This is definitely a piece where I do not agree with the online reviews at all. I think it's feminine and fun and really versatile. For reference, I am 5'7″ and wearing a size US 6. I am almost always a 6 in this brand despite being a 4 in most other brands. My family gave this dress two thumbs up as well. The $60 price tag is ideal. This is a good one, girls. Oh, and I paired it with these booties (crazy comfortable).
DENIM SHORTS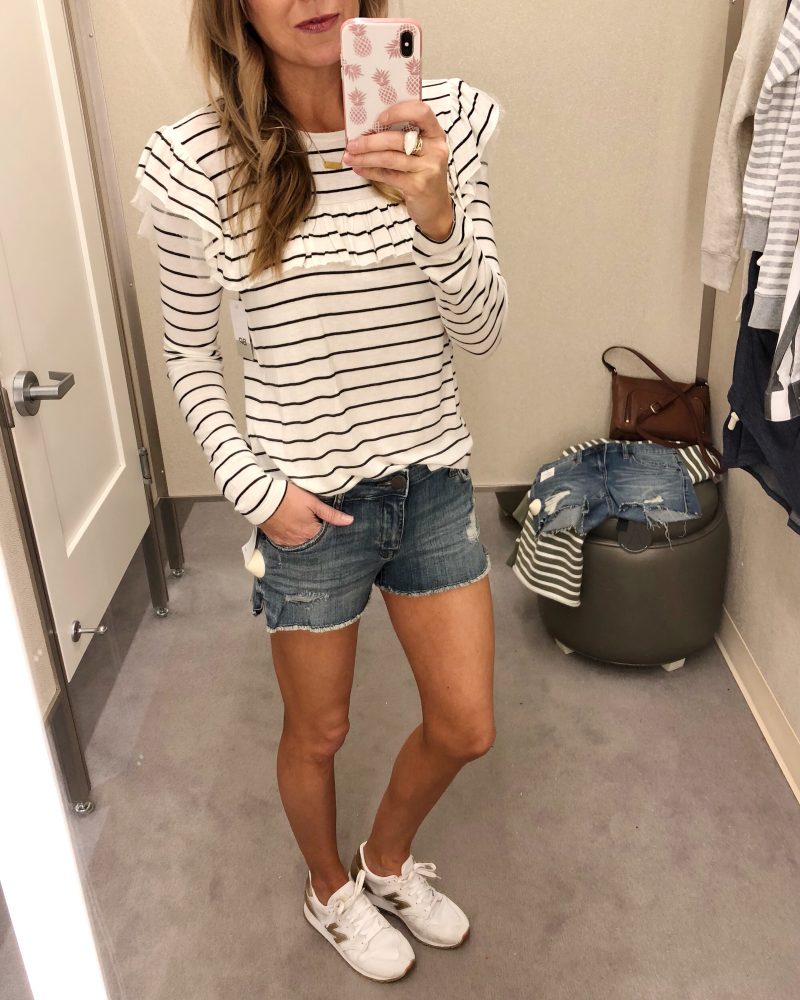 While they are not for everyone, I am a denim cut-off girl. The temps in California are so chilly right now, but I found these while shopping and wanted to share. They are only $39 and such a cute cut. These shorts run true to size and I am in my usual jean size. The New Balance continue to be my favorite shoe for running around town. I appreciate that they are incredibly comfortable. Because they run big it is best to size down. What I love most is that they are lightweight and not bulky on the foot. Great support, too.
This top combines two of my favorites. Stripes and ruffles! Very soft and comfortable.
STRIPE ALERT
Now listen. I realize there is a stripe problem going on. If you look in the dressing room, it's clear I have a type. There is just something so clean and classic about stripes. I have this top in the light red version. The gray and white is darling. It comes in so many different colors and is a nice lightweight button down for Spring and Summer.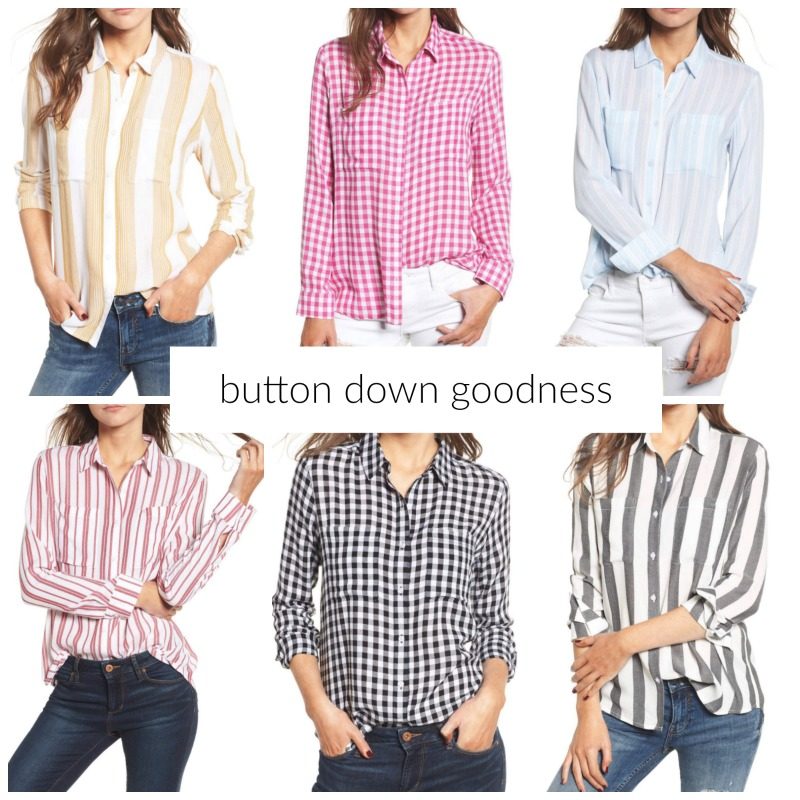 When they are this cute, it's hard to pick just one!
ALL DRESSED UP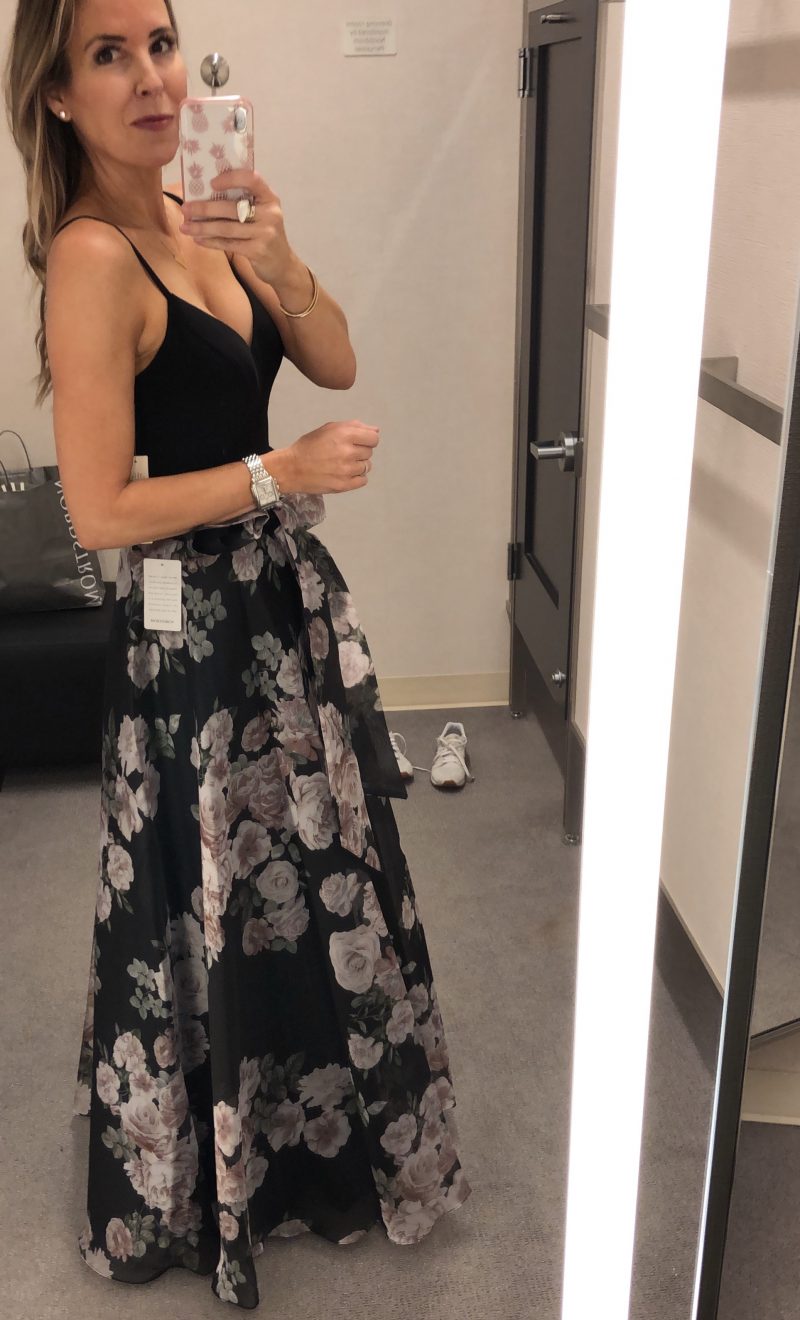 All dressed up and nowhere to go! I had so many questions about this ball gown after I posted it on my Instagram stories. I fell in love with this gown but sadly have no place to where it. It's a bit much for a run to Costco or volleyball practice. Having said that, it sounds like a lot of you have black tie events on the horizon (yes, I am jealous). It runs true to size. I am wearing a size 4. The top is a very soft knit. It is ever so slightly padded so the top has great structure. I have heels on in the photo and am 5'7″. I hope that helps. Let me know if you have any more questions about this beauty. I will live vicariously through all of you!
OTHER ITEMS THAT CAUGHT MY EYE
WEEKEND SALES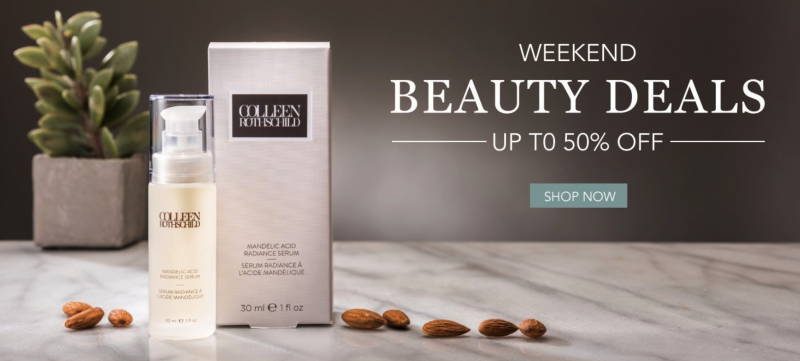 It's a great time to grab some of my skincare favorites. The cleansing gel is marked down to $22!! That is so good.
LOFT

With code "weekend" everything full price is 40% off. These are three of my favorite tops. All drape nicely and are great layering pieces for Spring.
McGEE & CO.
Did you see our family room reveal?  So many of the items I used to style the room are from McGee & Co. They are running a sale right now so it's a good time to take a look around if something has caught your eye. I plan to buy one of the grid boxes as a gift for a dear friend. So good.
POTTERY BARN
This setup, though. So beautiful. Pottery Barn is running it's spring dining event so you may want to check that out. I am already working on a Spring tour for you all and I have my eye on a couple of items. All so pretty.
And now we are off and running. Something tells me we won't be getting anything done around the house this weekend. Sports are definitely taking over. But we love this season we are in right now. Wouldn't change it for the world.
Enjoy the weekend. See you back her on Monday!
*affiliate links used