Welcome! I'm beyond thrilled to share our family room with you today. It's been a labor of love since the moment we moved in. Taking our time and really choosing things that we love has been so important to us. I am extremely grateful to call this space home and hope you'll enjoy taking the tour. There are a ton of photos so I will keep the commentary to a minimum. There is a comprehensive source list at the bottom of the post.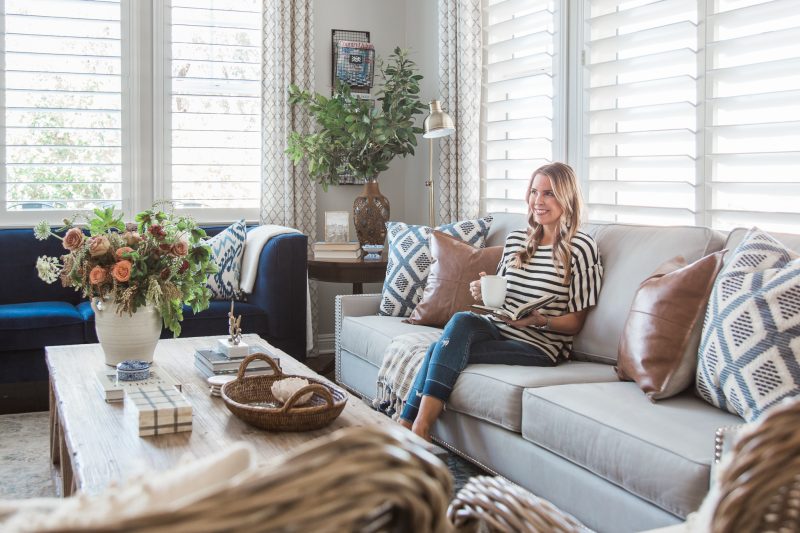 I've always gravitated towards neutrals but am not afraid of a bold dose of color. Hence the blue velvet sofa. Soon after we moved in I stumbled upon that at HomeGoods. I had to have it. To this day it makes me so happy. It not only adds energy to the room, but is by far one of the most comfortable couches on which I've sat.  The entire family loves it which makes it even better.
I am all about the details so when we designed this sofa I wanted to add a bit of glam. I just didn't want it to fall flat in the space. This room is quite large and having this couch made allowed us to better utilize the space we have. The rug was a very fortunate HomeGoods find.
These two Ikea wicker chairs help unify the space and add texture. They are surprisingly comfortable. And you can't beat the price. The built ins were here when we moved in and one of the many reasons we fell in love with this home. They were dark to begin with so we gave them a fresh coat of white lacquer.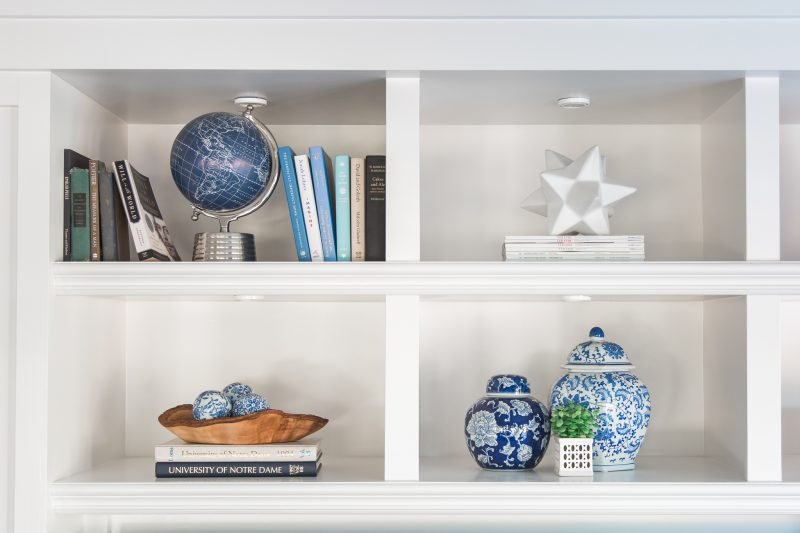 I've kept the built ins very simple. Sticking with blue and white plus a few wood accents keeps it all feeling cohesive.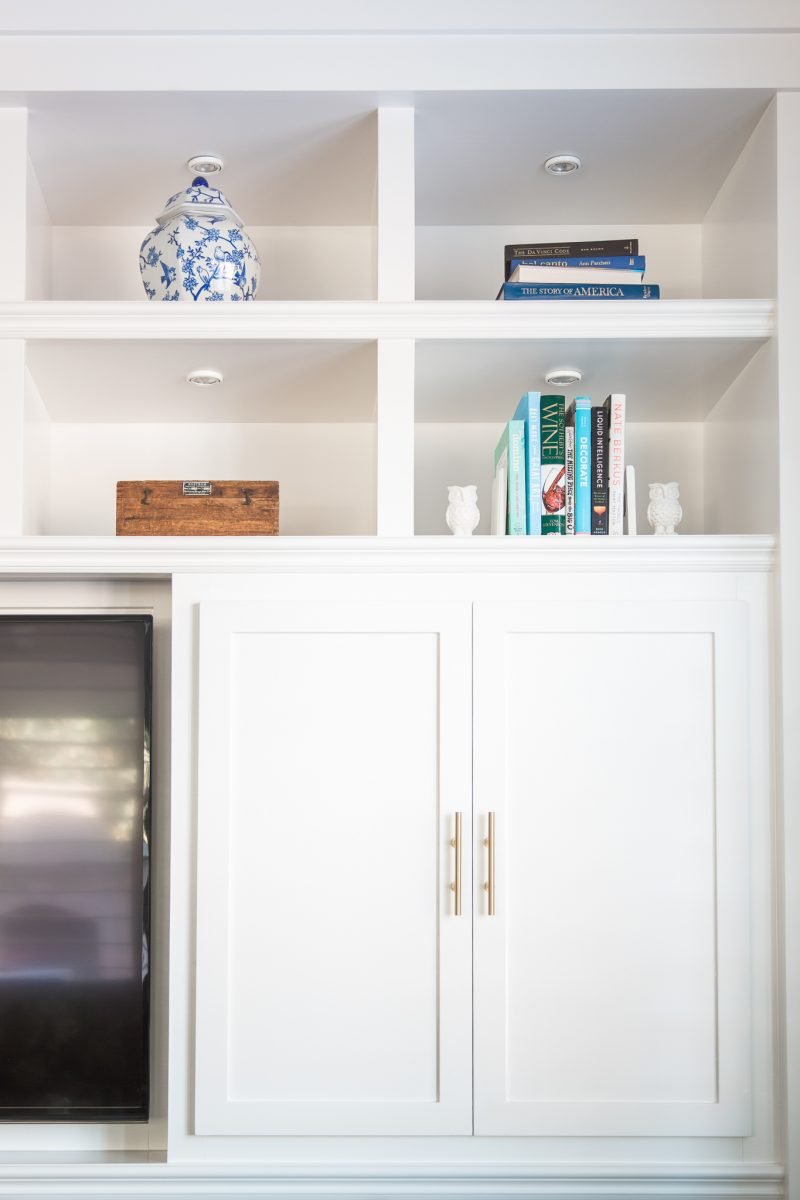 My grandfather was a builder. The brown box contains the surveyor that he would use on each property. His initials are etched in the top of the box. It's such a special part of this room and a wonderful way to keep his memory alive.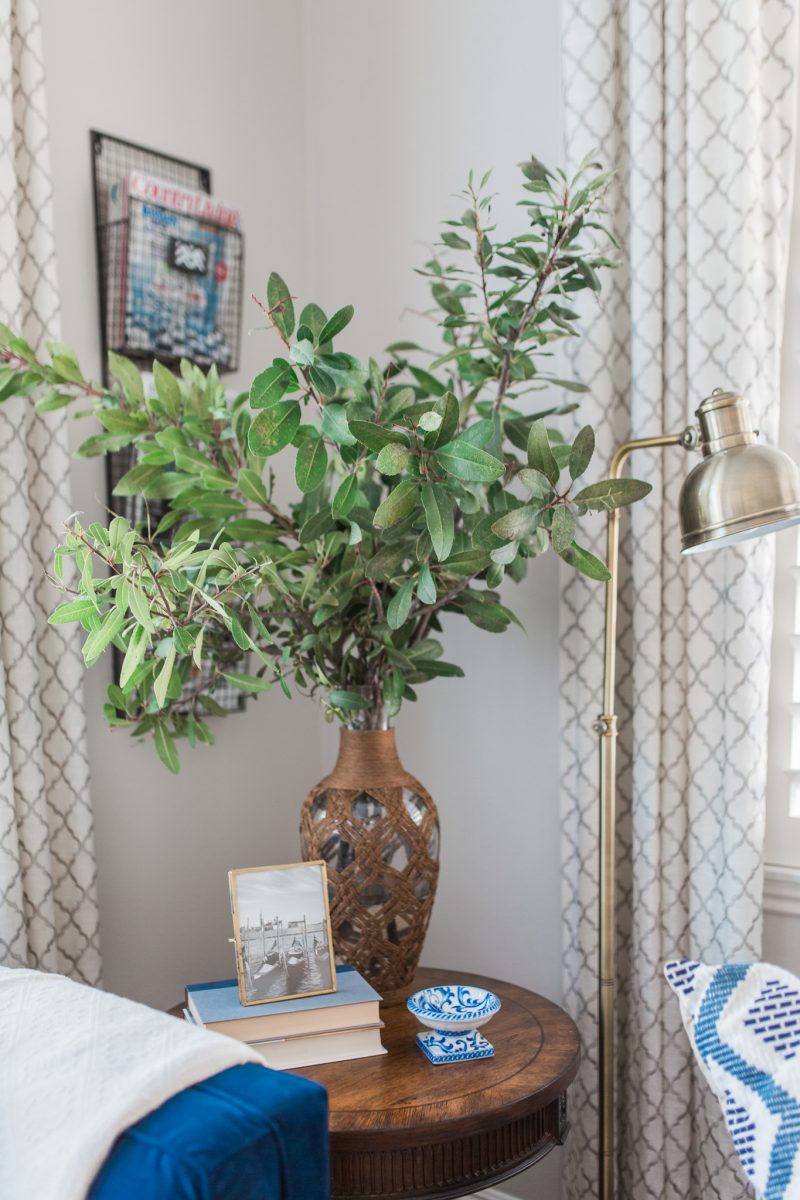 It was important to me that I balanced the mid-century modern blue sofa with a very traditional element. This table is a perfect spot to set a cup of coffee and we fill the vase with foraged greens from the yard. Surprisingly, they always last such a long time and add visual height to the corner.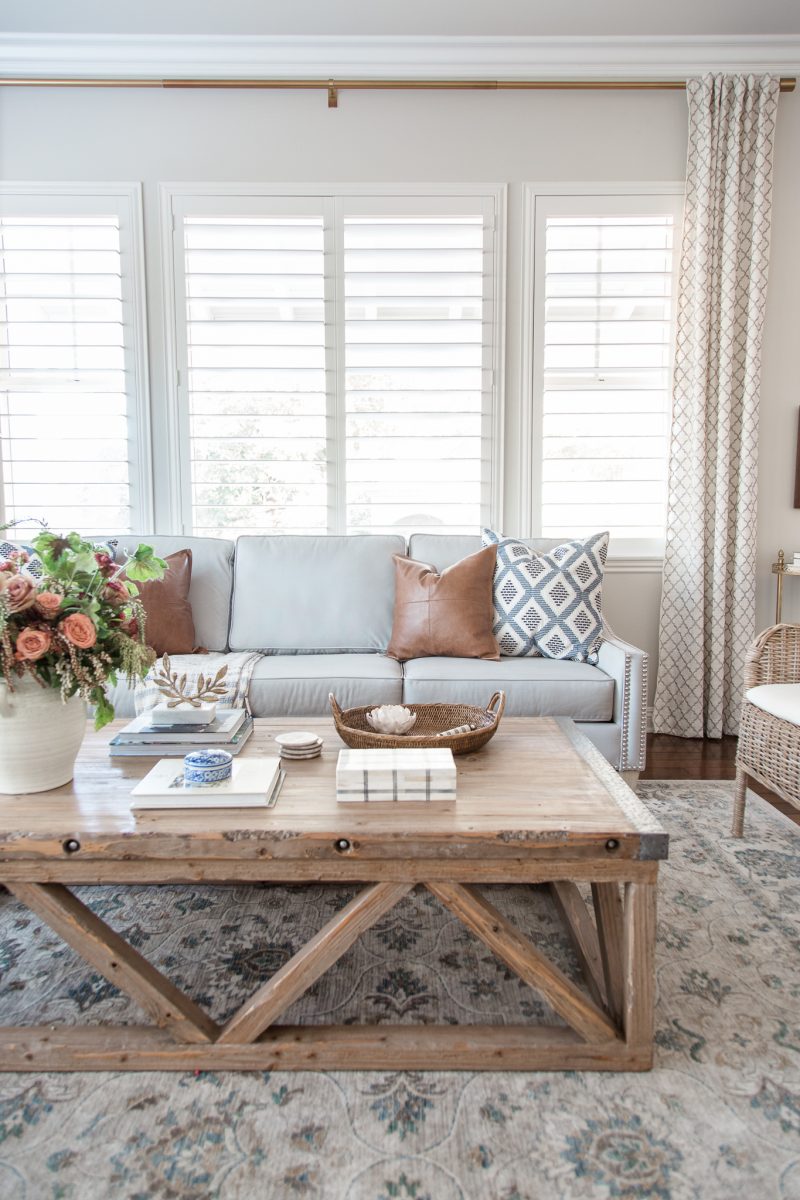 The final piece to this puzzle was the coffee table (currently 25% off).  When we moved in, we brought the table from our previous home. It worked well while we patiently waited for the right piece to come along. This room is quite large and I knew I wanted the table to be big enough to unite all of the seating. I also wanted it to be a piece that looked aged. Something with character. As soon as I saw this table from McGee & Co. I knew it was perfect. We adore everything about it. I foresee hours of games, puzzles, appetizers, game watches, and more all atop this table.
The beautiful box holds our remotes. It's the perfect size and I like that when we clean up we can tuck those away. Otherwise we just toss them in the basket tray. Also easy but still pulled together.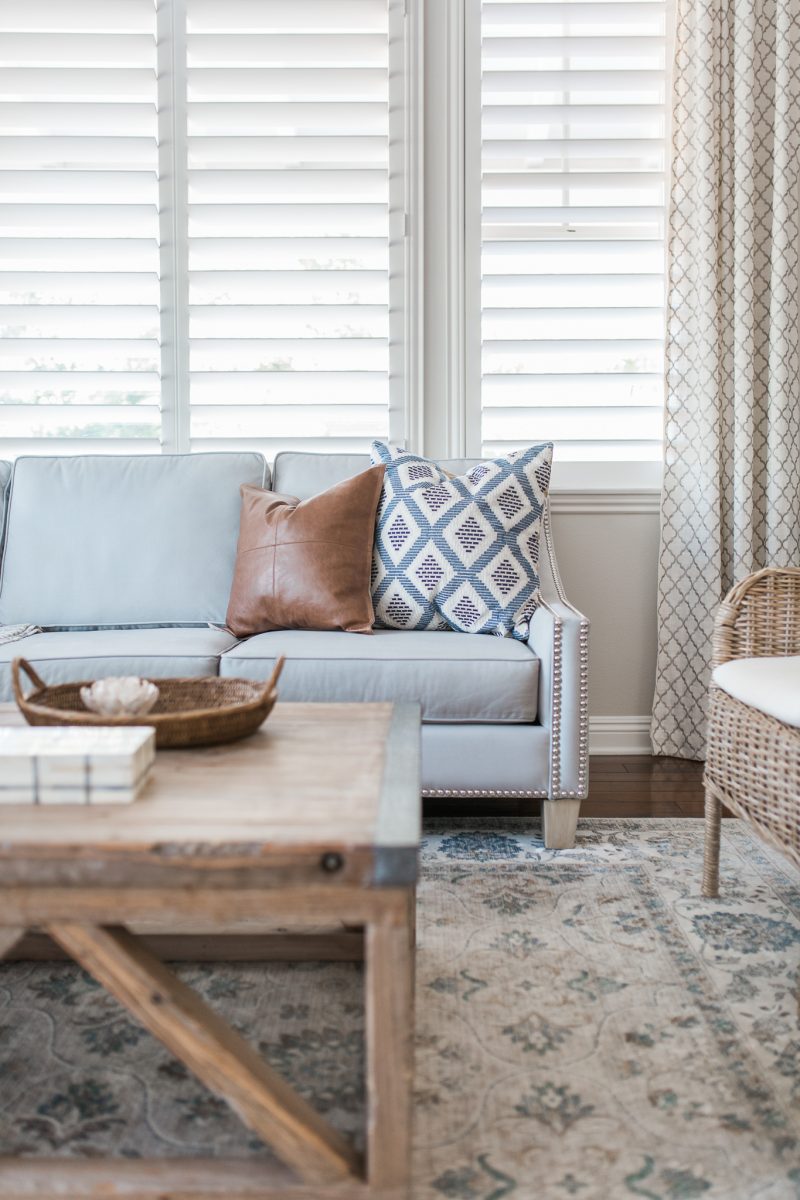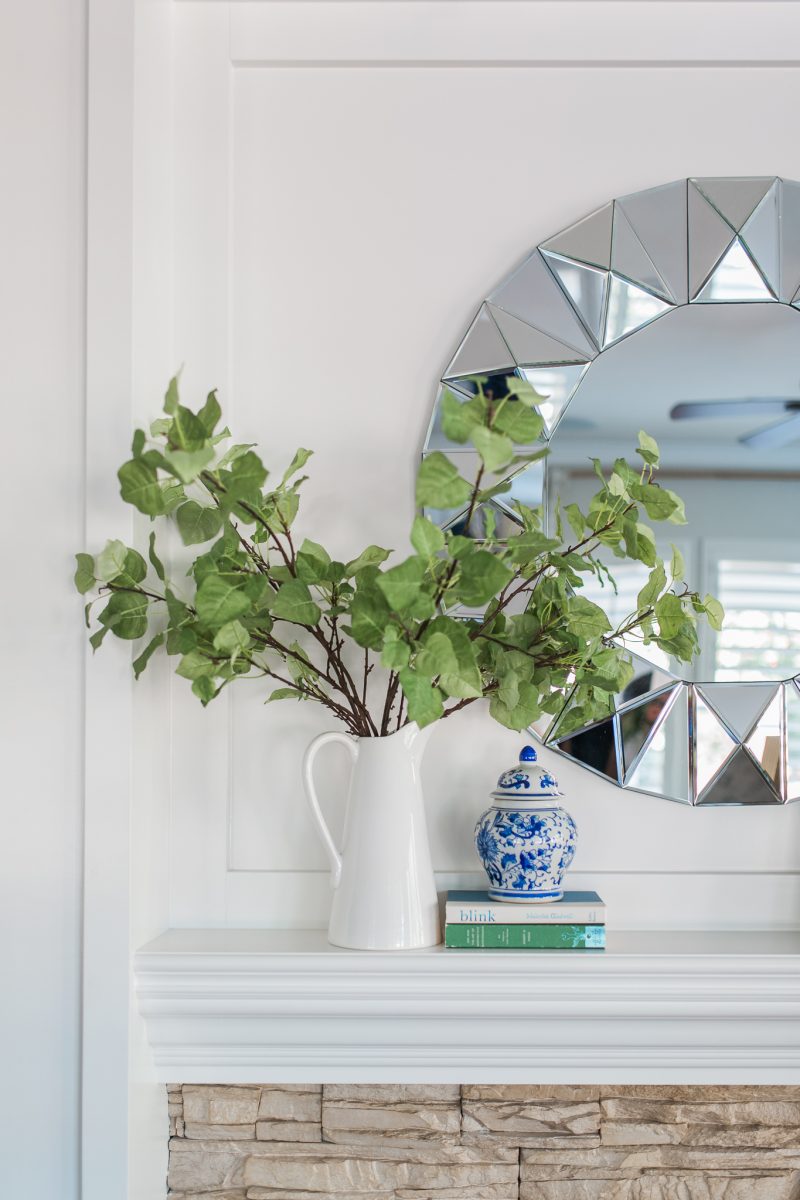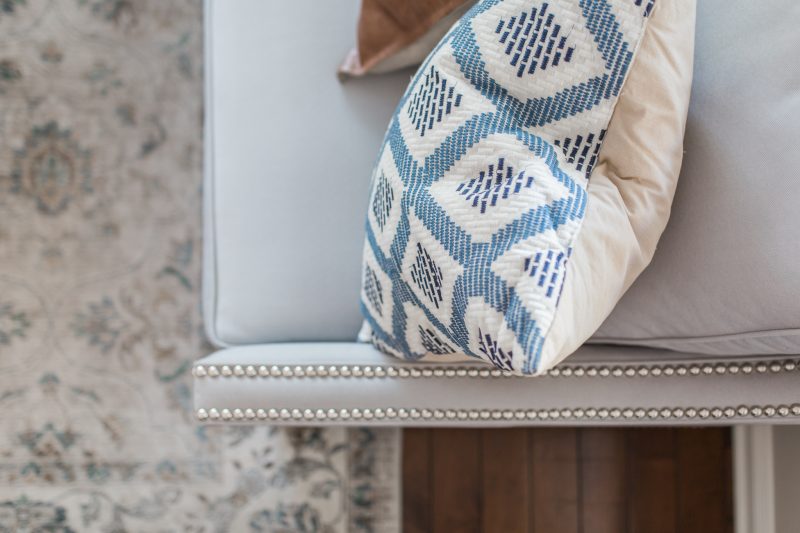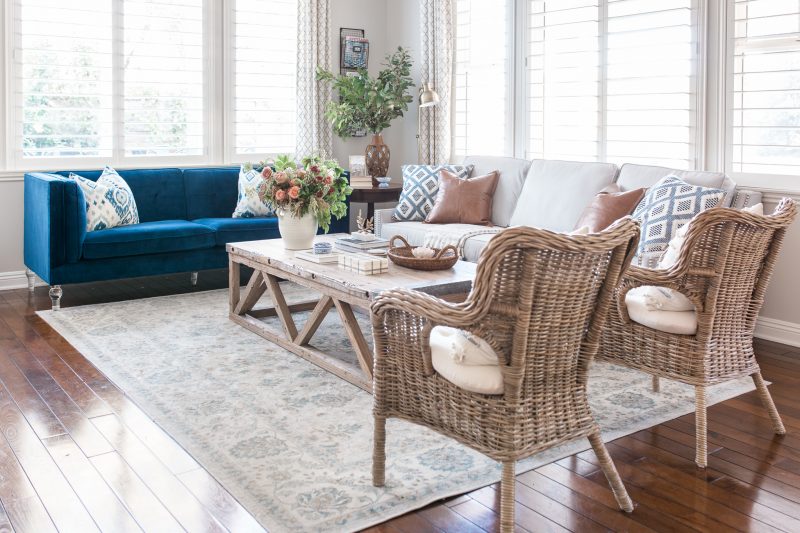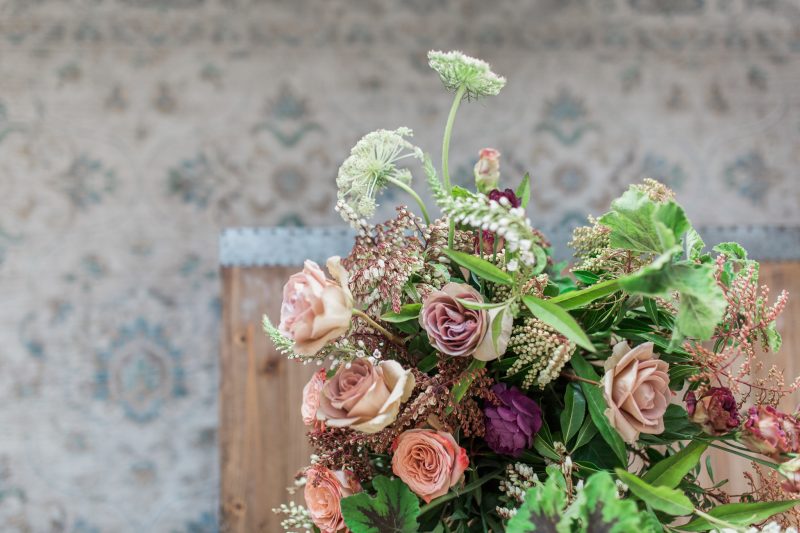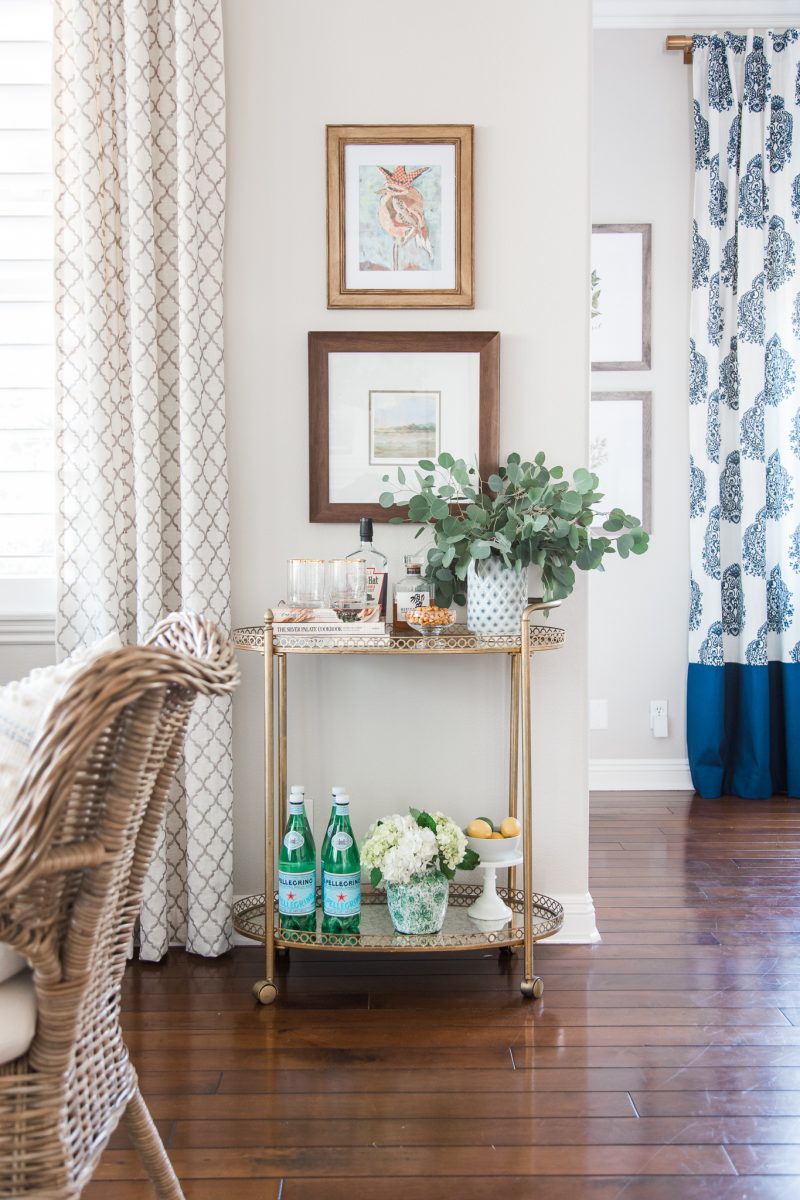 We've had this bar cart for years. It's one of my favorite pieces. Always fun to mix up the styling of it, too.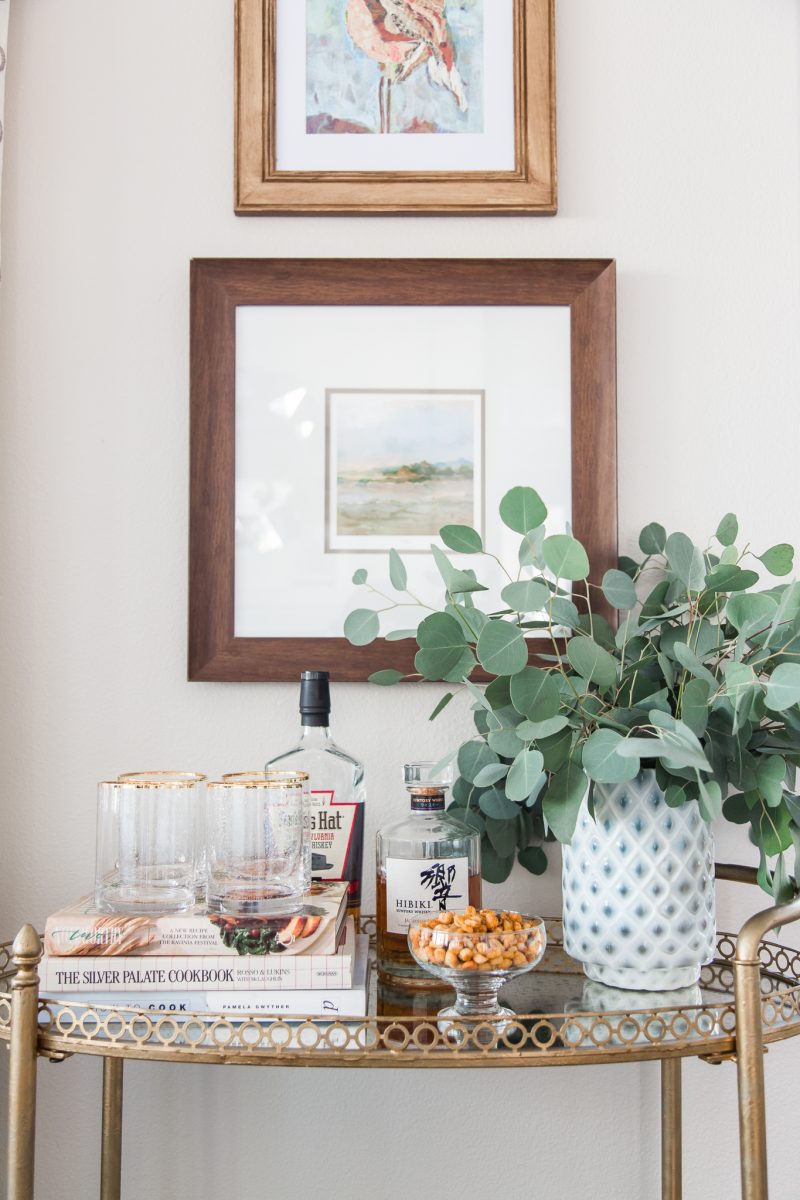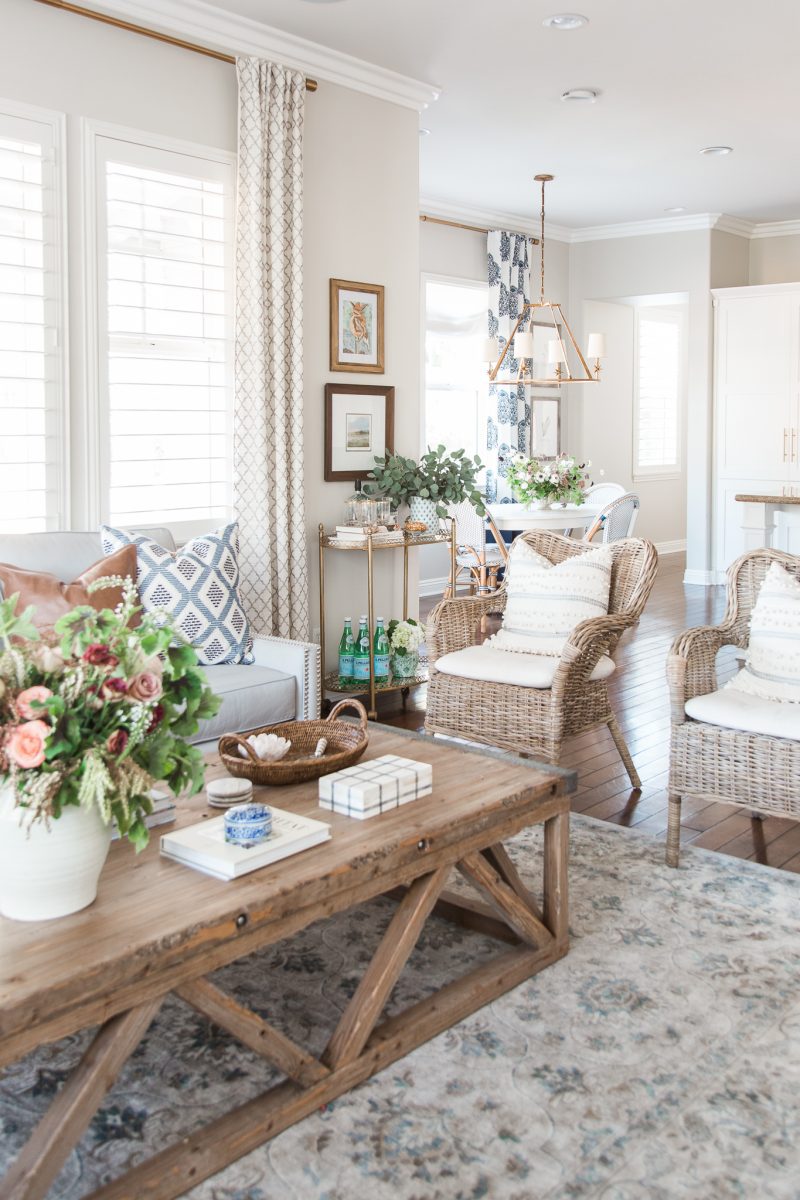 Seeing as though this is our great room, it opens up to the kitchen and breakfast nook. This allows you to see how the space all works together. I saved money by making all of the window treatments myself. Our walls are Pale Oak (more on that color here). The trim color is unknown.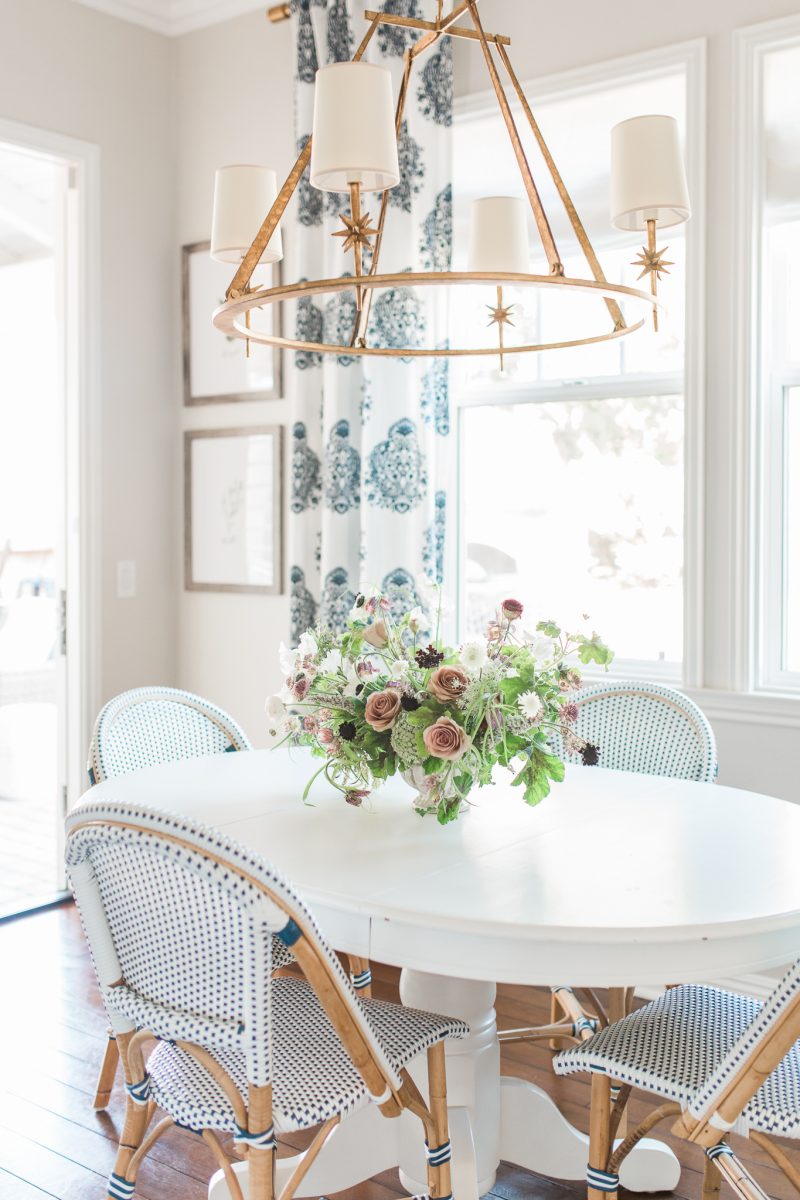 You can see more of our breakfast nook in this post. The blue in the chairs and drapes tie the two rooms together.
We spend hours gathered together in this space each and every day. Most days you can find me blogging from this couch. The room gets drenched in sunlight and I wouldn't want to be anywhere else.
Shop This Space

Thank you so much for letting me share our space with you. Below is a complete source list.
Photography: Vanessa Lentine     Floral Arrangements: Poseypop
Sources
brass lamp – home goods
drapes – made them myself
blue sofa – home goods, similar
rug – home goods
blue pillow (currently sold out from Target)
flame stitch pillows (custom made)
gray sofa (custom made), similar style
blue drapes (semi custom no longer sold)
brown vase – home goods