Hi friends! How was your week? Ours flew by and seemed busier than I would have hoped for. I am trying to figure out how to get some work down while the kids are home. More on that juggle next week. I am sure most of you are trying to fit it all in as well. This weekend is a tender one for us so we are planning to stay as busy as possible. There is a good mix of pool time, hockey and time with family on the docket. And I will be living in this cute summer dress I found. Sharing that and much more in this week's edition of Saturday Shopping.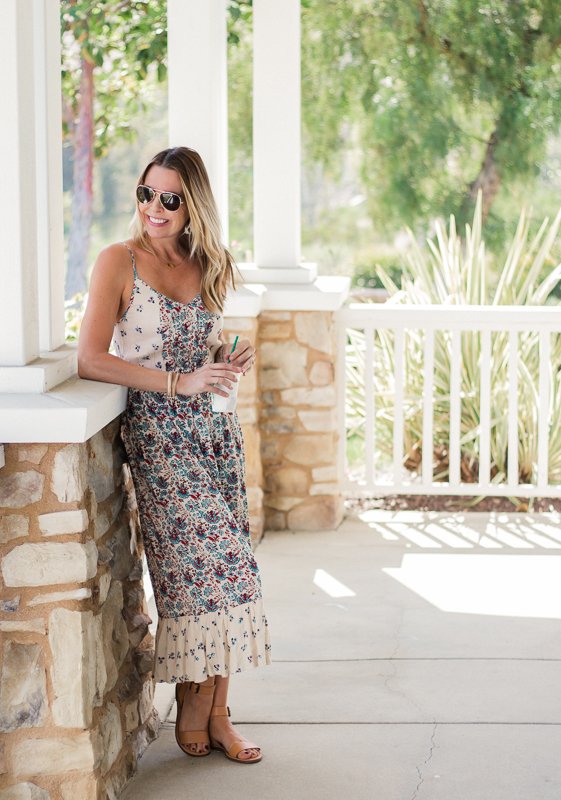 I stumbled upon this dress online and went it arrived I was so excited. It's only $59 and perfect for summer. It's one that you can wear around the house or run errands in, but also feel good enough to wear it to a summer BBQ or party. Lately, after we get back from the pool or beach this is what I put on. It just feels so lightweight and feminine and I love the print.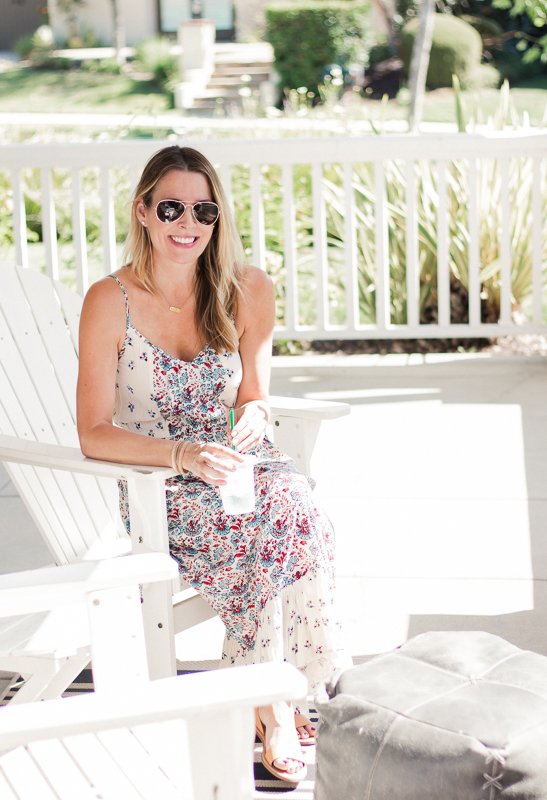 Sundresses and eating outside top my summer list of what I love best. While I love the coziness of the holidays, it's the relaxed vibe of summer that makes me a happy girl. Especially throwing the schedule out the window. That's been much-needed around here. Do you all feel the same?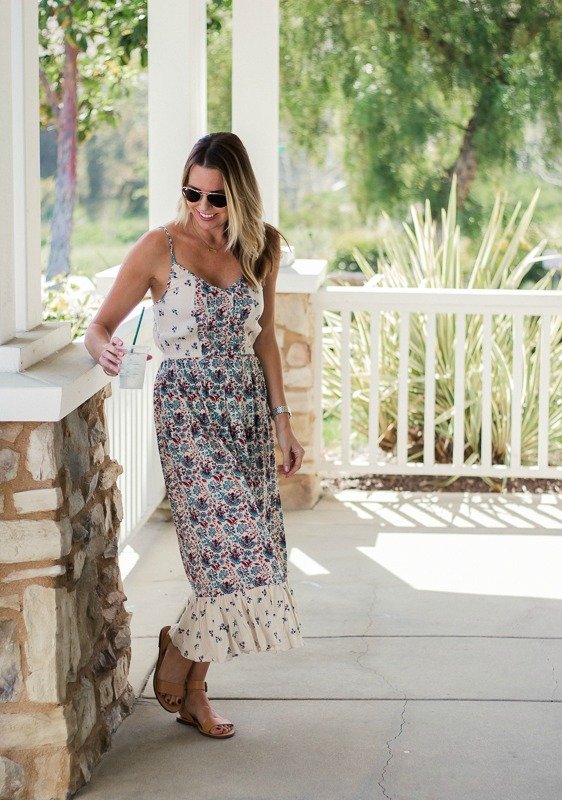 dress | sandals | sunnies | bracelet 
These sandals are still a go-to for me, too. I styled them with this cute dress here but I reach for them all the time. They go with everything and are a great color. I am thinking about getting these because I don't have any flip-flops. Truth be told I've been borrowing my daughter's! Does any one have them? If so, do you like them? This bracelet is adorable and I always receive compliments. It adds something fun and easy to every outfit. At under $30 it's a nice gift idea, too.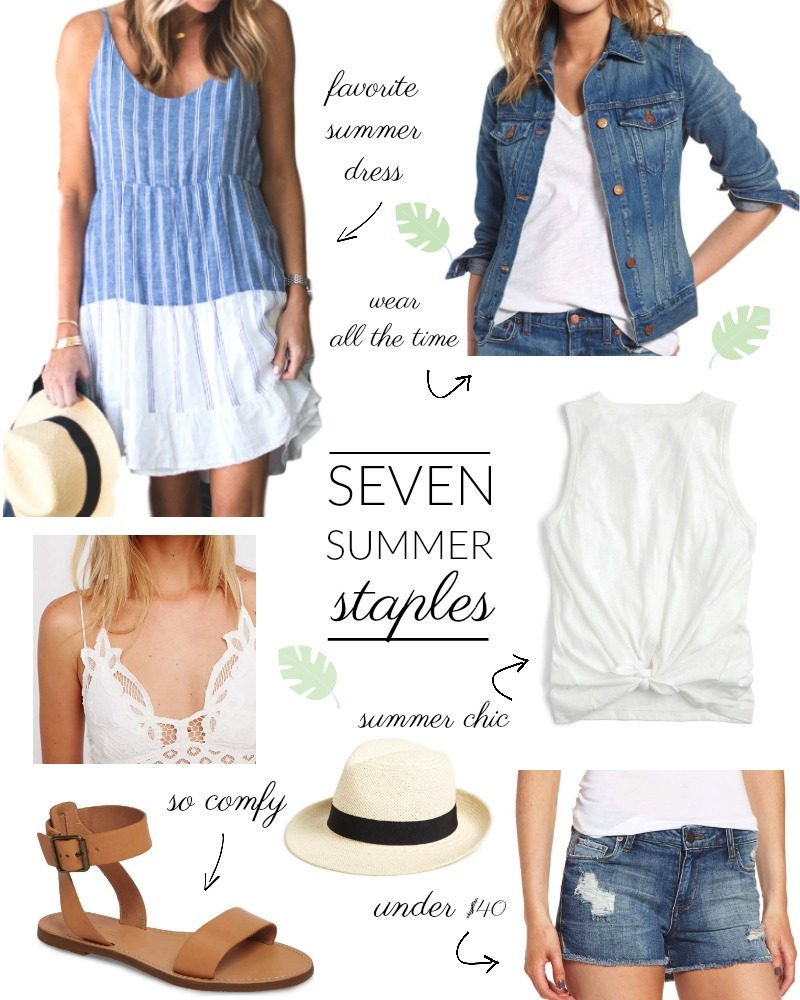 dress | denim jacket | bralette | tank | hat | sandals | cut-offs
Read more about these seven summer staples in this post. Wear these all the time.
COMFY SUMMER DRESSES

I love tossing on a comfy dress that you can wear out and about or at home. These are all darling and perfect for this time of year. Click on any photo for details.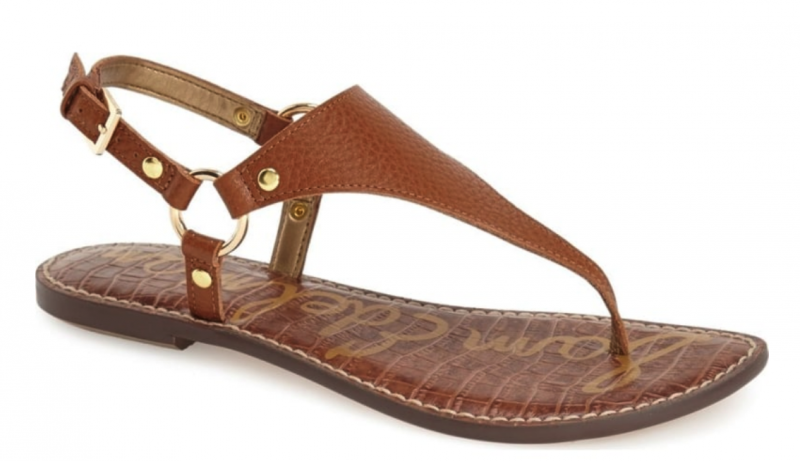 If you're looking for a versatile sandal, this is it. It's not only comfortable but really cute with shorts, dresses and jumpers. This is a very similar style in peach and only $39!
COMFY ROMPERS

click through to see all
You have to check out this selection of jumpsuits and rompers. All 40% off and sooooo cute. I wish I could have every single one in my closet. This one has received awesome reviews. I think I might order this one. It would be great over a swimsuit or for after the beach.
PRICE MATCHED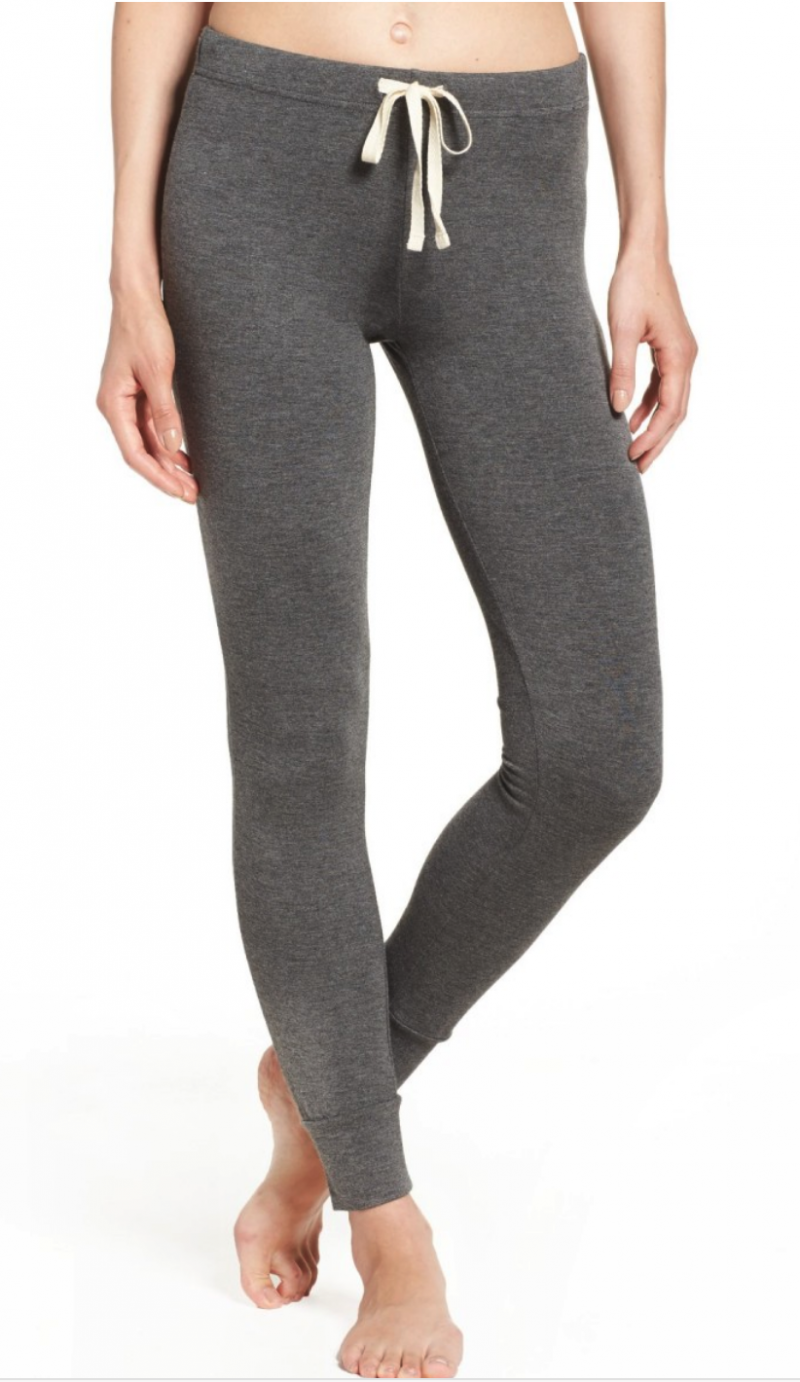 Do you all remember these? My most favorite lounge pants of all time. No joke. I own them in three colors. They wash beautifully and fit so well. Plus you don't feel totally schleppy in them (not a word but you know what I mean). They are currently price-matched so a good time to snatch them up. Plus I found my favorite robe for only $20! What!!!!!????
BACK IN STOCK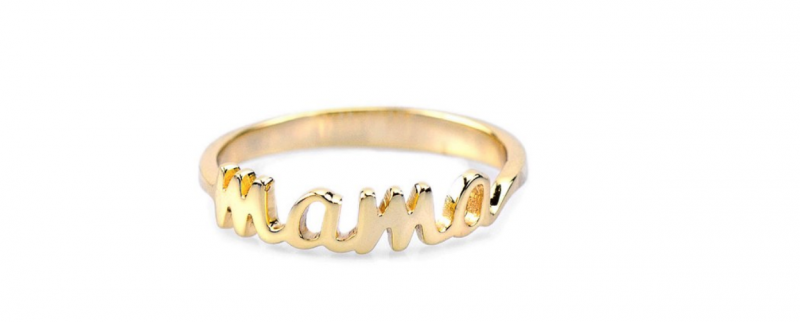 This ring is back in stock! It's so feminine and pretty in person. I wear it every single day!
J.CREW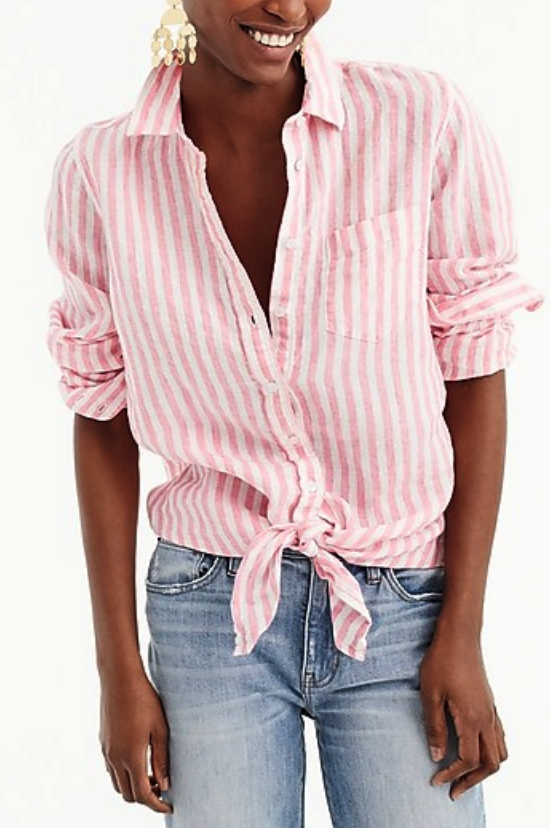 So many amazing things are 40% off! You can check out the women's selection here.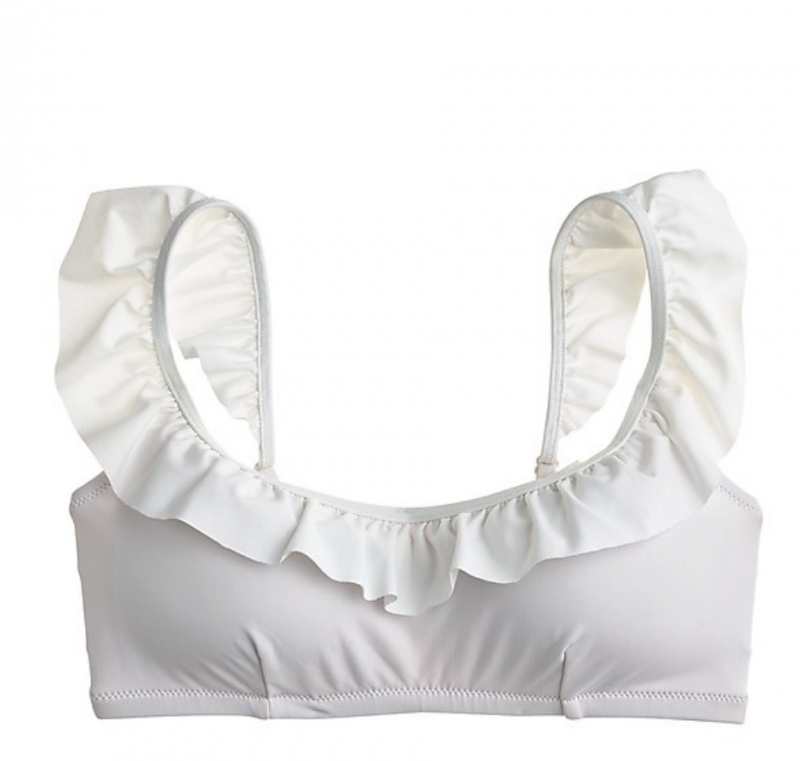 DON'T MISS OUT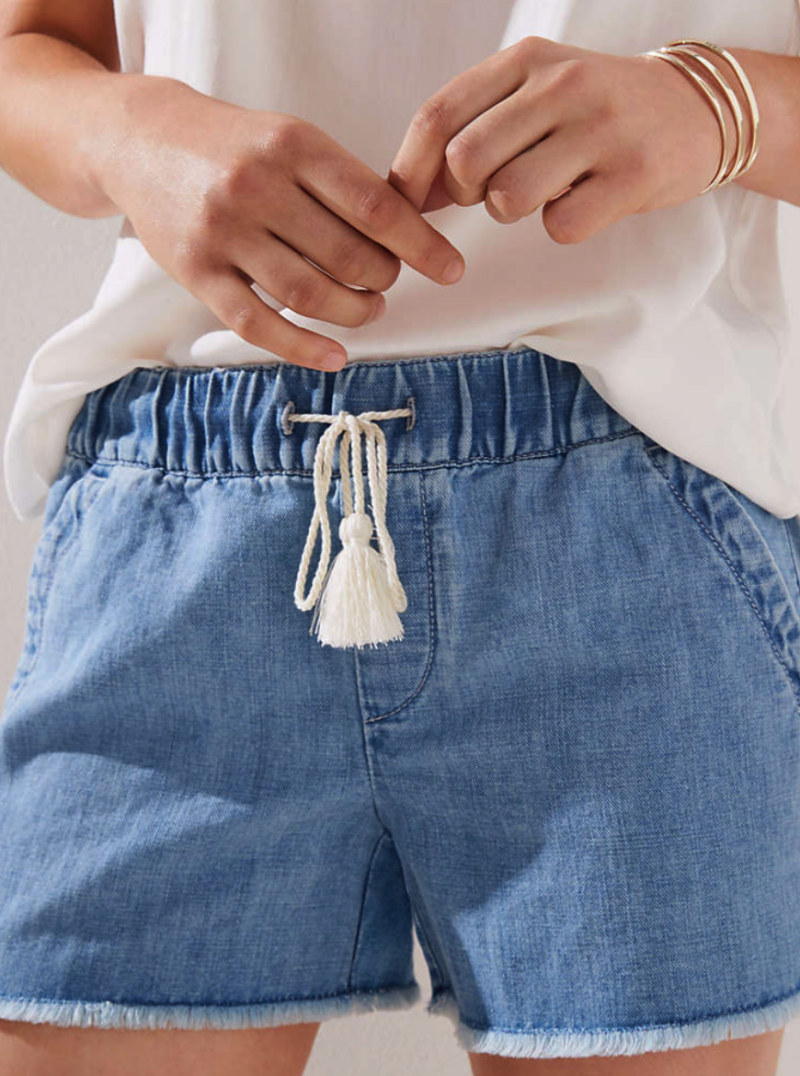 I started a new page where I let you know about a few great deals that are price-matched or going quickly. Sometimes these sell out before my Saturday Shopping post goes live, so you can access them here. To find the page you can look under "shop" on my menu bar at the top of the blog. Hope that helps!
ANTHRO HOME SALE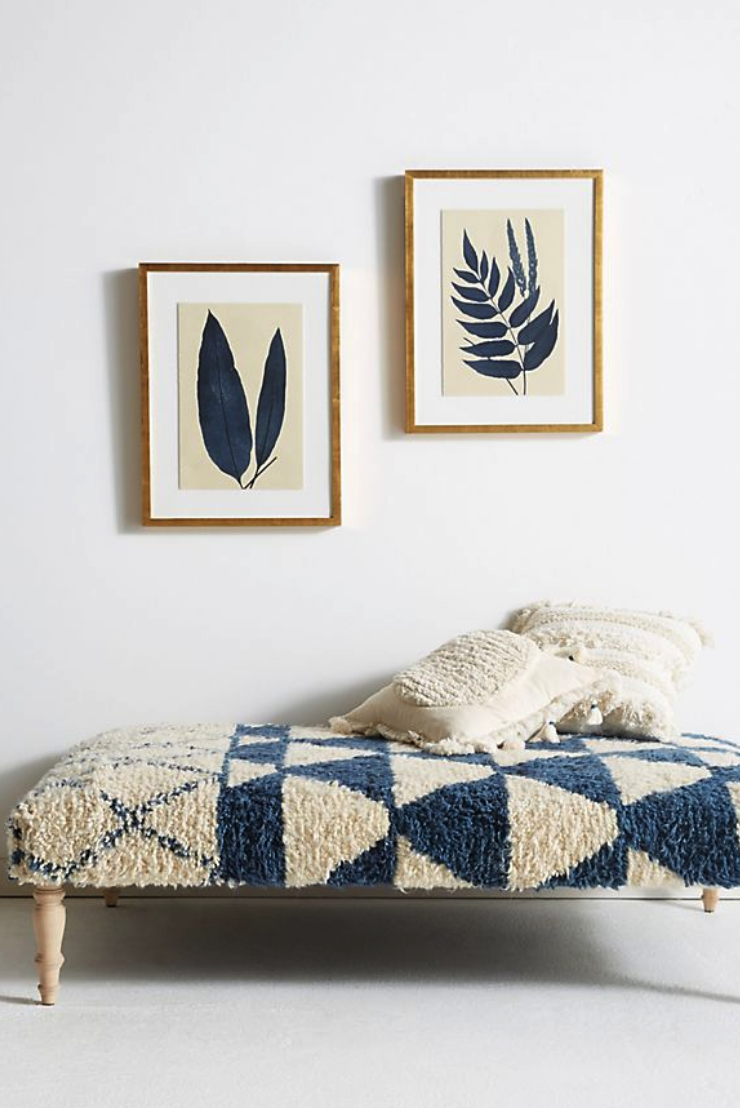 A couple of times a year, Anthro marks down their home collection 20%. Now is the time. I've had my eye on this artwork for our bedroom redesign. My dear friend just bought these for her new home. So pretty.
OUR HOME
We get asked about this chandelier weekly. Sadly this exact one is no longer sold, but this one is very close and gives off the same feeling. This one is less expensive and has silver tones.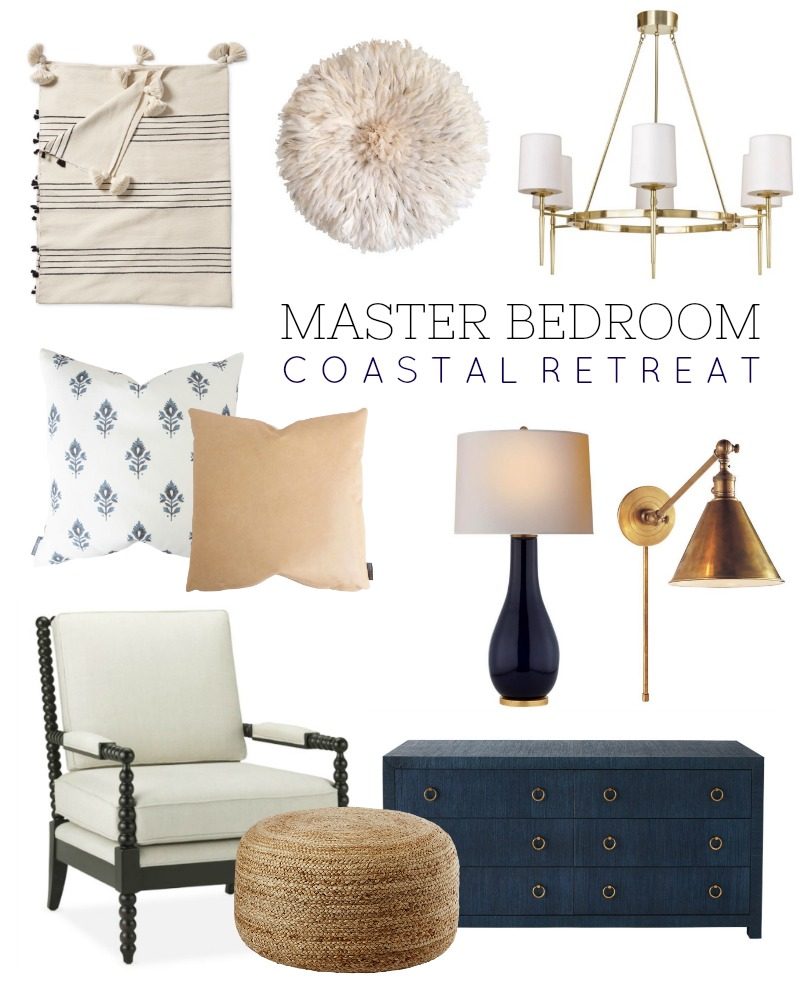 throw | juju hat | chandelier | print pillow | leather pillow | lamp | sconce | chair | pouf | dresser
We are still trying to make a final decision on our master bedroom chandelier. I did find this one which is an amazing price point but I am not sure it is wide enough.
Enjoy the weekend, everyone. I hope you are able to celebrate the Father's in your lives and let them know how much they mean to you. See you back here soon.
xo