Let's do this, Saturday! We are hoping to be productive and enjoy some time outside. I've been thinking about back to school posts and wondering if we need to focus on jammies, loungewear, or actual school clothes? As for this weekend, the sales are in full force. I've rounded up some really great deals plus a new Amazon try on session.
LULULEMON
Lululemon rarely hosts sales. This is a good one, girls. If you love Lululemon but not the price, now is a great time to browse the sale section.
AMAZON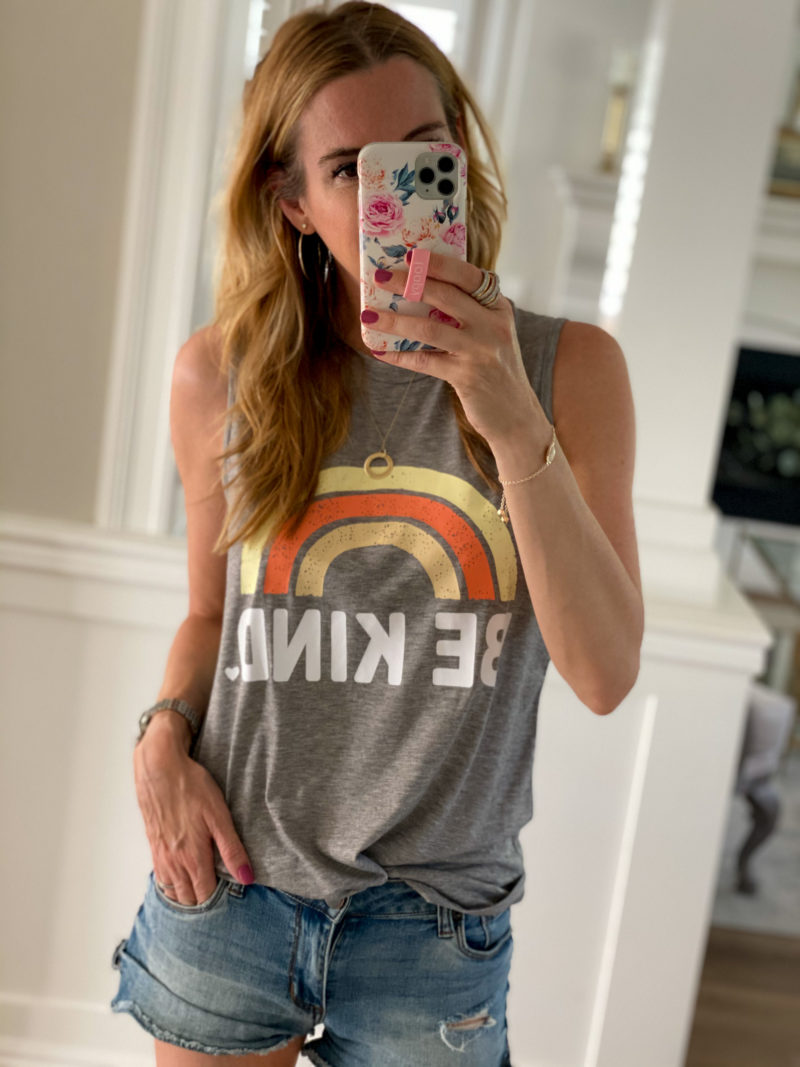 Be Kind. End of story, right?! Love this tank. It's soft and sweet and a fun top for summer. It comes in a few colors and runs true to size (this is a small). A dear friend of mine gave me the dainty bracelet for my birthday and I've been wearing it every day.
ALL THINGS PINK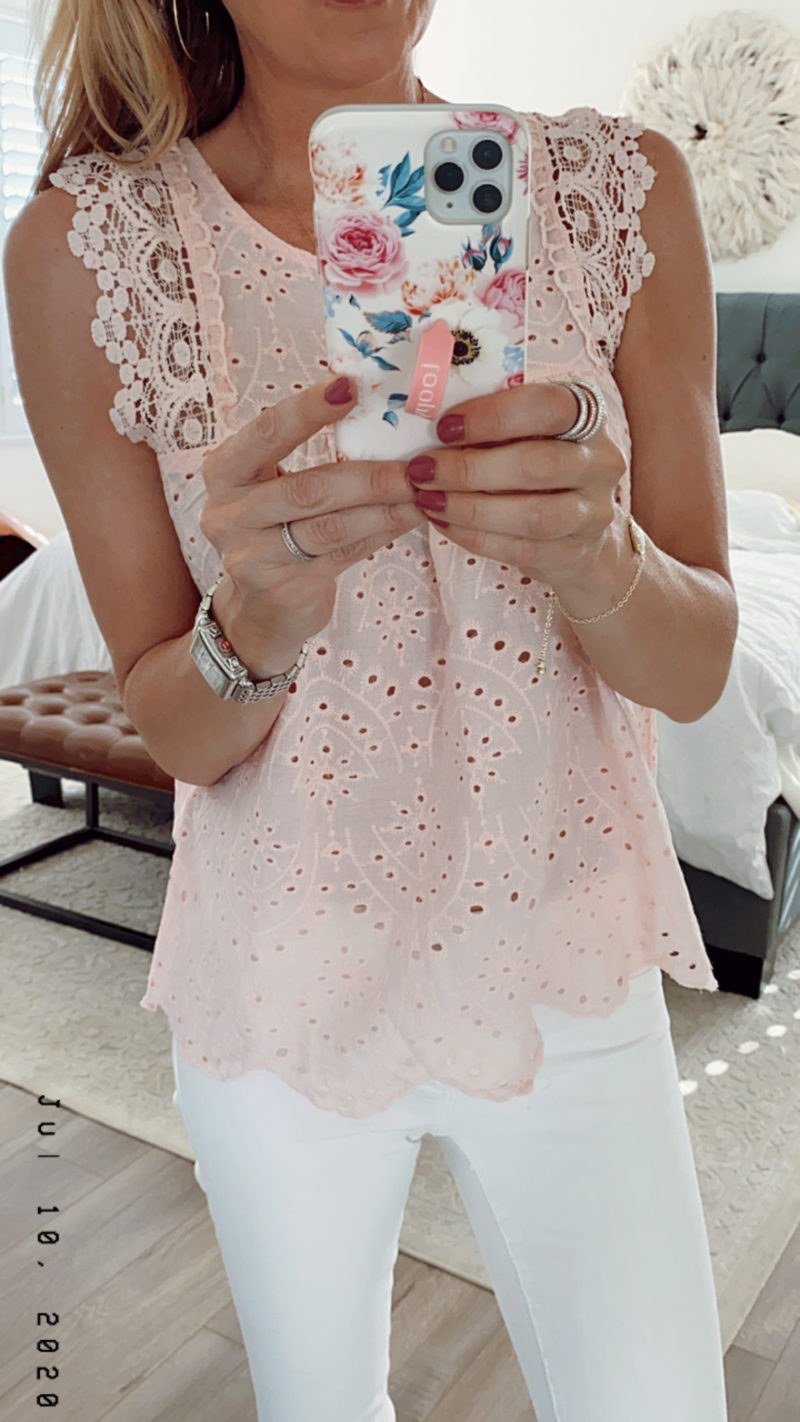 I have this lace top in white and LOVE it so I ordered this pretty blush color. Such a good top. It's absolutely see through but a nude bra works with it. Just didn't want you to be surprised so I took this up close so you could see. It just doesn't give the appearance of it being see through when you wear it. I hope that makes sense. You could always wear a nude tank under it, too.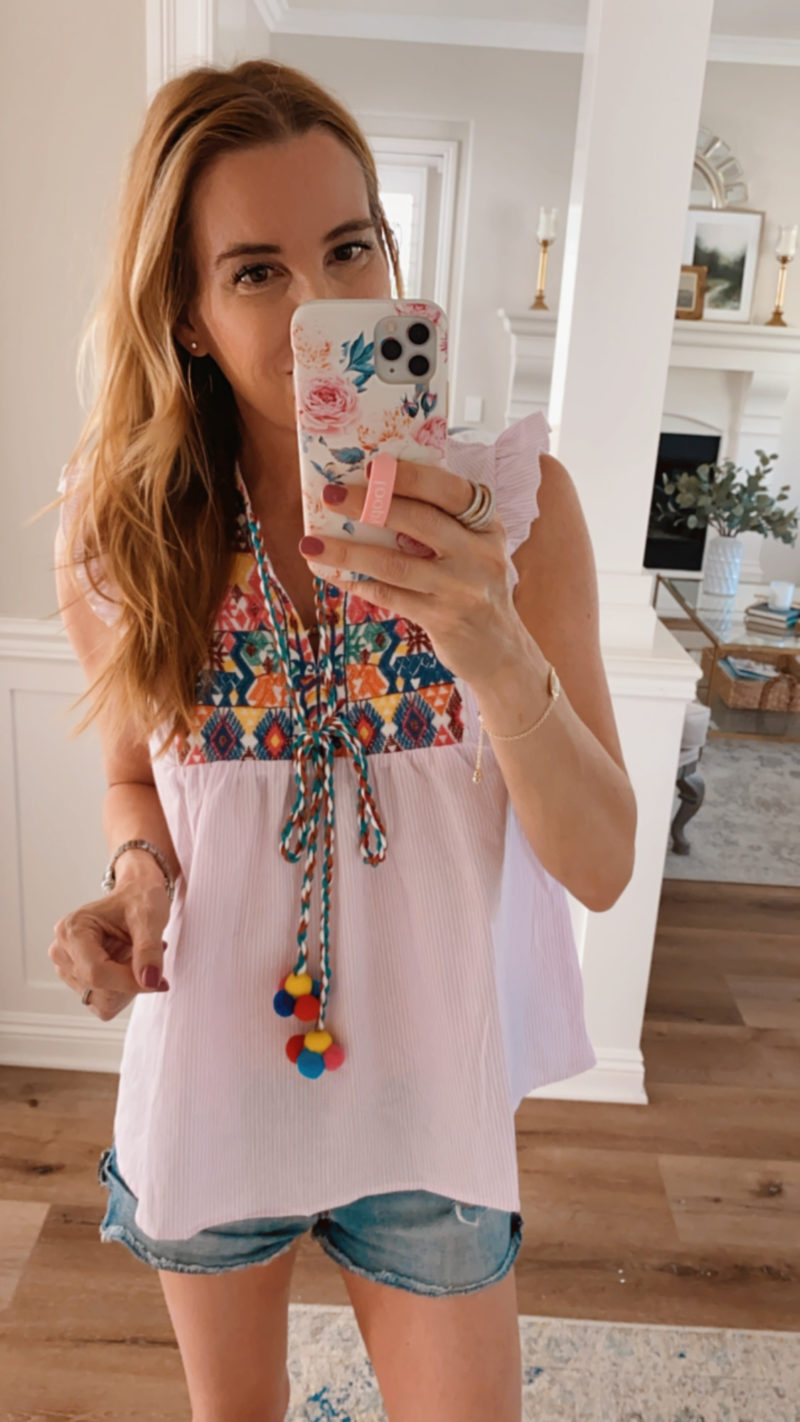 This is a really fun top. Wearing a size small in this embroidered number.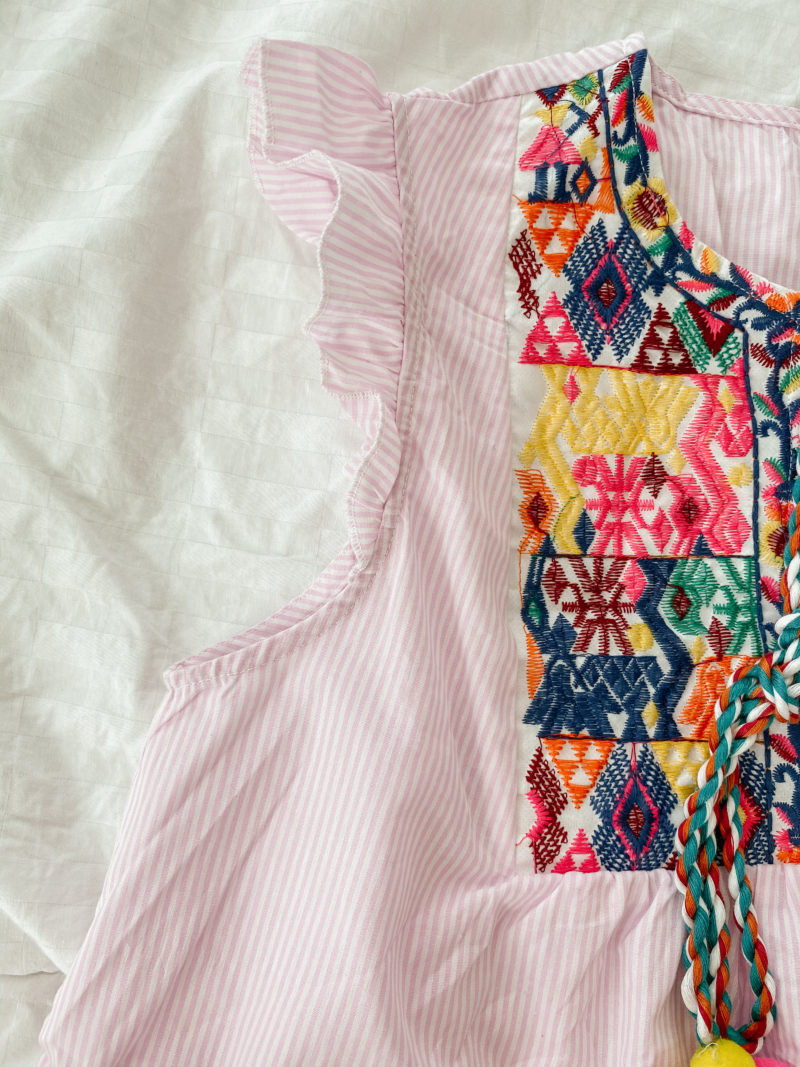 Look how cute the pinstripe is. Very fun for the summer months and looks great with denim and white. Would also be darling with a pair of navy shorts. This top comes in a handful of other colors, too.
JAMMIES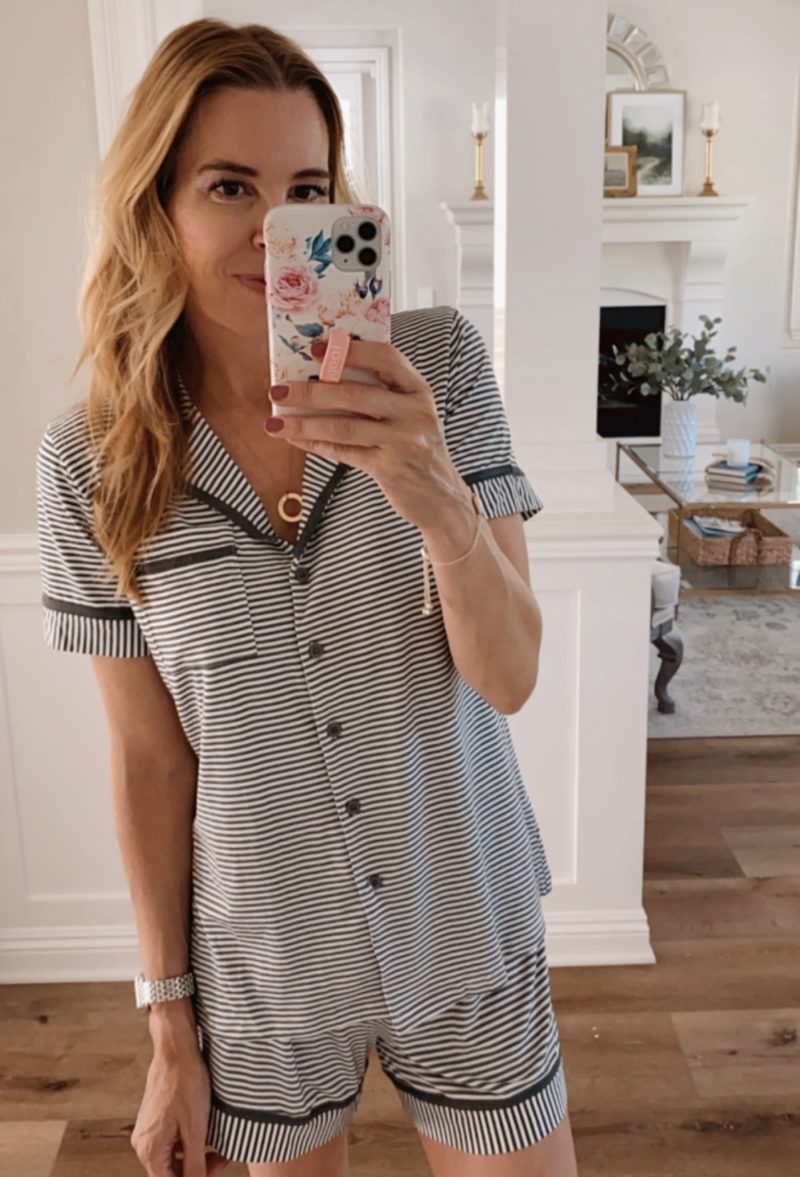 Give me all the pajamas right now! This set receives the most amazing reviews so I had to go for it. They are extremely soft and comfortable. These also come in a few colors. The shorts are a bit longer which is nice. A great pair of jammies.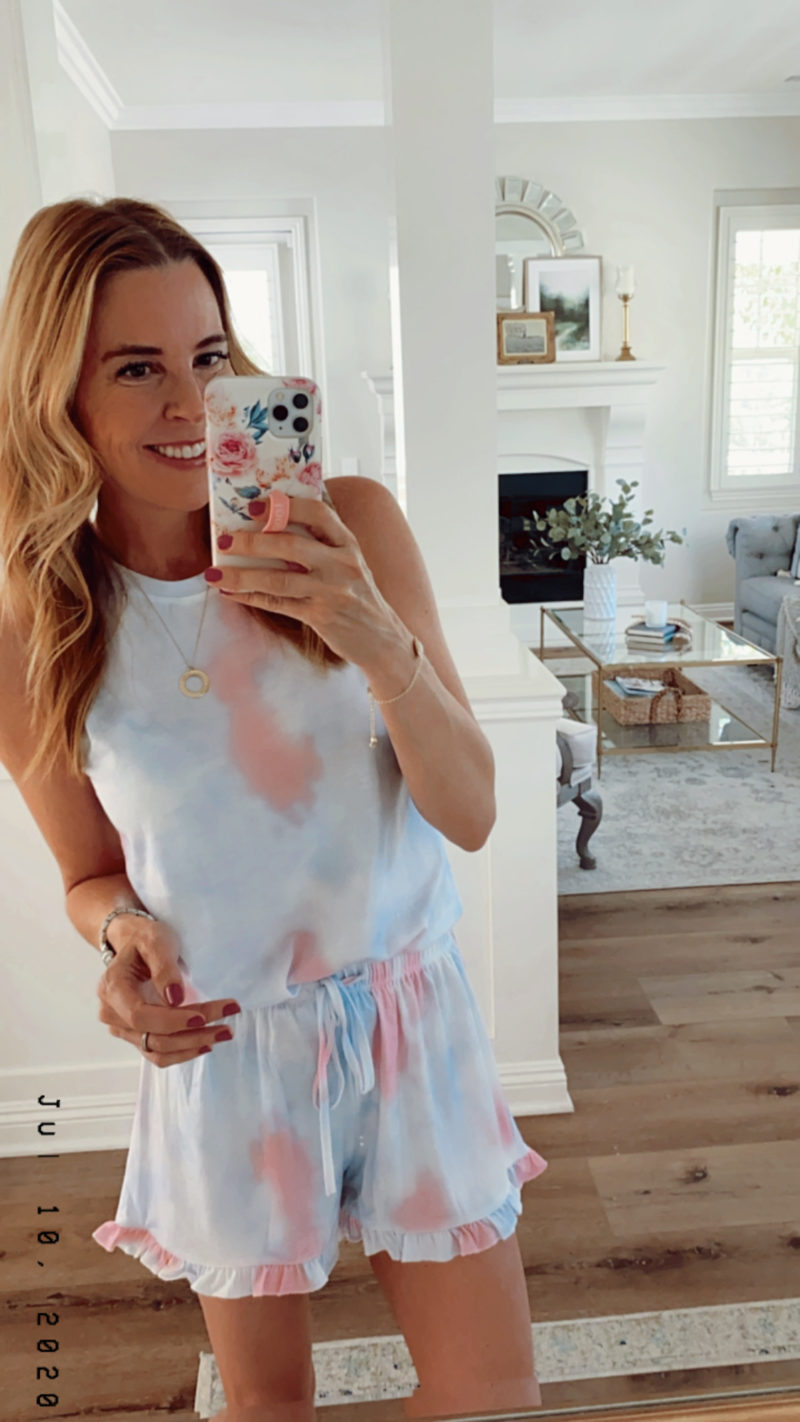 These pajamas are a five star review from me. I LOVE them. I am wearing the size small. This tie dye print is so soft and feminine. I haven't been one to jump on the tie dye craze but these jammies I can get behind. I have the shirt tucked in but it's actually a tank and shorts. So good!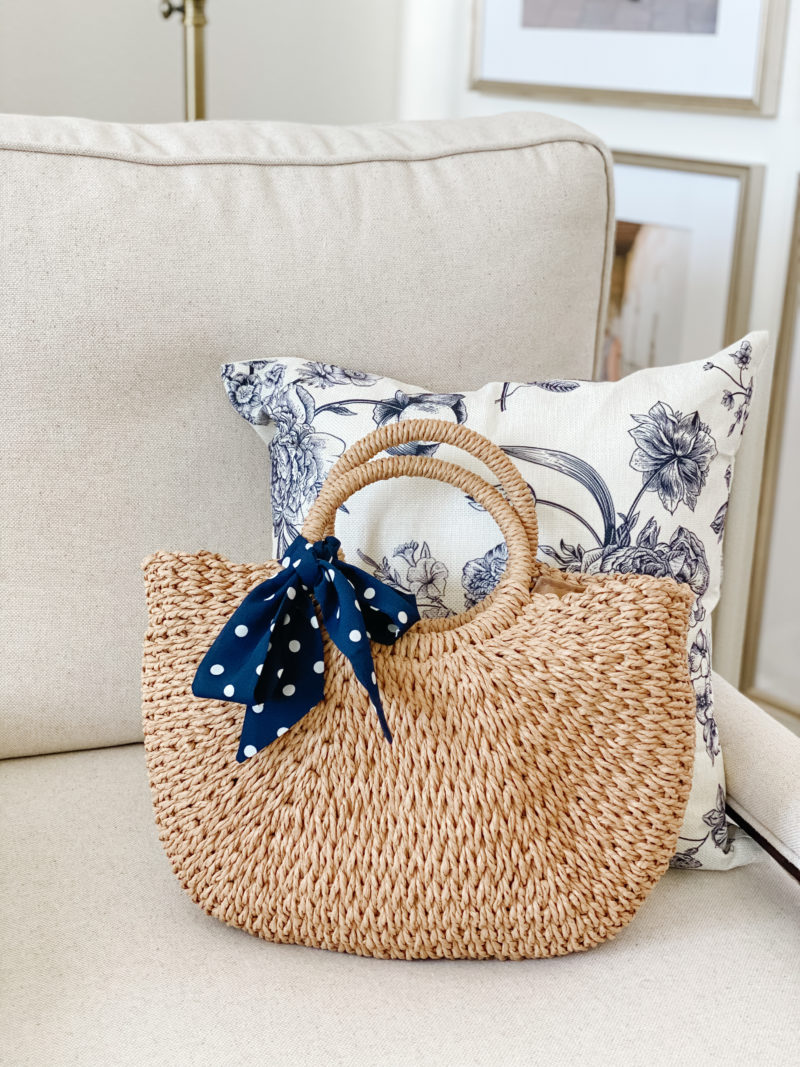 Yes to this summer bag. As soon as I took it out of the box I knew it was a good one. The size is ideal. Not too large so you won't look like you're headed straight to the pool. The polka dot tie is so cute on it but you could swap it out for anything. The floral pillow is another fun Amazon score (more Amazon finds for the home here).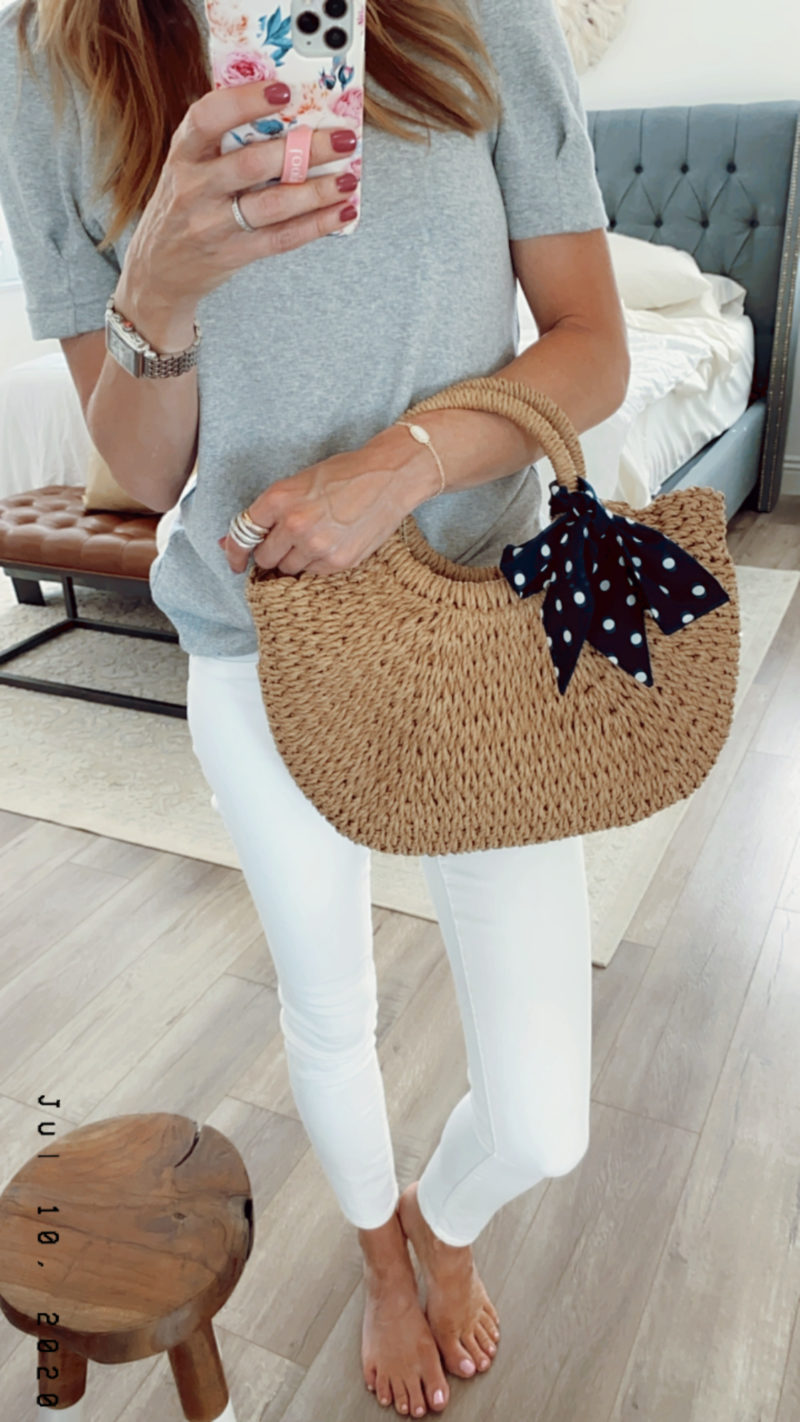 This helps you see the size of the bag. It's very room on the inside and comes in a lighter tone as well.
NORDSTROM
These wedge sandals have outstanding reviews and are 62% off!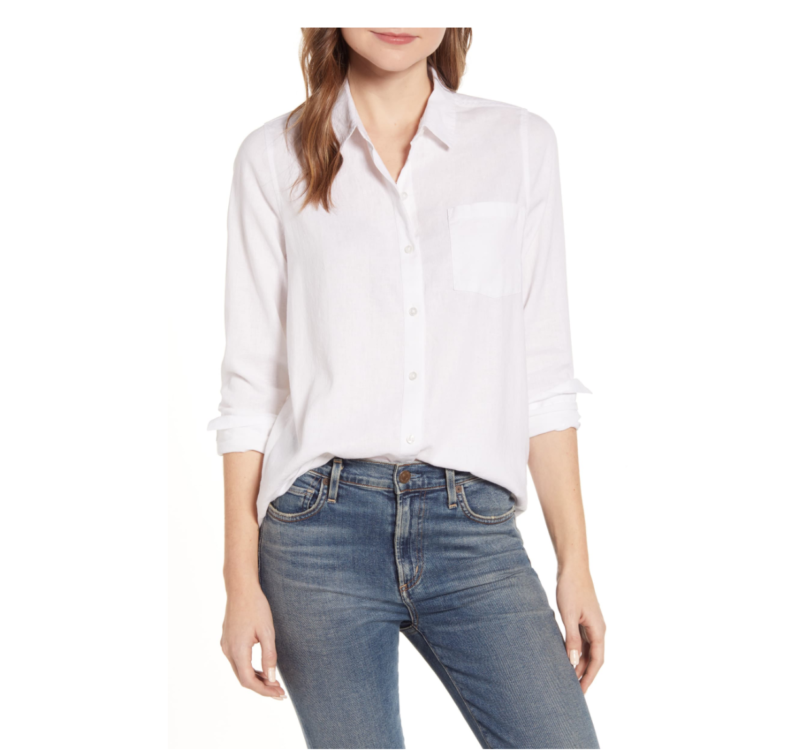 This classic white button down is also 62% off. Never goes out of style.
TARGET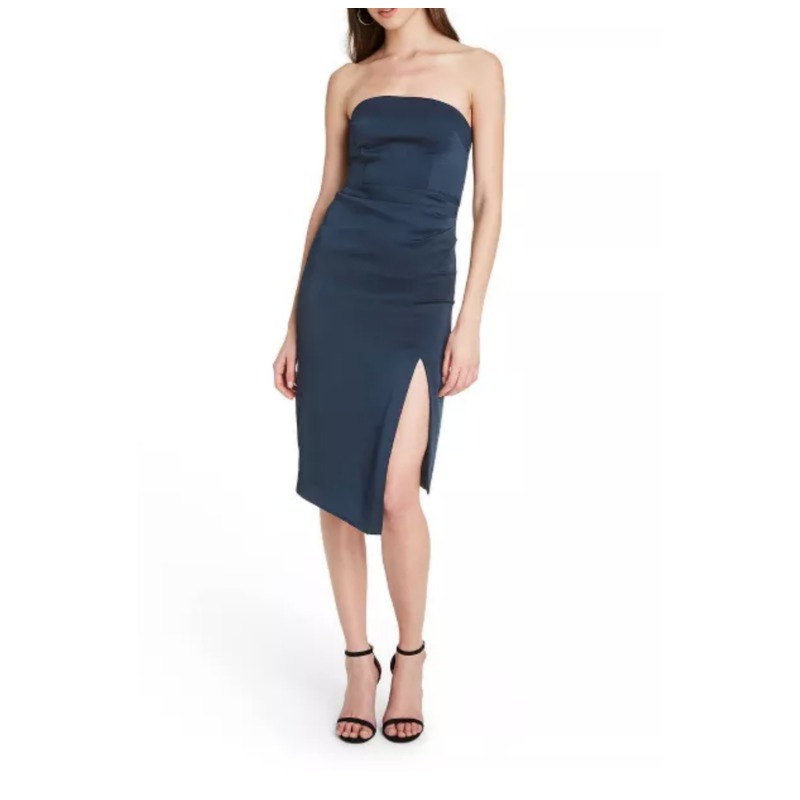 Just ordered this dress for our anniversary celebration. It's currently on sale for $35. The entire Cushnie line is darling.
ANTHROPOLOGIE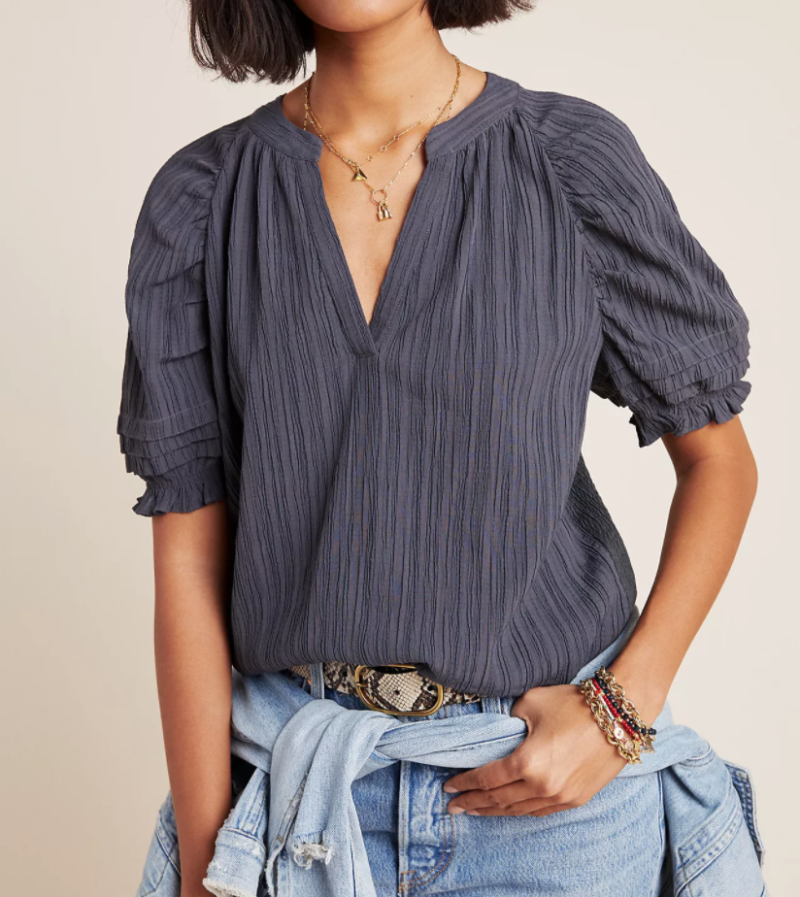 This top is darling. Love the unique sleeves and it has wonderful reviews.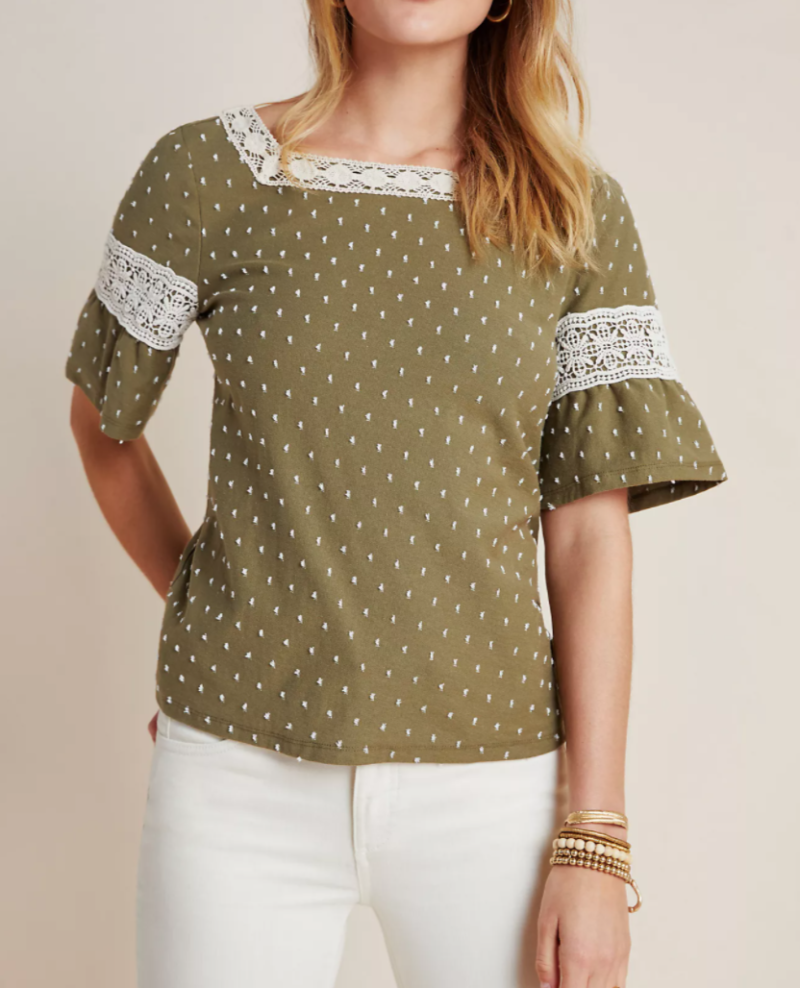 Another cute one with pretty lace detail. This would look great with denim, too.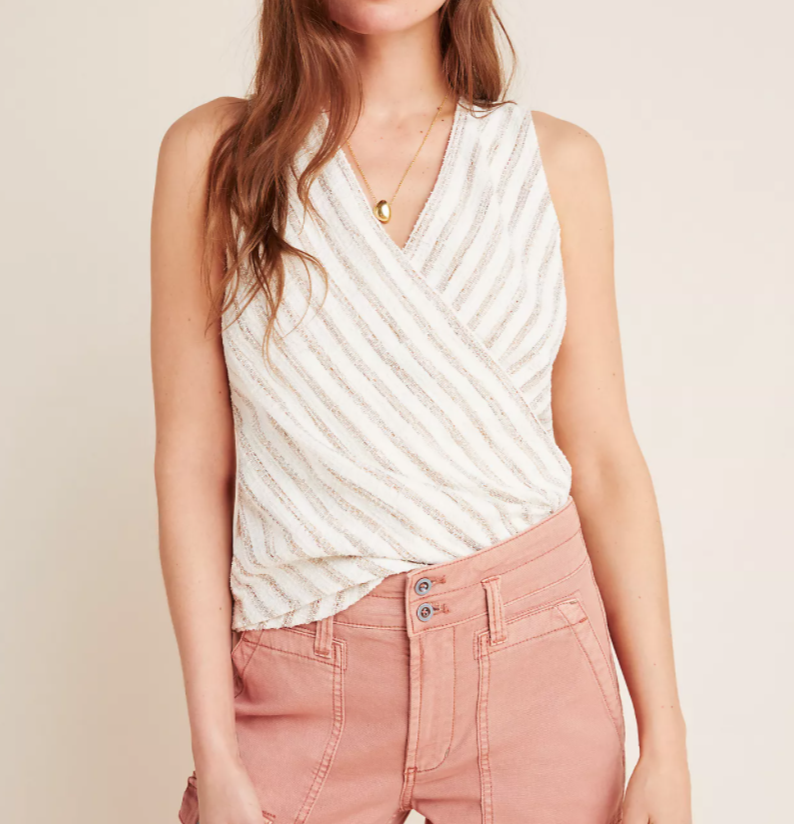 Loving the stripes and the unique cut on this top. Now under $40.
SERENA & LILY TENT SALE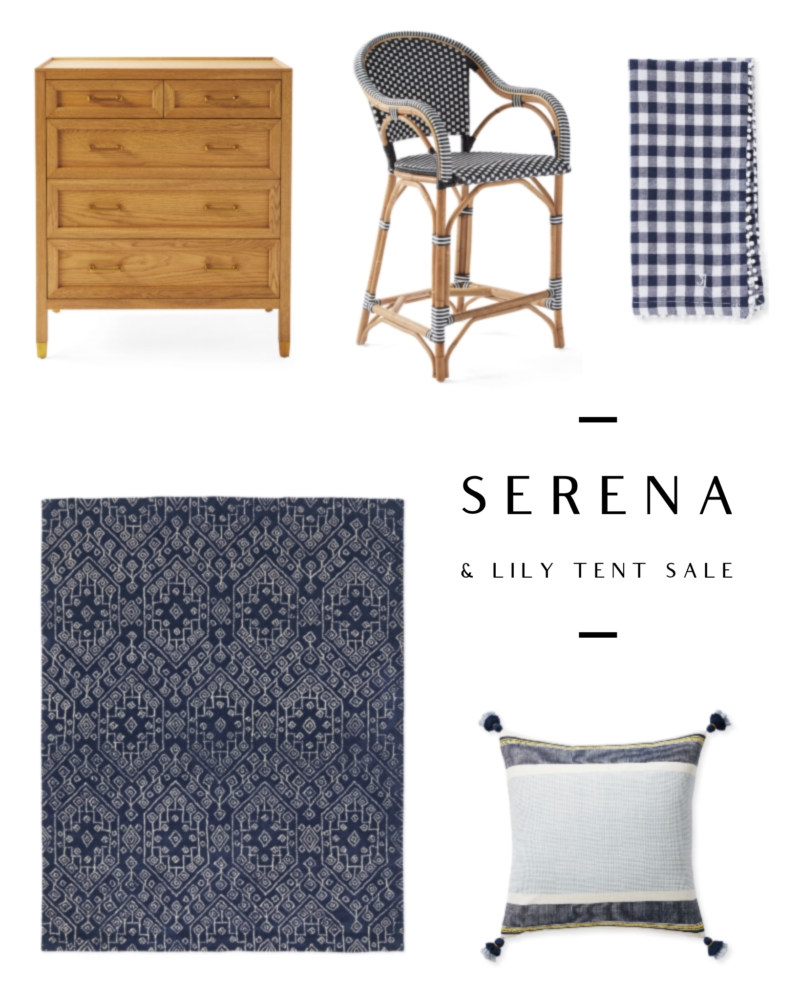 COLLEEN ROTHSCHILD
Ladies! This is so good. I have never been a perfume girl. In fact I have a hard time with hugging someone who is and smelling like them the rest of the day. We've all been there, right? This body butter smells amazing. My mom used to wear a vanilla sugar lotion and I think it reminds me of her. This makes your skin feel so soft and it smells so yummy. It definitely has a sweeter smell so you have to like that. I love how smooth my arms feel when I use it.
Colleen Rothschild has a summer sale happening right now. You can receive $25 off of $100 with code COOL25 and $50 off of $200 with code COOL50. These are a few of my tried and true favorites from over the years:
What is on your agenda for the day? We are staying close to home and want to tackle a couple of projects but don't quite have the motivation. Sound familiar? I will say, I am very much regretting not getting my hands on one of the above ground pools this summer. Those babies sold out quickly. Ours last three years before it gave out on us. With the temps heating up I am envious of anyone with water in their backyards. Think this would do the trick? Have a wonderful weekend with the people you love.