Happy Saturday! I am so excited that Christmas vacation has officially begun. There is such a sense of calm around here and the kids are more than happy to be lounging in pajamas and counting the minutes until Santa arrives. About four years ago, my husband and I started a special tradition of gifting each other a night away in December. While it seems daunting to get away during such a busy time, it's been one of the best traditions we've started. We like to wrap up our shopping and the kick of the holiday season with some quality time. And it's always a fun excuse to get dressed up. Today I am showing you a really pretty dress as well as my pick for New Year's Eve!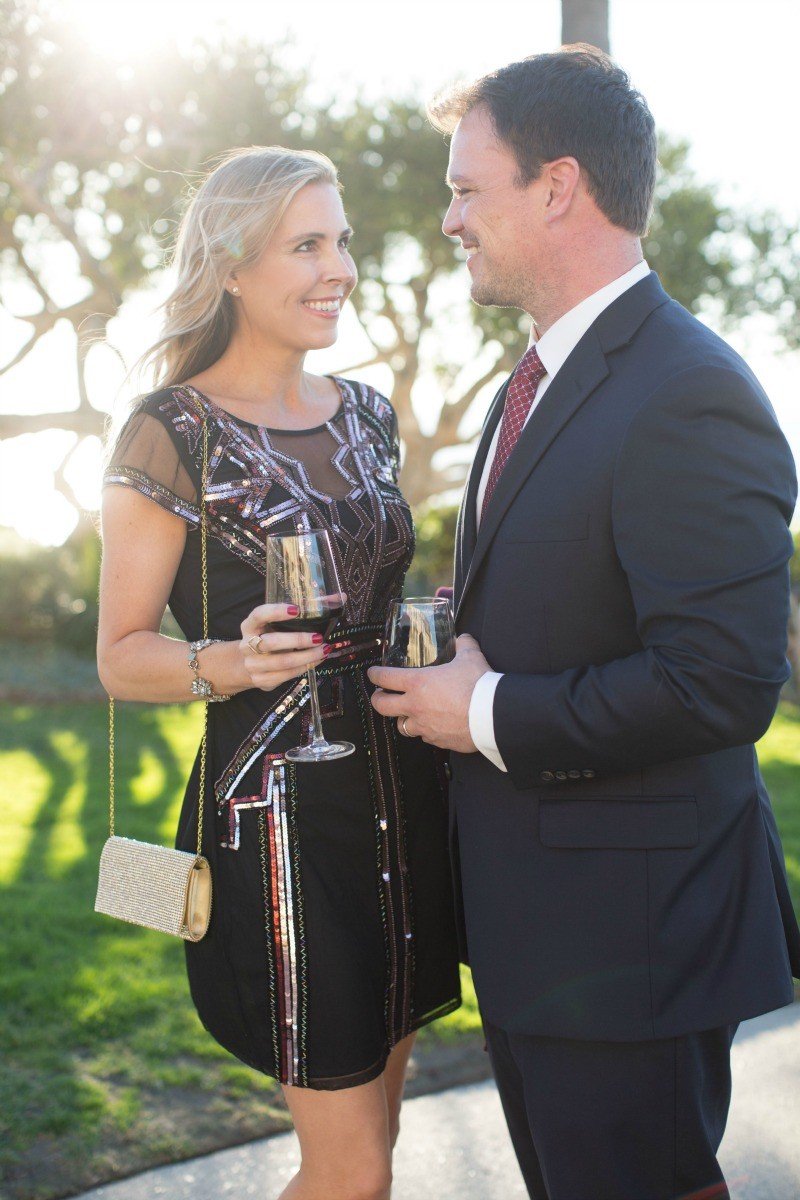 I really love this dress and can you believe it's only $80. It looks so much more expensive in person and has a very classic cut and feel to it. I am wearing a small.
I love the back detail as well. This dress would be ideal to wear to any formal event or to a winter wedding. The colors are so pretty. I paired it with my gold bag (have had it for years) and some jeweled heels. By the way, I have owned these jeweled heels for over 8 years and still love them. I think a black heel with a little jewel is classic for your wardrobe.
Even just dressing up and walking around a local hotel can be so much fun. There is always such a wonderful spirit in the air at this time and most hotels decorate beautifully. Grabbing a glass of wine or a hot cocoa and enjoying the atmosphere makes for such a great holiday date night.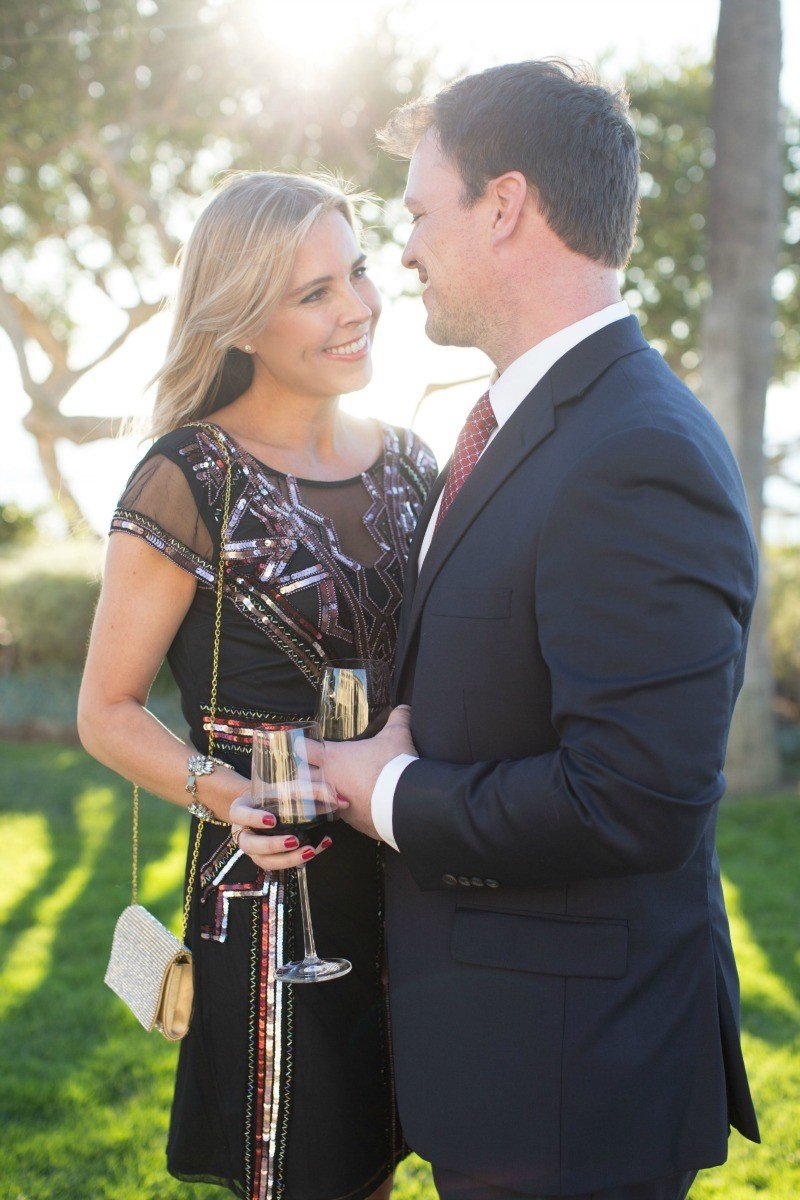 dress | handbag | similar heels | similar suit
I love spending time with my handsome date. He makes everything fun and we always come back from our getaway so refreshed and excited to celebrate this time as a family.
Shop These Looks

Turning to New Year's Eve! I want to shout from the rooftops that if you wear leggings, you want these. I had been eyeing sequinned leggings but was a bit scared. Would they look to disco? Would they be over the top. I took a chance and ordered these and am totally in love. I was saving them for NYE but couldn't! I wore them out already and received so many compliments. Here's the thing . . they read a little more champagne colored than "check me out gold" so they really are pretty. And the best part! They feel like PAJAMAS. That is no exaggeration. The inside is lined with a pale pink fabric that feels just like jammies. I honestly want to live in them. And they are $42. Not bad! You can scoop up the sweater and leggings for around $70. Holiday Style never felt so comfy, too!
leggings | sweater | similar heels | handbag | necklace
I chose to pair them with neutrals because the leggings are their own statement. But they would look adorable with a red plaid shirt or a pop of color sweater. This sweater is a cashmere blend and on sale for $30! It was $100. I LOVE it. It has beautiful detail and is really comfortable. Great quality.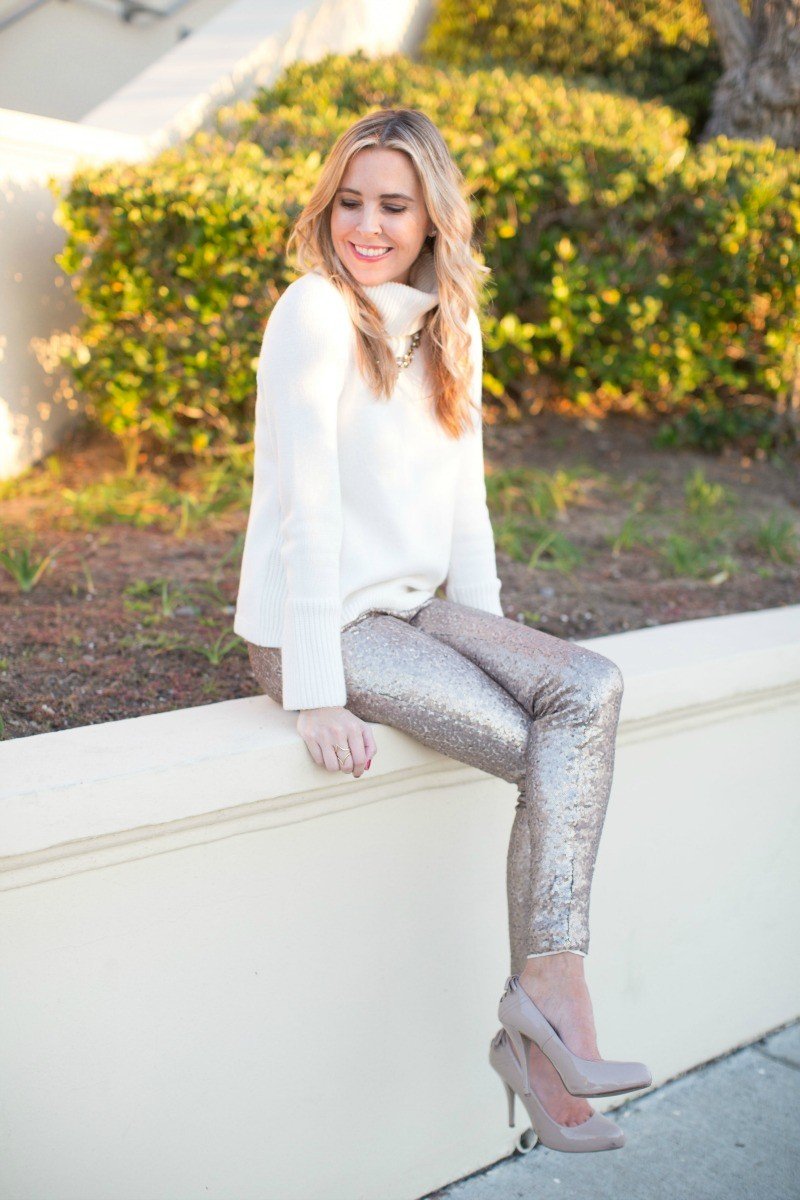 Shop This Look

I know not everyone goes out fancy for NYE and these are perfect for a party at home. In fact, we go out to dinner as a family and then party at home and this is what I am wearing. If you're headed to a friend's house to celebrate or even staying home, these are darling with bare feet or flats. I ordered a small from here.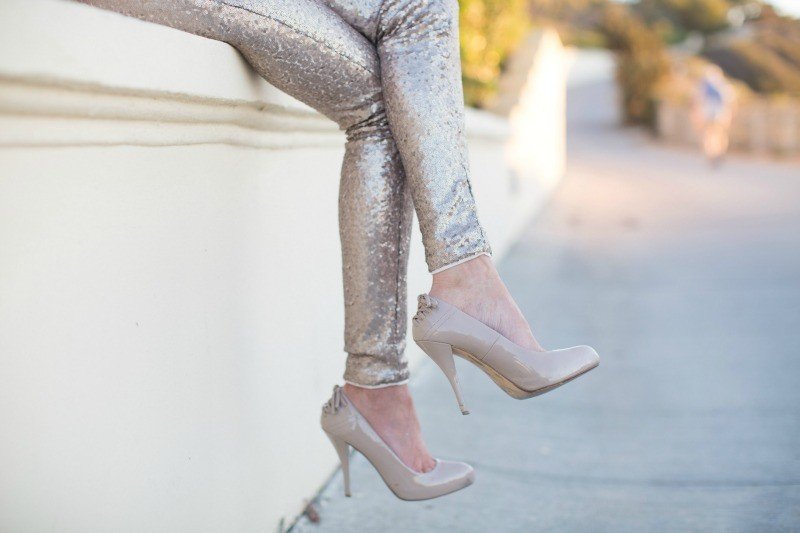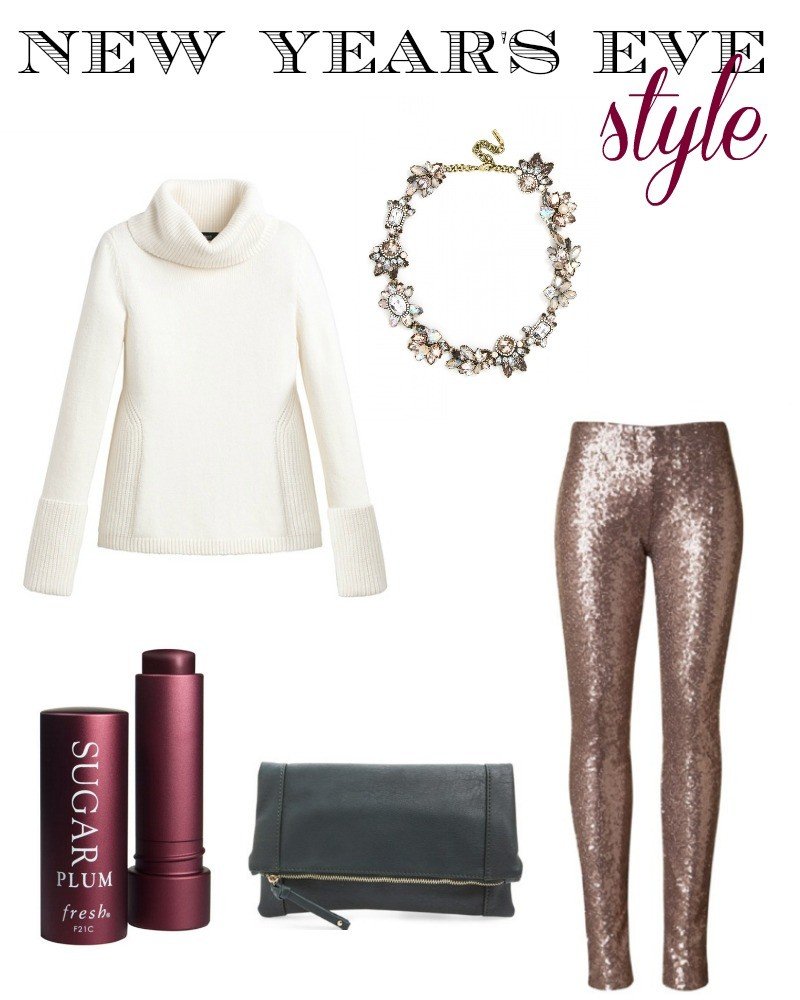 sweater | leggings | necklace | handbag | Love Sugar Fresh!
This time of year is always fun for breaking outside of our daily uniform and dressing up a bit. But staying comfy is key so that's why I love these so much. What about you? Do you like to amp up your style this time of year? But let's keep it real, if we are not dressing up to go out, we are at home in pajamas most of the time! And that is what is so great about this time of year.
UPDATE: Found black sequin leggings on sale here. 
Hitting The Blog Soon:

Enjoy your day! Only 6 more sleeps until the big day! Still shopping? See my gift guides below.

Photos by Taylor Cole | Affiliate links used