Good morning! Safe to say that after 11 hours of sleep last night I am ready to hit the ground running. Every once in a while I crash early on a Friday night. Do you ever do that? In fact the entire family went to bed at 8:30. It feels nice to do that and reset a bit. We have a full day of baseball and play practice with a couple of organization projects thrown in. What are you up to? I do know there are some GREAT sales going on this weekend. Many of them involve dresses so it's a good time to take a look. This Saturday Shopping edition is all about summer finds for less.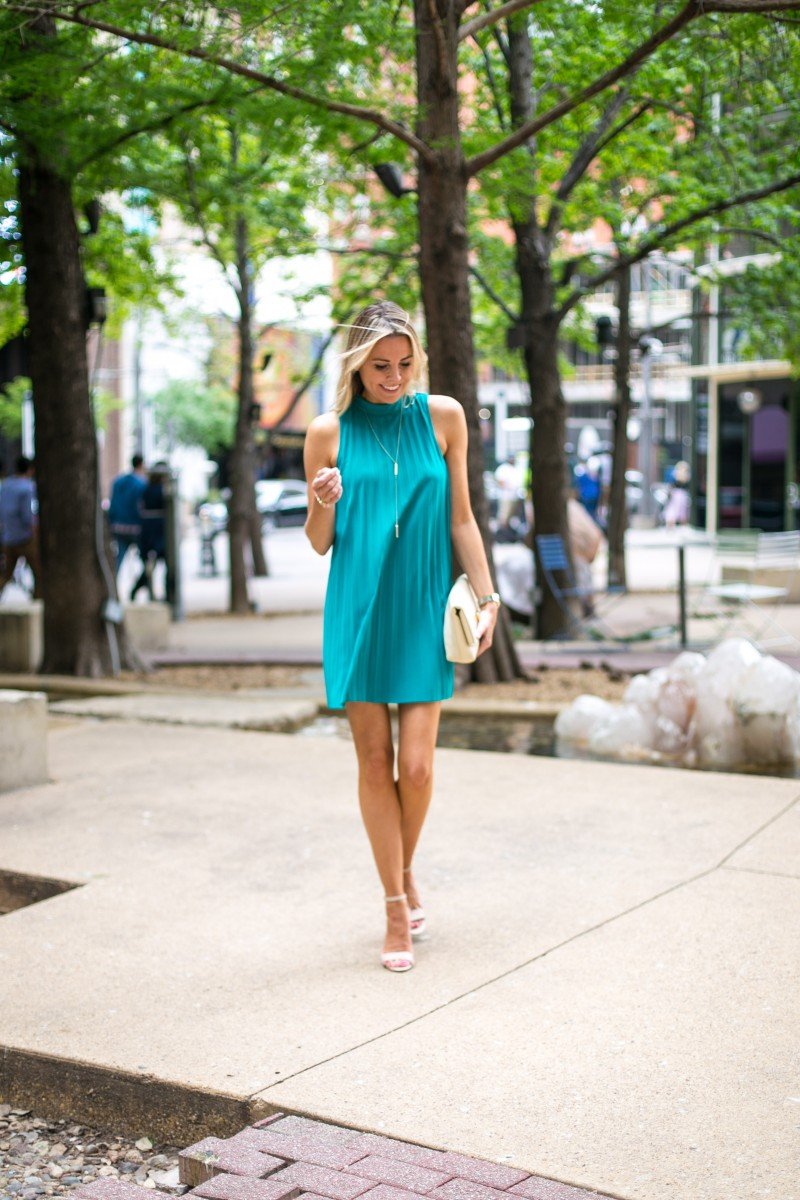 dress | heels | necklace | handbag 
I wore this pretty pleated dress in Dallas and it is 20% off this weekend with code xoxo. It was remarkably windy when we snapped these so the dress is all over the place, but it has a really nice weight to it and falls so nicely. The color is a bit more saturated in person and is going to be a favorite of mine for weddings as well as date nights. It's a good one, my friends. You have to see the back. There is a really pretty cut out.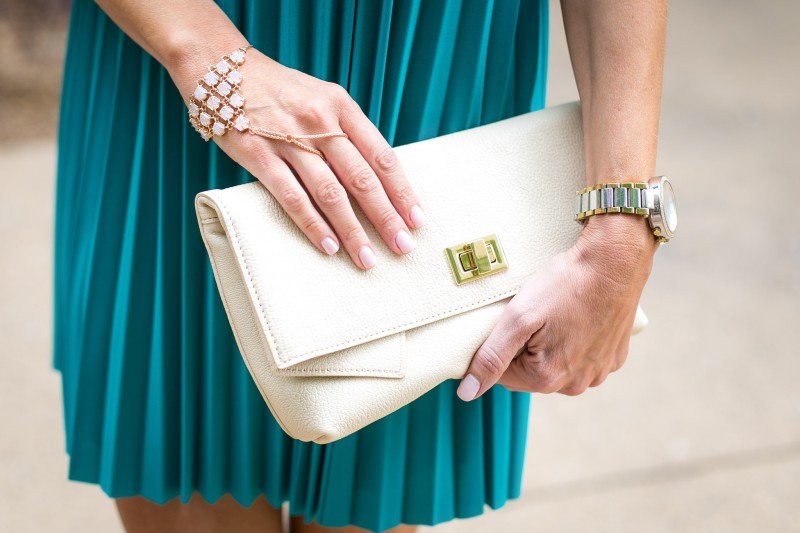 I paired it with my favorite $70 heels and this pretty clutch. It's a nice ivory that goes with everything. Also on sale through Sunday with the code: GIGISPRING.
I also spotted these pretty pleated dresses. I LOVE the hemline and the extra touch of color. Also 20% off.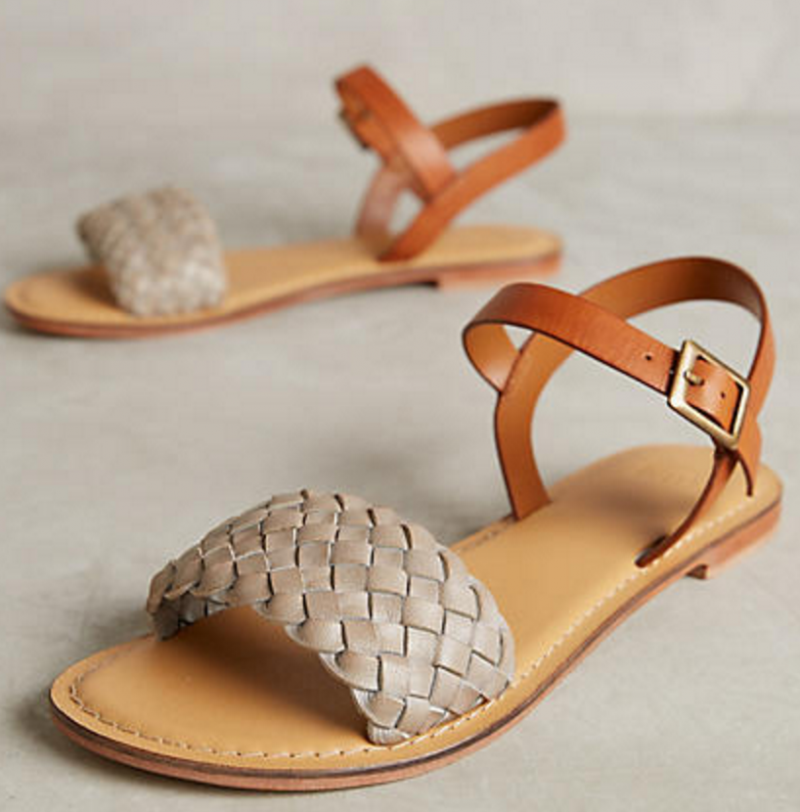 Everything in store is 20% off this weekend so it's a good time to shop Anthro. It's one of my favorite stores (the sale section is always so good). But these sandals are darn cute and a good price at 20% off.
DRESSES, DRESSES, DRESSES!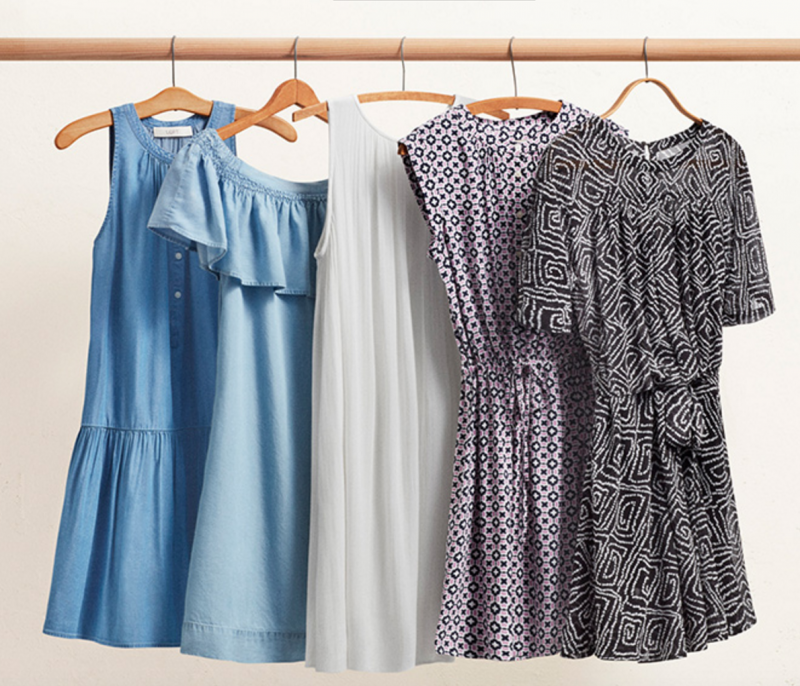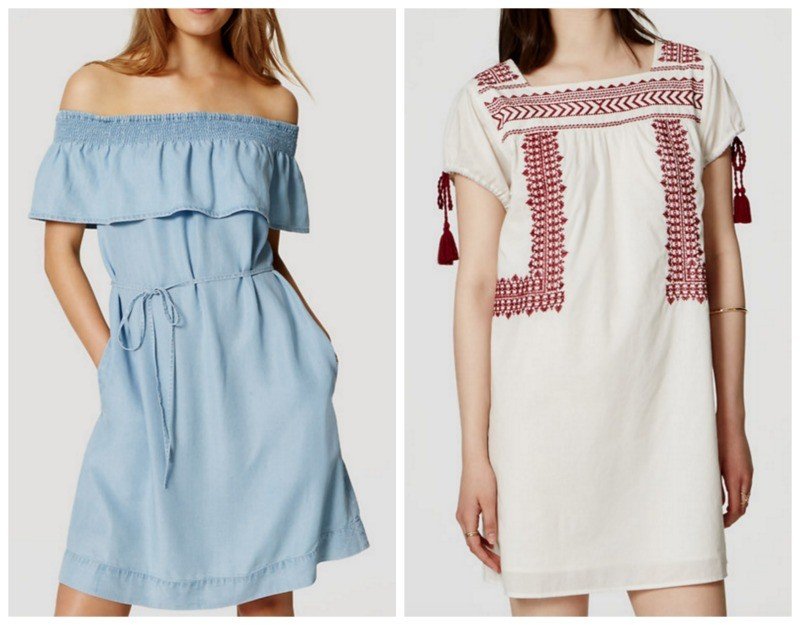 Did you see these? All the dresses are 40% off! Yahoo!!! I bought both (Happy Mother's Day to me).  I have been looking for a pretty off the shoulder dress and an embroidered one. I will keep you posted. I rounded up more of my favorites below. All 40% off! And notice the cute blue one is hanging on the photo above without the tie. Really cute.
40% off all dresses

Click arrows to scroll through. So many cute ones! Especially they yellow!!!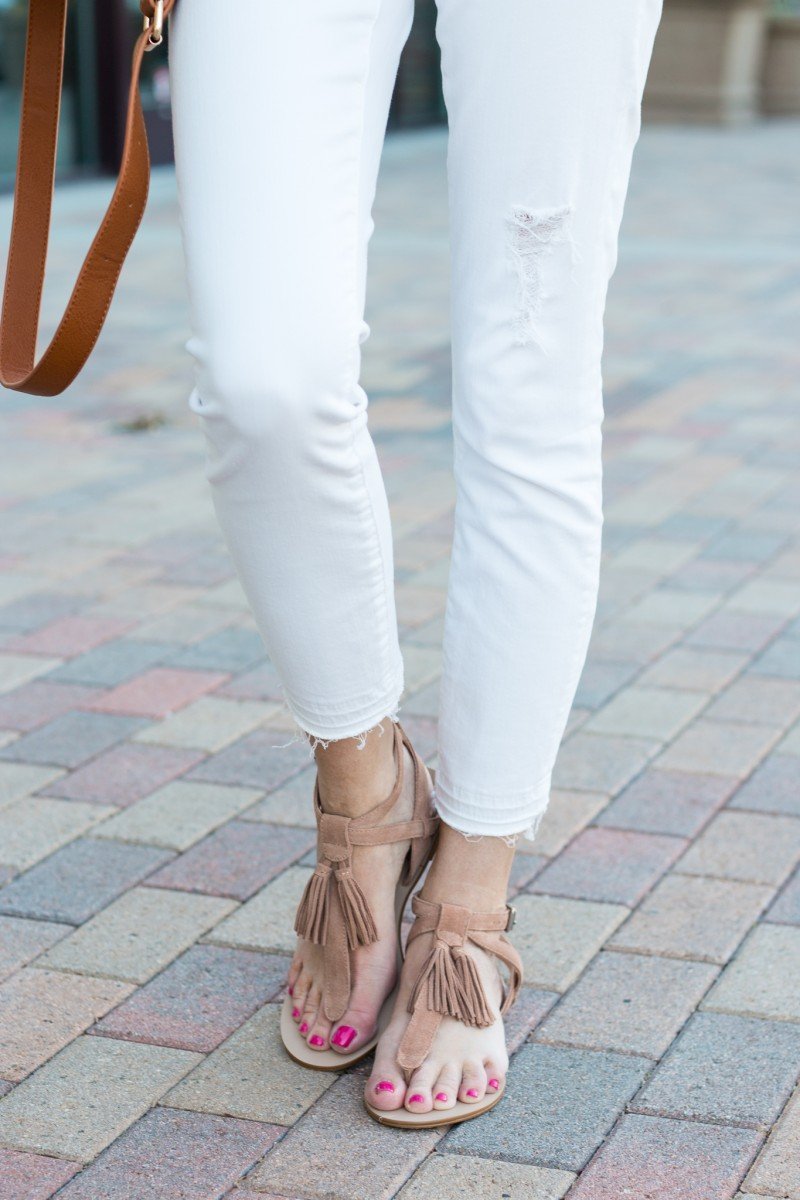 sandals | handbag | frayed jeans
For the record, still loving these frayed white cropped jeans. I wear them a few times a week because they are so comfortable and give a little edge to any outfit.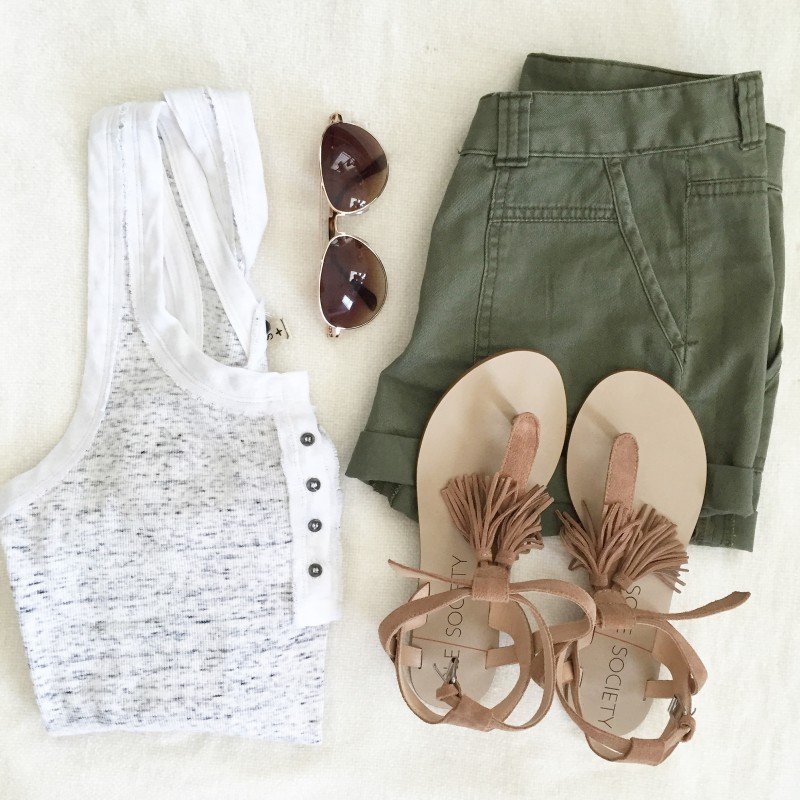 sandals | tank | shorts | sunglasses
I have been wearing these tassel sandals a ton. I wear them with shorts, distressed jeans, white jeans and dresses. They go with it all. I know sizes have been going quickly so I spotted another darling pair below. So cute!!!!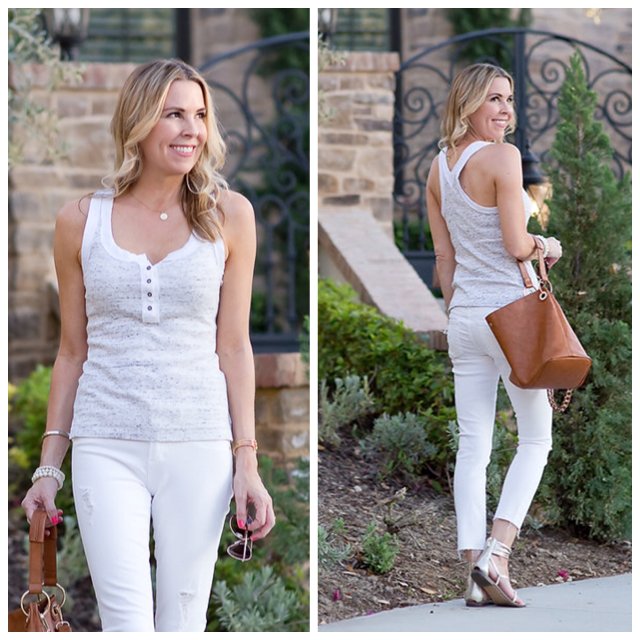 And this is the tank that has the super cute back on it. I wear these jeans with these sandals a lot, too.
Seriously. These are darn cute with the colored tassels. But they are neutral enough to go with pretty much anything. If you are looking for a last minute Mother's Day gift, honey, these will do nicely! xo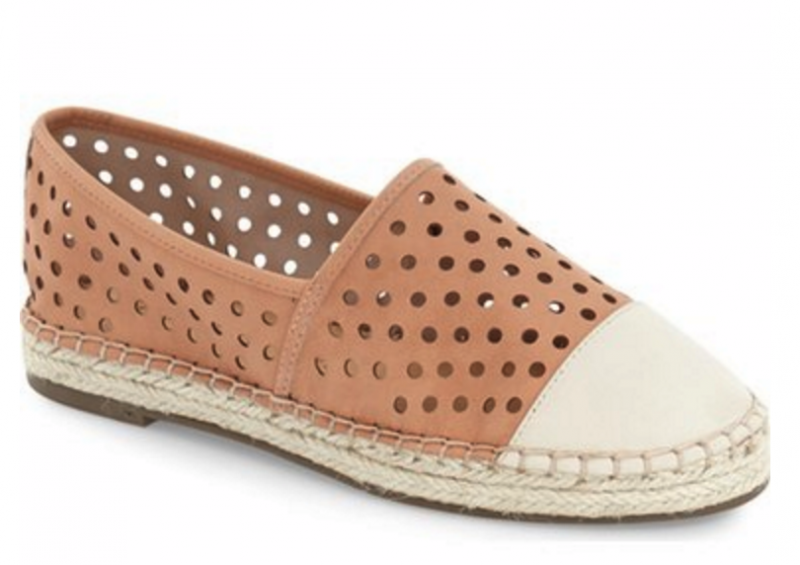 These are so similar to a pair I bought last year and have been wearing this season, too. So easy to slip on and run out the door for errands or to take the children places. They go with every outfit.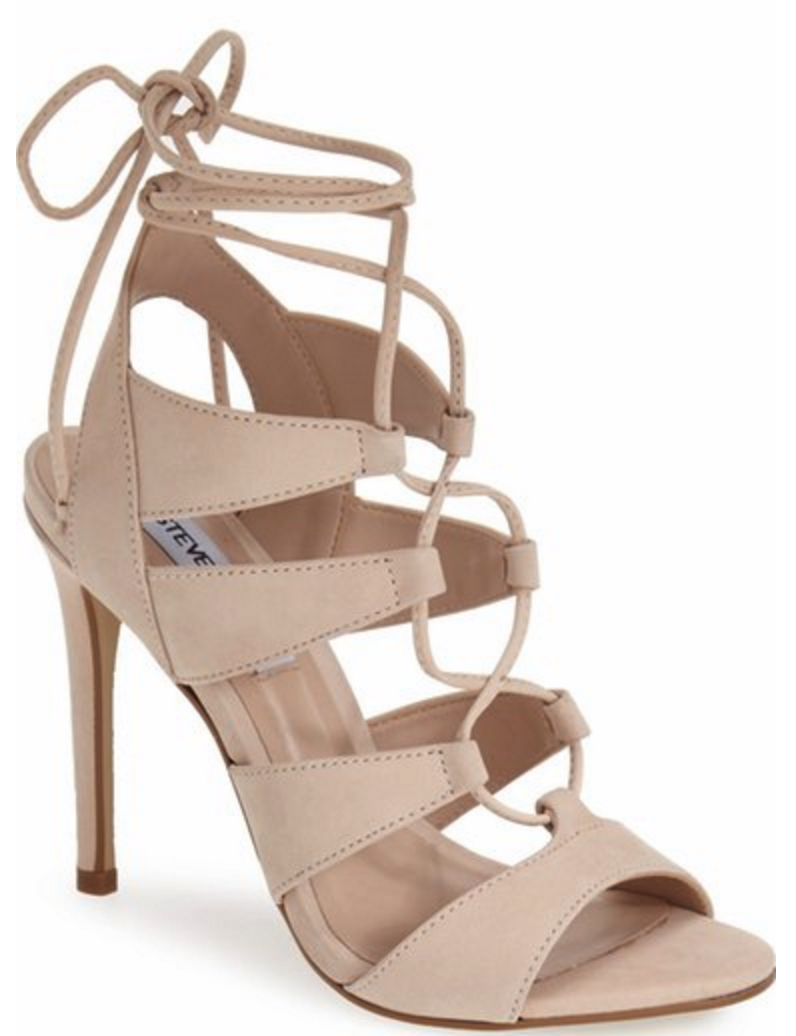 I have a very similar pair in black and always receive compliments. These are on sale and come in other colors. Sexy and look really pretty on the foot.

A while back I tired these on in store and really wanted them but at the time I couldn't justify the pricetag for a pair of heels I didn't need for a particular occasion. Now they are on sale for less than $60 and I am so tempted. The pink is gorgeous in real life and of course the black and neutral would go with anything. I highly recommend. They looked beautiful on the foot and were comfortable. And the heel isn't too high so they would be easy to wear for longer periods of time.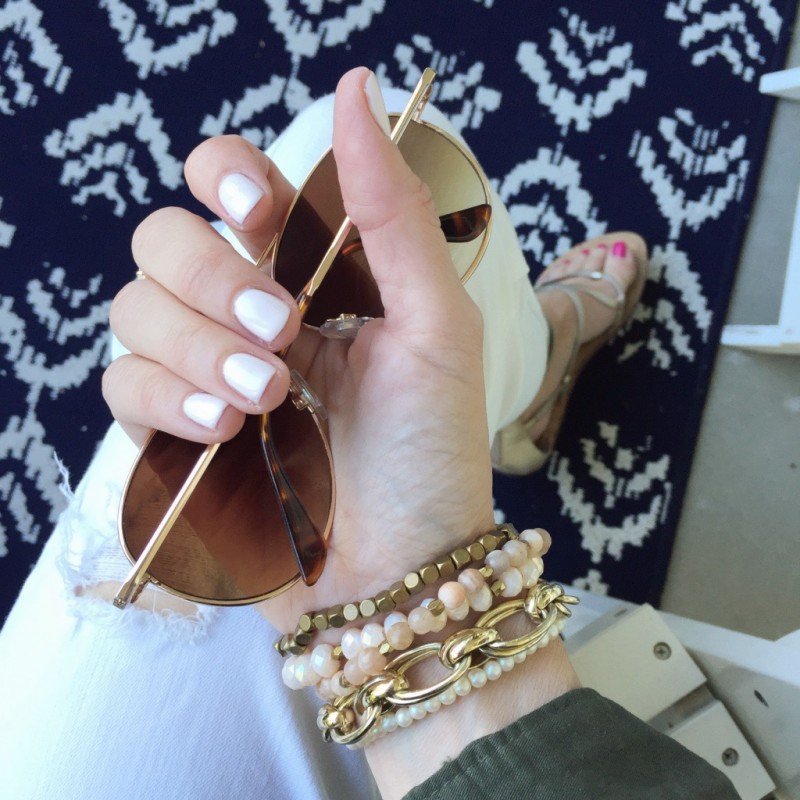 Also discovered an awesome gel manicure for at home. Nothing replaces a salon manicure, in my opinion, but this has been life changing and lasts me a good week. LOVE.
Shop This Look and Manicure Details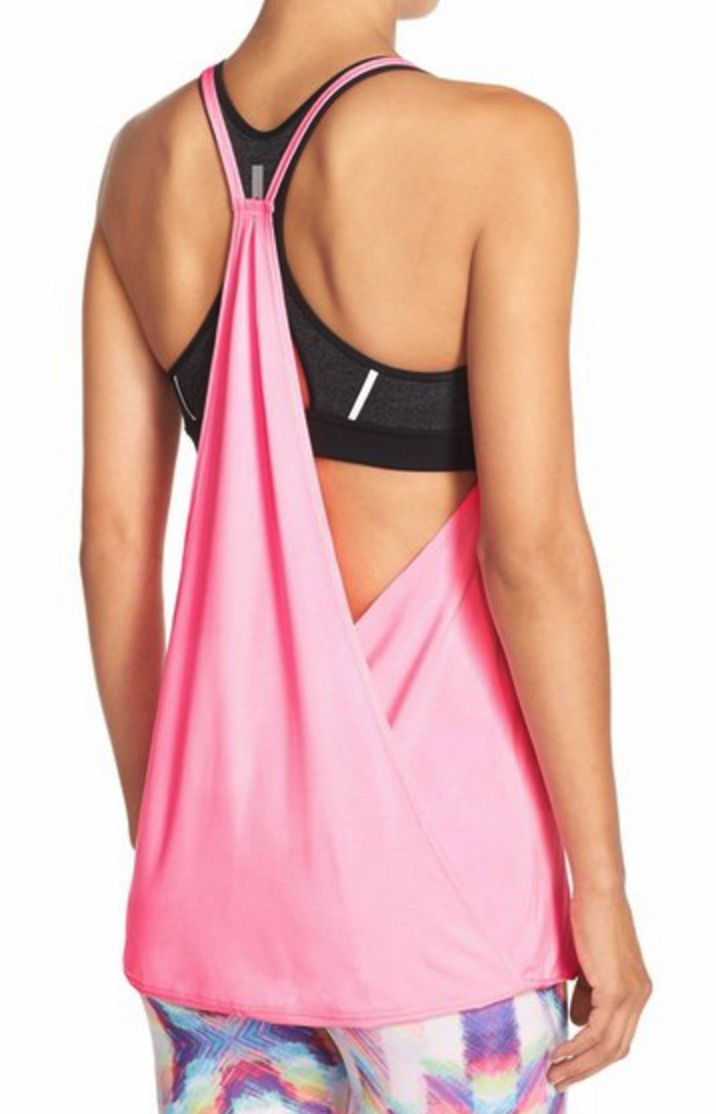 Always a fan of these workout tops and this one is on sale. This is the style I wear most often. For me they work for yoga or kick boxing so I give them two thumbs up.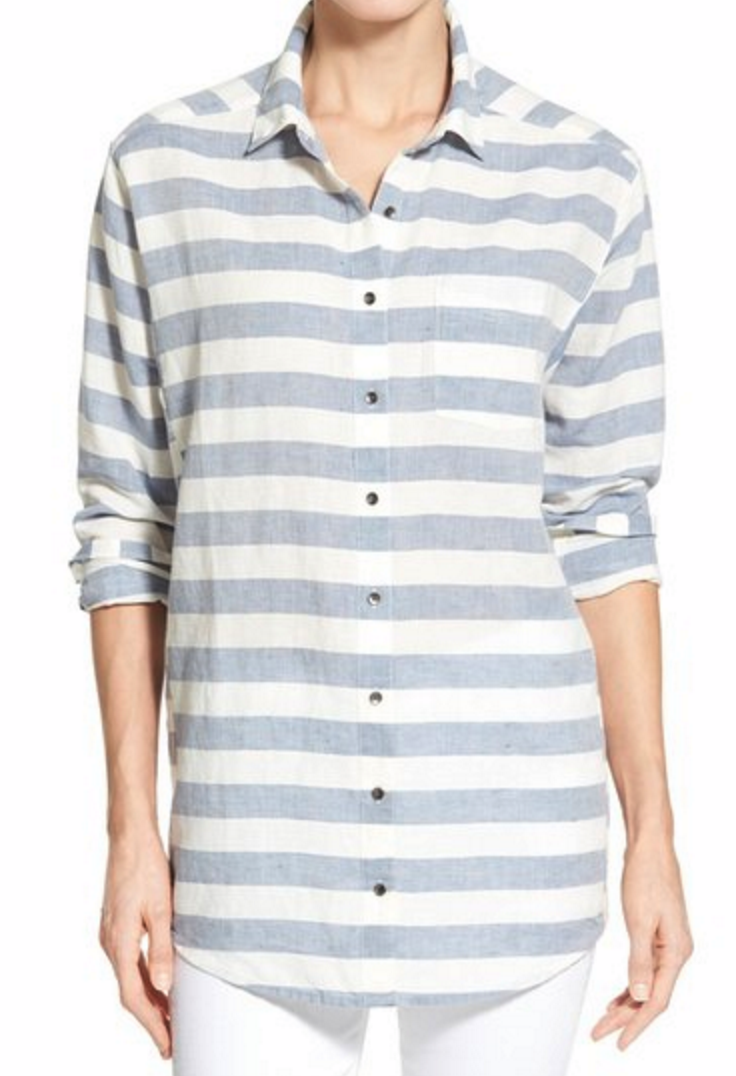 I have bought quite a few Caslon pieces over the years (easy and comfy basics) and this striped top is now on sale. Cute long but also would be cute tied in a knot at the waist for a different look.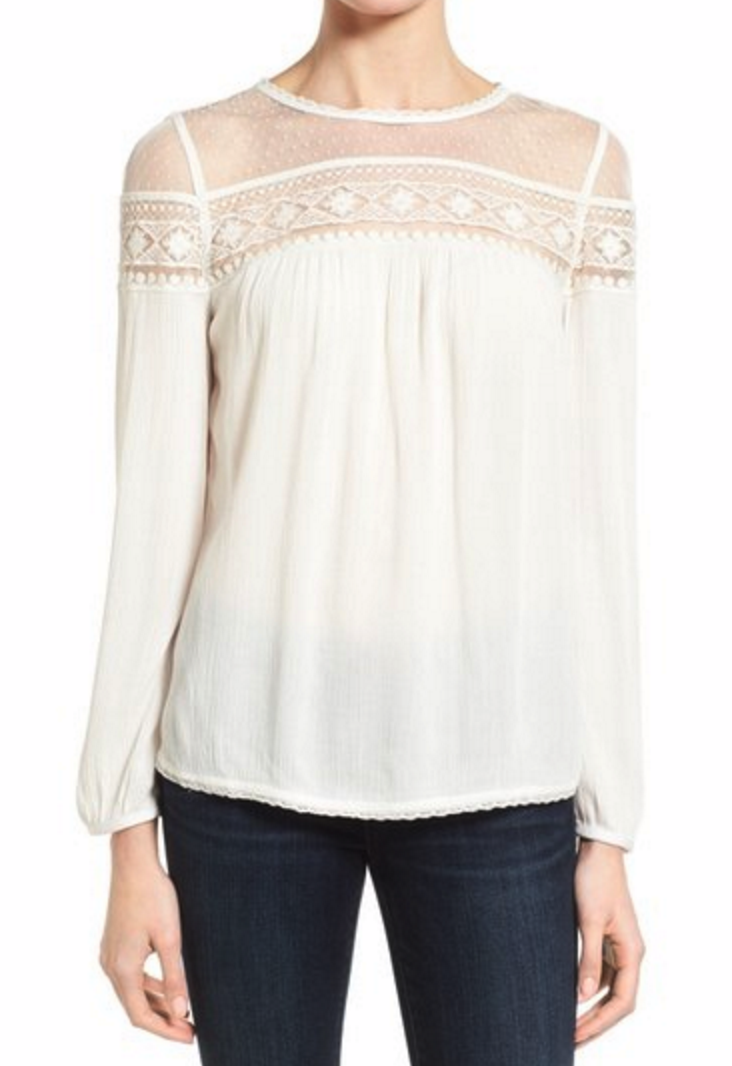 And I am always a sucker for a feminine, lace blouse. They are classic and so pretty. This one is on sale now, too.
EARN TRIPLE POINTS
If you have a Nordstrom rewards card ( I have the debit one so I earn points each time I buy something) you earn triple points through May 8th right now. That's always a good deal!
More Great Sale Pieces

And this may sound odd, but one of my favorite items in my closet is my gold sparkly purse. Weird, right?! But there have been so many times that I have dressed up and not a single purse looks right with the dress except for the gold clutch. I found this one that is similar and it's 40% off. Plus it has a long chain like mine so it's great.  You can see how I have worn mine here. 
Other Sales Around Town
Nordstrom: Up to 40% off and always free shipping. Also triple points!!!
Anthropologie:  20% off everything code XOXO.
Loft:  40% off most items and an extra 50% off of sale items!
World Market: Outdoor furniture sale
Pottery Barn:  Up to 30% off occasional tables and outdoor furniture
I hope you all have a wonderful weekend. At to all of the Mother's out there who selflessly give of themselves each and every day, may you be honored all year long, but especially on Sunday. And to my own mom, I am immeasurably blessed. I love you.
Photos by Beckley and Co. *affiliate links used.