Good morning. I'm excited to share my finished console table with you. Some of you may have followed along with my painting saga. I ordered the console table because of it's solid construction and clean lines. The dimensions are perfect for this spot in our home. Having said that, I wasn't a huge fan of the distressed white paint so I decided to customize it to better fit our home. Here is a look at the table all dressed up for Fall.
OUR FALL CONSOLE TABLE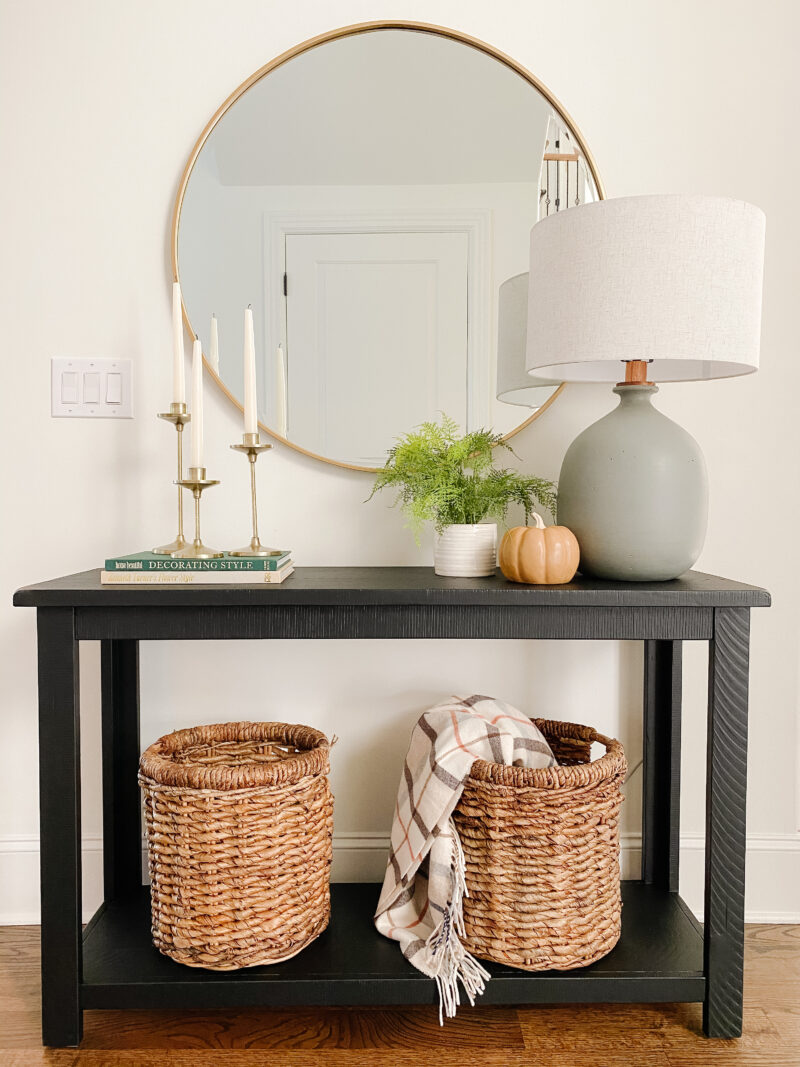 I am thrilled with how it turned out. I was hoping to create a vignette that is easy to style for each season. With just a couple of tweaks it should be a fun place to welcome in each holiday.
THE BEFORE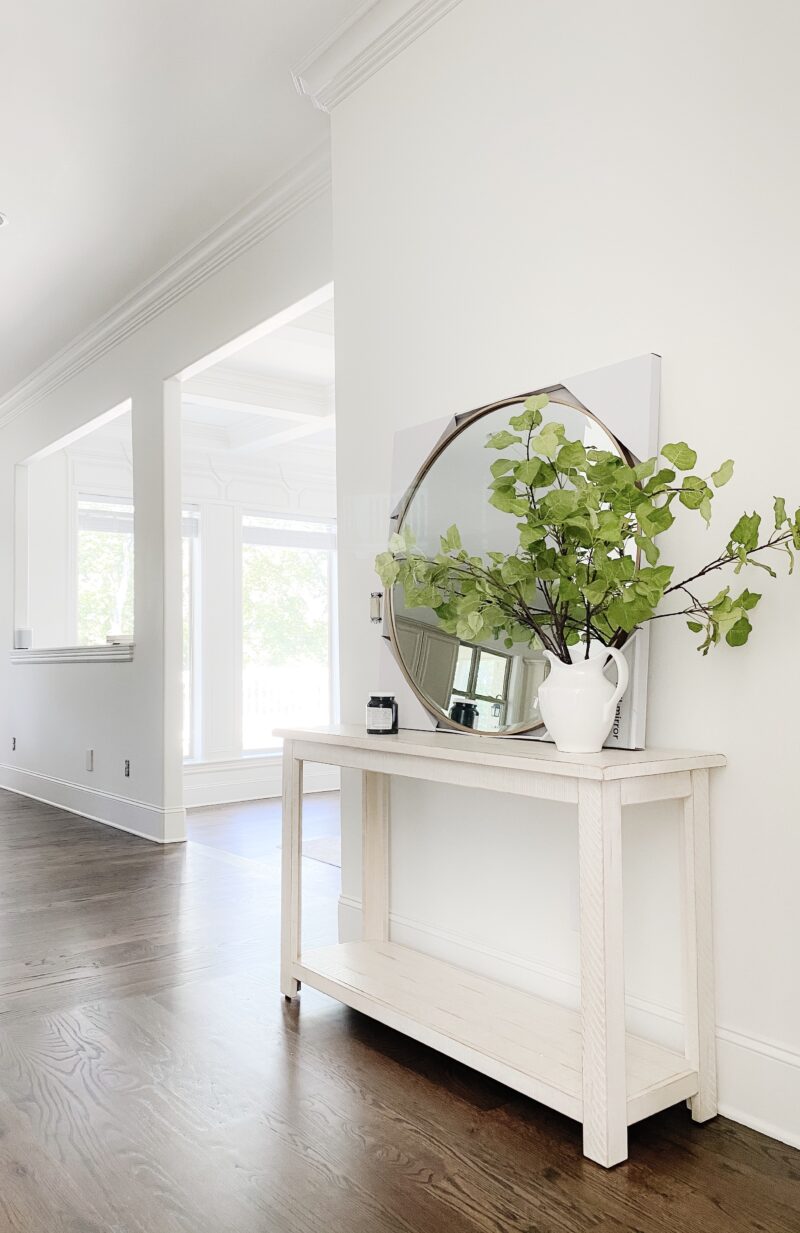 Here is a peek back at what the table looked like when it arrived. Great for the space but I definitely craved more contrast. The exact mirror was a lucky HomeGoods find but this one is very similar.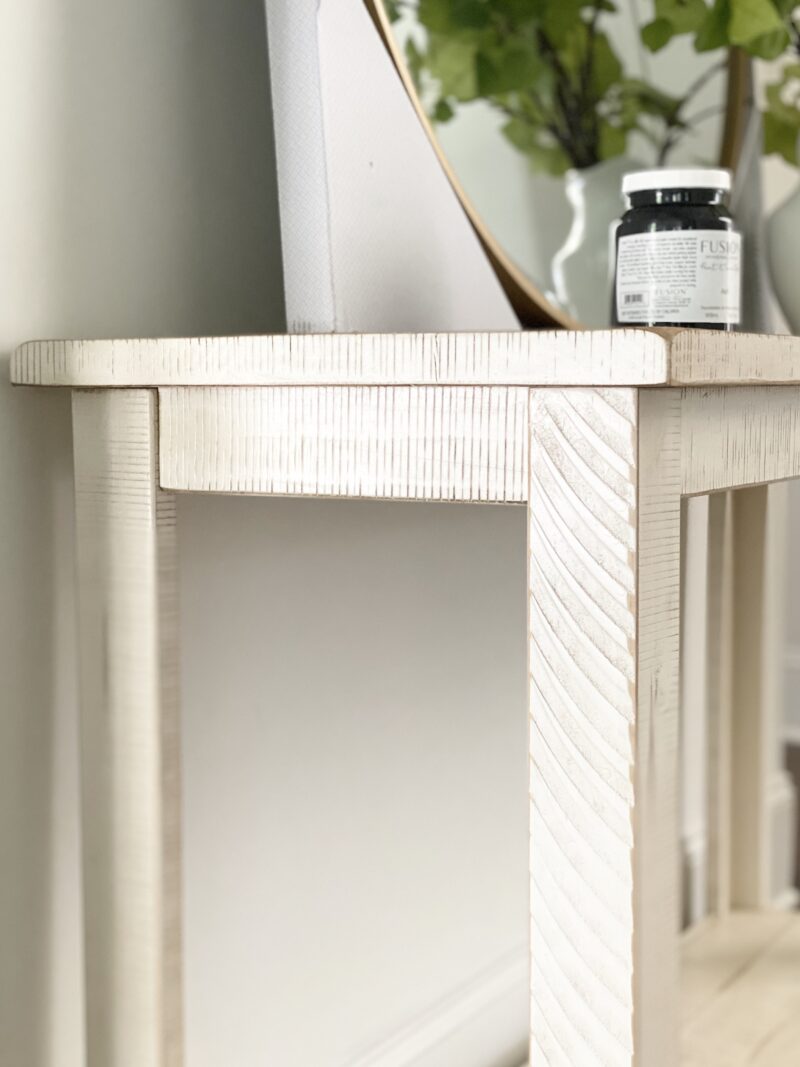 I knew I wanted to use the Fusion Mineral paint. It is non-toxic and goes on beautifully. The only thing I did to prep was wash the table with warm water and a wash cloth. I had the "Ash" color on hand so of course I used it. After two coats it was very clear that my table was navy. Not at all what I wanted. It bugged me every time I walked by it because I was definitely picturing a black console table.
MINERAL PAINT – COAL BLACK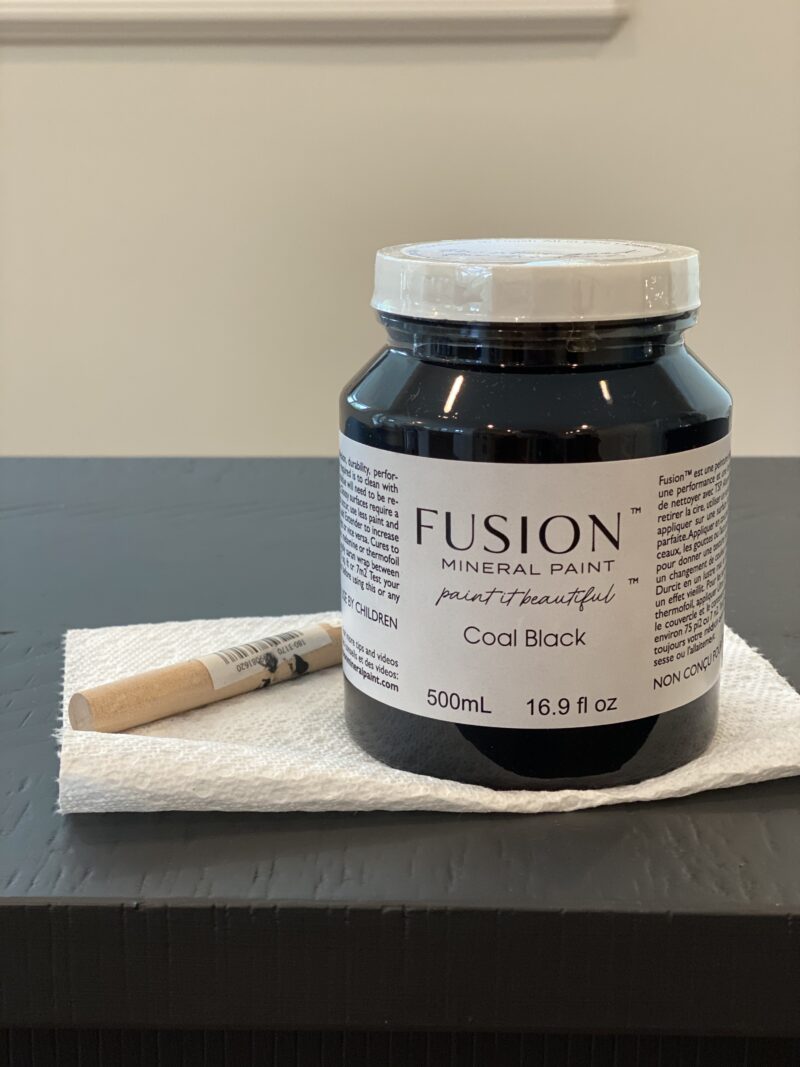 I ordered the "Coal Black" and it's perfect. It only took one light coat so I have plenty of paint left over for my next project. This paint is a dream to work with. I just use a black sponge brush. It doesn't leave any brush strokes whatsoever. Any marks you see are part of the wood's character. A few of you asked if it's like chalk paint. I would not describe it as that. It's just a true matte paint. There isn't any sheen to it and the finish is flawless in person.
THE AFTER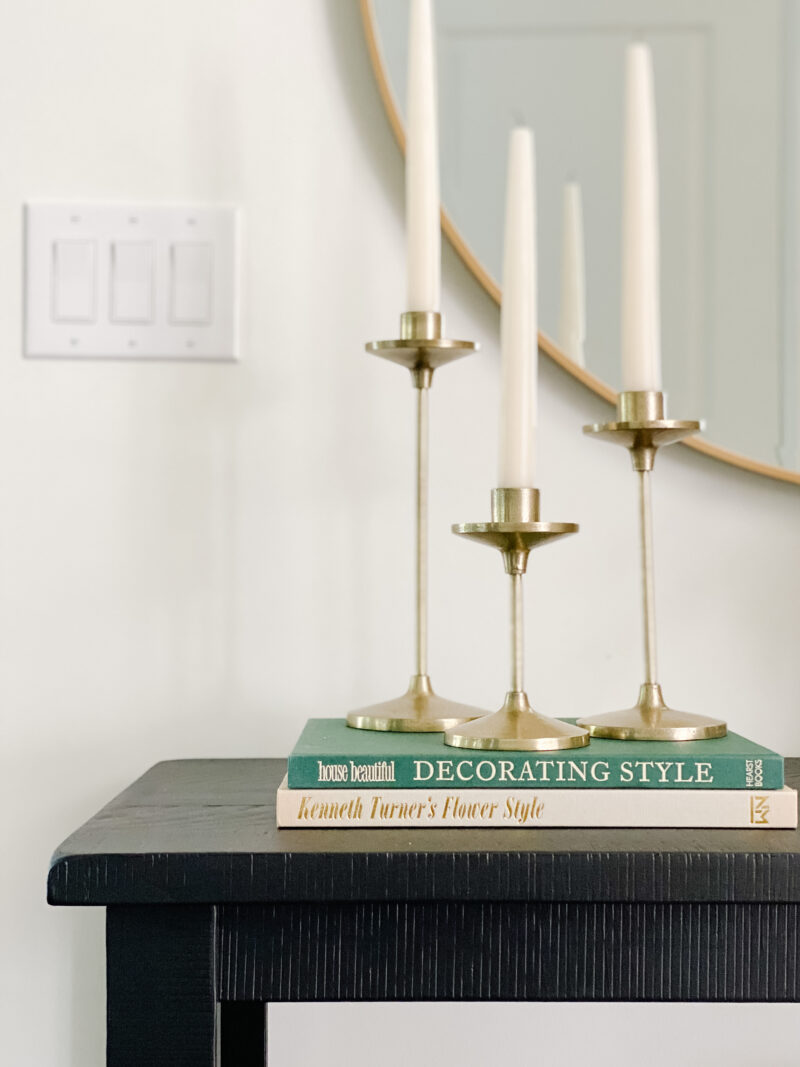 I let the paint cure for a couple of days and the loved every minute of styling this space. It's been slow going over here as far is decorating is concerned so this brought me great joy. I hit up Target for most of the items. The books belonged to my mom so it's lovely having them here. I may buy another set of these candle sticks. I can see using two sets on my table during the holidays. Really pretty. But I also like this unique set. The candles are the 10″ from Amazon.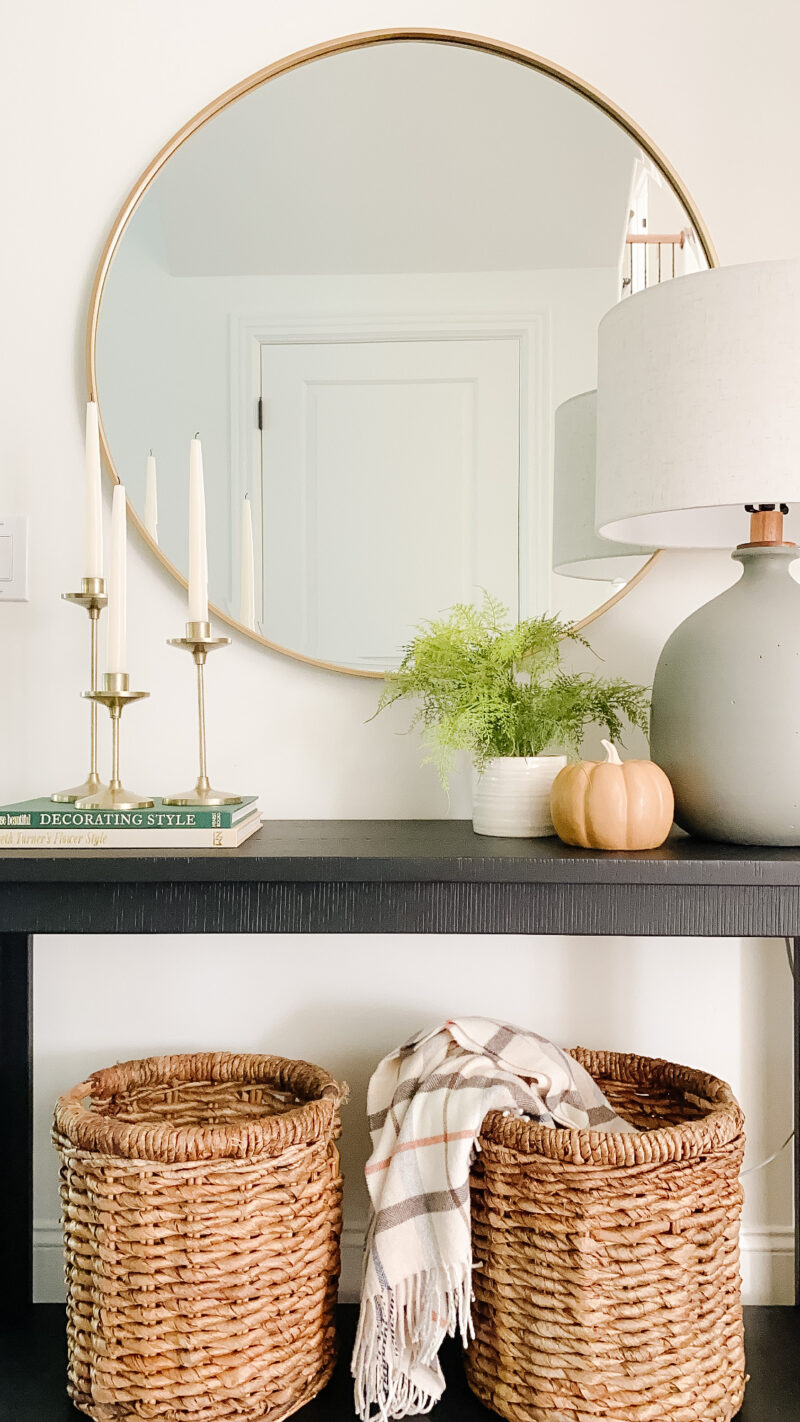 baskets | throw | pumpkin | plant | lamp | candlesticks | candles | similar mirror | table
These baskets are a Target find as well. They will be a nice place to drape a seasonal throw. You can find a similar throw here. I've had the one pictured for years. My table is currently sold out but you can have them email you when it comes back. I found this one and actually LOVE it. So nice to be able to put a couple of ottomans under it.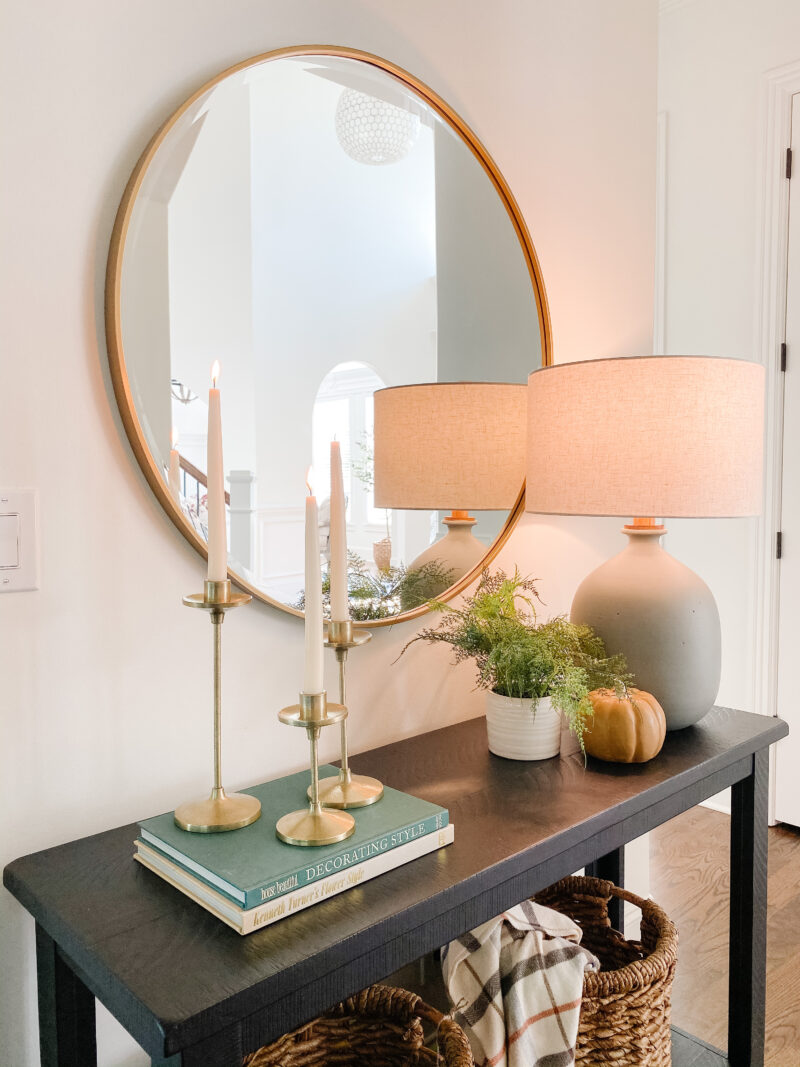 I like seeing a peek of our chandelier in the mirror. It's currently on sale, by the way (20% off). My favorite is when the sun starts to set and we turn on the lamp.
THE DETAILS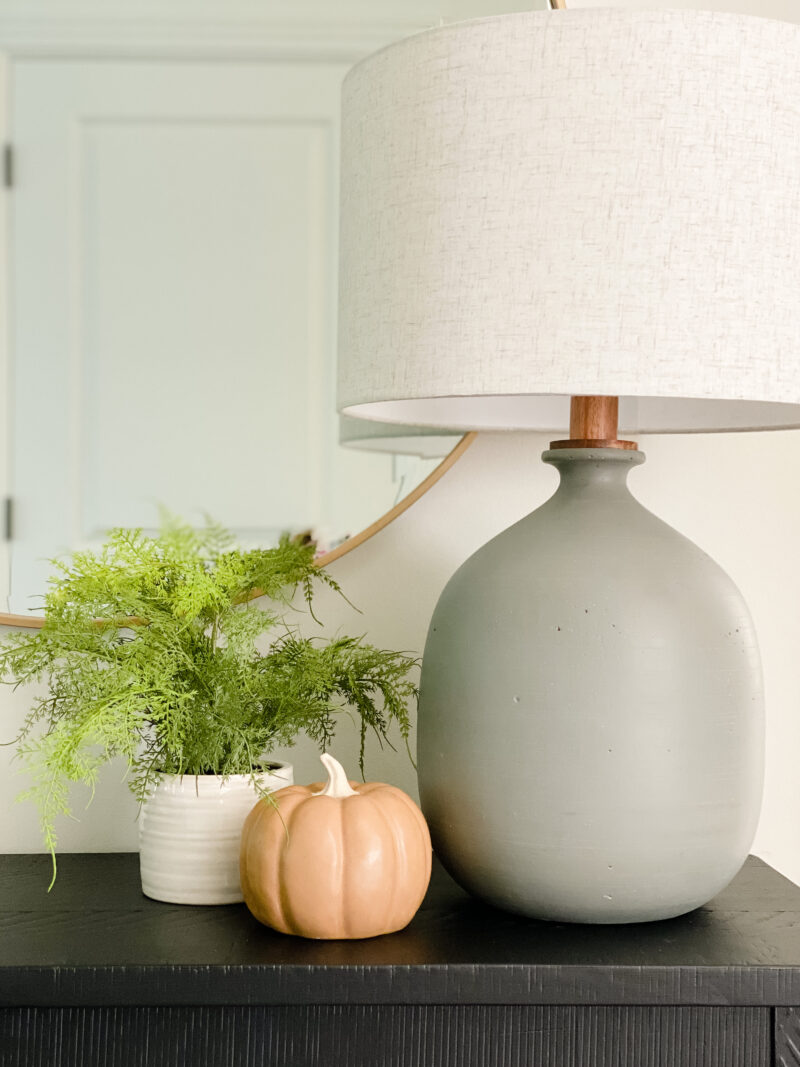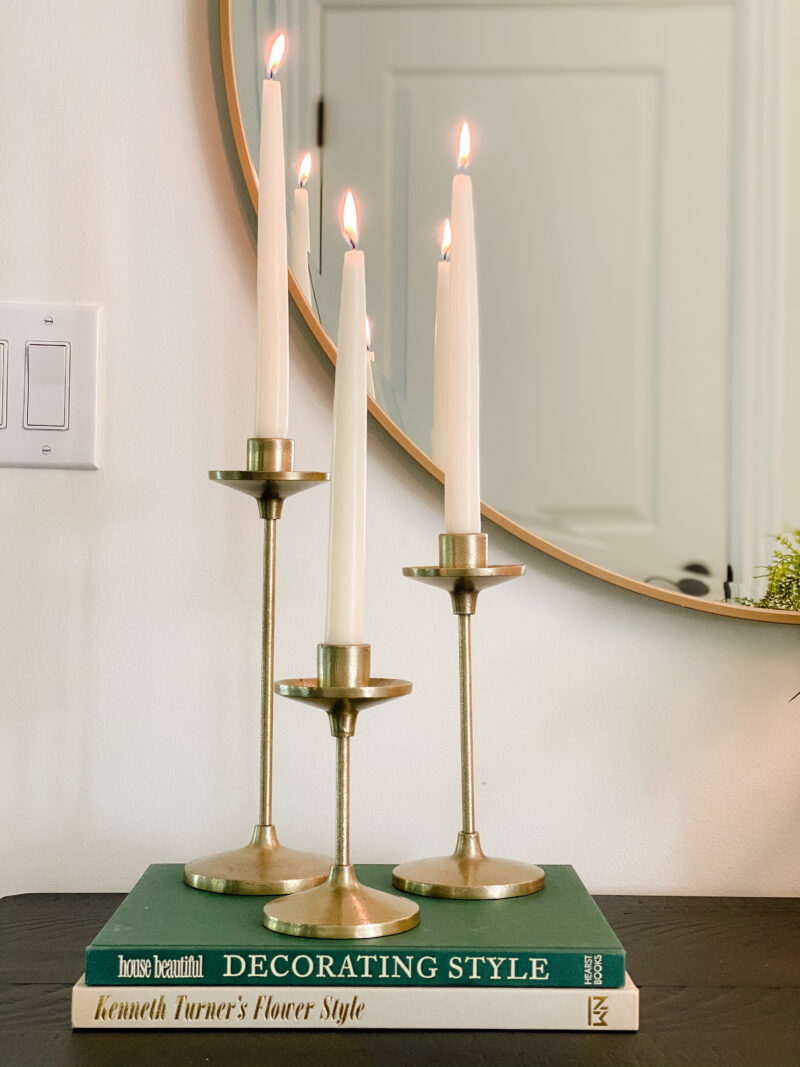 THAT PRETTY GLOW
It's feeling more like home every day. There is no doubt I am affected by my home environment so creating these little spots brings me great joy. Now onto the guest bathroom. I'll share the simple updates we are making very soon.
Today is my dad's birthday. I still can't believe we lost him. I wish more than anything he could walk through our new home with me. Happy Birthday, dad. We love and miss you beyond measure.
Shop the Post