Stress. We all have it to some extent. Am I right? There are certainly seasons where stress seems to rear its ugly head more than others, and it can take a serious toll on our skin. Today I am teaming up with Colleen Rothschild to share how I maintain my skincare routine and avoid breakouts during these times.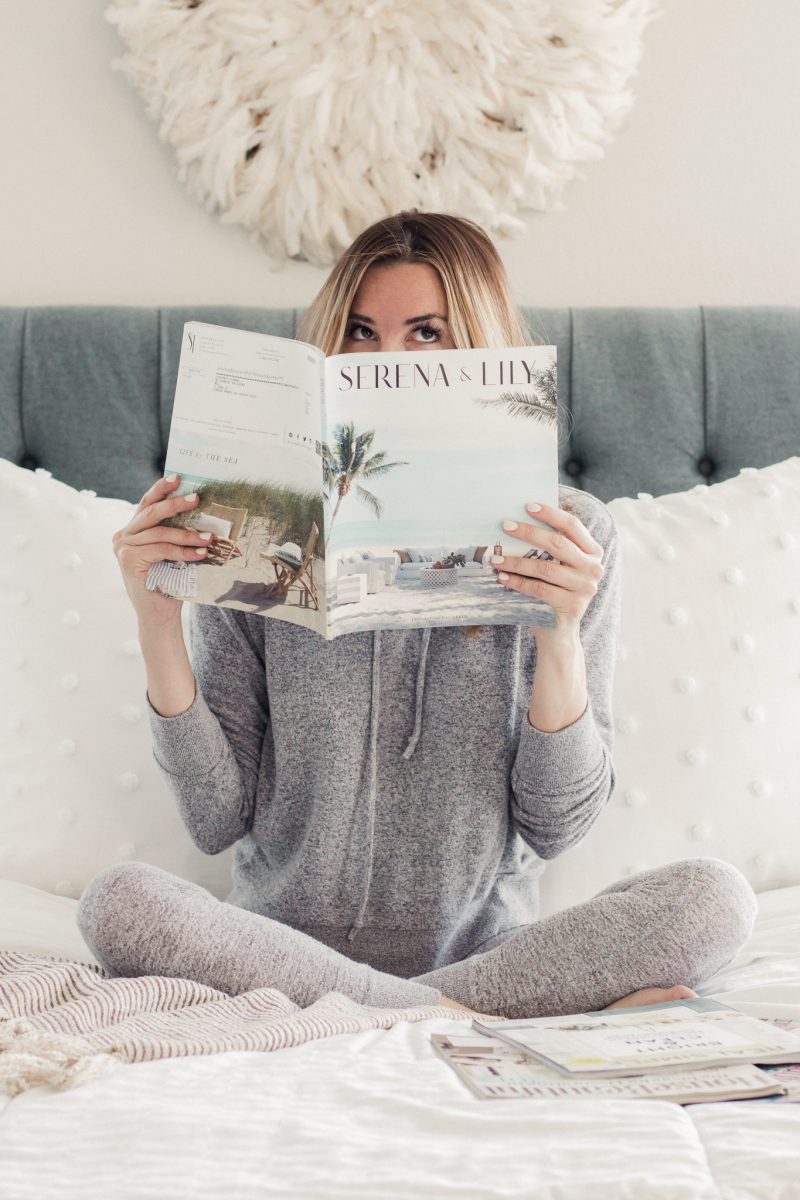 There was definitely a time when I wouldn't go out without makeup. My skin just didn't look good. And I have always been prone to breakouts and rosacea. Despite everything going on lately, I refuse to neglect my skin. It doesn't take much time to stick to a simple routine.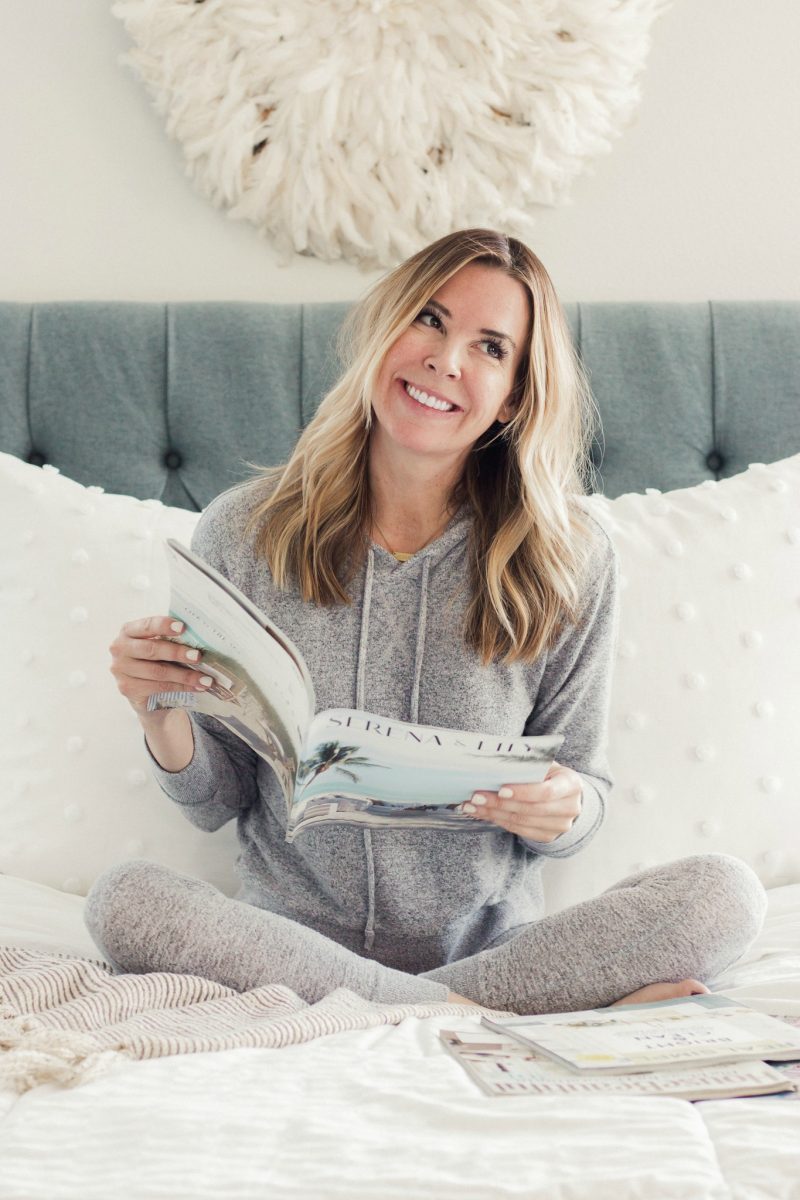 headboard | striped throw | juju hat | pajamas
You know we are good friends when I share my make-up free face with you. Actually I've been forced to go without make-up more often than not because I've been crying away most of it. Let's just keep it real. While I may not look glamorous, I'm comfortable enough to be out and about without a face full of makeup and it feels good. I do treat myself to lash extensions. I credit the skincare products I am using to keeping my skin clear and healthy despite the stress as of late.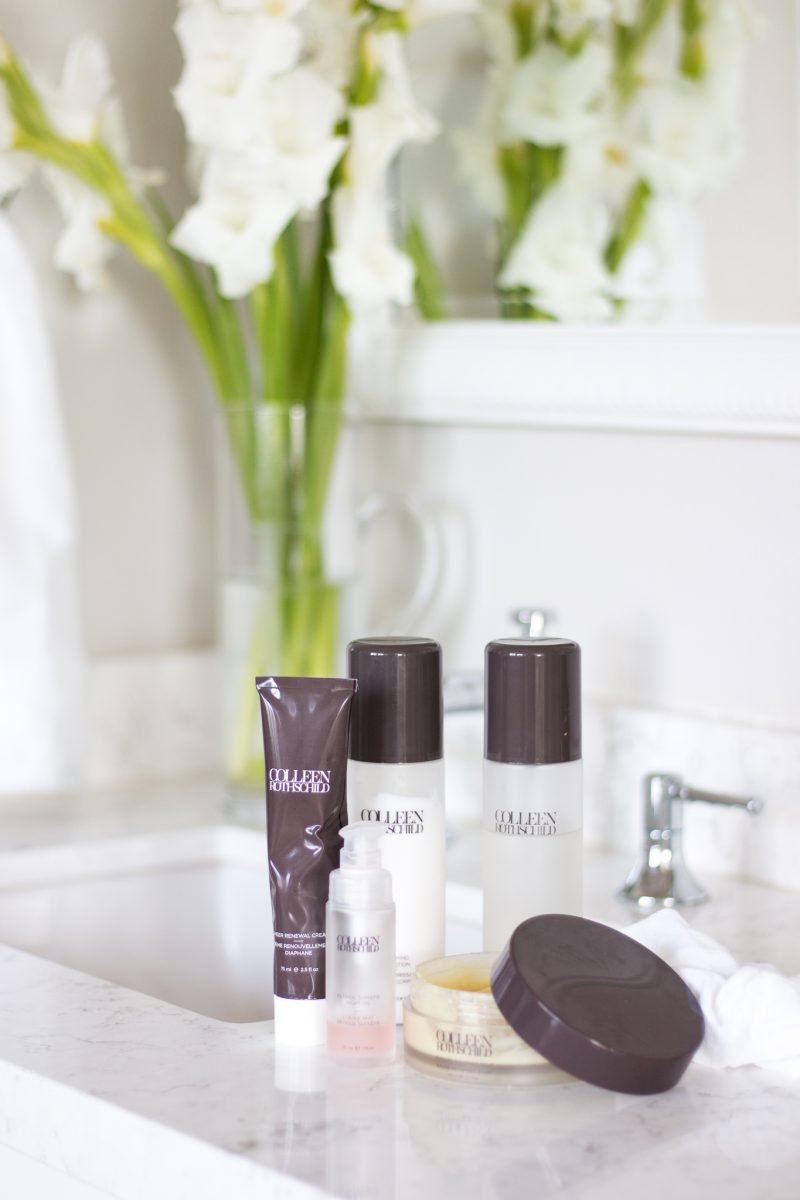 These are my go-to products when life gets crazy. I am trying to keep things as simple as possible. There's no time for anything complicated right now. A tiny bit of each goes a very long way so the investment is worth it.
BEGIN EACH DAY WITH FRESH SKIN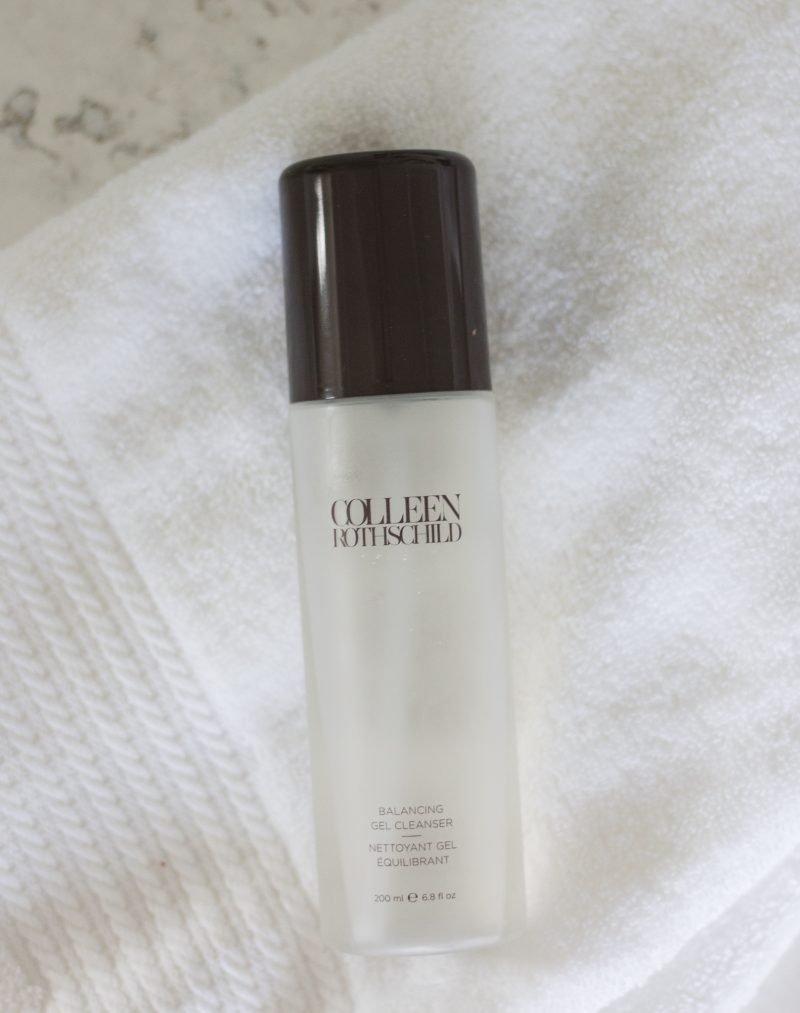 This is one of my very favorite products. I LOVE rinsing my face in the morning with a drop of this balancing gel cleanser and warm water. It makes my skin feels so clean and fresh. If I am work out, then I wait and wash my face with this after that. One bottle will last you a very long time. You really don't need much because you are already working with a clean canvas in the morning.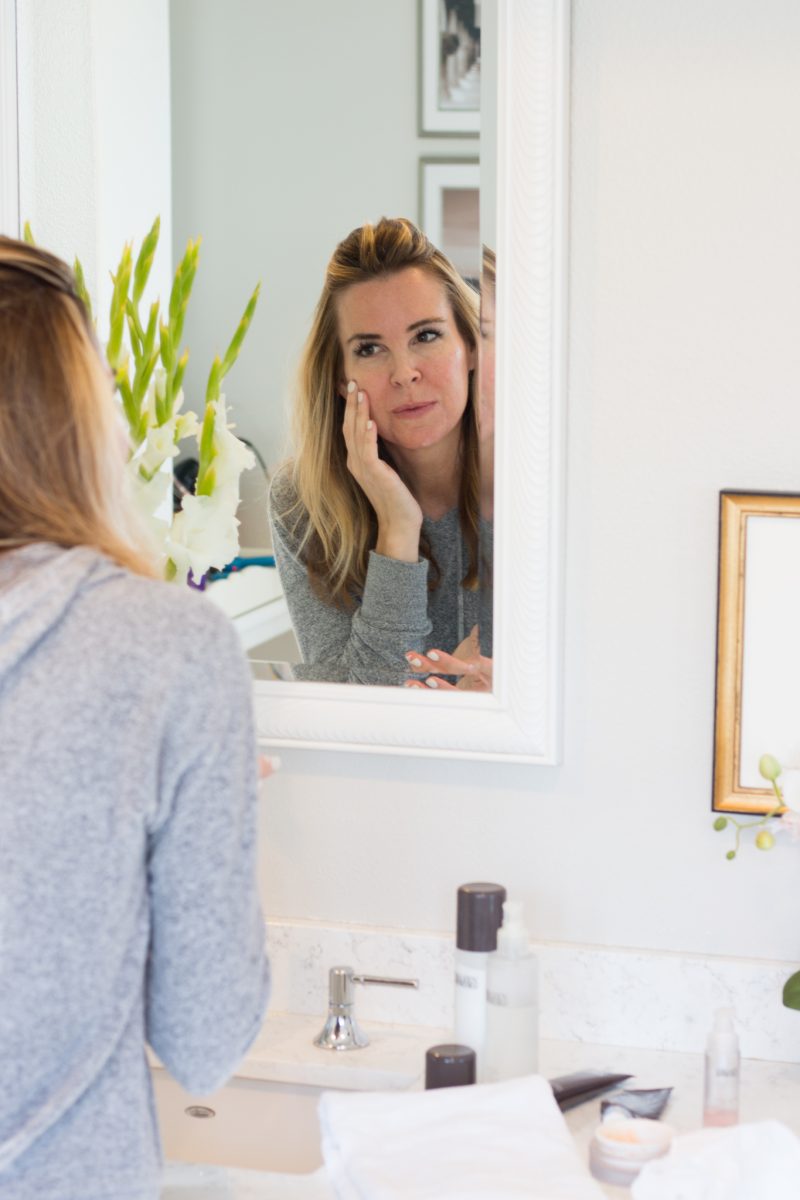 If you are using any nighttime treatments ( such as this eye cream or this retinol treatment ) it will rinse away any residue and leave your skin feeling so clean.
MOISTURIZE & REBUILD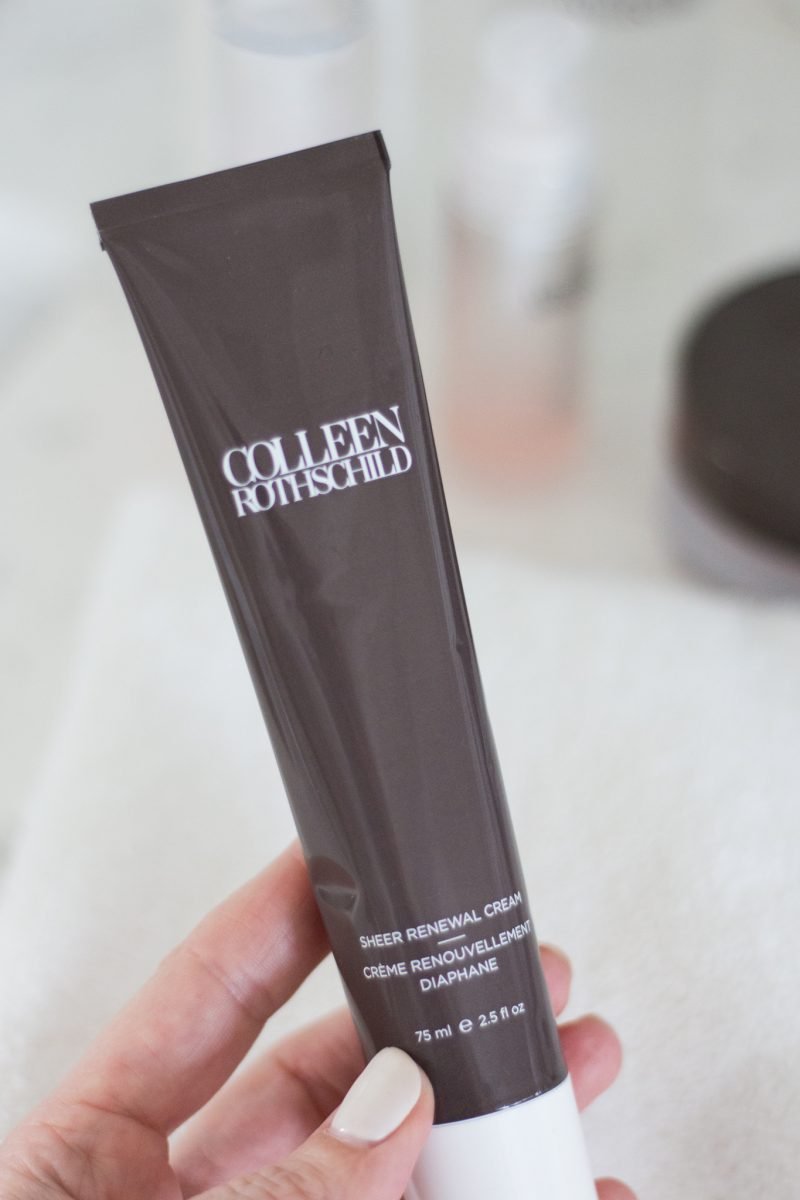 I've raved about this before. The Sheer Renewal Cream is super lightweight and amazing for fine lines and wrinkles. My skin tends to be really dry this time of year so I use this each morning after I clean my face. I also apply into my neck and chest. The nice thing is that it serves as a primer for my makeup but because it's oil free, it never adds any shine or clogs my pores. When I consistently apply it to my chest at night, I see a big difference in the appearance of my skin.
Wash Make-Up Off Every Night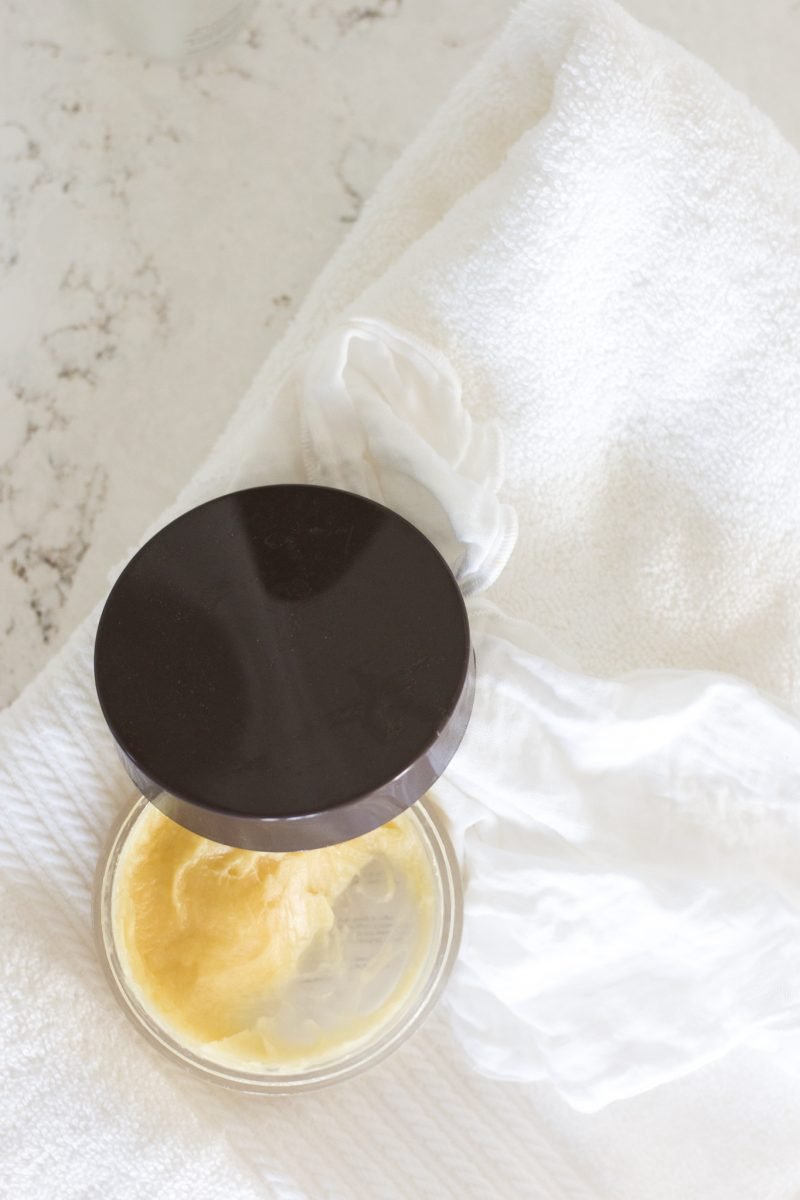 My mom always said, "Go to bed with a clean face." That is what I tell my daughter now, too. Despite the intense stress and  long days lately, I ALWAYS take five minutes out to wash my face. In fact I do it as the kids are getting ready for bed. I like to relax and hang out with my husband in the evenings with a make-up free face. It prevents me from getting too tired later on to care for my skin. I have been using this radiant cleansing balm for years now. The make-up literally melts away and the key is using the linen cleansing cloth ( it comes with it). The cloth rinses clean and protects my white hand towels from make-up residue. My skin feels so clean and fresh after I use this at night.
I also use this retinol supreme night oil before bed. It's AMAZING. My skin looks so much brighter when I use it. No doubt, there is a marked difference when I go without. Recently we traveled and I left this at home. I was so bummed and noticed my skin looked much duller without it.
HYDRATE THE SKIN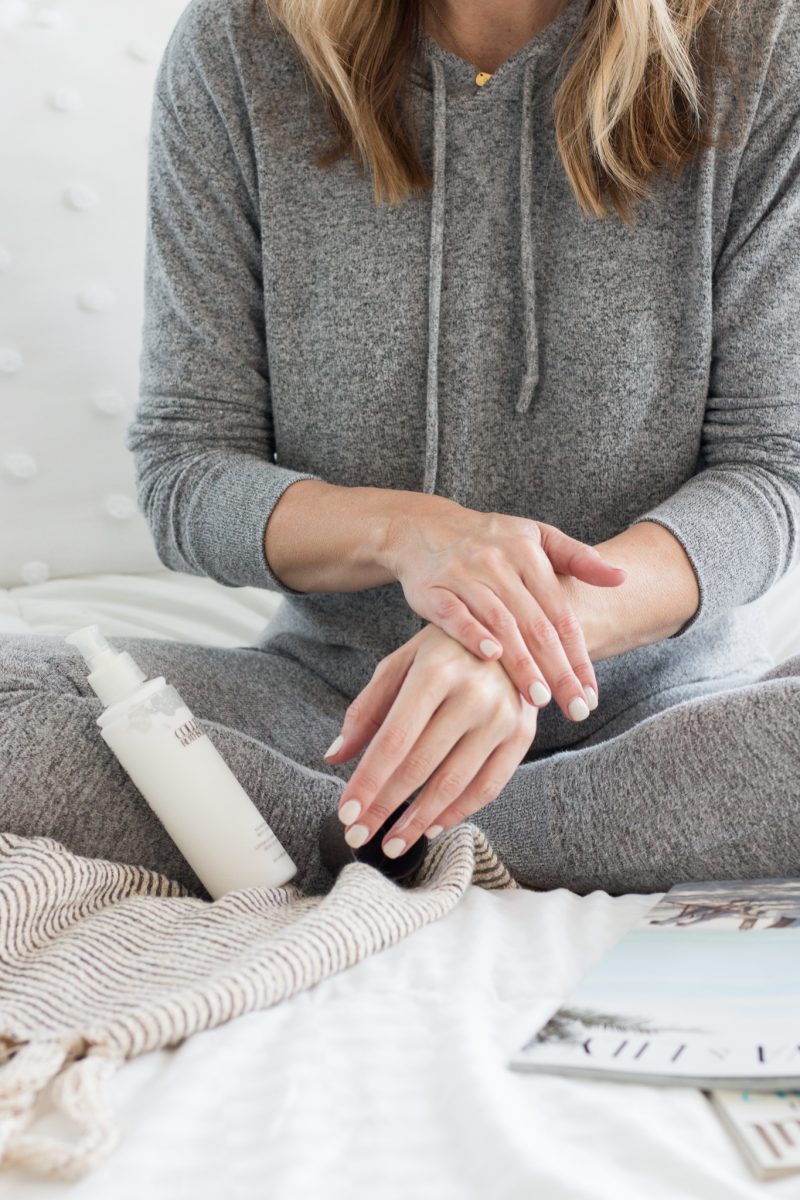 I don't know about you, but the older I get the more my skins craves moisture. It's just what happens. I keep this body lotion by my bed and apply it before I go to sleep. I also use it on my hands and arms before I head out for the day. It's glorious. My skin feels so soft.

Shop This Routine

Sometimes it's difficult to know what will work best for you. There are a few ways you can try out some products. The trial kit is pretty awesome and also great for travel (wishing I had these sizes). A friend of mine recently bought this and ended up falling in love with a few of the products. Might be a nice way to try out what works for you. Right now if you spend $100, you can get two of my favorite products for free.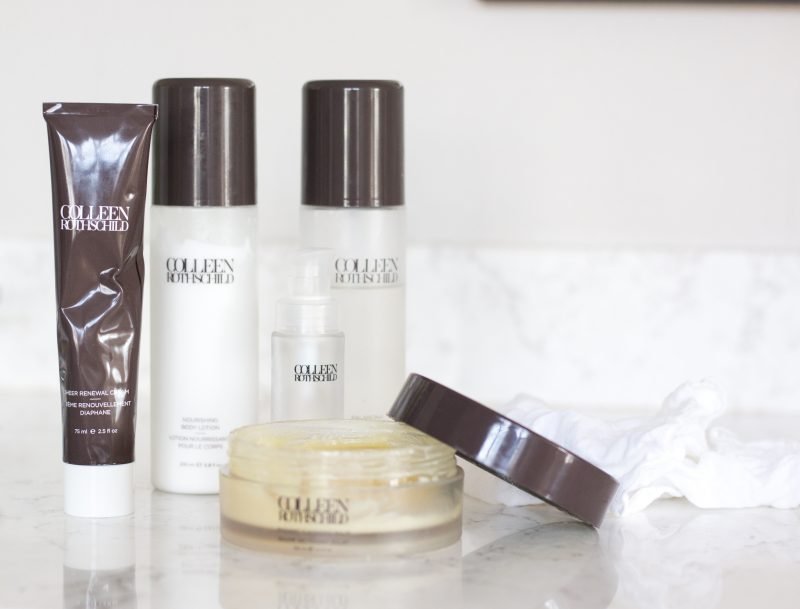 renewal cream | body lotion | cleansing gel | cleansing balm | supreme night oil
I'm excited to share a coupon code with all of you so you can try something if you are new to this line, or replenish something you need.
COURTNEY20
Use the code above to receive 20% off any full priced items. I'll be ordering more of the Retinol Supreme Night Oil.
Eating Right
Of course one of the biggest contributors to keeping skin healthy while under stress is eating well. Traveling killed that for me but we are now getting back into the swing of things with well-balanced meals and plenty of water. It's often difficult for me to eat when I am stressed or grieving. A huge shout out to friends who have graciously provided us meals over the last couple of weeks. It's been the biggest blessing.
Drinking Plenty of Water
Water. Water. Water. We all know how important this is. Are you drinking enough? If your skin is taking a beating due to stress or anxiety, try upping your water intake. It makes such a big difference for me.
On another note, I want to thank everyone who left such heartfelt and kind comments on yesterday's post. I was so touched and honored. Thank you for being on this journey with me.
*Proud to partner with Colleen Rothschild on this post. All opinions and thoughts are my own.