Hi friends. I feel like I can finally exhale. The kids have a couple days of school under their belts and are loving it. Nothing like the suspense of a new school year. Also wanted to thank you for all of the direct messages, comments and emails about the Instagram post. I am thrilled it was so helpful. Today I want to switch gears and update you on my skincare routine and a new favorite of mine. My friends at Colleen Rothschild are offering you a discount code, too. So it's great timing if you are up for trying anything new or if it's time to replenish your products.
TRIED AND TRUE
First and foremost, I think it's important you know that I truly use these products daily and have for a very long time. My favorites have not really changed and you can tell I need to reorder some of them. I like to update you so you can see what I am still loving. I use each of the above products EVERY.SINGLE.DAY.
DAILY ROUTINE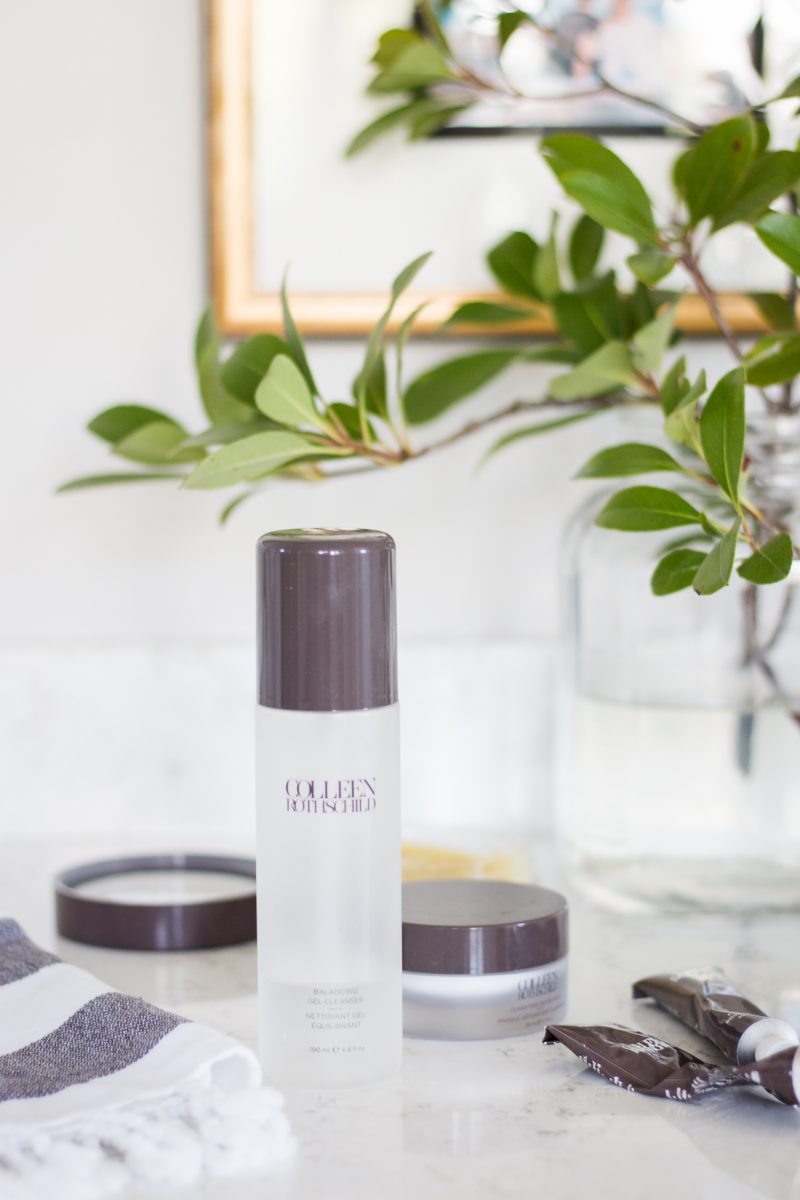 It's no secret I have struggled with my skin. I always look with envy at those women who have flawless, porcelain skin. For me, it's crucial I not only keep up with my skincare routine but also exercise and drink plenty of water. It's the combination that really gives me the results I love.
I have also learned to follow through with my nightly routine very early. I used to wait until it was time to go to bed. Why did I do that for so many years. Makes no sense. As I've mentioned before, now I like to wash my face and apply the nightly products as soon as the children go to bed. Sometimes I even do it all before dinner. Just feels good to have a fresh face and know that it's done for the night. Are you the same way or do you wait until you're almost falling over?
MAKEUP REMOVAL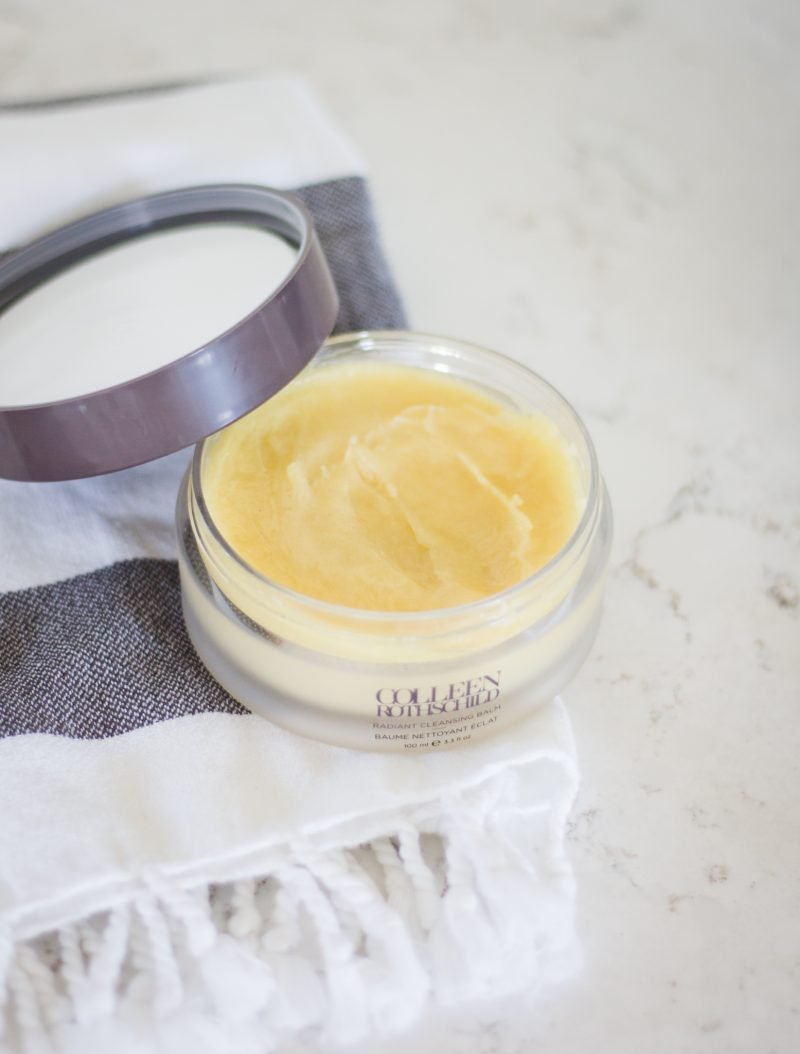 I just ordered another one of these (Radiant Cleansing Balm) and was so happy to receive it. Being without it made me realize just how much I like this product. Each night I apply this over my make-up and wait a couple of minutes. Then I place the warm, wet cleansing cloth on top of my face and allow the make-up to slowly melt away. The cloths are so great because they are thin and allow the makeup to just rinse right through. No staining and all of the make-up comes off so well. LOVE THIS!!!!! Occasionally I will use a small amount of the Balancing Gel Cleanser after I use the balm.
MORNING FACE WASH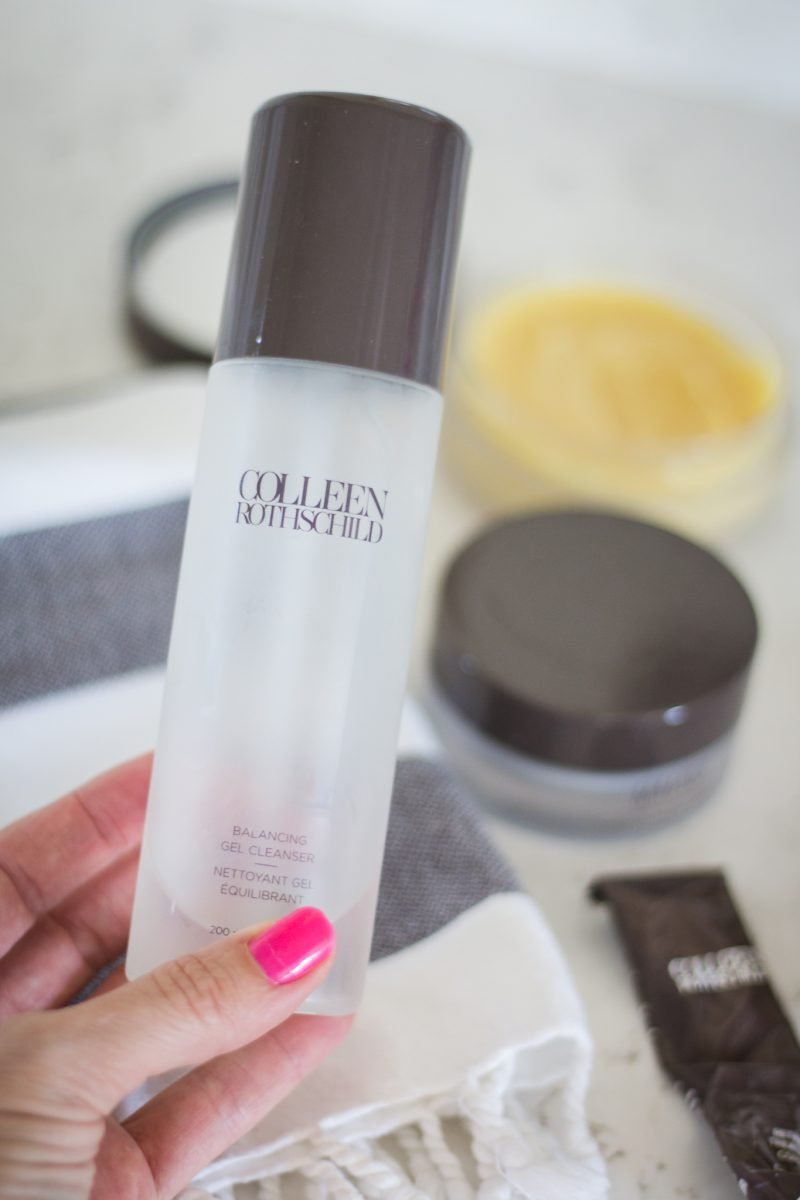 Without question, I use this each morning. It makes me skin feel so fresh and clean. A few of you have written me saying you love it as well so that makes me happy. This photo is making me realize I need a new bottle.
MY NEW FAVORITE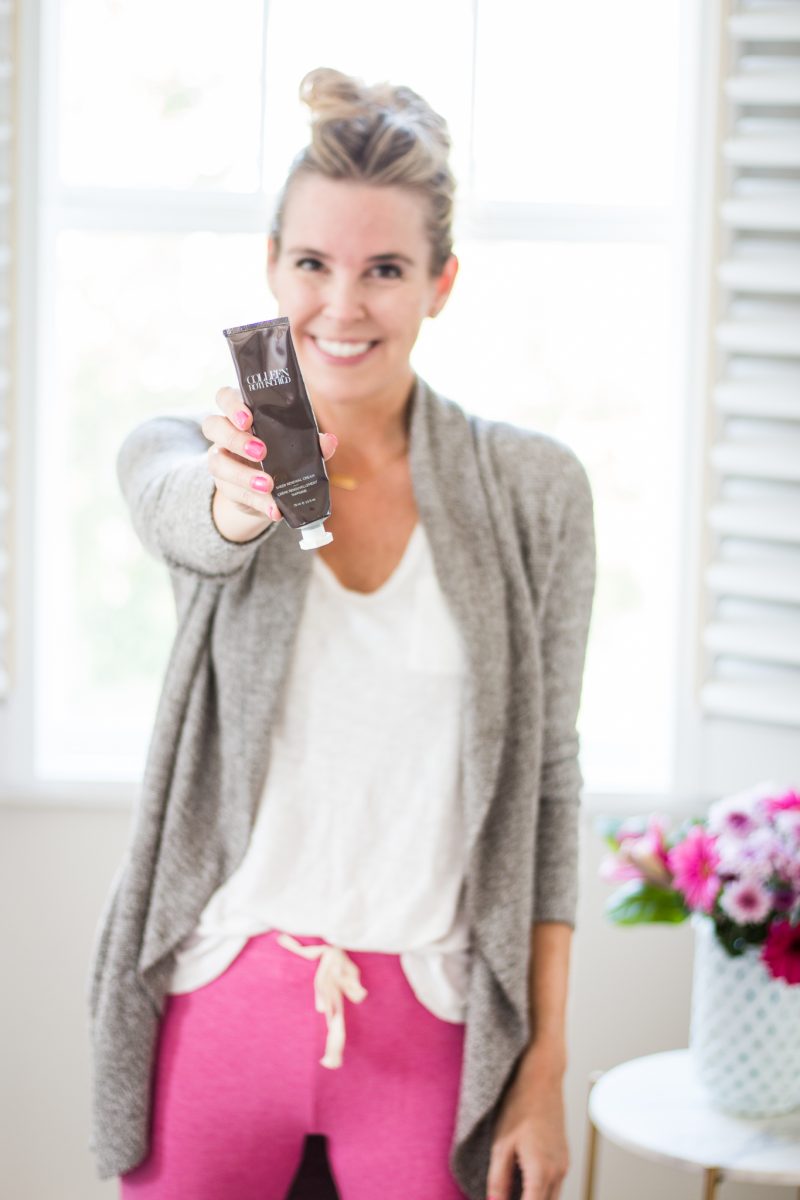 comfy pants | cardigan | t-shirt 
I recently tried a new product and am so impressed. In fact I haven't missed a night and find that it is really helping me.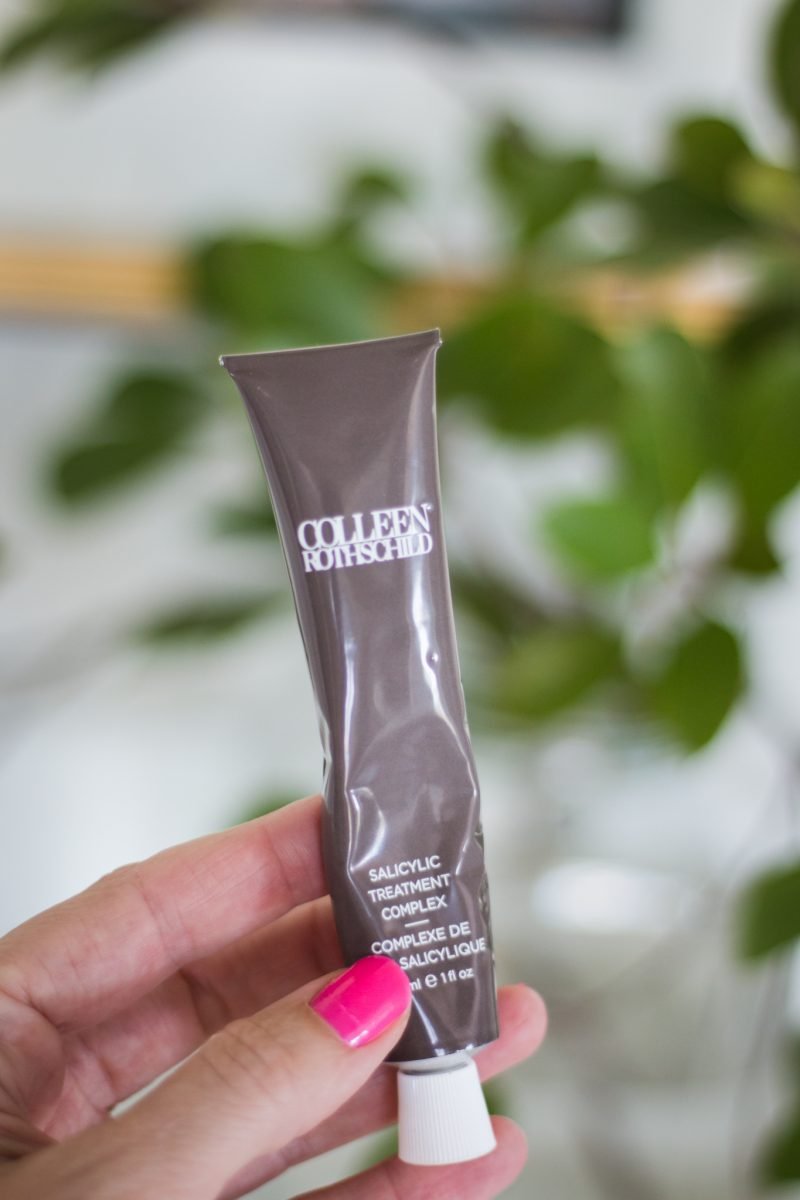 It's the Salicylic Treatment Complex and it is designed to help acne prone skin. It helps with the texture, too. I prefer it over the Mandelic Acid Radiance Serum for some reason. I am just seeing better results for my skin. Highly recommend. I will be reordering soon so that I am not going without it. I still use the Retinol Treatment Complex around my eyes every night.
These remain my tried and true favorites. I have given you a run down before but I will include it here just in case you need it for reference. It's helpful to go back to and see what you might need for your own skincare needs. Part of why I love Colleen's site so much is that you can actually search products based upon your own needs. It's so important to find something that works for you and gives you the results you're looking for. Especially when you are investing in your skin. Now that I am in my 40s it's no joke and I am all about treating it with as much care as possible.
MY TOP SIX
ONE –  Muslin Cleansing Cloths: These!! These seriously rock. They have single-handedly saved my pretty white bathroom towels from being stained from makeup. I only use these while removing makeup with the Radiant Cleansing Balm (it melts makeup away). They are thin enough to let you get rid of any traces of makeup under your eyes and the makeup and balm rinse right through them. They hold up beautifully in the wash. Once you try them you'll never stop using them.
TWO – Clarifying Detox Mask:  This is the mask I use once a week to remove toxins and to help with inflammation. It leaves my skin so so soft.
THREE – Sheer Renewal Cream:  Really like this because it is oil free. It helps with cell turnover and I usually put it on my chest every night before bed. It has helped beyond measure with fine lines. I never miss a night with this.
FOUR – Retinol Treatment Complex: Yes to this!! This is what I apply around my eyes at night before bed. You can apply a thin layer on your entire face. It's great for minimizing fine lines and helping with cell turnover which is key to having your skin look fresh and bright.
FIVE – Balancing Gel Cleanser:  This is the cleanser I use in the morning. I prefer to use this when I haven't had any makeup on. (I use this at night to remove makeup). It's leaves my skin so smooth and ready for the day. I also use it after I work out since I workout without any makeup.
SIX – Salicylic Treatment Complex:  Use morning and night to help prevent acne and promote clear skin. I use this primarily at night. LOVE. 
Each item comes with a cheat sheet card which I reference often until the routine becomes second nature.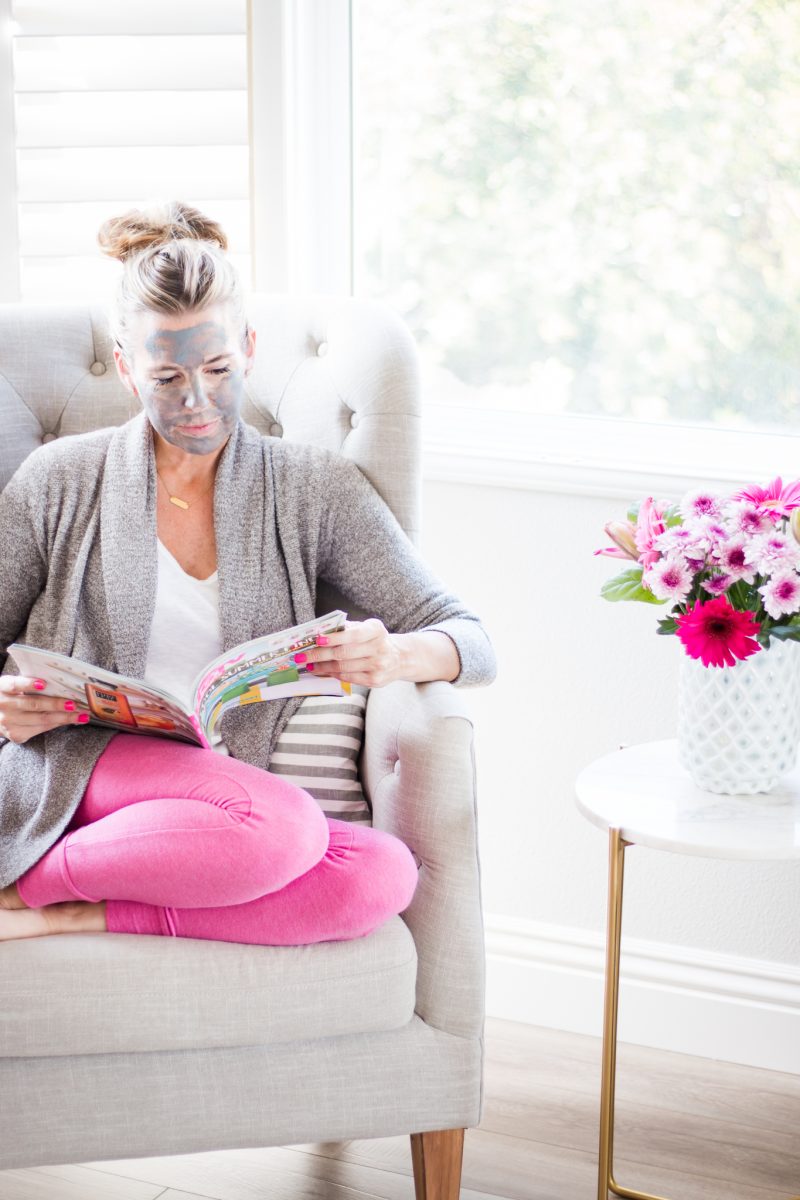 Lastly, the detox mask!  My kids think its' hilarious when I put this on. I never wait until I am too tired but do this early evening, too. I apply this once a week and see such a difference in my skin when I skip it. It feels amazing and gives me an excuse to actually sit down and relax. Something we moms rarely do, am I right?! Another perk is that this mask is currently on sale.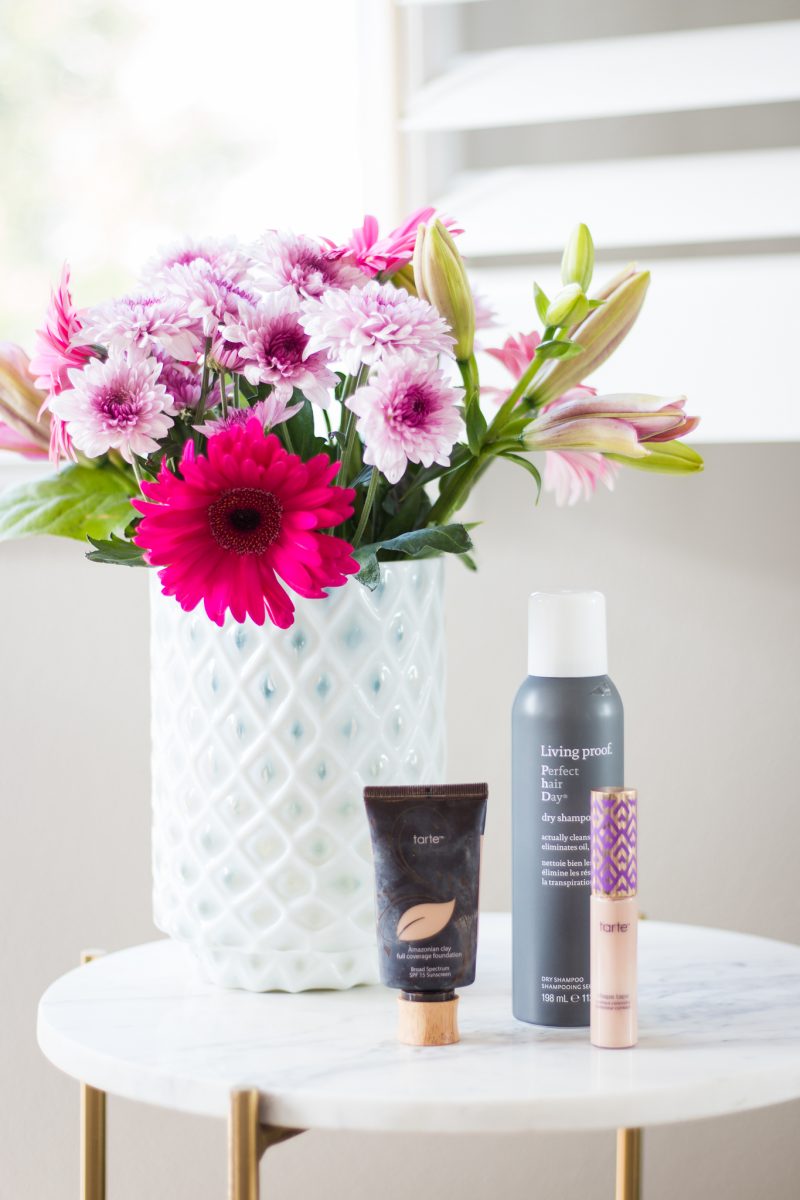 concealer | foundation | dry shampoo
Thought I would share my other three favorites. They remain in my daily routine and I am so happy to have found make-up that works for my skin. I honestly think every women needs to try this concealer. It's so effective and doesn't get creasy (is that a word?) throughout the day. Often times I use it under my eyes, on any blemishes and a touch on my cheeks and I'm out the door. Good stuff, my friends.
SHOP MY SKINCARE ROUTINE

I hope this helps if you are wondering what products I am still using. I am more than happy to answer any questions you may have so either leave a comment below or shoot me an email.
And a huge thank you to Colleen and her team for offering my readers a discount. You'll receive a 20% discount using the following code. It is good through 8/31 on all regular priced items.
COURTNEY20
You can browse all of the Colleen Rothschild products from here. 
*Proud to partner with Colleen Rothschild on this post. Love her skincare line so very much. Affiliate links used. 
Shop the Post