Ok, please tell me that some of you were dragging all day yesterday, too. Holy cow. I just couldn't make it past first gear. Hopefully today is much more productive. Luckily, it is summertime and laziness seems to fit right in. Just last week I told you that we are making over our small space patio. If you missed the refresh plans, you can check them out here. I am so excited about how it is coming together. I rounded up some great shots  that have given me inspiration. In some of these photos, it's just a tiny idea that I may take away but together it all ads up to a unique space with our own twist and feel.
What I like: What's not to love about this? I adore the bright pops of color and the genius coffee table/cooler. I also like the use of the garden stool in between the two stools on the right.I also love the wall of greenery. It feels so lush and lived in.
 Contemporary Patio by Dallas Interior Designers & Decorators Denise McGaha Interiors
What I like: This is straight up quaint and perfect. Of course the brick exterior already puts this space way ahead of my own. I can't change that. But I love the small scale bench mixed with the colored table and dipped legs. Great use of a typically indoor table. The potted plants add so much warmth and charm, too.
What I like: Sometimes simple is best. I love everything about this. That barn door, the raw wood tone and the pretty pink flowers. Do you have a spot that would make an unexpected backdrop for a table and chairs. Even for a party. This is a folding set so it doesn't necessarily need to be permanent. And isn't it crazy how much charm just a bouquet of flowers adds?
What I like: 
LOVE IT ALL! Clearly I am drawn to brick but I just adore the pretty wall of green and the separate seating areas. So much charm in such a small space. Gives me hope. Now if someone could cover the outside of my house in brick we would be in business. And I found chairs that are so similar to the ones above and are on sale bigtime!
These chairs
are so good looking and I am so tempted to get one for our patio.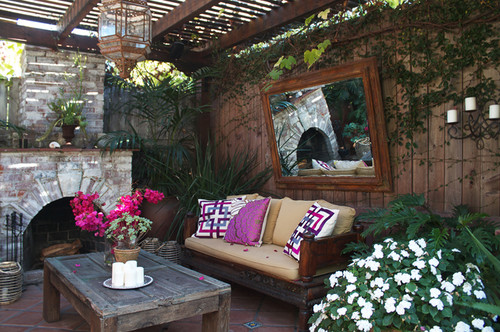 What I like: Yes to all of this. While it looks a tad busy for my taste, I love the fireplace and the pops of pink. There is something about hot pink next to greenery that always looks so pretty. I think I will adopt the pink or sure. I like the mirror, too but would prefer if it were hung straight. Although as I stare at it, I am wondering if it is actually a television that appears as a mirror when not in use. Hmmm.
What I like: It's the overall neutral feel of this paired with the clean stripes and the greenery. It just works. And it works so well. I picture this as a little garden patio off of a gorgeous colonial home.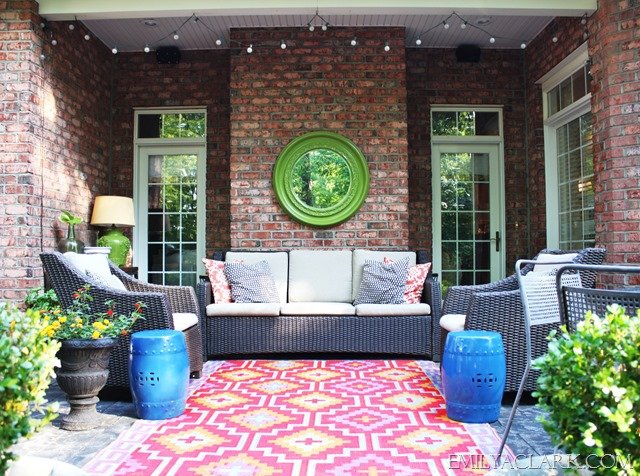 What I like: I have always loved the symmetry of Emily's back patio. Of course I choose another one with brick. But I am loving the use of the round mirror as well as a table off to the left for entertaining. It serves as a buffet. Also envious that this space is covered. No such luck over here.
So the small space patio continues to evolve over here. The sectional is in place and now the fun part of accessorizing as well as working on the garden will happen this week. I also have a couple of fun DIY projects I will be able to share. And they are easy peasy.
Shop Fun Outdoor Finds

This time of year is great for shopping outdoor as it is largely on sale. So if you are working on any of your own spaces, cease the season. See you back here tomorrow! Hope you have a wonderful day. You're taking a moment to pop into my blog means so much.