Welcome back from the weekend. Ours was busy and wonderful all at the same time. We spent time with friends and family both days which always makes for a good weekend. I am really excited to share our patio with you today. As I shared here, we were ready for a change on our patio so that it could be more of an extension of our inside. I love bringing the indoors out and wanted a space that we could enjoy on a day to day basis as well as when we entertain. I think we accomplished both. I will keep the chatting to a minimum and let the photos do the talking.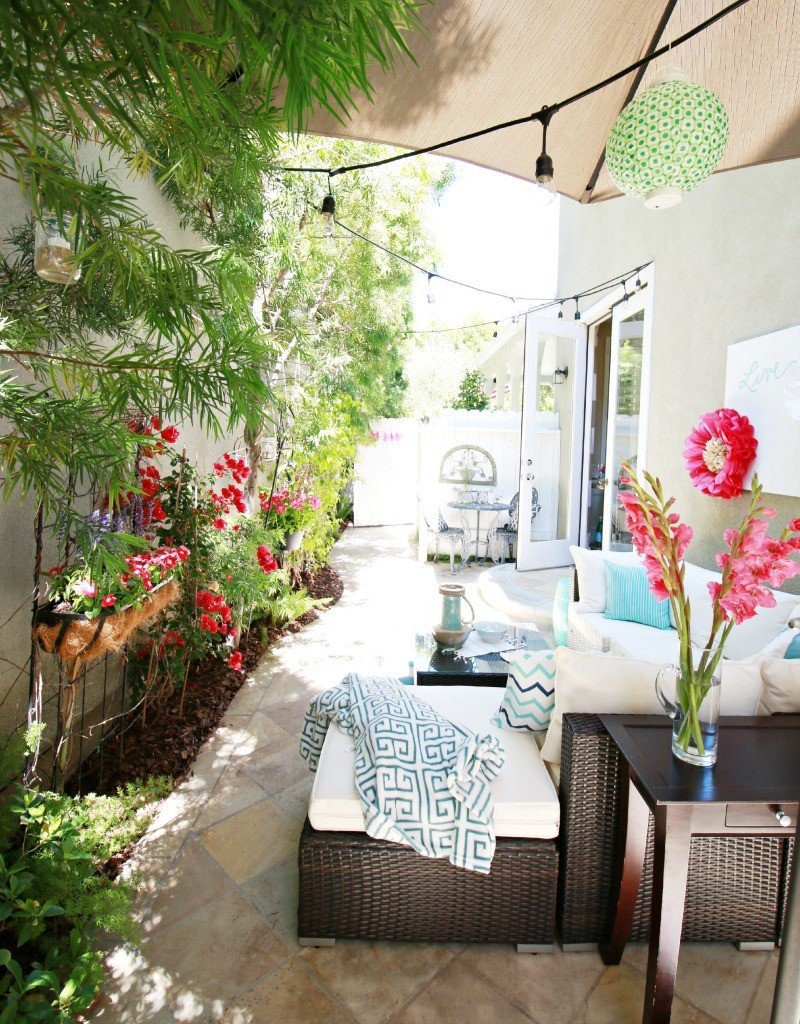 What do you think? You'll notice there are some lanterns and tassels hanging because we threw a party this past weekend. But because we have such mild weather, everything else stays out. The table behind the sofa we have had for years and years. In fact, I think my husband had that before we got married. We cut the legs off a few inches so that it would fit directly over the back of the sofa. This not only protects the sofa from sun, but also is a great place to rest a drink and create more of a living room atmosphere. I will apply two coats of poly-eurythane this week.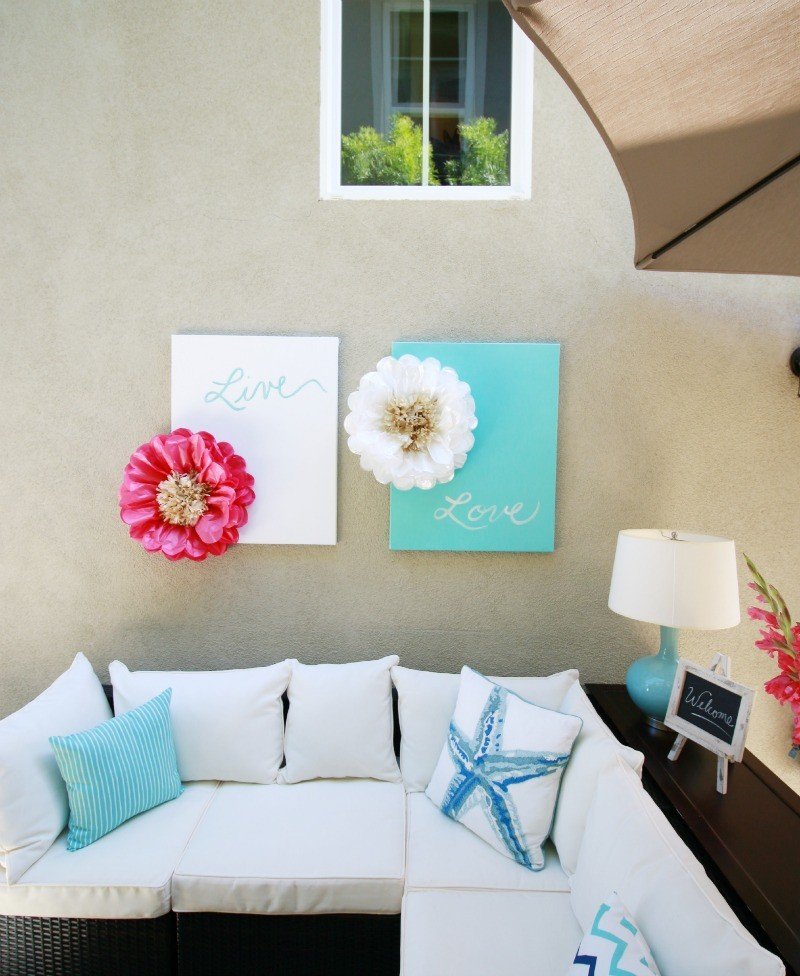 Here is a view of the artwork I made. I wanted something bold for the party. These paper flowers are not weather proof, of course, so I am still brainstorming on what we will do on this wall permanently. Quite frankly, it's a big ugly stucco wall and it needs all the help it can get.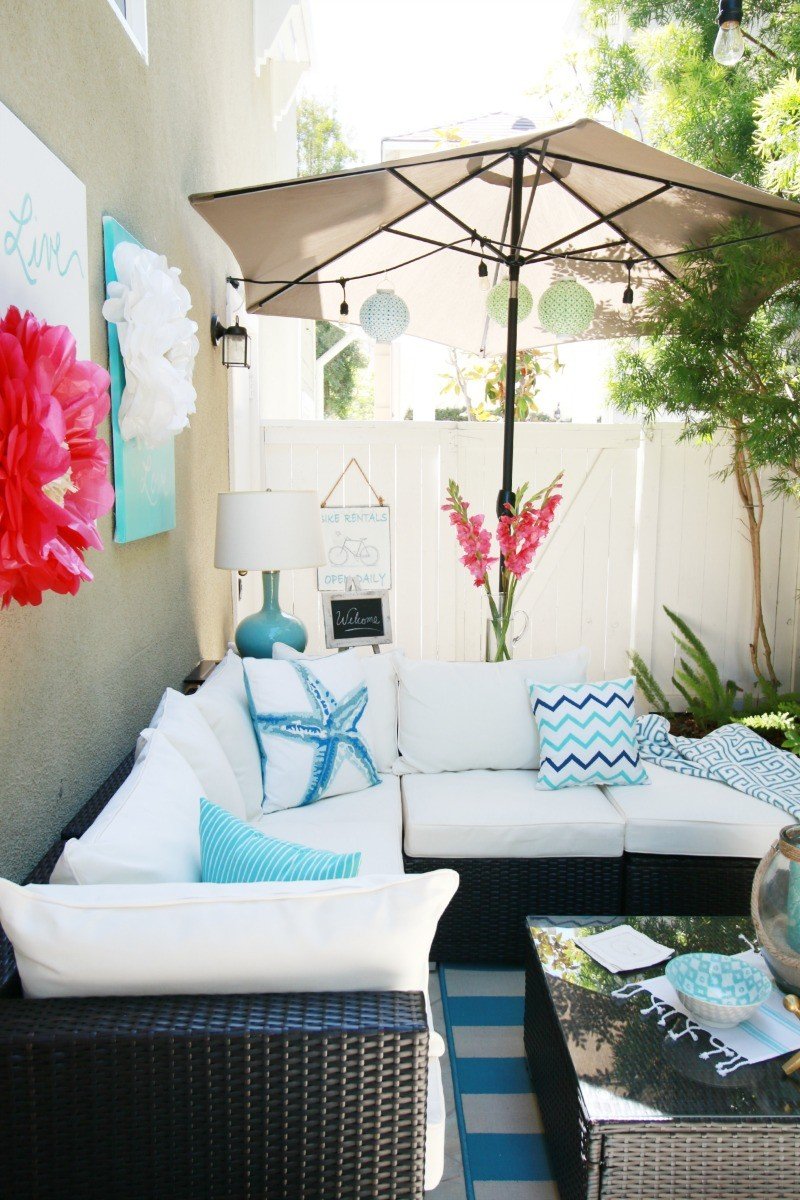 We went with a 4 x 6 rug instead of larger because I wanted to be able to move it easily and hose down the patio. The last one we had was larger and it was so much more difficult to deal with. I am all about easy and convenient so this size works well for us.
Although I have committed one of the worst crimes as a blogger and don't really have before photos. I thought I did so I didn't take any new ones. Ughh. Major mistake. Having said that, just picture the patio with a table and chairs and nothing else. We did not change the landscaping but we did add fresh pink flowers! My husband and daughter planted all of those together.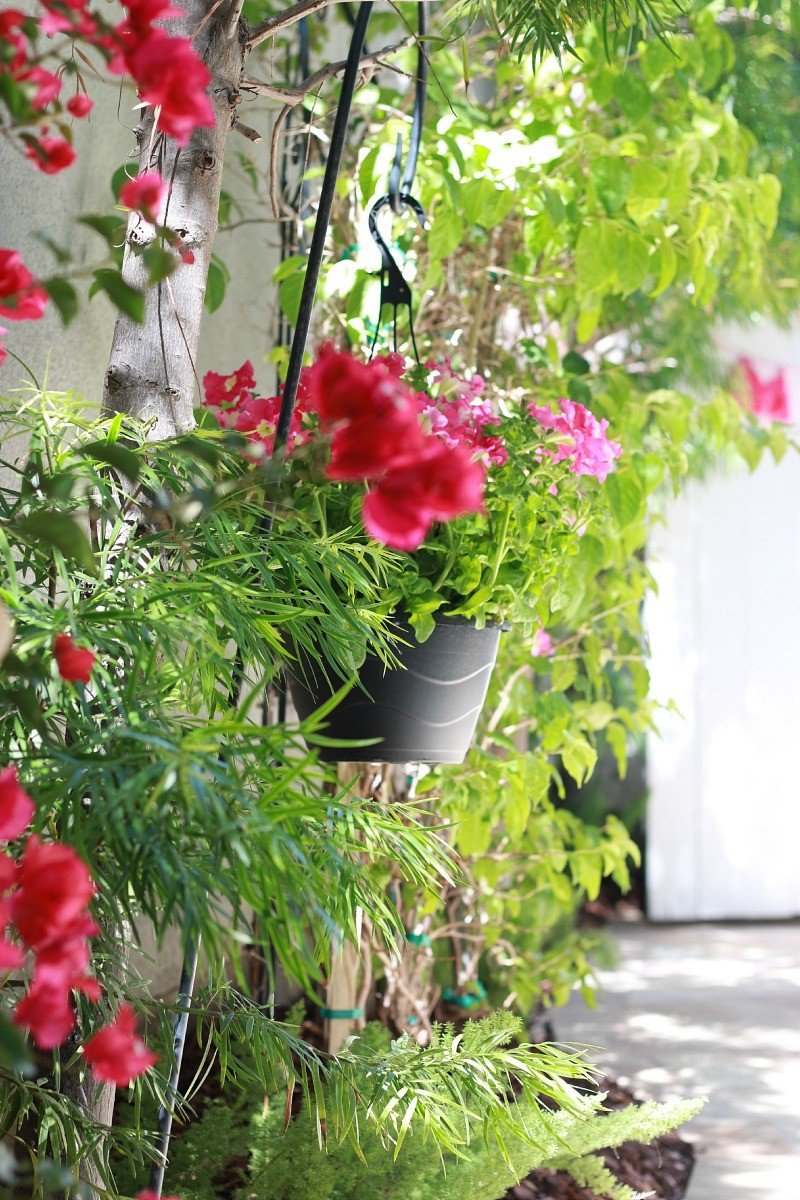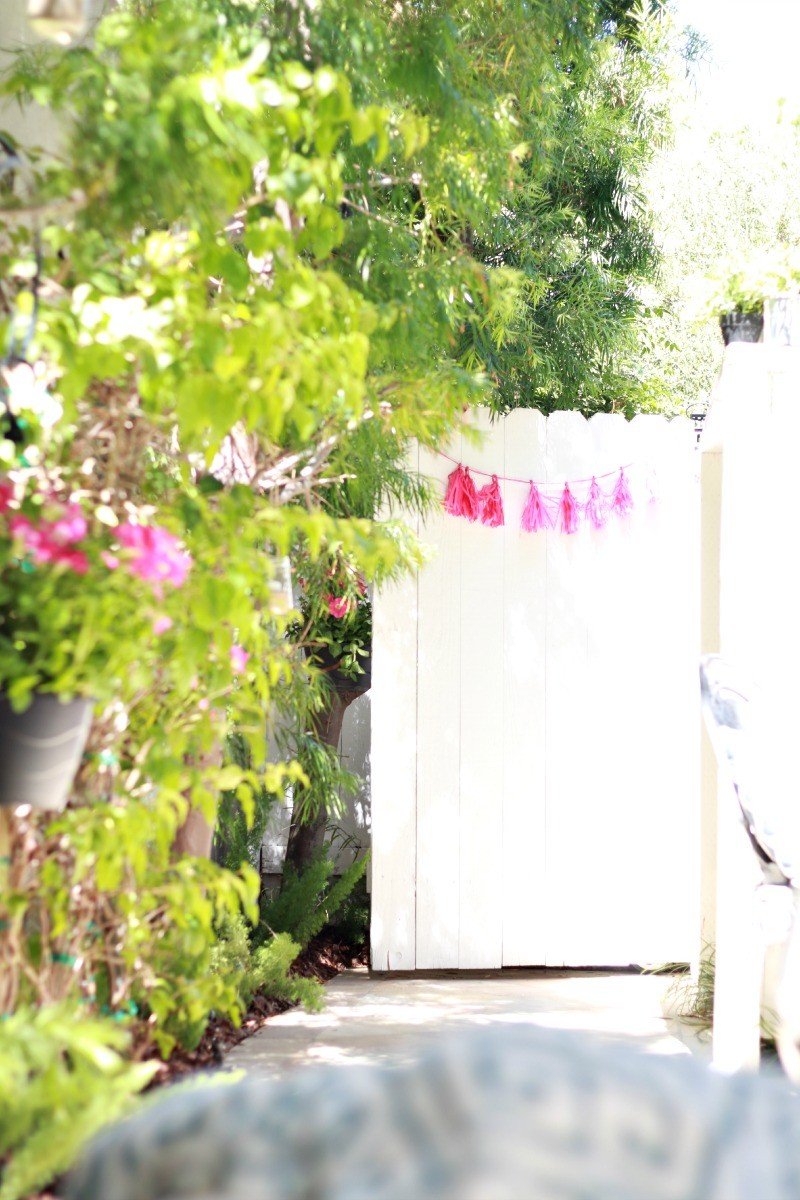 The gate opens up onto our front porch and creates a nice flow when entertaining. I so appreciate how the trees and landscaping have grown in over the years.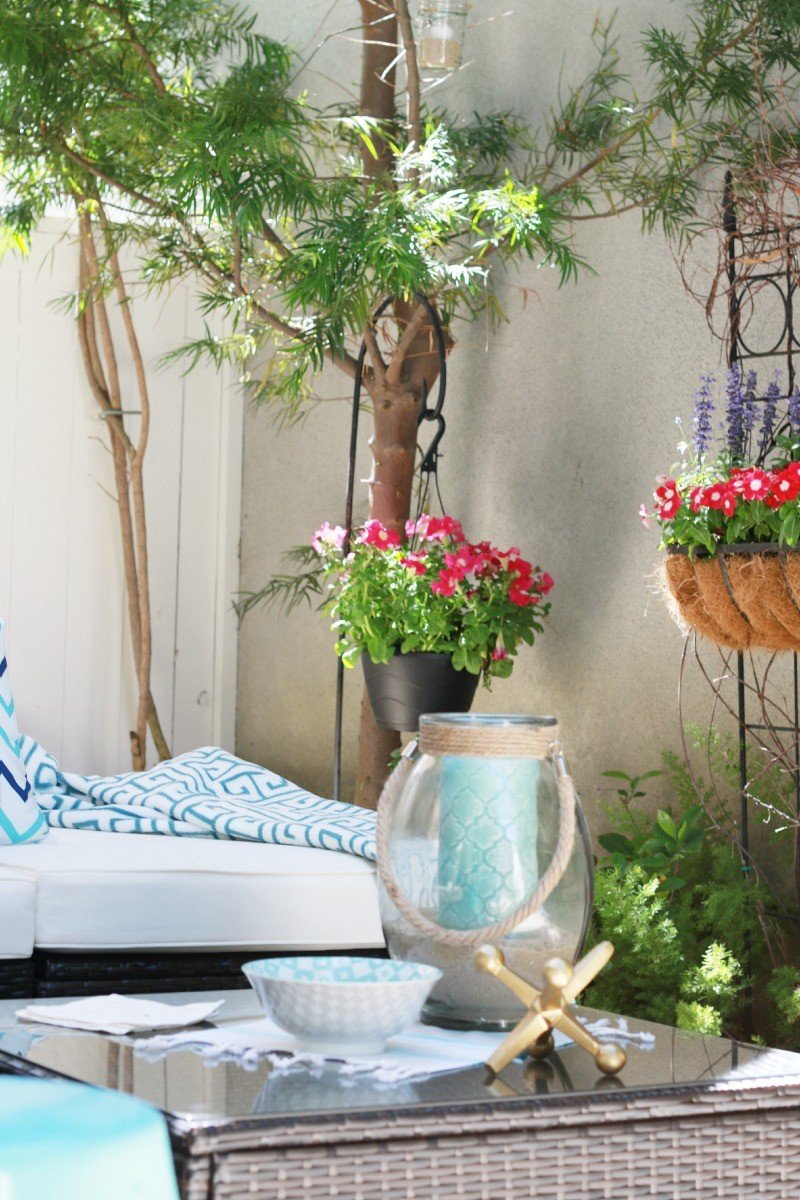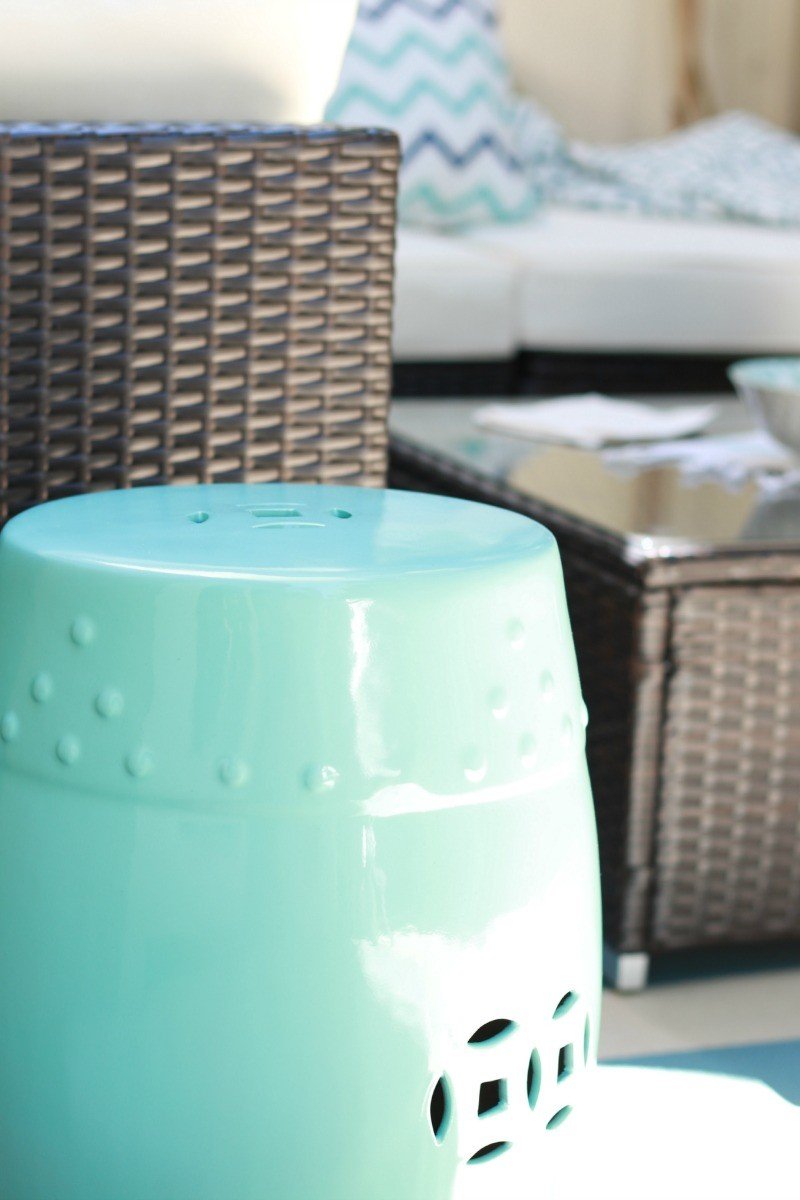 The garden stool was a HomeGoods finds that I painted with Rustoleum Aqua spray paint. It was originally an ugly brown color so this new Tiffany blue is a big step up and perfect for the patio color scheme.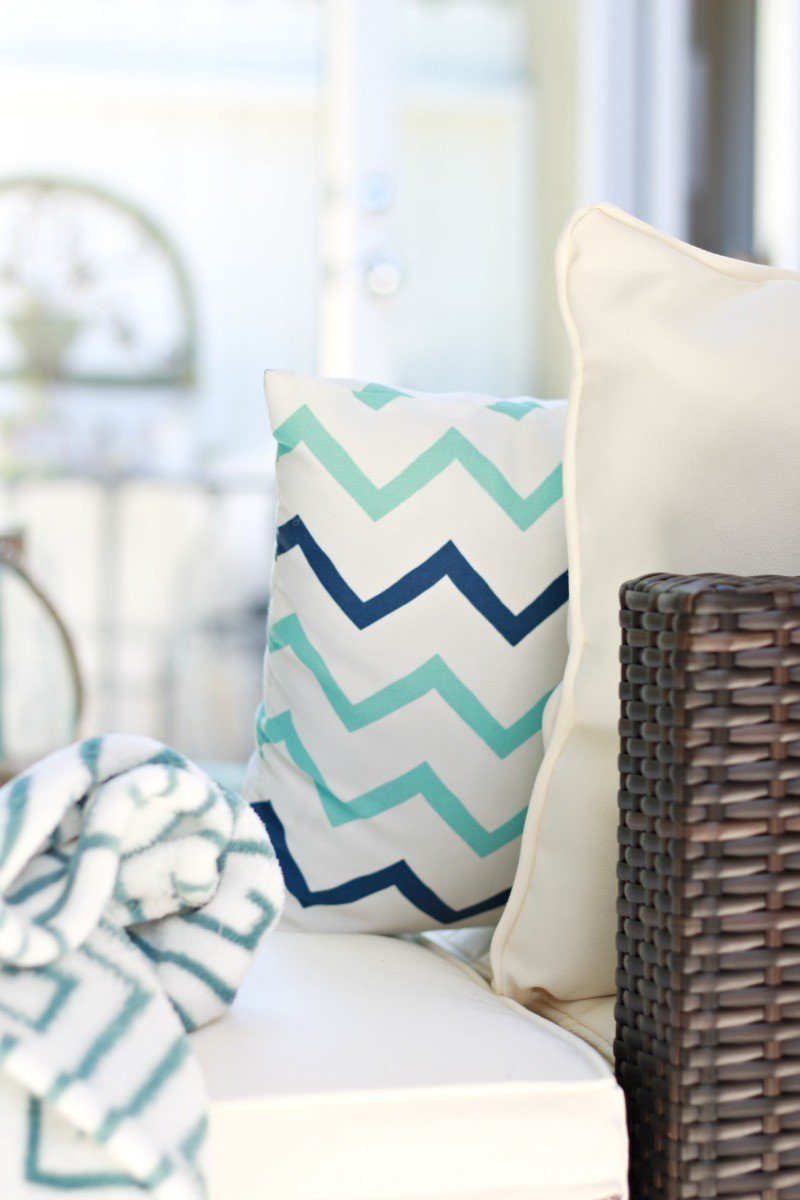 This is the pillow that sparked the design as far as colors. I knew we were going to use pink flowers in the yard, so I thought aqua and blue would be a nice compliment. And when you find a darling pillow like this on Clearance at Target for $9.99 you take it as a sign and run with it. The rest fell into place really nicely. All of the colored pillows on the sofa are from Target.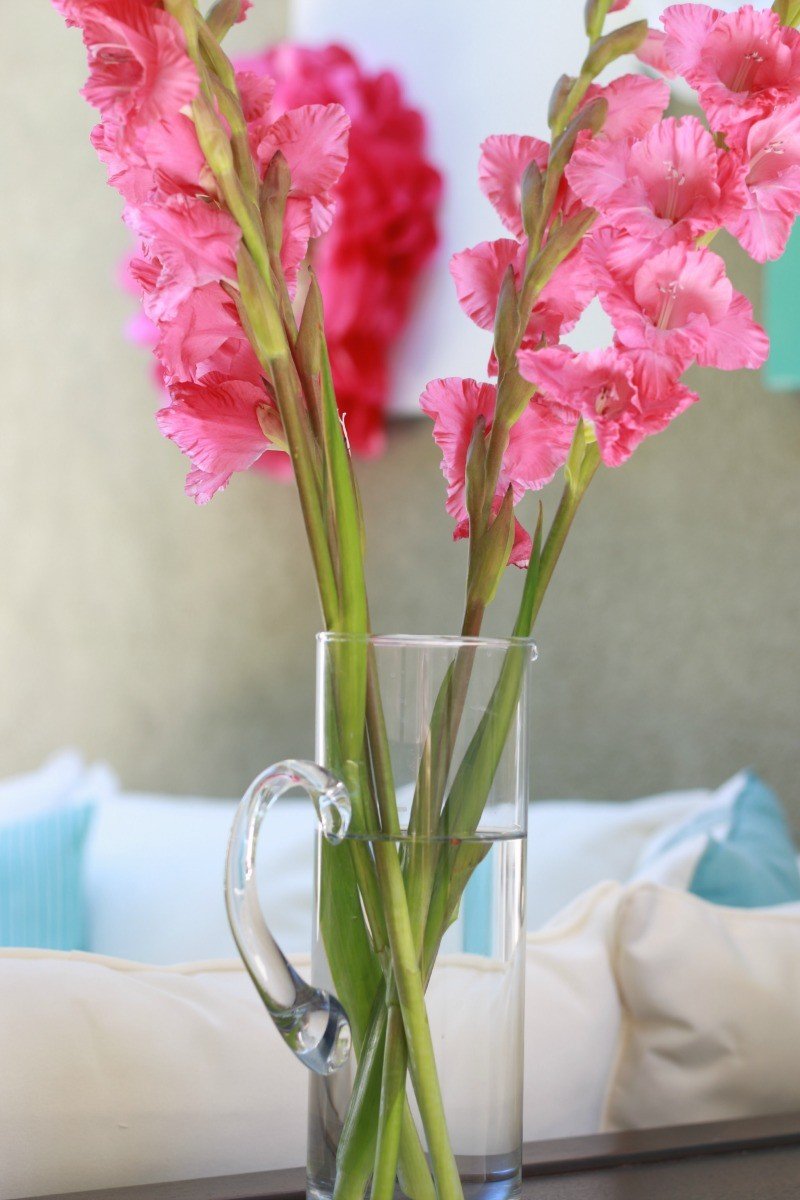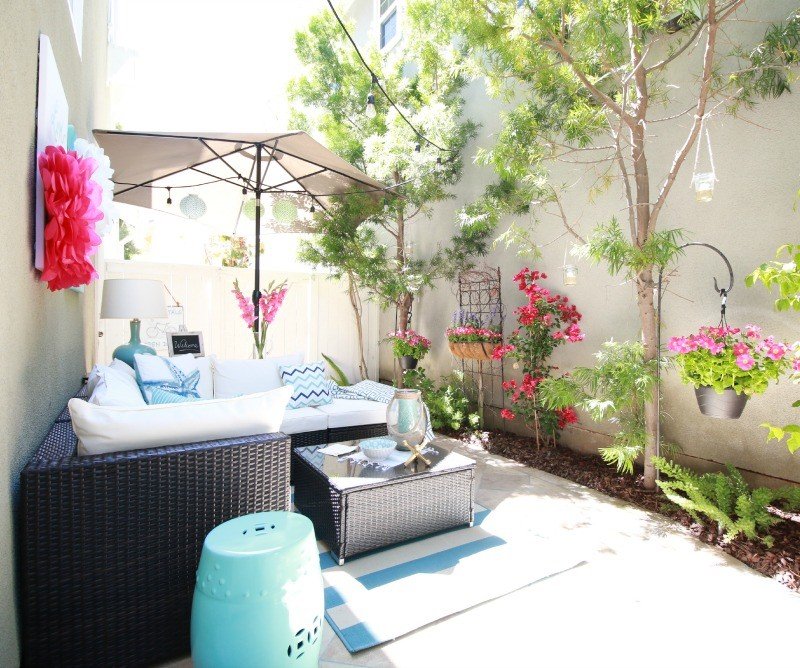 Here is one last look from the other direction. We are so thrilled with how the space turned out. It's great for coffee in the morning or snuggling up and reading books (my daughter's favorite thing to do out here). And when we entertain, it's  a nice new spot for people to gather and relax. I wish you could see it all lit up at night! It's truly charming and I am very thankful.
Patio Sources: Sofa – Overstock // rug – Target // garden stool & lamp – HomeGoods DIY // chalkboard, hurricane & blanket – Kirkland's // artwork – DIY // tree candles – DIY