Good morning. I'm beyond excited to share a before and after of our stacked stone fireplace with you all. This was a true labor of love and for those of you asking, step-by-step instructions are coming. We want to finish the entire project and then I will share all of the juicy details. I will say that my dear friend, Catherine, had to give me a serious pep talk half way through. This is the type of project that appears to be a hot mess until you reach the finish line.
THE FIREPLACE BEFORE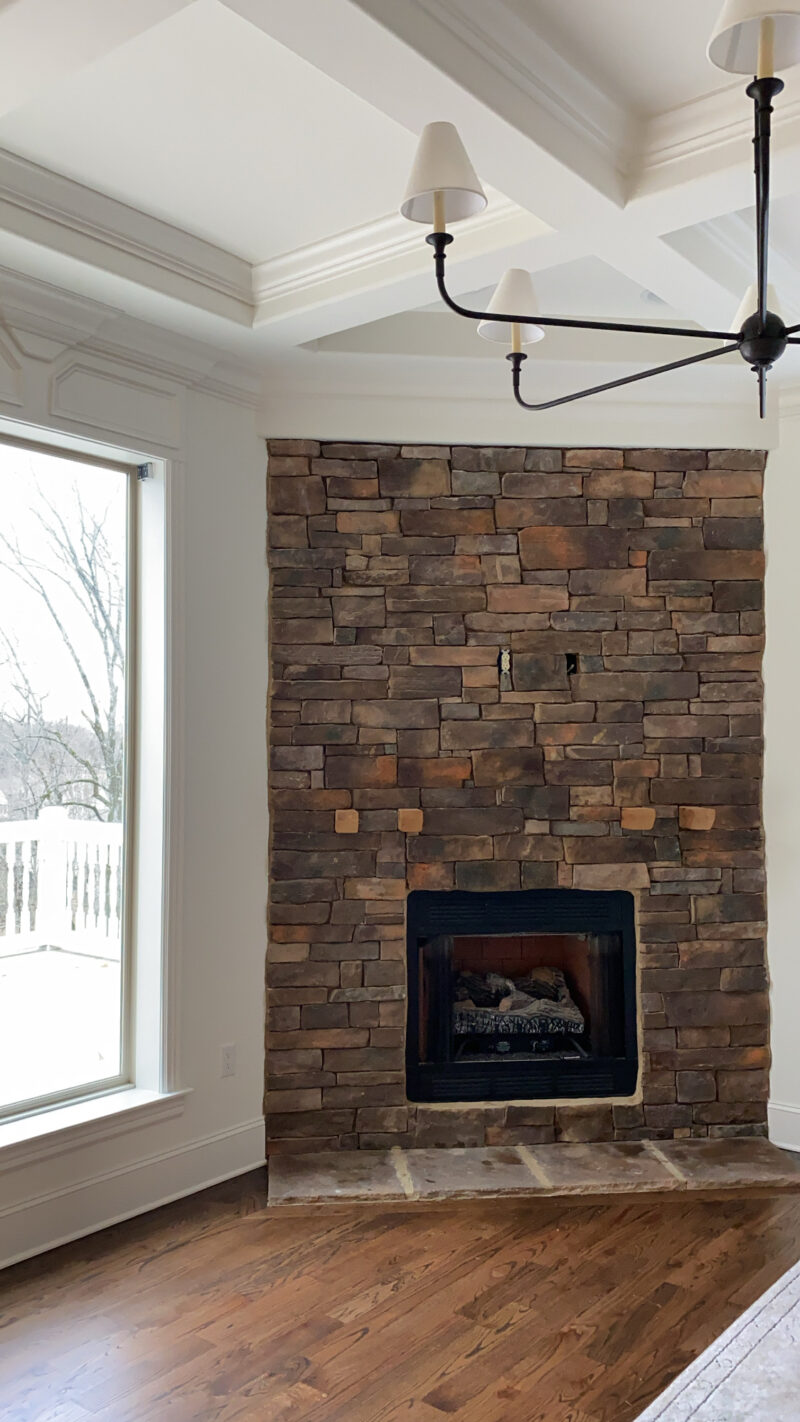 The original stone matched that of what was used on the outside of our home. We had that lime washed by professionals prior to moving in. Someone asked why we didn't just have this done at the same time. Great question. But to be honest, we were still living in California and taking turns coming back and forth to keep an eye on the painting of both the interior and the exterior. While we knew this wasn't our style, it was one of many things we knew we would eventually get to and we just weren't in the frame of mind. The painting and refinishing of the floors were both such major endeavors. And to be honest, we are happy we didn't rush into it because it gave us some time to figure out the look we wanted.
We also decided to tackle it ourselves because of the expense to have it done. At the end of the day, we need to pick and choose what we budget for hiring out versus rolling up our own sleeves. An added bonus to doing things yourself is that you can adjust and pivot as the project goes. Sometimes you'll find you change your mind on things. We certainly did with this and it would have been a different outcome had we told a professional what we originally thought we wanted.
THE FIREPLACE AFTER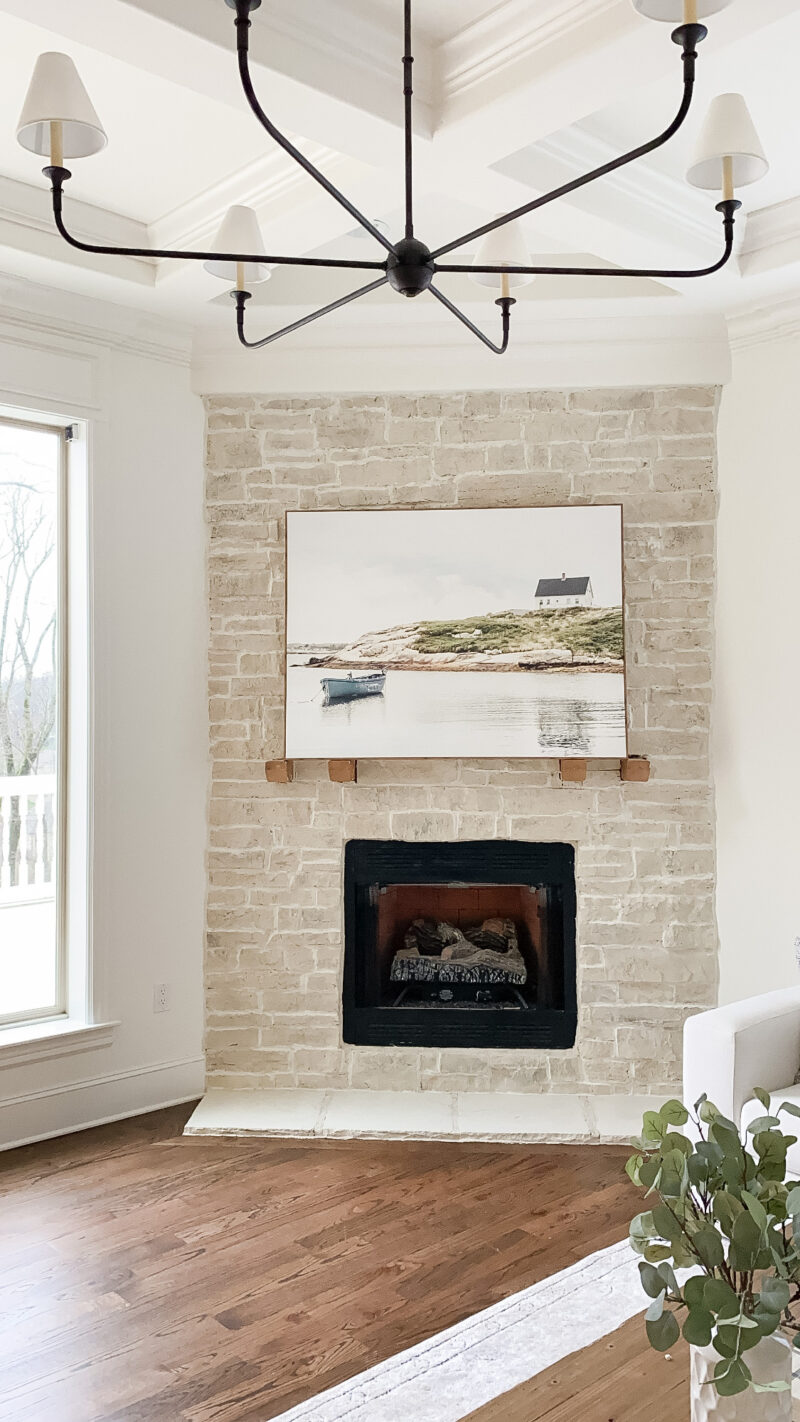 I actually wish you could see this in person. It doesn't photograph as well as I would like. There is still so much texture and variation in the stones. I also love the way it pairs with the beautiful ceiling. Nothing about it is perfect and that was the idea. I think it gives the space some character while not overpowering the room. Overall it was about a three day project (working maybe 4-5 hours a day) and then an hour or so for touch up and clean up. Very doable.
SIDE BY SIDE LOOK AT THE FIREPLACES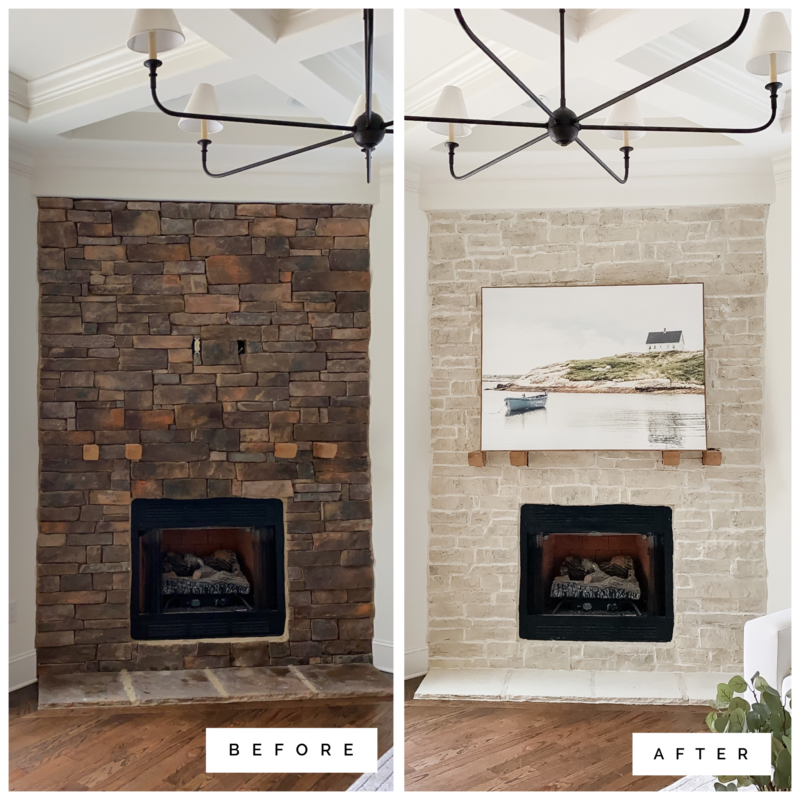 WHAT'S NEXT?
Add a mantel
Install the Frame TV
Paint the back of the firebox black
Enjoy being done!
We will be having the Frame TV installed this week. We are in a unique position where there are no built ins near this area so we are most likely going to hide the box in the mantel itself. At first we were thinking a reclaimed beam would be great. But then a friend suggested this mantel and it's ideal. It comes in various sizes and stains and the inside is hollow. We are hoping to hide the box right inside of it. I've ordered it and it is on the way. The chandelier can be found here.
Once we finish the above to-do list, I will be back with a comprehensive tutorial. It's been six months since me moved in and it's fun to take a moment and appreciate all that we have done to make it our own. Sometimes I have to remind myself to do that instead of anticipating the next project. If you need a refresh, this is a look back at some of the spaces when we first bought the home.
FIREPLACE QUESTIONS?
I would love to make the tutorial as helpful as possible so if you have specific questions about the project, please feel free to leave them in the comments below.
Make it a great day.