Good morning. Big day around here. While our official move is still a month away, we've closed on our home in middle Tennessee. I thought it might be fun to show you around a bit. I am also sharing what we look for in a home and a few ideas we have for the house. We definitely flirted with building and thought that was the route we would take. After some very careful consideration, we landed on resale and are beyond grateful to call this our new home. Welcome to the Traditional Treehouse.
OUR TRADITIONAL TREEHOUSE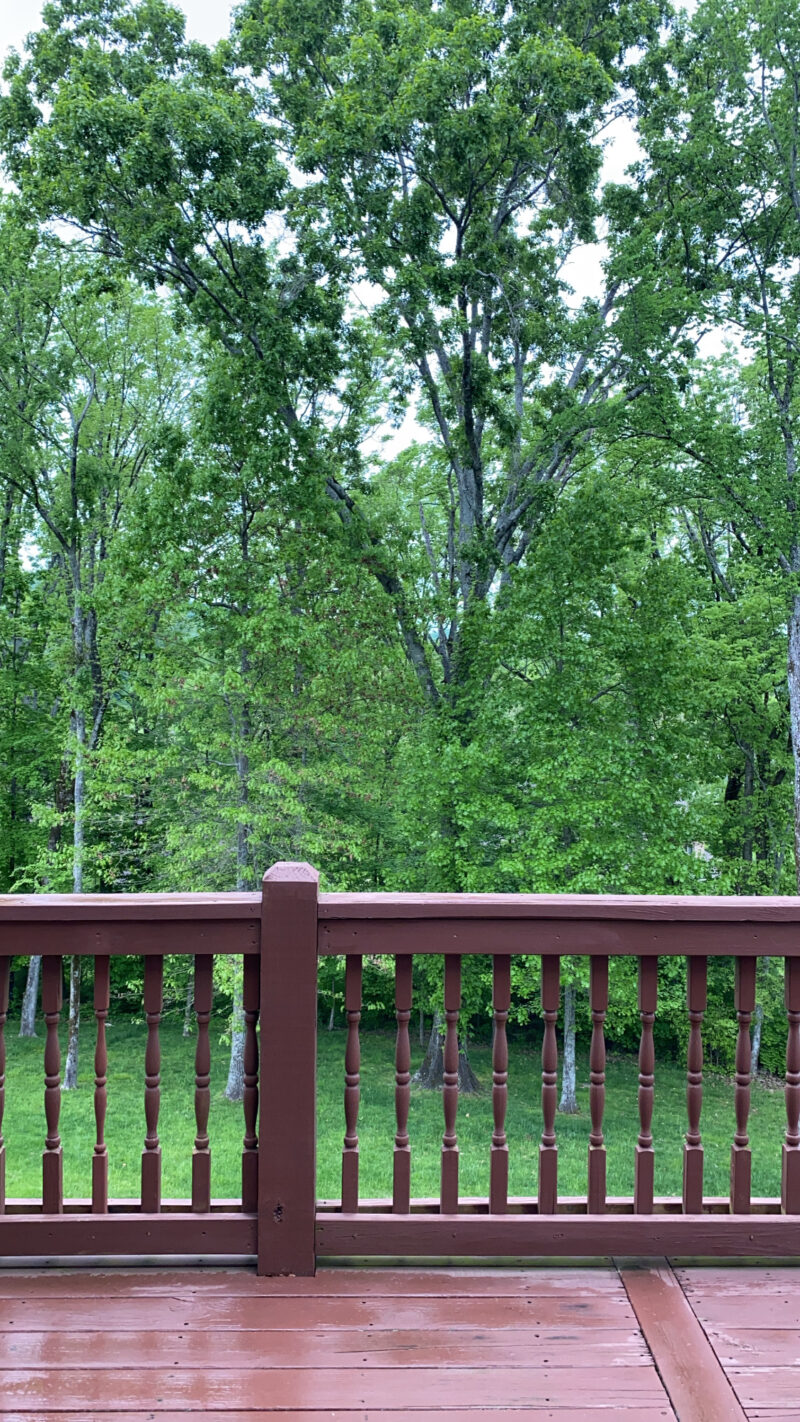 These trees in Spring. We just can't get enough of them. I could spend hours sitting out here doing absolutely nothing. Well, until someone in the house needs to eat.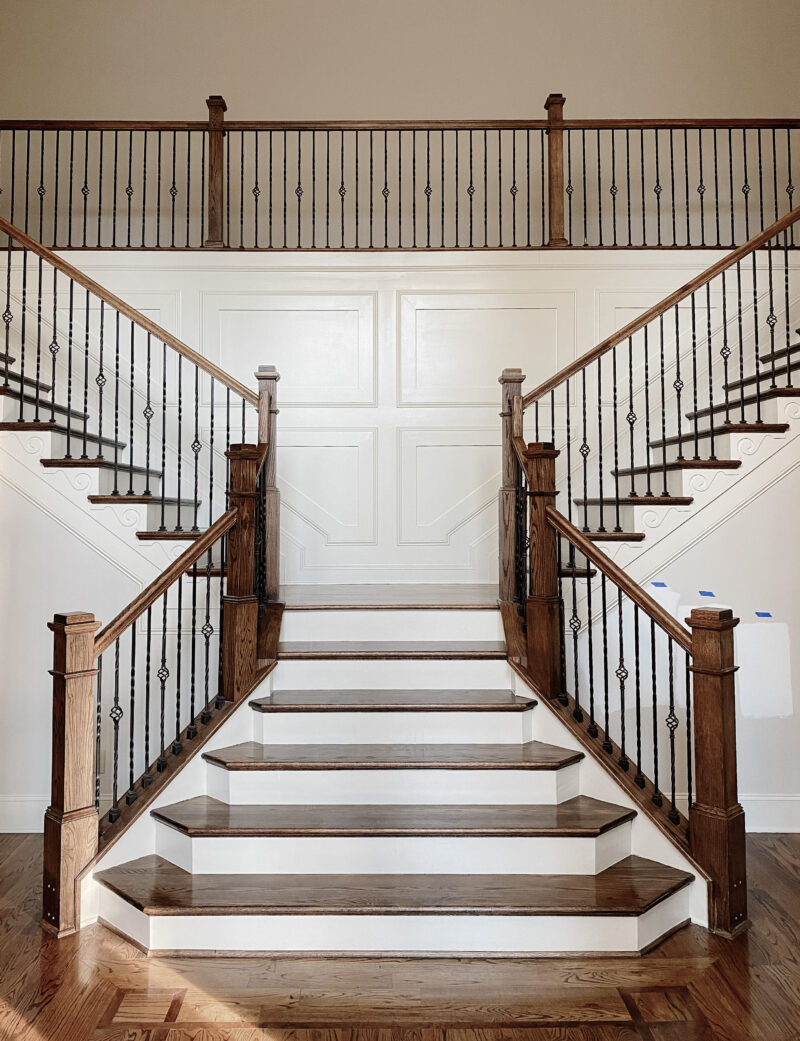 Welcome in. A statement staircase isn't for everyone, but our family fell in love with this one. There was just something about it. The first thing my daughter and I thought was how much fun we could have decorating it for Christmas. Can you picture it? I've been talking with my dear friend, Amy Huber, about a few changes we can make to better reflect our style. The wheels are turning.
THE MUSIC ROOM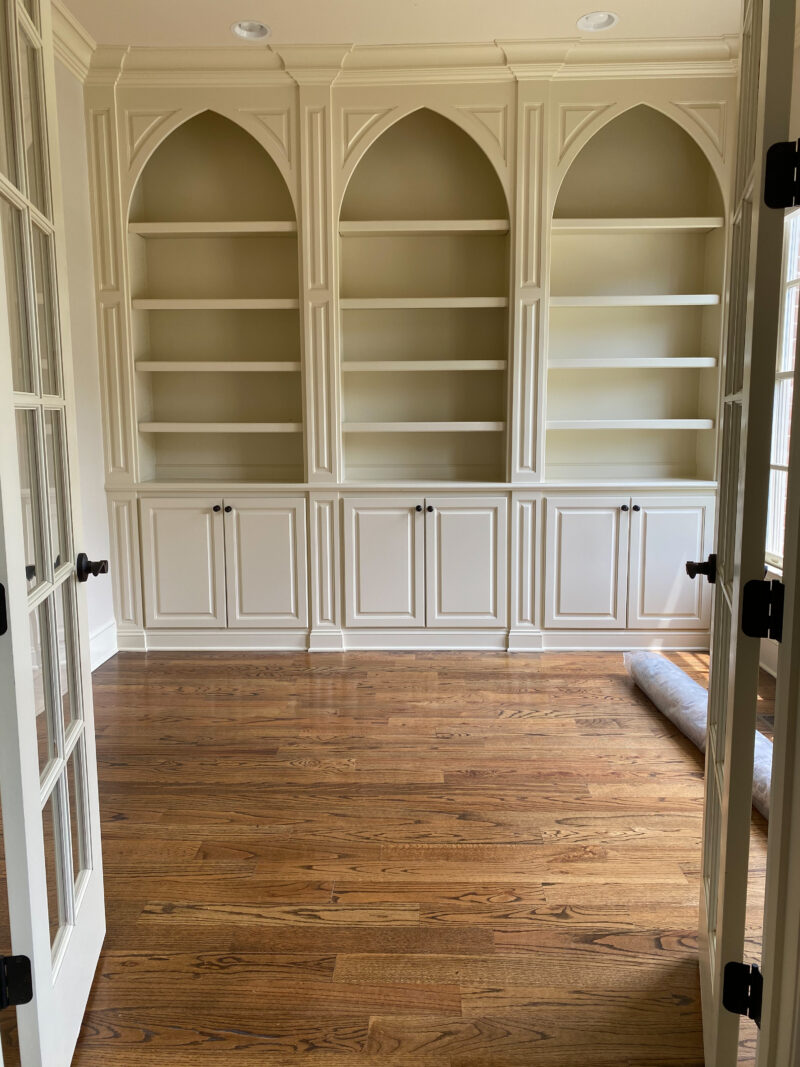 This office space is one of my favorite rooms in the house. It will actually be our music room and is the perfect spot for my parents' piano. My daughter loves playing so we will be looking for a piano teacher right away. I am picturing this space a dark, moody color. Because it has pretty French doors, I feel like I can do something more intense and bold in this space.
ENTRYWAY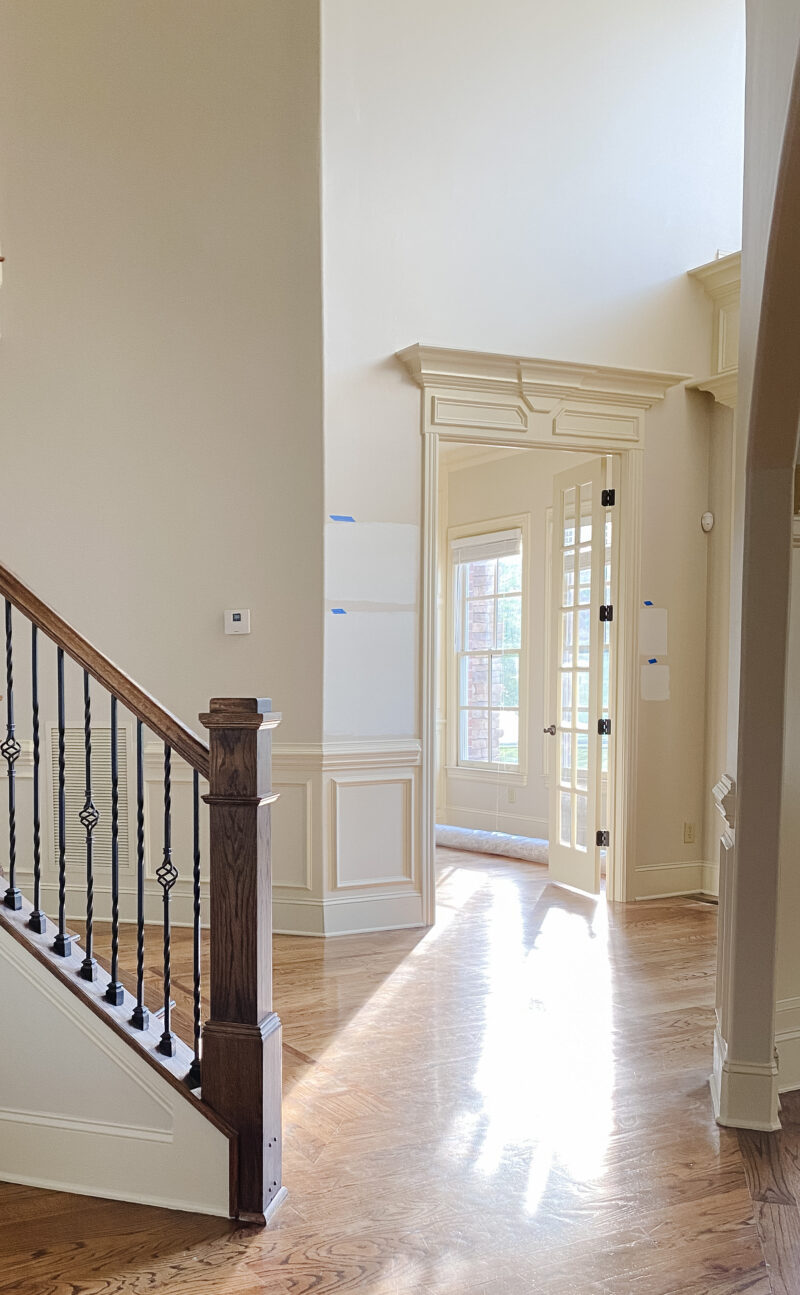 Here is a peek back at the music room. The house gets so much natural light which was high on our wishlist.
FORMAL DINING ROOM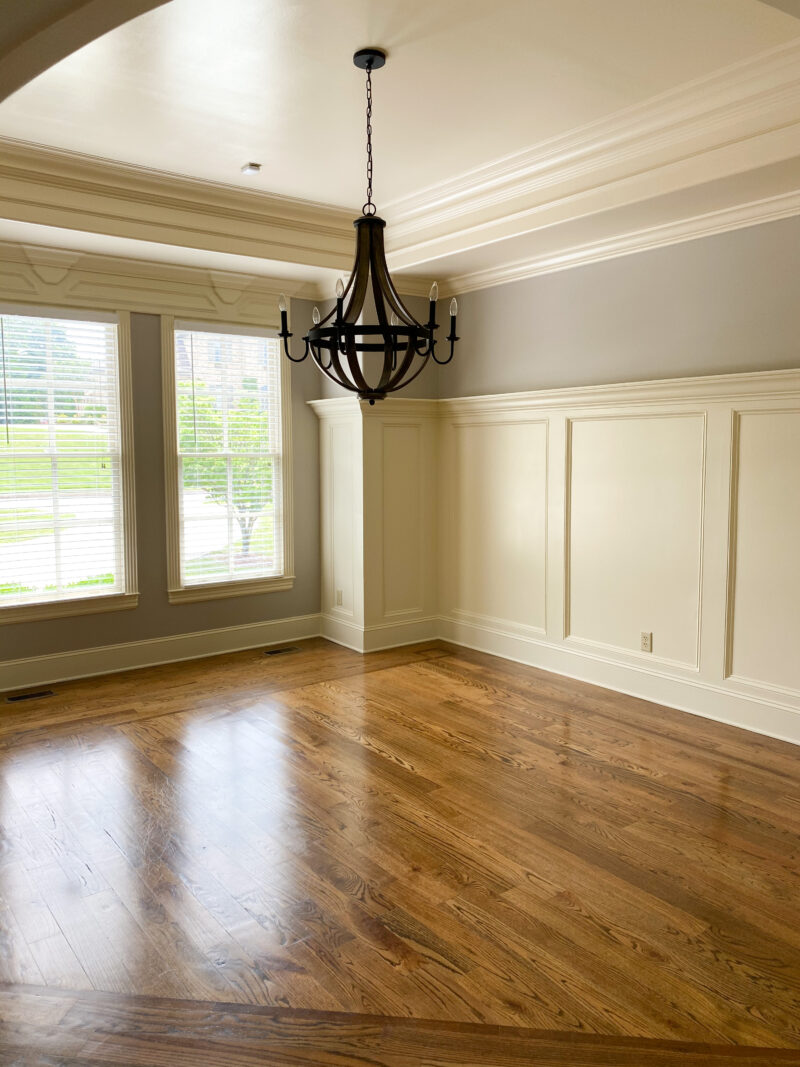 The formal dining room has beautiful millwork. We actually plan to make this more of a formal living room space. We found that we used our sitting room daily and it was nice having a room that faced the morning light. In fact we will be bringing our current living room furniture and sliding it right in here.
THE KITCHEN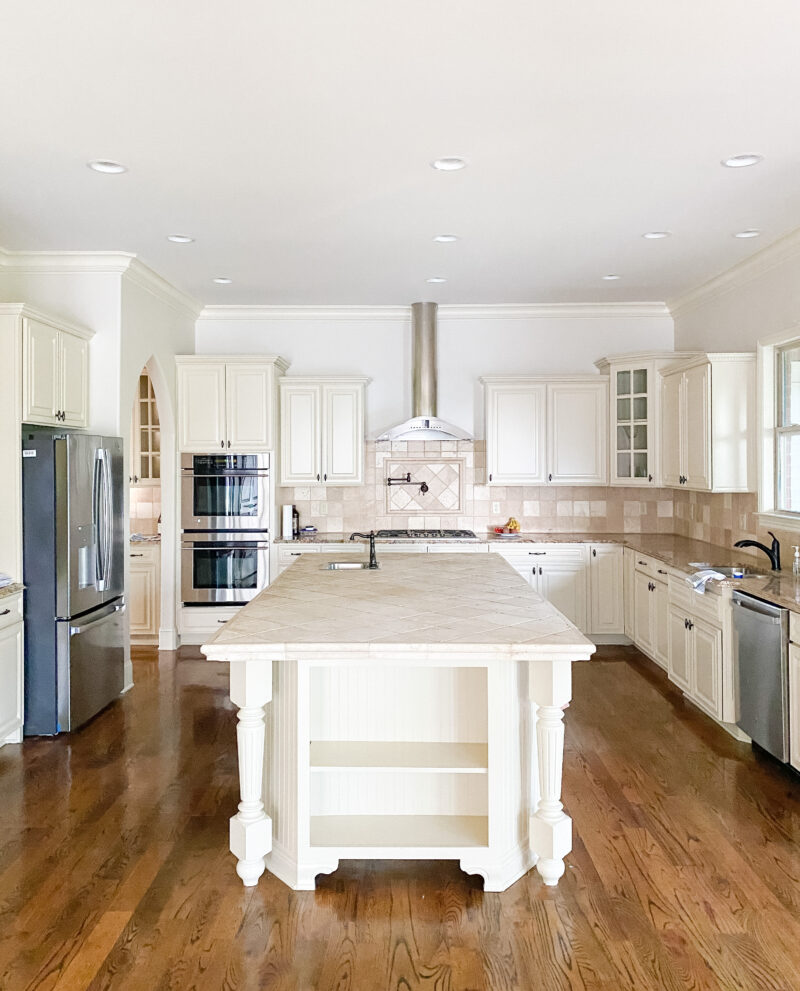 The kitchen is quite large and bright and I can already picture us cooking in here and gathering around the island. There is something about this space that is very reminiscent of my parents' kitchen and everyone in our family has mentioned that. It just feels good. We will definitely put our own spin on this and keep most of it in tact. I think it lends itself to the type of makeover we did in our previous home where we did a great deal with paint and new countertops.
*kitchen before and after in our CA home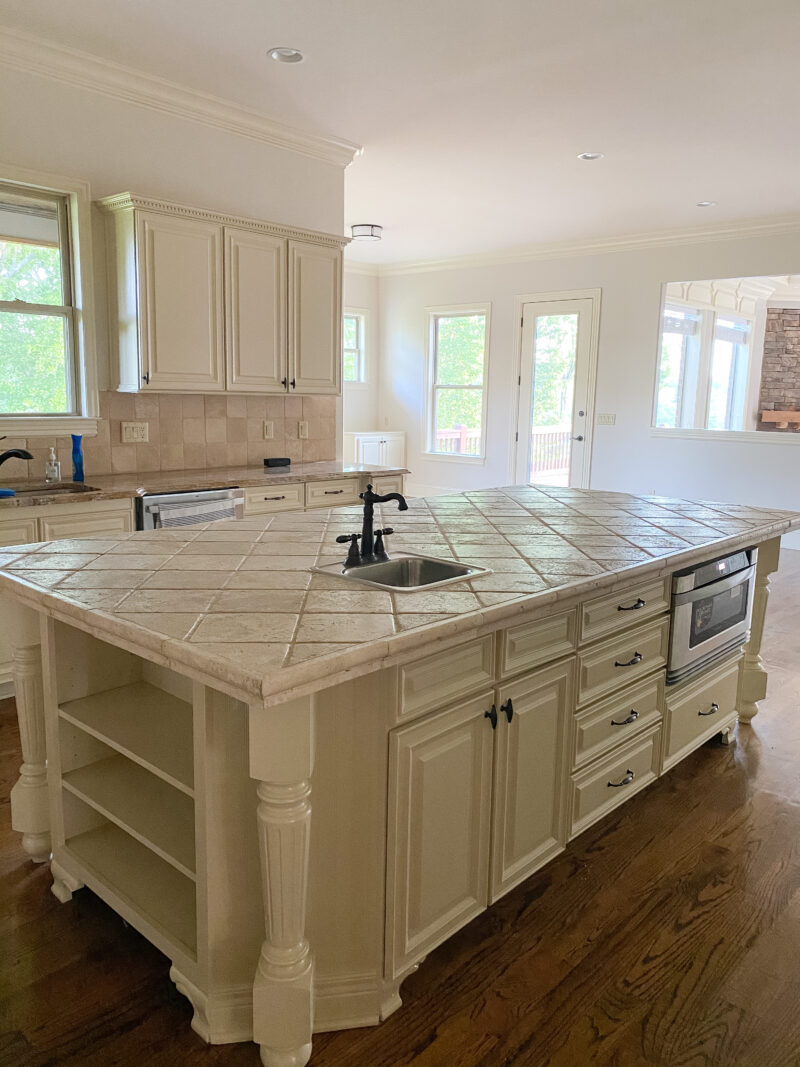 The back of the house looks out onto trees and is so peaceful. There is room for a very large table to the right of the island which is why we don't feel the need for a formal dining room. This is where we plan to host when we have people over.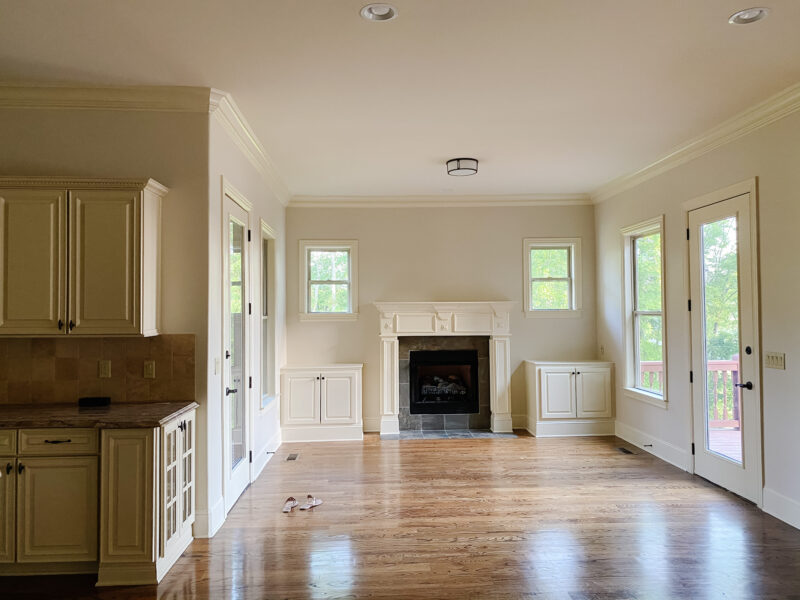 I've been told it's a very southern thing to have a gathering room off of the kitchen. Although stay tuned because I have something big planned for this space. And God bless my husband for putting up with my crazy ideas.
FAMILY ROOM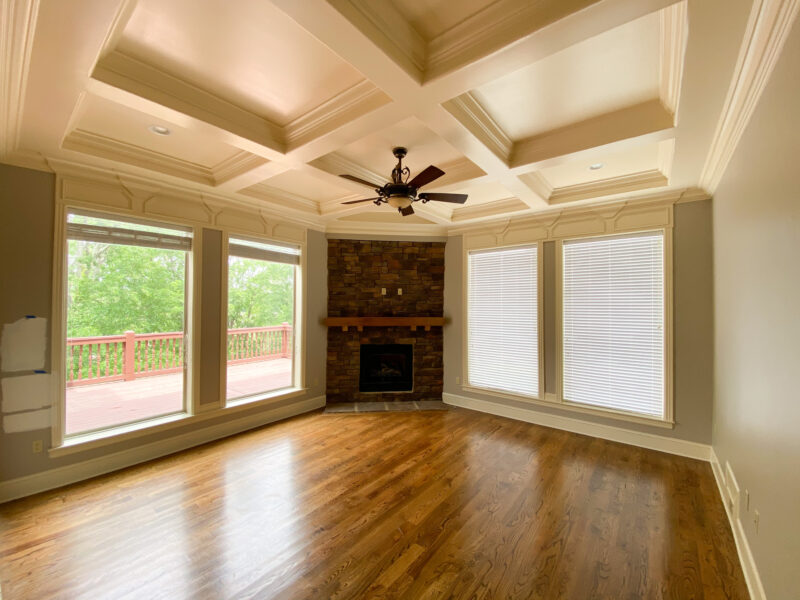 Snapped this one on a cloudy day, but you get the feel for the family room. It's the same size as our current one which means our sectional will fit. That's actually a huge relief as those are not inexpensive. The focal point is definitely the view. I love the ceiling and pretty millwork. The only bummer is that all of the gorgeous wood is painted a very dark cream throughout the house. It's a bit hard to tell from the photos. The diagonal fireplace is a tad funky but I am hoping I can make it all work with our furniture. That fireplace may get a DIY overhaul at some point, too.
TAKING IT ALL IN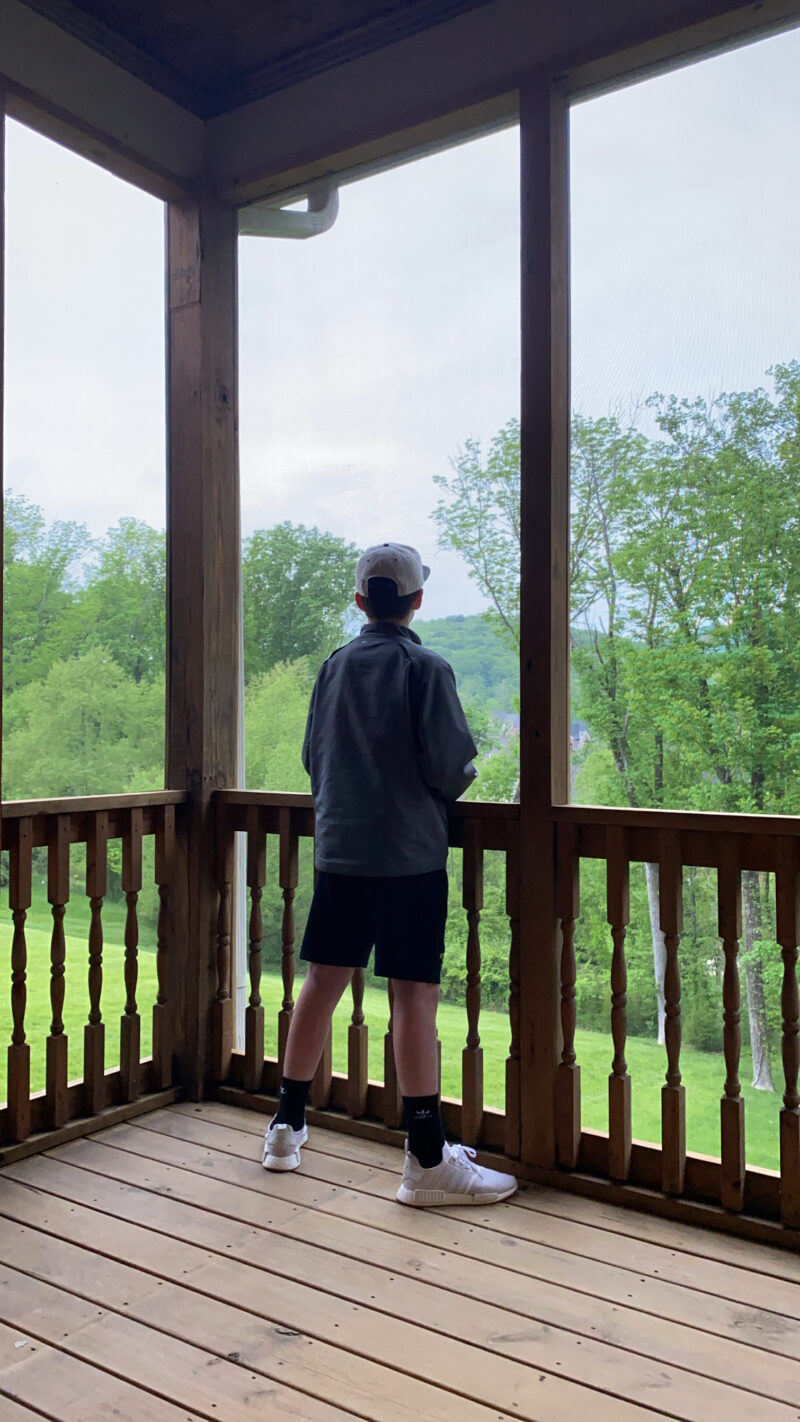 I loved spying this cutie just taking in the rainy day. I think this captures why we are calling it the Traditional Treehouse.
WHAT WE WERE LOOKING FOR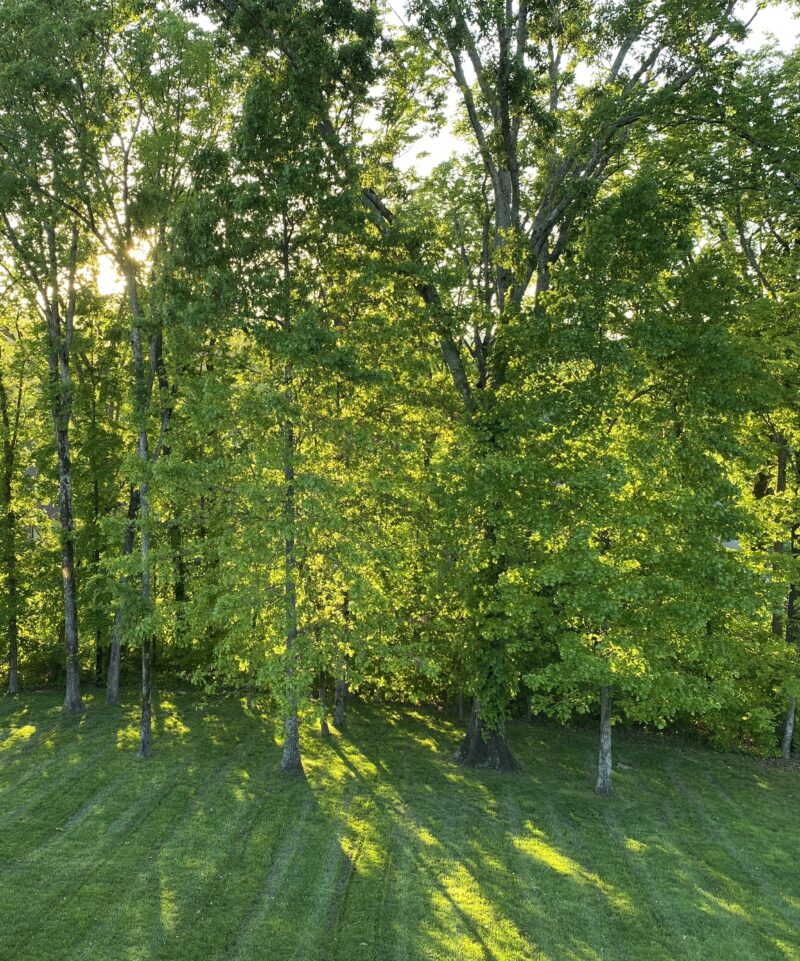 THINGS TO LOOK FOR
a great floor plan that works for your family and how you live
cosmetic changes – paint, light fixtures, flooring (they can transform a home)
natural light – how is the light in the morning? in the evening? what direction does it face?
the feel – how do you feel when you are in the home? Do you want to immediately stay?
Check out the neighborhood – drive around and chat with people. You can learn so much.
I think it's vital to factor in a budget for changes you want to make. Every time we looked at home, we did a rough estimate of what we thought it would take to make some of the big changes. We love a good DIY so we also factored in what things we could do ourselves.
We definitely wanted a home that allowed us to exhale. This view certainly does that. The house isn't without its projects and quirkiness, but we are embracing that and looking forward to making it our own. The unique features make it special. We also really wanted a traditional style home. We want our home to feel warm and inviting and we look forward to sharing the process with you. I'm sure there will be plenty of DIY projects in our future. We always look for homes that really just need a lot of cosmetic changes. First up is a lot of paint. If you're looking for a home, never under estimate the transformative nature of paint. It's mind boggling how much of difference it can make. We are giving the dark exterior a fresh look and painting the inside as well.
The first night we flew in as a family, we had booked a hotel because we had nothing but mattresses. The kids felt so at home at the new house that they begged us to cancel the hotel. I'll take that as a good sign. While the move still brings a myriad of challenges and nerves, especially for the children, we feel like this house is one step closer to getting everyone acclimated and settled.
And thank you to the previous owners for passing the baton. We love this house. We promise to fill the home with so much love and build memories for years to come. And to our friends and family, please start packing. The welcome mat will be out shortly.
If you missed why we chose to move, this is where you can get caught up on our next chapter.