Good morning, friends. How is the week going? I can't believe it's already Thursday. These weeks fly and I am not sure I like it. The plan today is to stay home and work on some organization projects. Hoping to make progress on our hall closet and getting things sorted under the kitchen sink. In style news, I have always been a lover of stripes and the tops that are coming out for Spring are just so cute. Sharing a mix of stripes and ruffles today.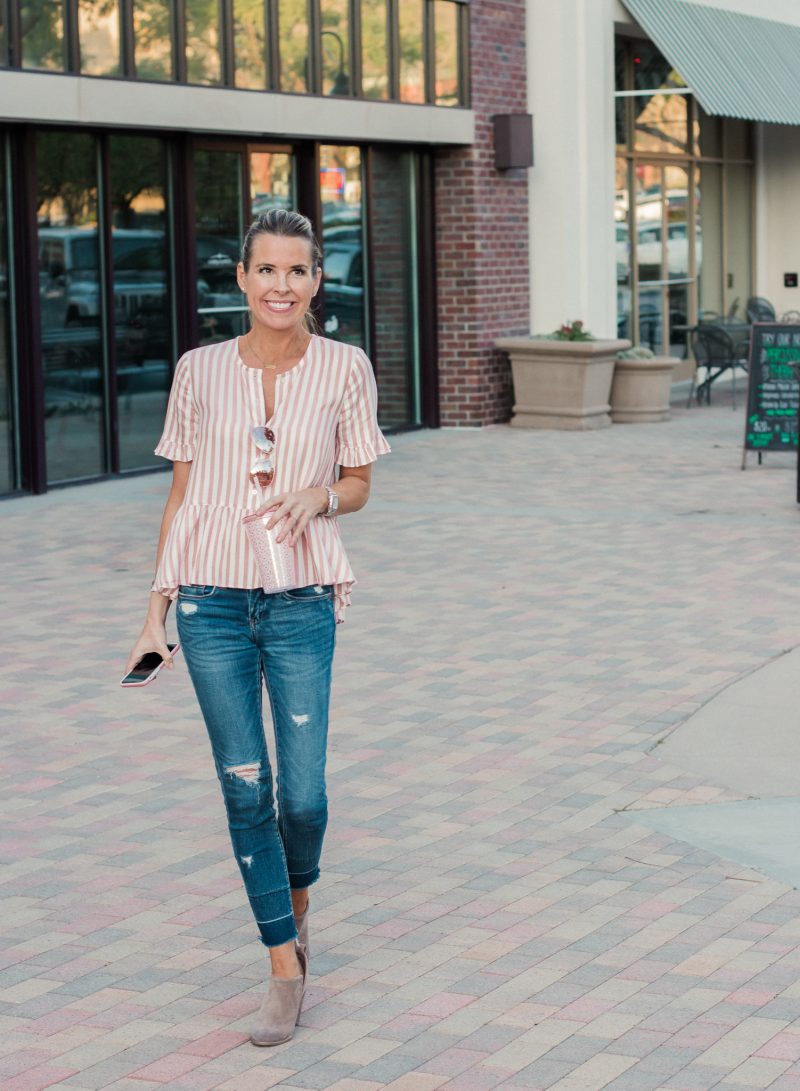 All the heart eyes for this striped top. While it's more than I normally spend on a top I absolutely love it and it drapes beautifully. I receive so many compliments on this one. It's just really well designed and the color is gorgeous. The ruffles around the sleeves and the bottom make it so feminine and sweet. And even better! It's on sale.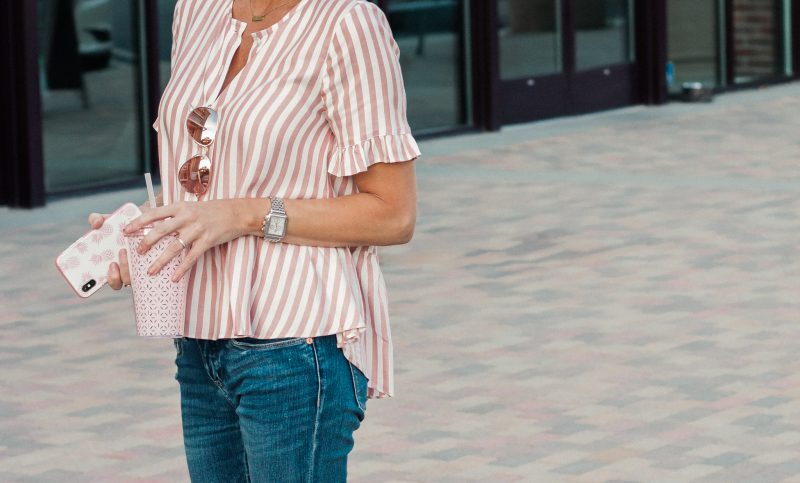 top | jeans  | sunglasses
Apparently this is the color I am gravitating towards lately because my cup, phone case (Target), sunglasses and top are all a blush color. Not planned at all. I really like the way the top hangs longer in the back.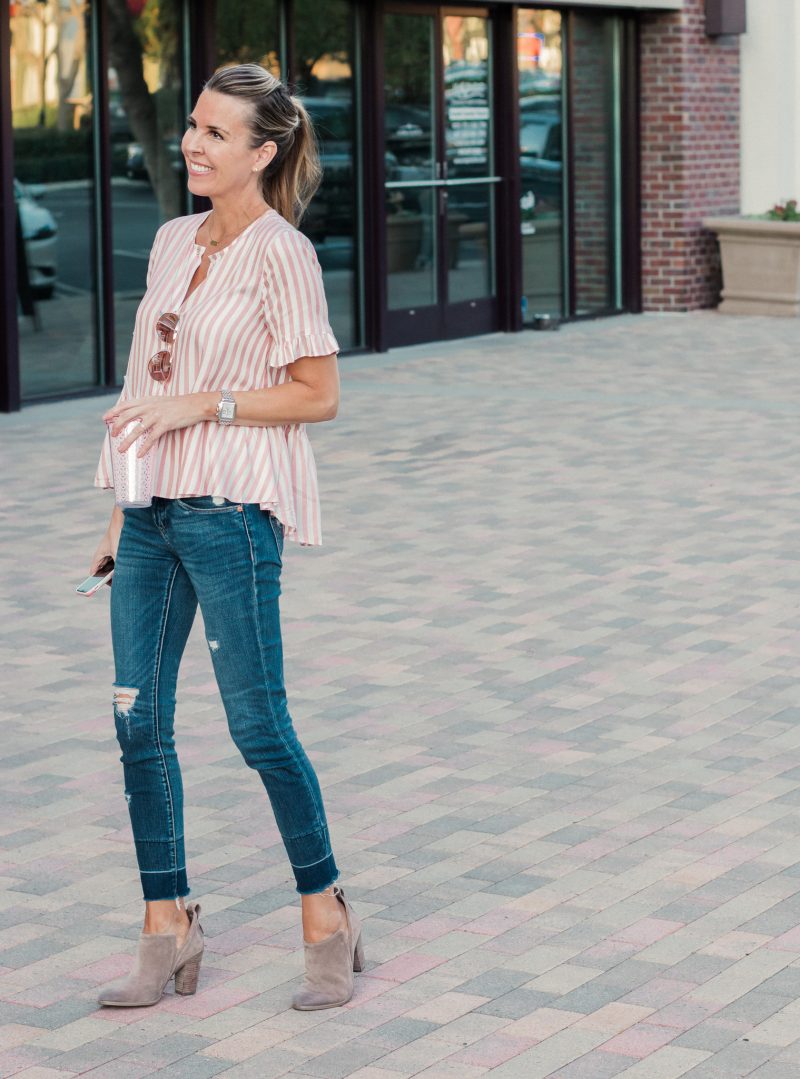 These jeans continue to be my favorite. They are soft and comfortable and they do not stretch out while wearing them during the day. Plus they are under $100 which is great. The double hem and slight distressing give them just enough interest. My booties in this color are sold out but these are similar.
IVORY AND BLACK
More stripes! More stripes! This is one of those tops that doesn't look great on a hanger but it is so cute on. Love the weight of it. Really nice quality. It's definitely a cream and black stripe and it really does make a great statement.
The sleeves sold me on this fun top. I am wearing a size small and it fits really well. The gold bangles are also a great buy or gift idea. I wear them every day. You can wear all six or just one at a time. I love that they are easy to toss on and add just a bit of glam to any outfit.
I have the top on the left. It comes in a few different patterns and is a GREAT top. It's one that I know I will wear over and over. It's a nice light weight and falls really well.  I don't have the ivory and black one but it's adorable.
CAMO & RUFFLES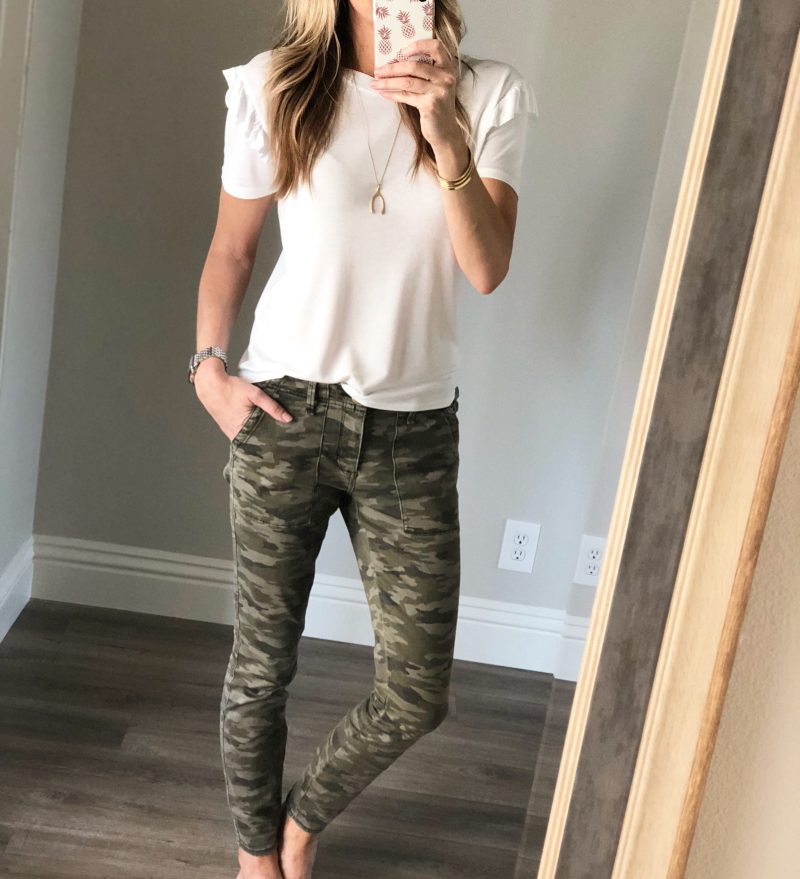 camp pants | similar top | wishbone necklace
Another look I really love is the way camo pairs with ruffles. I like the feminine/masculine mix. These pants are true to size and fit so well (I am 5'7″ and in a size 25).  I rounded up a mix of ruffled t-shirts that would all look great with the camo print.  camo joggersThese are also a fun way to mix in the print. So cute and comfy.

scroll through for more looks
Hope this gives you some fun ideas for Spring. I know most of you are buried in snow, but the sun will come out again! And it will be glorious.
Loved all of your feedback on the paint discussion. I am still trying to figure out what our trim color is so standby. If you missed the conversation you can get caught up here. 
Have a really great day. Off to organize. But first. More coffee! xo