What color should I paint my room? That is an age-old question and I think we can all agree that choosing paint colors for interiors can be a royal pain in the booty. Truly. I just put 14 samples on my bedroom wall. I speak from experience. So I thought it would be fun to start a series called, "Talking About Paint," in which I feature a certain color and how it might be able to work for you. I'm kicking off the series with one of my all time favorites, Pale Oak by Benjamin Moore.
BENJAMIN MOORE PALE OAK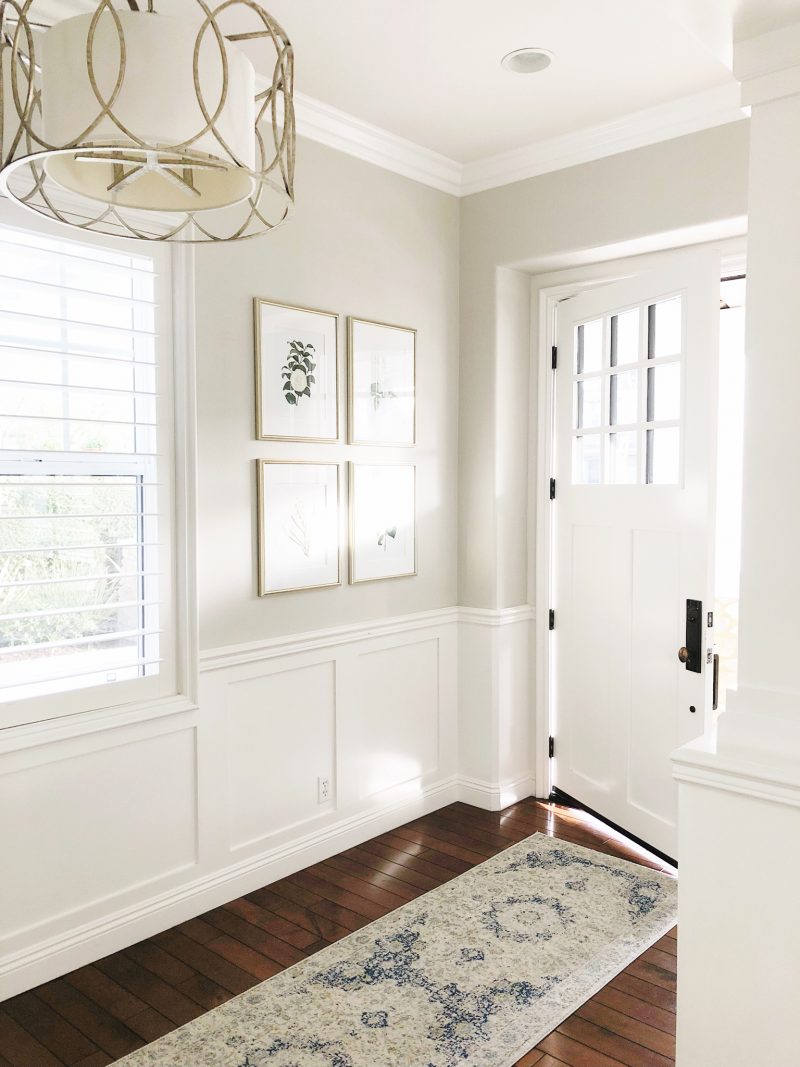 When we moved into our home, the walls were much darker. You can see the before pictures here. Part of why we fell in love with this home is all of the natural light. It get's flooded with it during most of the day and I've always dreamt of really light walls. Many of you have asked me how I chose Pale Oak so I thought I'd walk you through that.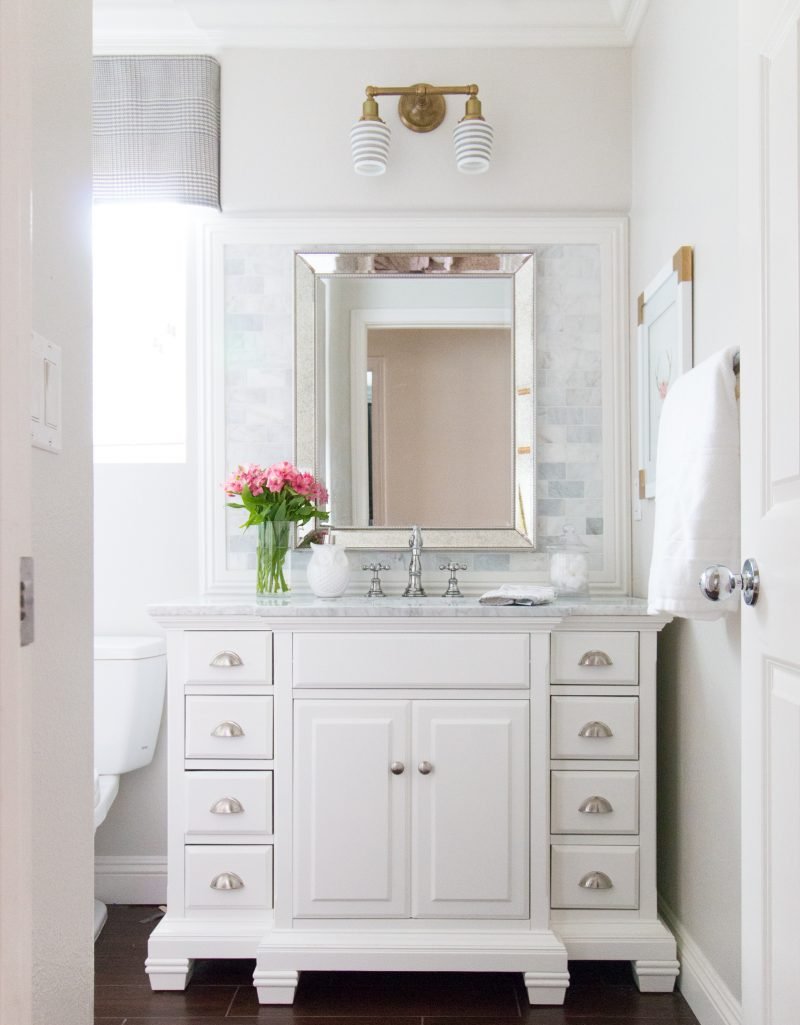 bathroom reveal | 10 questions to ask before a remodel | marble vs. quartz
I first used BM Pale Oak oc-20 in our previous primary bedroom and our children's bathroom remodel. I had used it in three client's homes prior to that and LOVED it. I knew when we moved into this house I wanted something neutral that read a very warm gray. I also knew I didn't want to go completely white.
While I absolutely love white walls, we have high ceilings with a great deal of white cabinetry and woodwork. I wanted the walls to read a bit warmer with Pale Oak but still accomplish a neutral color palette. I get asked all the time about the color. Is it gray? Is it beige? Is it white? Is it off-white? Yes. It's all of those. While it can appear beige in certain lights, I would call it a very warm pale gray. It does not tend to go on the cooler side. But much of how it looks depends on the light it reflects (more on that below).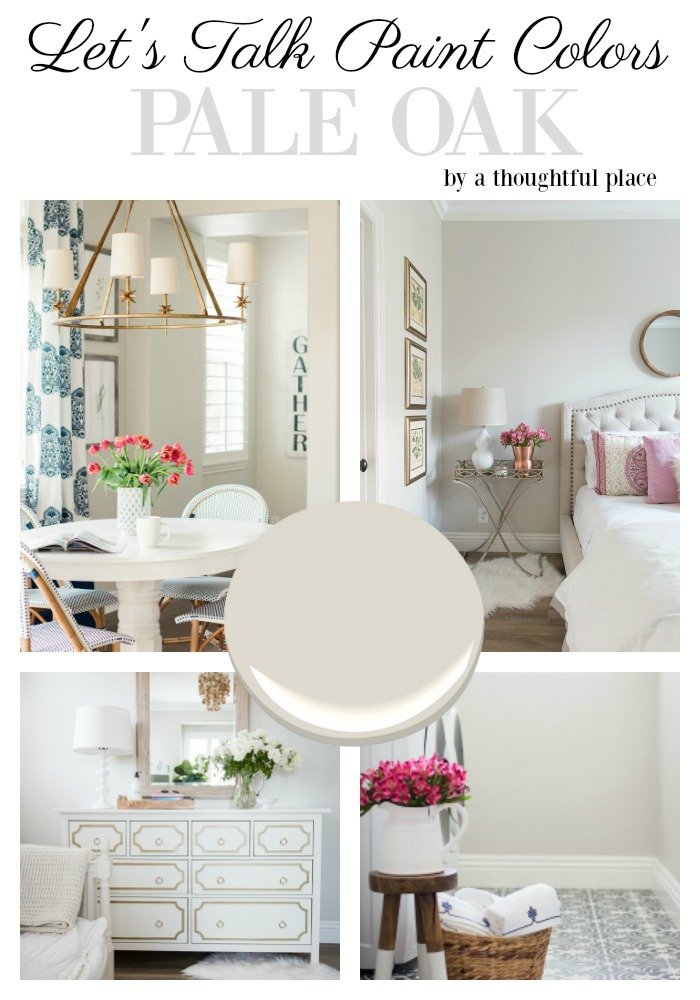 WARM NEUTRALS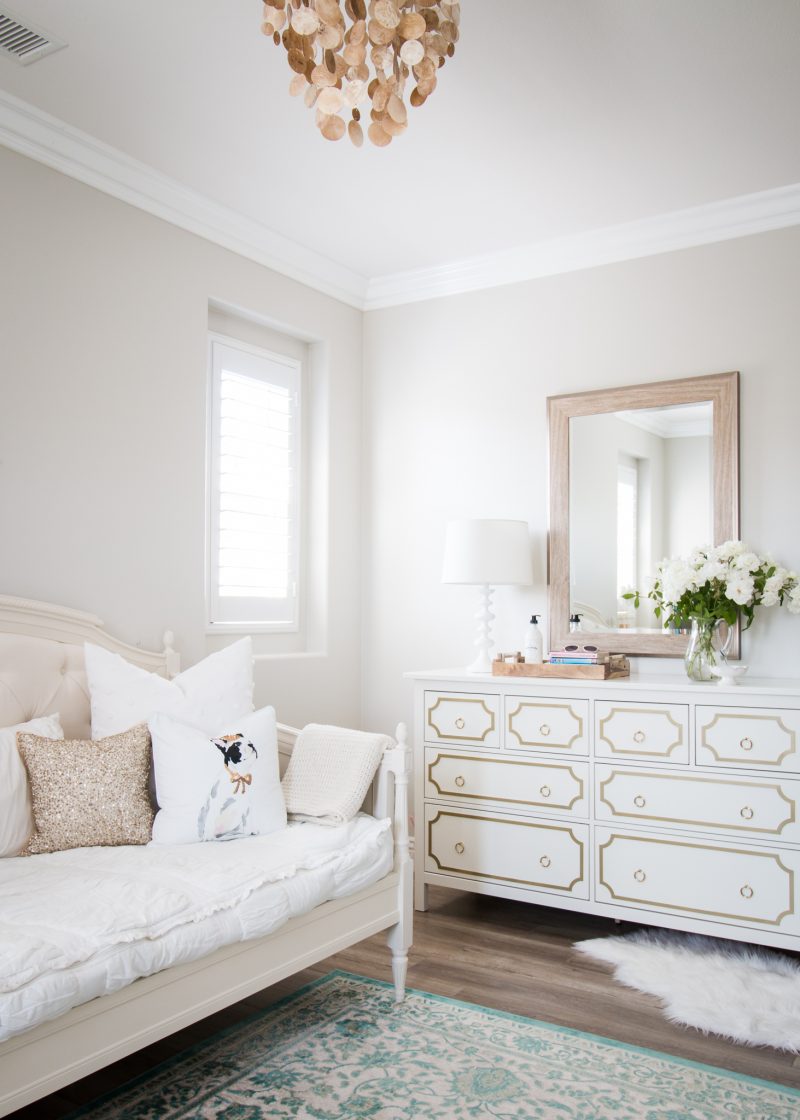 more of this room (and dresser makeover)
Here you can see the warmth that Pale Oak brings to a space. This room has less natural light and if you look to the left corner of the photo, you'll see it appears darker.
LIGHT REFLECTANCE VALUE
breakfast nook reveal | our home before we painted
If you have looked into paint you may have stumbled upon the LRV. The Light Reflectance Value is the why behind why you may be surprised that a freshly painted room looks lighter or darker than expected. It's actually something that should be talked about more often and is a complicated animal but each paint has an LRV number.
Pale Oak comes in right about 70. White being on the end at 100 and black at 0. The higher the LRV, the more light it will reflect. You see the true color of paint when it is reflecting light. Having said that, you can paint two different rooms in your home the same exact color, but depending on the amount of light it receives, it will reflect differently. That is why some walls in our home look like a darker gray and in others it looks quite light. It's not editing differences, it's due to how much light the walls are reflecting.
If you have a particularly dark room, even the lightest LRV white paint may not brighten it up as much as you think because light is necessary to reflect off of it to show its true color. If you have a room that has huge windows opening up to a green space and use a paint with a high LRV, chances are you will see a hint of green reflected back. So an undertone may actually be a result of the surrounding colors.
Why do I mention this? It's crucial to paint samples on ALL OF YOUR WALLS. No matter what, walls will look different due to the amount of light reflecting off the paint so you want to be sure you like each shade you see.
GREIGE PAINT COLOR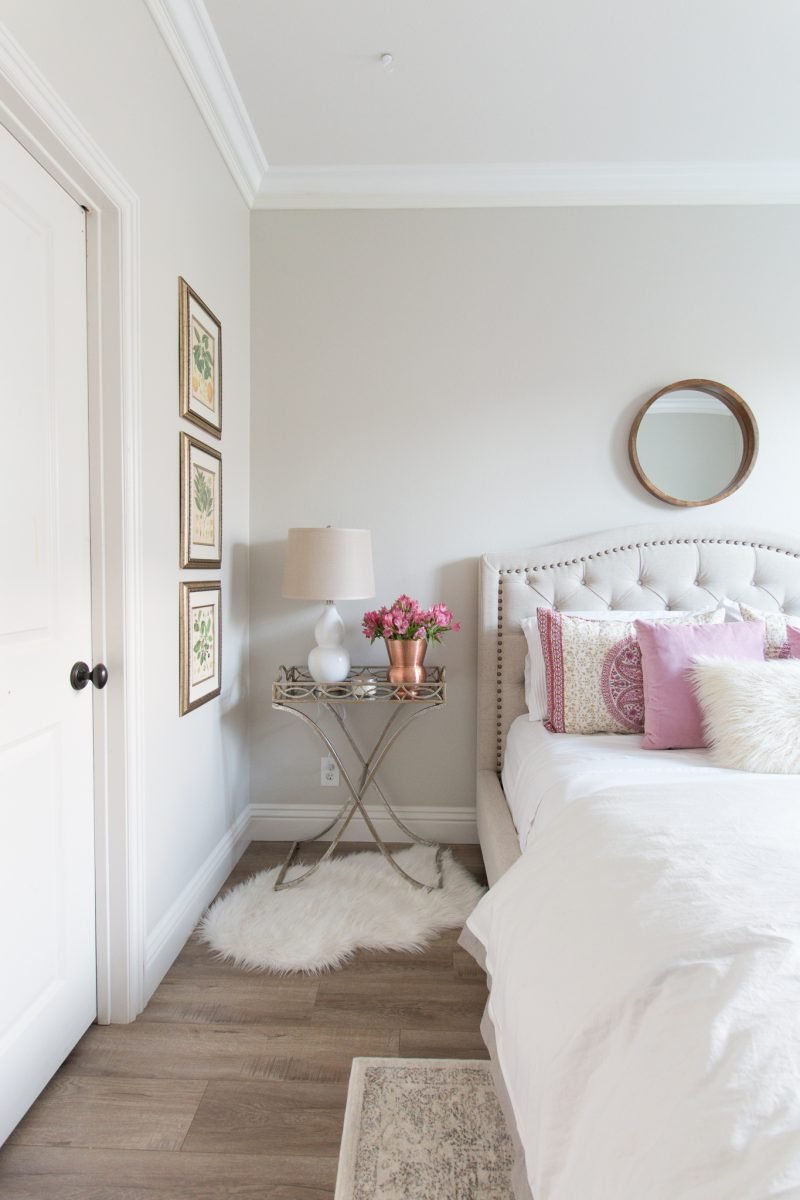 We gravitated towards Benjamin Moore Pale Oak because of its tendency to read greige. It's warm and subtle and really pretty.
BLANK CANVAS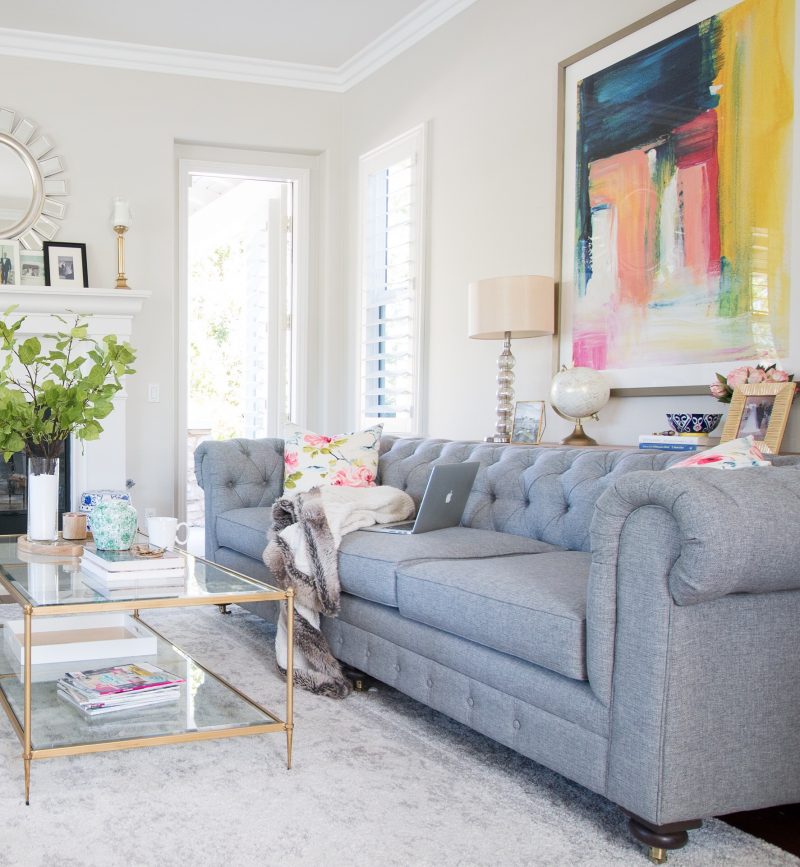 One of the main reasons I love a soft neutral color is because you can infuse any color you're currently loving in your decor. Keeping the big pieces neutral allows you to swap out colors according to season or give the room a quick update.
WHAT IS A SIMILAR PAINT COLOR TO PALE OAK?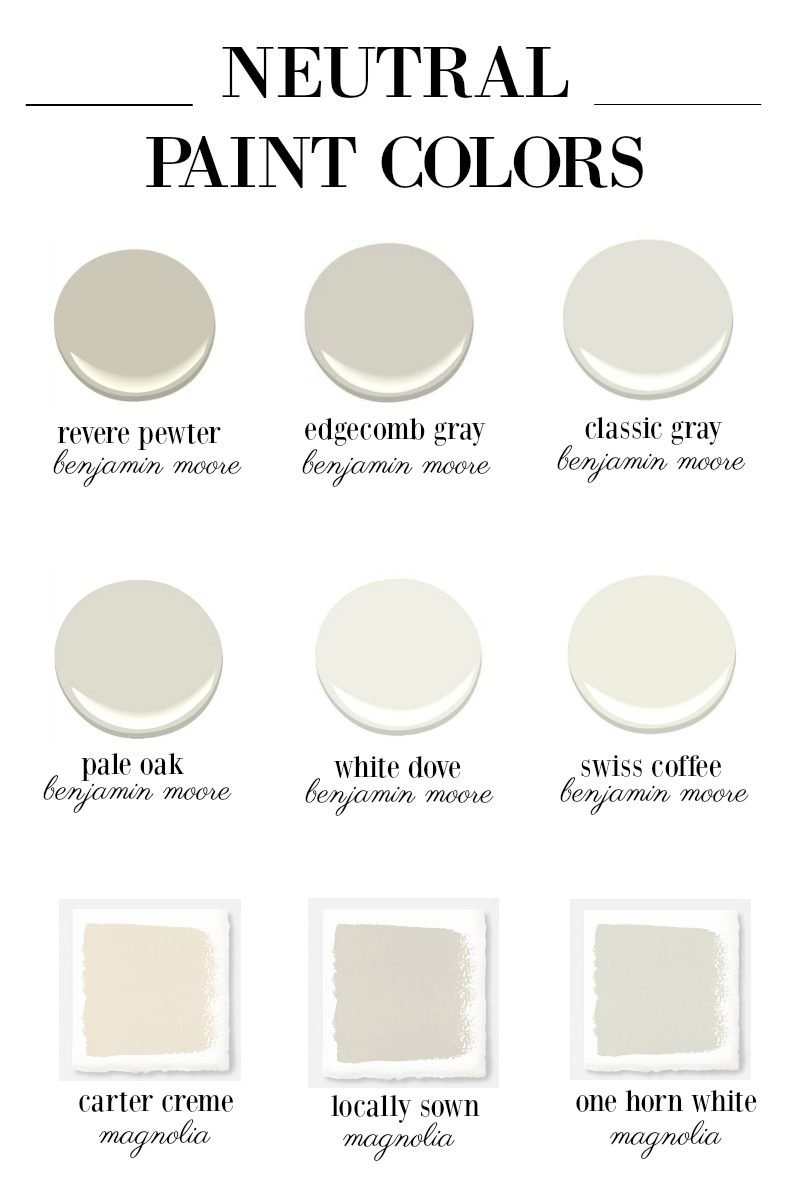 I created this reference for you because these are all great paints to sample if you are looking to lighten things up. It's important to note that colors can read differently in all homes and all rooms. Be sure to try out the paint on enough of your walls and watch how it changes throughout the day. You want to love your paint morning, noon and night. The Magnolia line is the latest from Chip and Joanna and available online. I love both Edgecomb Gray and Revere Pewter.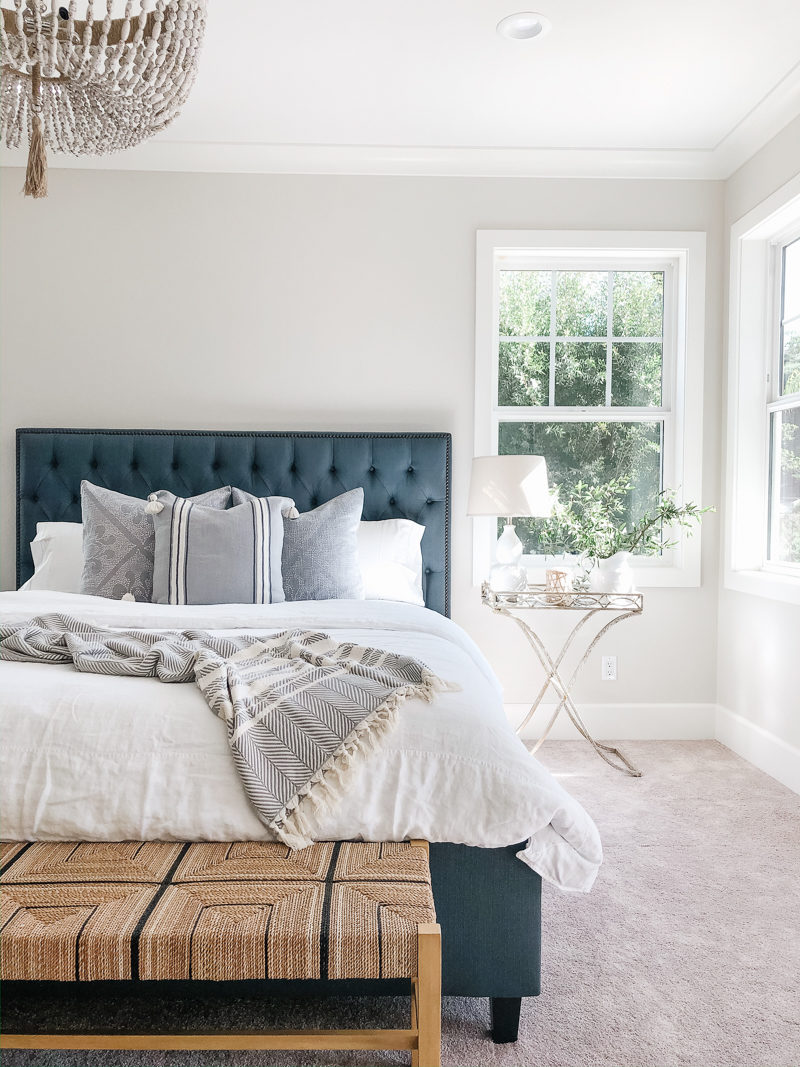 Another example of this neutral paint color in a master bedroom. Pale Oak is definitely soothing and I especially love it in rooms that have a lot of natural light. Definitely a versatile neutral paint color.
Home Finds

UPDATE: Unfortunately, I do not know our trim color. It was the existing trim color when we moved in and we still can't seem to figure it out. When we do, I will share. I do, however, recommend going with White Dove by Benjamin Moore.
Hope this helps as you navigate a new color. There is nothing better than a simple paint transformation.