The other night, our neighbors invited our family over for dinner. We were so happy to receive the invitation and I let her know I would bring dessert. With the weather being warm I was hoping for something kid friendly and refreshing. I thought back to the trifle my mom used to make but put my own spin on it. This Sweet & Simple Strawberry Trifle won't take you anytime at all and will be gone in minutes.
TRIFLE IN A JAR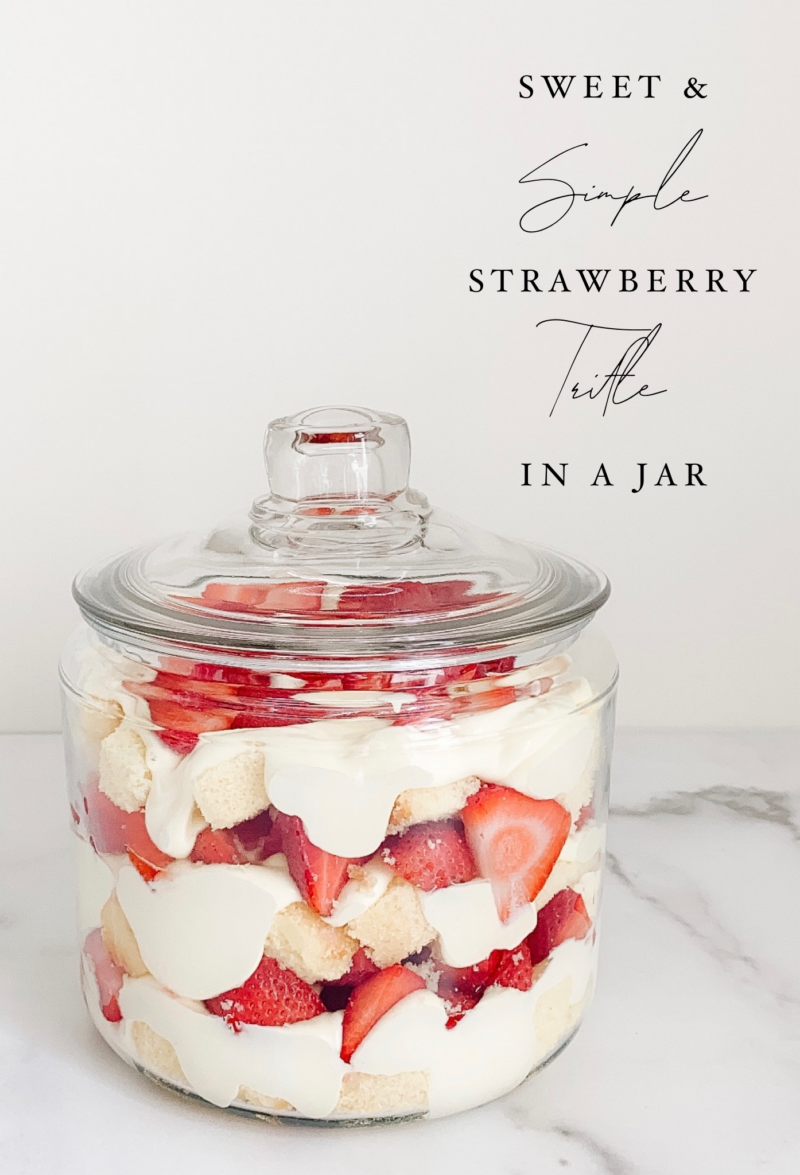 The jar idea was actually born of desperation. My daughter and I walked all over the mall trying to find a proper trifle dish but with no luck. All of a sudden it dawned on me that this jar would work great. I use these for flour and sugar but have yet to fill them up since the move. It's the perfect size and easy to transport. If you were headed to a housewarming party, it might be fun to gift the jar with a pretty note tied around the lid. Truly the sky is the limit with this layered dessert so you could use any fresh fruit you like. Peaches would be wonderful this time of year.
SIMPLE INGREDIENTS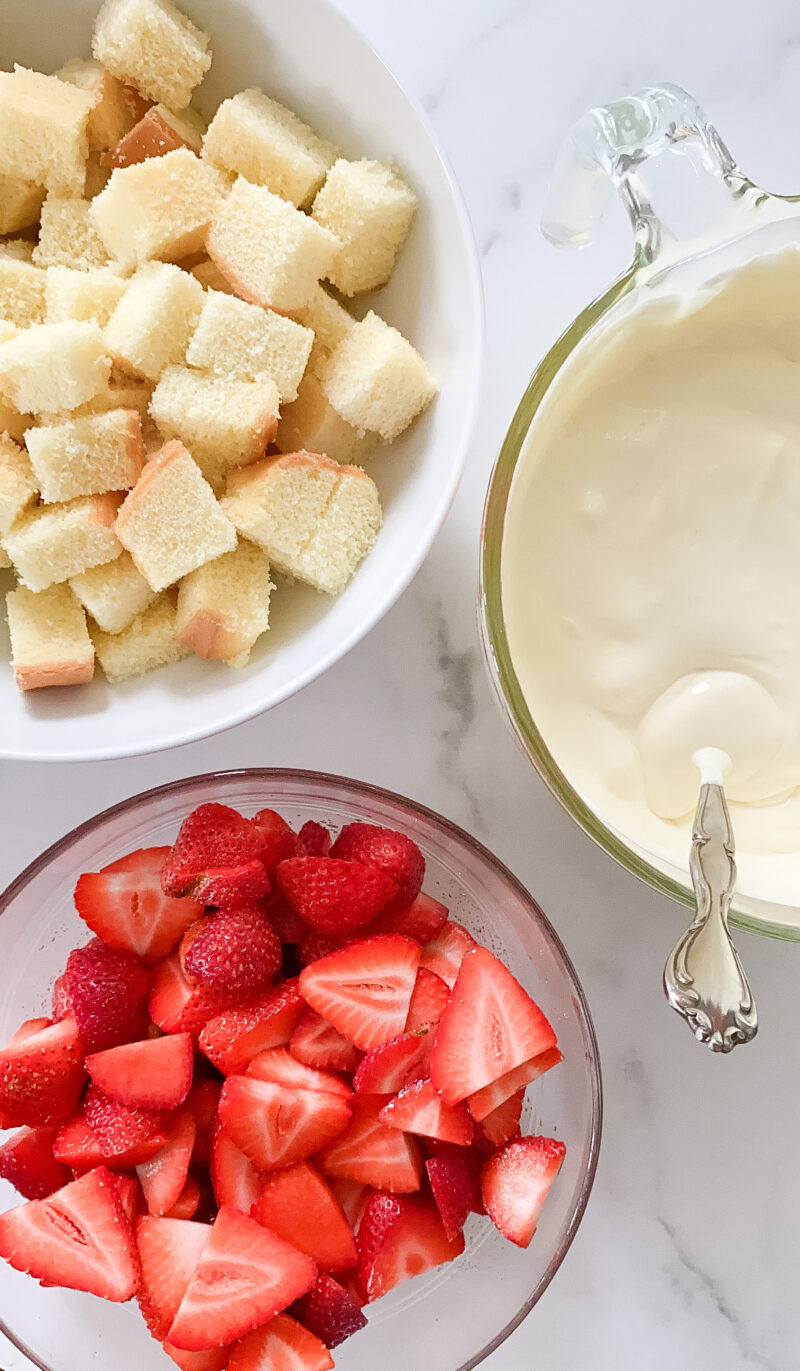 With this type of dessert you can go all out and make the pound cake and whip cream from scratch or stick to store bought. Both versions are delicious. Just be sure to start 3-4 hours prior to your party so the trifle has time to chill in the fridge prior to serving.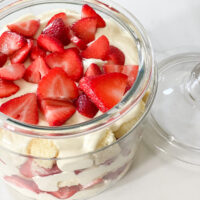 Sweet & Simple Strawberry Trifle
Ingredients
1

16 oz

pound cake

12-16 oz will work

1

package

cool whip

2

lbs

fresh strawberries sliced

2

tbsp

sugar

1

package

instant vanilla pudding mix (6.5 servings)
Instructions
Cut the pound cake into small squares. Set aside in a bowl.

Slice the strawberries, place in a bowl and stir in 2 Tbsp of sugar. Cover and place in the refrigerator for at least 30 minutes. Macerating the strawberries will draw out their sweetness and soften them. To create even more syrup on them, add more sugar.

Thaw the cool whip on the counter for 30-45 minutes.

Make the pudding. Once the cool whip has thawed, stir it into your pudding. Place in the fridge until ready to assemble.

Layer pound cake, pudding mixture and berries into a 3 quart jar. Repeat three times.

Keep in the fridge until ready to serve. Ideally serve within 3-4 hours.
Recipe Notes
You can absolutely make your own whip cream and pound cake. Anything goes with this. 
LAYER IT UP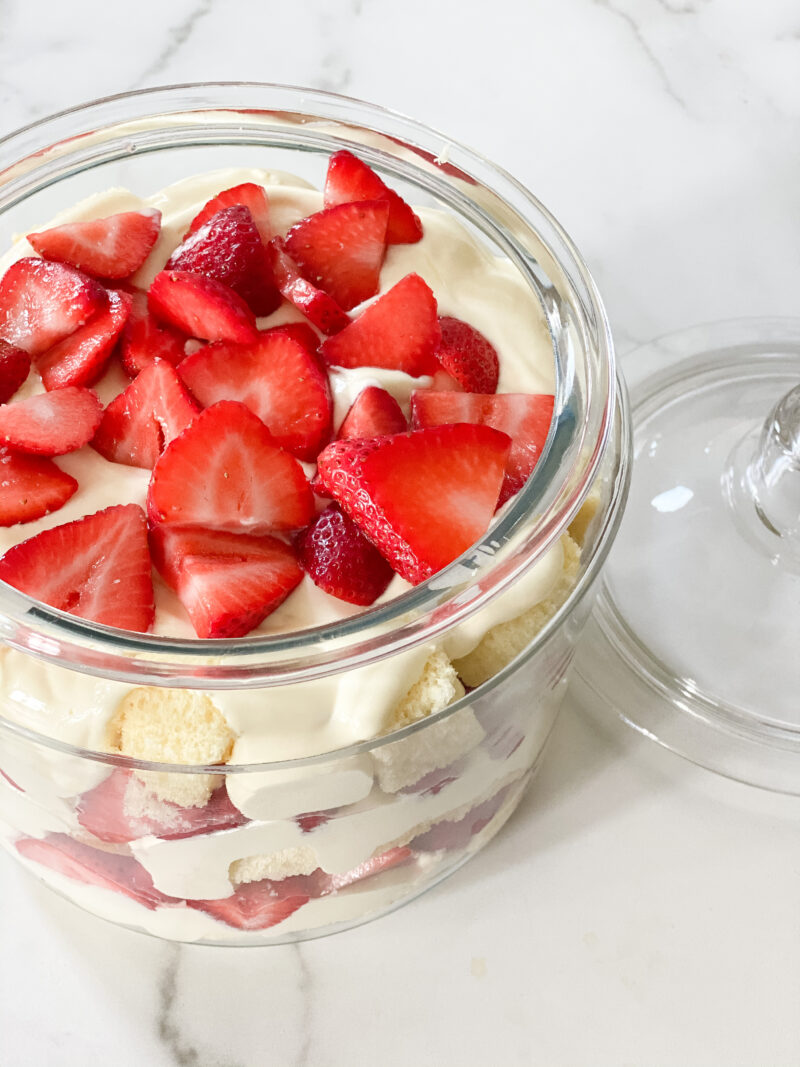 The fun part is layering everything in the jar. Add pound cake, pudding mixture, and strawberries (in that order) and repeat. Also great to get the kids involved. If you macerate the berries, they will create their own syrup and be much softer. Delicious!
This age old trifle recipe can be reinvented with any type of fruit. If you macerate the berries in liquor it takes it to a whole new level. I bought my 3 quart jar here but have also found them on Amazon (a tad larger). I hope that is helpful.
We had the best evening with our neighbors. So fun getting to know such a genuine crew. And the dessert was gone in minutes. If you are craving chocolate, these homemade peanut butter cups will knock your socks off.