Good morning. I've been getting a lot of questions about our paint colors in the new house and I am happy to share. Prior to moving in, we had both the interior and exterior painted (more on that outside soon). As soon as I saw the house, I knew the feeling I wanted it to have. Fresh paint is one of the easiest ways to infuse your own style in a home. While things are still very much a work in progress, I rounded up a few spaces so you can see the paint colors we chose.
FAMILY ROOM BEFORE AND AFTER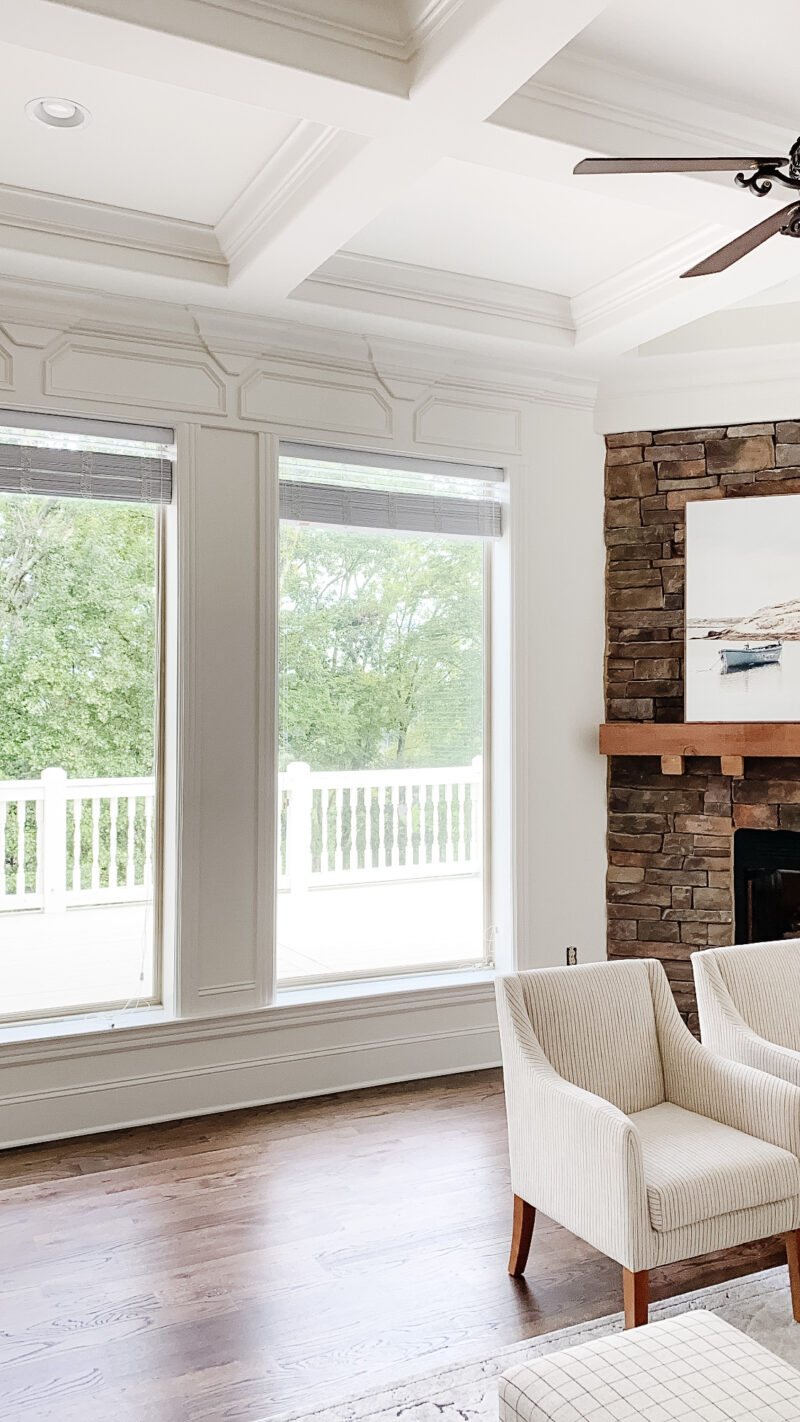 The interior walls and trim are painted Alabaster by Sherwin Williams. It's a warm white that works well in this house. There is no shortage of natural light and the large windows create a really light and bright space. The home also has beautiful woodwork and I have always liked the look of one color on both the trim and walls.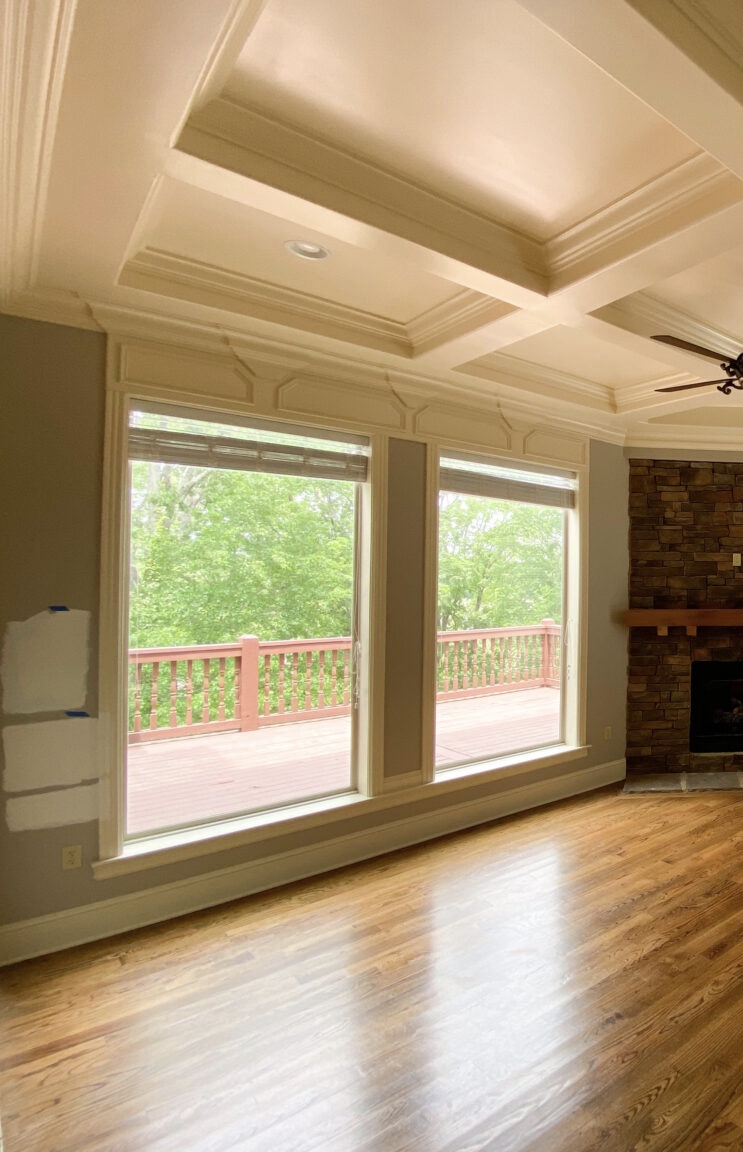 This is a look back at where we started. You can see more of the house here. It was a rainy day when I snapped this so it does appear darker. The trim throughout the home was a creamy/yellow. While really pretty, it just wasn't what I had in mind. You may also notice the floors look different. We felt strongly about keeping the existing floors as the wood is really beautiful. We did have them sanded and refinished. With all white walls, I knew I could bring in a richness and warmth with a dark walnut stain. It also eliminated the orange tone and gloss in the floors. We had the floors treated with a special coating on top that makes them more durable.
FOYER BEFORE AND AFTER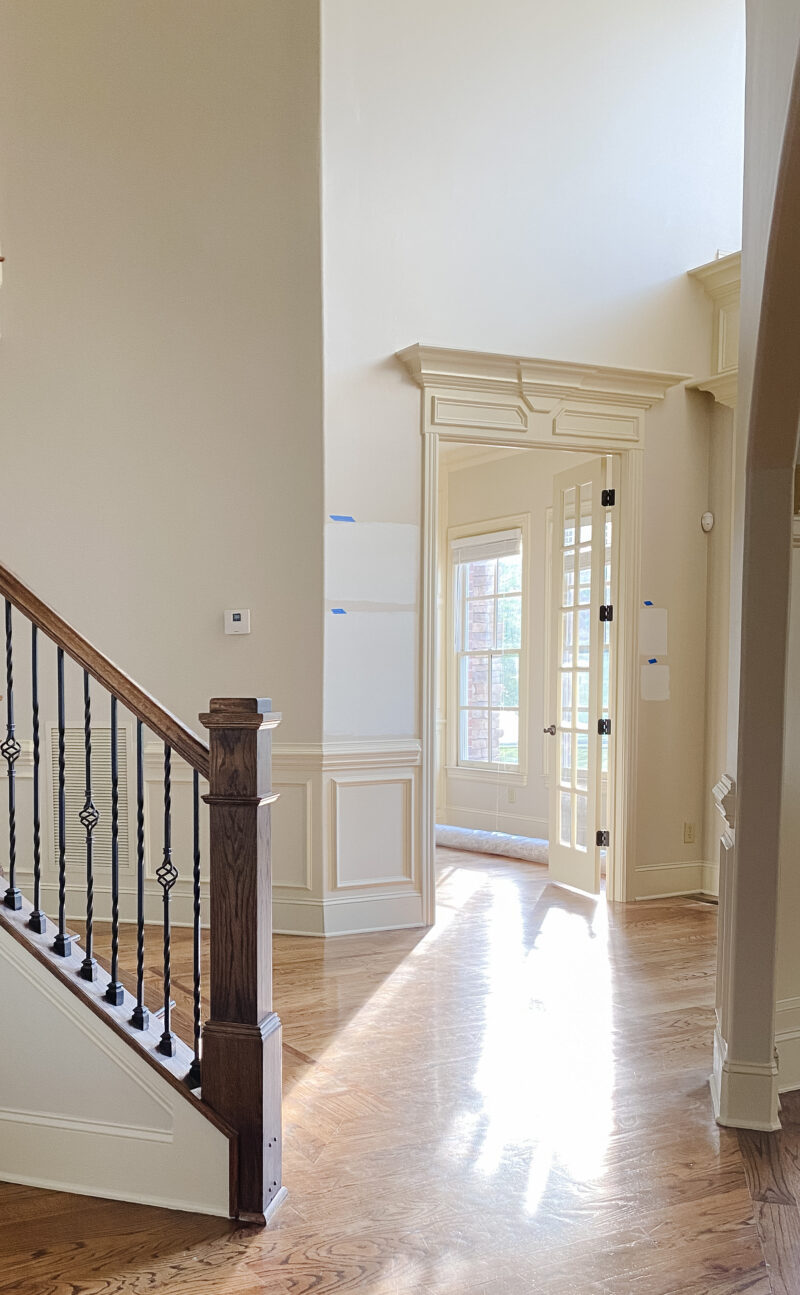 Here is a look at the foyer before. The creamy trim is actually really pretty but almost impossible for me to decorate around given our design choices. Our furniture and decor needed white walls. I tried a ton of white paint swatches and it finally came down to White Dove and Alabaster. Ultimately everyone in our family agreed Alabaster was the winner for this home.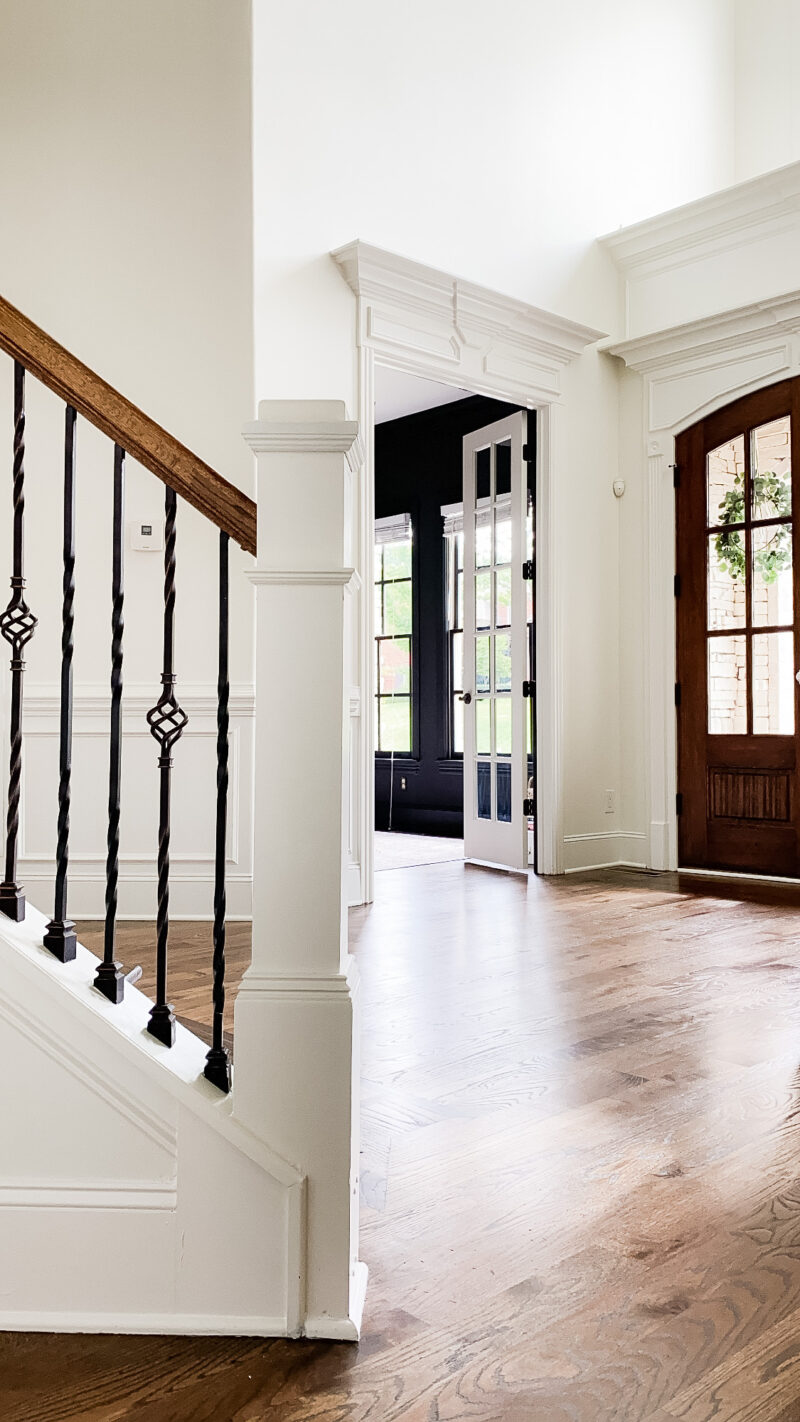 Here is the same shot and a peek into the moody music room. We chose Iron Ore for that space. These are the wreaths we have on our front door.
THE MOODY MUSIC ROOM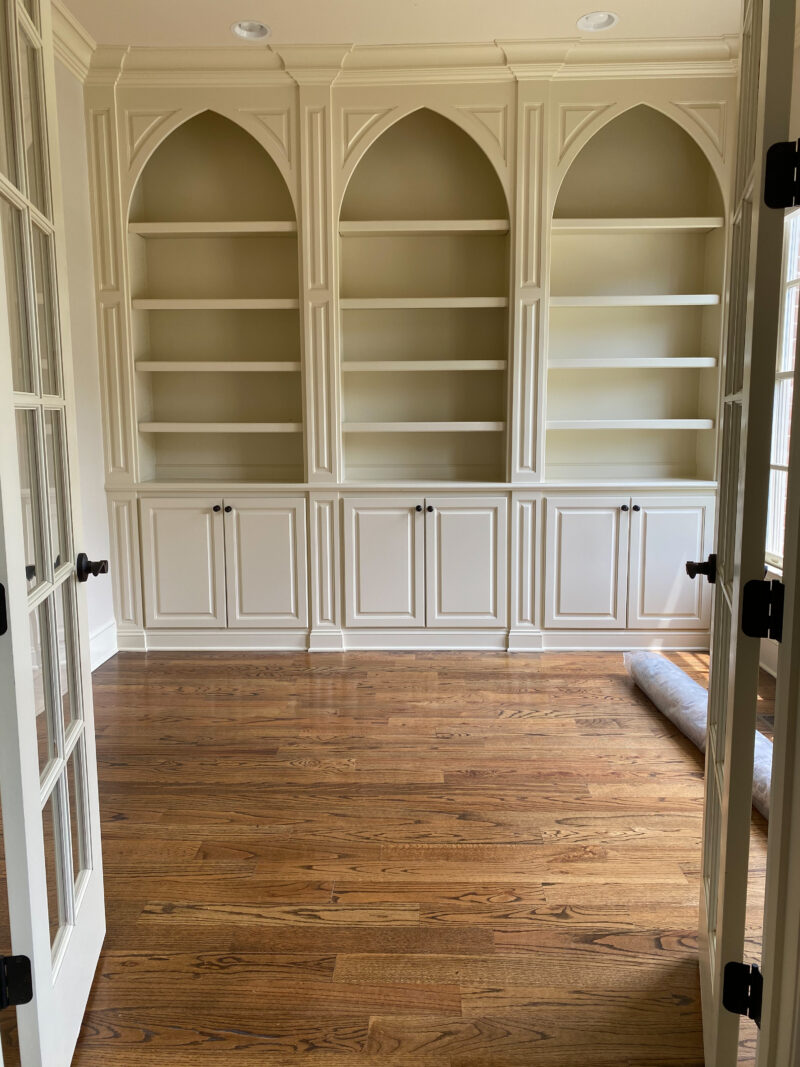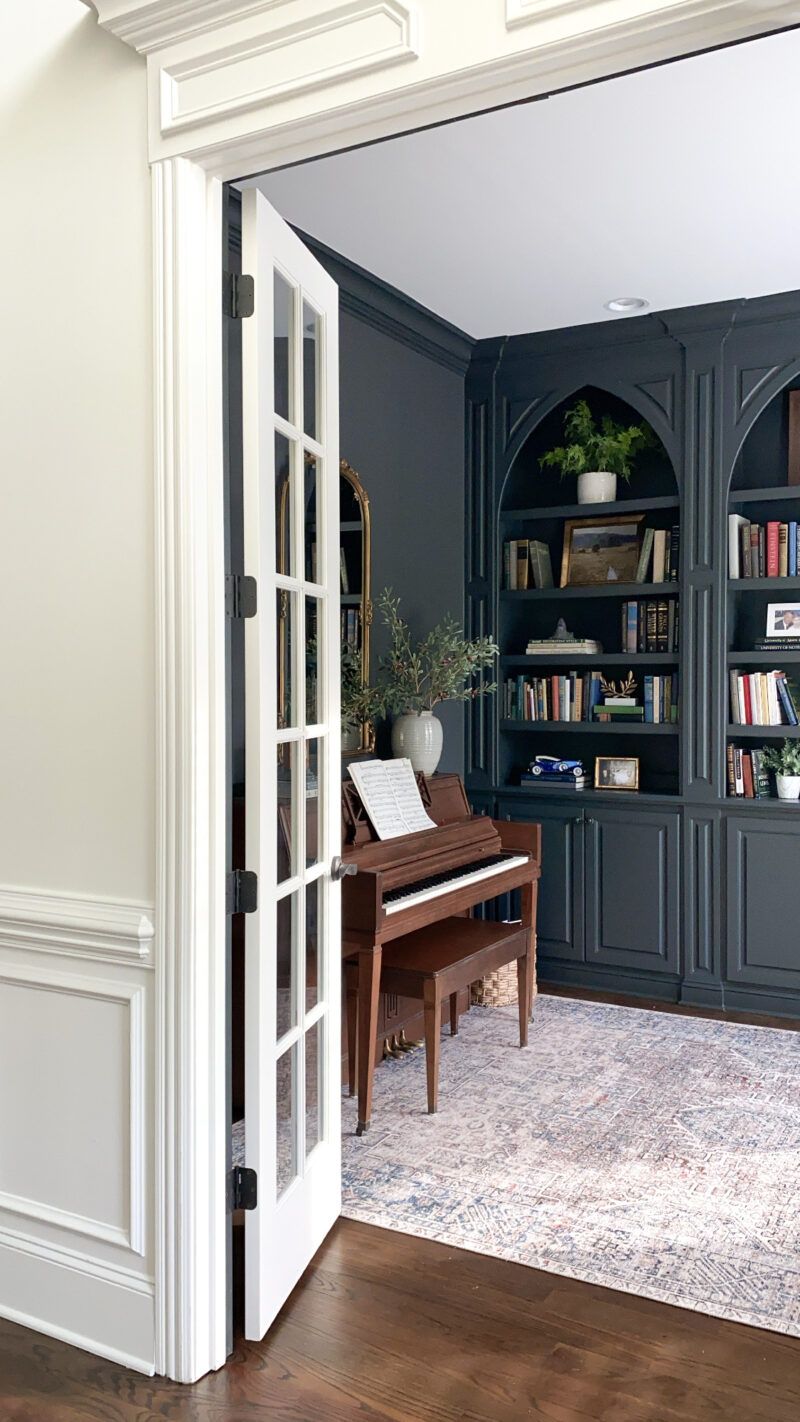 This is my favorite room in the house right now. I love the way the built ins turned out with Iron Ore (Sherwin Williams). My daughter and I had so much fun styling these shelves together. We must have gone up and down the ladder one million times but laughed the entire time. She has a great eye and I so appreciated her help. These shelves are filled with books, photographs and mementos that remind us of family. The icing on the cake is hearing Riley play the piano. My favorite sound. Our rug can be found here.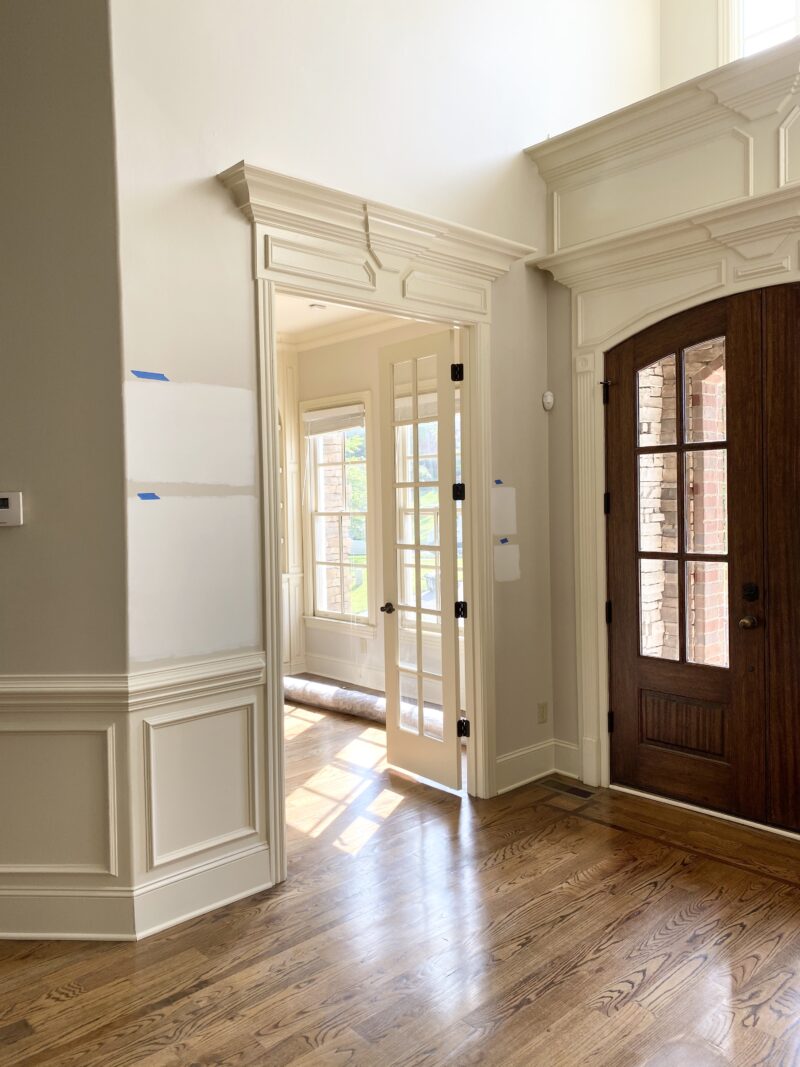 WHAT SHEEN DID YOU USE?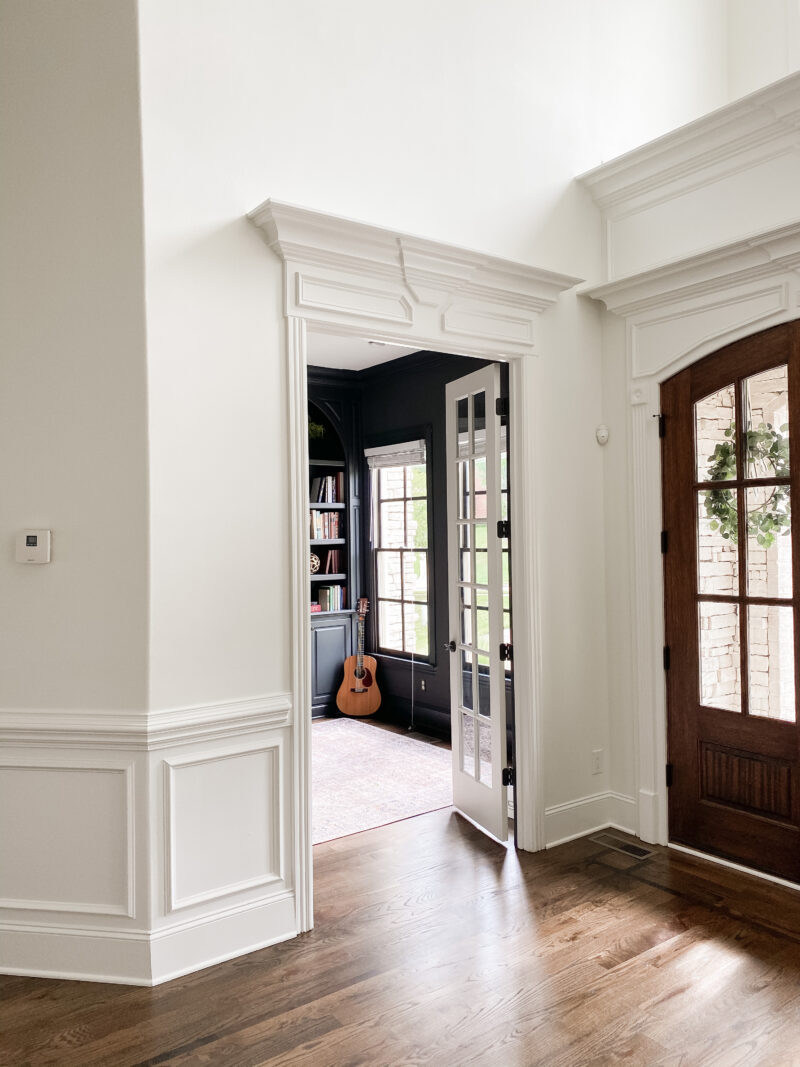 The walls are matte and the trim is satin. When you use different sheens they will reflect the light differently.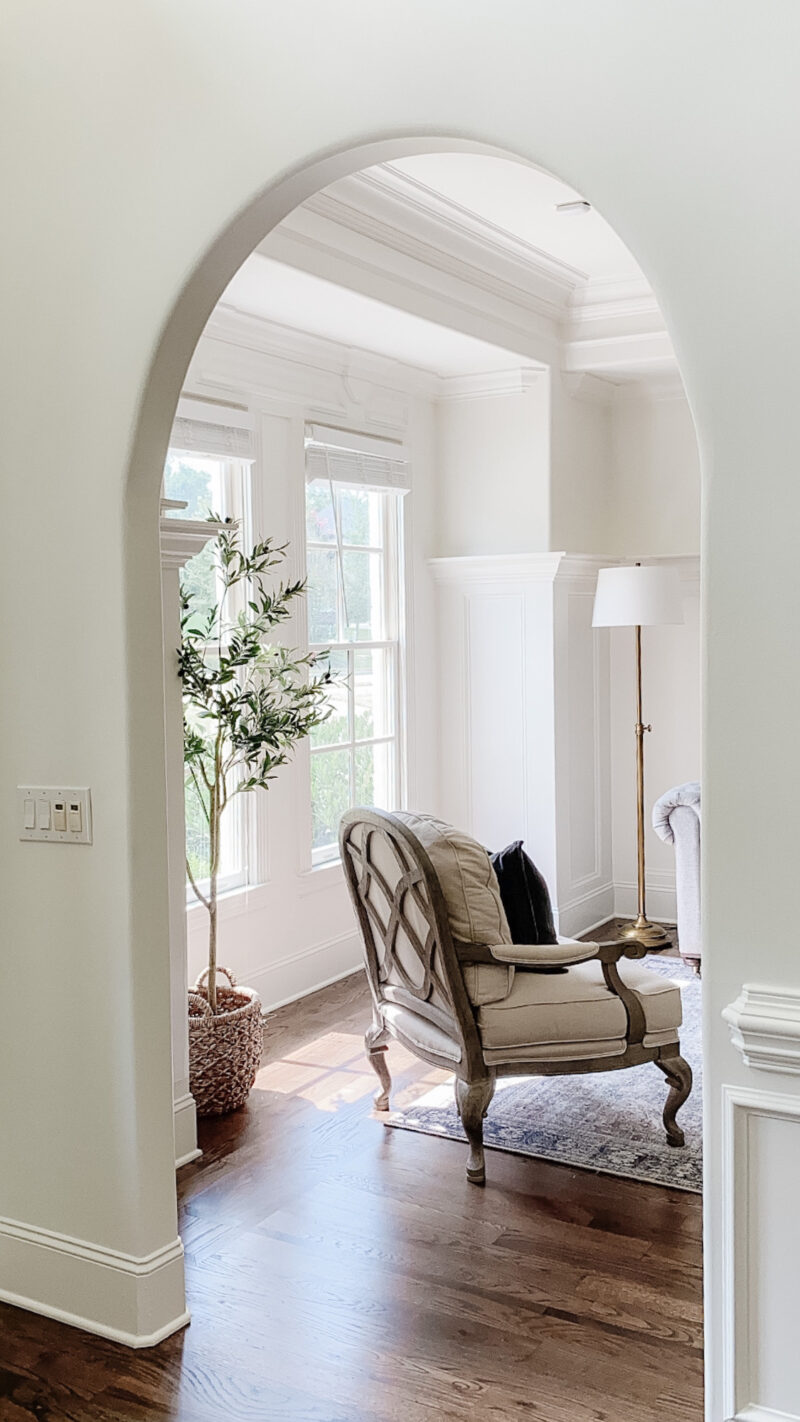 BEFORE AND AFTER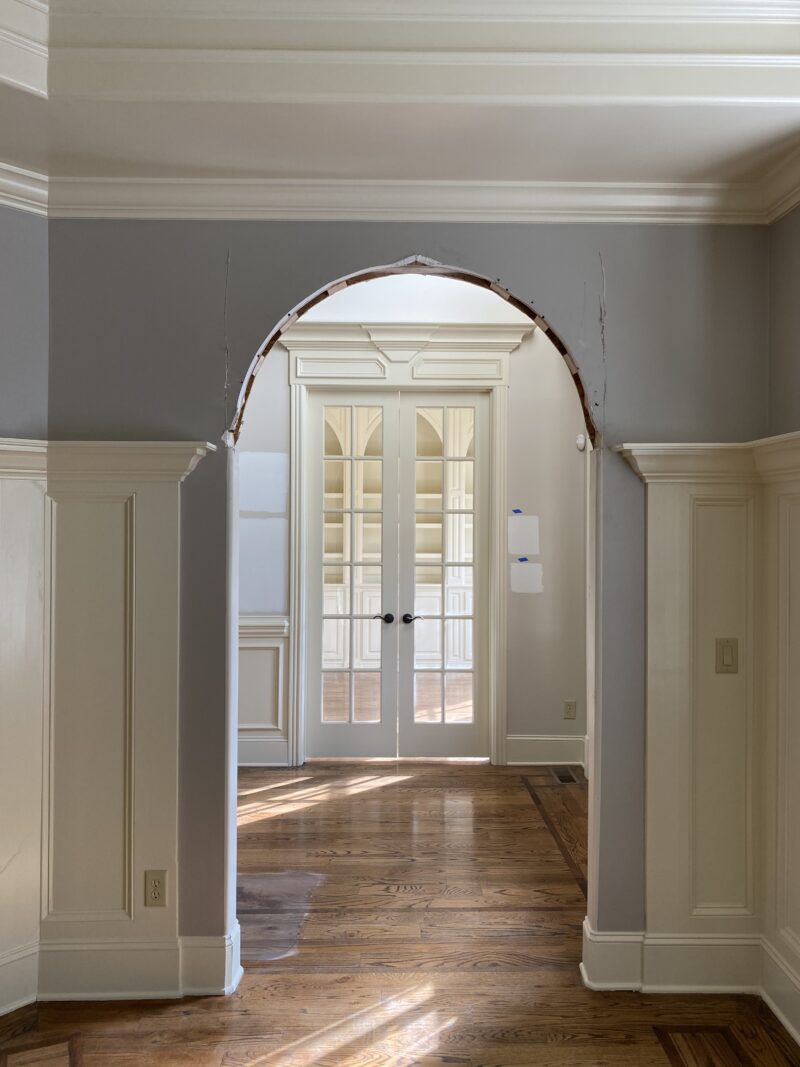 Here is the view from the formal dining room before painting. Ignore the purple spot on the wood floor. That's a story for another day. The arches in the home came to a point at the top so we had those rounded out prior to moving in. I love the classic feel of an arch.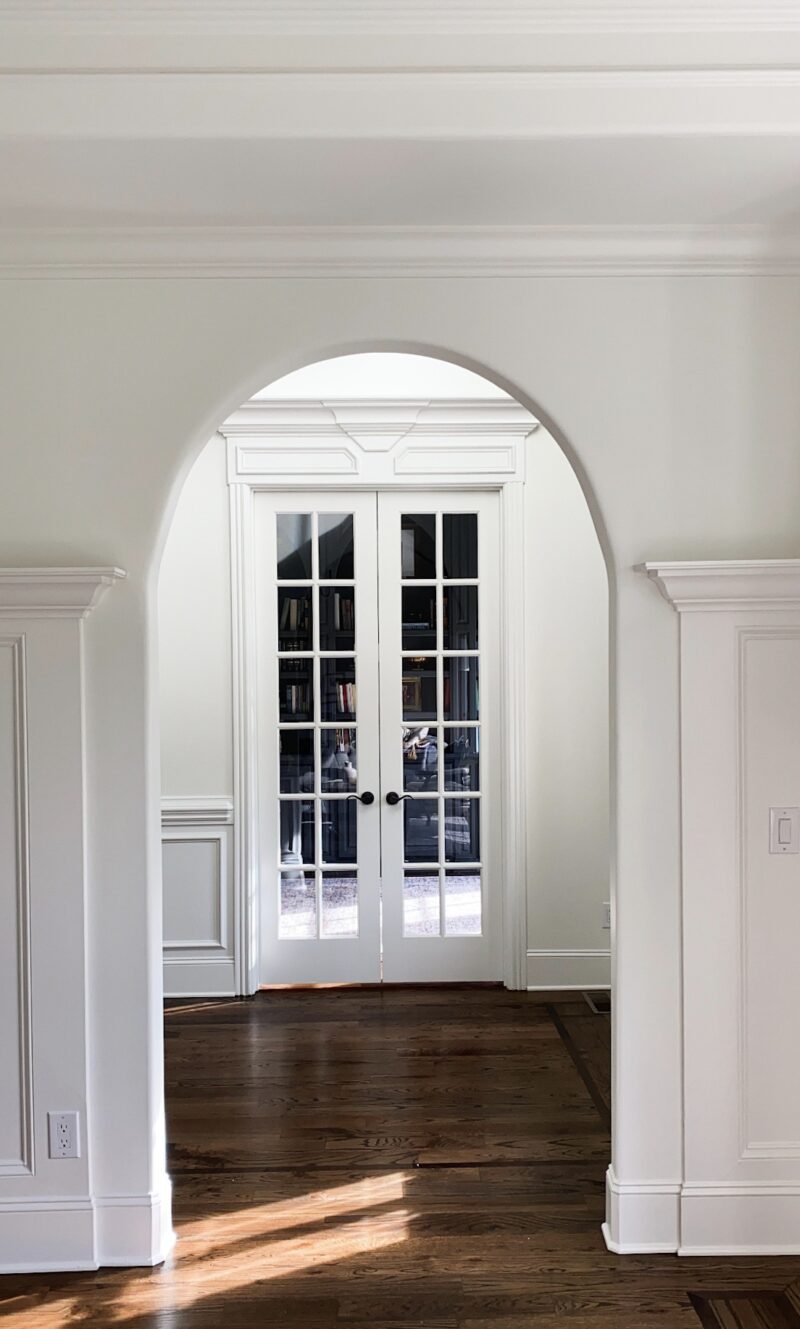 Looking forward to sharing more as we make our way through the house. These things definitely take time. In fact if you scroll back up you can see that all of the outlet covers were a very dark cream. Those are being swapped out room by room. It's all a process and one that we are enjoying each day. That is another thing to consider if you are thinking about painting your rooms.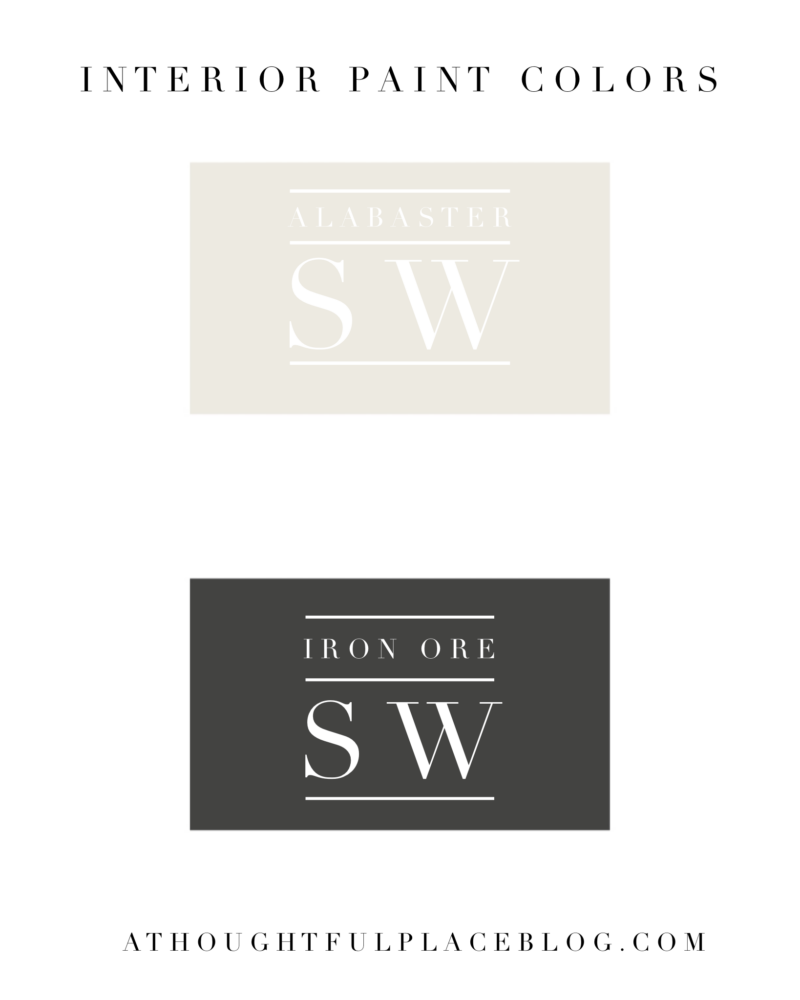 Hope that is helpful. All of the interior paint colors from our previous home can be found here.