Hi, everyone. If you are visiting for the first time, I am Courtney and I am obsessed with all things relating to interiors, fashion and gatherings. I love it all! And, apparently I am all over the map with my holidays seeing as though I just showed you our 2015 Dream Tree. The talented Lindsay from The White Buffalo Styling Co. is hosting her annual Blogger Styling Thanksgiving Tablescape tour 2015. I am so honored to be included and went a little out of my comfort zone this time. A while back I showed you a neutral Thanksgiving table so I thought I would amp up the color for this one. And if you are just popping over from my dear friend, Lucy, we were apparently on the same wavelength. Color abounds with fruits and flowers this year.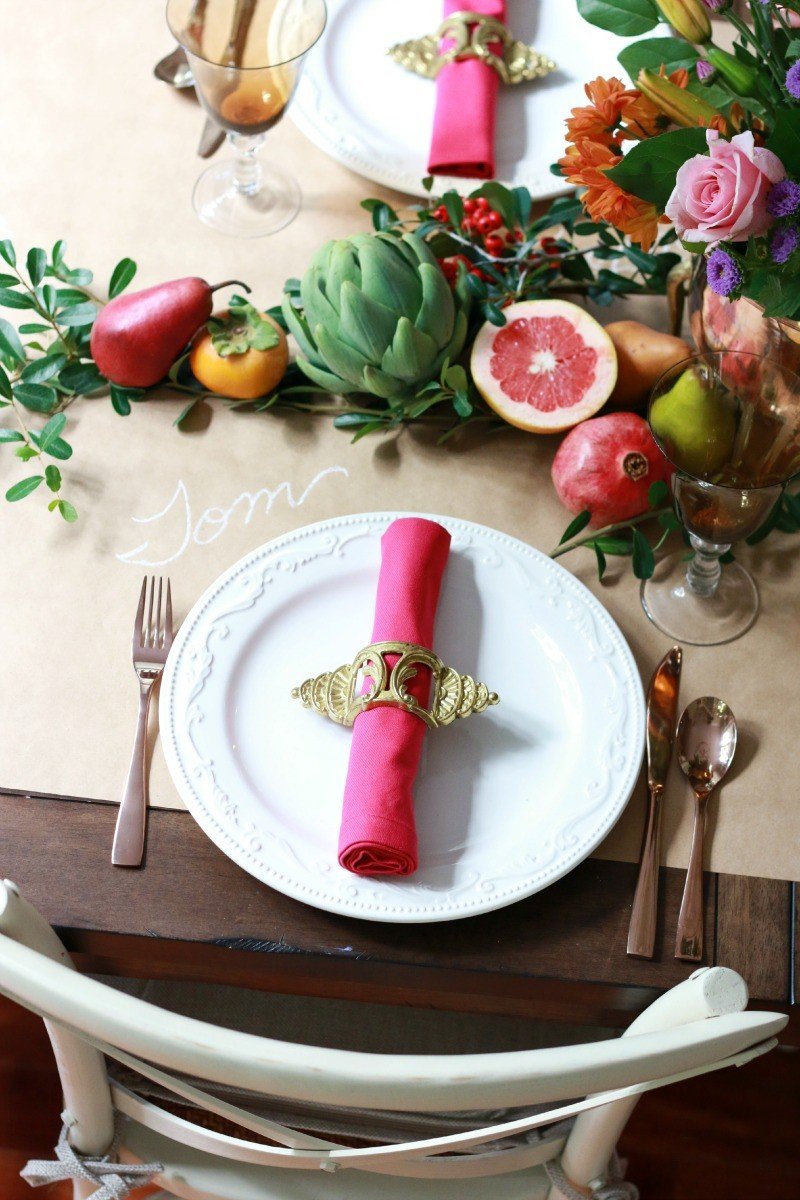 A couple of years ago, my mother in law gave me a bag of beautiful vintage pulls that she found in her dad's home. They have always been in the back of my mind and for some reason they popped in my head while setting this table. I removed the screws and set them over the napkins. I am so thrilled to be using them this year. Even though we set these tables in advance in the hopes of giving our readers inspiration and ideas, I will be recreating this for our table this year. We are hosting and I really am crazy about all of the color.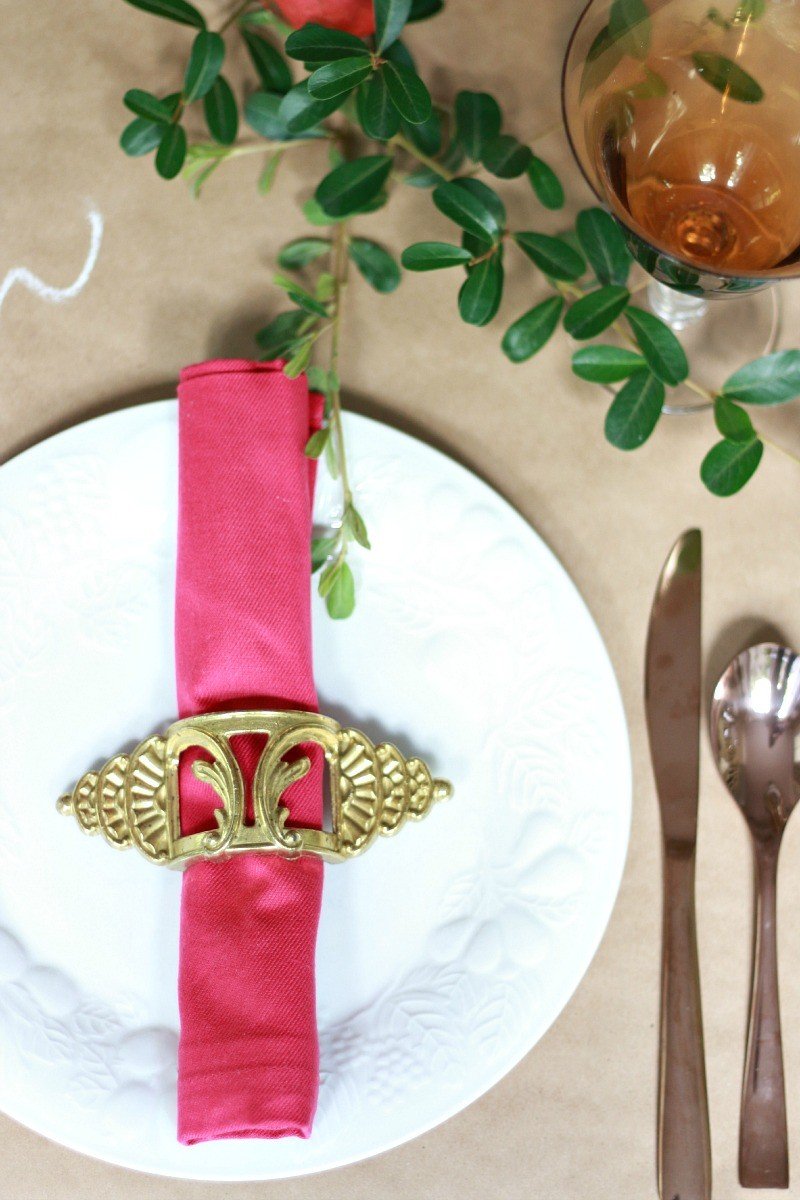 I just love the detail on these pulls and think they look so fun with the pop of pink. The rosegold flatware is from Target.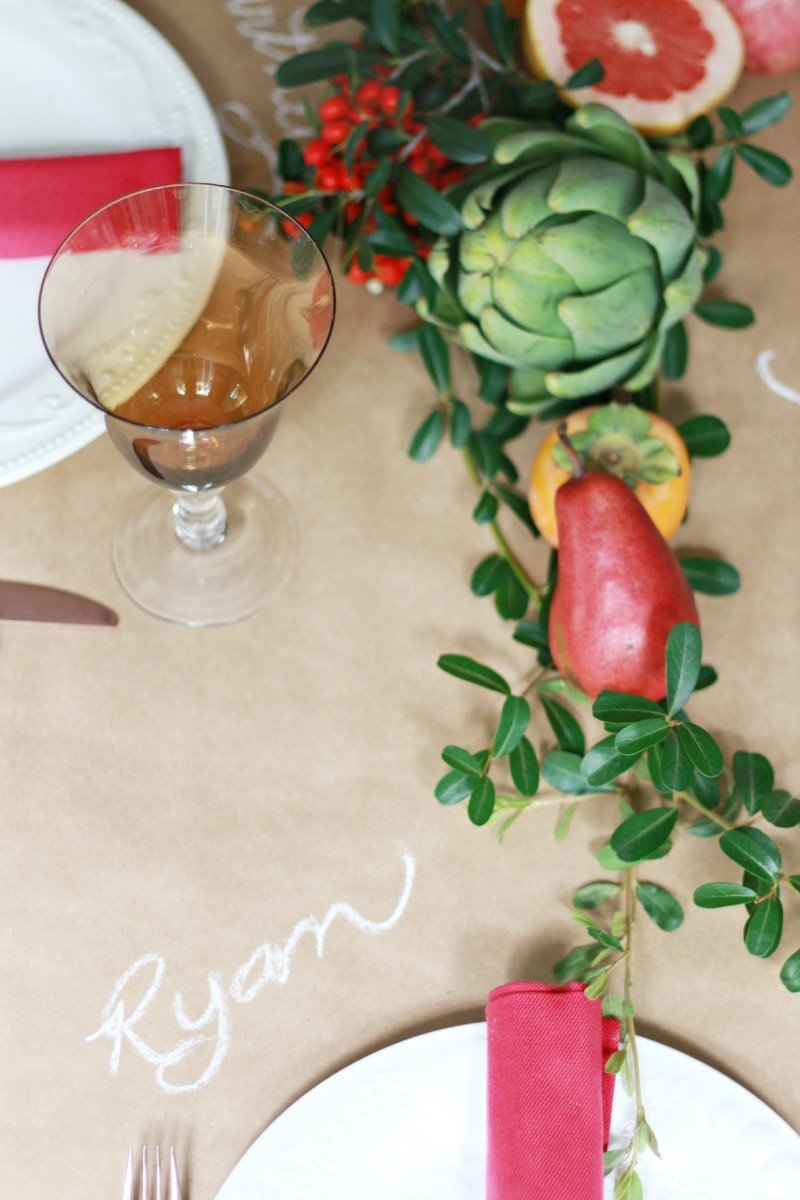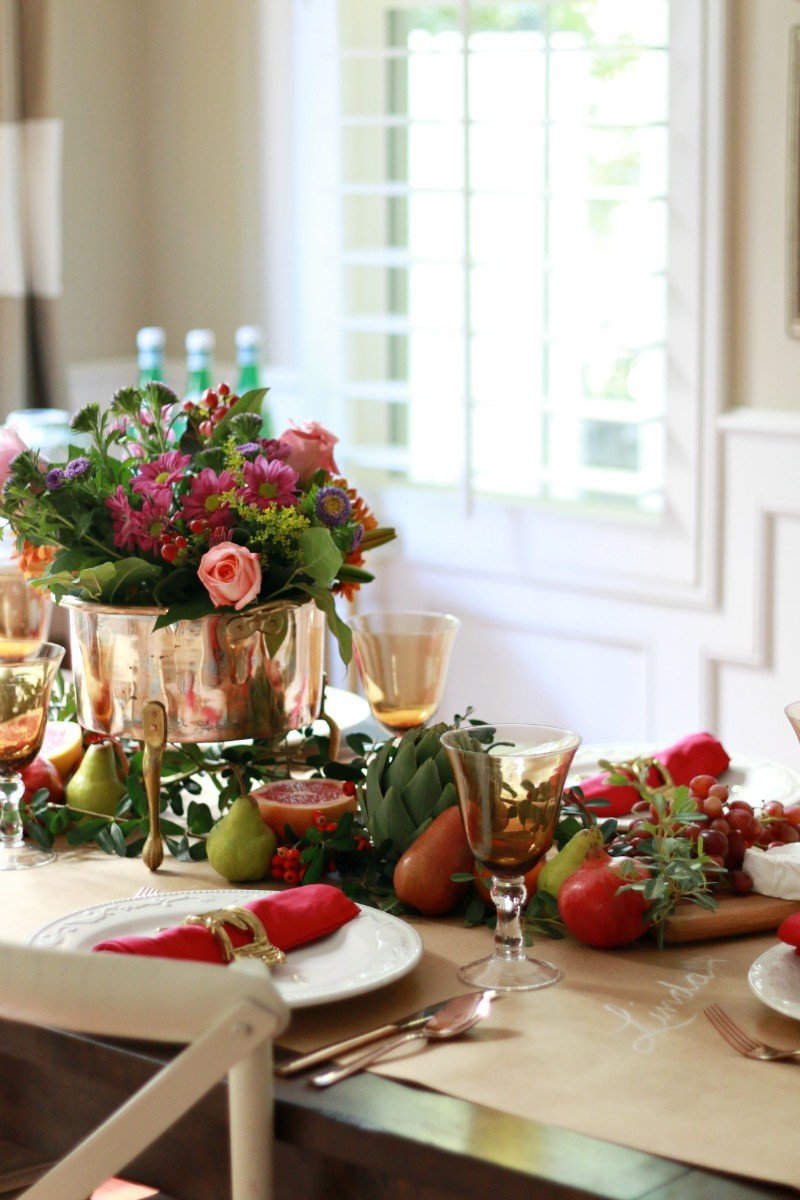 Truth be told, this table was largely dictated by the pretty bouquets I found at Trader Joes. I am a firm believer in scoping out the flowers first and building your table around them. Once I had my bundle of flowers, I gathered fruits and veggies to coordinate. While I normally gravitate towards very clean and simple tables, I wanted this one to look full and pentiful. By the way. . .super embarrassing when you knock down the display of pears. Just saying. If any local readers were there and saw me it was pretty horrendous. Oops.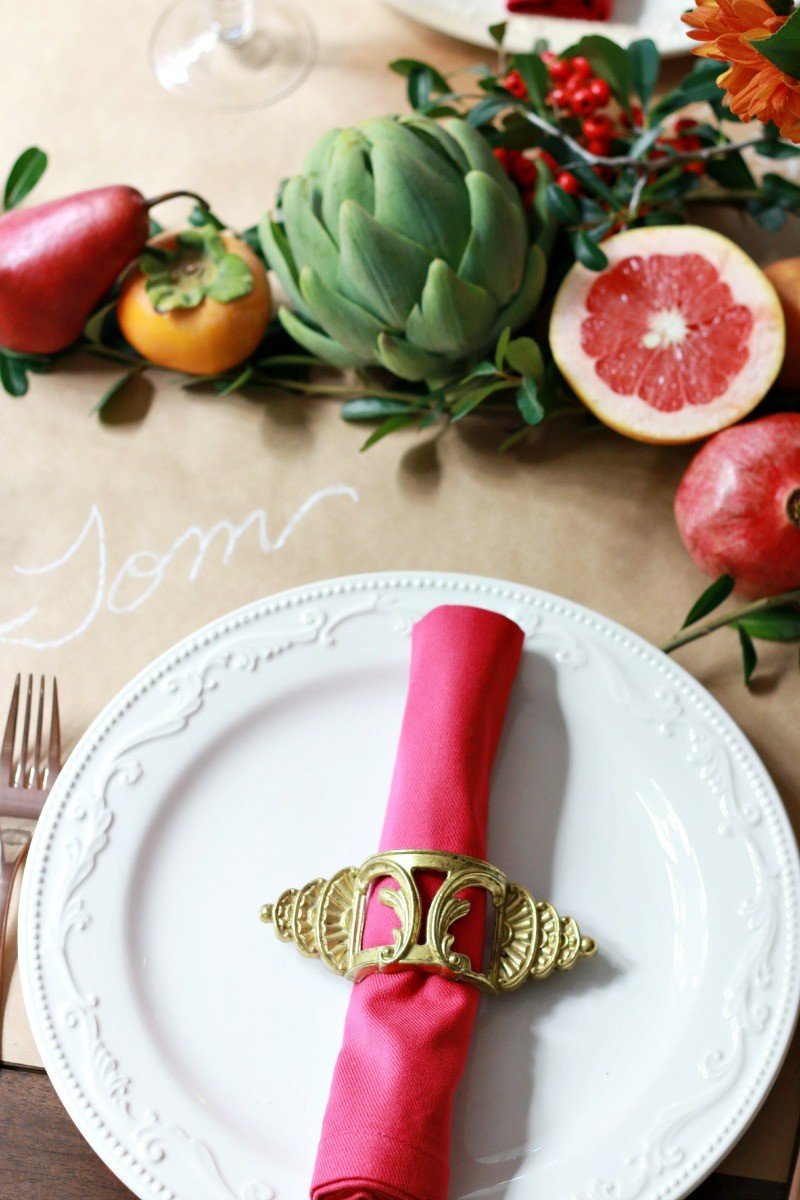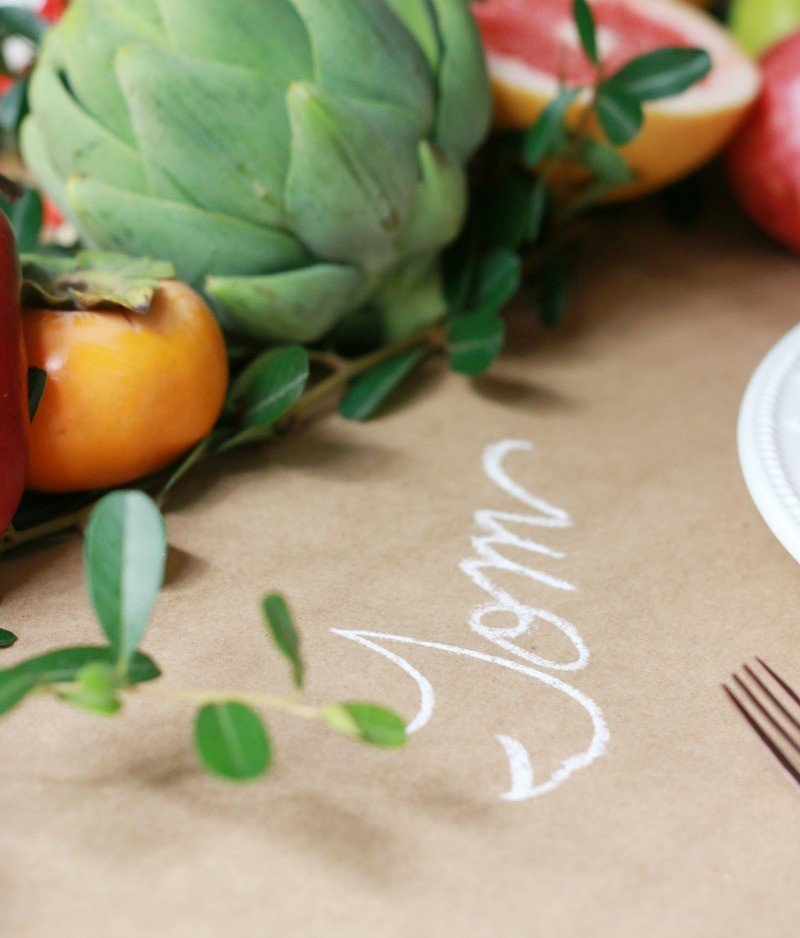 While the pulls are fancy and ornate, I wanted the overall feel of the table to still be casual and welcoming so I rolled out brown craft paper and used chalk to hand write each person's name. So much more laid back than formal place cards.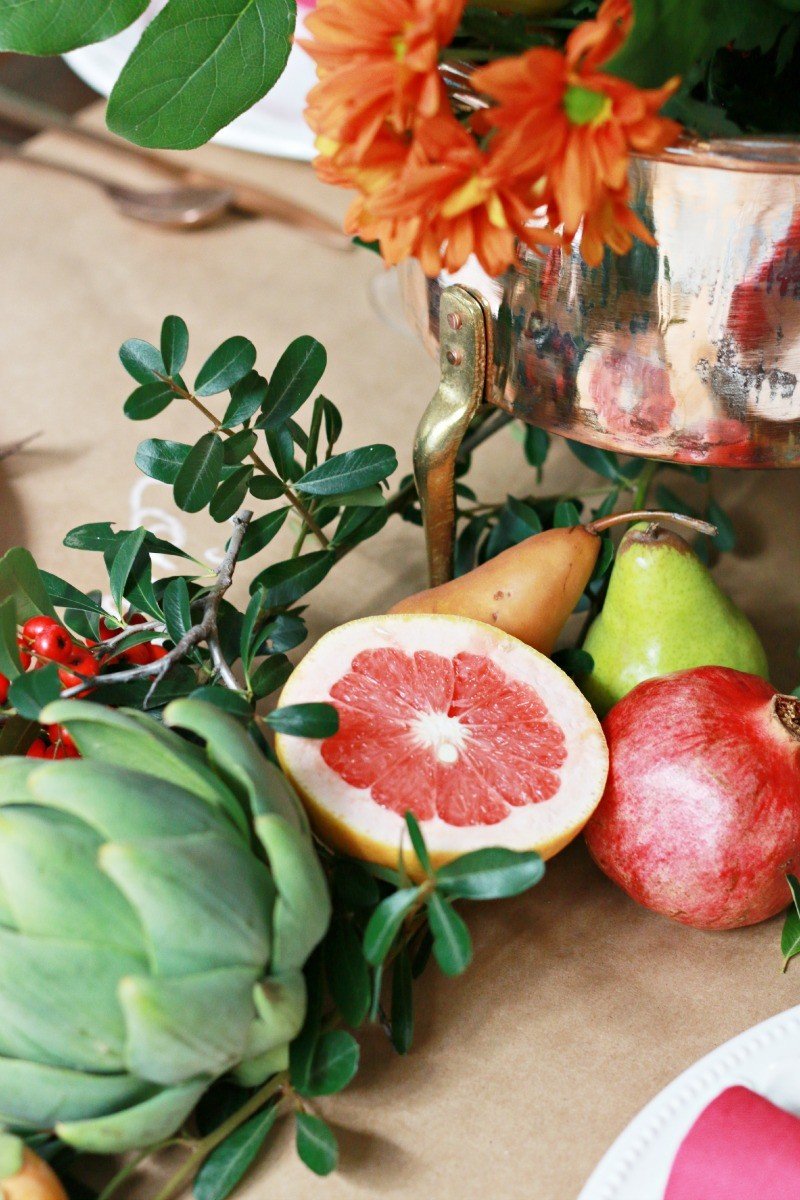 The copper pot (HG find) has two bouquets of flowers and then I used four long branches cut from my yard. I placed those on the table first and then followed their lines by adding fruits and veggies. The total cost was $25 ($10 for flowers and $15 for fruit . . and we get to enjoy the fruit and flowers!).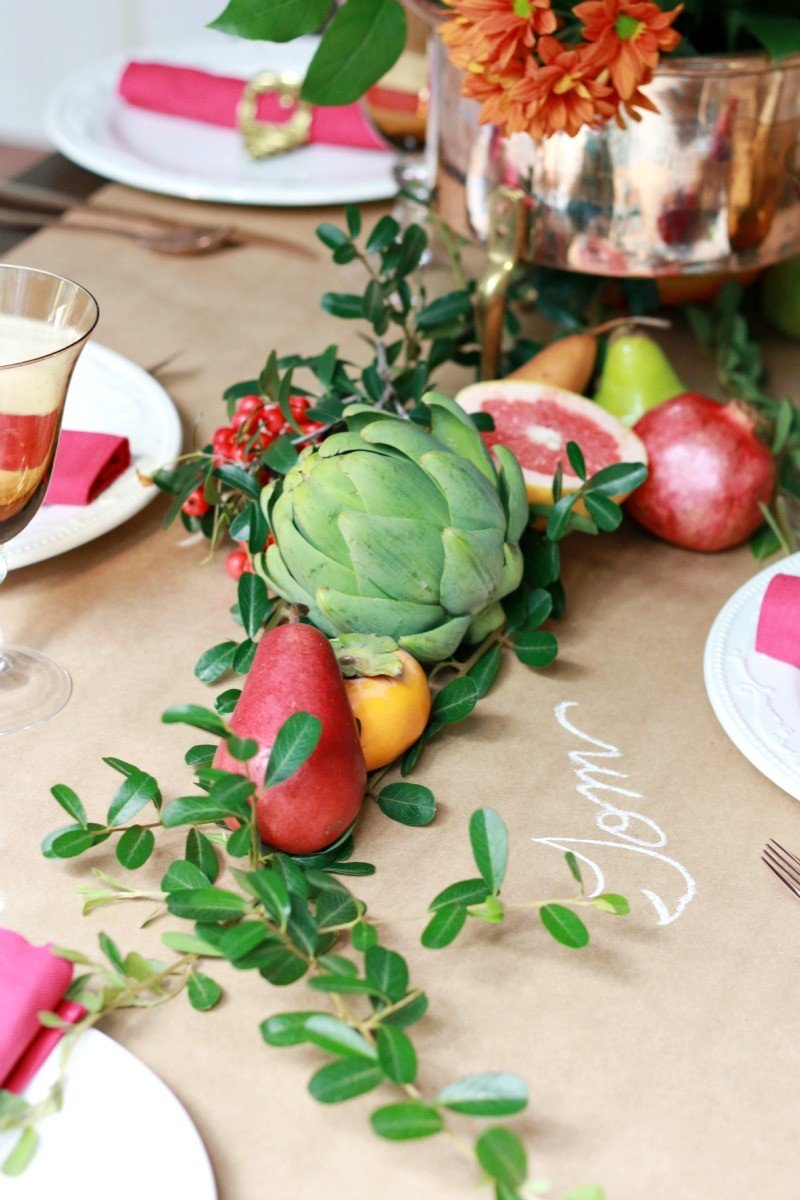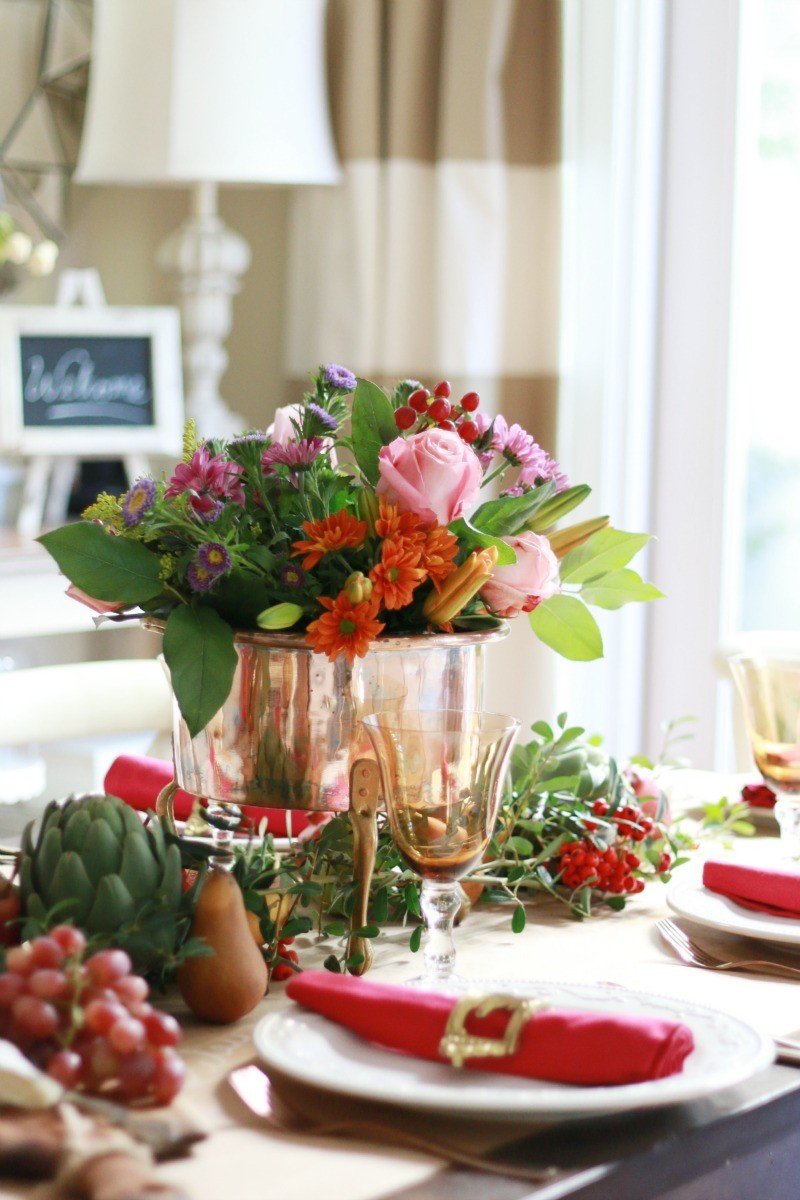 So what do you think about using non-traditional colors? I say non-traditional but when you look at all of those gorgeous seasonal fruits, they are all those vibrant colors. So much fun to work with. The bloggers are bringing their A game this season so be sure to check out the gorgeous tables below. My jaw hit the floor multiple times. Now head off to House Seven to check out Anissa's stunning table.
If you are new to A Thoughtful Place you can get check out my Fall Home Tour.
Monday:
The White Buffalo Styling Co.
The Inspired Room
Swoon Worthy
Blissful Bee
Iron & Twine 
Tuesday:
A Storied Style
Claire Brody
DesignPost Interiors
Dream Green DIY
Chic Little House
withHEART
Wednesday:
Inspired by Charm 
Mimosa Lane
The Chronicles of Home
Cuckoo 4 Design
Nesting with Grace
Craftberry Bush
Thursday:
A Thoughtful Place (here)
House Seven