Welcome to our Fall Home Tour. I want to thank Marty from A Stroll Thru Life for hosting. For those of you who have been along for this ride for quite some time, I have made a few changes to switch things up a bit. But if you are knew to my blog or joining me from My Sweet Savannah  it's a pleasure to have you here.  My philosophy is all about creating a place you love to be. We may not have a grand or fancy home, but it is filled with little touches that are meaningful and special to us. And at the end of the day, it's all about the people who fill your home and creating a beautiful place to laugh, learn, snuggle and feel loved. Welcome.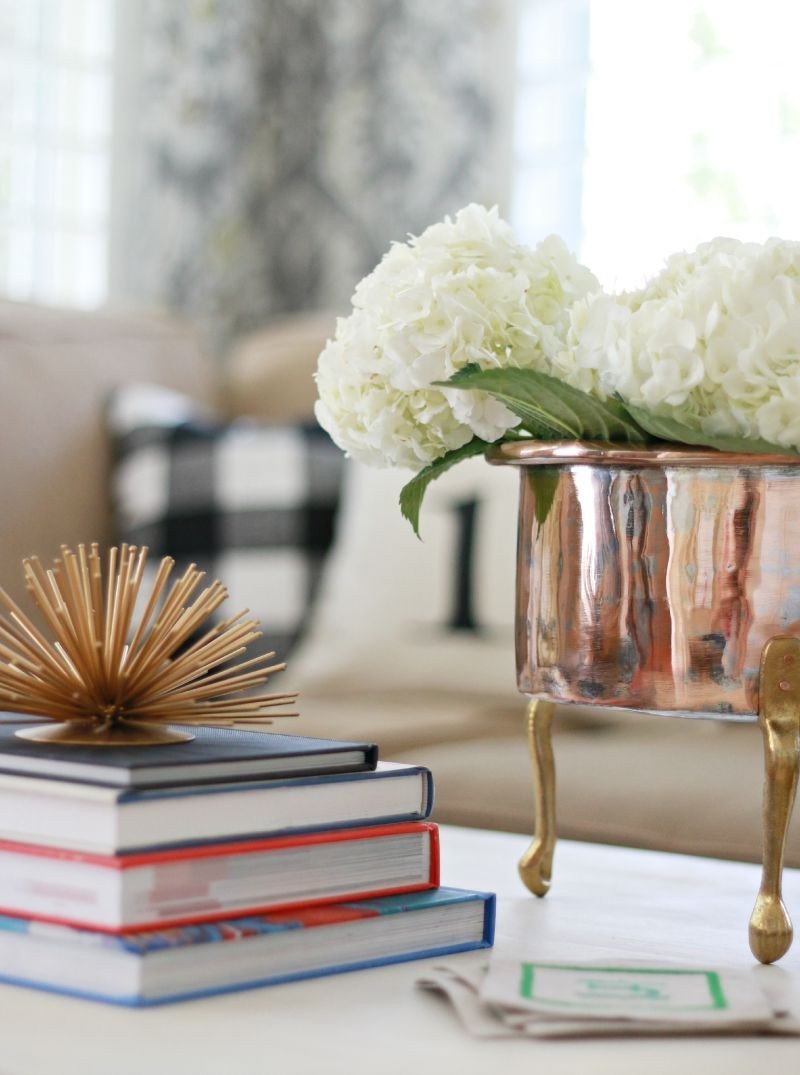 A Thoughtful Place | Fall Home Tour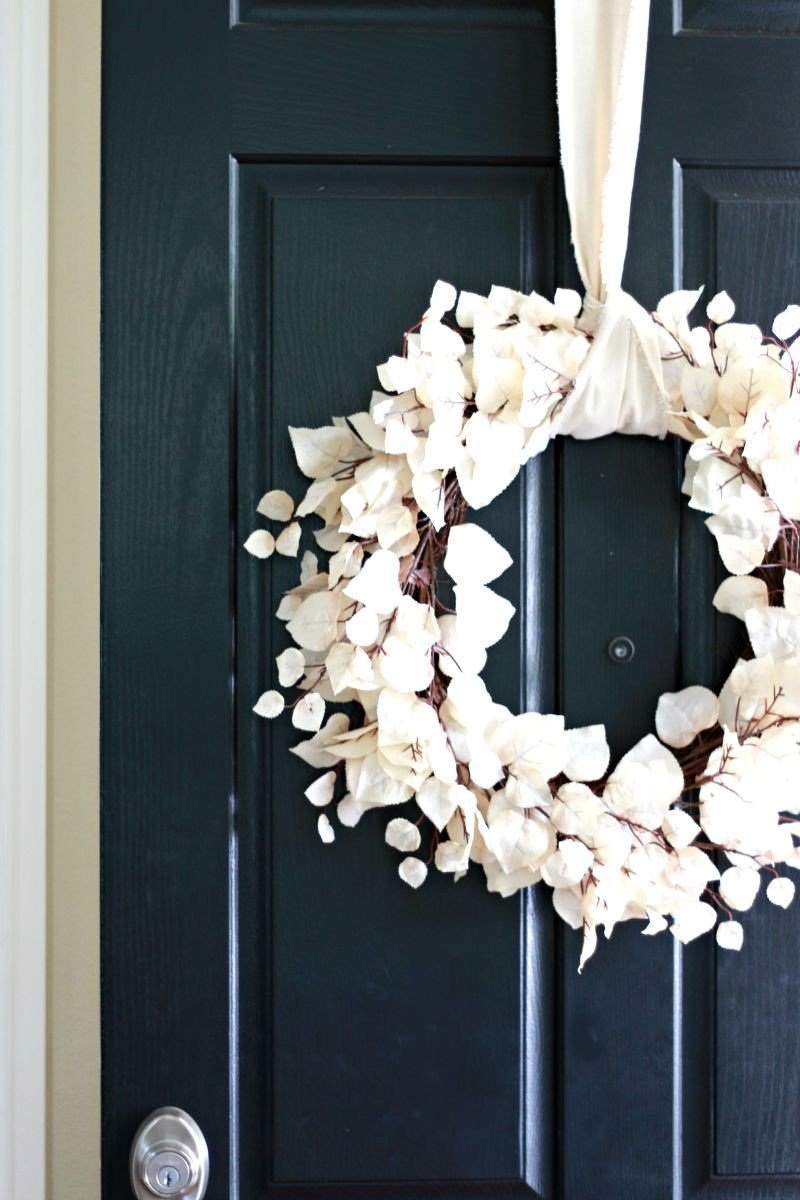 Come on in. So it is still in the 90s here and we are not quite ready to bust out the entire slew of pumpkins, but I did infuse fall with some warmth and texture. I picked this wreath up from HomeGoods. I liked its simplicity and neutral color.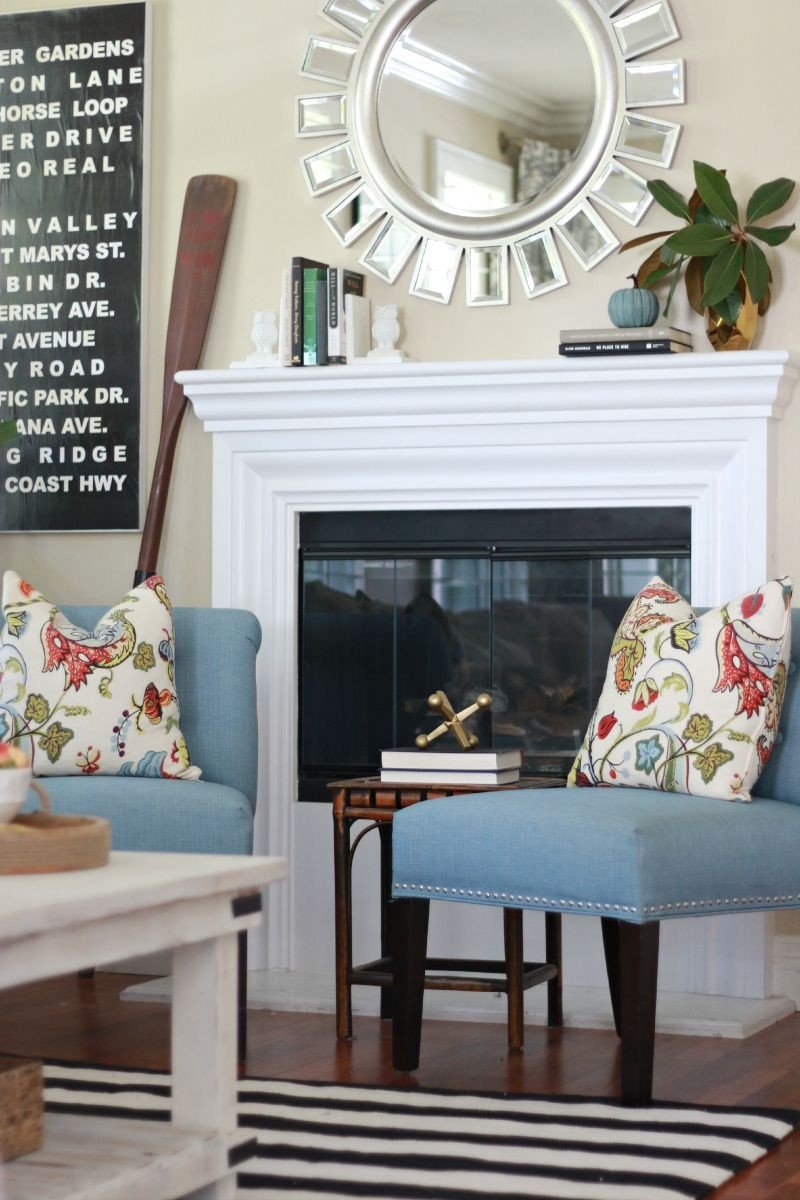 I decided to use books this year to welcome in Fall. Just seems appropriate because it's back to school time and we are a family of readers over here. I kept it simple with the owl bookends, a touch of gold glam and magnolia leaves from our yard. If you are new to my blog, the subway sign is a collection of streets my husband and I grew up on and have lived on together throughout the years. A tutorial can be found here.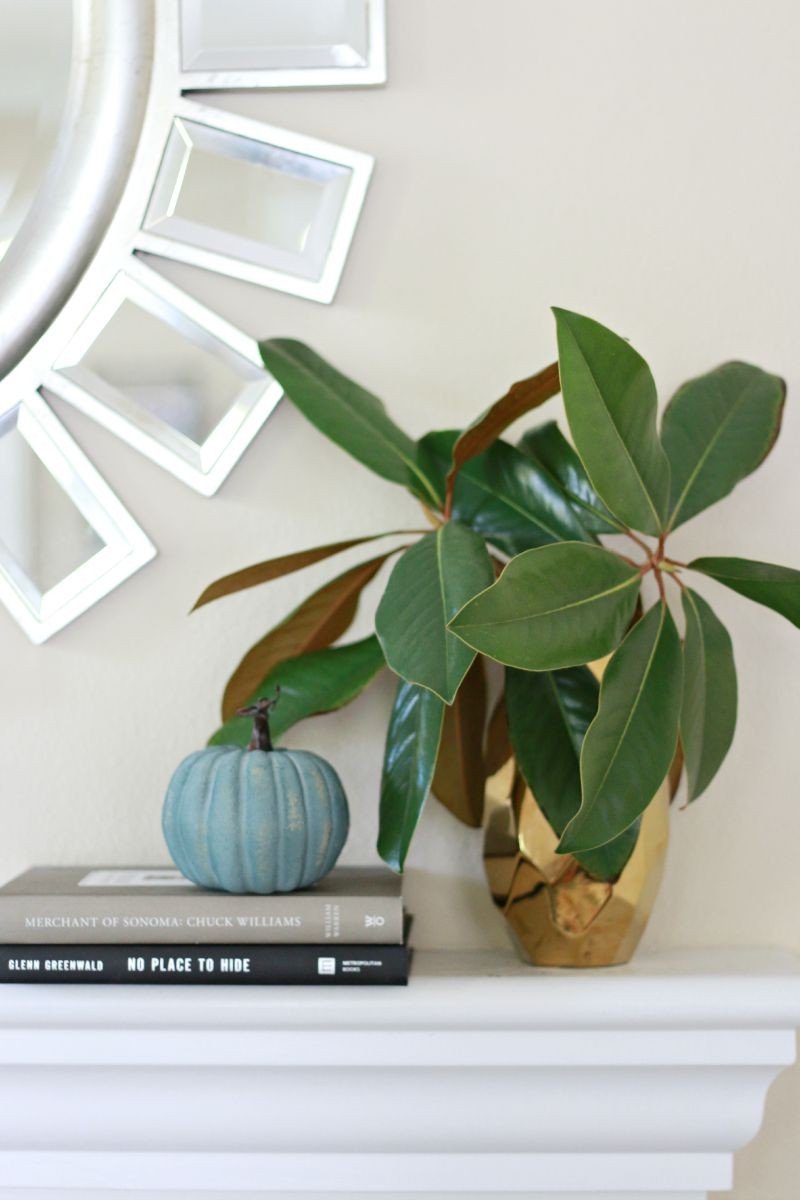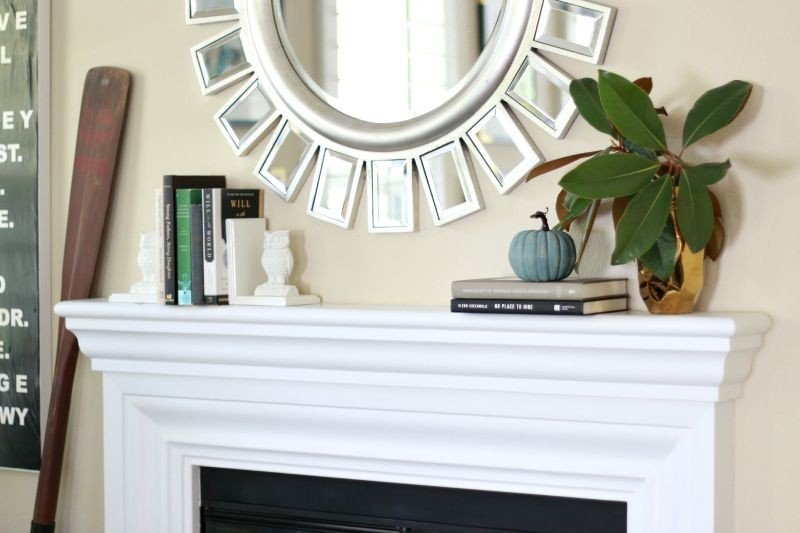 The mirror was a HomeGoods finds but they do sell a similar one from Z Gallerie. The oar belonged to my brother and is a nice reminder of him.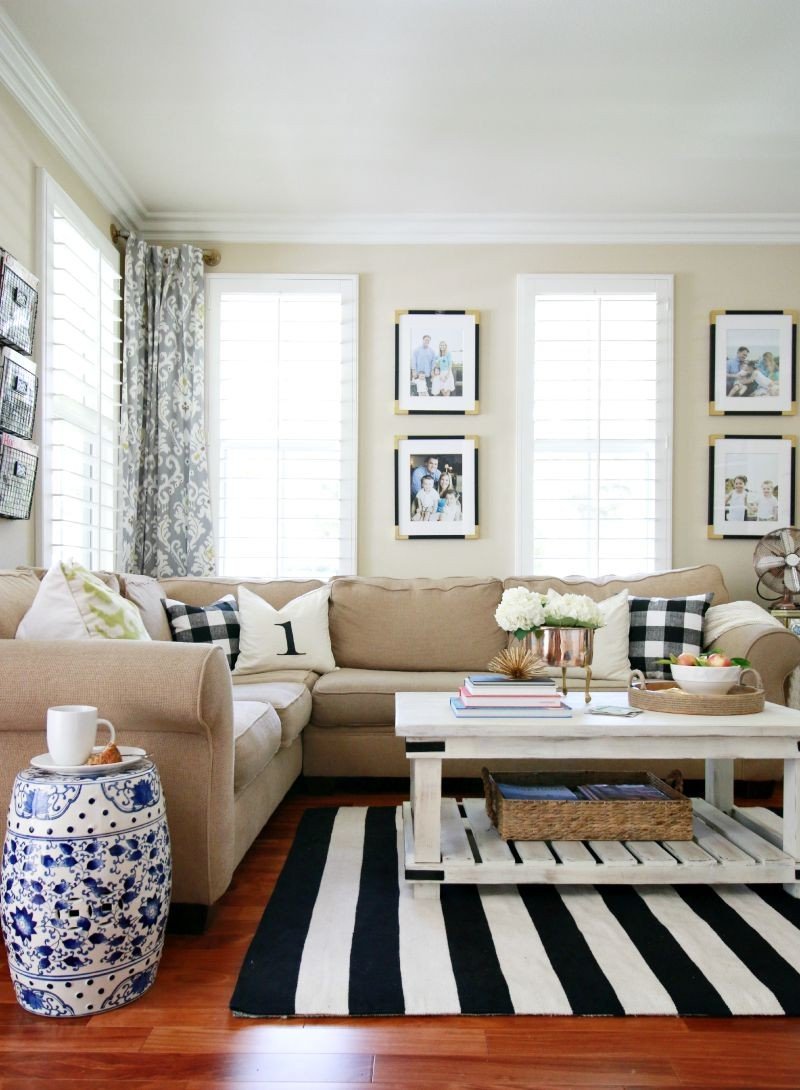 Our cozy living room got a fall update with some new buffalo checked pillows. I love the black and white against the neutral sofa. The number pillows were one of my very first blog projects years ago! The rug was found at HomeGoods but I found this one online in case you are a striped lover, too. I can't get enough of black and white stripes. The frames were also a DIY (so simple) you can check out here.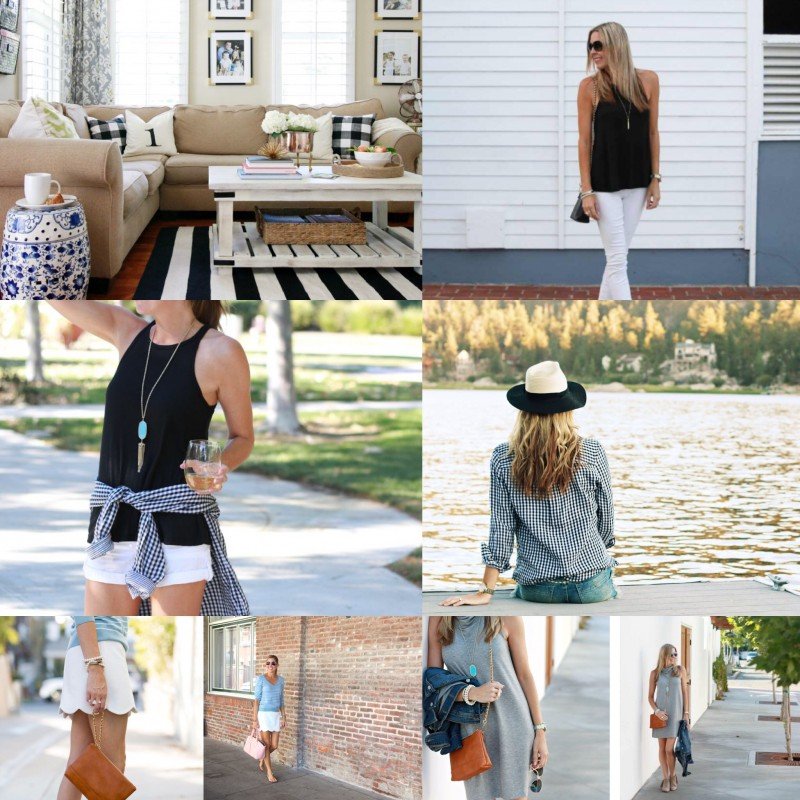 gingham shirt | black tank | necklace | handbag | dress | booties | skirt | blue sweater
I suppose what they say about fashion and decor styles going hand in hand is sure true in my home. I guess it's safe to say I gravitate  towards black & white, gingham, neutrals and blues in my fashion, too.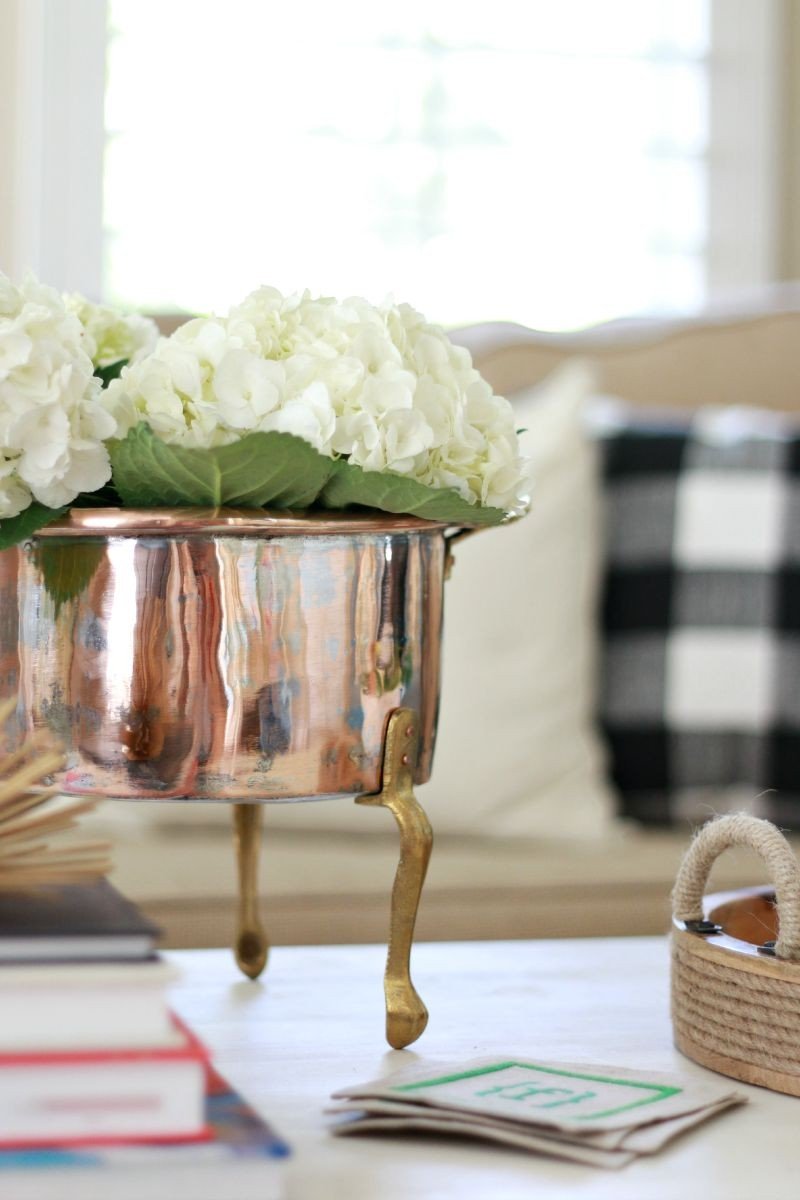 My favorite new addition is this copper pot. I love that it is elevated and creates a really pretty vase for flowers. It was a recent HomeGoods find. The cute coasters were a gift from my dear friend, Megan.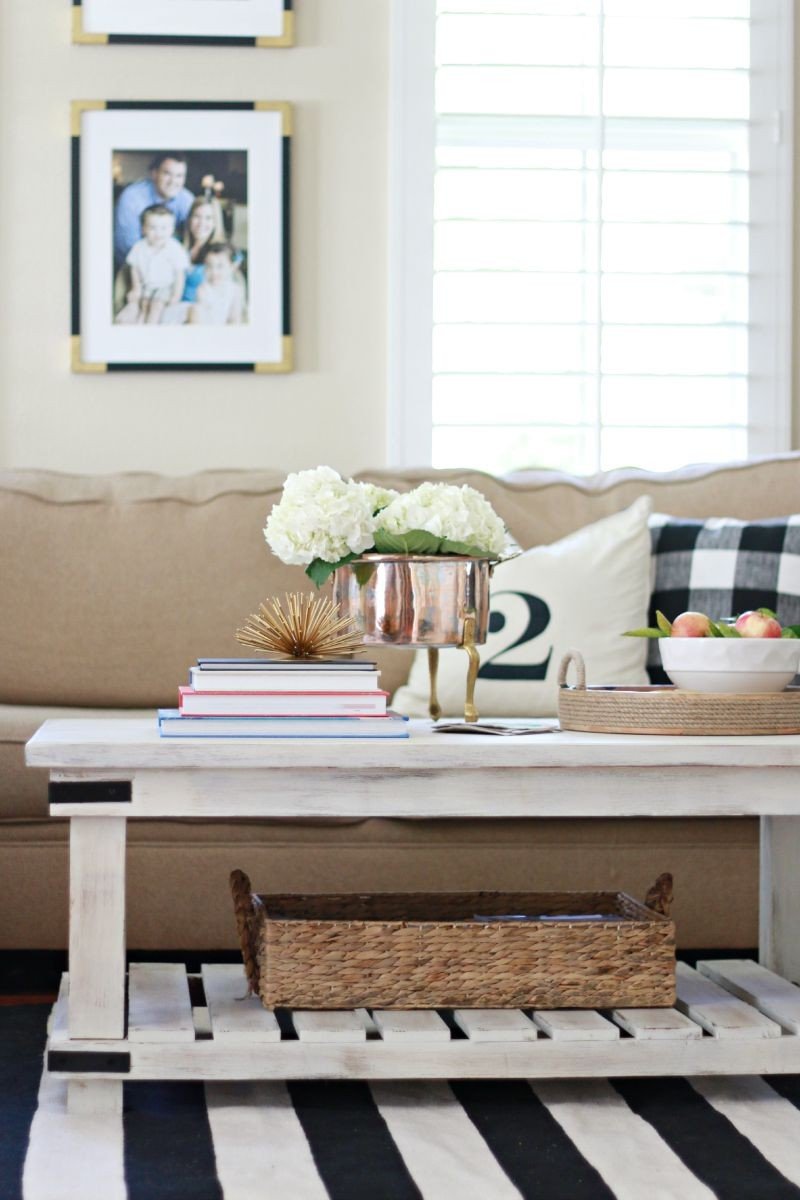 This coffee table has been such a great addition. It comes in a light brown wood but we painted it ourselves. The basket below is a life saver. It hosts one million magazines as well as the children's Highlights mags. Keeps us all clutter free!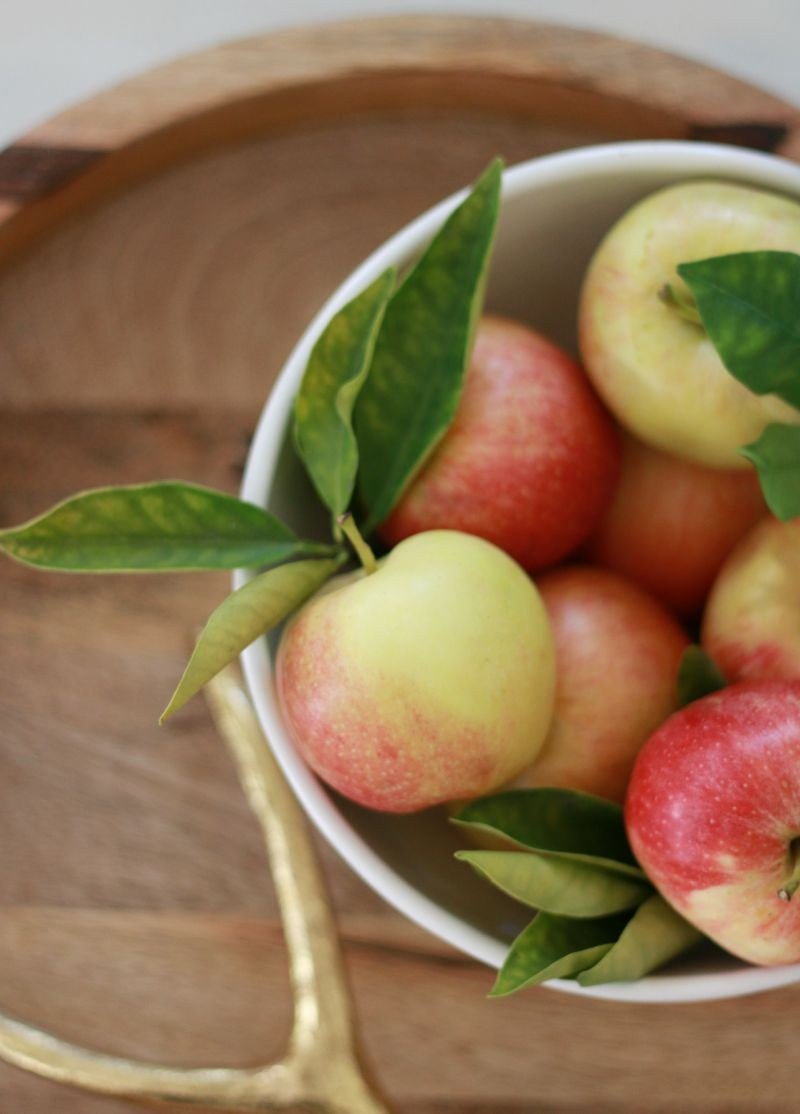 I think the best fall touches are those that are natural. Sticking to fresh fruit and greens cut from the yard, an easy centerpiece is made.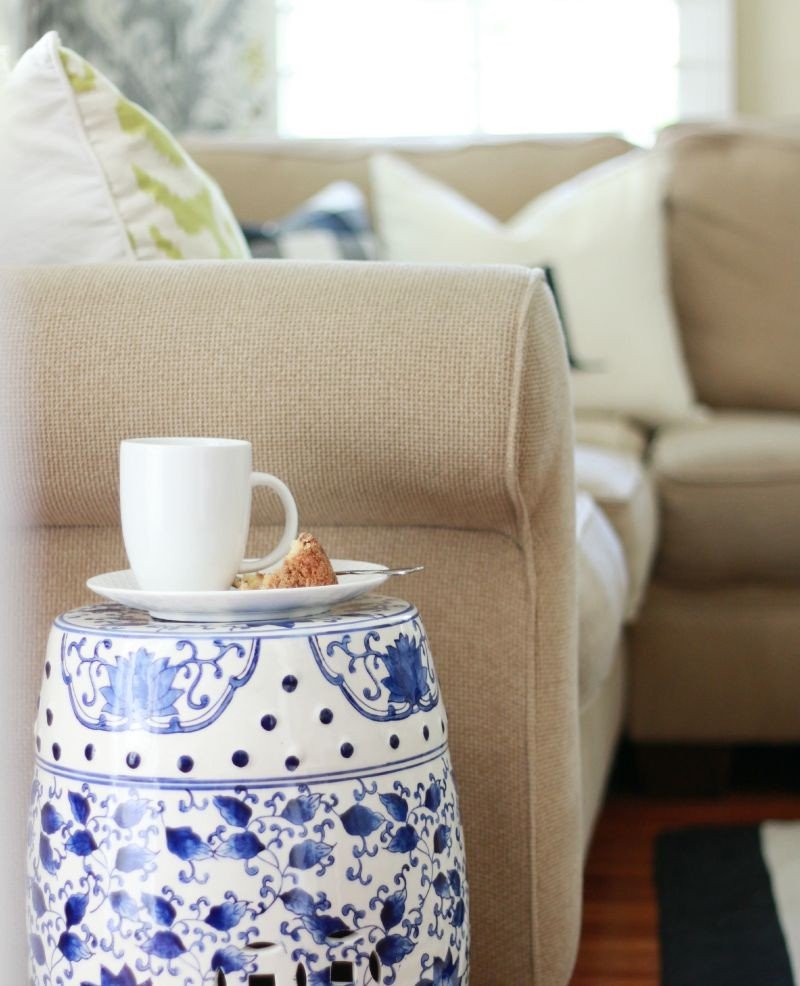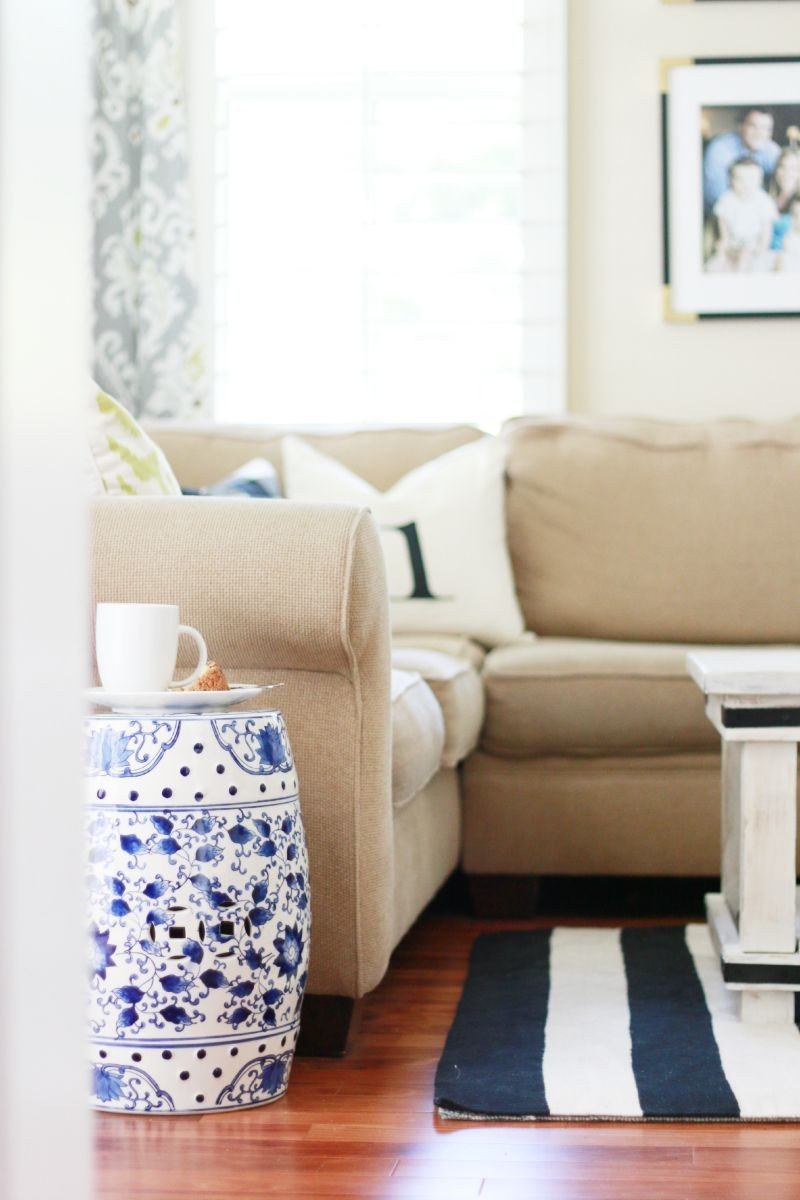 I also picked up this garden stool at HomeGoods. I was checking out and saw it on the shelf behind the register. It took me 10 seconds to ask them to kindly place it in my cart. If you pop over for coffee on any given morning, you can set it there while we chat away the day! Our sofa was custom for the space but we copied this one.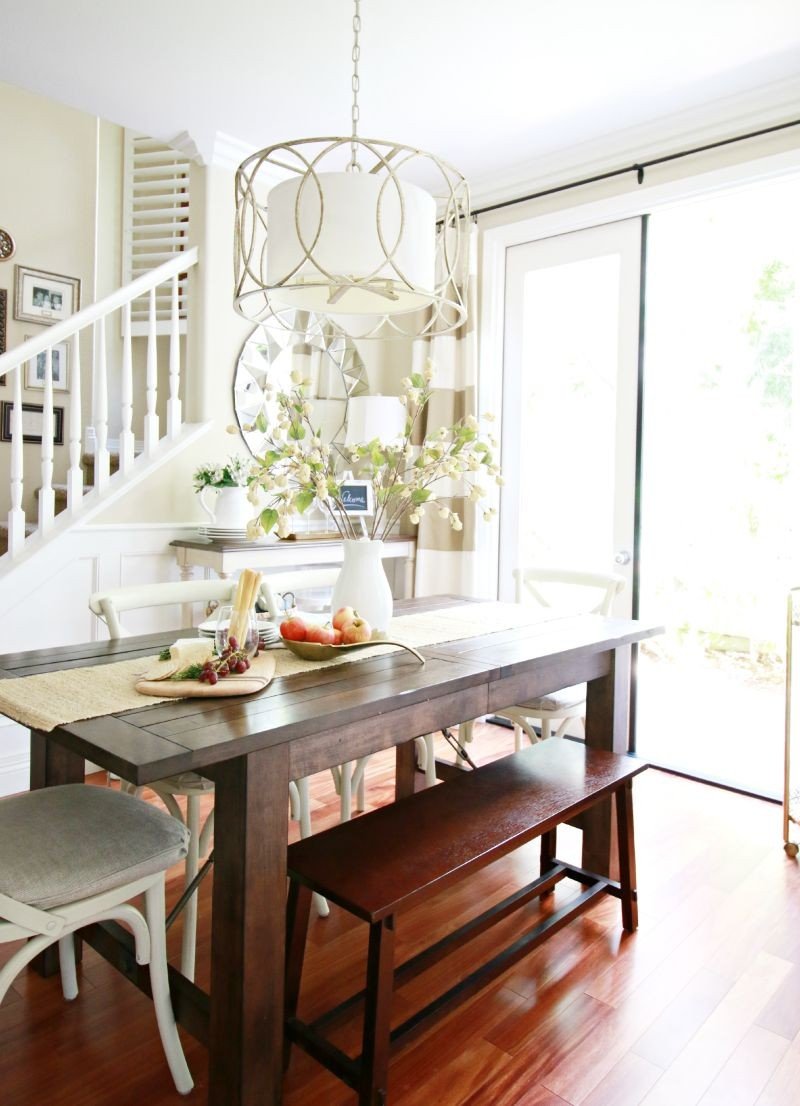 dining room table | chairs | bench & mirror (HomeGoods) | chandelier 
If you round the corner you'll find yourself in our dining room. Tried very hard to get a view of our patio, but alas my camera skills failed me and I kept blowing out the window. Tips accepted!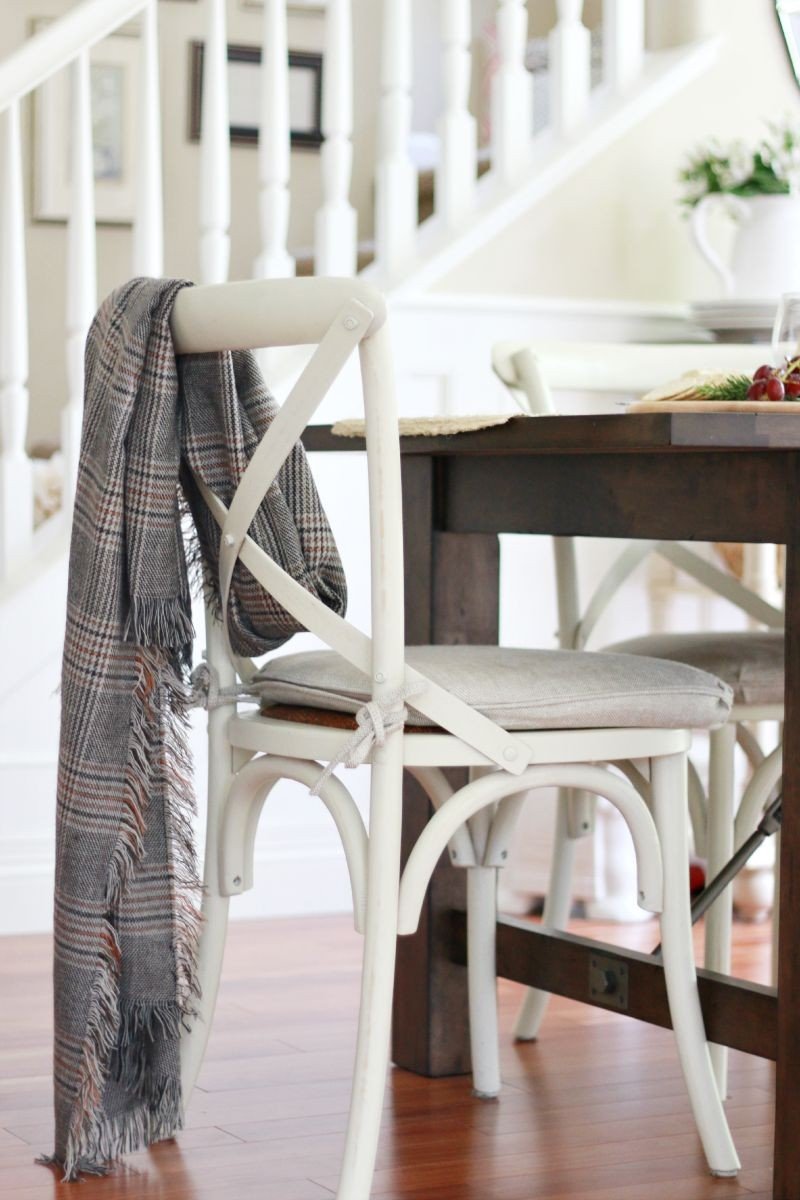 Grabbing a fall scarf from my closet is a quick way to warm up the space and give a nod to the coming season. I also like to use scarves on the table as runners. The fall table I created includes my  easy pumpkin craft and plaid fall chargers.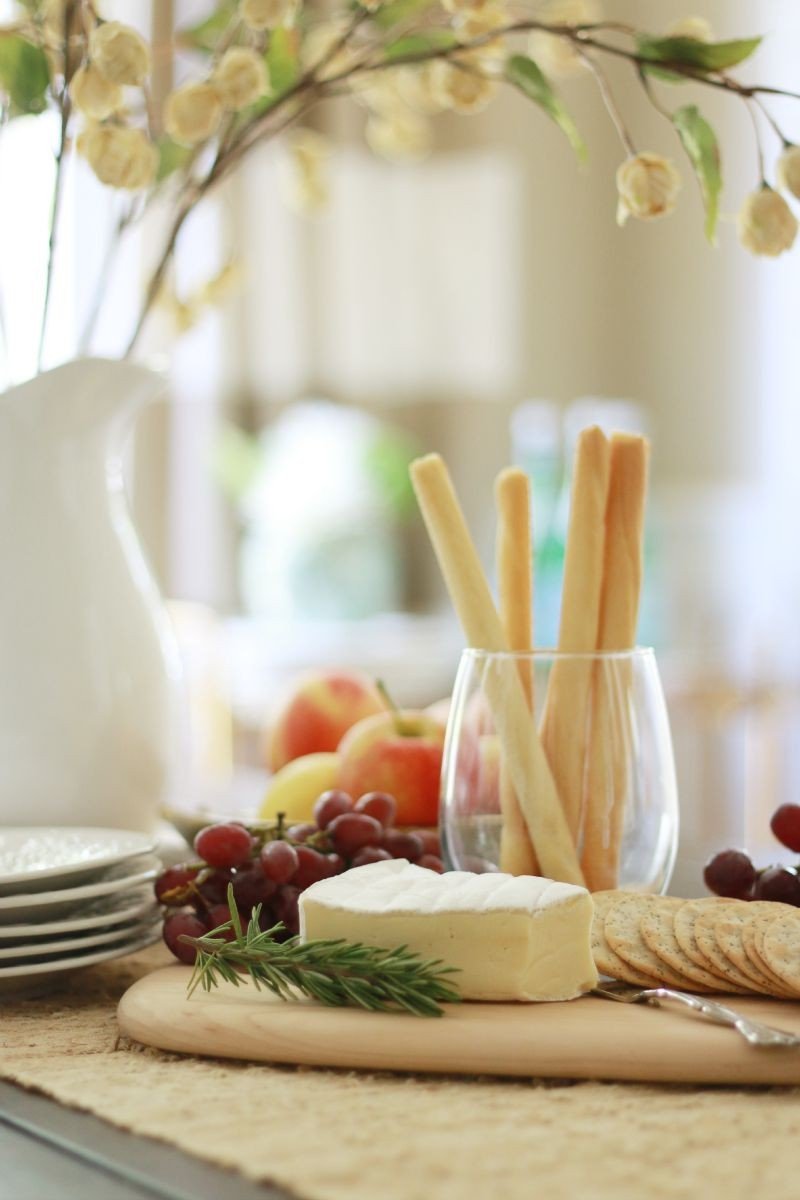 Fall always reminds me of spending time with friends and family. I have a passion for entertaining simply. You can see my video tutorial for quickly putting together a meat and cheese platter right here. This table runner is a Target find and adds great texture to the tabletop.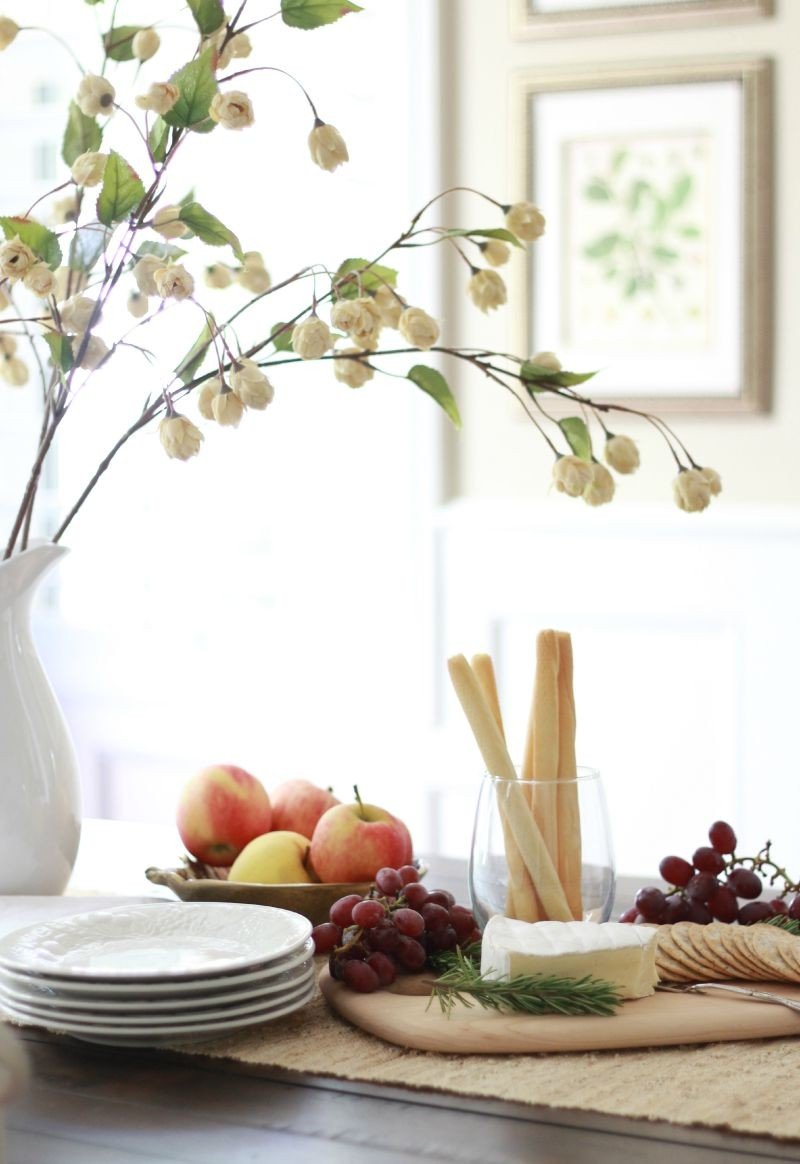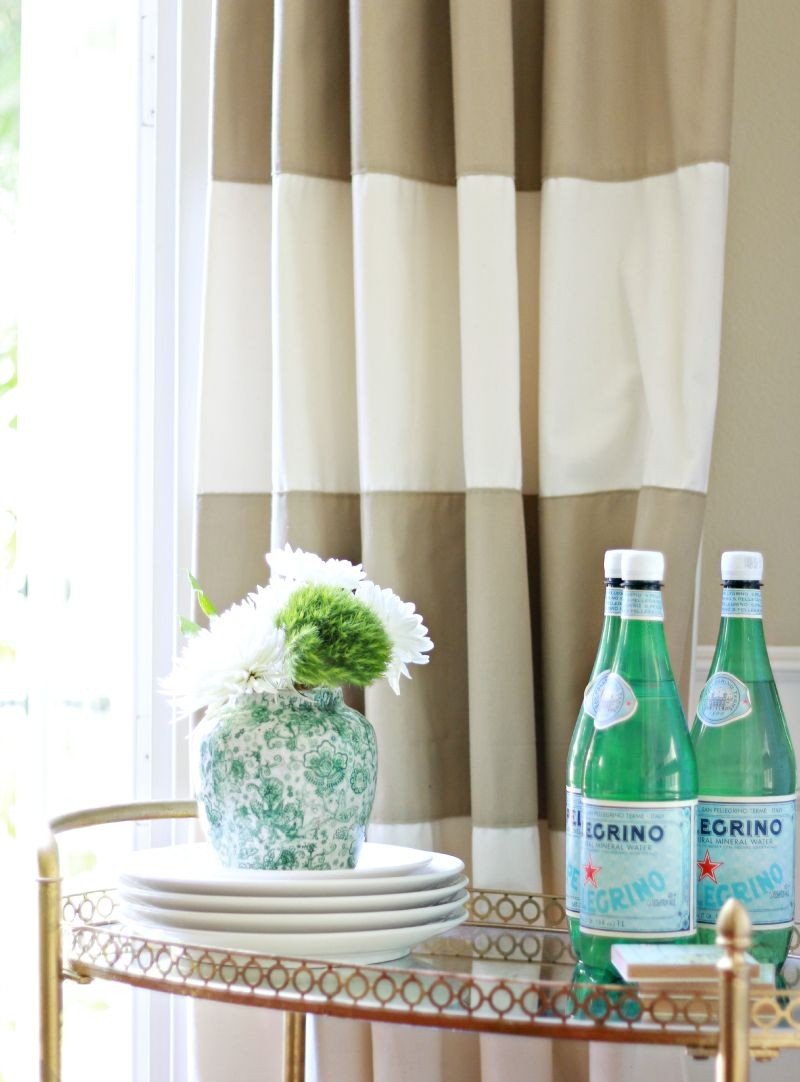 The nearby bar cart is kept clean and simple with fresh stems and bottled water. The plates are easy to grab when we have more people for dinner. The striped drapes were one of my first DIY projects in this home.
As I mentioned before, we love to entertain and when my parents come by for dinner I literally grab extra plates, napkins and glasses from this buffet. I find that if I fill it with things we actually use it stays looking beautiful much longer. And the pumpkins from our fall table get tucked away in this pretty basket.
Now head on over to Jenna's tour over at Rain on a Tin Roof!  She has a bold and fearless style you will love. Here are the tours from the rest of the week! Be sure to grab an iced coffee and take a look around. Thank you so much for taking the time to peek around our little home.
M: A Stroll Thru Life  | Life on Virginia Street | Snazzy Little Things | 21 Rosemary Lane | Peaceful Home Decor | Claire Brody Designs
T:  Driven By Decor | Our Southern Home  | Making Home Base | Hymns & Verses  | Decor To Adore  | Burlap and Lace
W: Simple Stylings  | Thrifty and Chic  | Monica Wants It | Bliss @ Home  | My Sweet Savannah
TH: Me | Rain On A Tin Roof  | Style Your Senses | Hi Sugarplum  | Remodelando La Casa | Dimples & Tangles
F: Simple Details | No Minimalist Here  | Design Post Interiors | Designing On The Side | Life Love Larson | Tidbits & Twine
*affiliate links used