I've been really looking forward to sharing this room with you. One of the huge draws to this house was the basement and the extra bedroom. It's afforded us a cozy spot for guests and is especially fun during Christmas time. I added just a couple of touches to make the guest room holiday ready. Also sharing how to get the biggest bang for your decorating buck.
GET THE MOST BANG FOR YOUR BUCK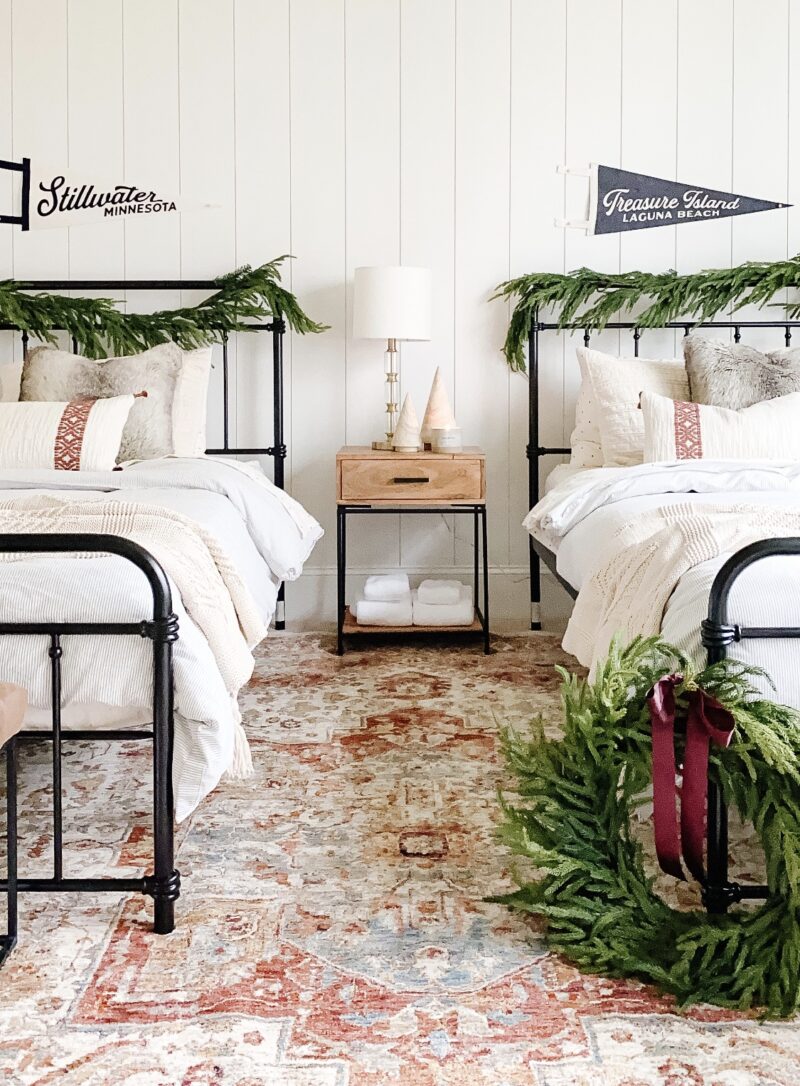 This is definitely a favorite spot of mine. A couple of you were curious why we chose two twin beds in this guest room. We are fortunate to have a main level guest room (queen bed) so the thought was that this would be more of a guest space for kids. We are looking forward to having a couple of our dear family friends visit and the kids can stay in here. We have two other twin mattresses that we can throw on the floor if there are more than two. If a couple stays in here, we can always move the beds next to each other.
#1: NEW LIGHTING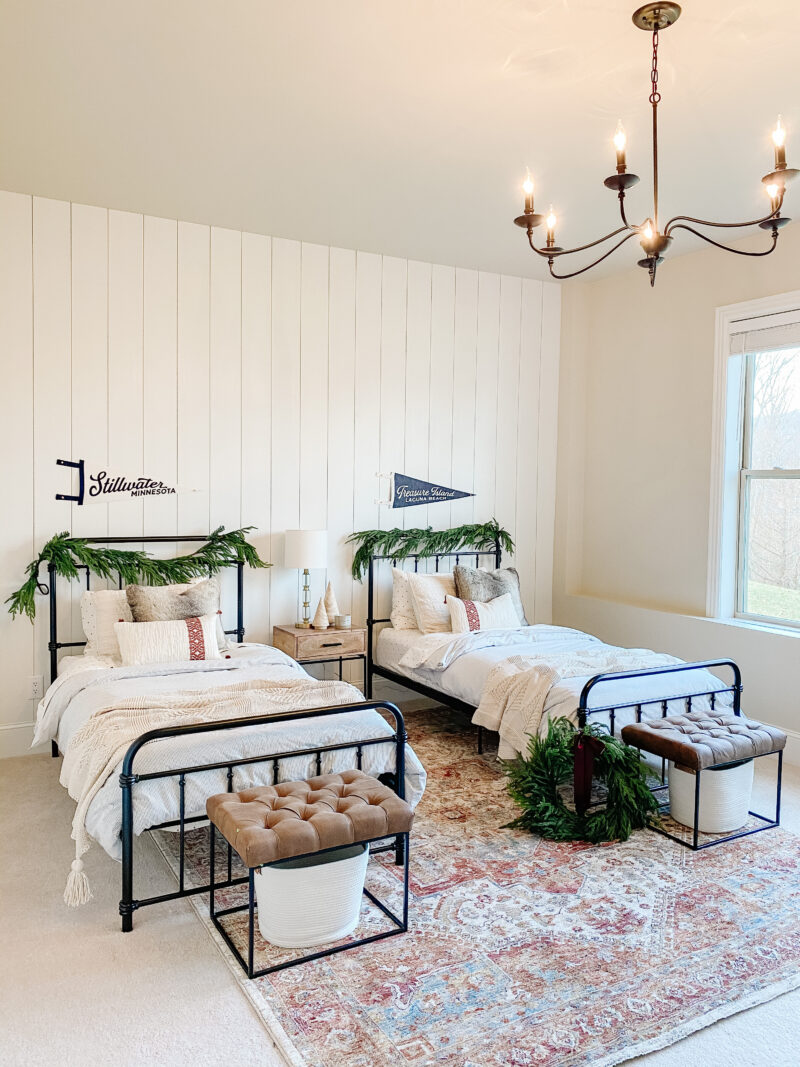 When it comes to spending money on a space, lighting, a good rug, and millwork will always yield the best bang for your buck. And always stick to your vision.
Now that doesn't mean you need to spend a fortune on the lighting, but definitely consider updating it. I love this light ($120). It was such a great change from the original fan. This room stays nice and cool in the summer so we weren't worried about making the swap. With 10′ ceilings, it really doesn't feel like a basement which is also a bonus.
The pennant names were chosen by our kids. We asked them to pick their favorite place. My son played hockey in Stillwater and fall in love with it. My California girl will always be an ocean child and loves Treasure Island in Laguna Beach (so do I).
*Faux leather ottomans found here (we've have gotten so much use out of these)
#2: MILLWORK
Do you remember where we started? (Photo snapped on a cloud day). Unfortunately, I don't know the color on the walls. The basement had been freshly painted and we really liked the warm color. Adding the white shiplap gave it a nice contrast and brightened it up. My biggest piece of advice is to invest in wood trim in your spaces. It's a great DIY, too. It truly can do wonders in transforming a room and is a wise place to spend money. You don't need to spend a fortune on the accessories and decor. You really can pull together a space without going crazy. But it will all read so well if there is pretty millwork in the space.
#3: A GREAT RUG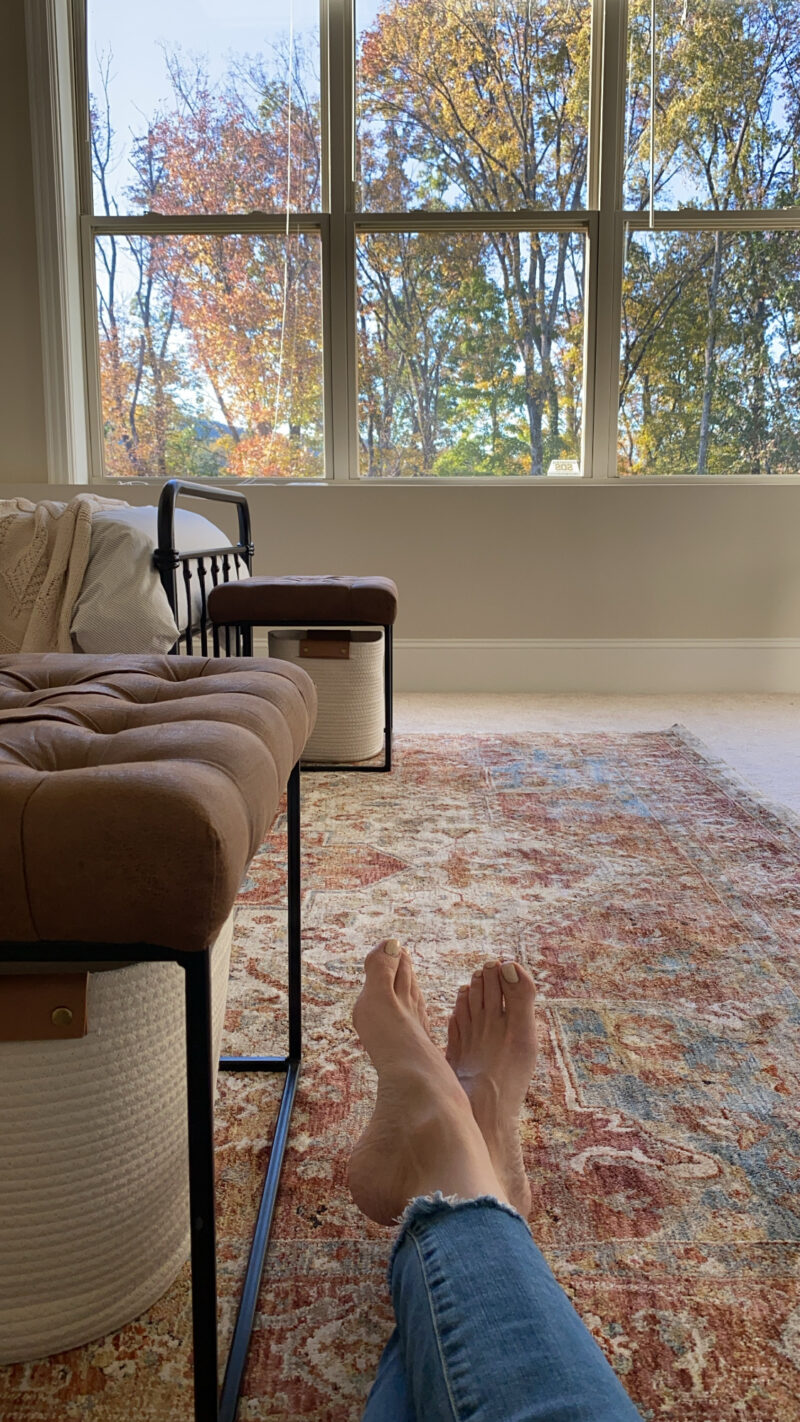 Right after I made the beds for my friends to stay, I sat on the floor and took in the view. Of course the leaves haven fallen now, but it really is a lovely spot to look out. The rug was another lucky HomeGoods find. I couldn't believe it when I saw it because it was exactly what I had envisioned. This one is quite similar. A great rug is the third way to get the most out of your space. It will change the entire look of a room and help pull together a color scheme.
Nowadays there are so many beautiful rug options. You can go high end or spend under $300 and really add so much character to your room.
#4: STICK TO YOUR VISION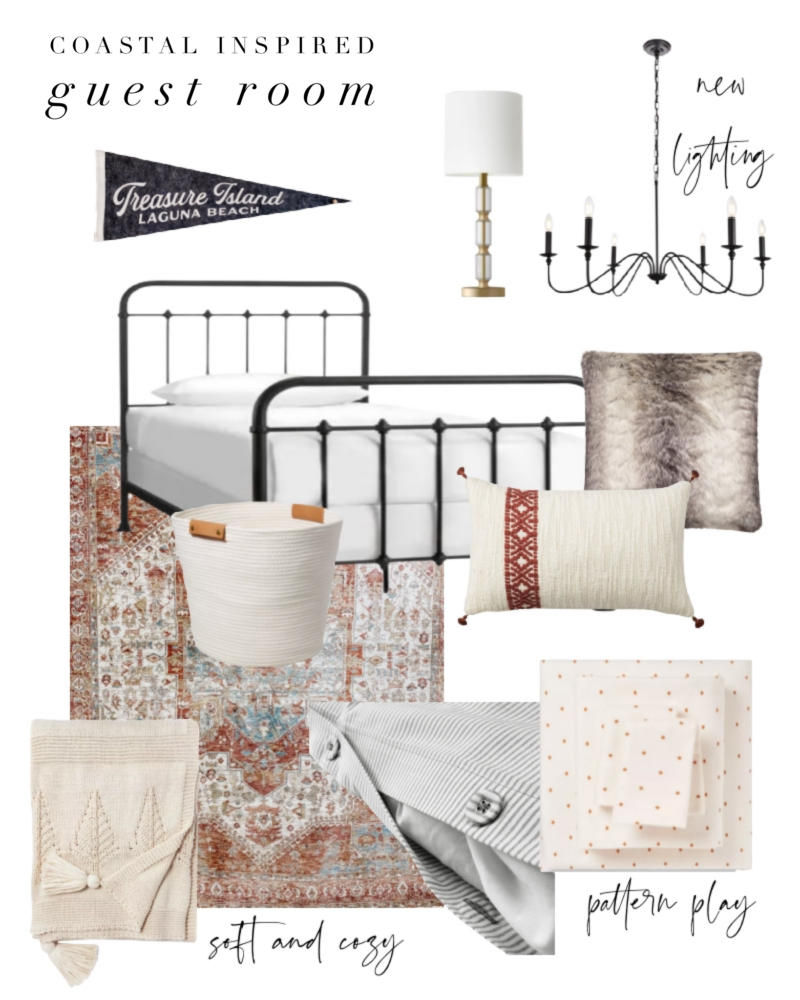 For this room, I found the rug first and went from there. When I was shopping for bedding, I had a picture of the rug on my phone to keep me on track. It's so easy to get swayed in a different direction when you are out and about shopping and see beautiful things. Believe me, I know. For this space, the rug and the pennants kept me on track. I wanted everything to tie in with those components. Every time I picked something up, I looked at the rug photo to be sure I liked the combination of what was in my cart.
COZY AND COMFY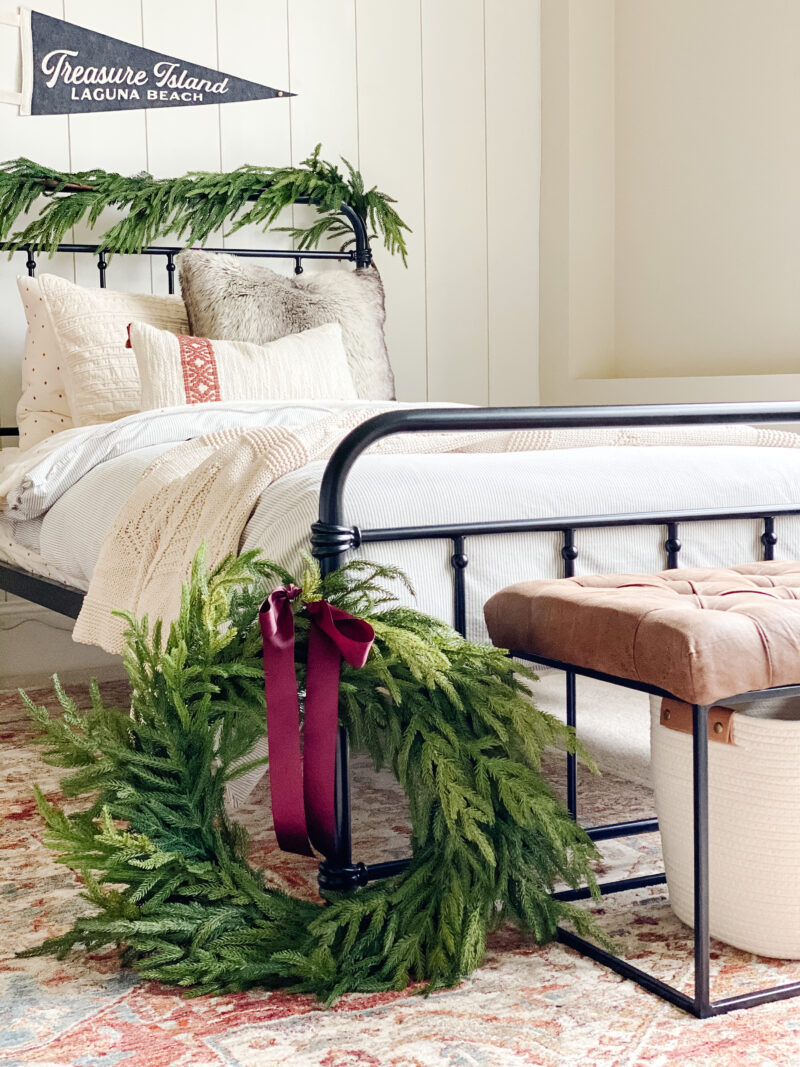 The details on our Christmas decor finds can be found in this post. I chose a cranberry satin ribbon this year and have used it throughout our home.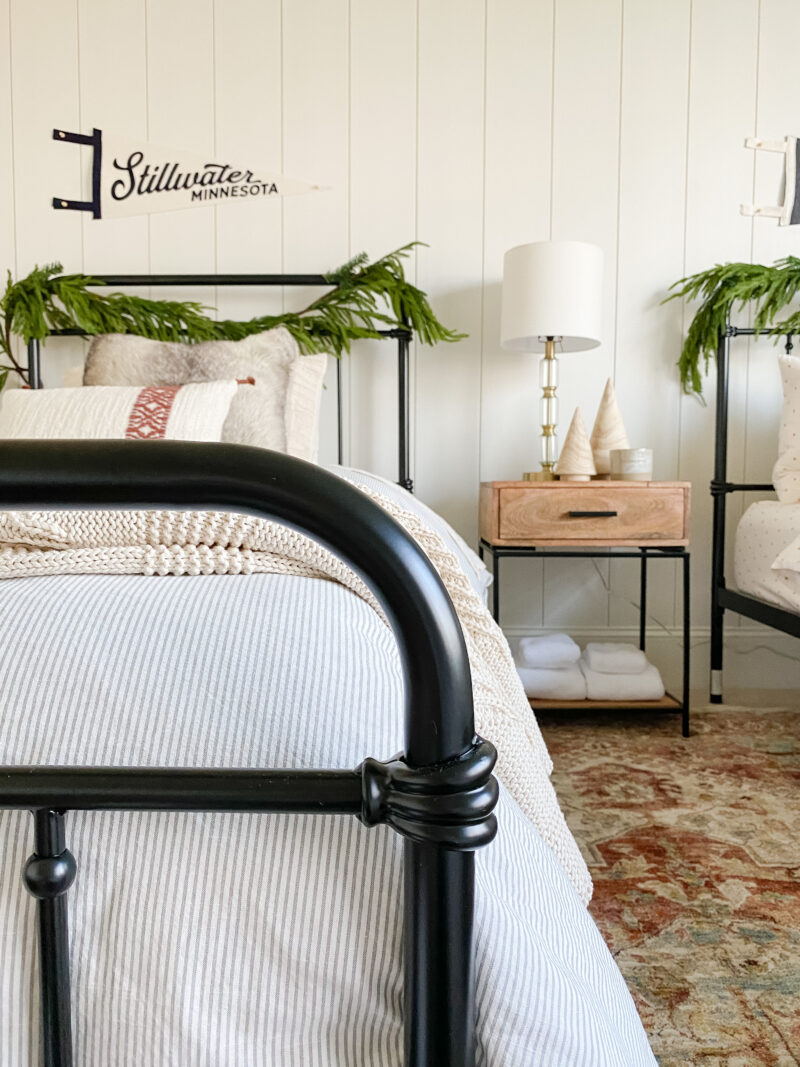 The wooden trees were a Target find last year but these are similar and on sale. The table was a HomeGoods score. I wanted the warmth of wood but love how the metal ties in with the beds. When kids stay here, I will swap out extra towels for a stack of games.
THE DETAILS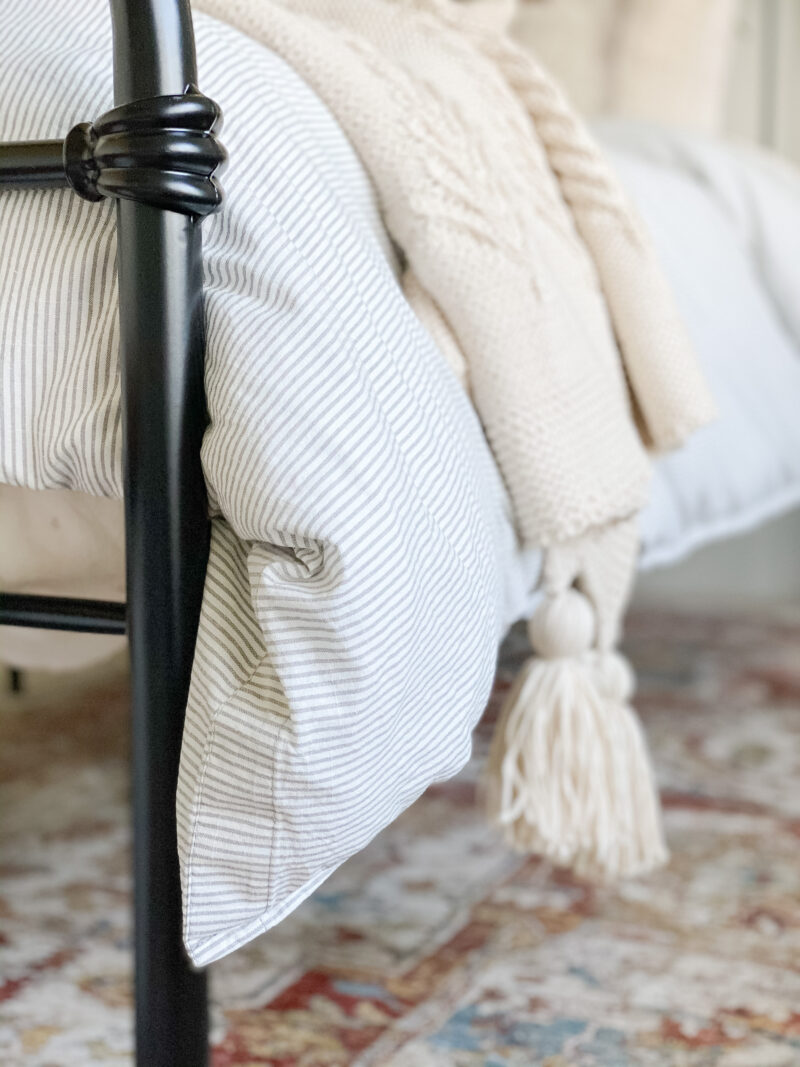 I am a sucker for a classic pinstripe. This exact duvet is from Ikea but you can find one here as well. I am all about mixing and matching sets and layering plenty of texture to make it feel warm and cozy. The throw blankets are such a nice weight, soft and a beautiful natural oatmeal color.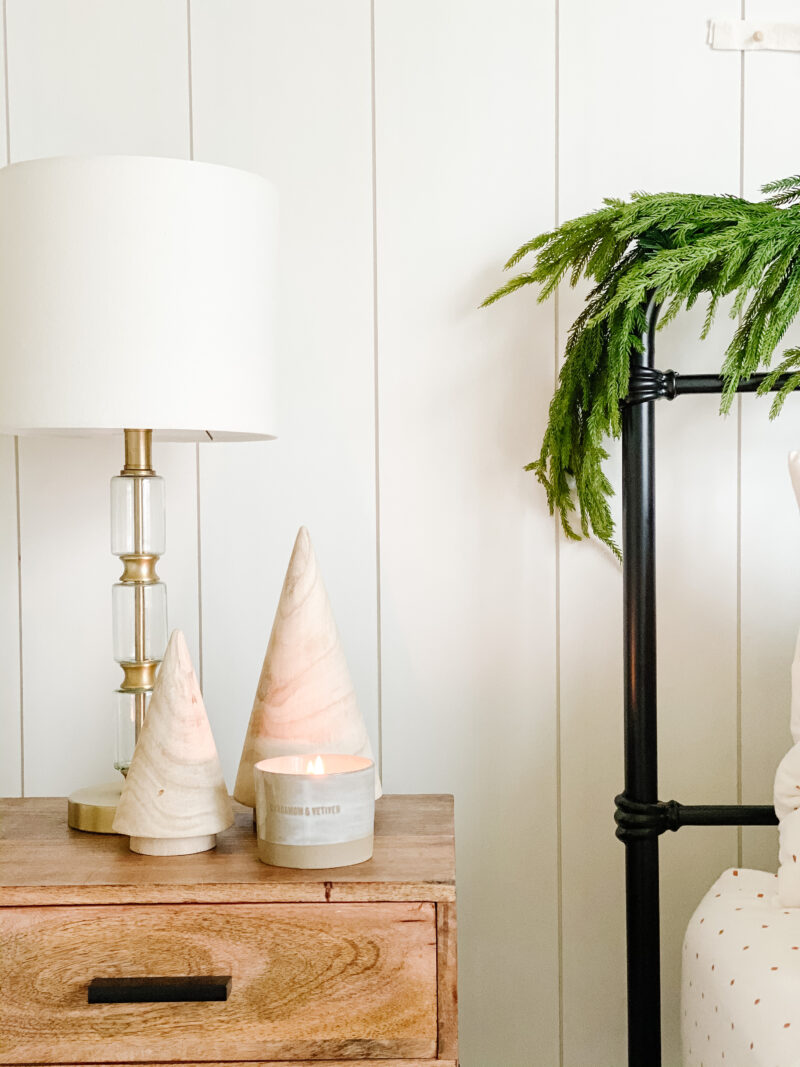 This sweet little lamp is $40 and add a nice touch without taking up to much real estate on the small side table.
PLENTY OF STORAGE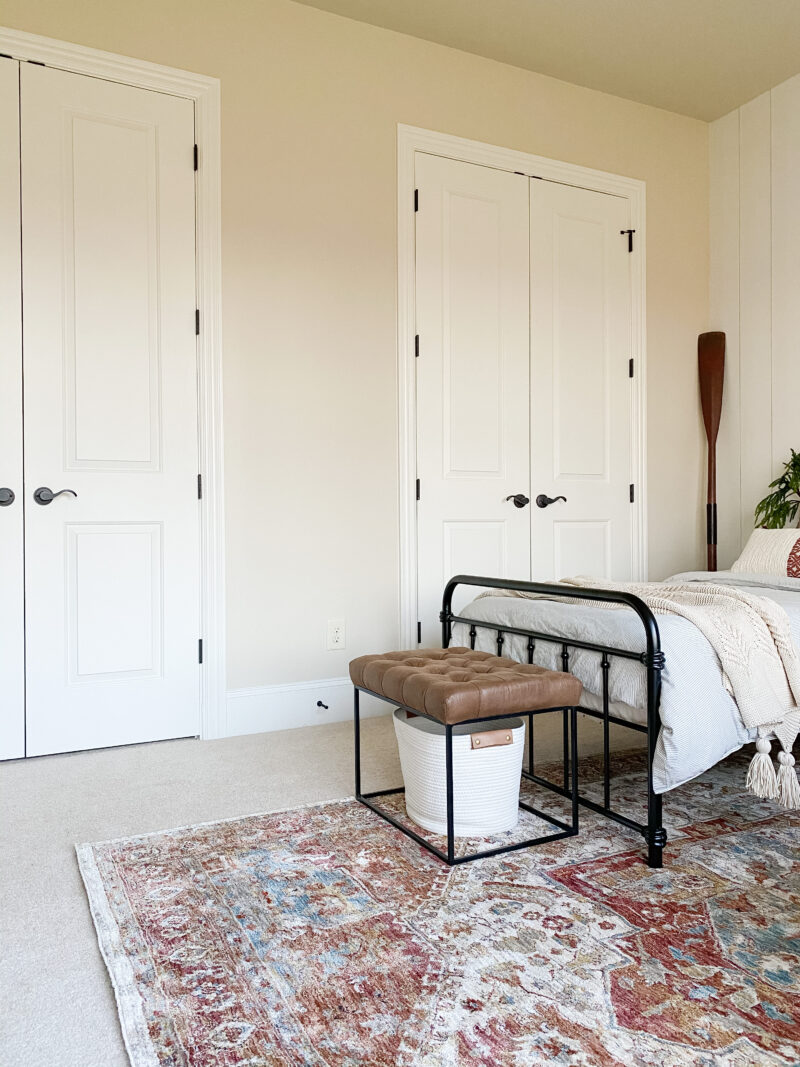 This room is a really good size and has two full closets. We are keeping them empty so that guests have plenty of room fort their things. The oar belonged to my brother and is something I've had in every home. It makes me smile every time I see it.
TIME TO BOOK A STAY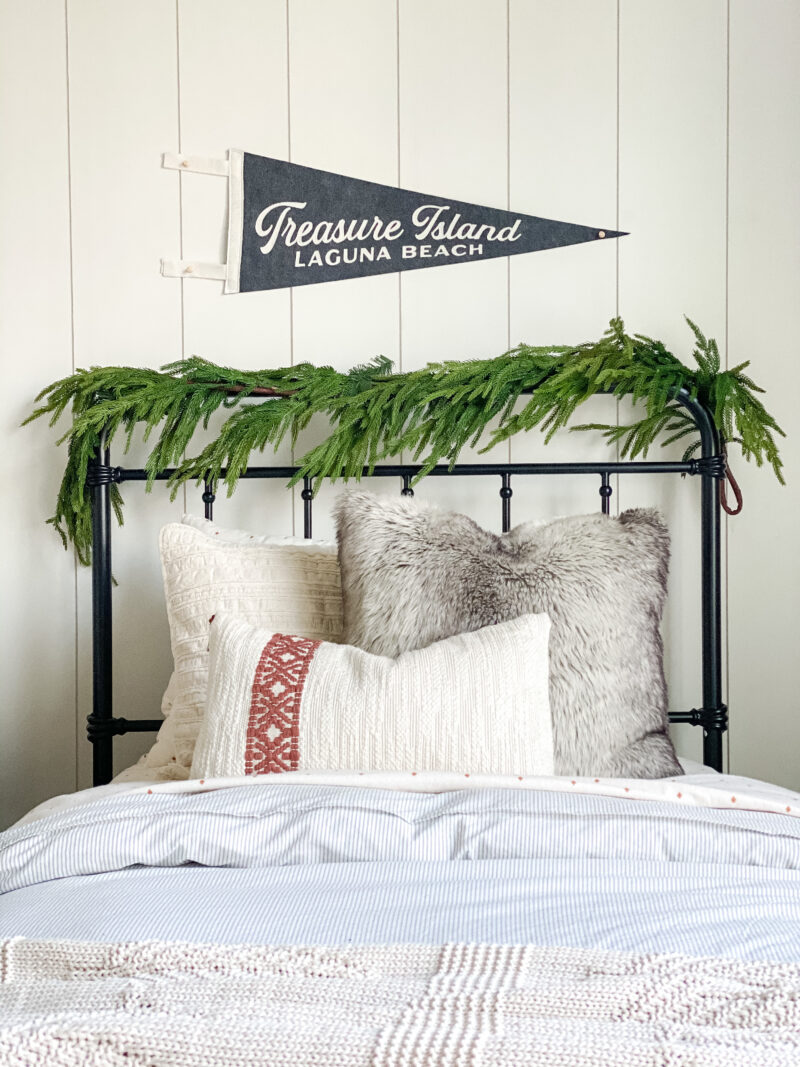 So thankful to the team that did our shiplap. If you area local and need someone for millwork, shoot me an email.
The other side of the room has a table and chairs (for games or just getting things done). We also have a small workout area that has been great for us. If guests stay, we can easily move that out. I'll photograph that portion once we get a few more details finished.
Have a wonderful day. And to friends and family, we are ready for you!
Shop the Post