Ahhhh, the tale of our laundry room. It's a doozy. I haven't shared this space or this story because it irks me. But I'm learning to let it go and move on. And in the grand scheme of things, it isn't important. But I thought it was worth sharing so that you see not all projects go smoothly and we all have major hiccups in the road. Enter our laundry room.
THE ROOM WHEN WE MOVED IN
This is what our laundry room looked like when we bought the home. Awesome size, great storage. Without question, not our taste but I was certain we could work with it. It wasn't where I wanted to spend our money. Throw some paint, rolling baskets and decor at it and it would feel refreshed.
Fast forward to realizing there was significant damage to the floor and cabinets. Something we weren't aware of. A bit of a blow and we made the decision to gut the laundry room. We had no choice with the floor and lower cabinets so with that came the well thought out decision to start fresh. Was it what we had planned for, no. But when life hands you lemons, you know what to do. By the way, this is why we are huge proponents of setting aside extra money when you plan to budget home renovations. This wasn't on our list but we did plan for unexpected costs.
IN ALL HER GLORY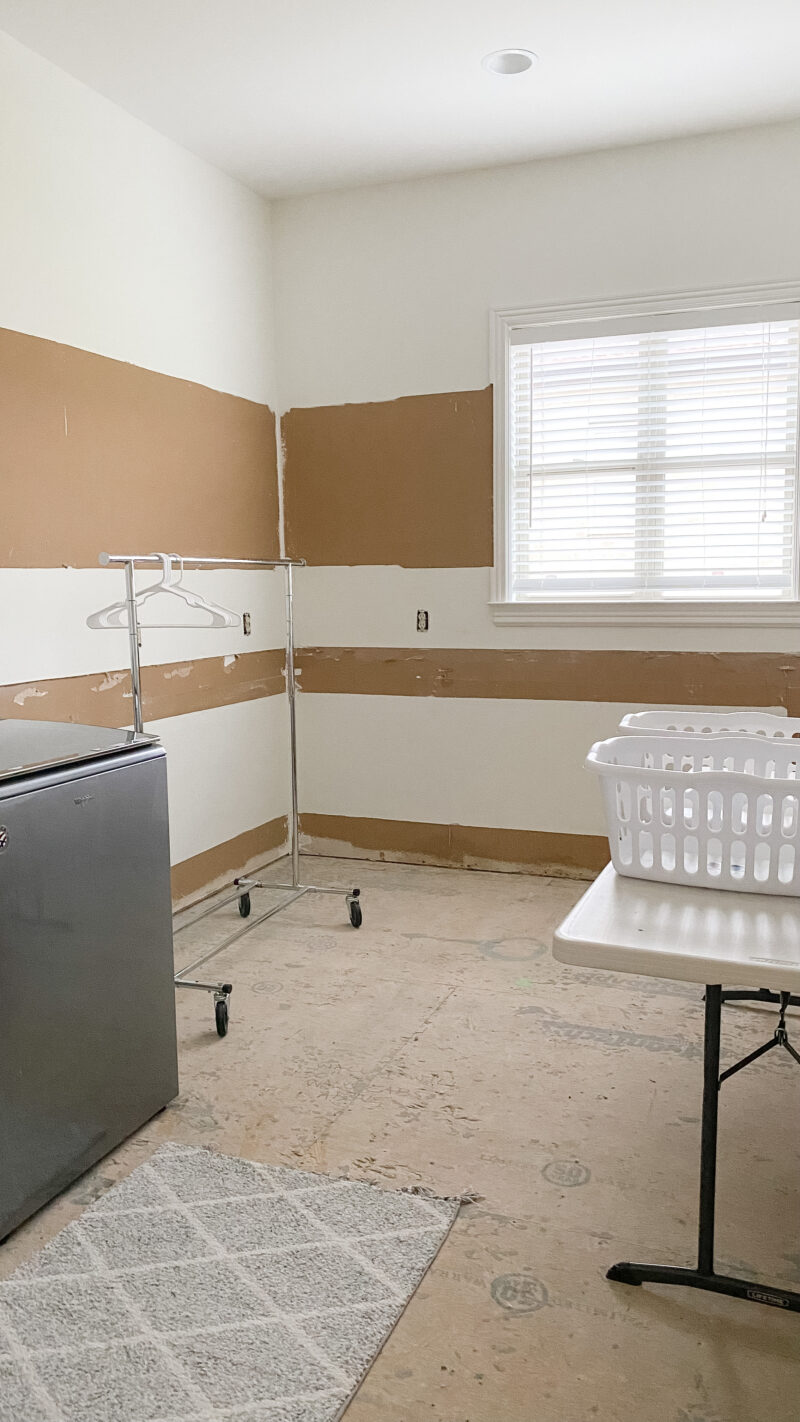 The dark paint you see was original to the home and underneath the cabinets. Hence the two-tone look we have going on. But with a folding table and rolling rack, we have everything we need.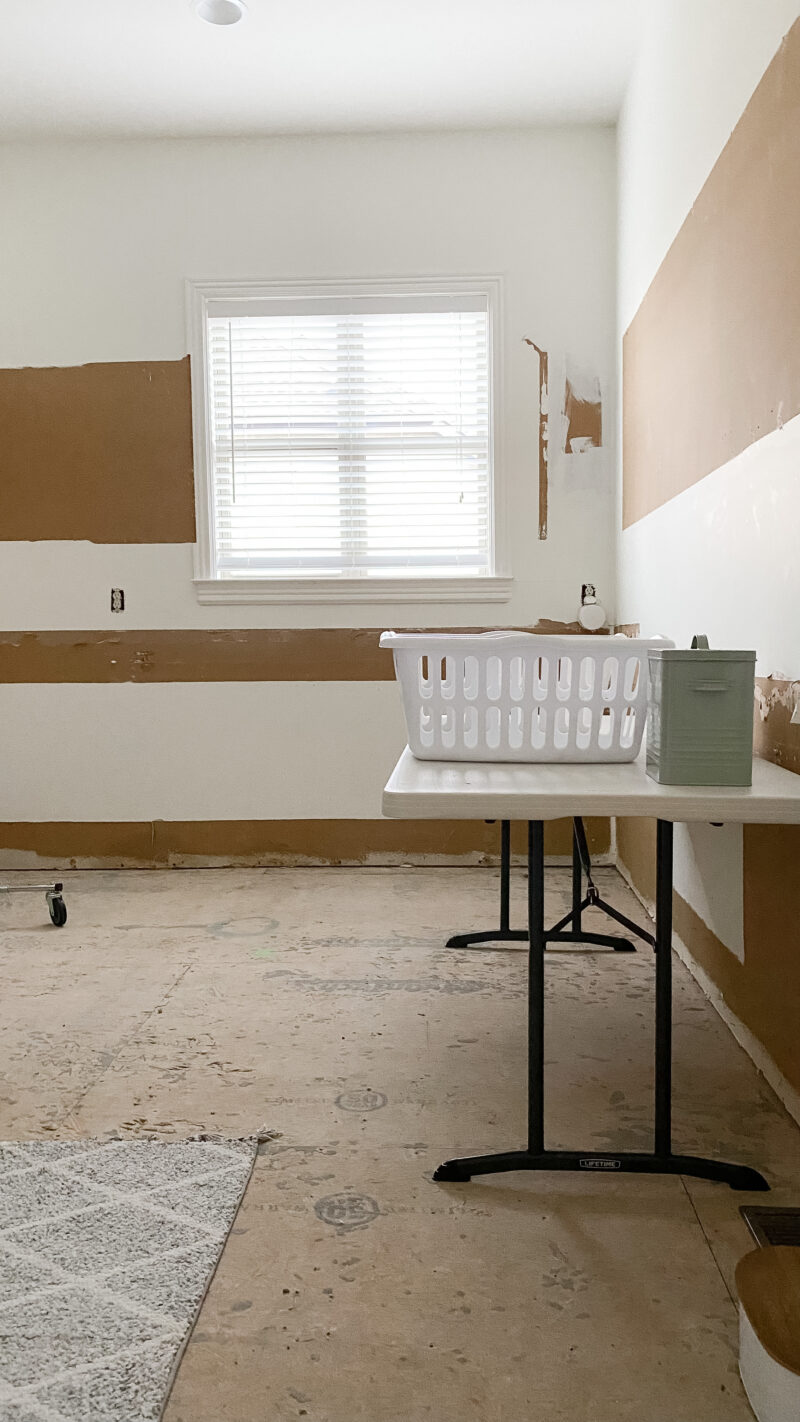 Fast forward to choosing tile and having it installed. Complete disaster. It wasn't laid properly and we not only lost money, but had to have it removed. Please do your research when having tile installed. In all fairness, we have had friends that were extremely happy with the work done by this recommendation. I just don't think tile is their strength. A hard and expensive lesson to learn. And this was on top of ripping our a room we didn't want to rip out. My girlfriends here have even learned it's a sore subject! They have helped calm me down and are so sweet.
We have hit pause. I am sure you can understand why. I am just thrilled we have this spacious laundry room and that is is functioning. And I know that one day we will put our design spin on it and that is something really fun to look forward to.
All that to say, I share so that you might feel less alone if you have encountered a project like this. Furthermore, a gentle reminder to always see examples of work with your own eyes and set aside money for unexpected costs. Even if it's just a little bit each month, it can add up and save you from being in a potentially stressful situation. And so we are onward and upward. I can't leave you with just that so let's look at some gorgeous spaces.
BEAUTIFUL SPACES
I truly have no idea what direction I am going in this space. With the kitchen at the forefront of our minds, I really don't have the bandwidth to hop into a full design of this space. We are not even sure if we will tackle it all ourselves or call in the pros. One thing is for certain, that next people that tile our floor will be heavily vetted. The following images are all over the map but provide such beautiful inspiration for when the time comes.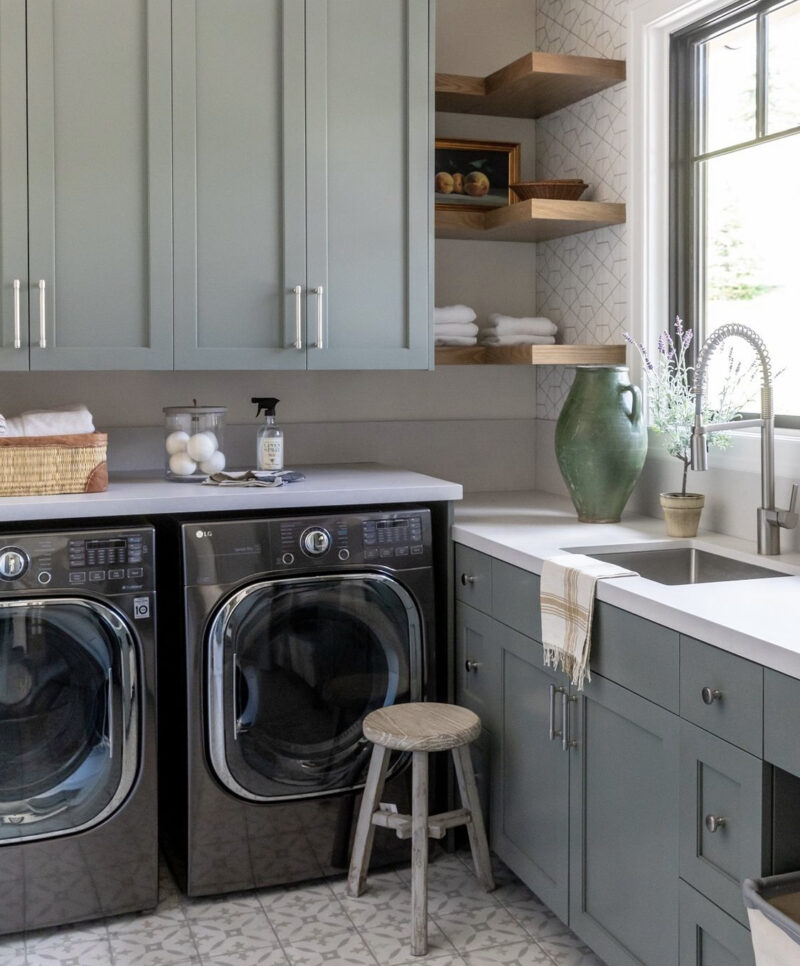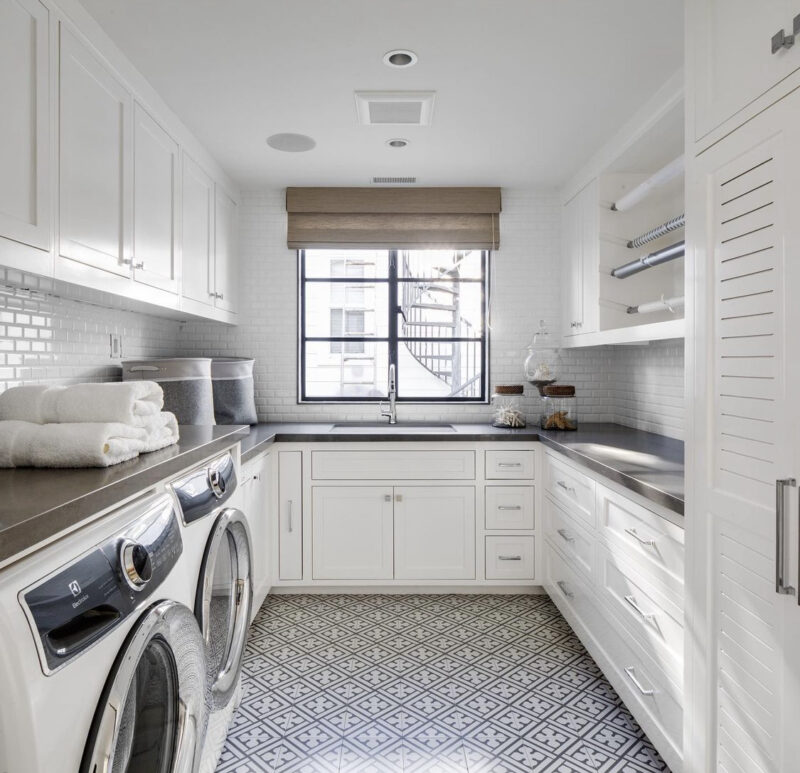 @pattersoncustomhomes | @churchill_design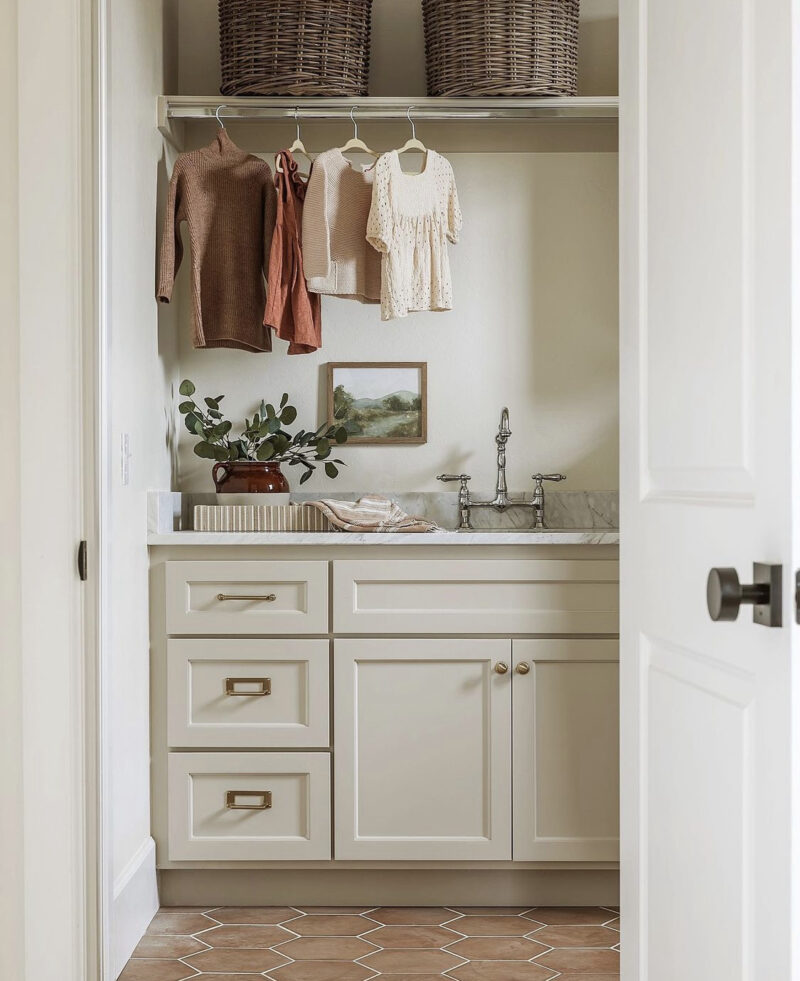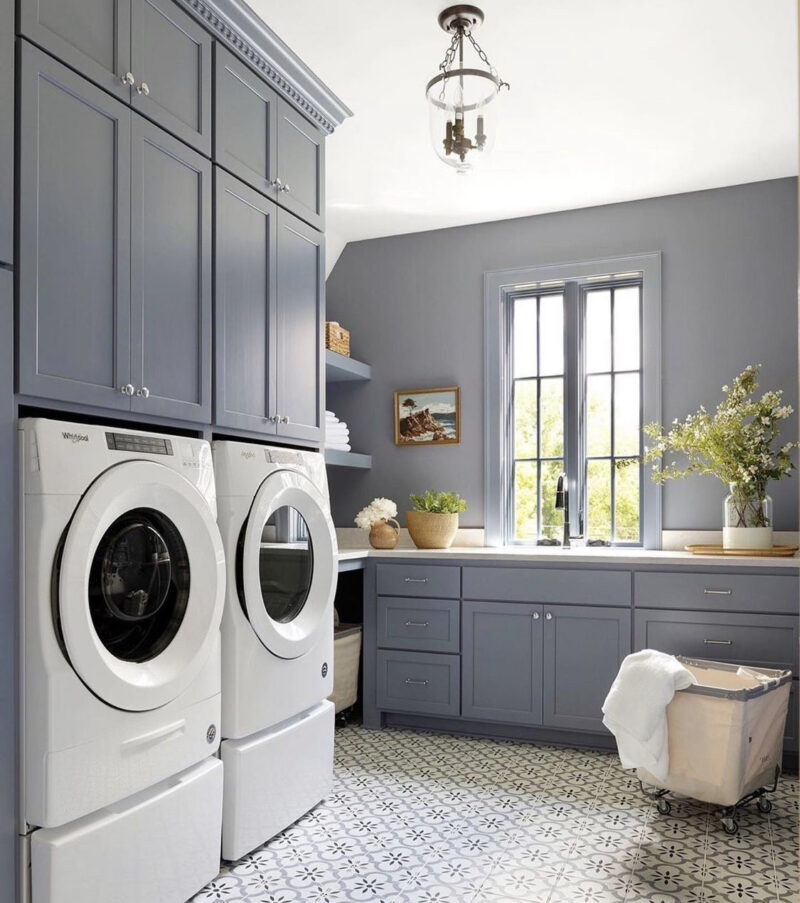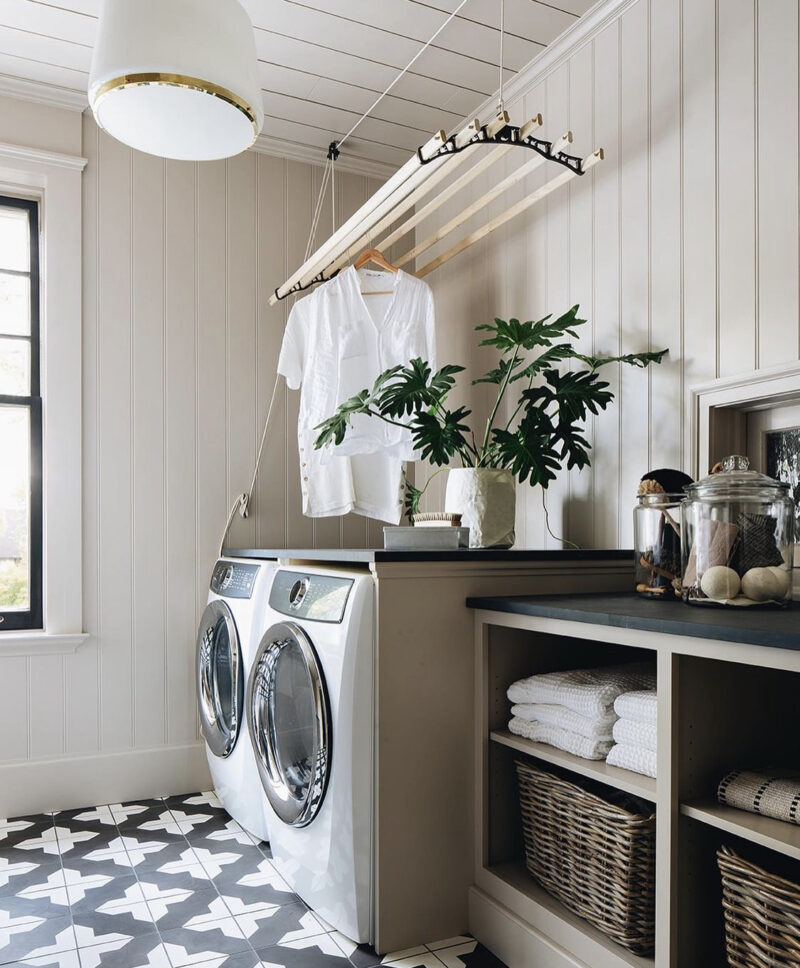 Love the moody feel in here. I will say that pressing pause on this room means we are really evaluating how we want this room to work for us. For instance, all of our vacuums and cleaning supplies are in a nearby coat closet. Well guess what? In Tennessee we actually need coats and people come to our home wearing coats. It would be lovely to get those items out of the coat closet and into the nearby laundry room. So with this major pause, we are most likely able to better think through the plan for our laundry room. Always an upside.
A FUN BEFORE AND AFTER
Do you remember this before and after? It's on one of our very favorite makeovers. I was so proud of my husband for designing the laundry basket cabinet and those countertops. You can read the full post here. And if you ever want to mover your water lines, we created a step by step tutorial.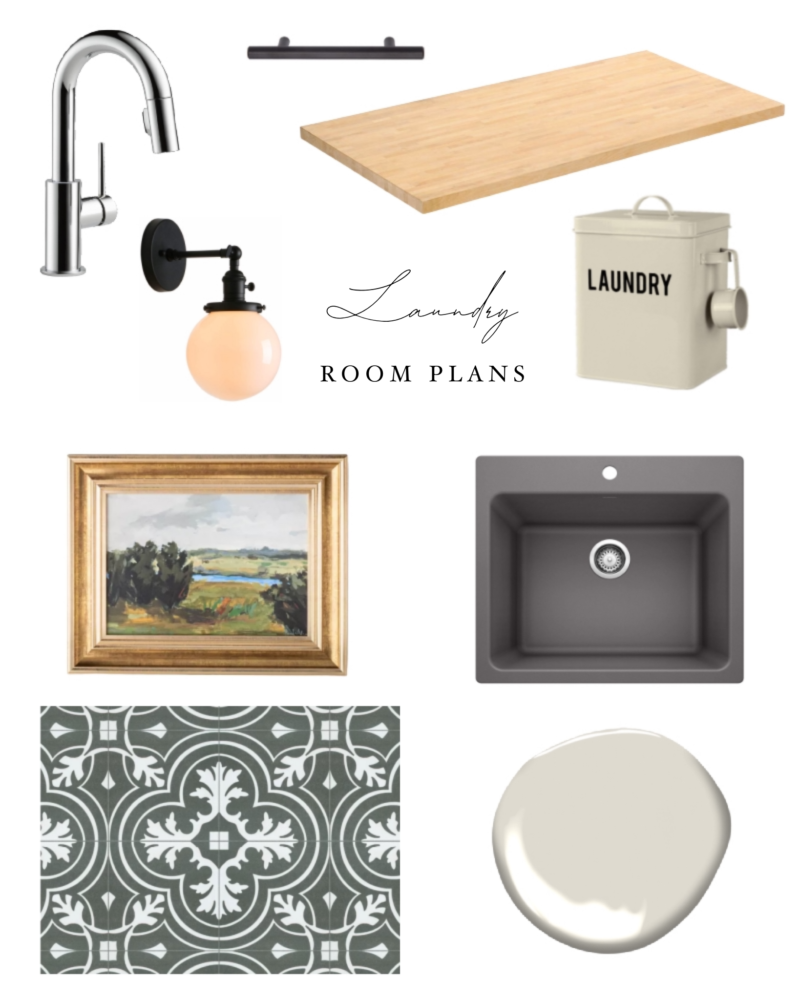 sconce | faucet | hardware | sink | butcher block | laundry tin
Here is a list of all of the sources for the laundry room makeover from our California home.
We definitely have our work cut out for us. But to be perfectly honest, we are in no rush and I just feel grateful that I have a working washer and dryer and a place to do it. I've really enjoyed having it on the first floor again. It makes it easy to be in the kitchen and just pop in to transfer a load. Stay tuned as this project evolves. And if you have a project that has gone off the rails, you are not alone. Maybe the time to process and plan is a benefit in the end.