Good morning, my friends. I will be honest. My emotions have been all over the place this week. I realized that if I am not productive in some way I start to spin. When I can get something accomplished, whether it's around the house or with work, I feel much calmer. With the kids learning from home, we've made a few necessary adjustments to keep things organized around here. I thought it would be fun to share how we have repurposed a few home decor items. I hope it encourages you to look at what you have in a new light.
*affiliate links used
bar cart | curtain rod | lamp | similar blanket
We are all in the same boat with having to pivot and turn our homes into work stations for the entire family. My daughter has always used our kitchen island for homework and that hasn't changed with distance learning. But usually it all gets packed up in a backpack and taken to school each morning. I found that suddenly my kitchen counters were never cleared off and that wasn't working for us. It was time to repurpose what we have and think outside the box. Enter the bar cart.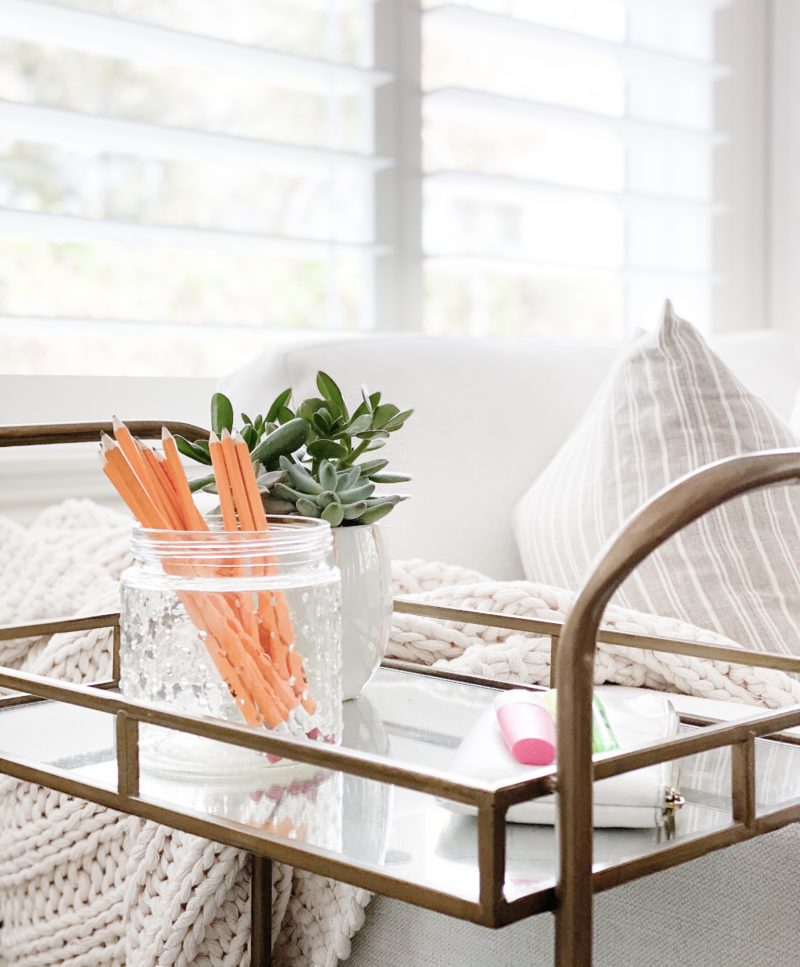 This was styled for entertaining in our front room (not at all useful right now) and collecting dust. I emptied it and told my daughter that she now has a rolling work station. She keeps everything on here ( including the Chromebook) and we just tuck it back here by the couch.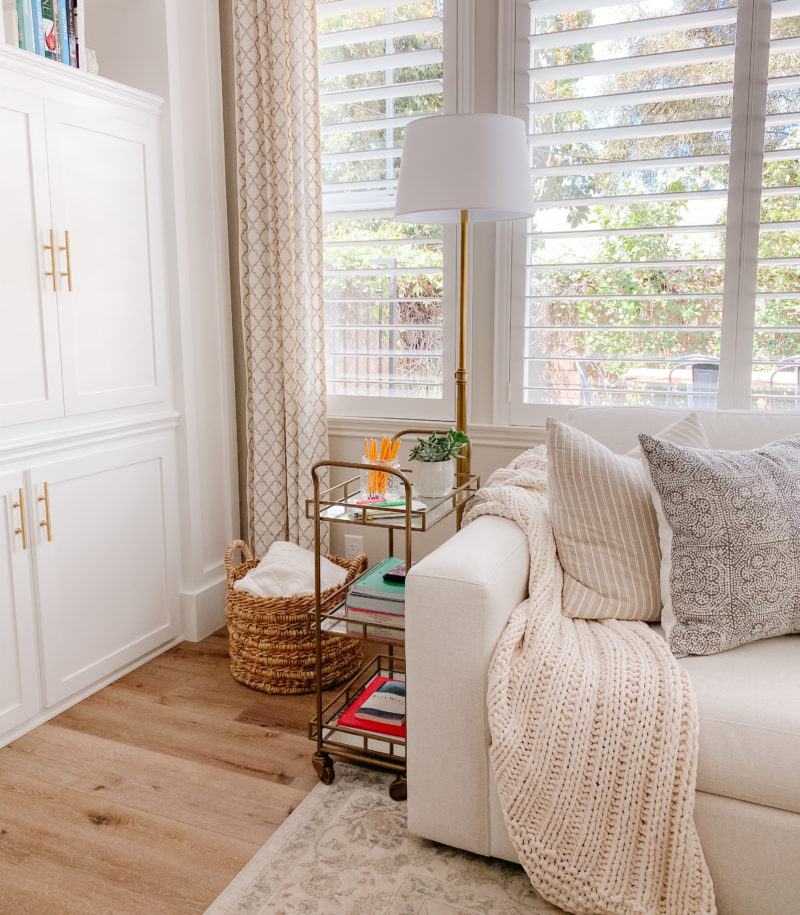 I love that she can roll it over to the kitchen island and then load it back up and roll it right back.
ROLLING WORK STATION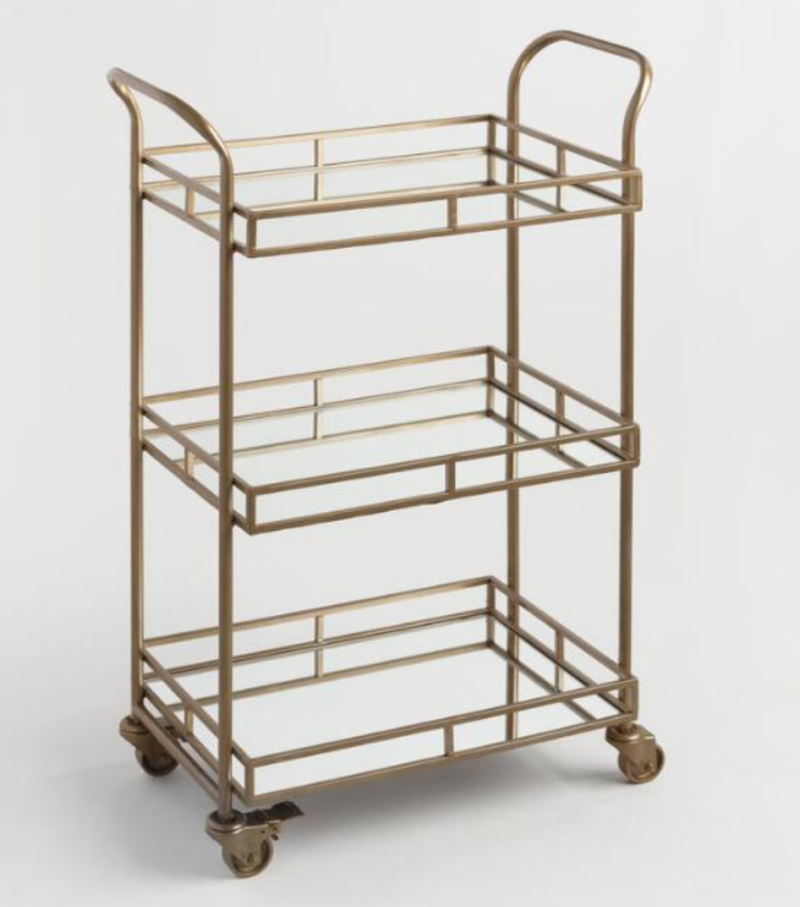 Our cart is currently on sale. We love styling this during the holidays when we entertain. This one is similar for less.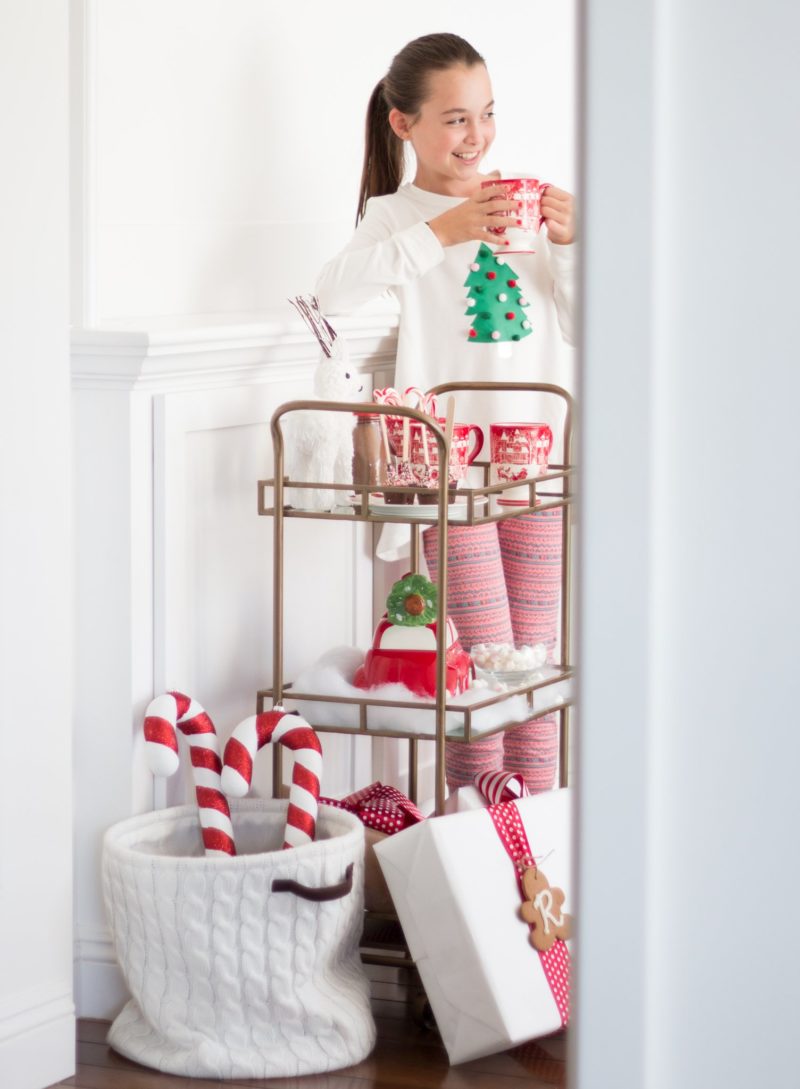 I couldn't believe how much my daughter has changed when I went back to grab this photo. The years go by so quickly. This extra family time we have right now is time we will never get back.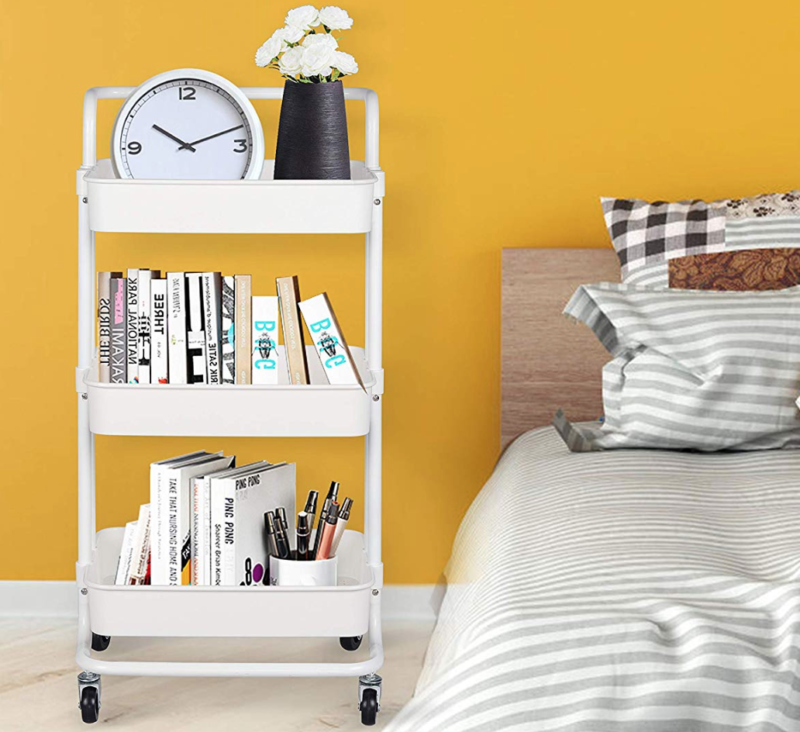 This cart is a nice choice for school supplies, too. Or even if you want to corral all of the games and crafts that are going down right now.
These rolling carts are now on sale and under $30. This could be a great option to maintain some sanity with all of the school supplies. There are a ton of colors available.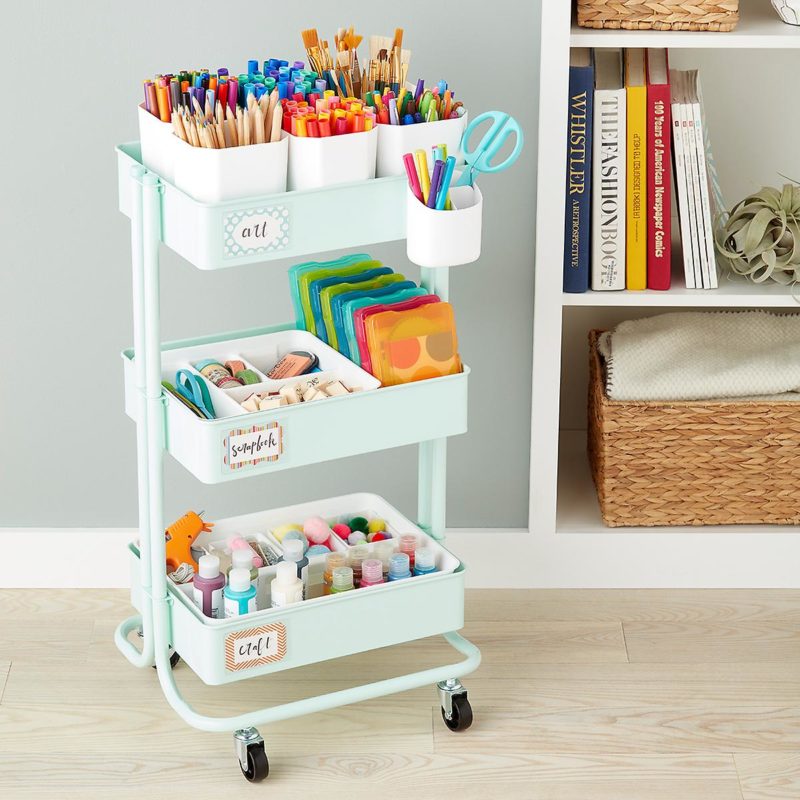 Or use it for all of the craft supplies your little ones may be using lately.
BASKETS CAN WORK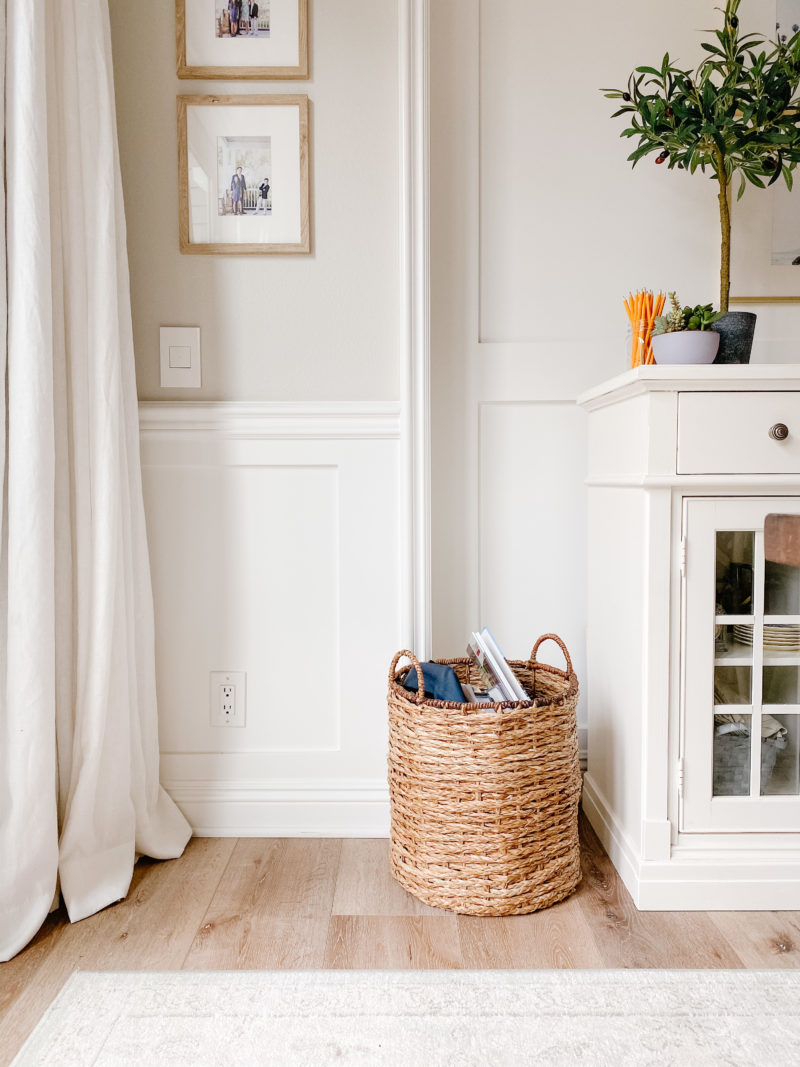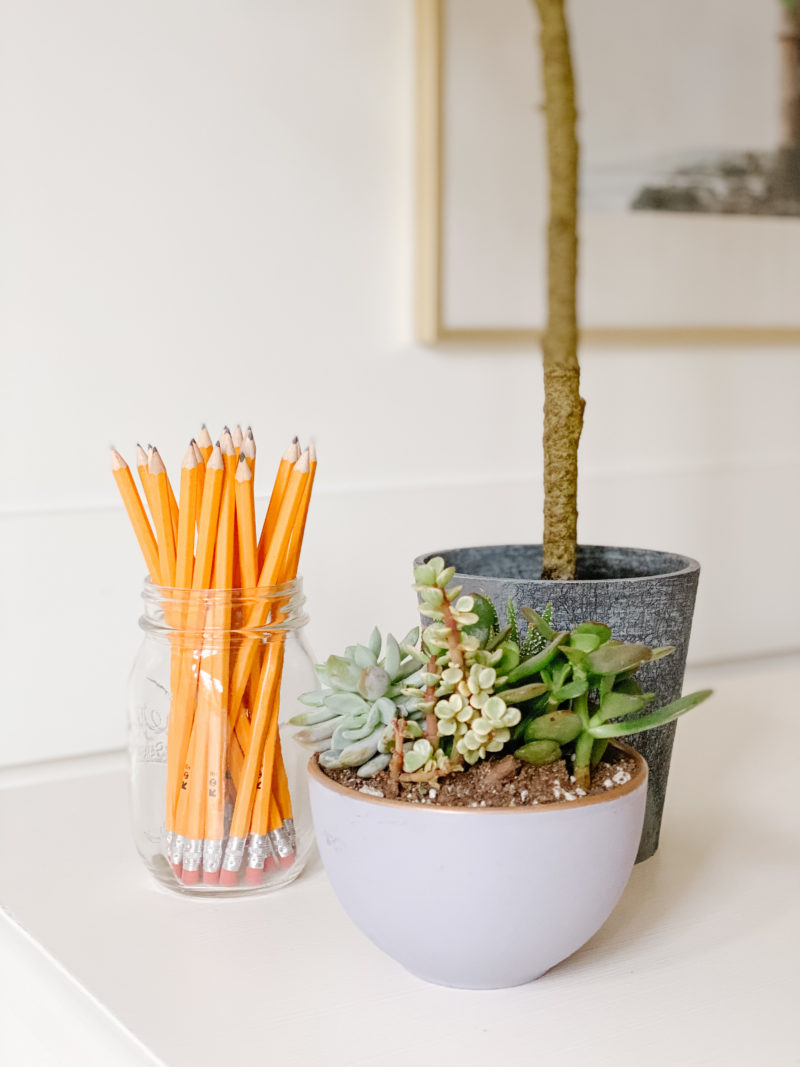 Maybe you don't have a bar cart at home, but you might have a decorative basket somewhere. Time to dump it out and repurpose. Baskets can hold a great deal and that may be a nice way for the kids to collect everything at the end of their school day and store it away.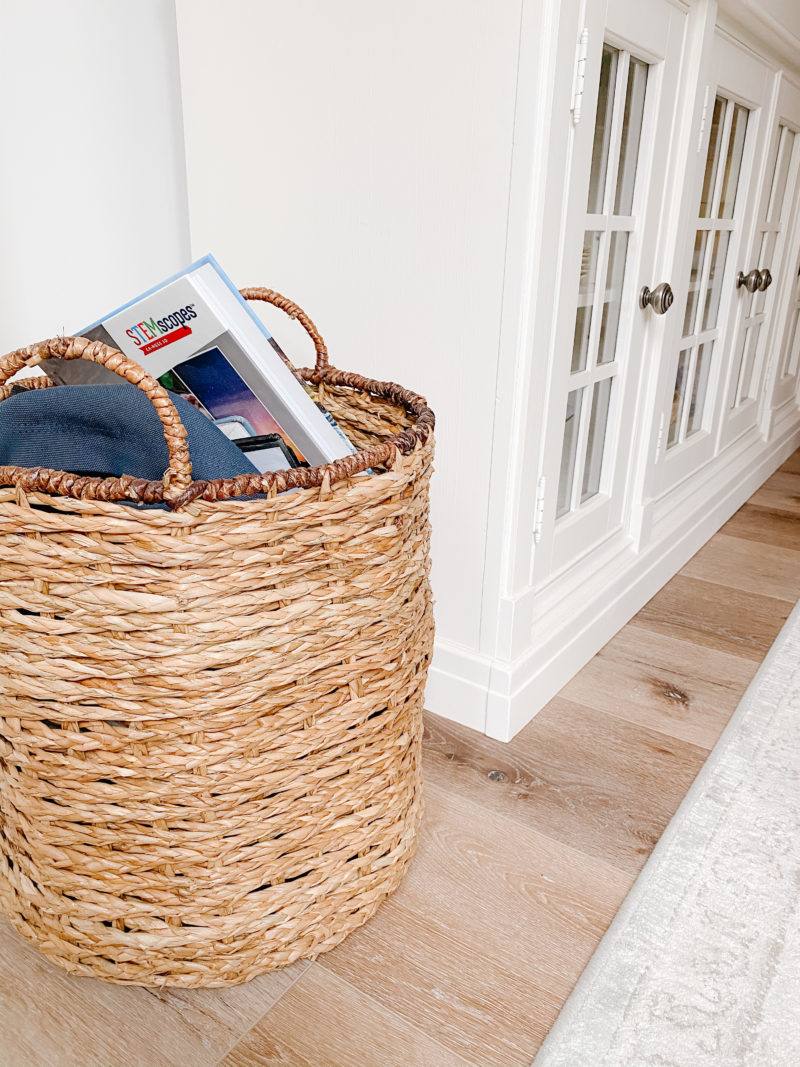 We did this for our son. During the week, the dining room table serves as his school spot. He usually keeps things out during the week but on the weekends it all goes here. If you have one table and it's doing double duty right now, a basket is great for collecting it all every day before dinner time.
The funny thing is now that I am looking at these photos I am realizing I could also clear out part of our sideboard. Why did that not occur to me until now? Maybe you have a storage piece that you could repurpose, too. Pack up a set of dishes or decor you don't need right now so the kids can tuck their school supplies away? Might be a more affective use of space.
CREATIVE STORAGE IDEAS
If the not so organized chaos is getting to you, maybe take a walk around your home and see what you can repurpose. Chances are you can shift and move some things around to fit this new way of life right now.
Empty a dresser drawer and use for craft supplies or school work.
Use a plastic laundry basket to corral all of the books and binders.
Store a box of "entertaining" supplies in the garage to make room for home schooling gear.
Let the kids get in on the organizing so they are more invested.
MOVE THAT PUZZLE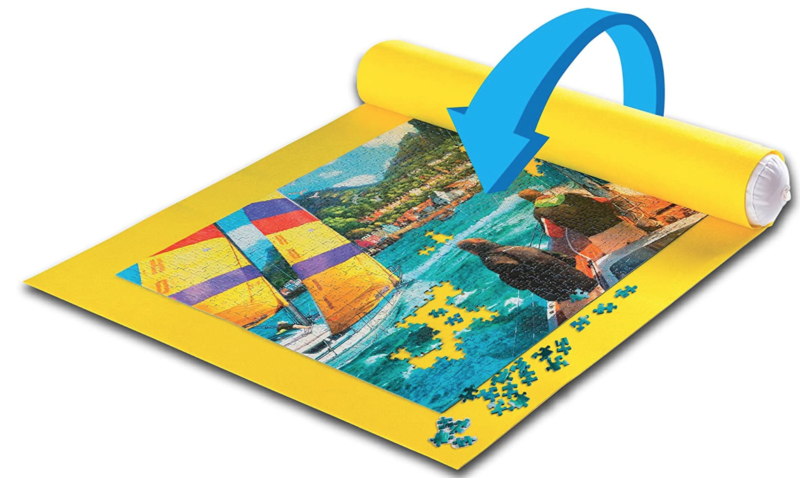 My husband found this for us. Puzzles are a great family activity but you can't always sacrifice a large part of a table just for a puzzle. This mat allows you to work on your puzzle, roll it up when you need a break, and store it away until next time. Ummm . . . genius.
IN OTHER NEWS
Loft is offering 60% off if you buy 4 or more items. I continue to love wearing these lounge pants.
Nordstrom is up to 60% off right now. That's pretty huge. If you are doing any shopping, you may want to take advantage of the sales. I have a daughter turning 14 (cue the tears) and have a couple of things I want to order.
Anthro is also having a sale. The tie dye trend can be a bit tricky, but when it's this feminine, I am on board.
Happy Friday Eve to you all. We have started a tradition (can we call it that already?) where we put on real clothes on Friday nights and enjoy a date night in. Really it just feels good to be out of sweats for a moment. Have you started any routines like that? We will also be dressing up for Easter this Sunday. If you are looking for a yummy potato recipe, this is our go-to. I will be making these this weekend. Wishing you all a good day.