So we are finally kicking off Spring break! Ours seems so late this year, but comes at a perfect time to talk about warm weather style. When Nordstrom invited me to share my favorite Spring styles right now, I immediately thought of sharing my top 5 must-haves for spring. None of them will break the bank and can all be worn for so many different occasions. Time to kick it off.
Number one | white jeans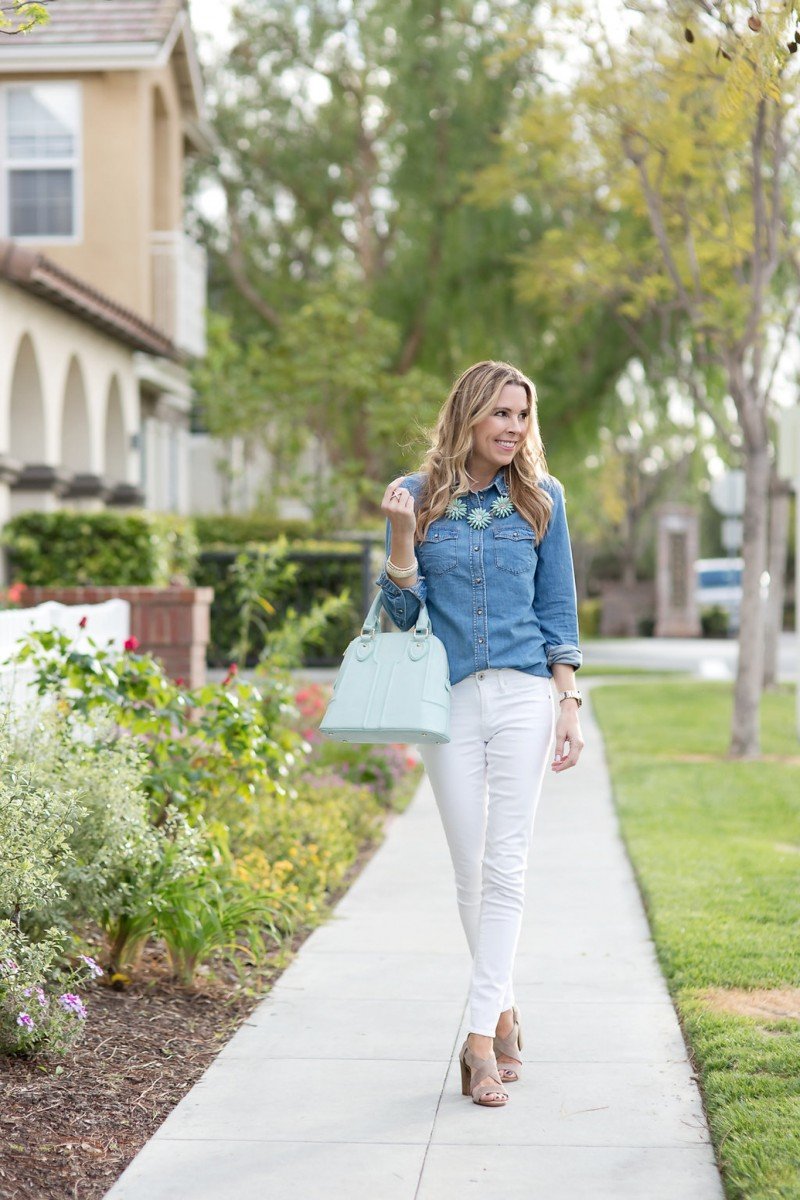 It's no secret I love a good pair of white jeans. I adore these. I love the fit, the amount of stretch and the $54 price tag . They really are my go-to jeans for spring and summer. I love that you can throw them on with a pair of Converse, sandals or heels and it always looks fresh and pulled together. One of my go-to Spring looks is also white jeans paired with my favorite tank. And at only $20 and 10 colors to choose from, you can't go wrong. I now have the tank in gray, black and mint green. The mint is so beautiful (ignore how funky it looks on the website). You can see the tank on in this date night post. For reference I am wearing a size 25 in these jeans.
Number Two | Pastel Accessories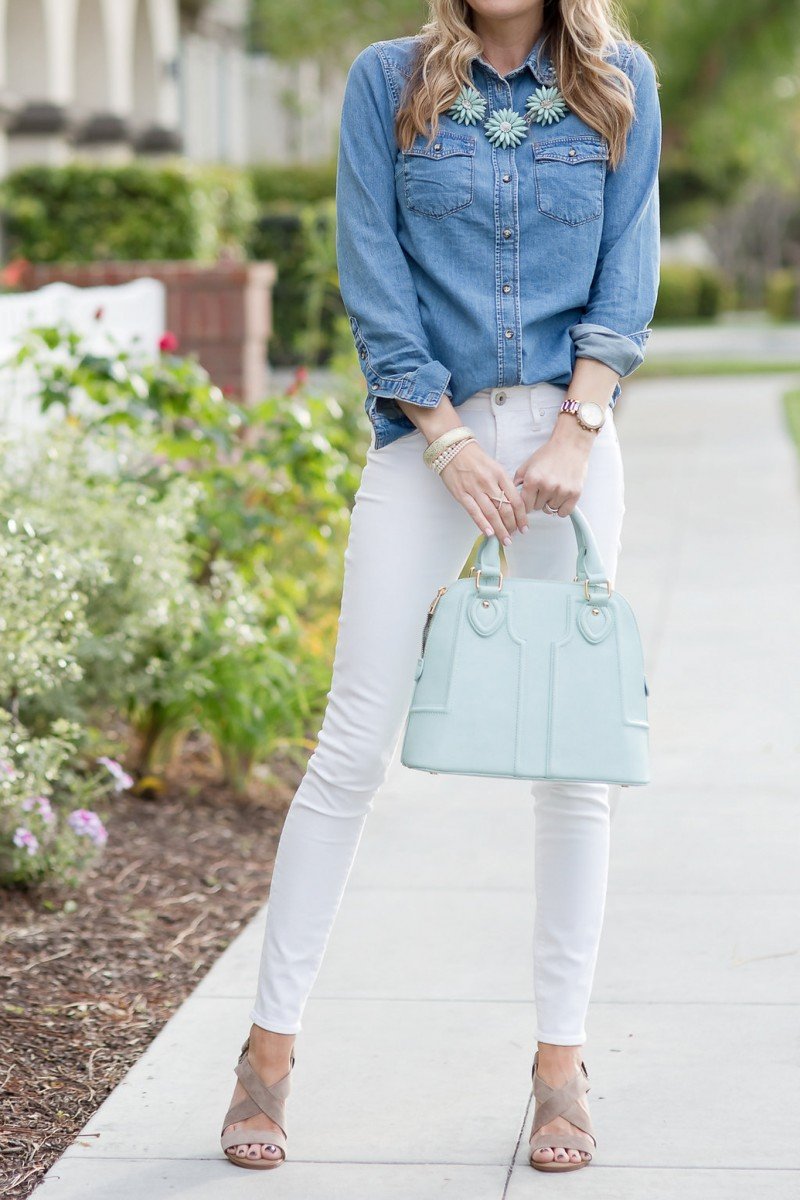 You'll be seeing a ton of gorgeous pastel colors for Spring. I have always loved mint. Even my bridesmaid dresses were a mint plaid skirt paired with a mint tank. Yep. My love of plaid and mint go way back. Ladies. This purse! It's such a cute style and only $60. I doesn't feel too big and overwhelming but holds a ton. It also has a long strap that is detachable so you can wear it over your shoulder, too. I love when I have the option of carrying it different ways.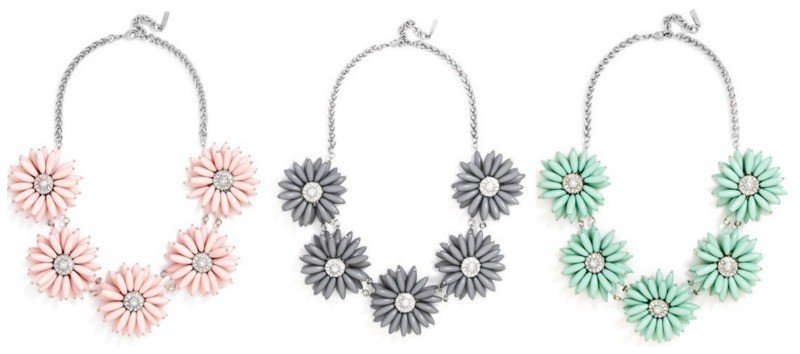 And this floral necklace comes in different colors and is so fun to wear. It looks awesome with jean shorts and a white t-shirt. And at $34 it's a really great addition to the wardrobe. I have gotten so many compliments on it already. It's a great color against denim, too.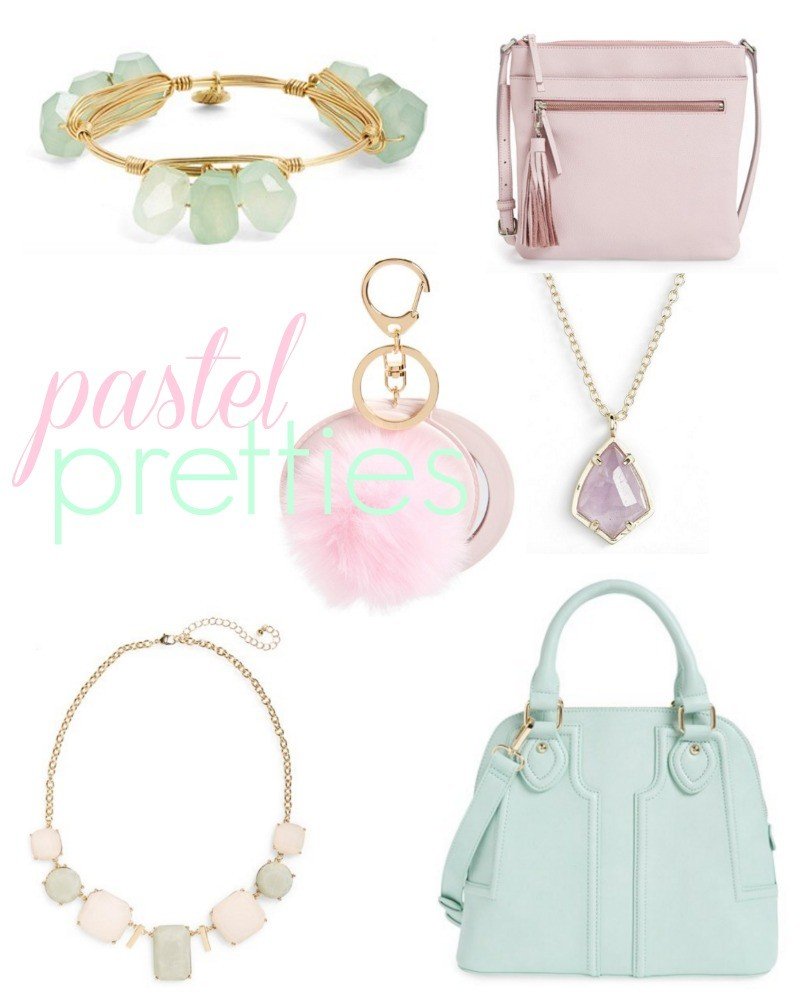 Shop Pastel Accessories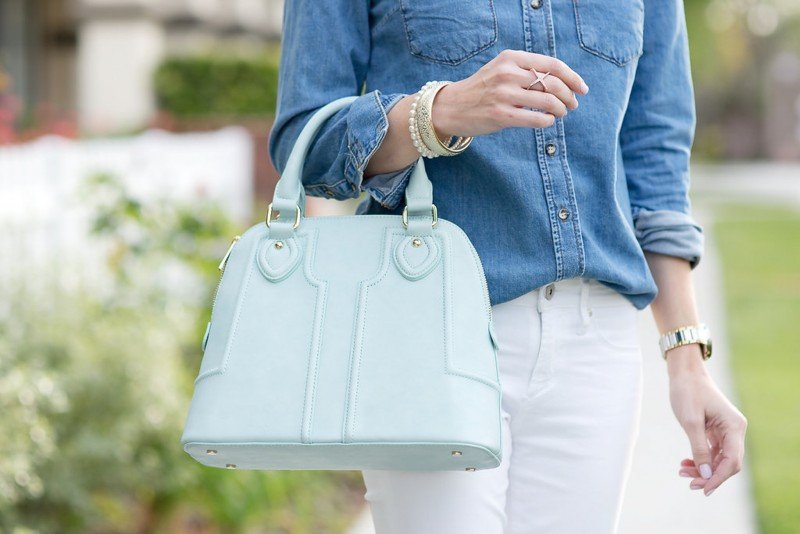 number three | denim shirt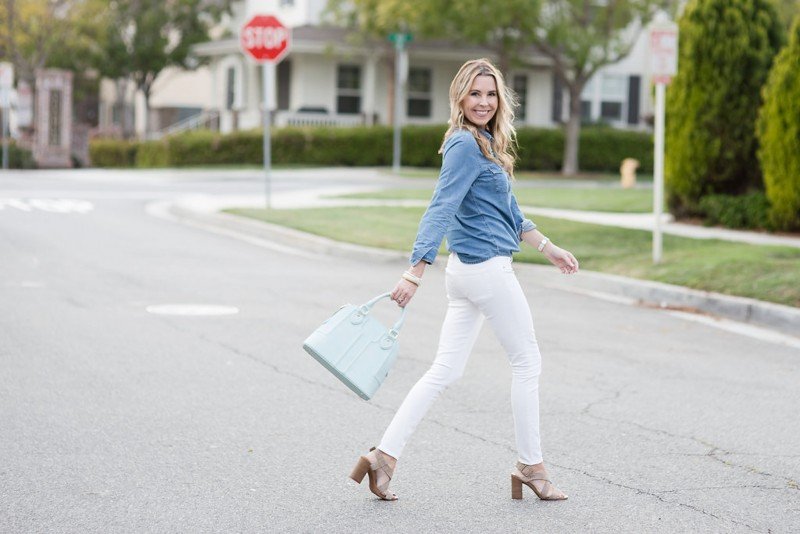 Denim always seems to work. I like this shirt because it is fitted just enough so you don't feel like you are swimming in a man's shirt. I am wearing a size 6. Topshop runs small. The sleeves can be rolled up to keep it more casual looking and I like the front pocket detailing. With white denim, it's so fresh and fun for summer. I really do love any addition of denim to the wardrobe. I am a big fan of tying a denim shirt around the waist of a casual dress or pair of shorts, too. I rounded up some really cute finds below that would be awesome additions of denim to your spring wardrobe.
Shop More Denim Pieces

number four | block heels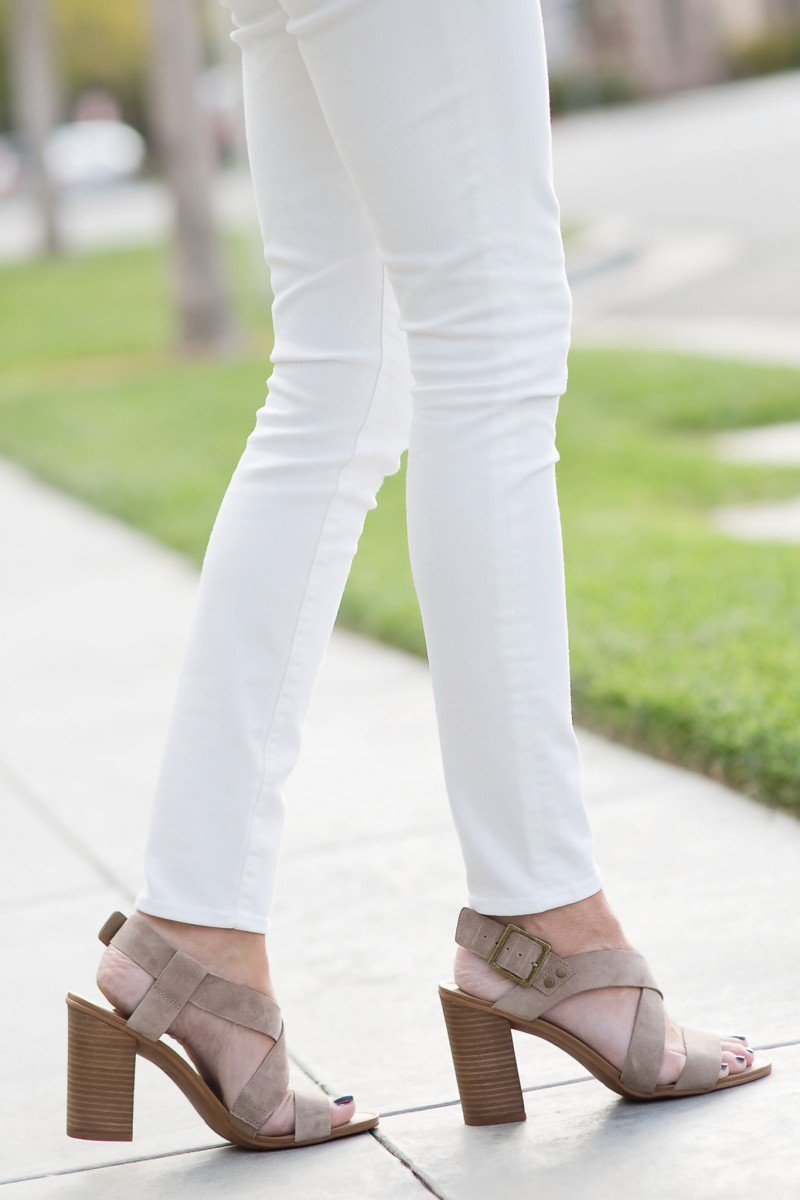 Block heels have made a big splash this season. I love them because they are a bit funky and are so much more comfy to walk in. I like the wooden heel on these. These are Franco Sarto. If you haven't worn any of his shoes before you may want to try some on soon. They are always so comfy and well-made. I bought a 1/2 size up in these as the strap across the toe was too snug on me in my usual 7 1/2. Having said that, I have a super high arch. I love how these look with dresses, jeans, shorts and skirts. they will be my go to summer heel for sure.
Shop Block Heels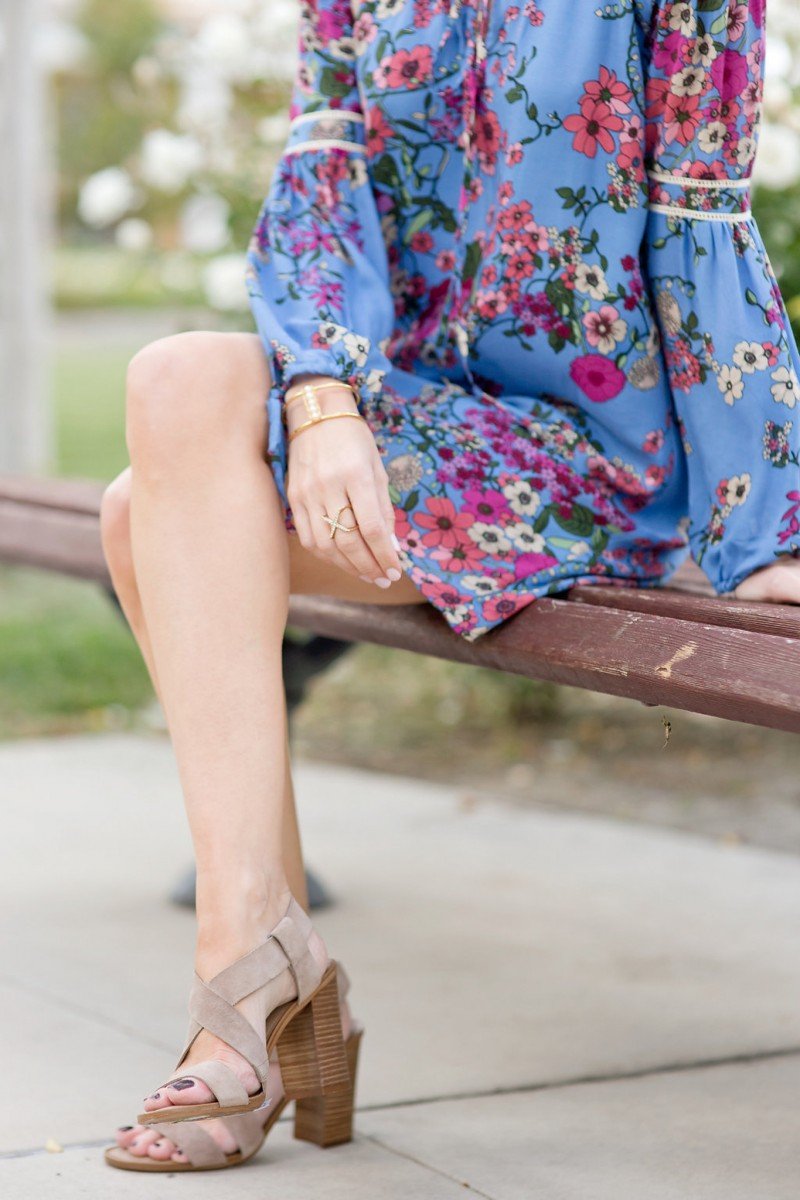 These really are so good with pretty Spring dresses.
Number five | floral dress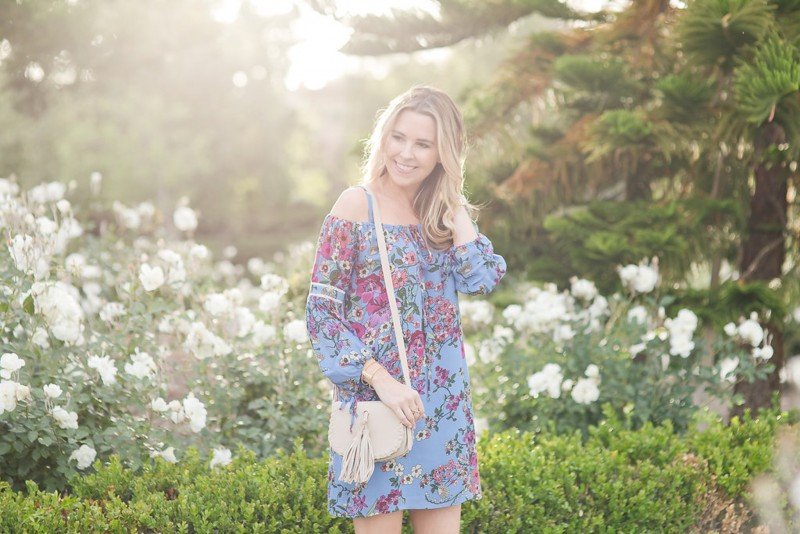 If love a pretty floral dress and they are so on trend for the season. Nordstrom has an awesome selection at all price points. This one is such a pretty cut. I love the off the shoulder look which is also really hot right now. It's a feminine and pretty look for this time of year. I am wearing an XS in this but a small would have worked as well. And this is one of those dresses that my husband immediately loved, too. Sexy and innocent all at the same time.

Shop Floral Dresses

I just tried this one on over the weekend when I was at Nordstrom and it's so so pretty. Much prettier in person. So feminine. And I haven't tried this one on yet, but this is one of my favorite cuts for a dress.
These top 5 Spring pieces will take you far!!! Maybe you'll find out you already have some in your closet or maybe it will help you keep an eye out for some Spring and Summer staples when you are shopping. You can find all of these fun pieces below.
Shop My Looks

Make it a great Monday. I am traveling at the end of the week so I will be soaking in the time with the kids while they are home on Spring break. Kicking it off with a bike ride with friends to Starbucks this morning. Be sure to pop back in this week for another Fixer Upper post!
Photos by Gabi Wells. 
*Thank you to Nordstrom for partnering with me on this fun Spring post. Affiliate links used.