How's your week shaping up? Ours has been pretty darn busy. Travel has played a huge role in our lives this entire summer so I thought it would be fun to share the top 5 travel pieces that make life so much easier. I am a minimalist when it comes down to it and like to keep things pretty streamlined when I travel. That is not to say I don't like to look pulled together and have everything I need. These have all been traveling with me for years and I hope they help you the next time you take off on an adventure.

1 | TRAVEL TOTE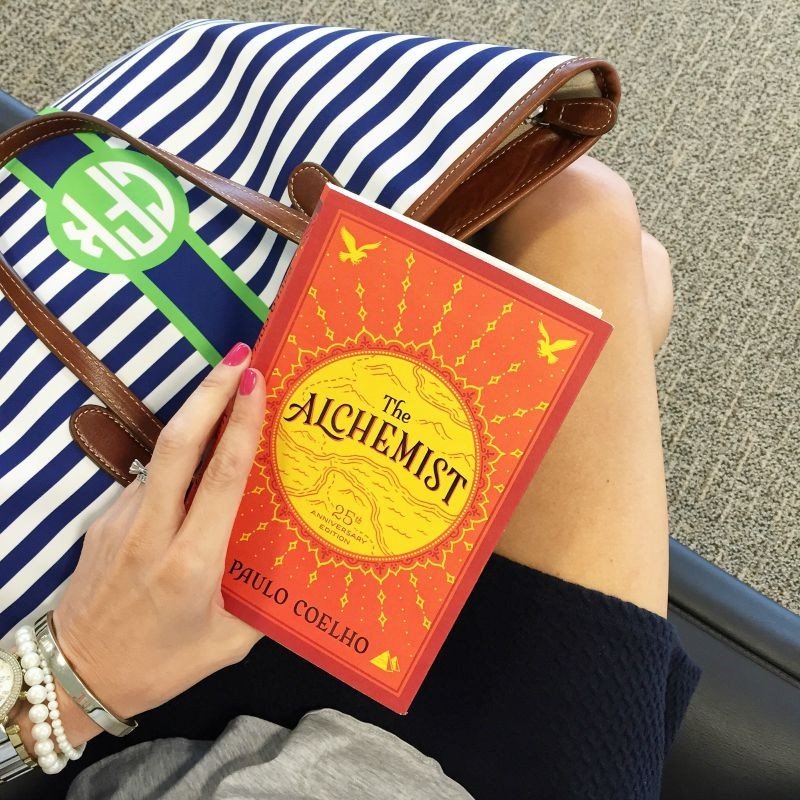 design your own savannah tote bag
I have huge love for my Barrington Gifts tote bags. I have this one and this one. I have been traveling excessively this summer and I have taken this bag on every trip. I love that it zips closed and has a ton of pockets on the inside. It is small enough to carry around all day while sight seeing and never seems to get too heavy. Did you know you can design your own?! That's the best part. You can choose any color and background as well as what color stripes and monogram you would like. Just too cute. Great book by the way. Amazingly inspirational and I was so happy to have it when my flight to San Francisco was delayed three hours.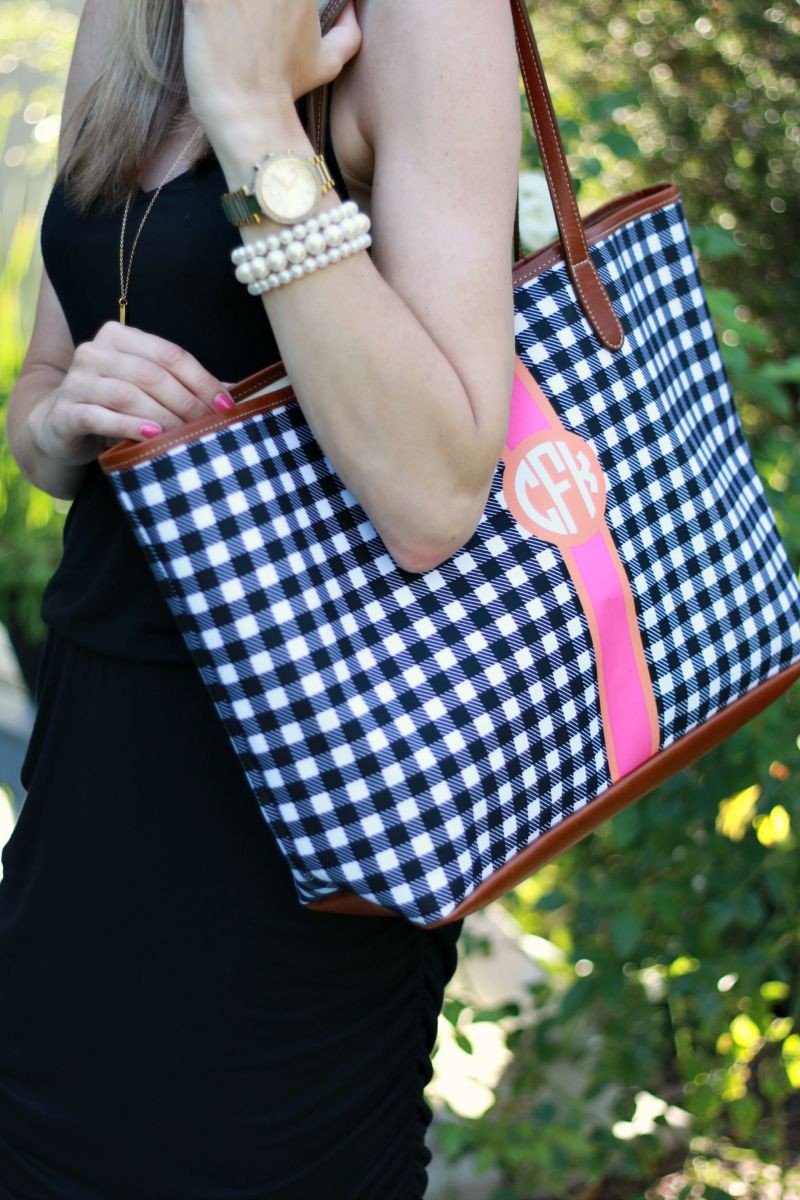 I have the St. Anne tote as well which is just a bit larger and does not zip. I use it around town when I take the kiddos to practices or the pool. It holds so much and is a great carry all. I adore the black and white gingham and it goes with pretty much everything I own.
2 | PHONE CASE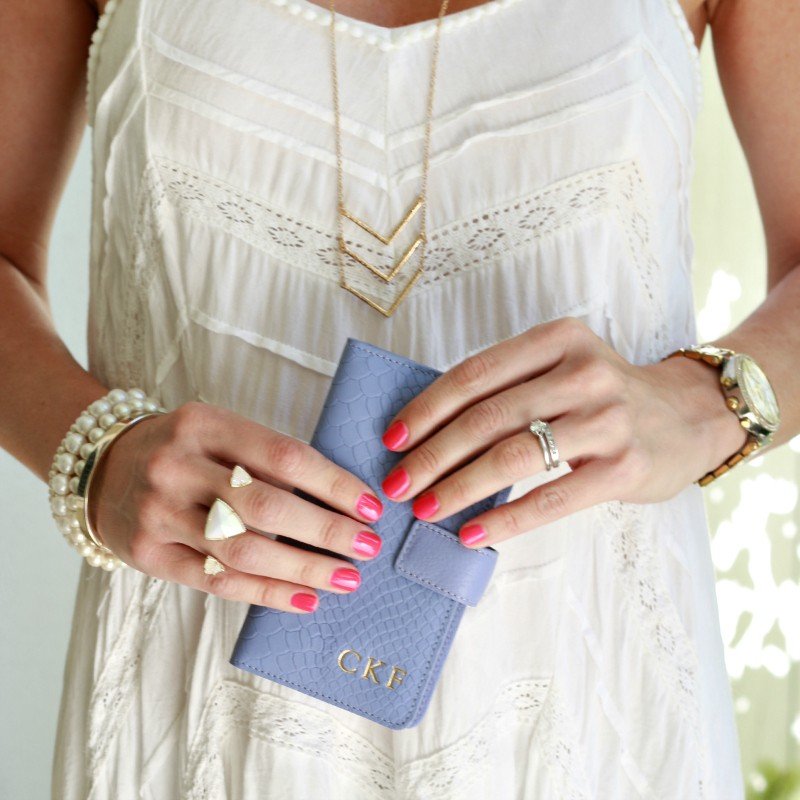 I have been traveling with this cute phone case, too. Mine is lilac. It holds my phone plus my license and credit cards. It also has a place to stash cash. I like this because I can keep it on me at all times and toss it in my big tote or in a clutch when I go out to dinner. It keeps everything in one place so there is no way I can lose anything (which I am pretty darn good at).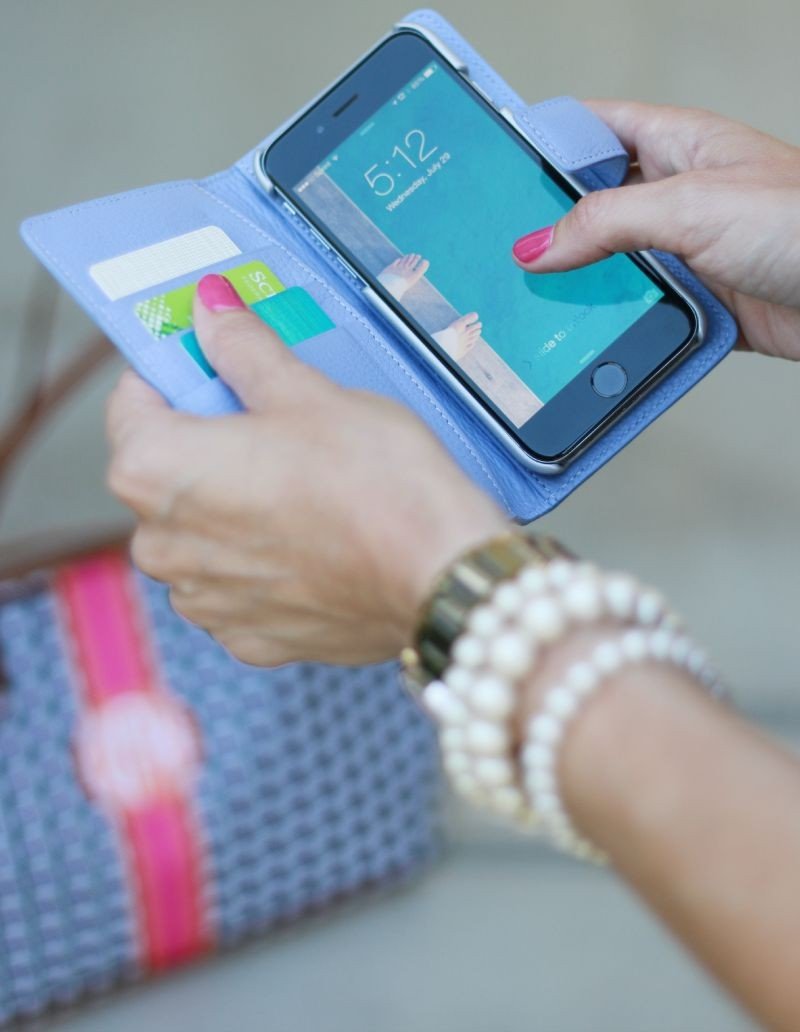 3 | GIANT ZIP LOCK BAG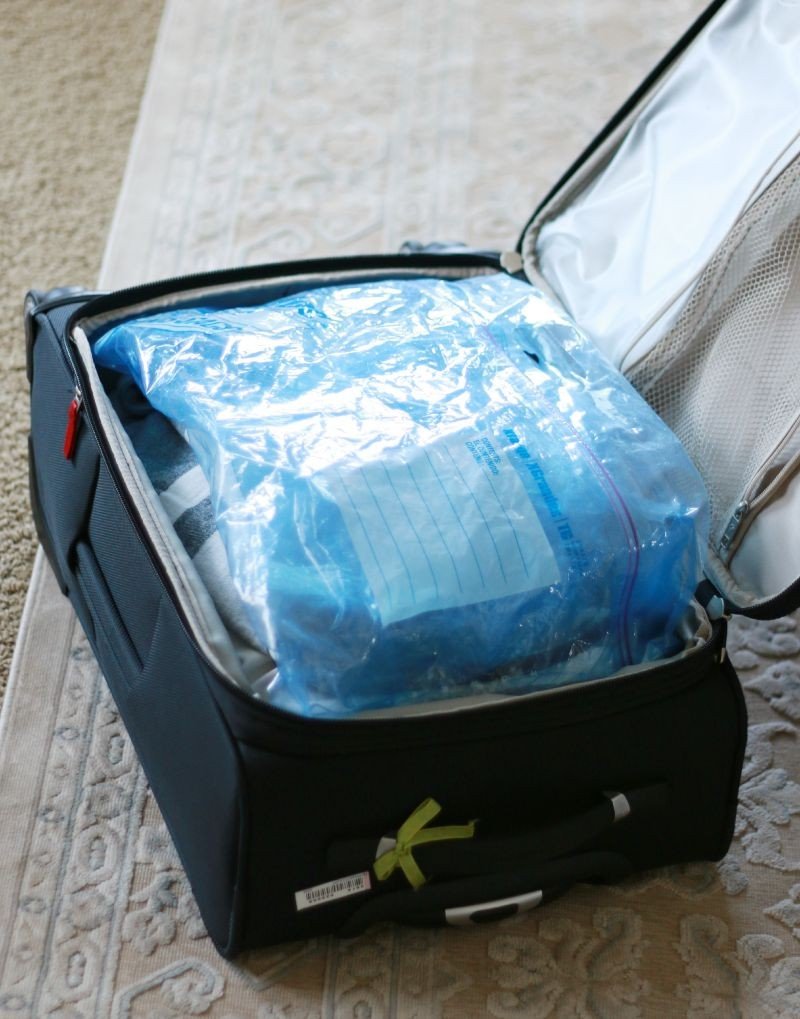 My husband was the genius behind this travel tip. It really came in handy when I flew up to Sonoma last weekend. We were told to leave some space in our suitcases for things we would make and bring home. Well, everyone knows that if you leave too much room in your suitcase, everything gets tossed around and isn't well padded. Enter the plastic bag! We blow just enough air into it to fill the gap in the suitcase, zip it tight, and lay it on top of our clothes. On the return flight, when the luggage is full, the bag folds up flat and can be placed in one of the pockets. Works like a charm and also adds some cushion if you ever have fragile items.
4 | EASY TO PACK DRESSES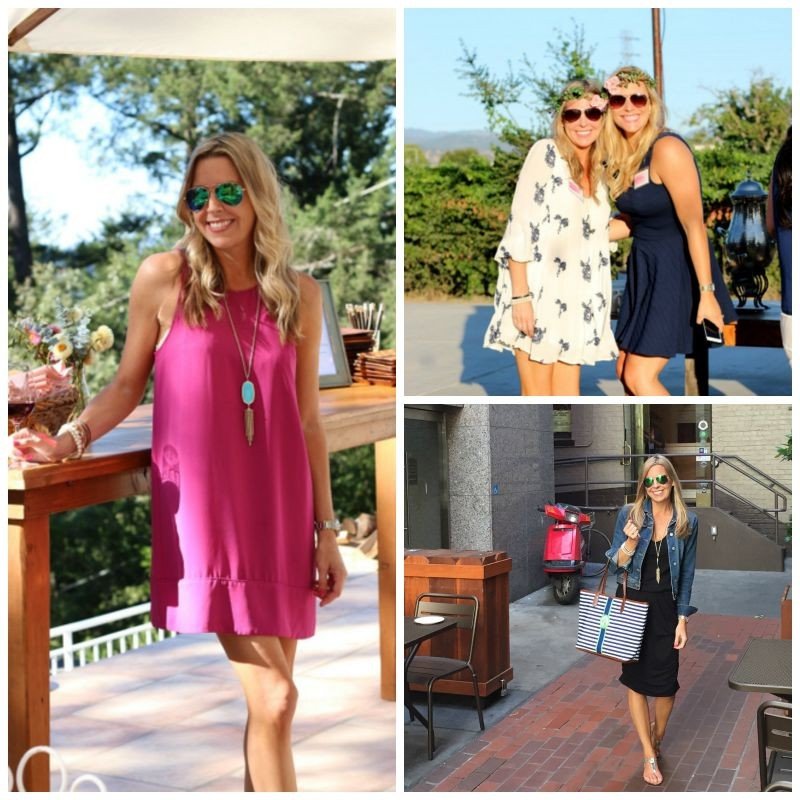 pink dress | floral dress | black dress (gray) | striped tote | necklace | sunglasses
I have a few dresses that I always travel with. I really don't mind wearing them over and over again. They all travel so well and hardly wrinkle. Both favorites are under $50. I tend to fly in the black one (sold in gray here) as it is so comfortable. You can toss on a pair of heels and wear it out as well. I also love traveling with a dress that can be considered formal and casual like the floral one. When worn with sandals it's more of casual boho look but with heels it looks so much dressier. Dresses are just easy because it's one piece. Add a denim jacket or cardigan to your tote for the day and you are good to go. And a splash of color necklace instantly adds a stylish touch. Jewelry is easy to travel with so don't underestimate the power of a cute necklace.
5 | MARY POPPINS MAKEUP BAG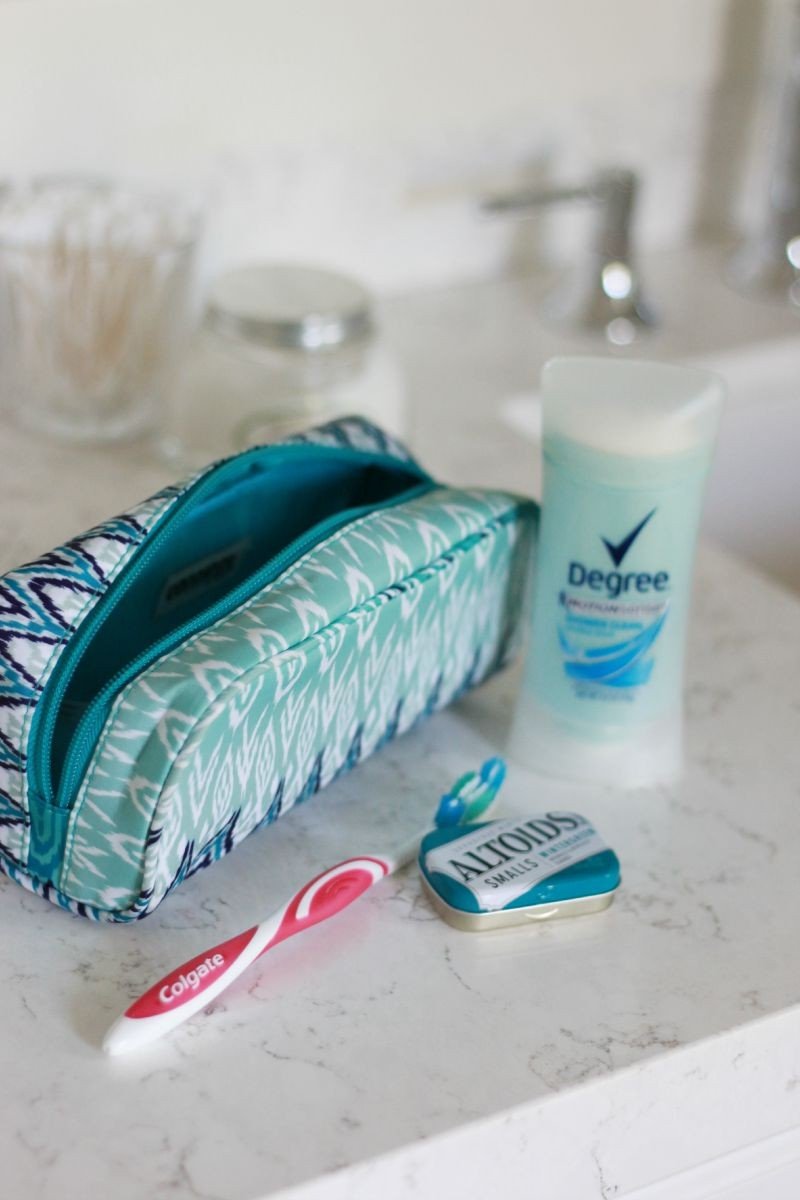 This one may sound funny, but I am always happy traveling if I have a toothbrush and toothpaste with me. Is that weird? All I know is that I was stranded in an airport last week for hours and I had forgotten my toothbrush in my Mary Poppins bag. I was soooo bummed. There is something about being able to brush your teeth and add fresh lip gloss that makes you feel fresh again. It's great to keep a small bag like this in your travel tote as you cruise around a city.
What I Keep in My Bag:
toothpaste/toothbrush
ibupropheren
breath mints
lip gloss
small brush
powder
deodorent
elastic hair band
So it's not all that much that I take, but having these items on me at all times has been a major game changer when I travel. Especially if you are not going back to your hotel for hours.
More travel posts to get caught up on: Packing for a Tropical Vacation | San Francisco Day 1 | San Francisco Day 2 
I hope these tips help the next time you take off for a trip. This summer has been non-stop travel for us and we are off again. So all of these are coming with me! Oh, and be sure to pop back tomorrow for a really simple and sweet craft idea.
*affiliate links used