We are changing things up over here, my friends. I've shared much of this project on Instastories but this is the first time I am diving into this home project on the blog. We are in the process of building a walk in pantry. It's been a dream of mine for years and after living here for 15 months, we had a light bulb moment when touring some model homes. I will do a complete post on how and why and all of that good stuff. But I thought it would be fun to kick off this project with inspiration I have been gathering.
INSPIRATION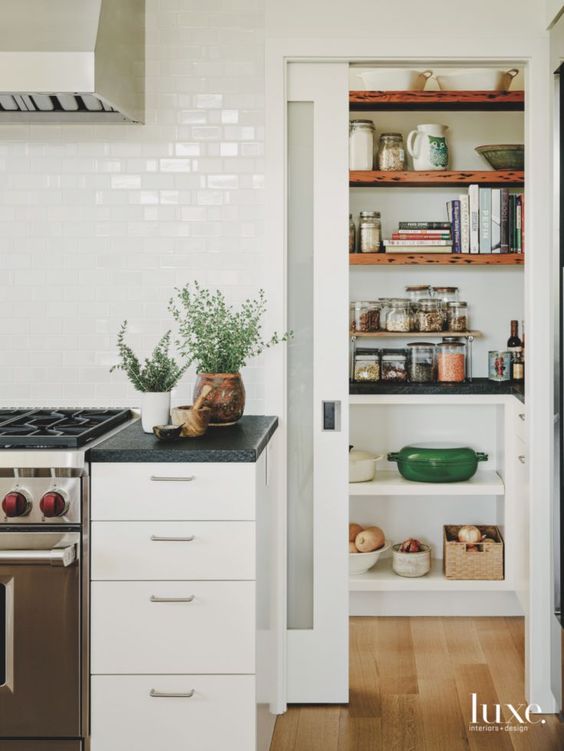 design by Davis | photo credit Joe Fletcher
You all would be bored to tears if I showed you everything I've pinned so instead I will focus on just a few. Anytime I do a project, I just start pinning. I don't care what it is about the photo, if it speaks to me and draws me in, I pin. By doing that, a common thread always emerges. Not only that, but I can create my own take on a space by curating small things I like from varied sources. Above I was drawn to the shelves and the use of reclaimed wood for warmth.
ORGANIZATION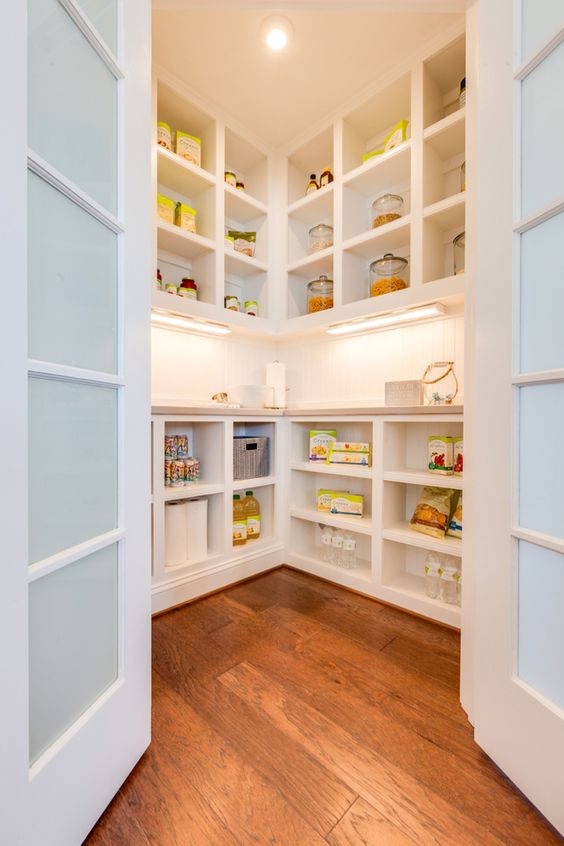 I really like the idea of uniform cubbies for food storage instead of just long shelves. This is something I am hoping to include. I also like the warmth of the wood.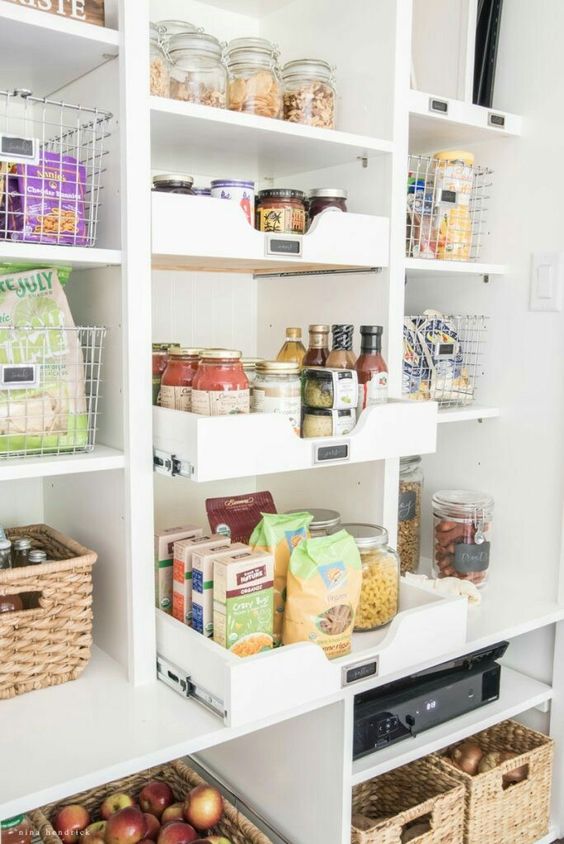 Pull out shelves. Need I say more? Plus bins for food storage.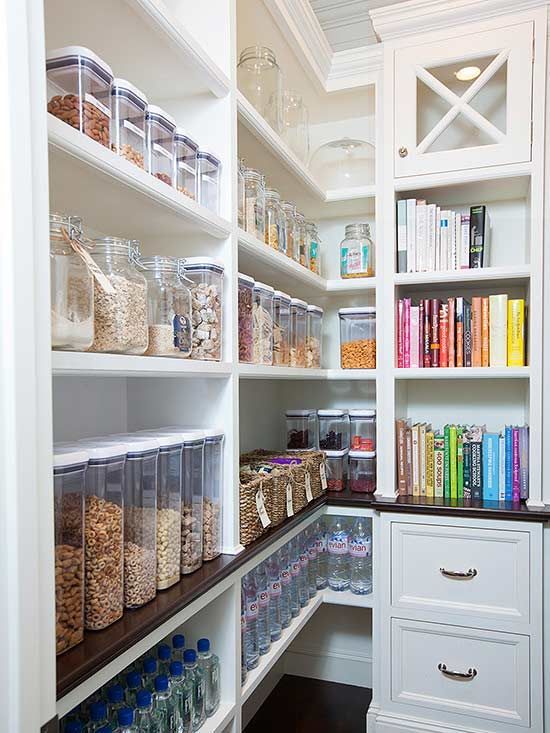 This is an organizers dream. While this may be a bit unrealistic for every day, I do like the wrap around shelves that transition into cabinetry. That is something we will incorporate. I already use those OXO bins so I was happy to see them on these shelves. Wood counter top is gorgeous.
SPLASH OF COLOR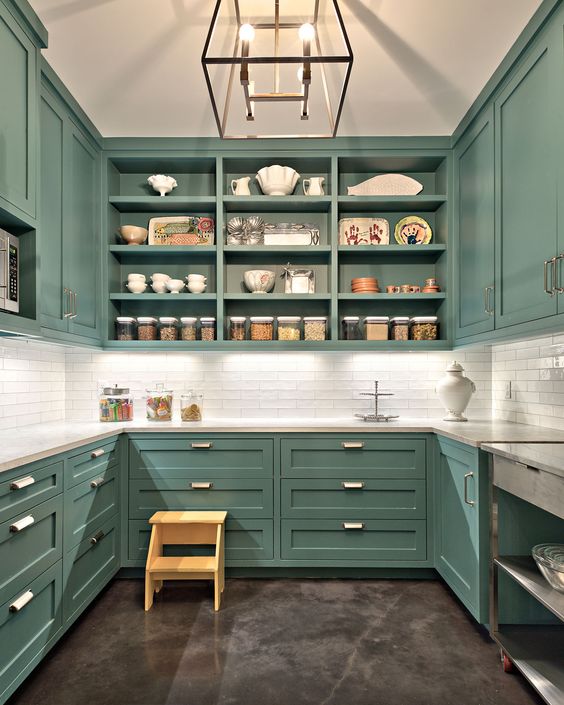 architect Tim Brown / photo Casey Fry via Country Living
A mix of open shelving, drawers, a stool for higher items and color. All good. All things I hope to use in our new pantry.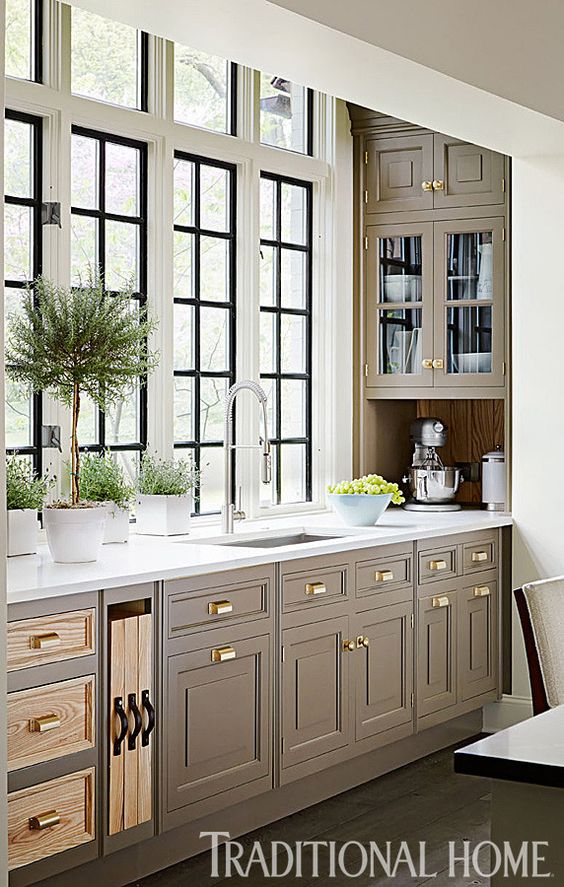 Well this is nothing short of spectacular and far fancier than our space will be but I am drawn to the gray and gold.
WINE FRIDGE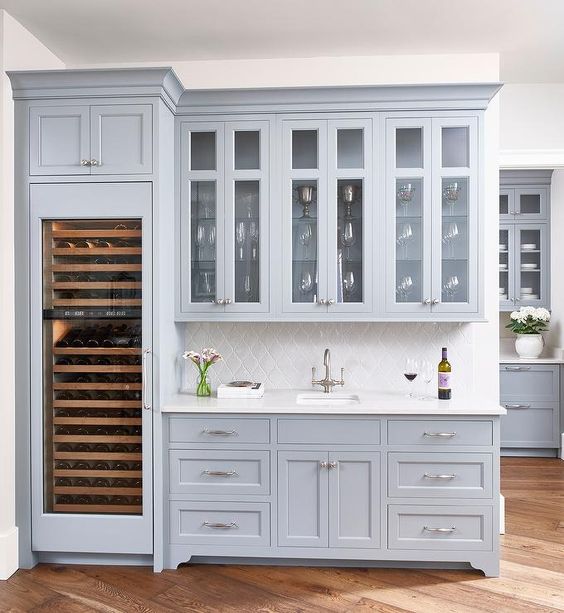 Again, drawn to the gray and how it looks against warm wood tones. The wine fridge is calling my name. Let's be real.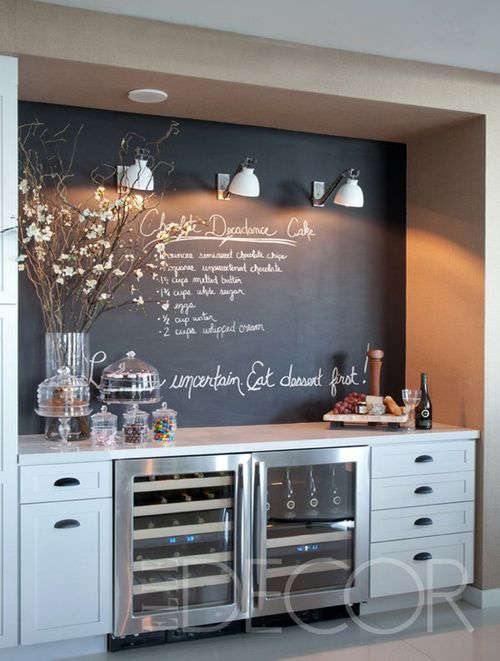 While this is styled for entertaining and our space won't be used for that, I love everything about this. A wine fridge is on the list and the chalkboard idea keeps things so welcoming and approachable.
WARM TONES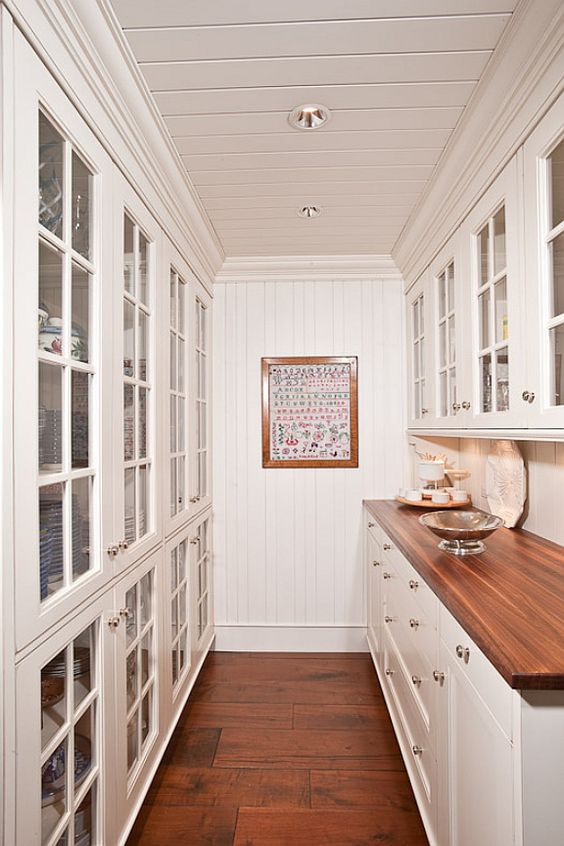 Conceptual Kitchens and Millwork
Gah. Love it all. Here I am drawn to the wood countertops and the cabinets going to the ceiling.
Love the warmth of the brick, the use of drawers and the wood counter tops. See . . common threads keep popping up!
DESIGNER DETAILS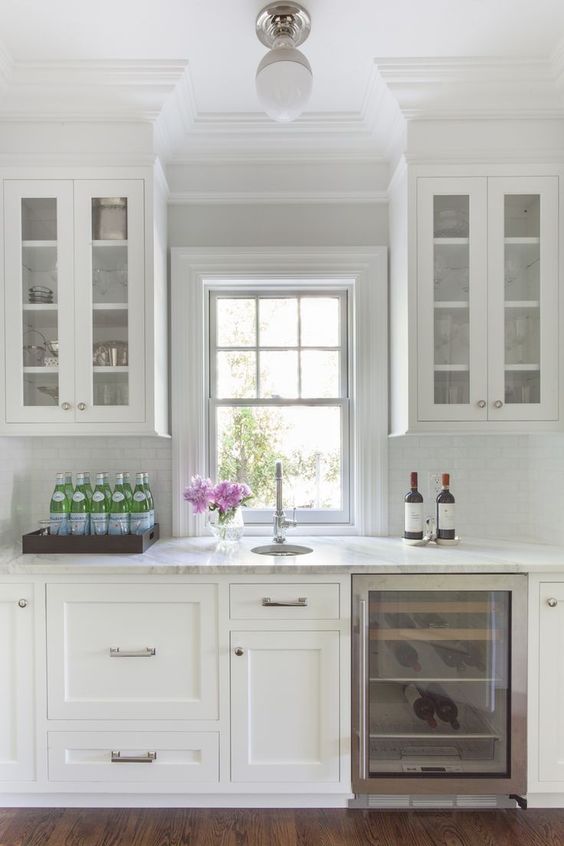 Once again, this is quite fancy but I love the wine fridge and the pretty moldings. Marble would be lovely, but a bit over the top for a pantry. Still so gorgeous!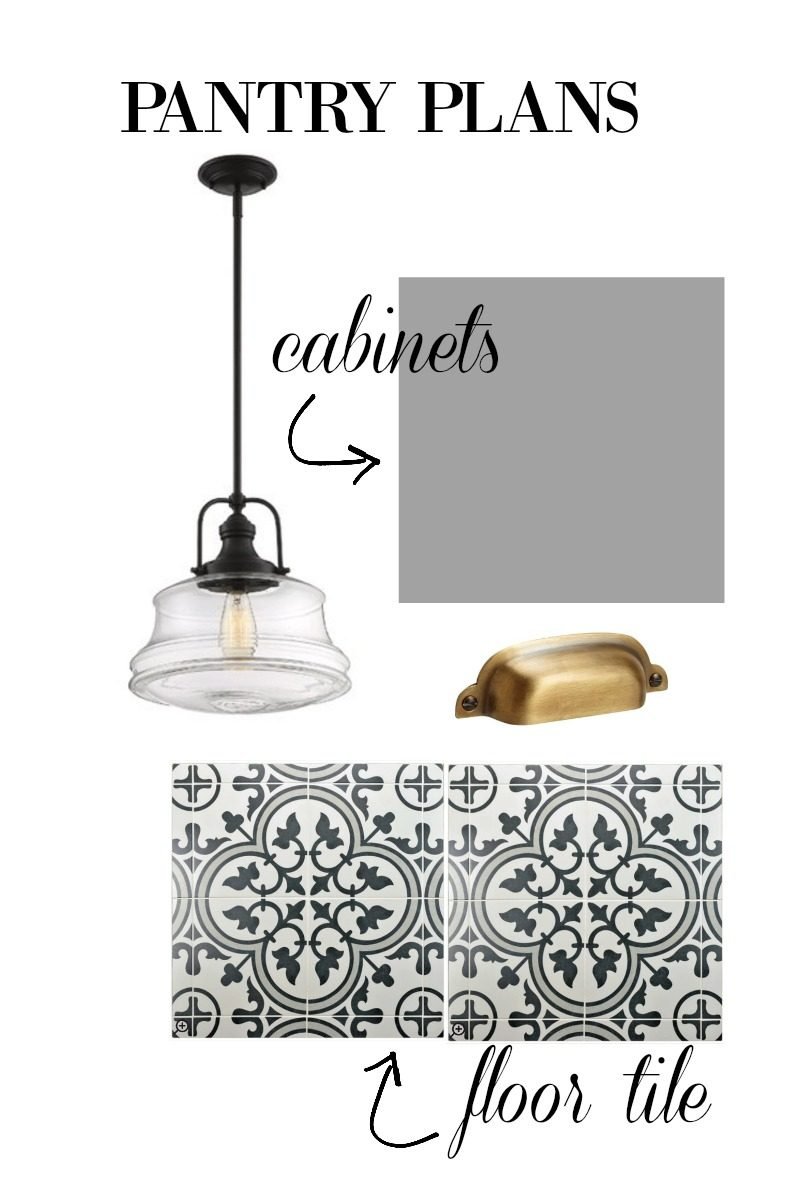 tile | light (50% off) | bin pulls
I thought it would be fun to share the design direction we've decided on. I will further explain in an upcoming post, but we are quite comfortable with it looking different than our kitchen. The choices will still blend and makes sense but it will take on it's own look for sure. I have gone back and forth about the color of the cabinets I flirted with navy since that is the dominate color in our powder room and greatroom. But most of our navy is just in fabrics and textiles and could change down the road. Pale gray gives me a nice change while still being classic. And I love how pale gray looks with warm wood tones. I will incorporate those for sure.
A bold tile was an easy choice for me. We recently installed one in our laundry room and I love it so much I wanted to have something similar downstairs. I've already told my husband that this walk in pantry/butler's pantry may just become my new office!
I'll post more soon about this space and how we have gone about the entire project. You can also follow along on my Instastories. Have a great day, my friends.