Hi friends! If you are on Instagram (you can find me here) you may have seen me chatting about open cabinets and glass doors in a small space. What's really in those cabinets? Do we like them? Is is just stuff on display? Today I am breaking it down for you and our experience with both open shelving and glass cabinets in the kitchen. Sharing my very honest opinion as well as 5 tips on living with glass cabinets.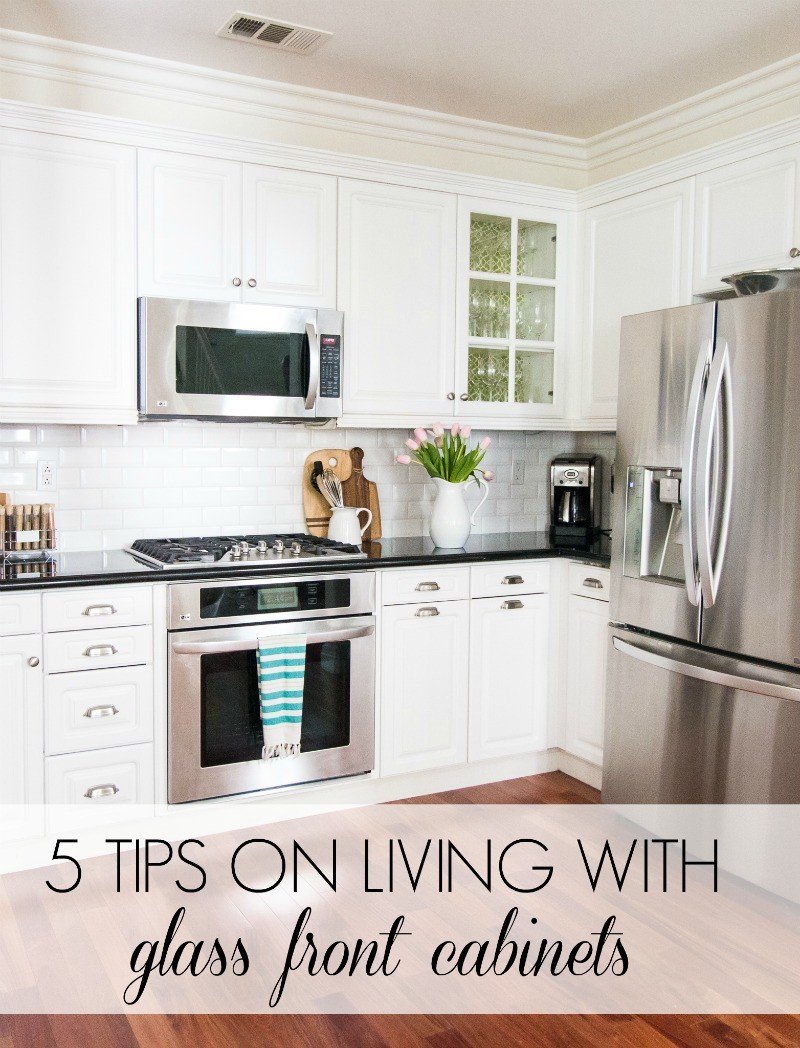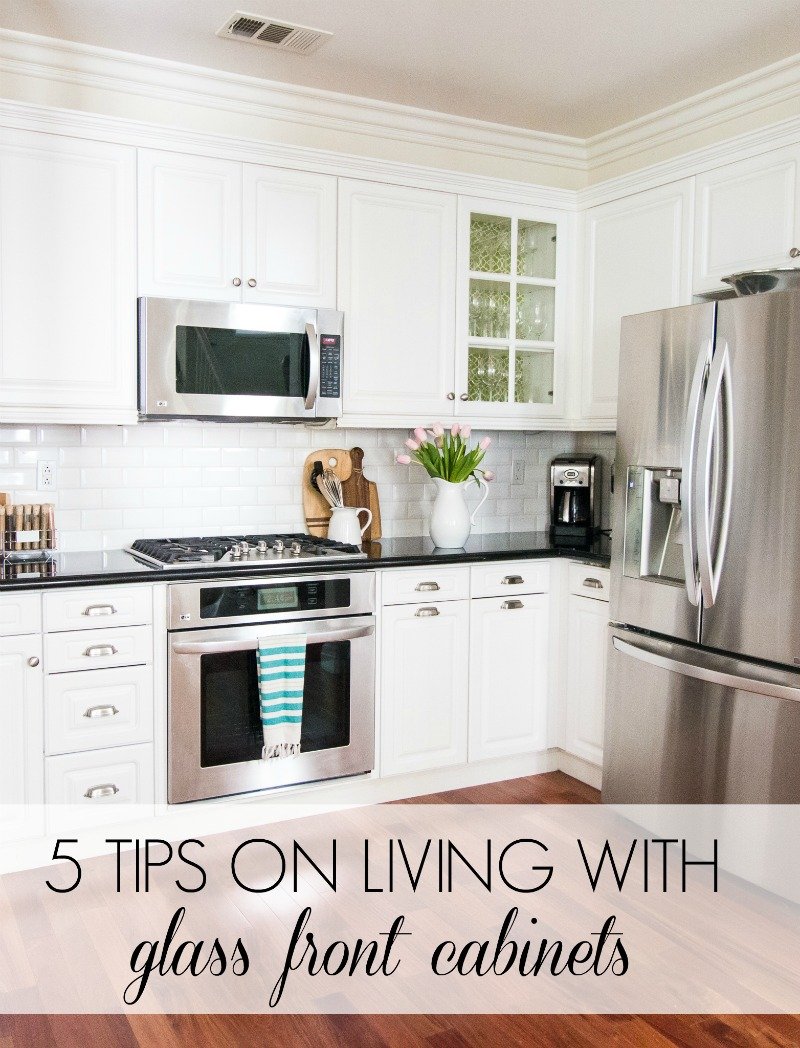 First of all, I hate to call our kitchen small because I know it is all relative. And to be honest, we love our kitchen and it has served us well. But there are not a ton of cabinets and so space is a commodity. Before I hop into chatting about our choice to use some glass front cabinet doors, I want to chat about our countertops. I think countertops are key in staying organized in the kitchen. While we do keep a good amount of items out, they are all things we use daily. We really don't "style" our counters just to collect dust. I need to be able to grab things when I am cooking and I don't want to be searching around or moving display items out of the way.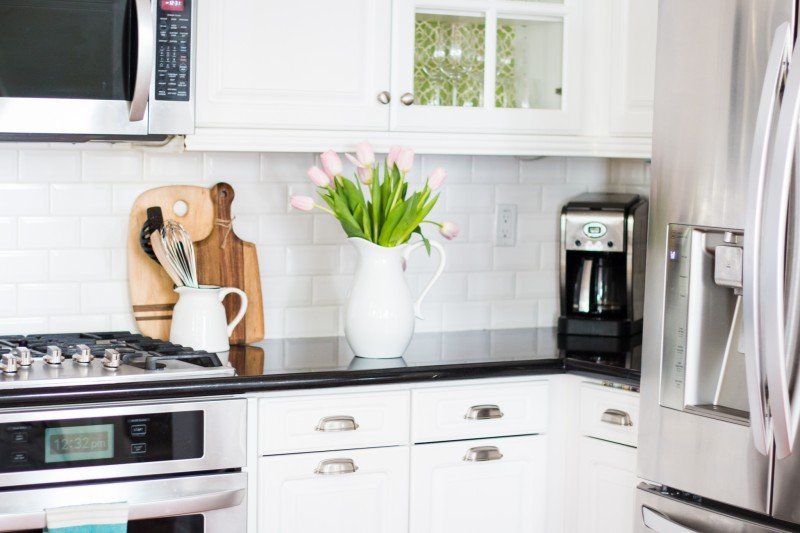 If you are struggling to get things clutter free in your kitchen, clear absolutely everything off and only bring back in what you truly use and need. Cutting boards, spices and cooking tools are items we grab multiple times a day.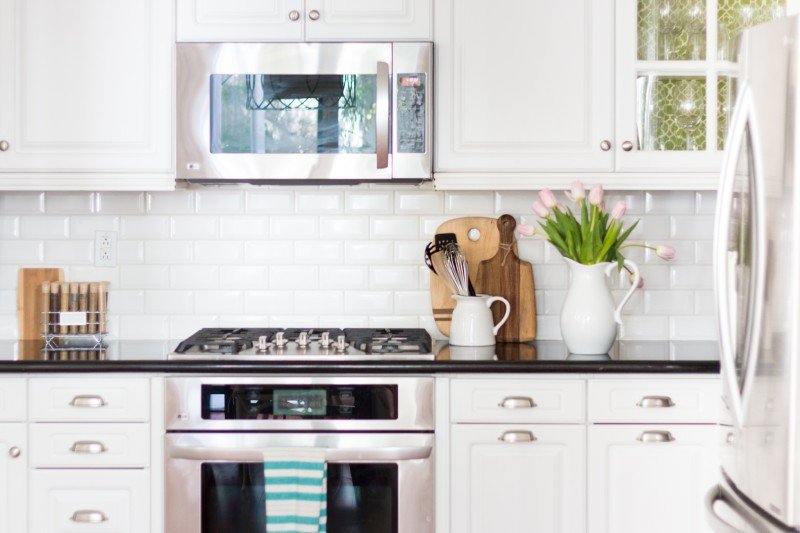 LESS IS MORE
I so strongly believe in this statement. A while back we cleared out every single cabinet. We put everything on the floor and I found things I hadn't see since we got married. If I haven't used it in 12 years, I don't need it!!!! Donate. Donate. Donate. Less is so much more. We realized we had 12 margarita glasses and we haven't served one in maybe five years. Out they go. I am sure there are some margarita lovers out there that would appreciate new glasses!
Nothing like opening my cabinets for you! So this is the one that has the glass door. It houses our dinner dishes, bowls and crystal. And yes, my dinner dishes are chipped. Just signs of many long nights around the dinner table and late night clean ups! It normal has another stack under the large white bowl but they were in the dishwasher.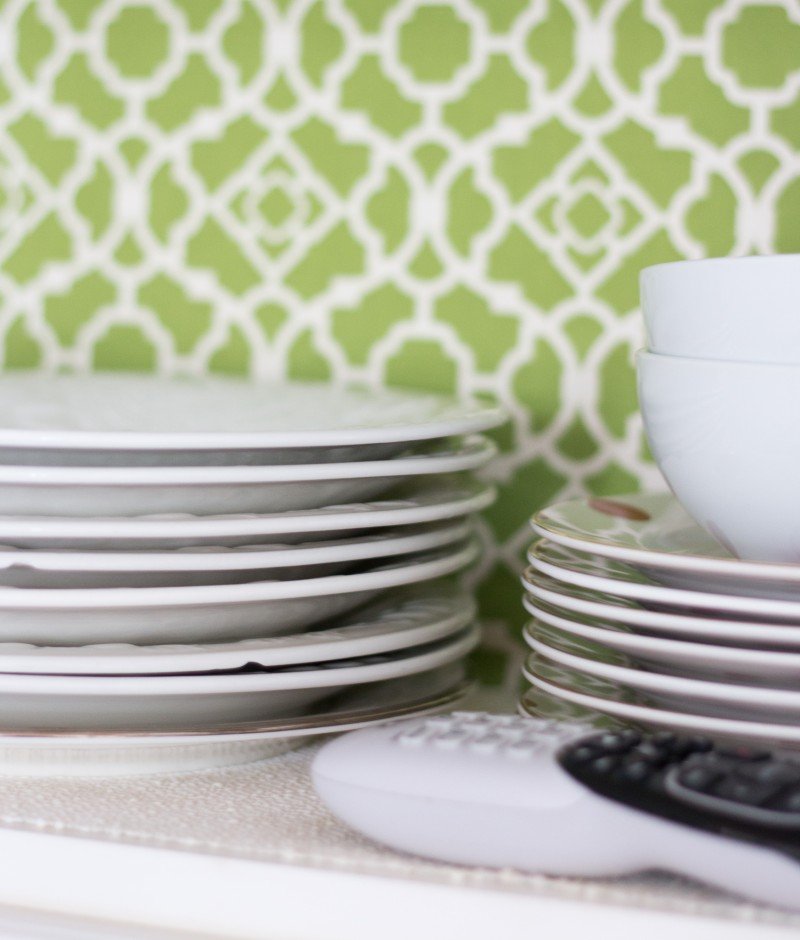 If you use doors similar to ours, the frame actually "hides" things. So the remote for our kitchen tv is right inside this cabinet but you can't see it when the door is shut. Works great. Now let's take a look at the cabinet without the glass door.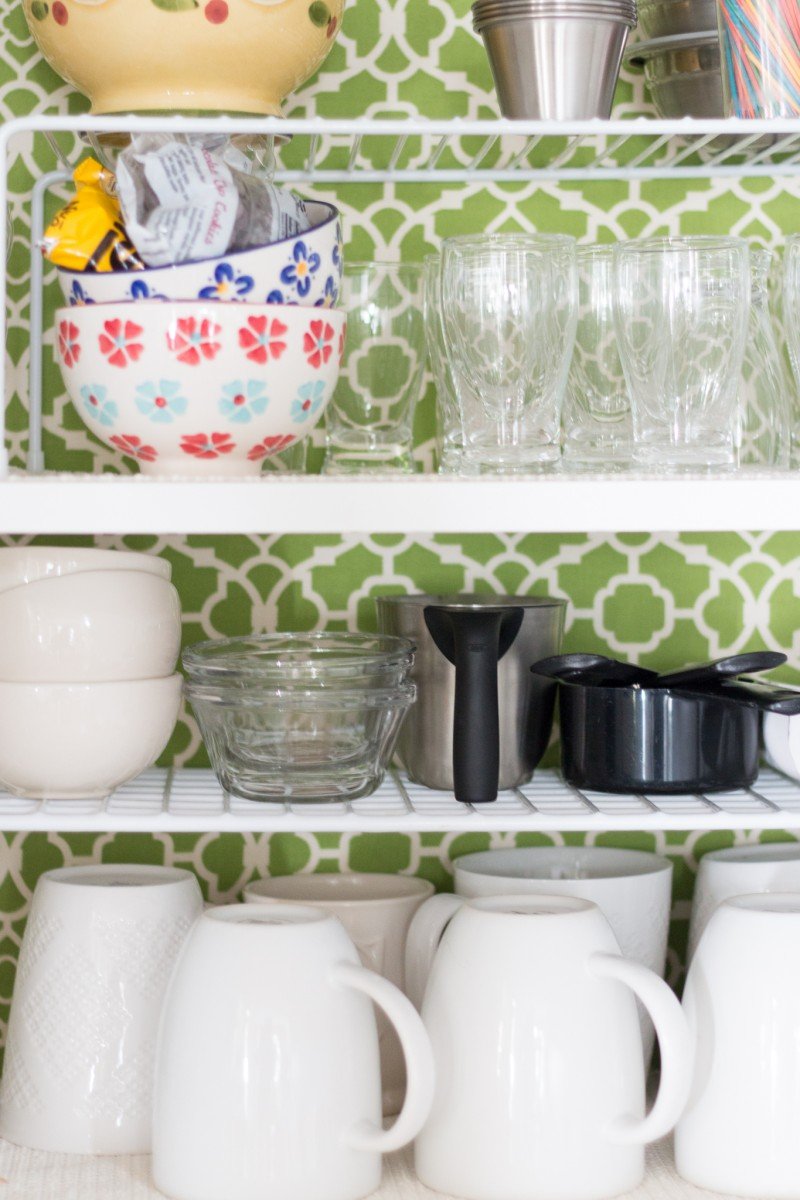 So this is always covered by a door but I wanted you to see that it's not really a crazy mess. While I don't need everyone seeing my measuring cups and chocolate chip stash through glass doors, I wouldn't be embarrassed if you were over and opened this door. I think that glass doors encourage you to keep other places in the kitchen streamlined as well. I always group like items and find that white mugs and dishes just look clean and neat. I love drinking my morning coffee from a white mug.
But here's the thing. Would I want all of this on display? No. So for us, a minimal use of glass is key and I'll chat about that more later in the post.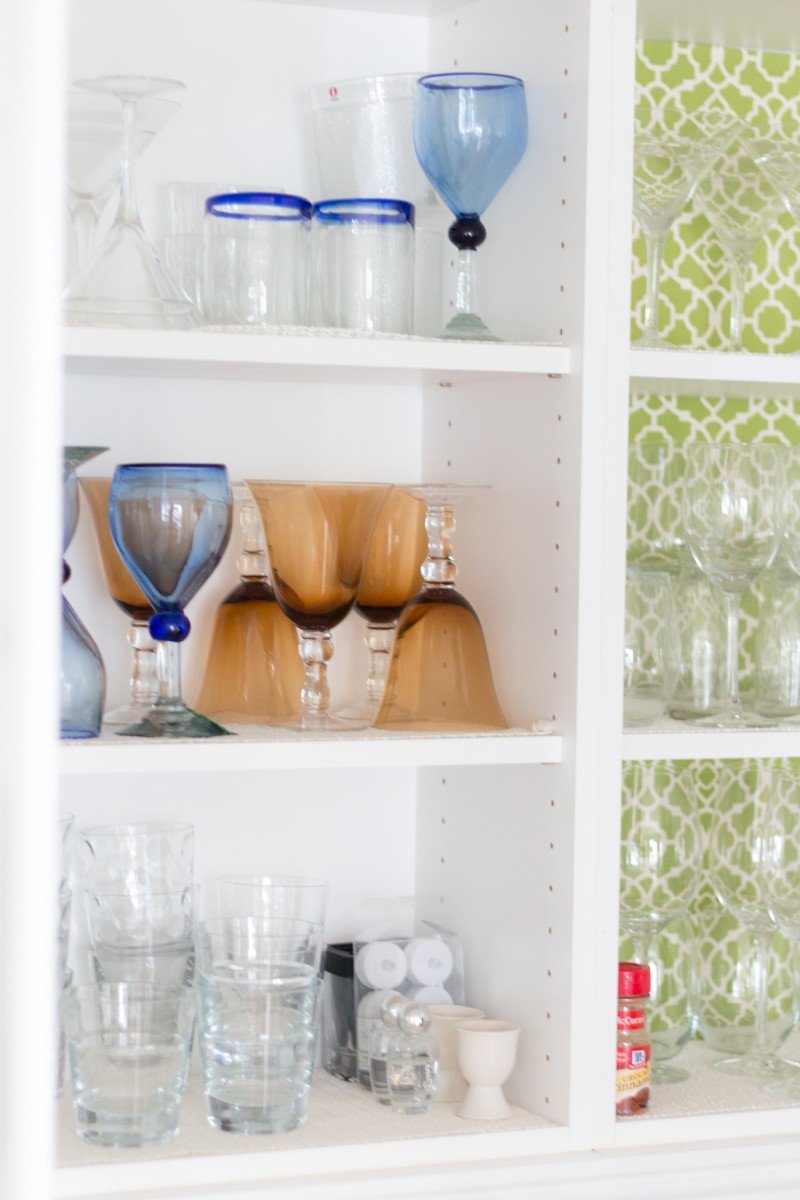 Here is the cabinet on the other side of the kitchen. The glass door allows you to see all of our stemware and the one hidden behind the white door houses more glasses but the ones with color that I wouldn't want always showing. And again you'll see my cinnamon (what I put in my black coffee each morning. . . actually what my sweet husband puts in it for me) is hidden by the door frame so when this glass door shuts you never see it. But it's right above our coffee maker and that just makes the most sense.
USE WHAT YOU DISPLAY
Turning to our butler's pantry (which my husband created recently) we chose glass doors for the top and we love them. But here's the thing. We don't just display things to display them. In a small home I don't think you really have that luxury nor does it make sense. Everything behind those doors is something I use. Maybe not on a daily basis, but I do reach for them.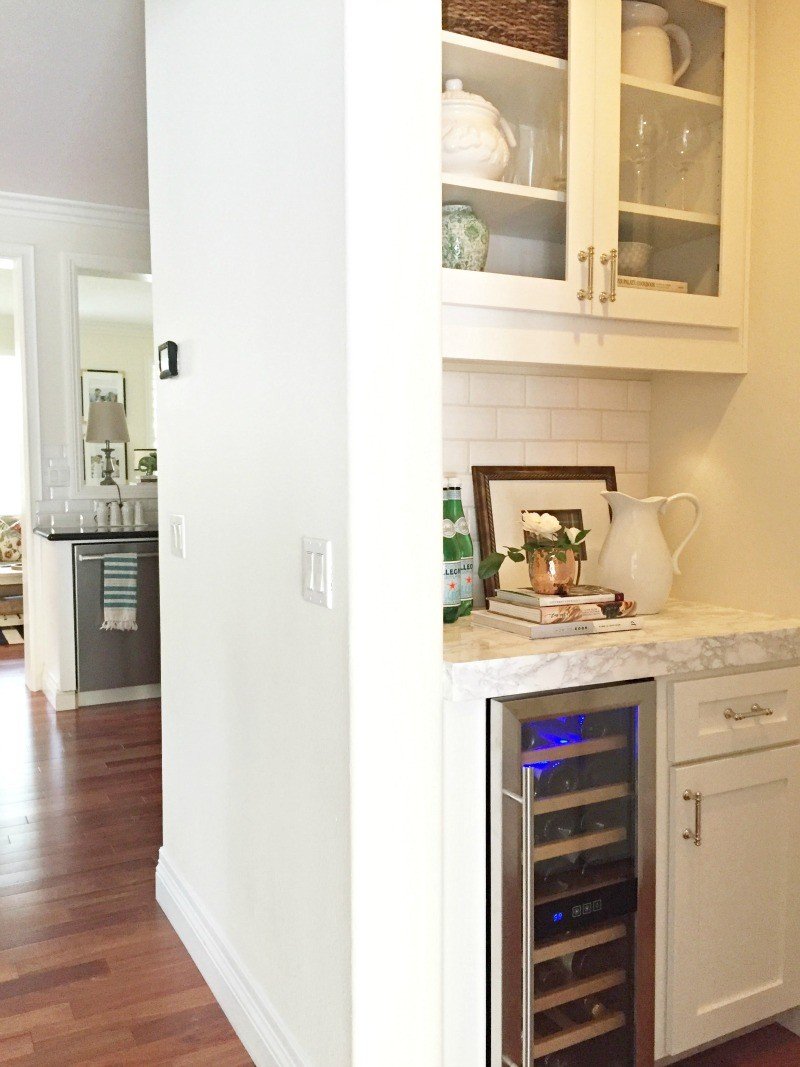 If you decide to use glass doors, put all of the things you use on a regular basis out on the dining room table. Then start styling your cabinets with those items. I use cookbooks. These are the ones I use. I use extra wine and beer glasses when we entertain. These are the ones we use. I pull out extra vases for flowers and they are here. The soup terrain is used when I have parties. The basket on the top shelf holds treats for the kids. Ok, bribes. Yes, I said it.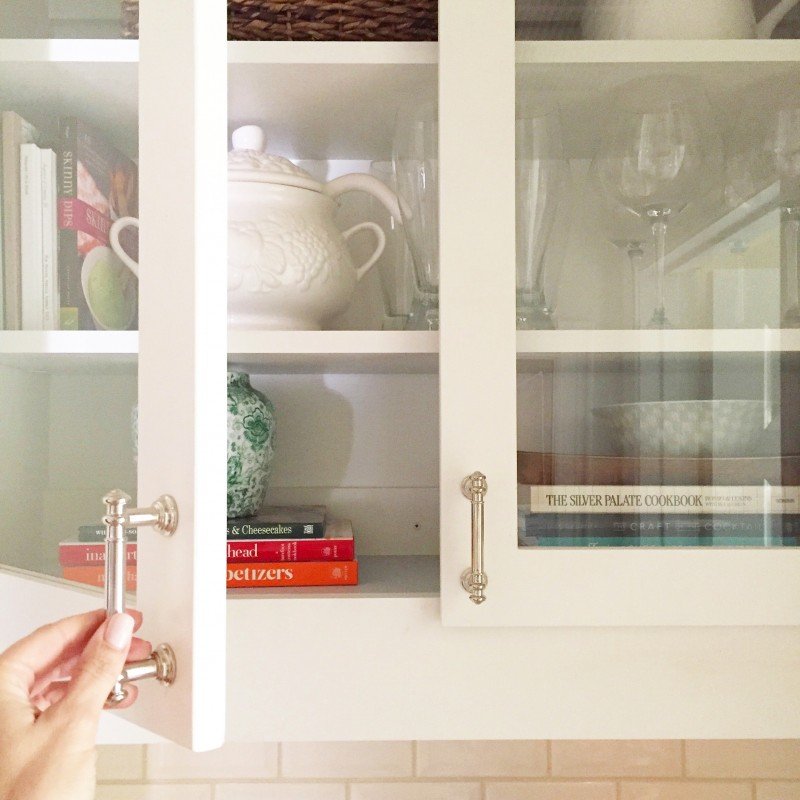 And  opening this cabinet to get something makes me so happy. There is something about living simply and in an organized way that makes me so happy. Listen, there are plenty of places in my house not so organized so don't be thinking it's all dialed in. It most certainly is not but it's a work in progress and I have never regretted going with glass in this space.
EMBRACE YOUR "JUNK"
I use the term "junk" very loosely. But you know those things we think we need to hide? Maybe you don't. I have always used the bottom of our open barcart for kids coloring tools. As they have gotten older, there are even more down there and that's ok. And yes, it gets messy from time to time so I'll have one of them sort through everything. As long as you contain things in cute bins or $1 buckets, it can look really cute. I have always believed that your house needs to reflect the way you live. Right now, my children have homework, need markers and pencils and I want them to know their "necessities" are part of our home. They don't need to be hidden away.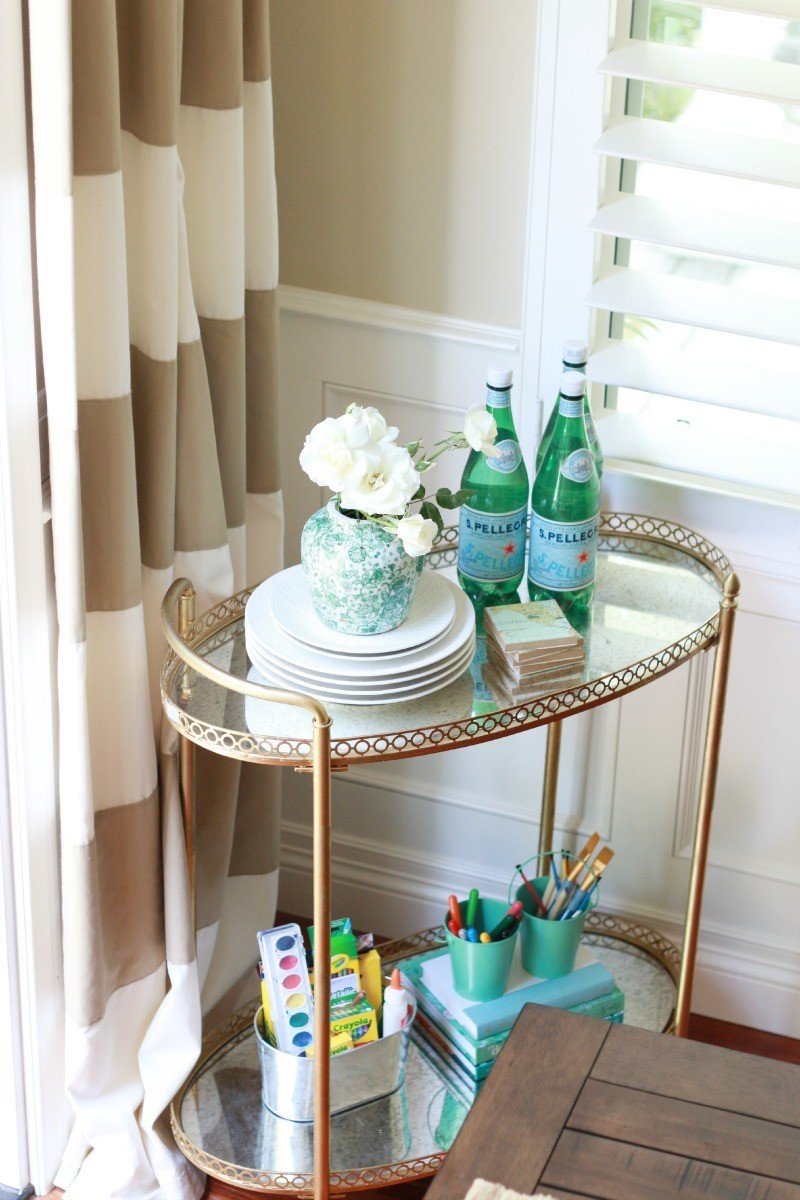 More of the bar cart and our open buffet in this home tour.
DON'T GO CRAZY
If you're contemplating glass doors, don't go nuts. That's my advice. Unless you already have gone through everything and know that your belongings would make you happy showing behind glass. In our small kitchen, I could have used four glass doors (all the way to the microwave). But we really thought it through and chose to use only one on each side. It adds the reflective quality I was looking for and visually opens the space more but I don't have to show everything we have. If we have a larger kitchen down the road, I may use more. But for this space, this is what worked for us and I have never regretted it.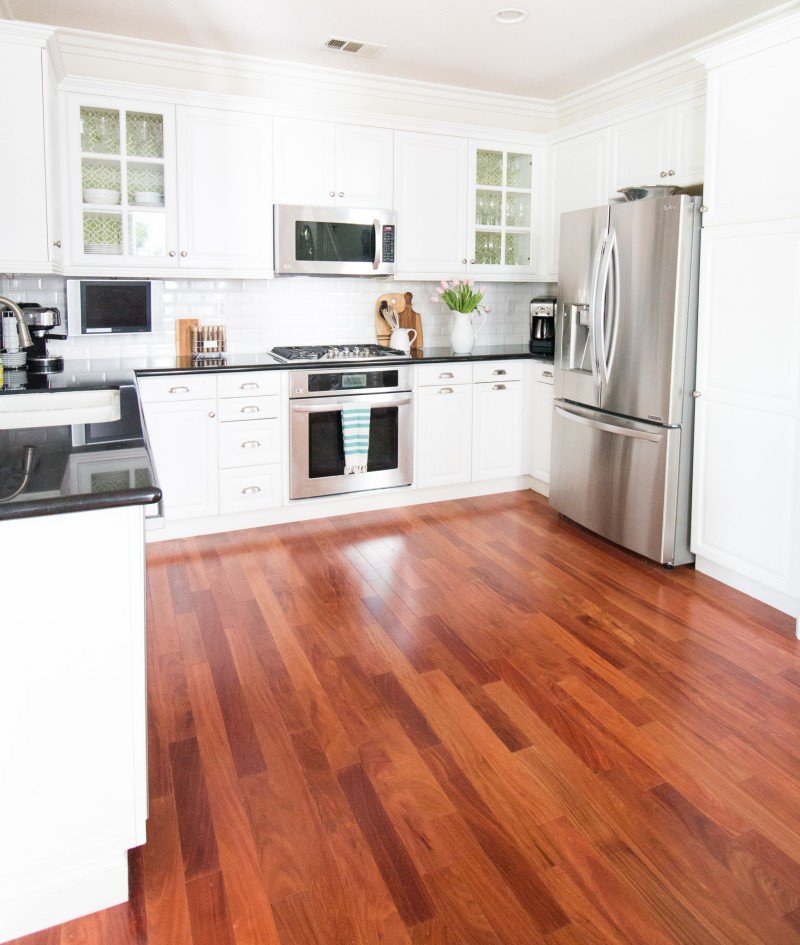 BEAUTY AFFECTS EMOTION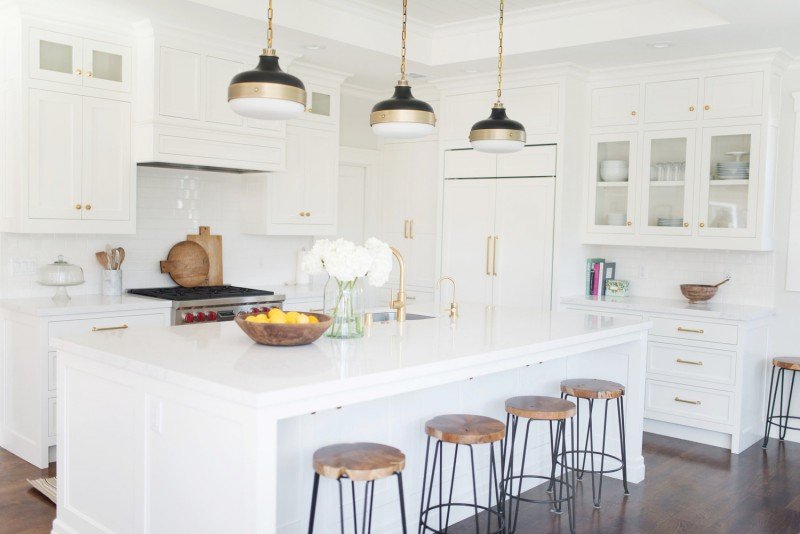 I really do believe that the home we create for ourselves affects our emotions. And the end of the day I am a huge fan of glass cabinets and open displays in moderation. One day I may be able to pull off an entire kitchen of it but for now a few well thought out areas to display things you use on a daily basis just makes sense and creates a really beautiful look. This gorgeous kitchen designed by Studio McGee is another example of how using them sparingly can really work for a family.
So what are your thoughts? Do you have glass cabinet doors or any open shelving in your home? Have you contemplated it? I hop a peek into ours has given you a little more food for thought.
Enjoy your day.