Do you have carpet anywhere in your home? If so, it can be a challenge to keep clean. We are the crazy people who opted for white carpet on our stairs. Ridiculous, I know, but so far so good. Choosing what to put on our stairs was actually quite a challenge and I explained how we came to that decision in this post. We are now two years in and going strong. However, it's no accident that the white stairs still look . . . well, white. I've teamed up with eBay to share five ways to keep your carpet looking brand new.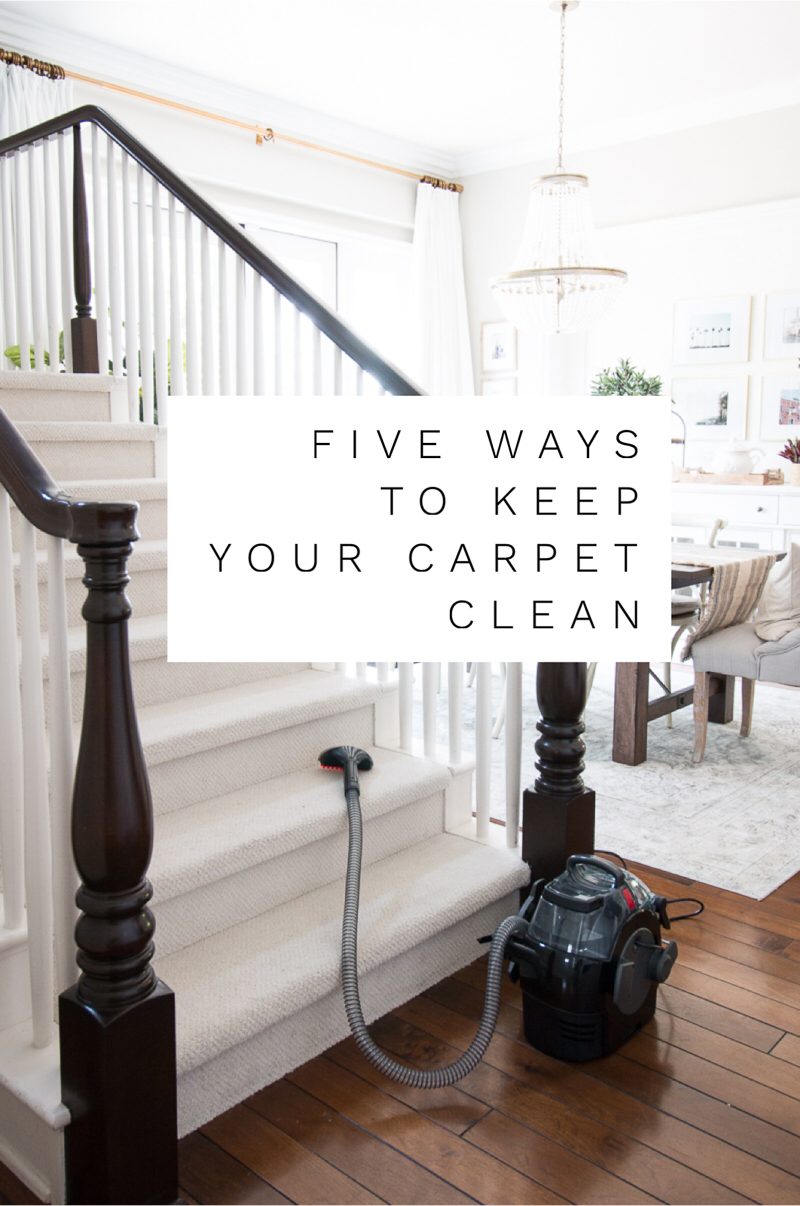 ONE: NO SHOES UPSTAIRS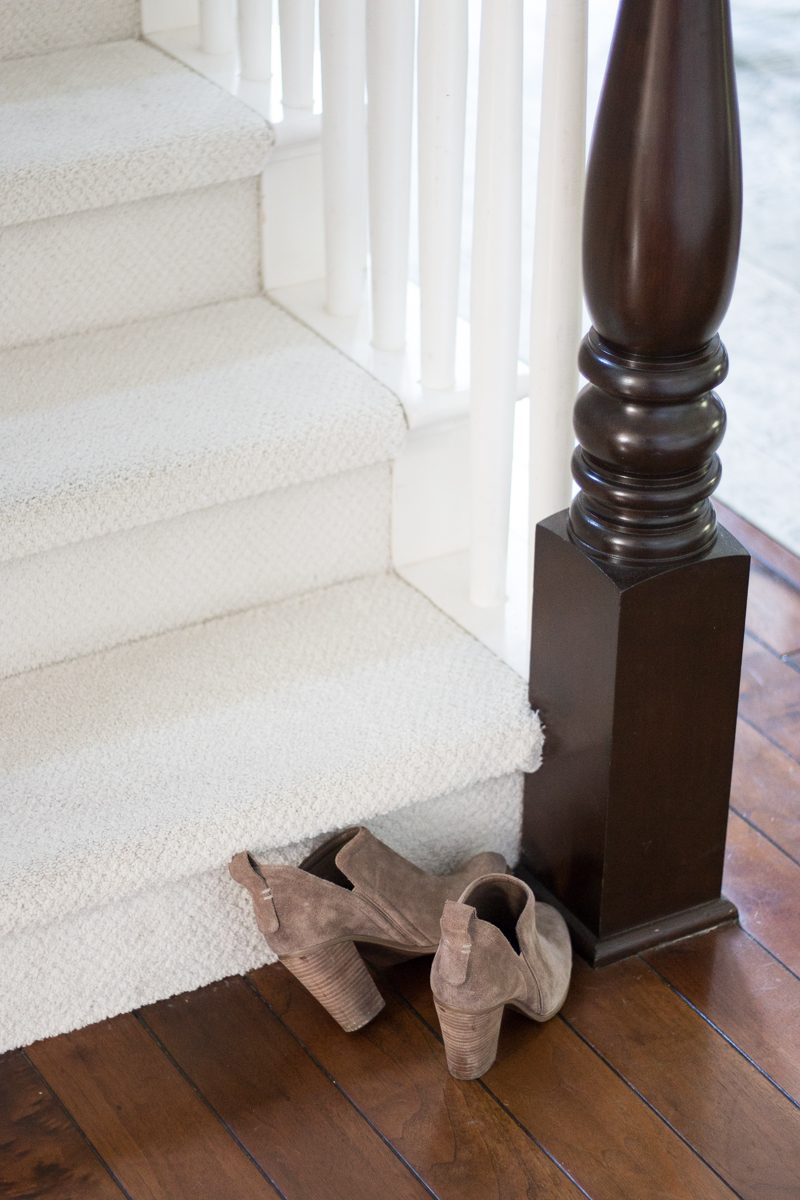 We have a very simple rule in the house. No shoes upstairs. To be honest, we don't really wear our shoes in the house very much at all. Think about it. Those shoes are out and about all day playing in dirt, all over parking lots, in and out of who knows where. Anything those shoes touch, you potentially bring into the home. Would you place your shoes on top of your white sheets? Probably not. So when it comes to our carpet and the upstairs, we just don't allow the shoes. That is a huge contributor to keeping our carpet clean. Most of our everyday shoes are in cubbies just outside our garage door so the get kicked off and stored there. Most of my shoes are up in my closet.
TWO: BOOTIES TO THE RESCUE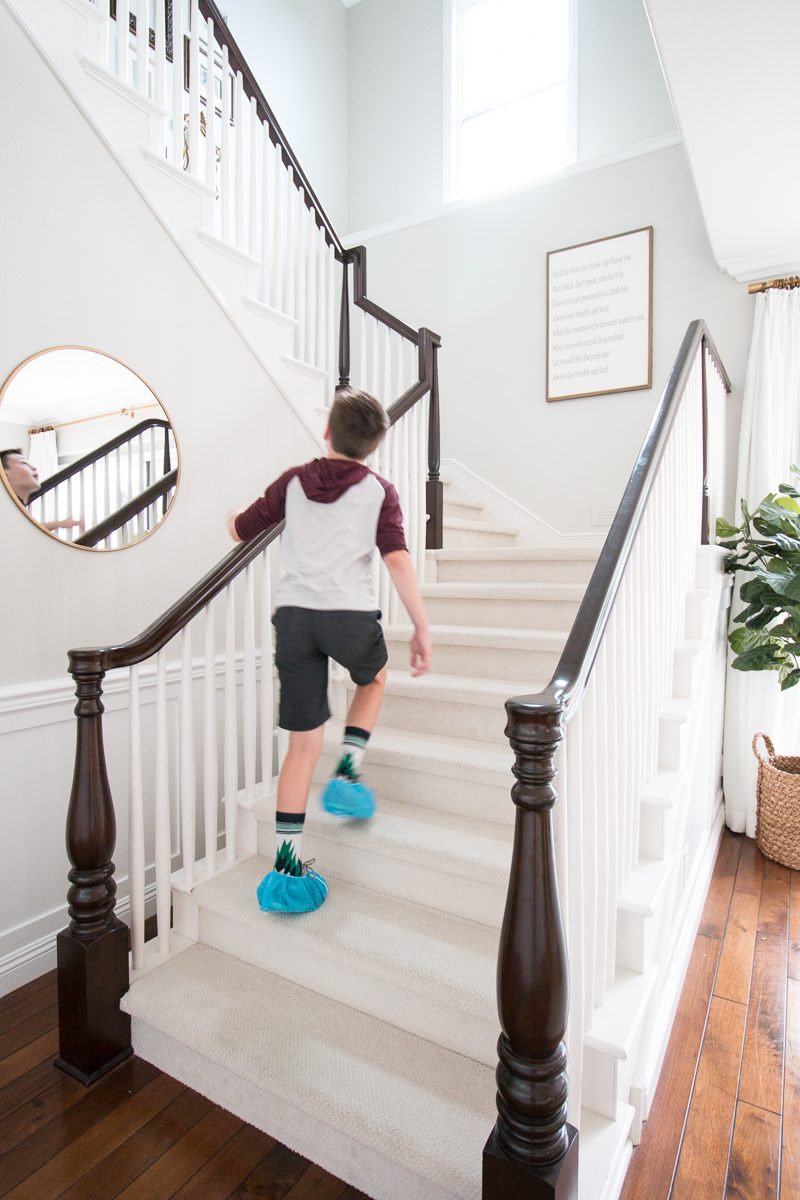 My husband actually came up with this trick after seeing workers in an out of our home when we first bought it. You know those blue booties? They are ideal to keep handy in case you have your shoes laced up and you've forgotten something upstairs. Or if a child runs in from playing outside and needs something from upstairs. No time to take shoes off, right?! Just slip on the booties and grab what you need. While it may sound silly, the booties have seriously saved our white stairs and the kids prefer that to having to take their shoes off for something they forgot. To keep it convenient, they are stored in the hall closet near the stairs. If you don't have a nearby closet, a simple small basket with a lid could be nearby.
THREE: SPOT TREAT QUICKLY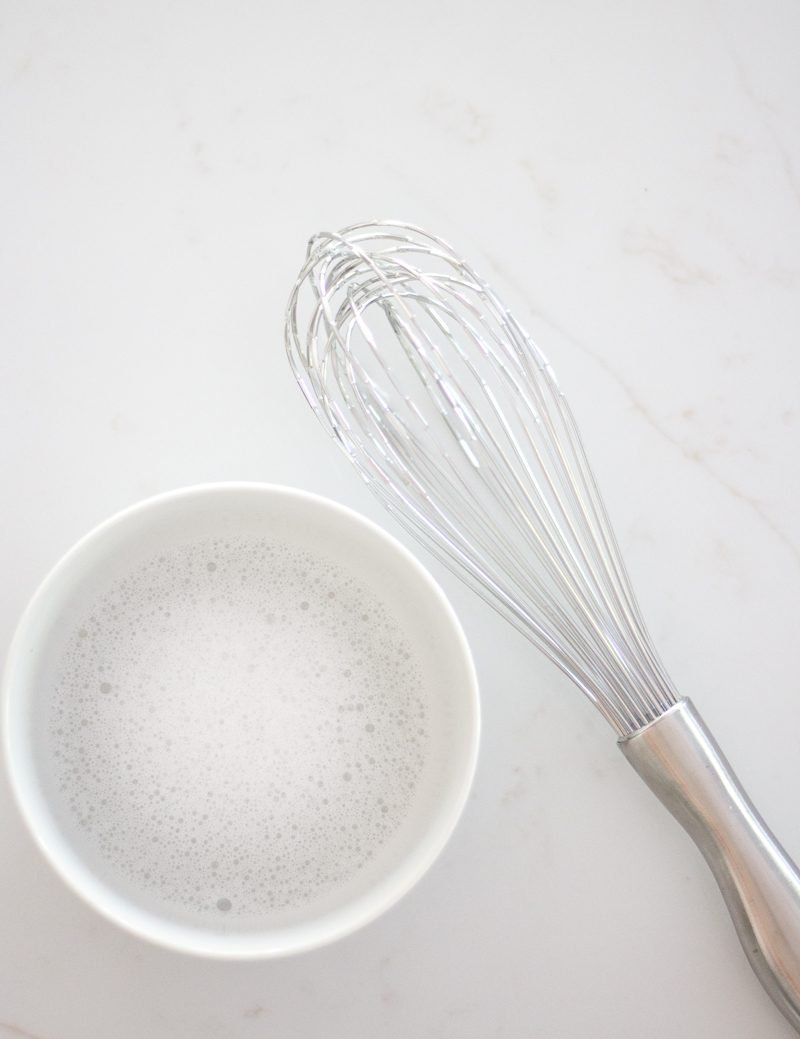 Don't let stains sit. It's just the name of the game. All carpets are different and it's important to speak with your installer about what is best to use, but we have had luck with two methods. Either club soda or  just the suds from a warm water/dish soap combo. My mom taught me that. You use warm water and a splash of dish soap. Whisk until frothy and only apply the suds with a warm cloth. Always blot, never rub. Rubbing the carpet can make the stain worse and destroy the carpet fibers making it look older rather quickly.
FOUR: VACUUM REGULARLY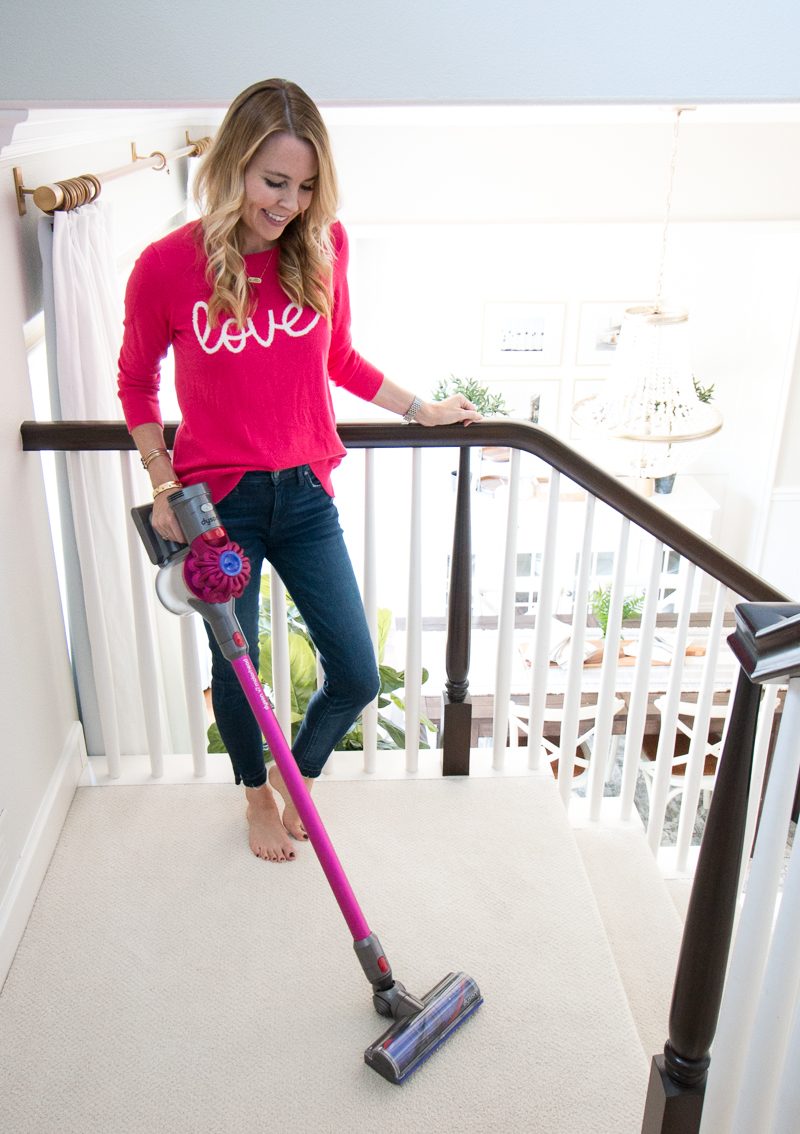 Now that we have the Dyson v7 we vacuum all the time. No joke. I wish we had bought this miracle vacuum when we moved in. It is mounted just outside our garage door so it is nice and close to the stairs. The key is vacuuming the wood floor by the stairs daily. It seriously takes 15 seconds but prevents everyone from tracking dirt up the stairs. vacuuming the stairs is now my daughter's job. I can share more about their chore list soon. This vacuum is crazy light weight and does a phenomenal job. It's odd to say, but using it is a joy. I found a factory refurbished one here. Excellent price.
FIVE: USE A CARPET CLEANER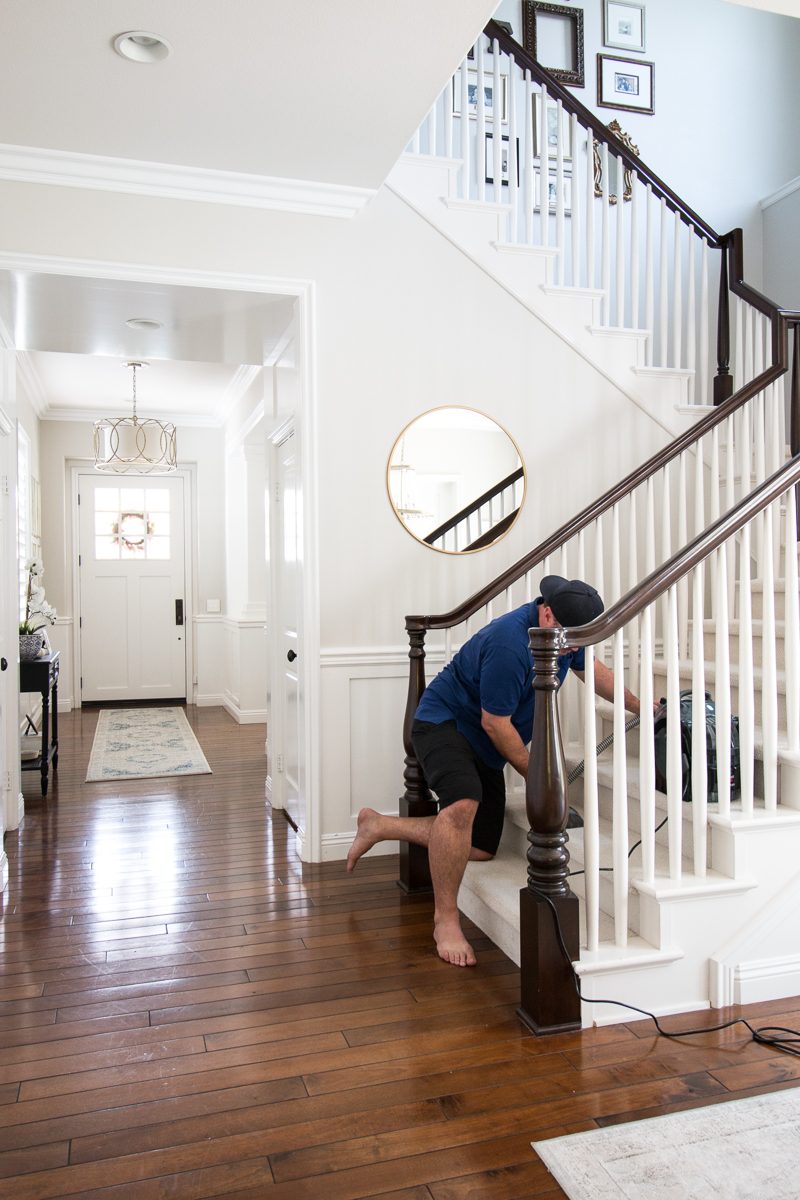 We recently added the Bissel SpotClean Pro to our arsenal and love it. It was my husband's idea and it was a good one. We wanted a spot cleaner that wasn't too large to store and one that could be used on the stairs. This is so easy to use and works really well. You should see the dirty water after using it. Unreal. Using this regularly basis makes a huge difference. Plus we can spot treat when little things pop up here and there.
We love how compact this machine is. It's easy to use and fits nicely on the stairs as you go.  Over 80% of the products available on eBay are "Buy it Now" status. We are all about that. If you need a tips for shopping eBay, I always start with the landing page for current sales and then use the search bar at the top of the page (I choose the Buy it Now filter).  This cleaner also received awesome reviews if you are looking for a larger one.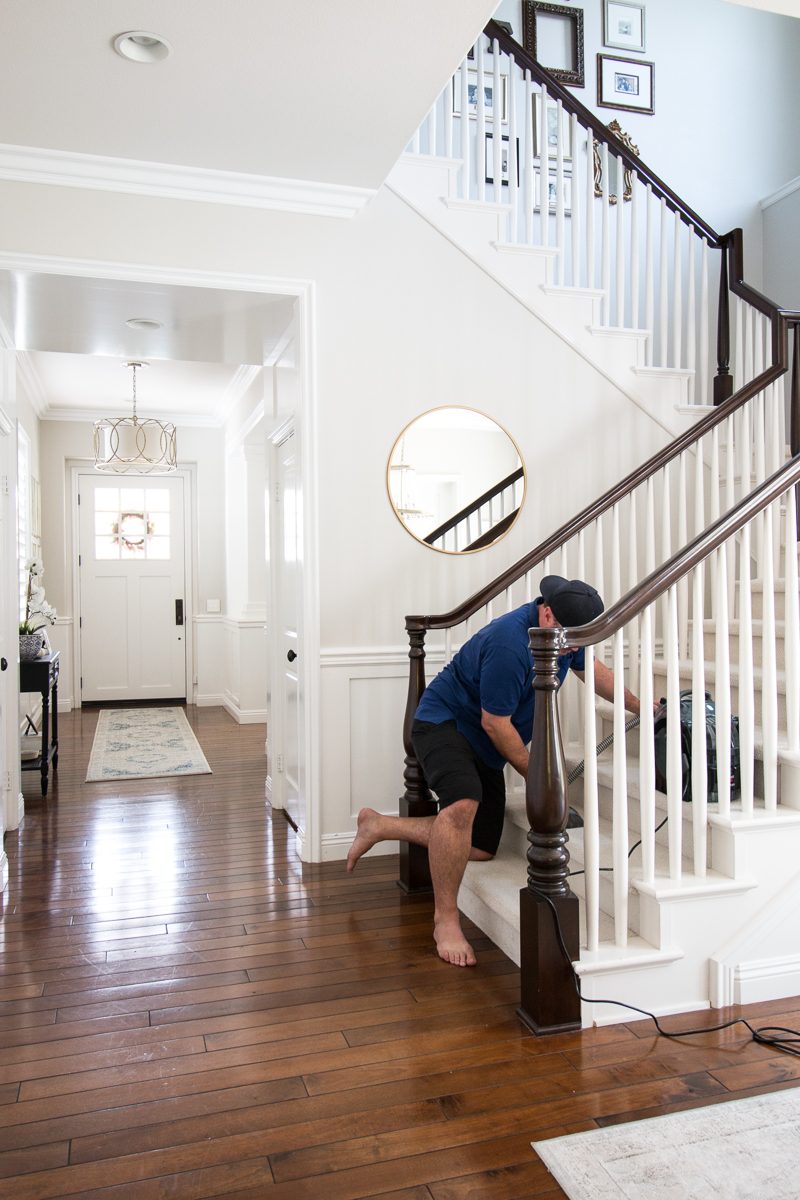 We love how compact this machine is. It's easy to use and fits nicely on the stairs as you go. The carpet cleaner comes with two separate brushes so you can choose which one is best for you and your situation. Are you ready for this? A found a similar version completely refurbished for only $60. It gets great reviews. That's an awesome deal.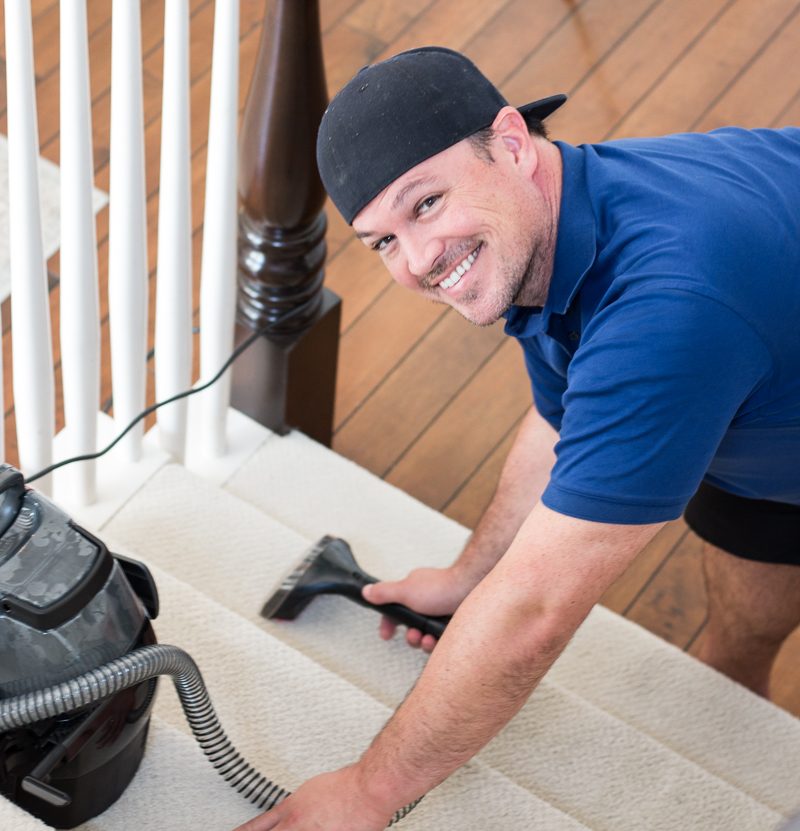 Kudos to this guy for being such a good sport. I wasn't feeling well and he stepped up to clean the carpet on camera. All about the teamwork! Now it's time to train the kiddos in using this carpet cleaner so we can add it to their chore list.
More Cleaning Options

Hope these tips help keep your carpet looking a little bit cleaner. What are you up to today?  Was so hoping to see my mom, but with this cold I'm still not up and around. Maybe tomorrow.
If you are interested in the other Five Ways posts, you can start by getting caught up with these:
*Proud to partner with eBay on this post. All ideas and tips are my own.