Good morning, sweet friends! I'm so excited to welcome you all in for part two of our Christmas Home Tour.  Thank you for stopping in to visit. I am sharing our living room today as part of a blogger tour. It's a group of women I started blogging with many moons ago and I love and respect them all. This room is one of our very favorite spaces at Christmas time because it's full of memories and traditions. Grab a hot cup of cocoa or coffee and enjoy the tour. From our home to yours, Merry Christmas!
Welcome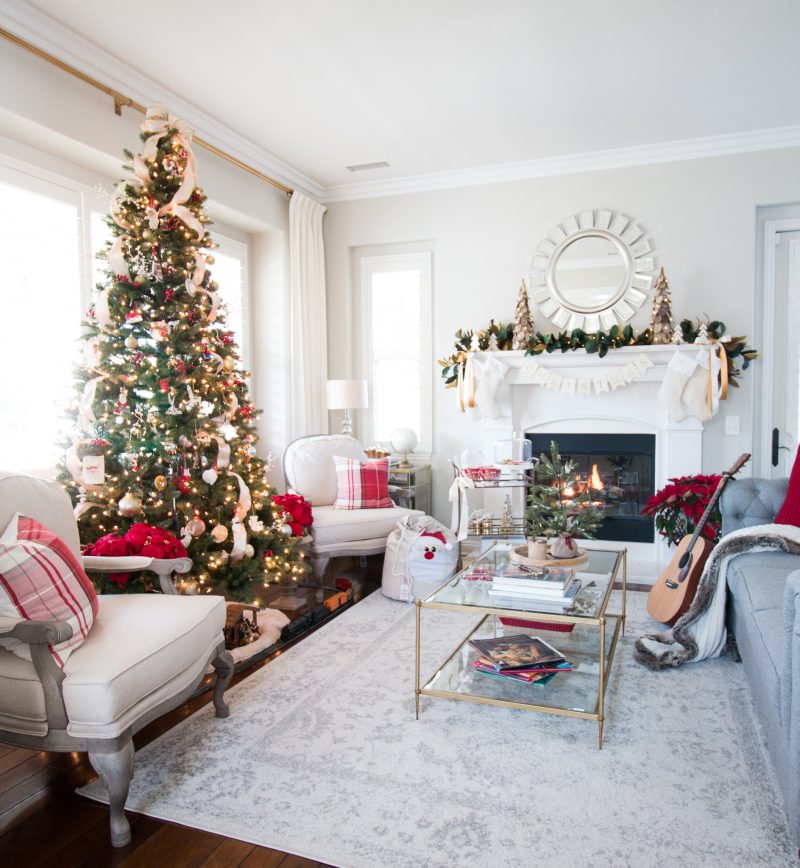 This tree boasts all of our very favorite ornaments from over the years. Ornaments we collected when we were little and special mementos from our travels. You know the ornaments the children make in school? Those are all on here. Plus special ones that our grandparents have sent since the children were babies. We couldn't do Christmas without this tree. There is something really special about unwrapping each and every ornament every year. While the tree may not be picture perfect, it's perfect to us.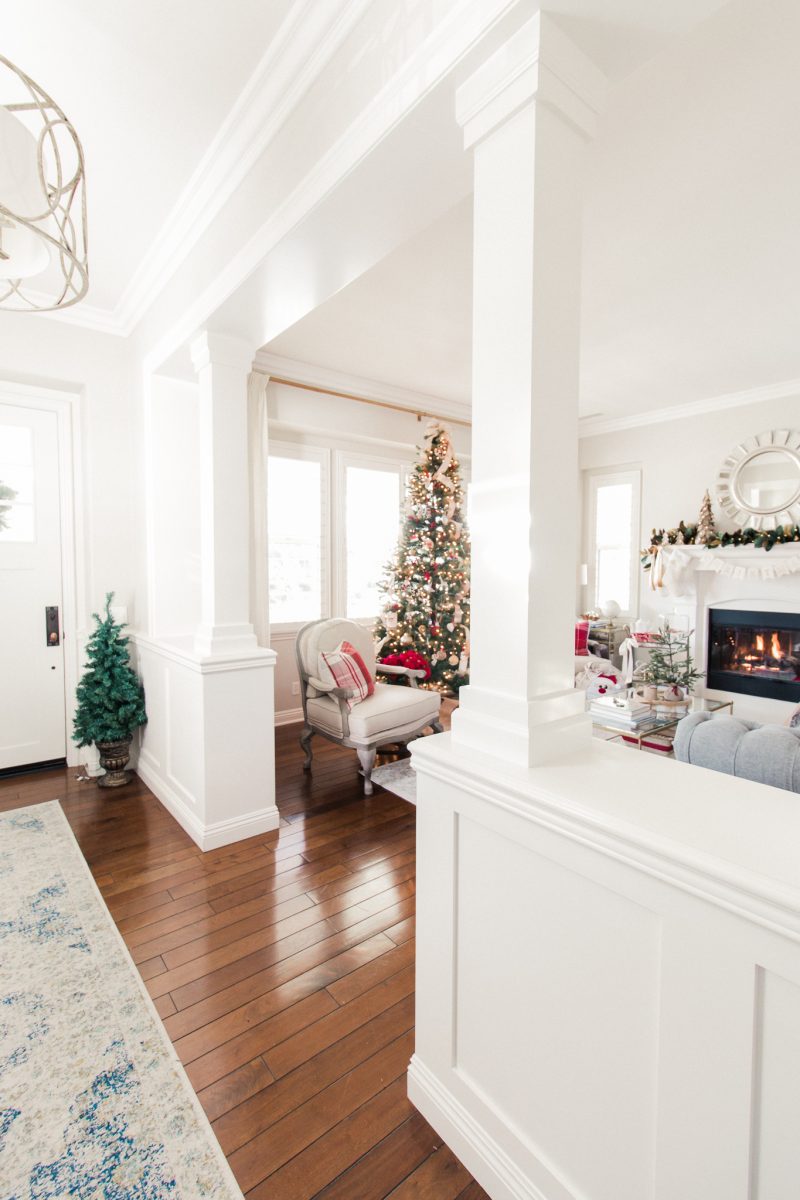 This room is one we sit in every day. I know some people have living rooms and never go in them. We are the opposite. There isn't a day that goes by that we don't all gather in here at some point.  I think it's a natural spot to gather when friends pop over and the lack of TV makes it my favorite spot.
ALL ABOUT FAMILY
We usually have very colorful art over our sofa, but during the holidays we take it down and put up our O Holy Night sign. It's one of our very favorite decorations.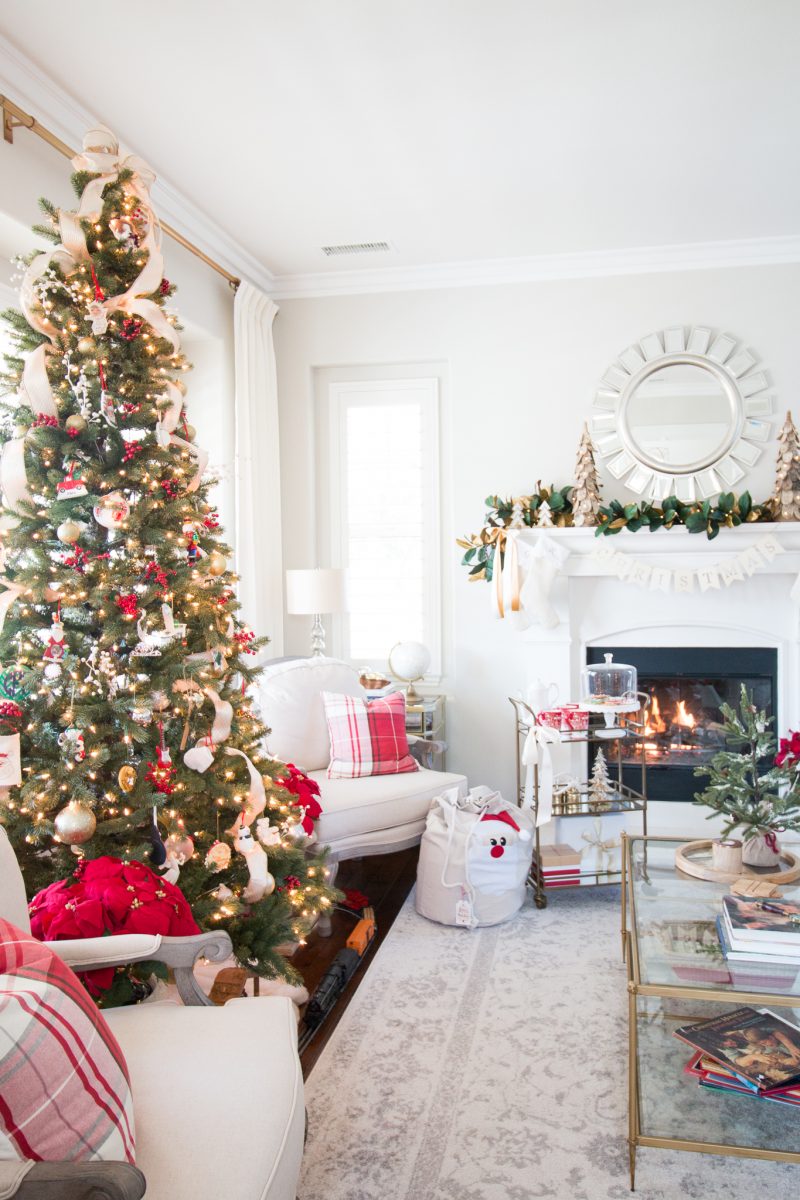 Our Pennsylvania Grandma sends us such fun stocking gifts to open each Christmas. This year she sent them all in that fun Santa tote!!! The kids have already begged numerous time to dump out the gifts to which I told them they needed to wait! Patience is a virtue.
DIY GARLAND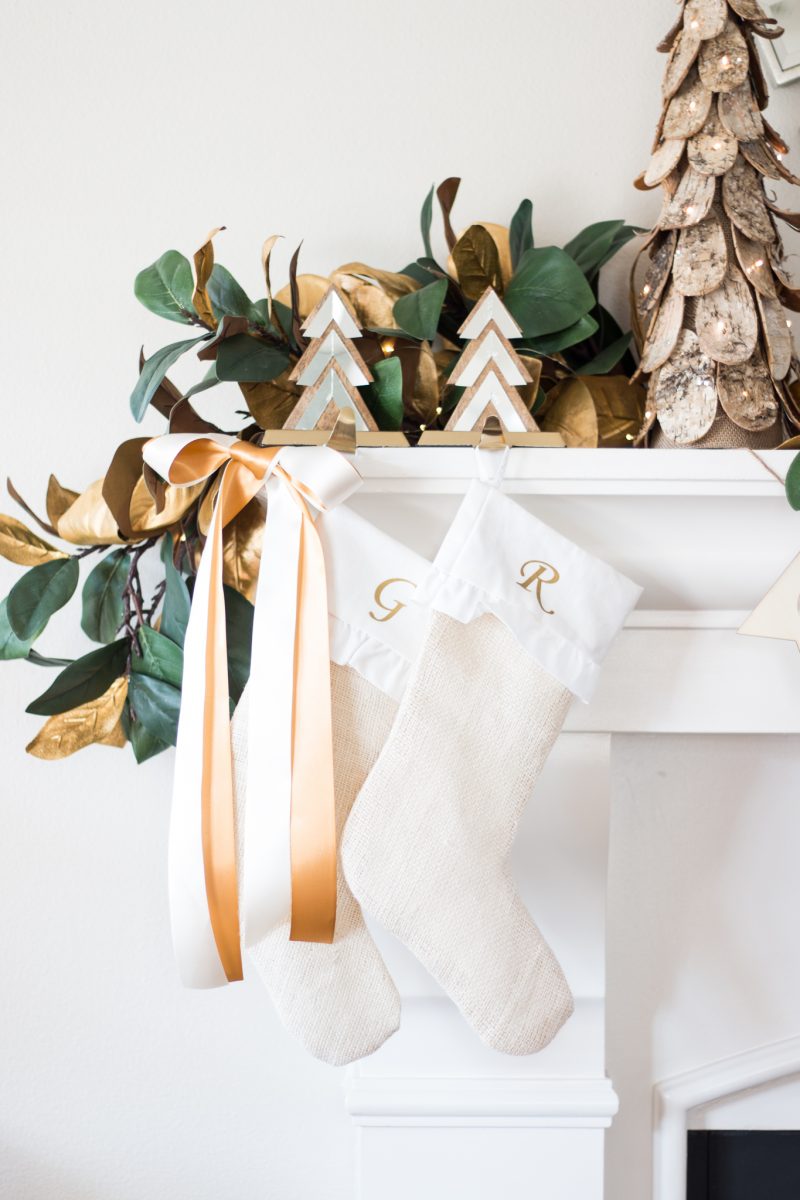 This year I made my own magnolia garland and recently added the battery operated twinkly lights. Those are the best lights. I pick mine up at Target. They even have timers so they can go on and turn off without even touching them.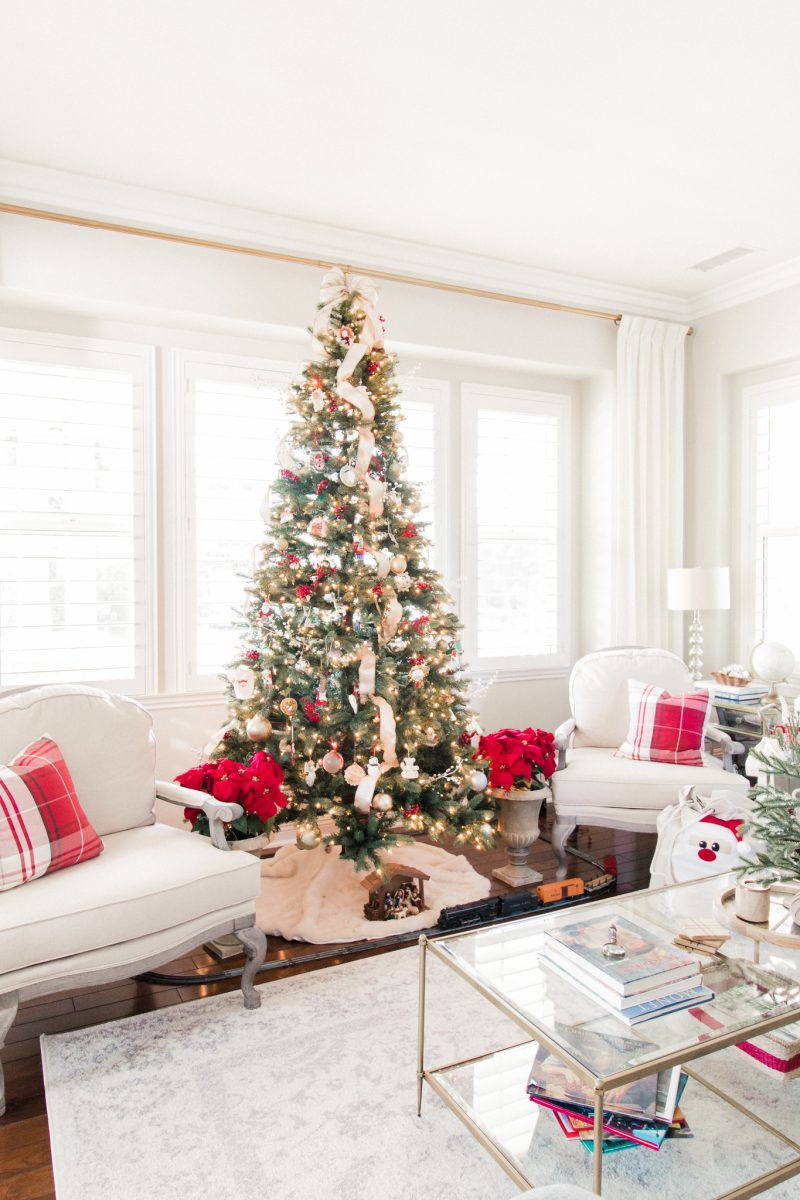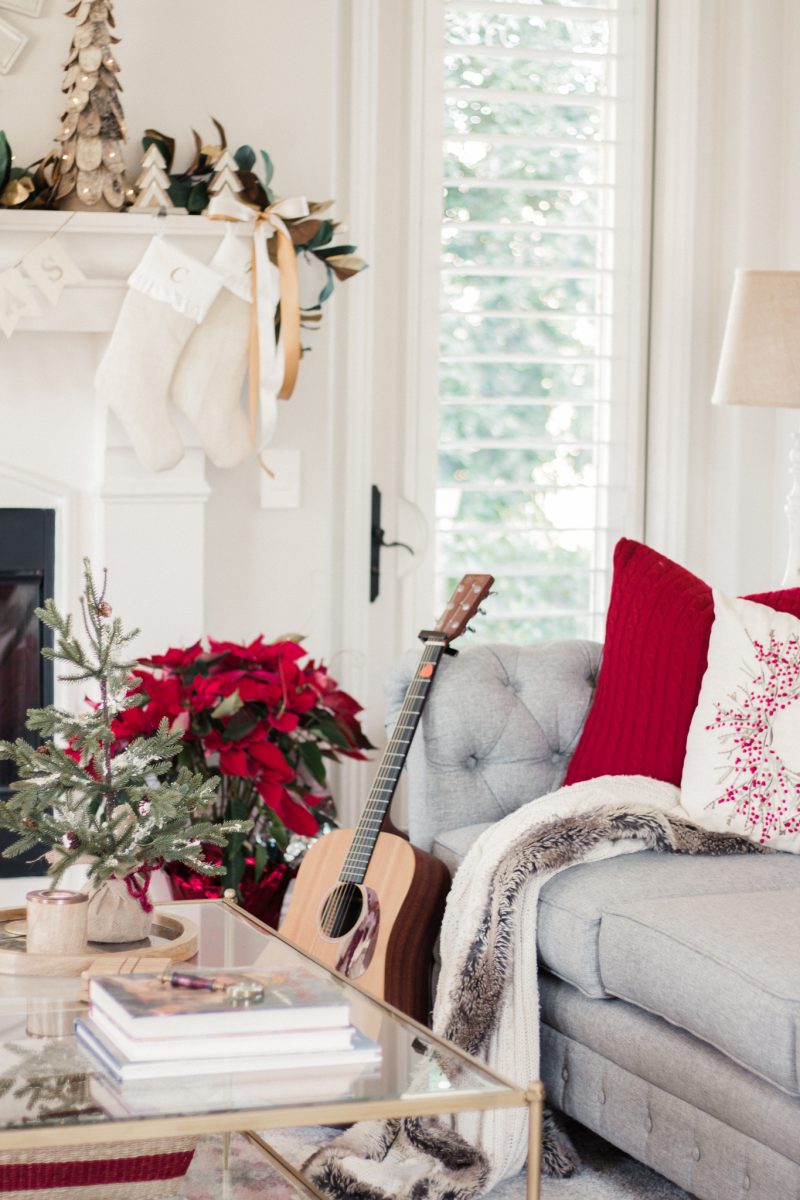 As I was taking photos, I was going to move the guitar but then I realized it shows more of our real life. My husband plays and we LOVE hearing him play in this room by the tree. If fact, just the other night we had friends over and we ended up in here singing along as he played. Some of our best memories are made in this room with this guitar.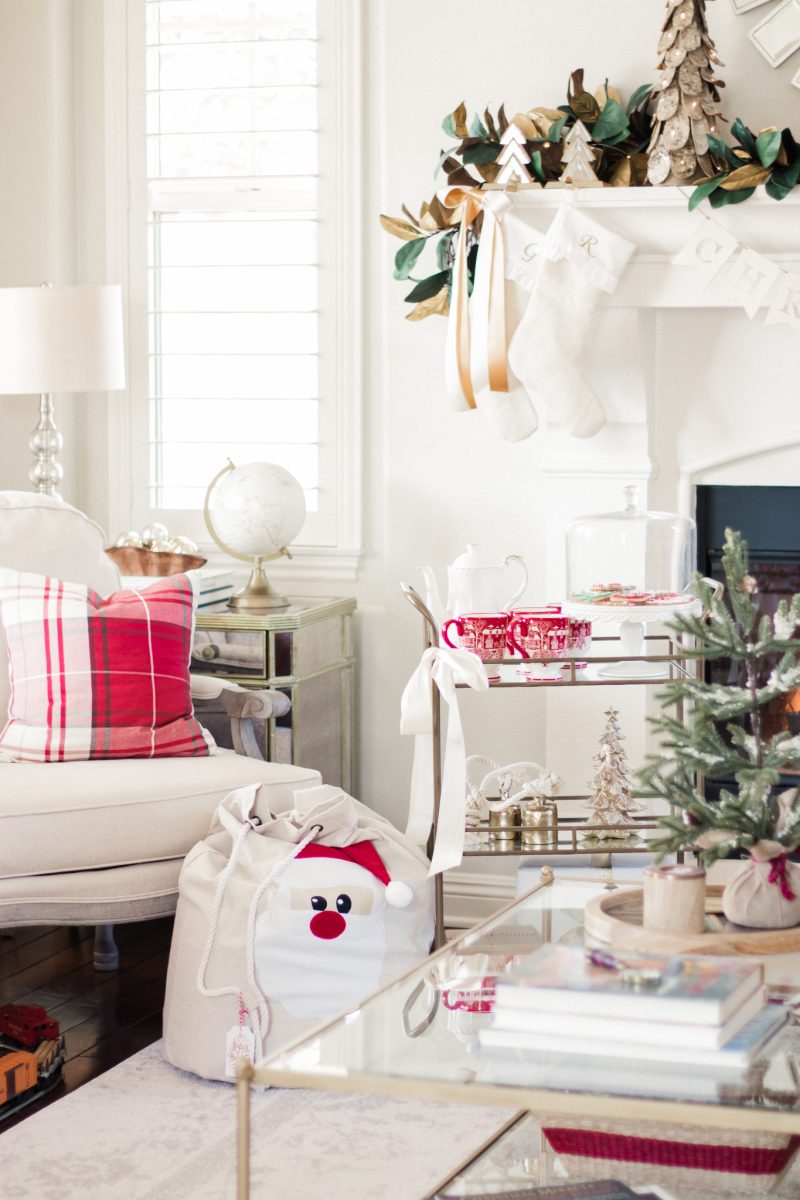 CHRISTMAS PAST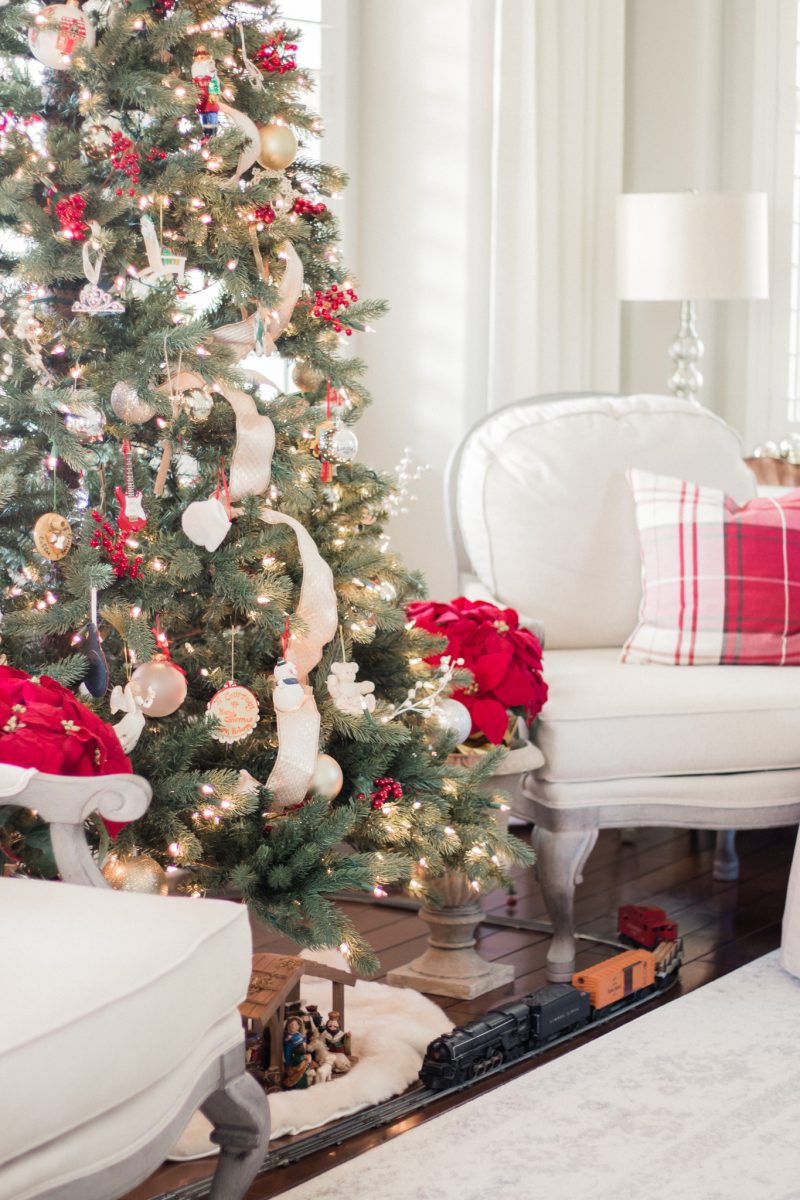 Another way we've incorporated family into this space is this train. My husband's grandmother gave it to his grandfather as one of his first gifts after they were married. I love that it's still in the family.  My dad always set up his Lionel train under our tree growing up. I remember one Christmas morning the train turned on and a tiny package for my mom was on one of the train cars. Isn't it funny what you remember from childhood. Now the kids adore setting this up with their daddy.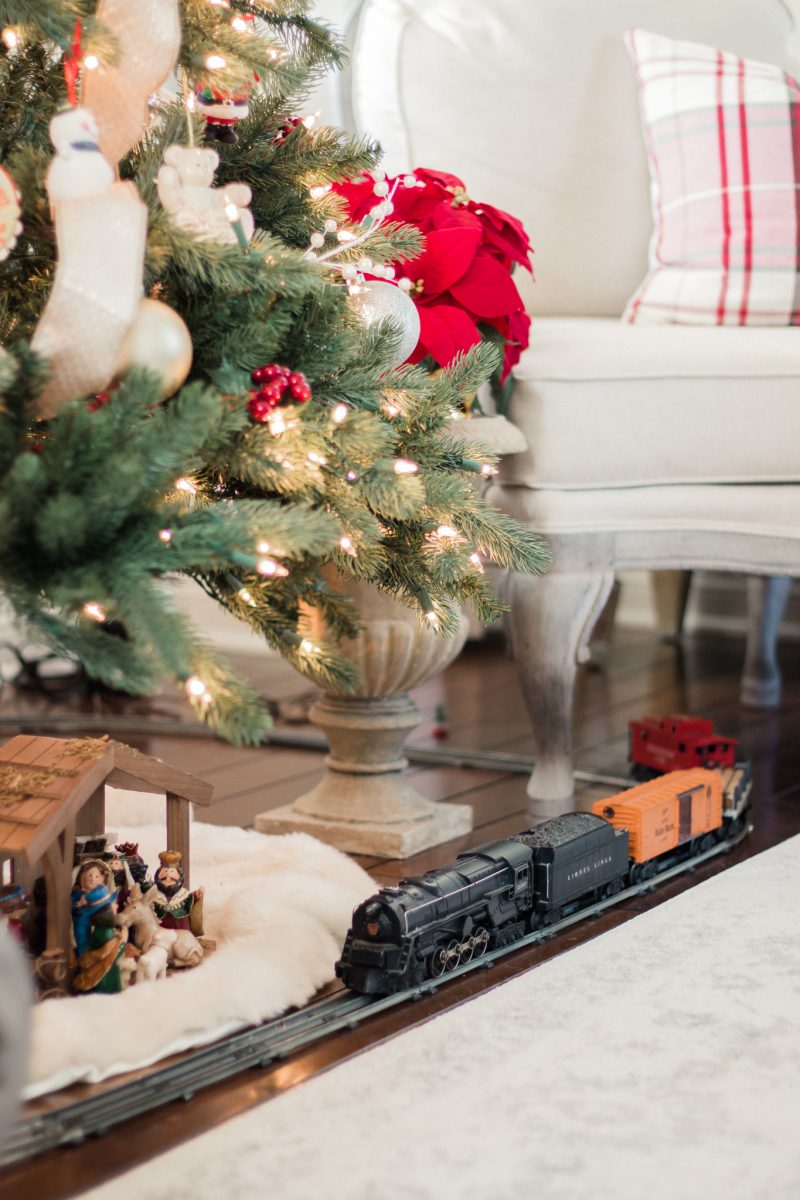 SOMETHING SWEET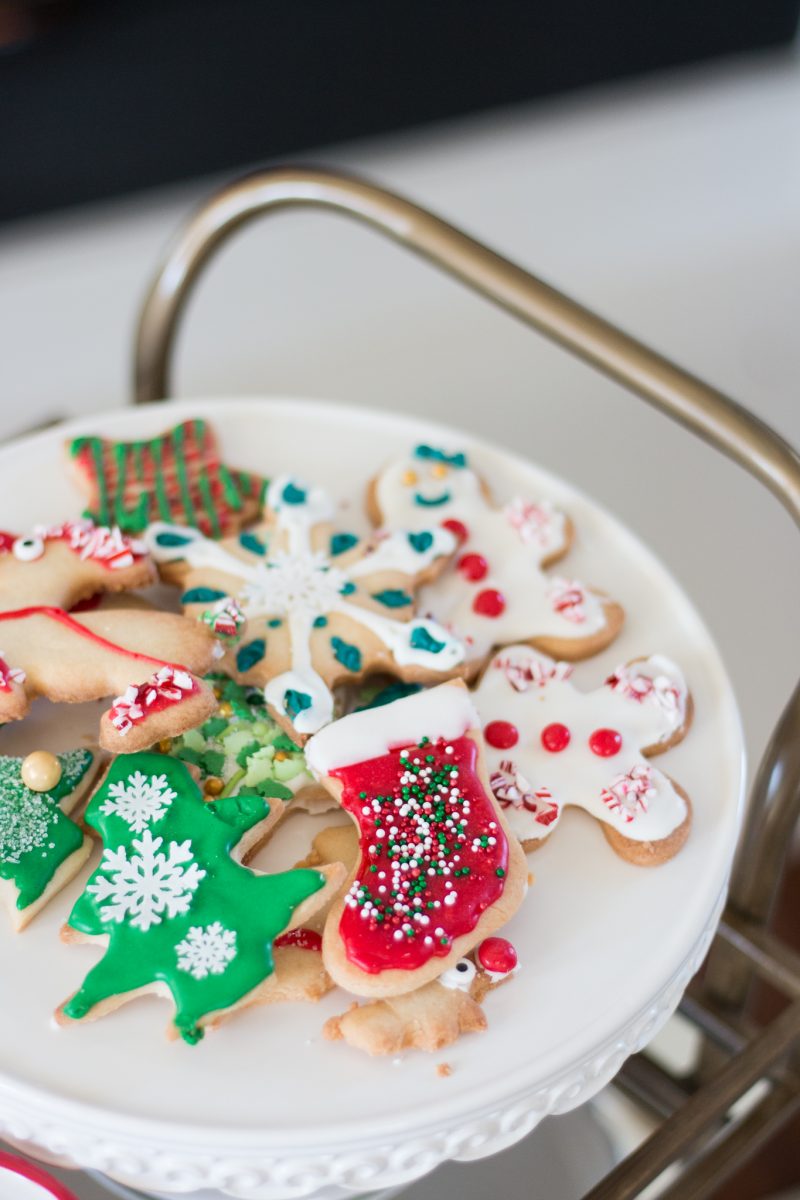 Recently we got together with dear friends and made sugar cookies. It was so much fun to all be together. Kudos to the kids for their decorating skills this year. You can tell they are getting older. The icing is actually on the cookies and not just on their faces!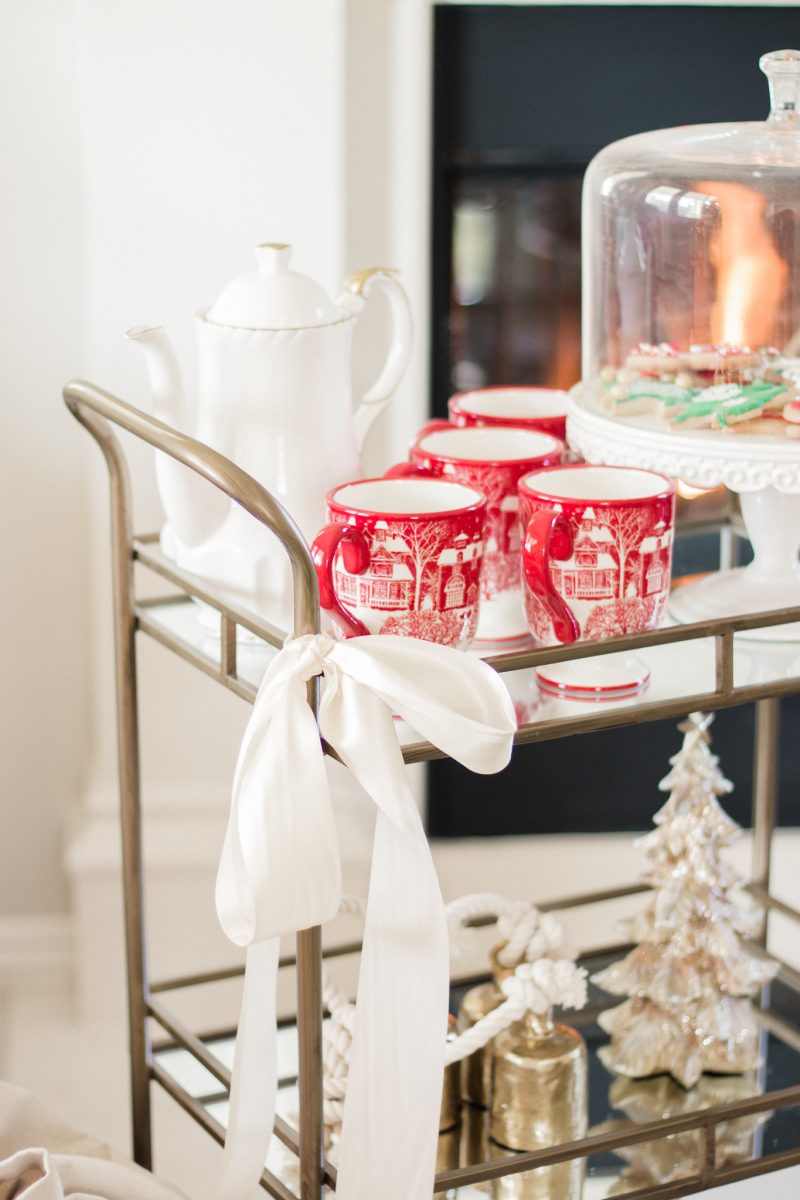 This teapot on the barcart belonged to my grandmother. I love having it around us during this time of year. On Christmas Eve it will be filled with hot cocoa!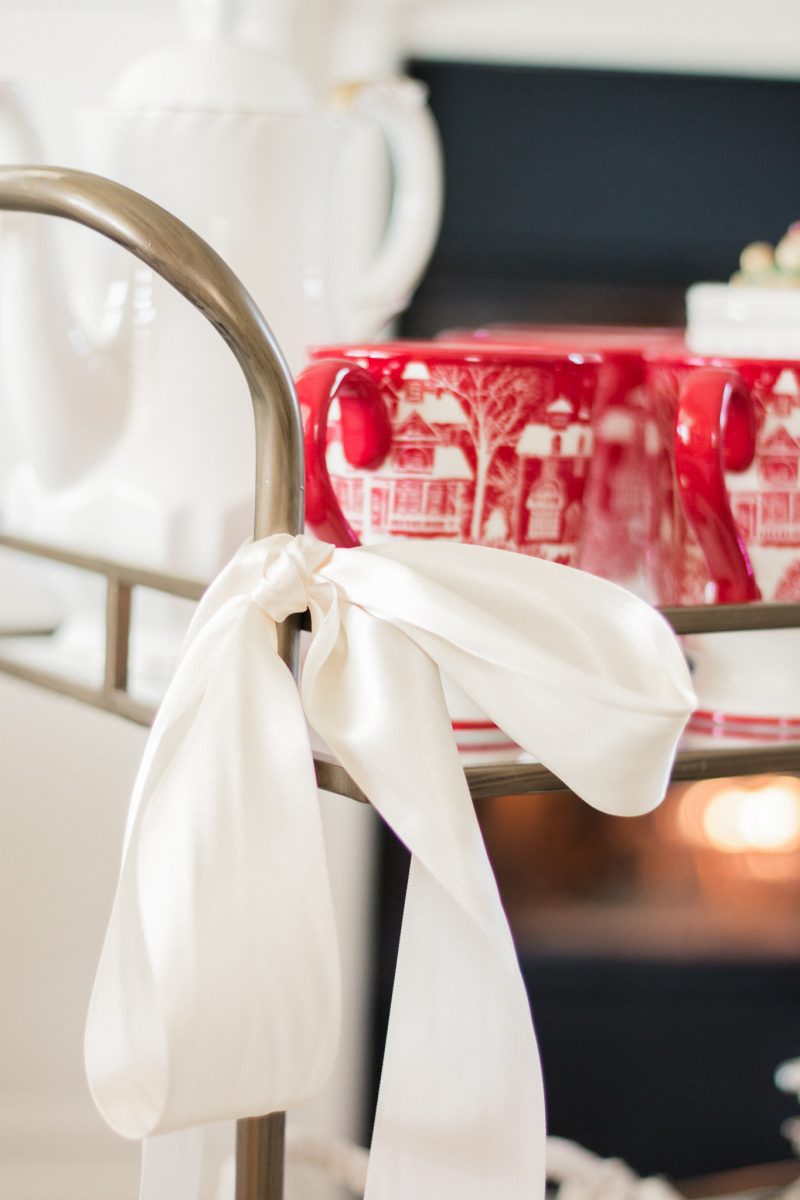 OUR KITCHEN
I recently shared snippets of our holiday kitchen which you can see here. I kept it very simple with fresh greens and a few ornaments.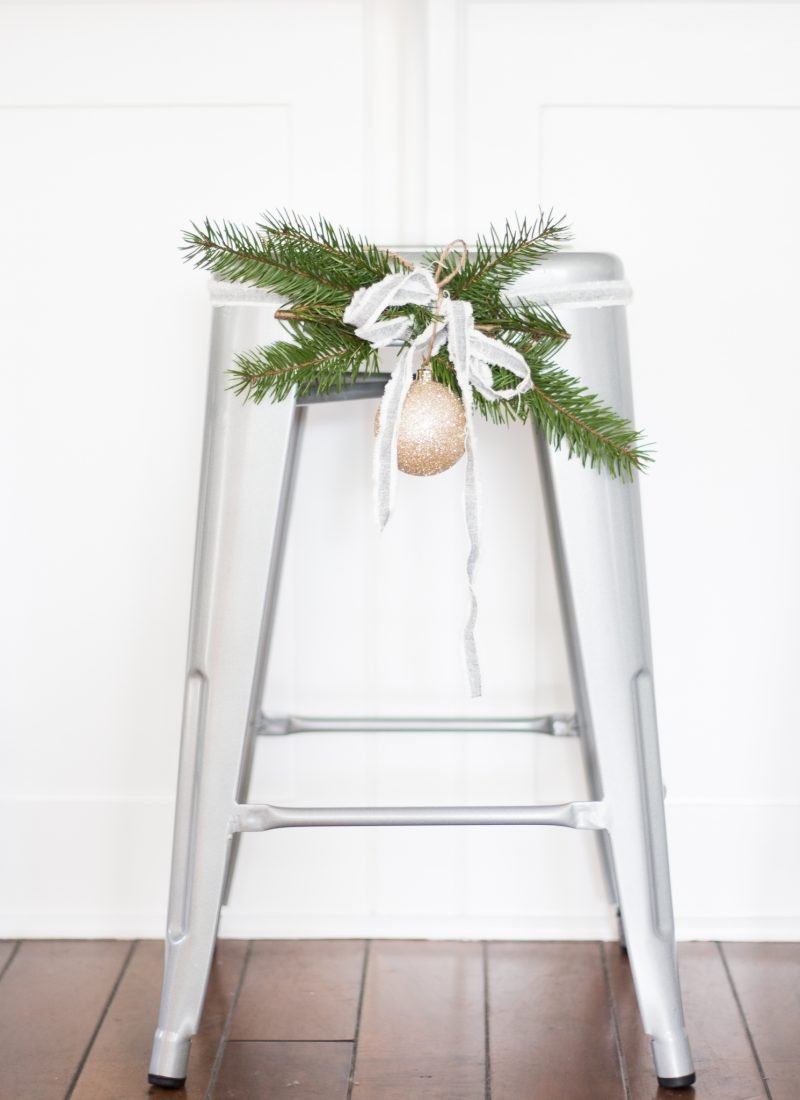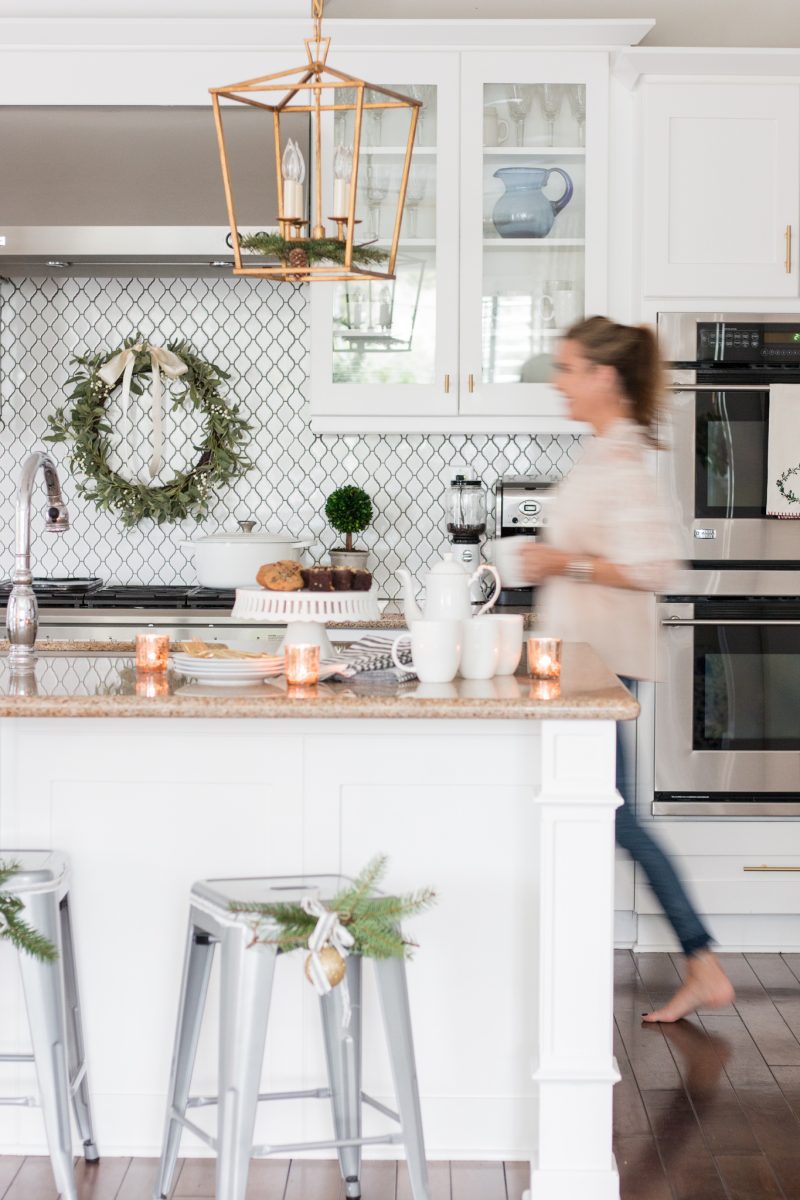 top |  jeans  |  votives  |  stools | lanterns
DECADENT DESSERT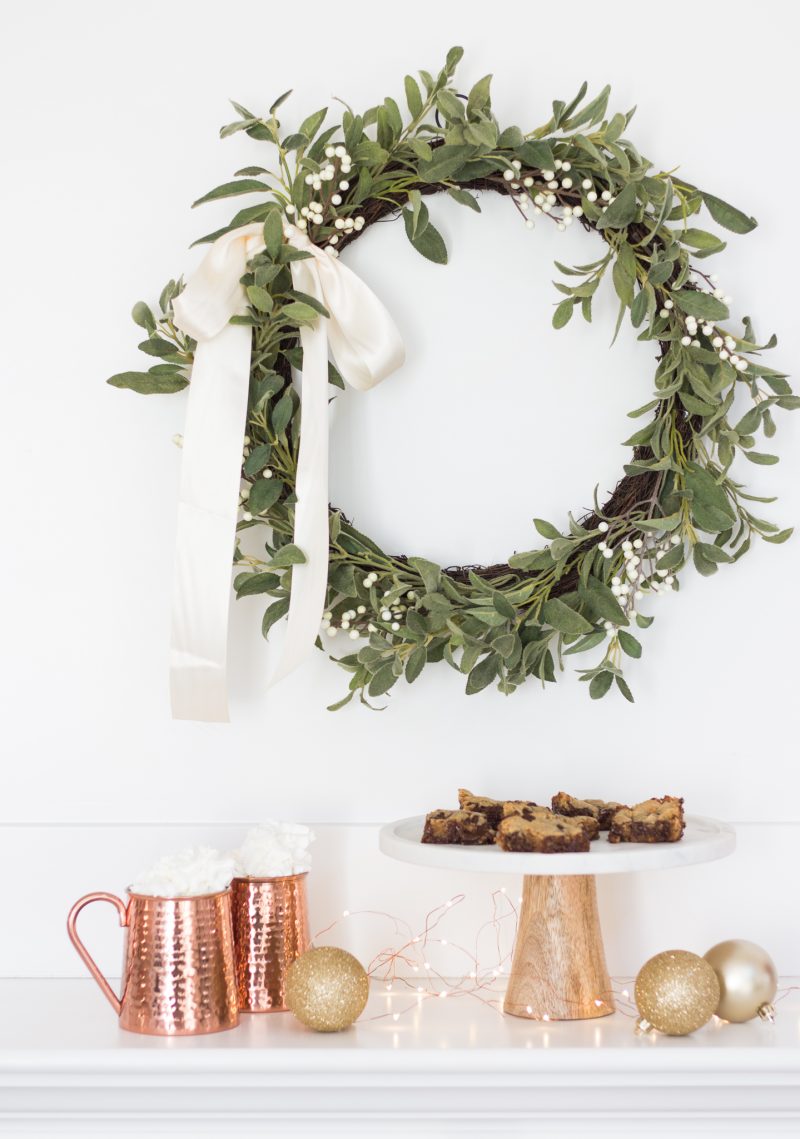 I also shared our favorite recipe for this time of year. You can't go wrong with Salted Caramel Chocolate Chip Bars!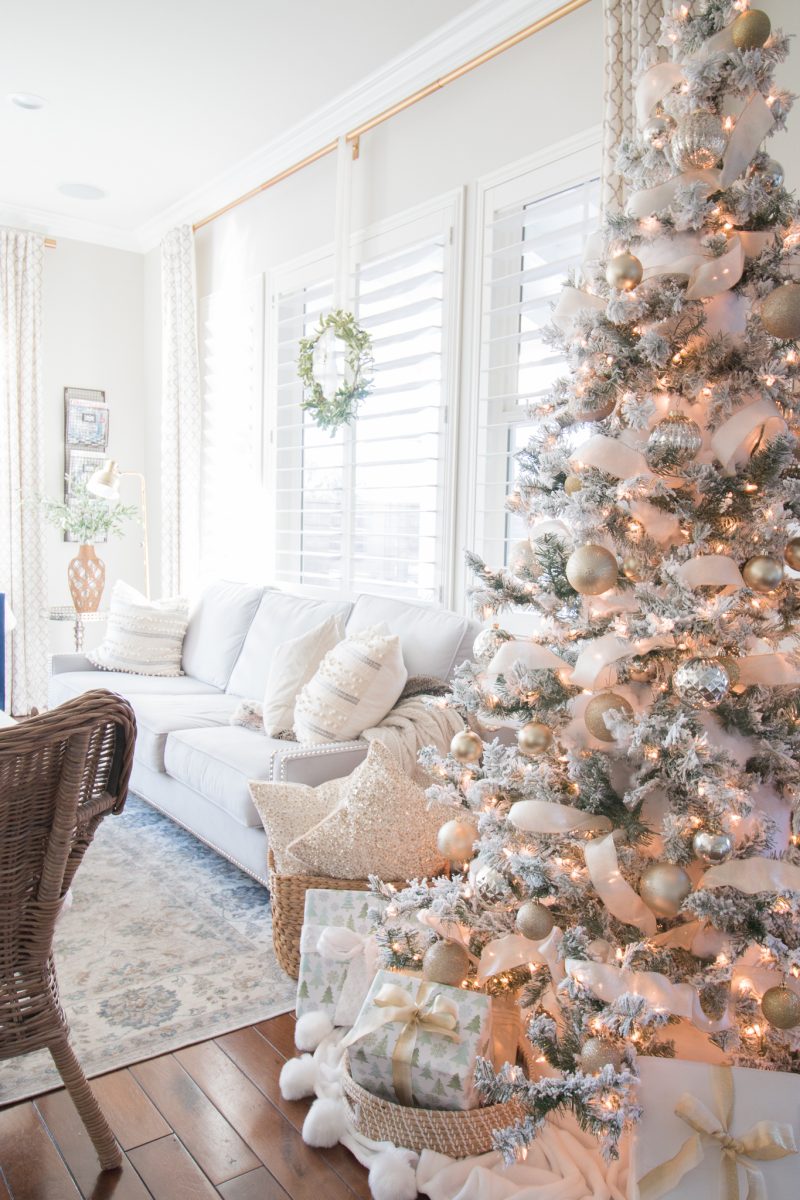 And lastly, our glam tree.  It is our first time ever putting up a flocked tree and we are officially hooked! I shared tips and tricks on how to decorate on a budget. 
Thank you so much for taking time out of your day to stop in and visit. Wishing you all a very Merry Christmas. Go visit these very talented ladies! So much inspiration.
Just a Girl
Home Stories A to Z
Honey We're Home
Tatertots and Jello
Hi Sugarplum
Not Just a Housewife
Pretty Handy Girl
Centsational Style
The Inspired Room
320 Sycamore
Thrifty Decor Chic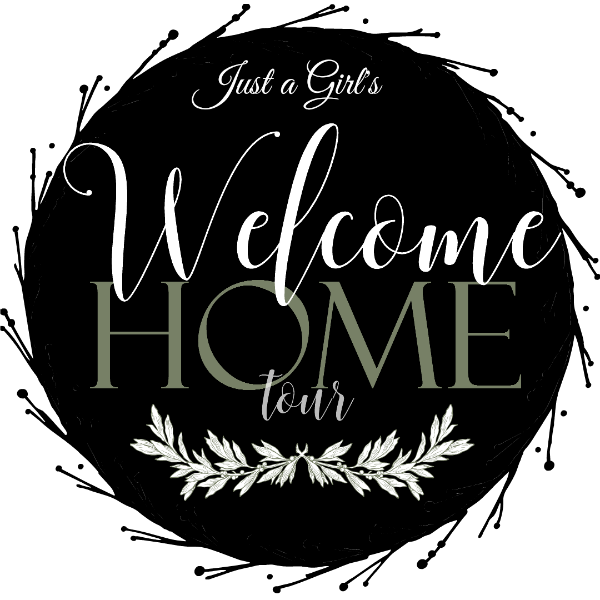 And a huge thank you to my girl, Chris for hosting. I always tell the story that Just A Girl was one of the first blogs I ever stumbled upon and one of the primary reasons I began A Thoughtful Place. So my heart will always be with Chris! You can see her beautiful Christmas tour here.