Today is an exciting day because I am sharing part of our new teen hangout with you. You may remember that we reconfigured our second floor. By taking down a wall between two bedrooms, we created a brand new space for the kids to call their own. Truth be told the entire family is in here every day. We are still working on the second half of the space, but I teamed up with Walmart to bring you our teen room decked out for the holidays.
*affiliate links used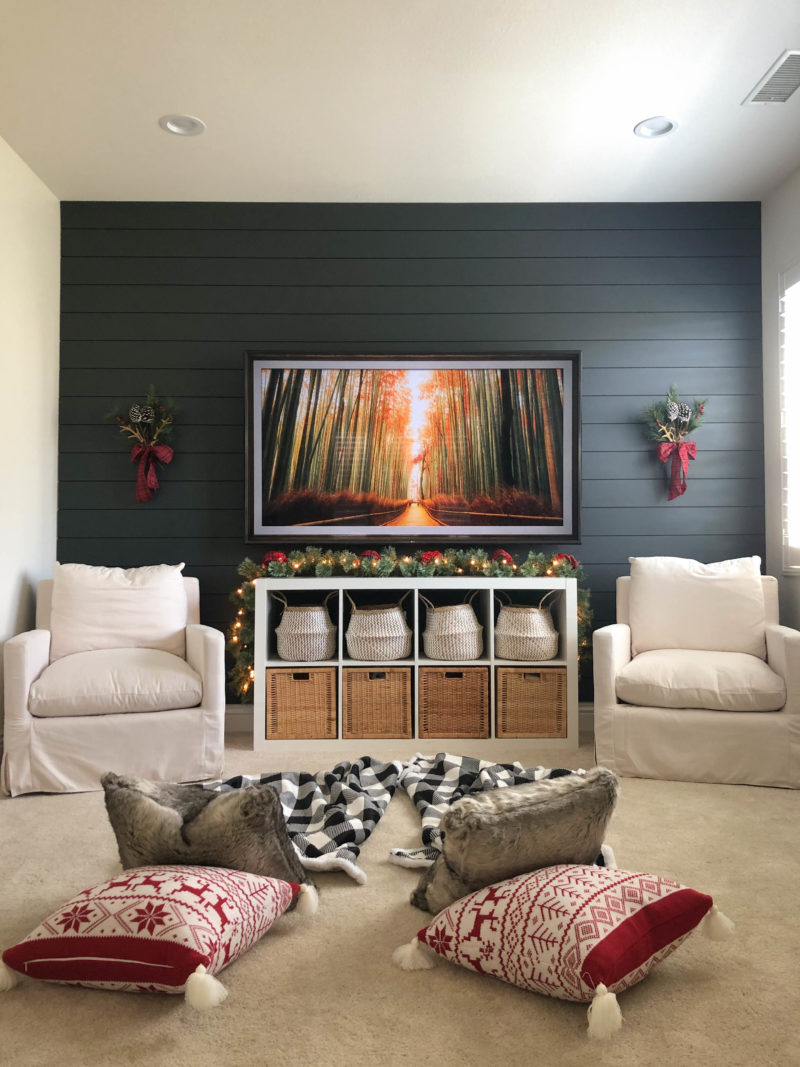 This end of the room boasts dark shiplap and the tv. The biggest request from the kids, when designing this room, was to keep the footprint wide open. It's a place for them to sprawl out, hang with their friends, and of course play hockey. The two swivel chairs are out of the way but epic for my husband and I when we watch movies.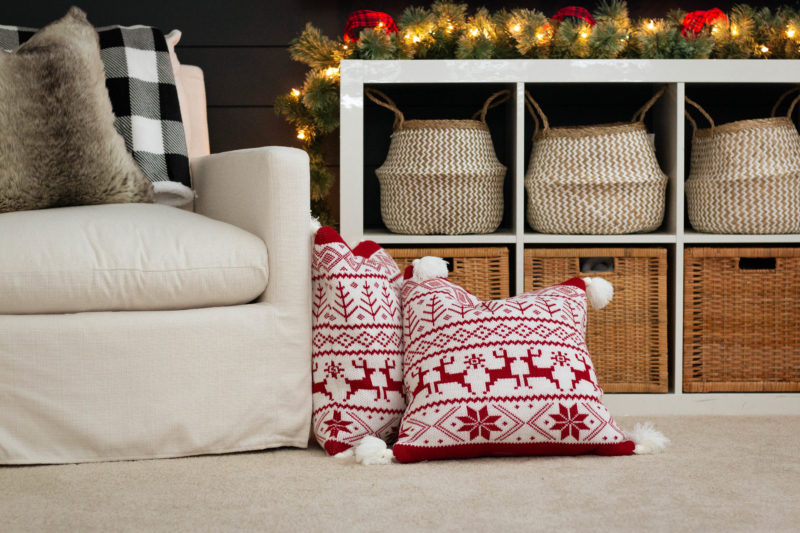 I wanted the overall vibe of the room to be like a cozy cabin for Christmas. I love the traditional buffalo check mixed withe the Fair Isle print of the pillows. Those pillows are such a nice weight, by the way.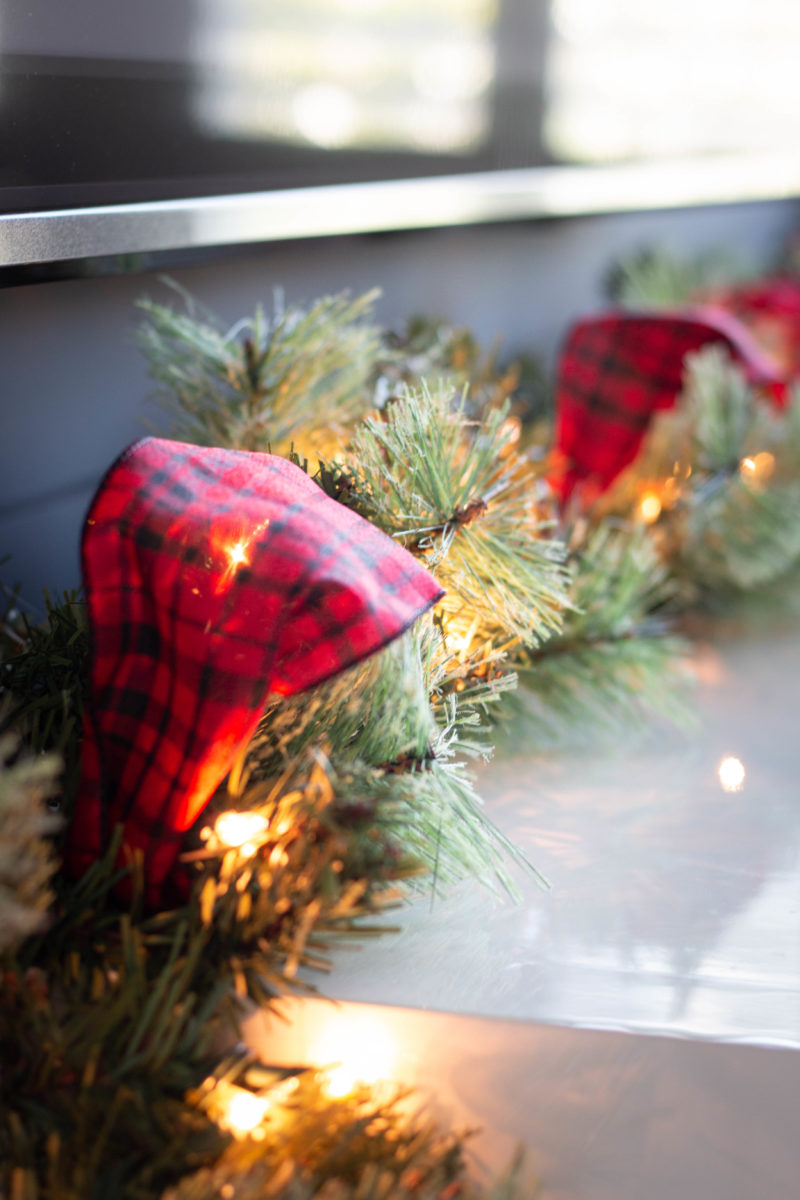 I am really impressed with the garland. It's prelit and a really pretty green. And it's only $14. Total score. To add the ribbon I cut 12″ sections, created a loop, and gently pushed them into the garland. That gives the illusion that it is intertwined throughout the garland.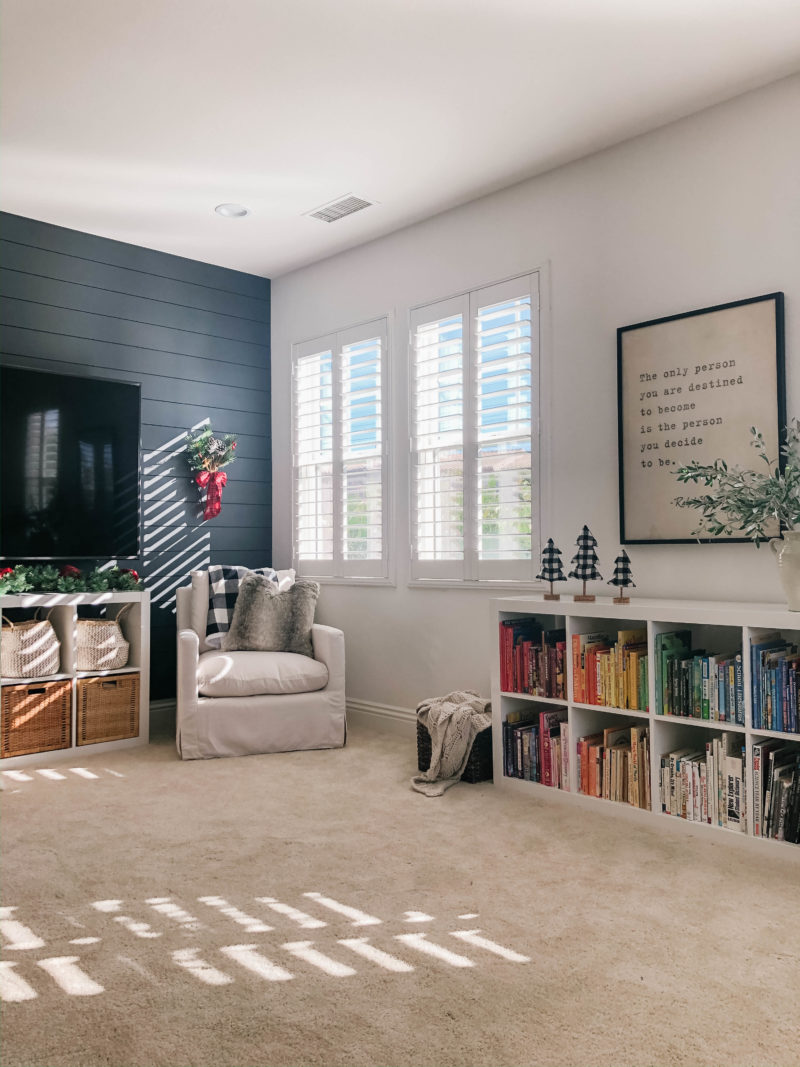 Here is a wider shot of the room. My daughter created the rainbow library with all of their favorite books from their childhood. This room gets epic natural light during the day and is comfy and cozy at night. Everything we used to bring in the holiday vibe is from Walmart. Love that it was all affordable and really transformed the space.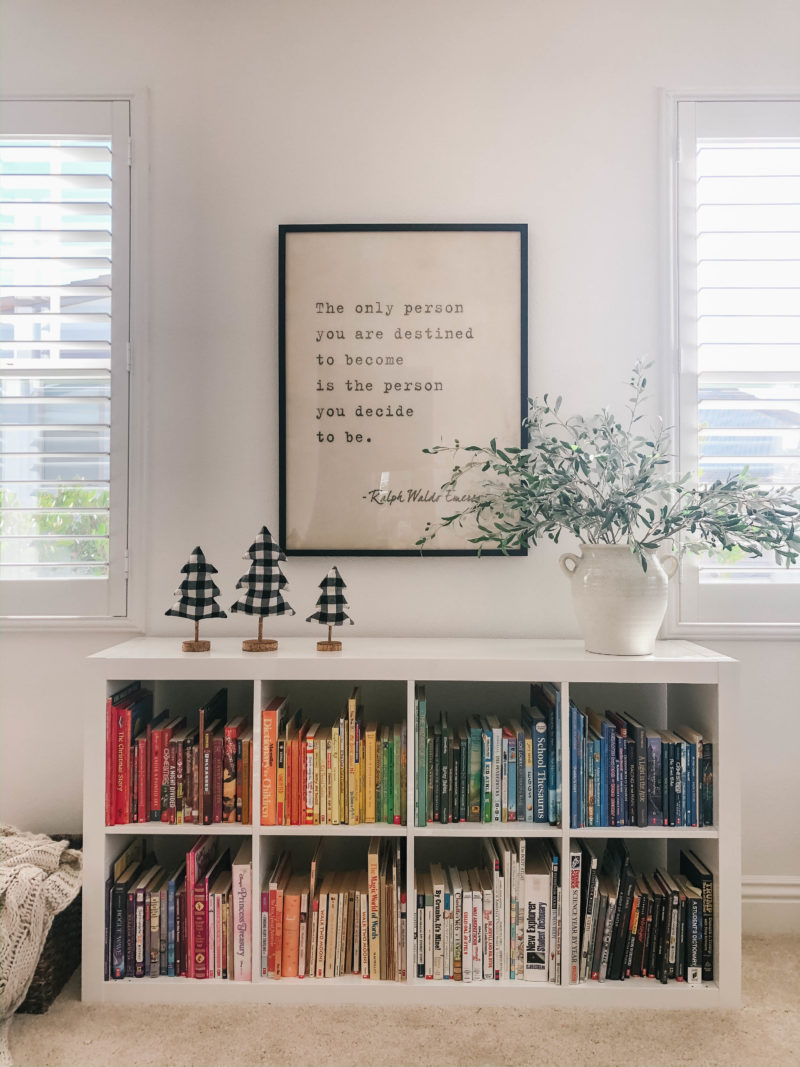 I couldn't resist the set of buffalo check trees.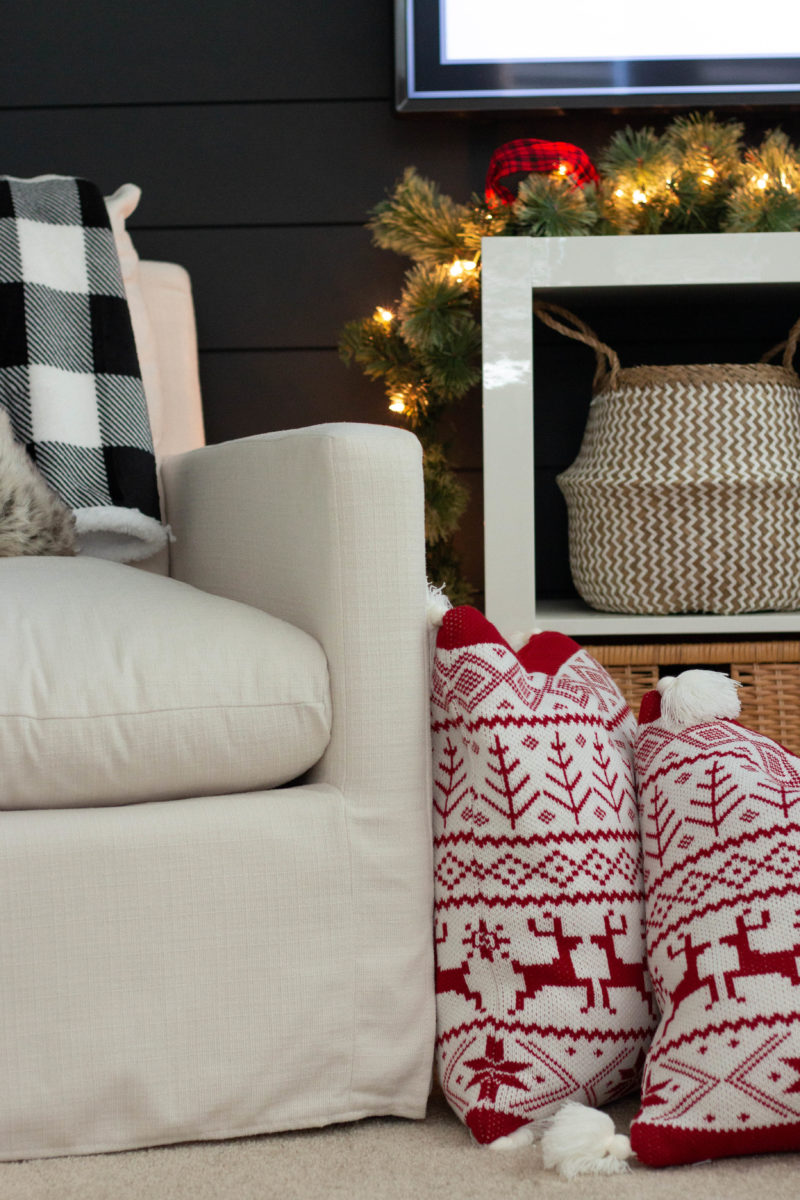 You can tell from this photo that these red and white pillows are nice and heavy. Perfect for leaning against when it's movie time.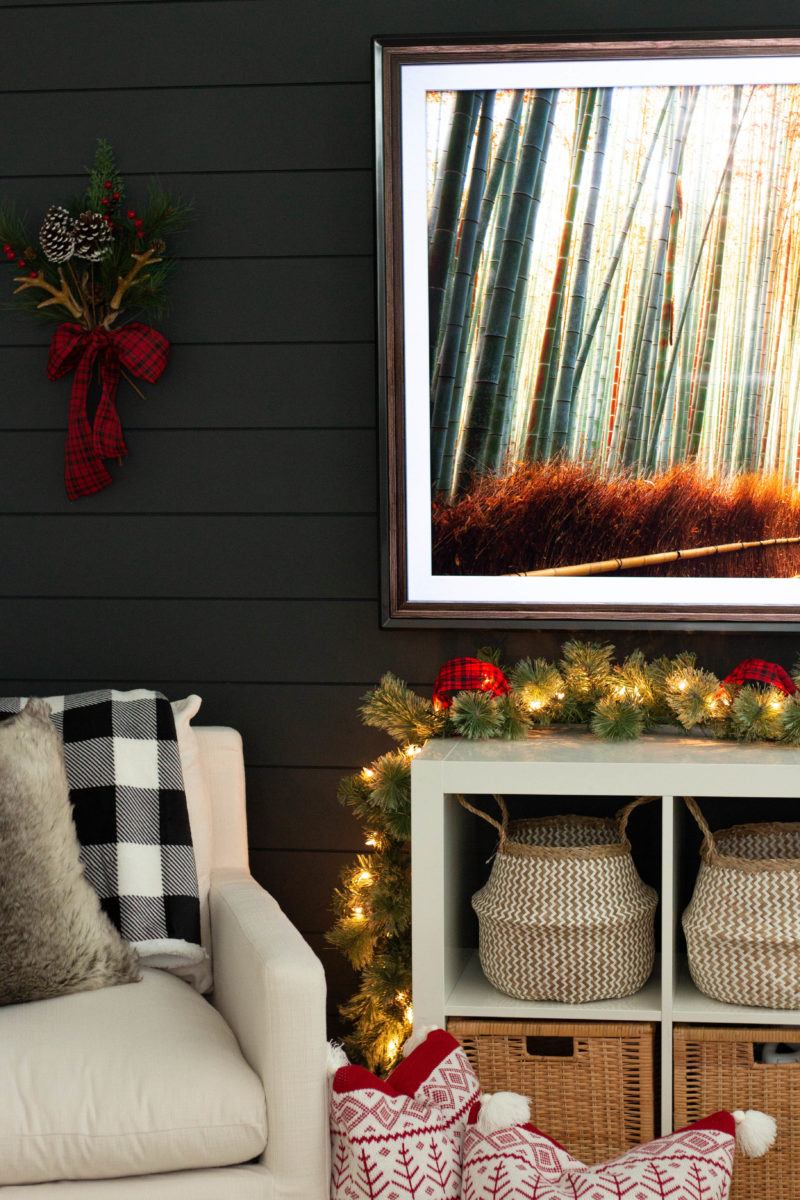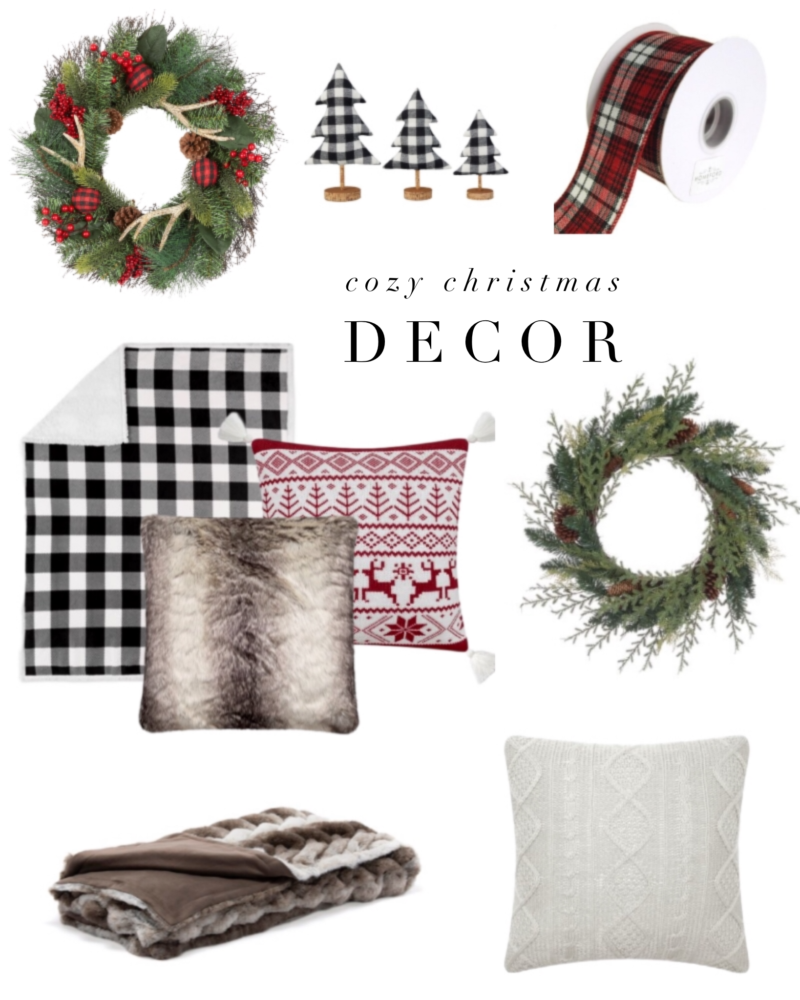 SHOP THESE FINDS

FIVE MINUTE DIY SWAG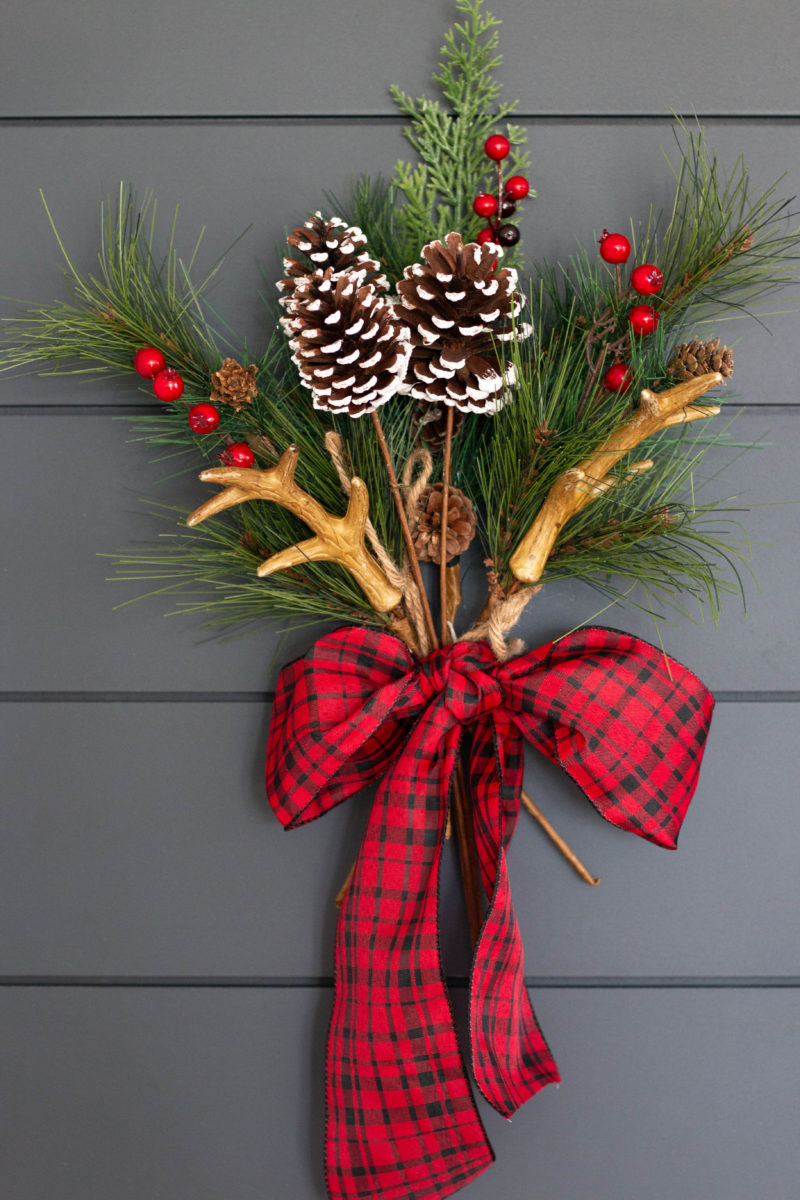 When it came to decking the walls, I couldn't find exactly what I wanted so I decided to do a simple DIY. These were complete in literally five minutes and I am so happy with how they turned out.
SUPPLIES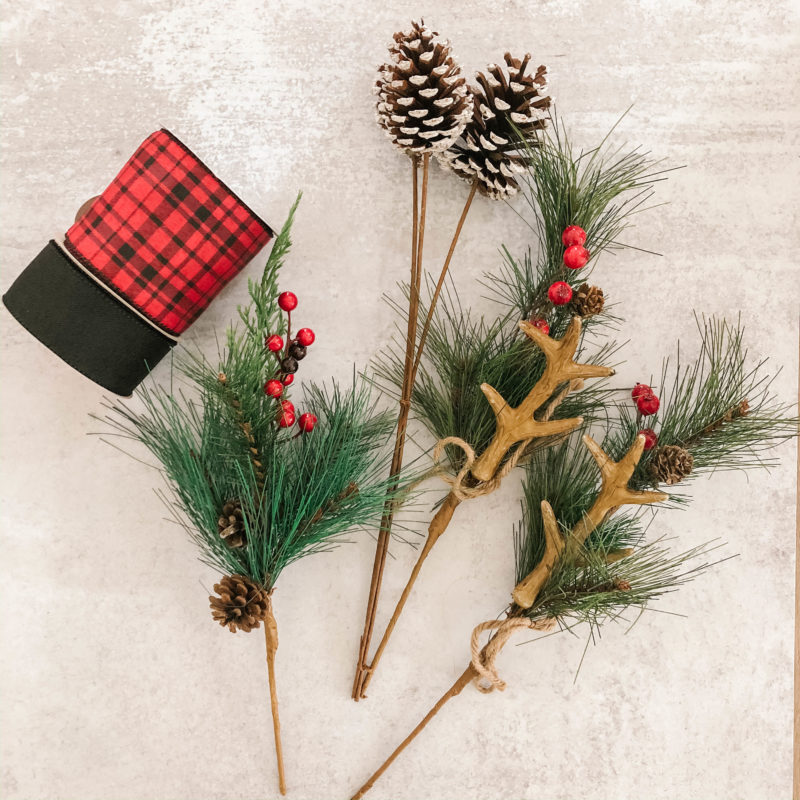 I picked the supplies up from our local Walmart store. They have so many great options. Other than what you see here, you need a glue gun, twine and any type of small ribbon.
While you can pick up my ribbon in store, this one is quite similar. I almost went with this black and white version. Really cute.
ONE: LAY OUT SPRIGS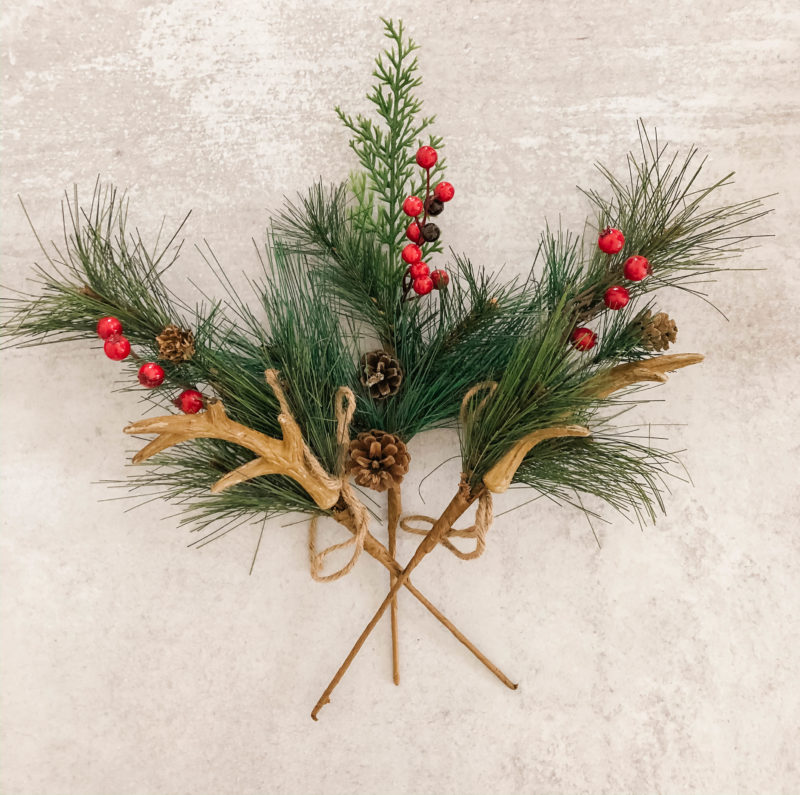 Place the plain sprig down first and lay the ones with antlers on top.
TWO: PINCH TOGETHER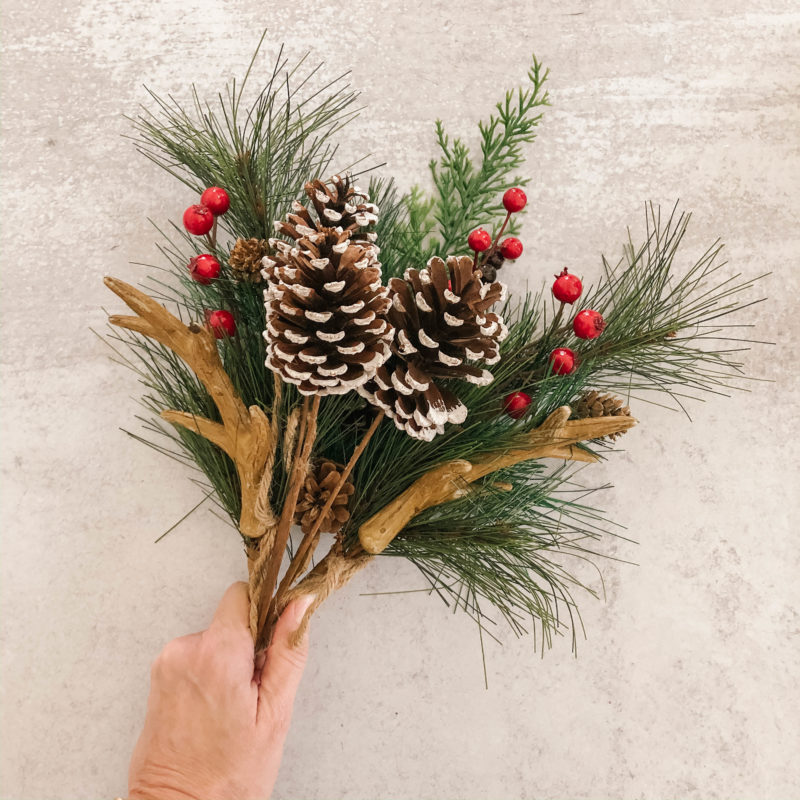 Lay the pine cones down on top. Pick them up and hold them tightly together to create the arrangement.
THREE: TIE TOGETHER
Use any type of string to twine to tie them together. Wrap it around a few times prior to tying the knot.
FOUR: WRAP WITH RIBBON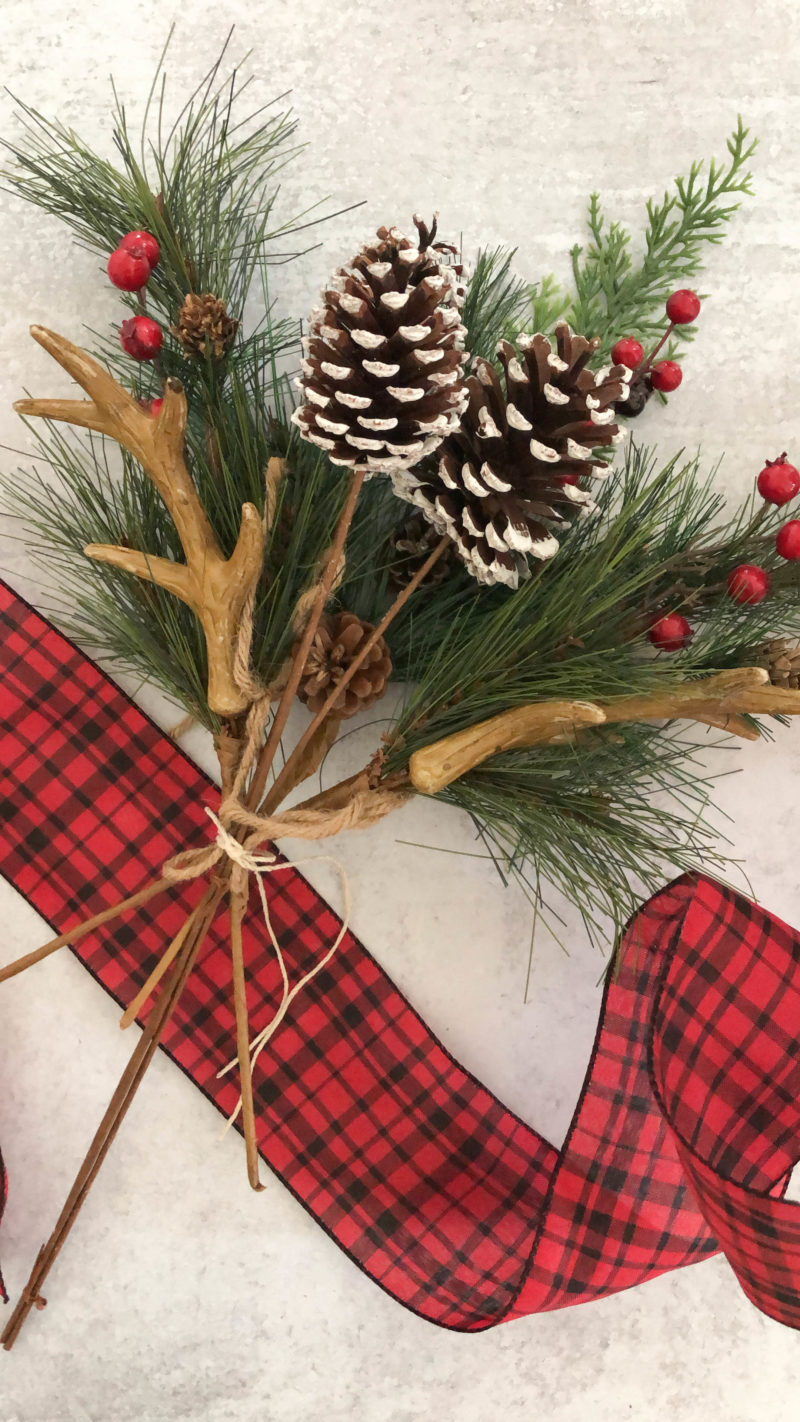 Wrap the ribbon a couple of times around to add stability.
FIVE: TIE A BOW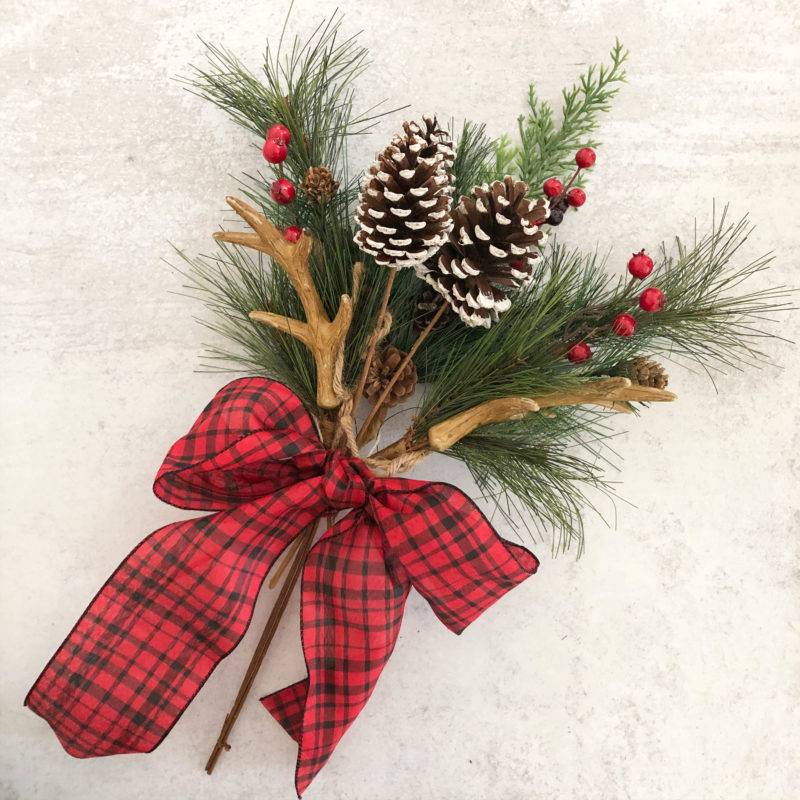 Create a nice large bow and let the tails hang long.
SIX: GLUE ON A LOOP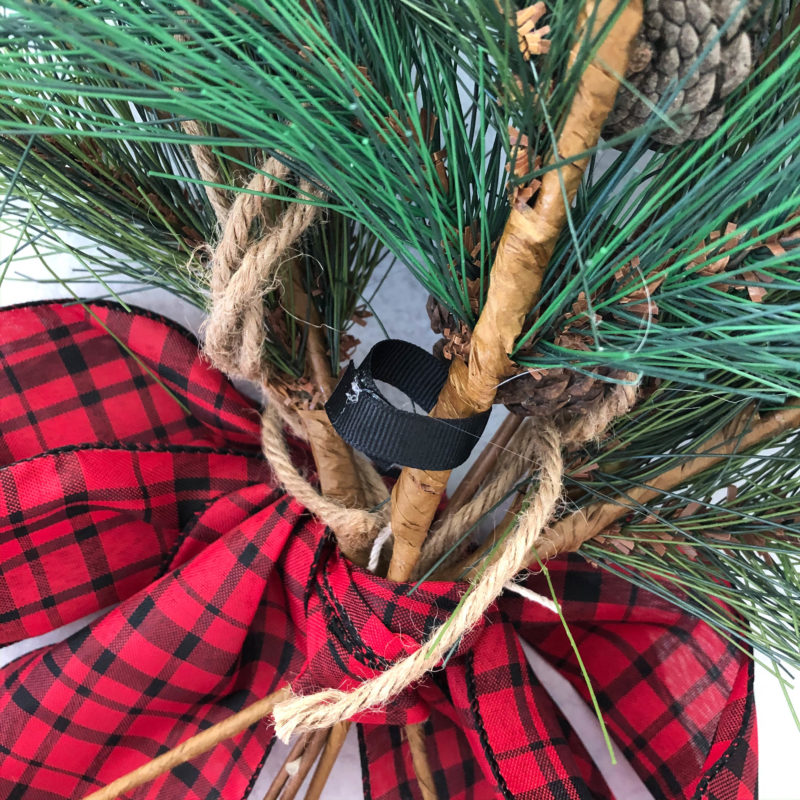 Cut a length of ribbon about 2.5″ long. Attach it behind the main branch with a large drop of hot glue. Then use another drop of glue to close the loop. This becomes the hanger. It easily slips over a command hook on the wall.
SEVEN: HANG ON COMMAND HOOK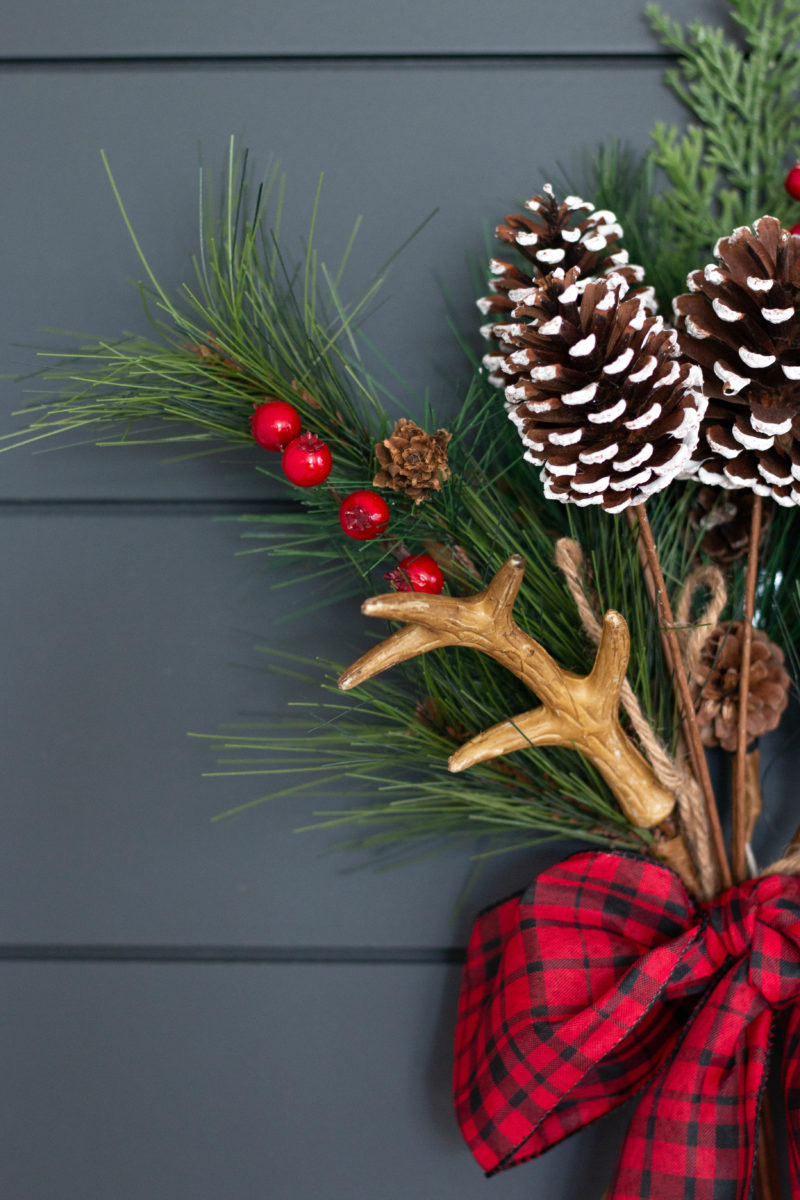 Slip the ribbon loop over the command hook and you are ready to go!
MY COZY CREW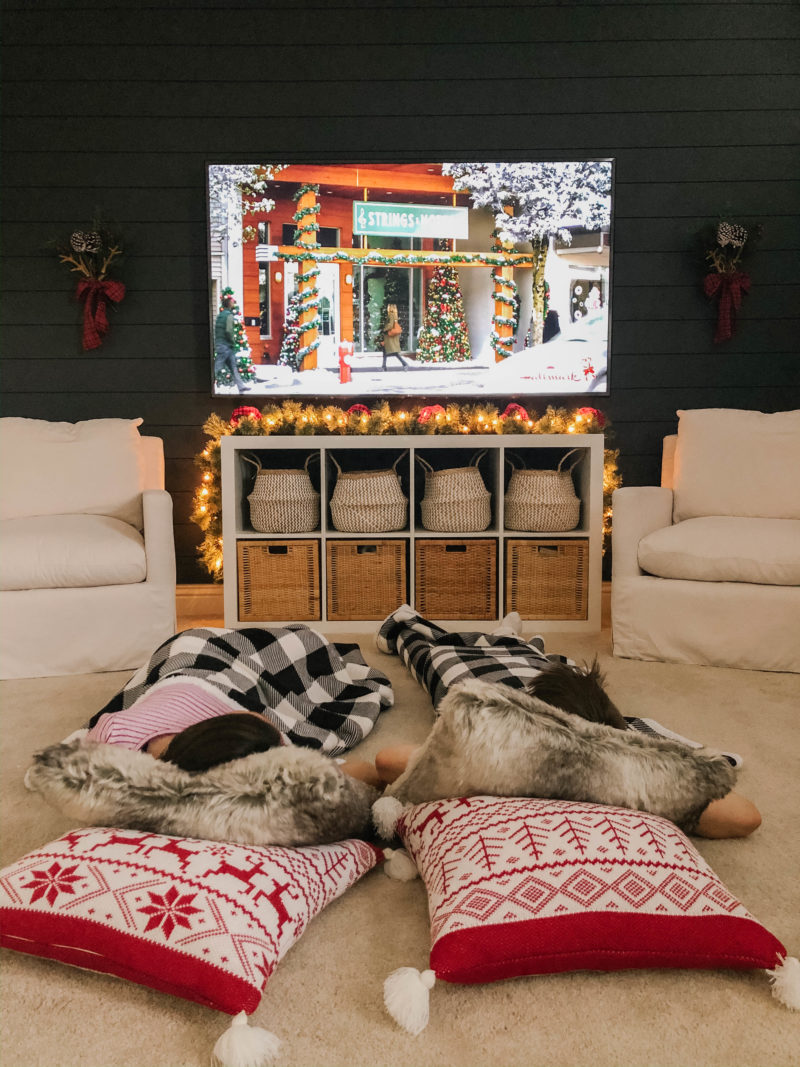 printed pillow | faux fur pillow | blanket | garland
These blankets get two thumbs up from both of our children. They are so incredibly soft and only $21. Plus they arrived quickly which I loved. This is their new favorite spot for holiday movies and it makes my heart so happy. This room has been a labor of love and we are happy to be enjoying it.
Check out all of the cozy finds here.
Stay tuned as we are tackling the built in bunk beds which will be on the opposite end of this space. I will be sure to post updates.
LOOKING BACK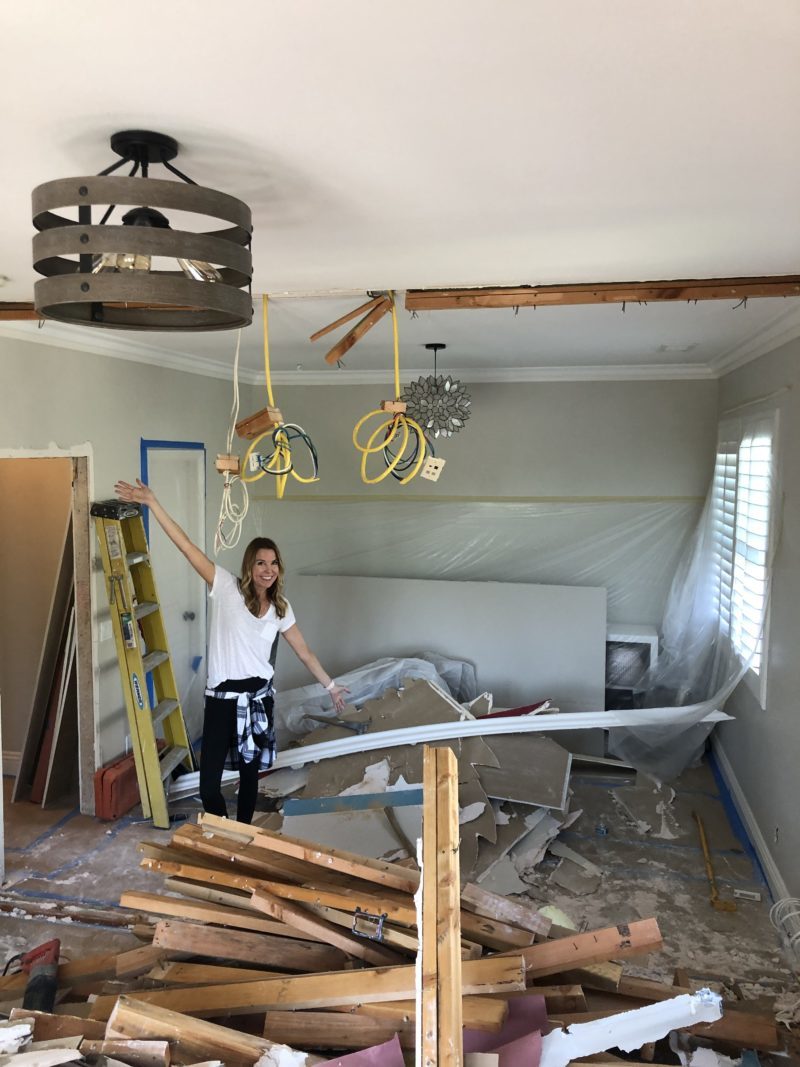 We have definitely come a long way in this room. You can get caught up on how this came to be and the reality of renovating in the posts below.