Today I am kicking off a major renovation project on our second floor. This was not something we rushed into but an idea that has been brewing for quite some time. Sharing the back story and how we came about this idea below.
Changes are happening around here. Big changes! Our upstairs is about to take on a whole new look. After living in our home for over three years, we've realized that a couple of changes could really enhance how we use our space.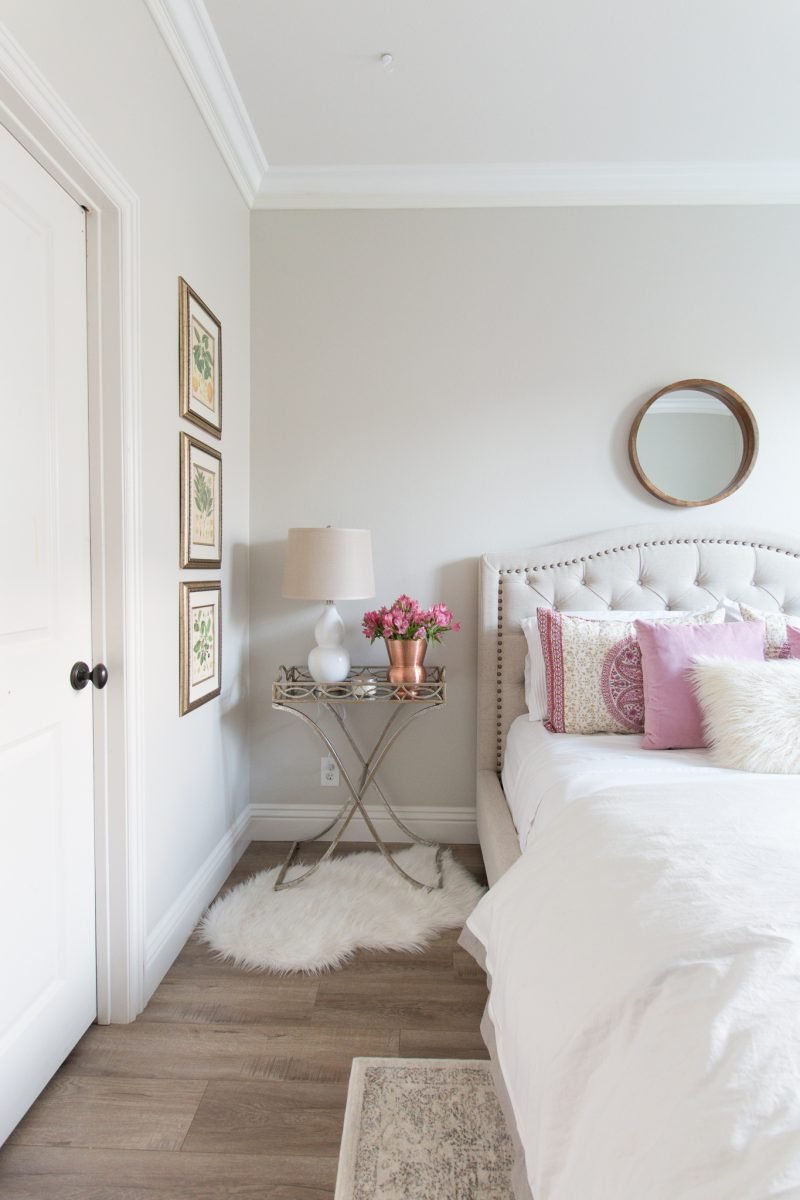 First up in the evolution of this project is our guest room. We have loved this room from day one but we RARELY use it. That drives me nuts. Recently, my daughter asked for a larger bed and wanted to try this one in her room. It was a perfect match and that was the beginning of this guest room seeing it's final days.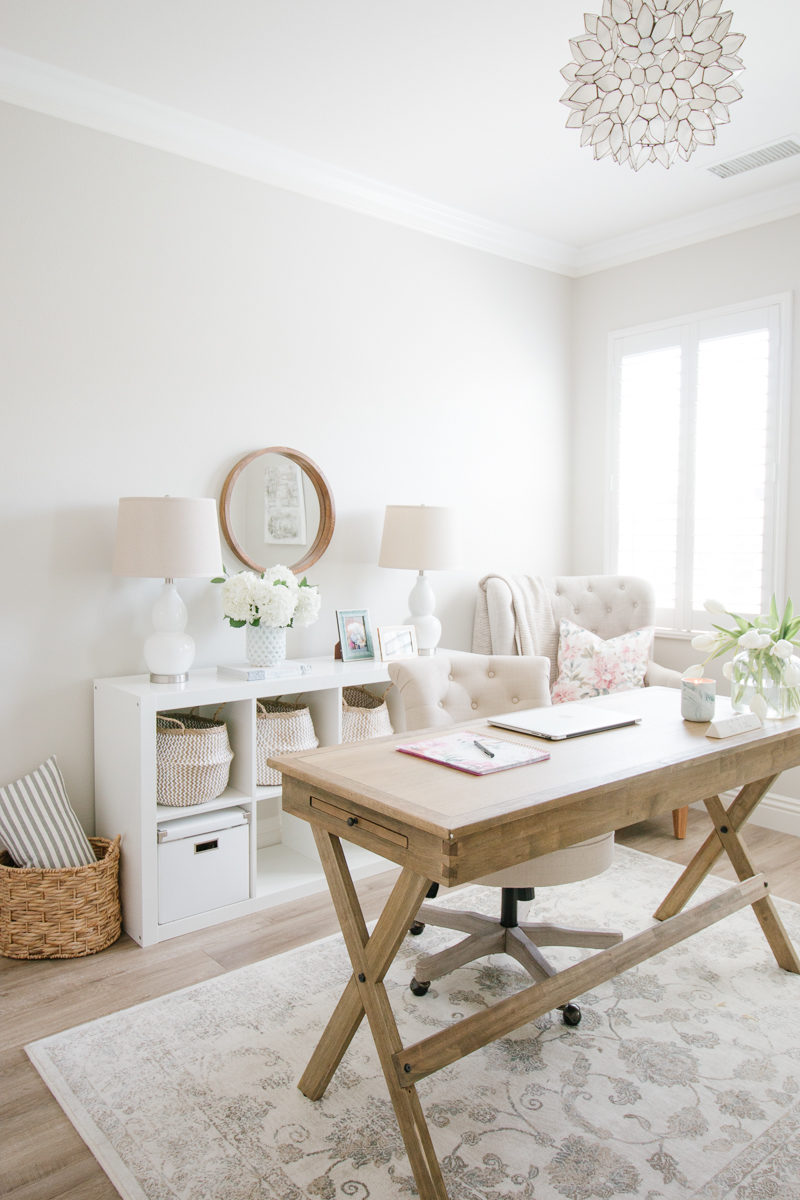 After removing the bed, we moved the desk from our master into this room. It was short lived, but having a dedicated office was really fun. I enjoyed it for a couple of months but I don't love the idea of using all of this space for me to work on a laptop.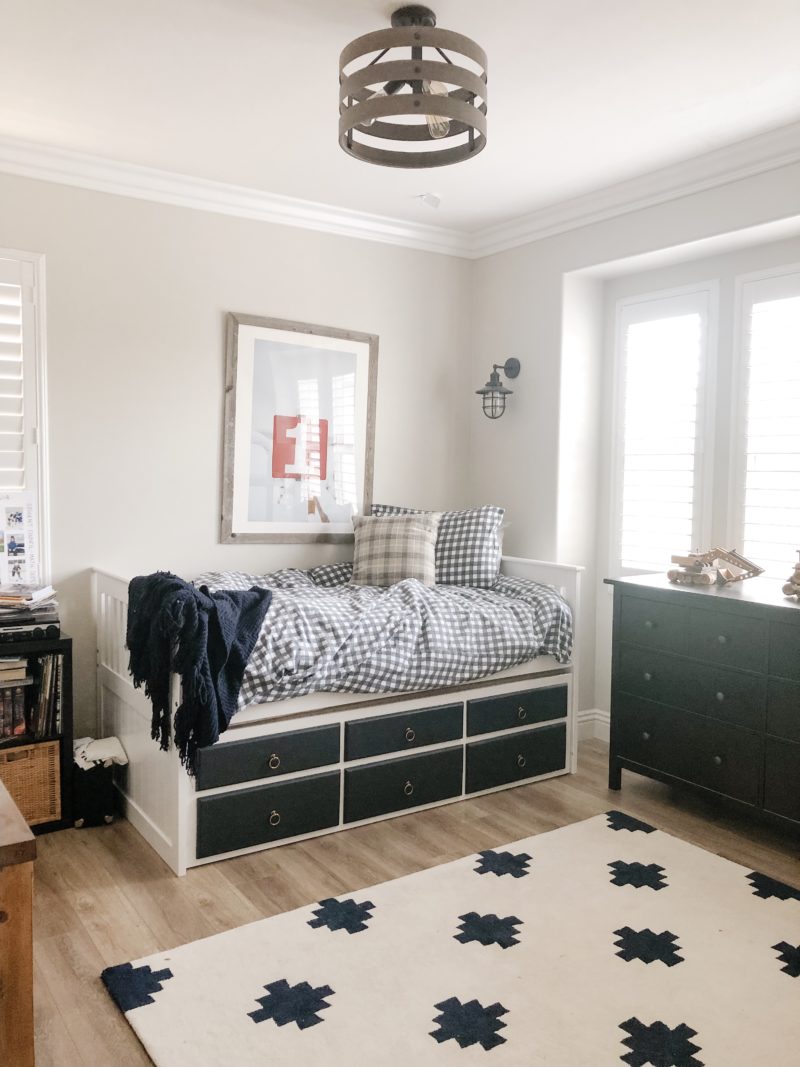 Right next to the extra bedroom is my son's room. Both rooms are directly over our garage. More on why that is important in a minute.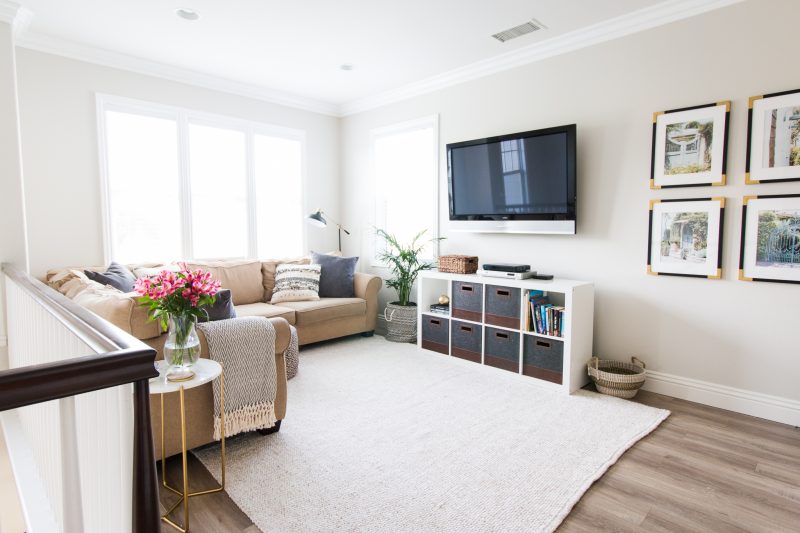 Enter the loft space. While it has been really nice having this extra space, it isn't giving us what we need. Remember when my dad told me to wait and see what the house needs? He was so right. Currently, this loft is used for mini sticks hockey and maybe watching a tv here and there. It largely sits empty and when the kids are playing in here it's crazy loud because it is open to below.
WASTED SPACE
Then there is the fact that we use the guest room twice a year. Maybe. We have never liked having spaces sit unused in our home. And I certainly don't need a dedicated office. I work from a laptop and can do that anywhere in my home. When the kids are at school, I prefer to work from my kitchen table.
DATE NIGHT BRAINSTORM
One night my husband and I were out on a date night talking about how the upstairs isn't working. The kids need a place to play and hang out and it's just not happening in it's current state. Out of the blue, I pictured knocking down the wall between the guest room and my son's room and this idea was hatched.
My husband didn't think I was crazy. In fact he thought it could work. That would mean we would have one large bonus room and we would enclose the loft to create a new bedroom for our son.
THOUGHT IT THROUGH
We thought about it for a good 6-7 months and had a few contractors come take a look. An engineer confirmed that the wall between the bedrooms in not load bearing and can be removed. I also asked my dear friend Elizabeth and my sister what they thought. Both have an incredible design idea and thought it would be the best use of space for our family.
The contractor we chose was able to start this week so we decided to go for it. The project is in full swing and we are super excited. Nervous, too, but that comes with the territory.
This idea also came to fruition because we were talking about this space in our master bedroom that drives us nuts. Some people with our model made it a fireplace or installed a built-in. Both great ideas. We did have a desk here but the space just always looked messy and we didn't want to spend money on doing something we didn't really need. So it occurred to us that this could be my son's new closet. The loft is on the other side so by closing this up in our room, we can open it up on the other side.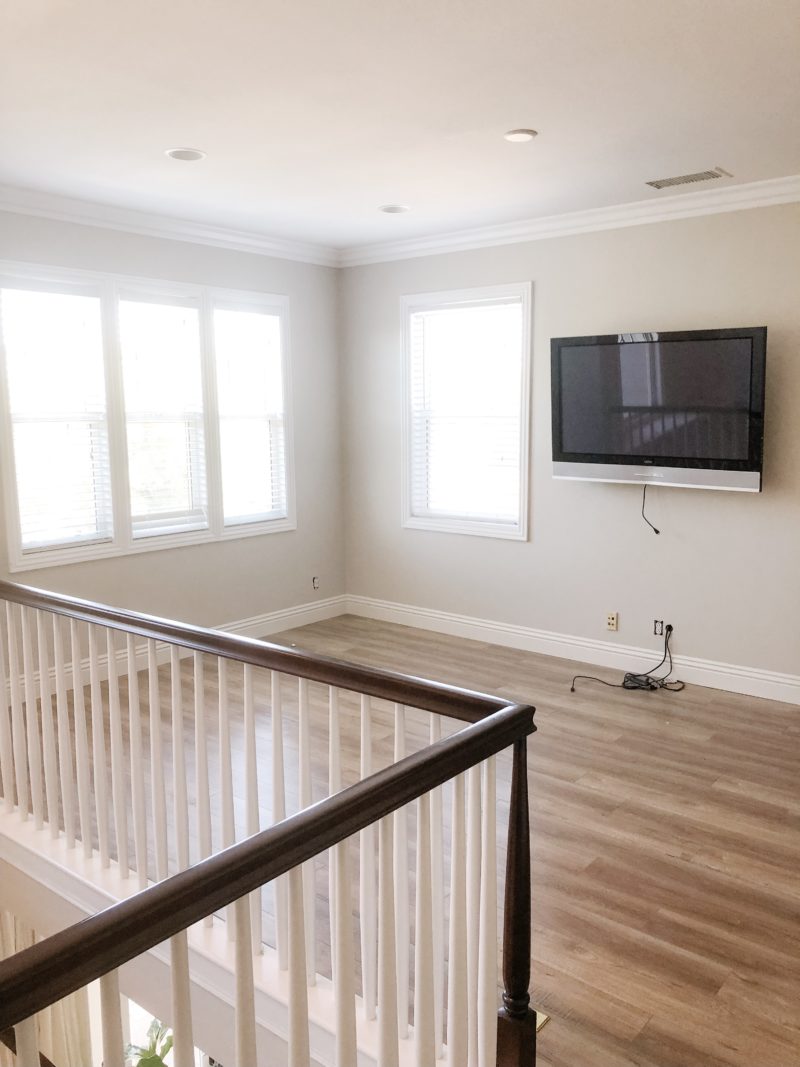 We spent all weekend clearing out the loft. Bring on the renovation.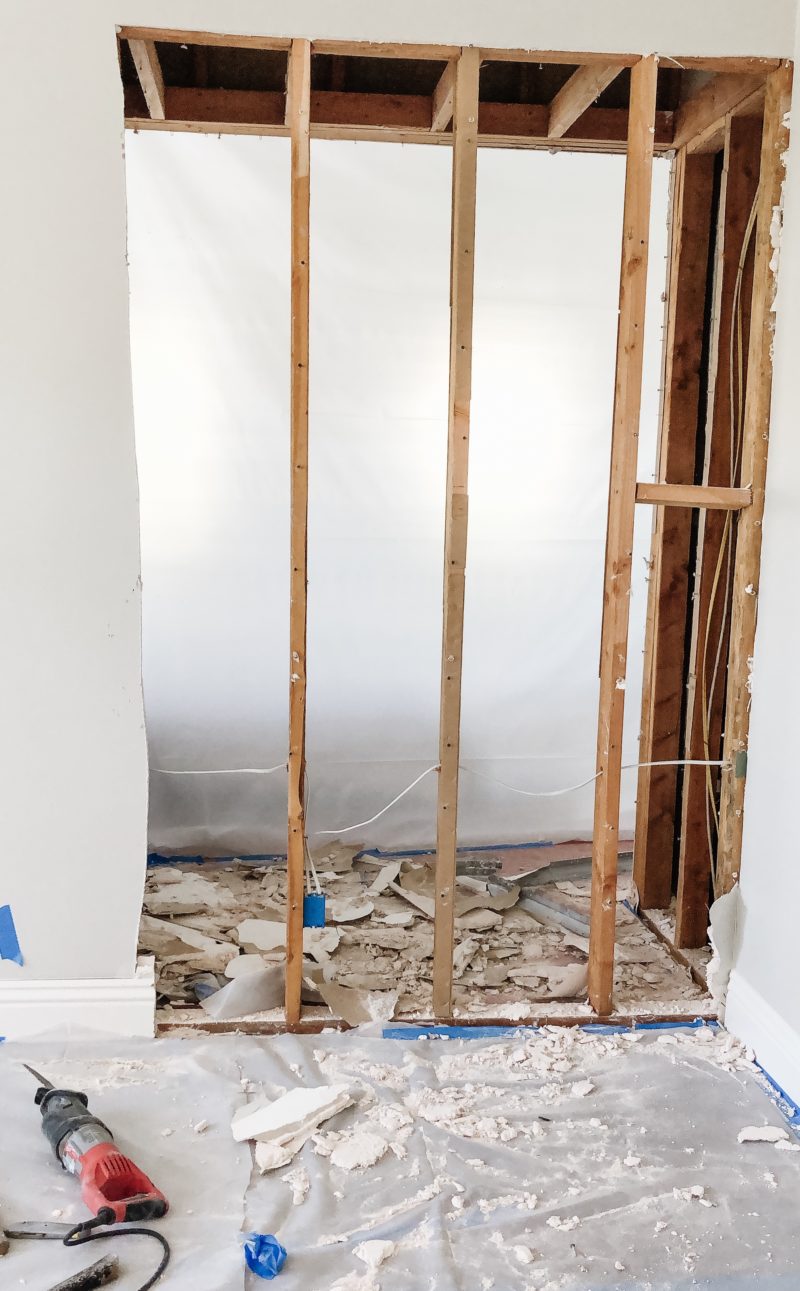 First step was breaking through this wall to create the closet. It will be a walk-in which will allow us to get rid of my son's dresser and install drawers in here.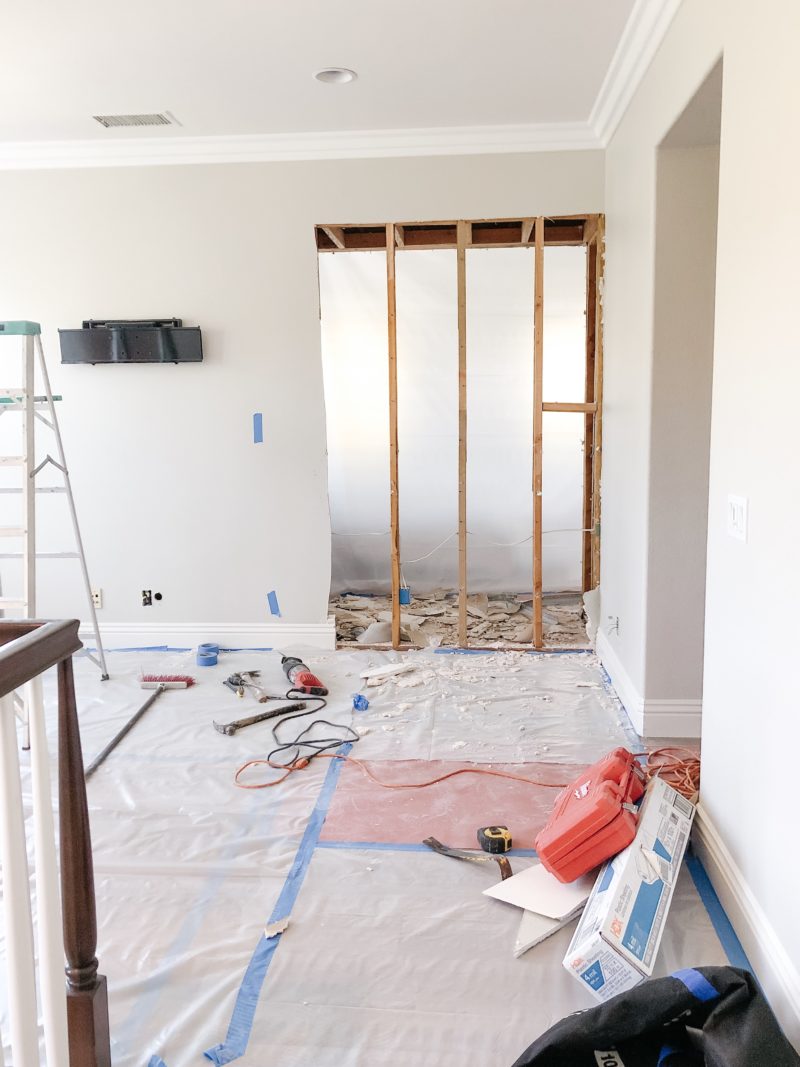 The nice thing is that the new bonus room can be considered a bedroom because it will still have a walk in closet (from the guest room). Our plan is to use the closet from my son's room for built-in bunk beds. The kids can use the space for sleepovers and just a fun space to play. So technically we are going from a 4 bedroom + loft to a 4 bedroom. That is a change we are willing to make for the benefit it will provide us.
I love watching the progress. It's slow and steady over here. While it isn't the best timing with all that we have going on, we are very grateful to get this under way. The kids can't wait to have a teen hangout and mama can't wait to have a carpeted space for the kids to relax and run around.
The entire renovation process is saved in highlights on my Instagram. Feel free to follow along. I hope it encourages you to look at your own space and use it how it best serves your family.
*Paint colors: Pale Oak by Benjamin Moore | Clear Moon by Behr (master)