Good morning and welcome. If you are visiting from Sunny Side Up, I am so happy to have you here. Erin is a friend in real life and I could not love her more. She is down to Earth, kind and just a joy to be around. In fact she and I were up late chatting about our last-minute ways. Love that I am not alone and this post is actually live! It was a close one. With the onset of Spring, we've lightening things up around here and added a few touches to welcome in the new season. Without further ado, here is our Decked + Styled Spring Tour. We're happy to have you.
TIME TO ENTERTAIN
For those of you have been following our family for a while now, you know that we have really taken our time with this house. We plan on being here for some time and didn't want to rush into decorating just to say it was done. I've learned the hard way that doing so can lead to not only regrets but an overall feeling of disappointment. I am so thankful we have gone slowly. It's allowed us to see what we really need from each room. The JuJu hat is a new addition. We originally had a gold framed mirror (which now has a new home) in that spot but felt we needed some fun texture.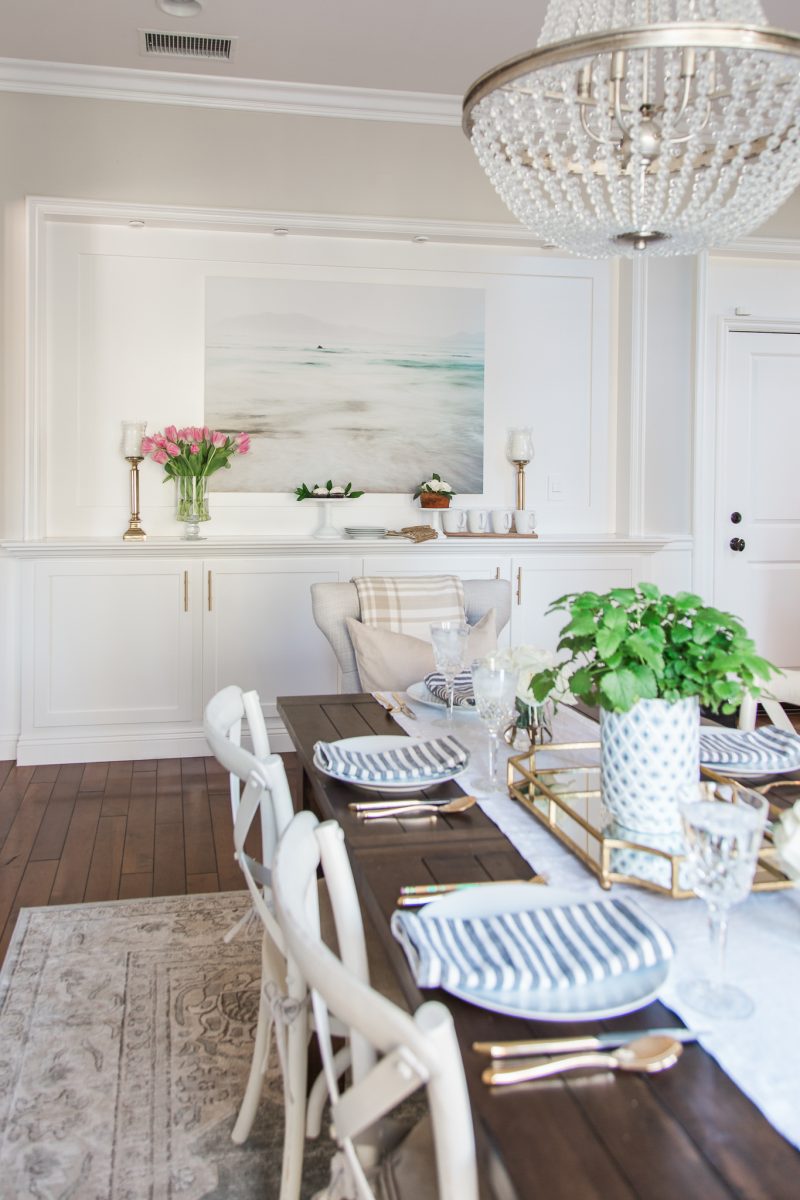 The dining room took us forever. And that's ok. Artwork can be challenging for so many reasons. This space begged for a large-scale print. When we finally stumbled upon this one, we knew it was "the one!" Not only is it quiet and relaxing in nature, but it is the view we had when my husband proposed. It really hold so much meaning for us and we get to see it every day.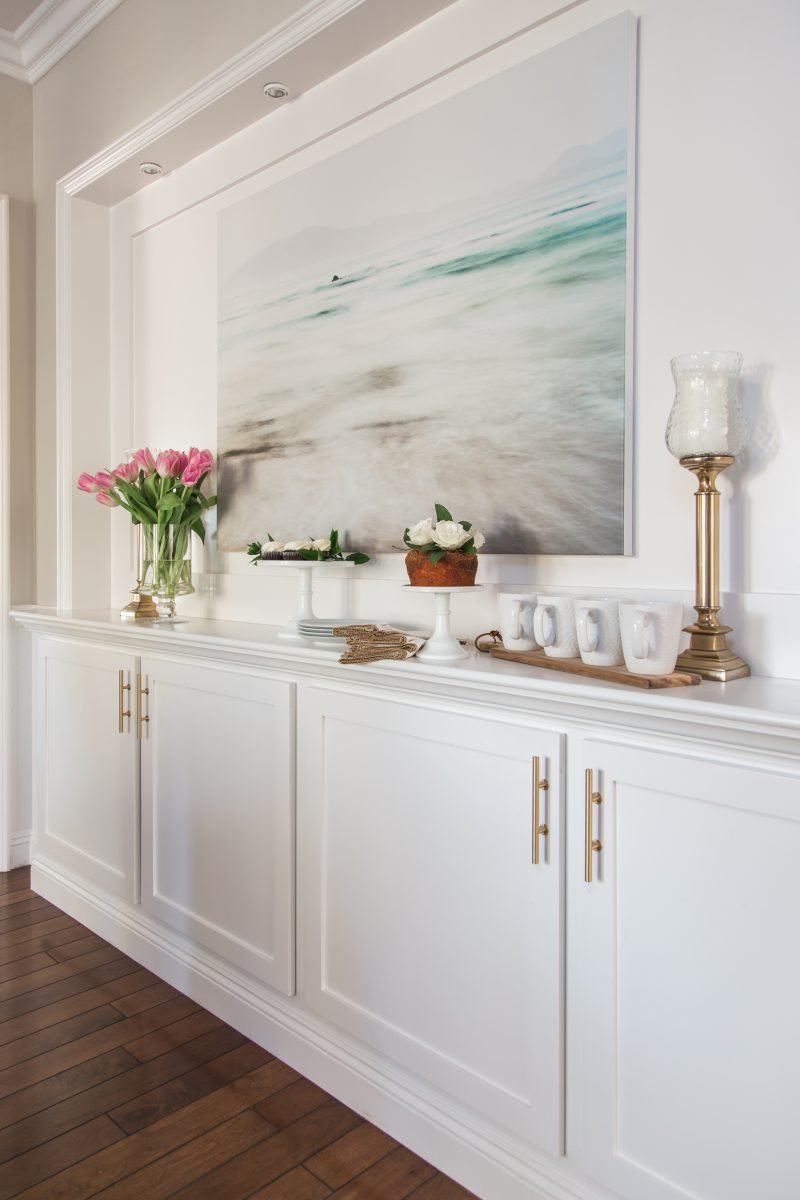 This large white space is a blogger's dream for photo shoots so by going with a large canvas (hung on a Command hook) I am able to take it down and create different vignettes when I shoot. We can also switch it up at Christmas time. This is where we like to hang a fresh wreath and the Christmas cards we receive. The lightweight artwork gives us a ton of flexibility.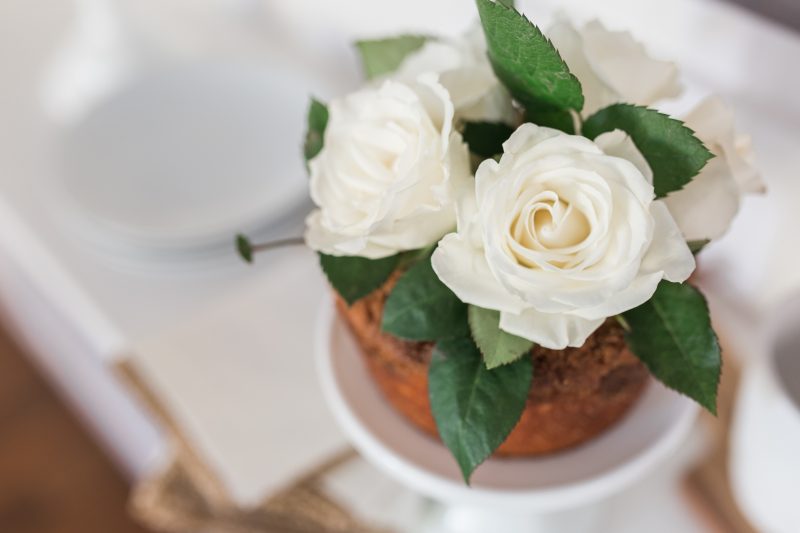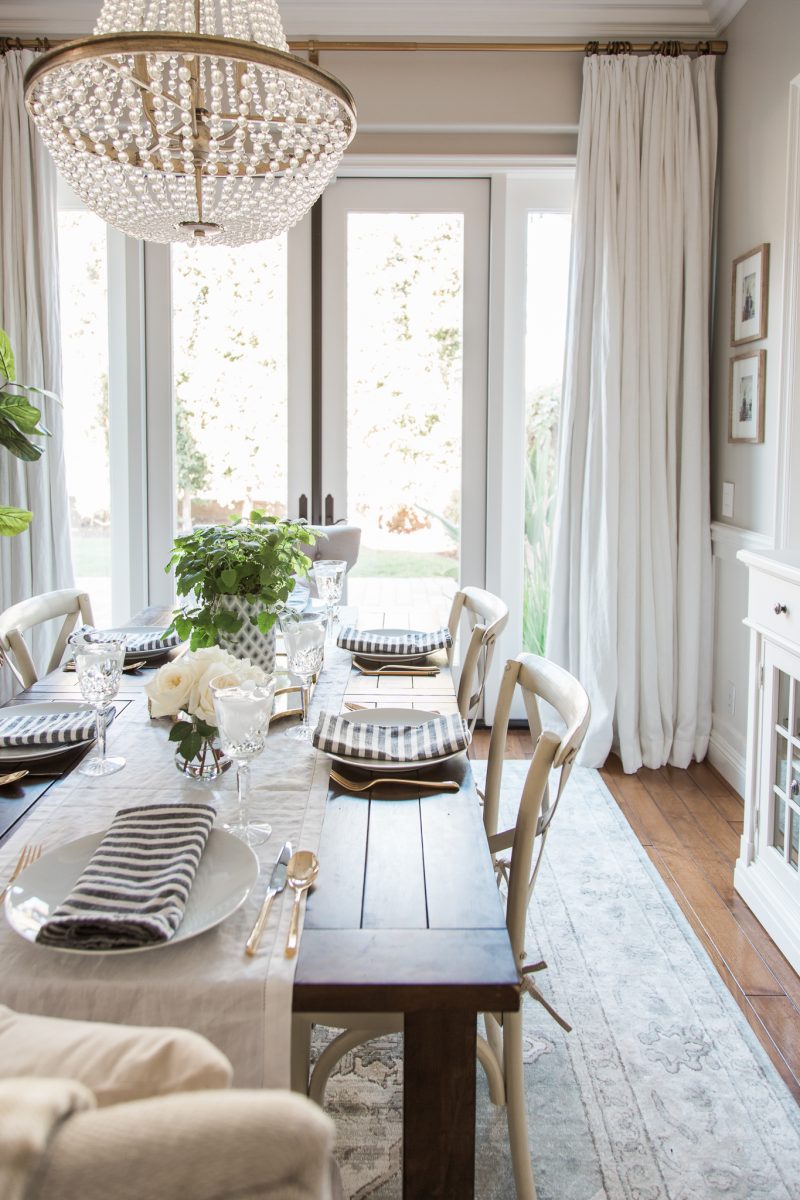 Our rug was a lucky HomeGoods find almost two years ago. But I would use this one (it's actually in our master) to achieve a similar, soft neutral look. This one is beautiful, too, and incorporates more of the sage green color. The paint color throughout our home is Pale Oak. I've written all about that color and other neutrals in this post.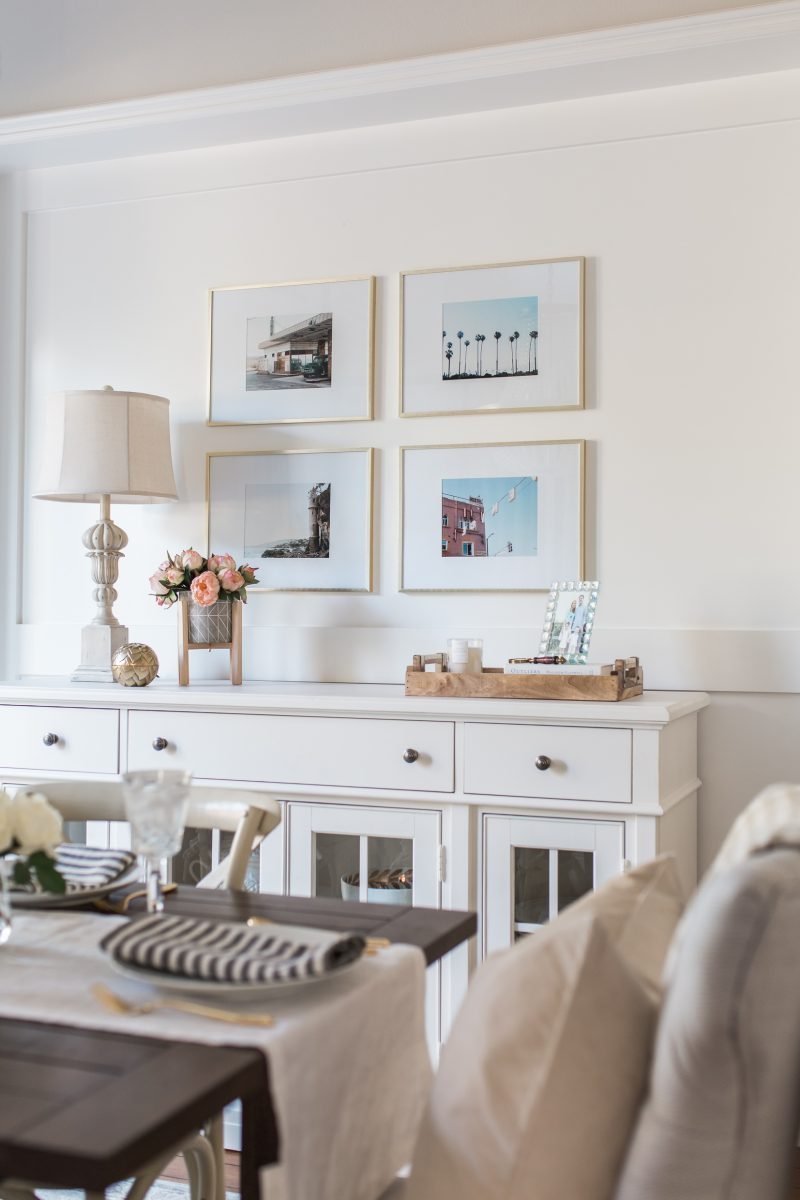 This buffet is a new piece. When we moved in, we brought a piece from our former home. While it worked well, it was the wrong scale. This one is ideal for our space. I love the glass doors and the drawers. It allows for so much storage for entertaining pieces. The drawers currently hold the linens I use on an everyday basis when we host.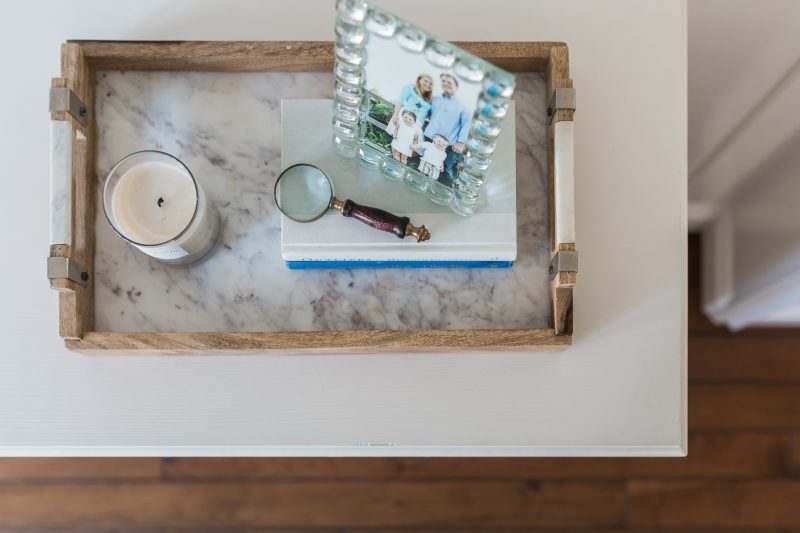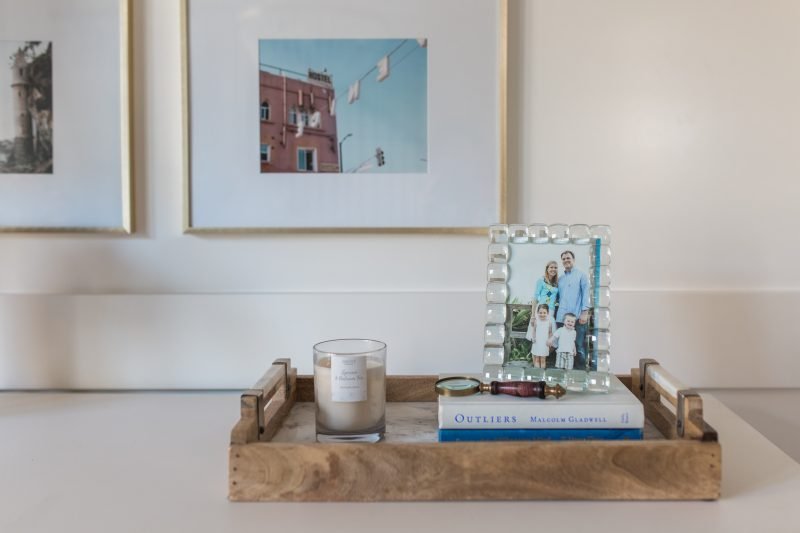 These pretty photographs were taken by my friend Emmanuelle. She moved from France to our neighborhood just about two years ago.  When I discovered her work, I seriously fell in love. You can find her on Instagram (@jonwoodsisters). She has such a unique and beautiful perspective. These four photographs were the final touch to our dining room and I am so grateful to her. The simple gold frames from Target keep it looking current.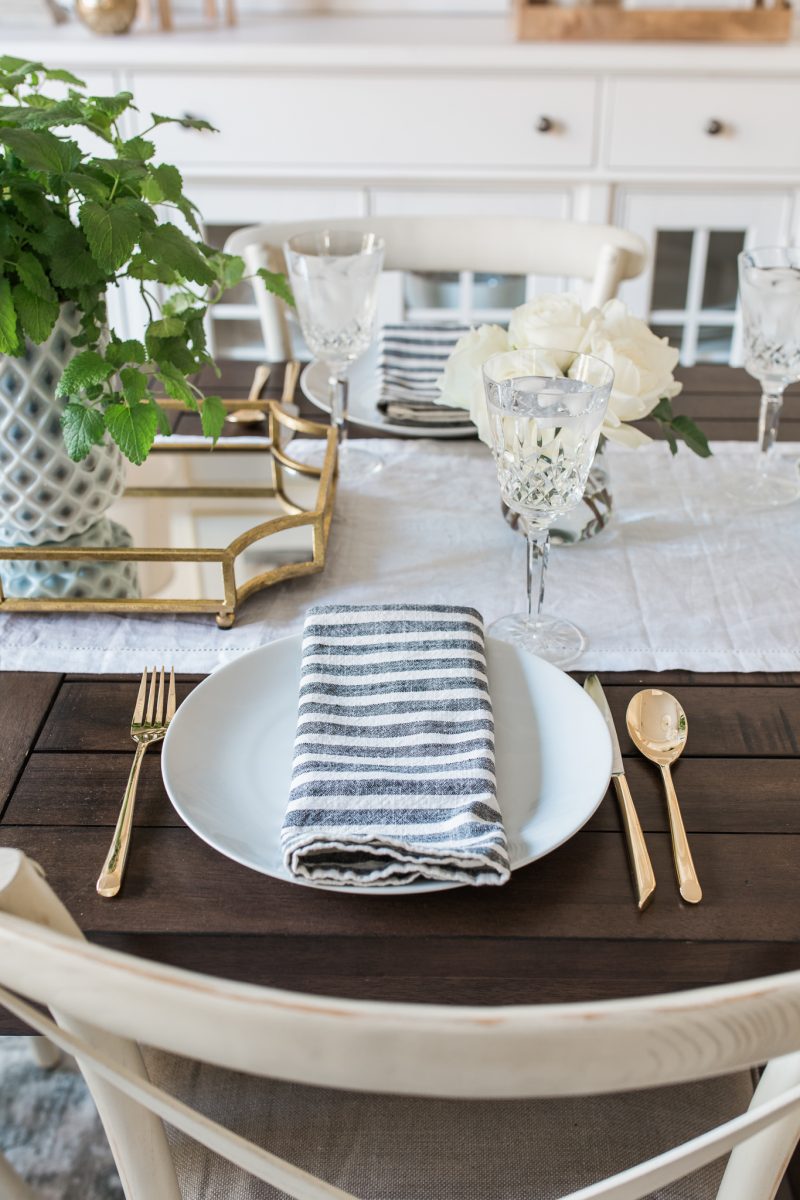 I have always been drawn to a relaxed style when we entertain. The less fussy things are, the more guests feel at ease and comfortable. This is where we spend countless holidays and long lingering dinners. I hope it's a spot where memories are made for years to come.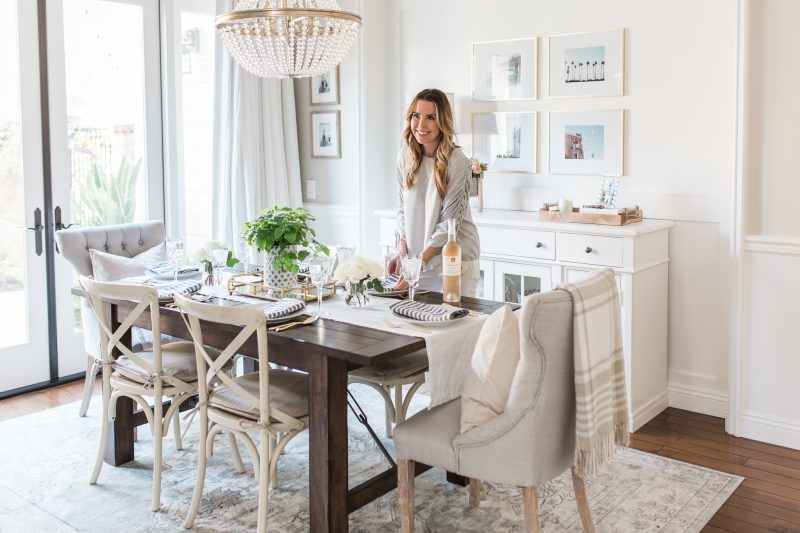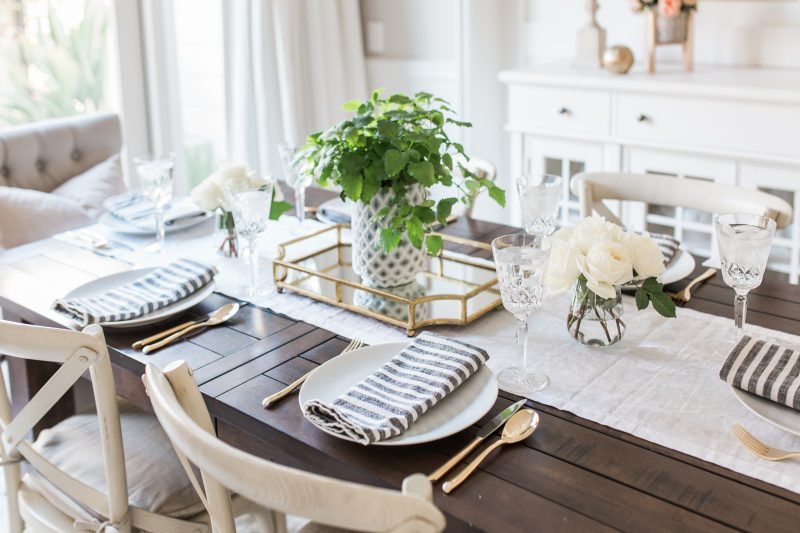 If your stumped on a centerpiece, hit up the garden department at your local hardware store and find a lemon balm plant. It's not only edible, but gives off a lemon scent and is perfect for this time of year. Rumor has it, the plant helps you sleep, lessens anxiety, improves memory and repels mosquitos. I'm sold. The bright green color is beautiful, too. I like to use a mirrored tray on my table to reflect all of the light from the chandelier.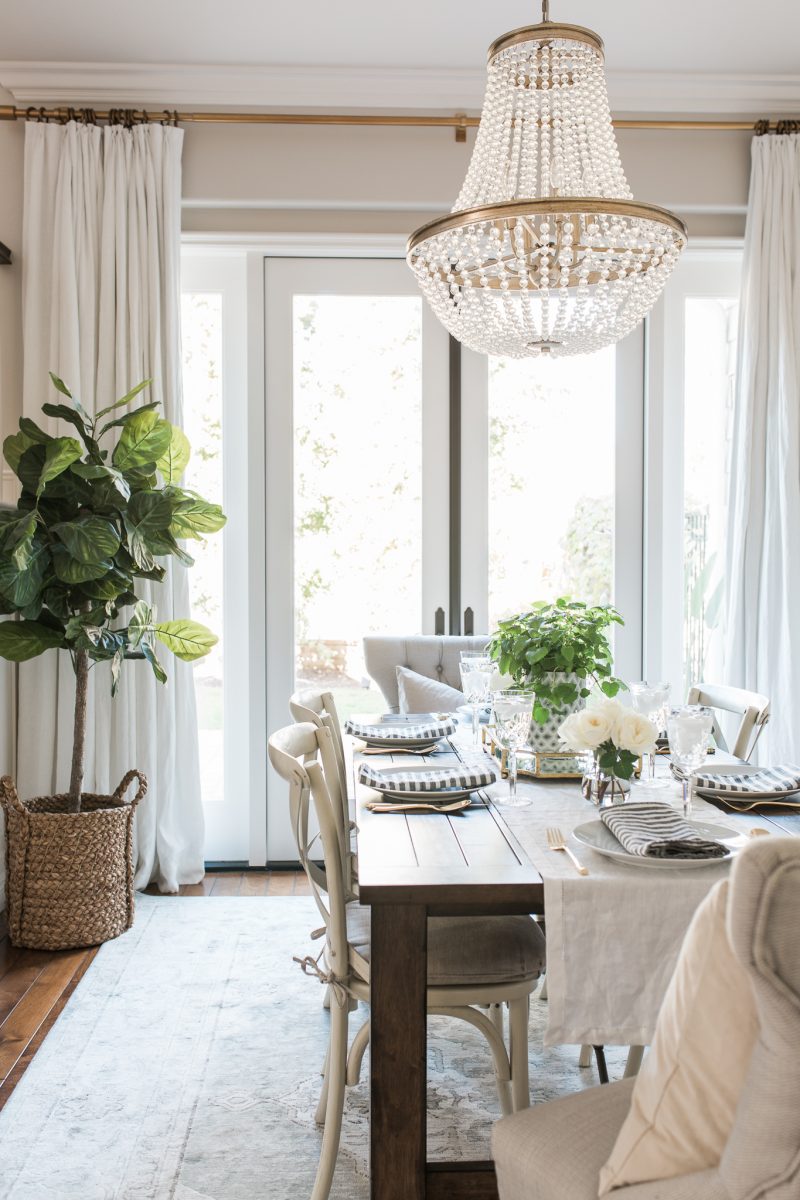 You know when you have something in your home that you appreciate every single day? The drapes from Tonic Living are one of those items. We had them made for the space so that they could completely block out the light and heat during the warm summer months. But they are so well made and I absolutely love them. Sadly our chandelier is now longer available. I will update our room sources if anything changes.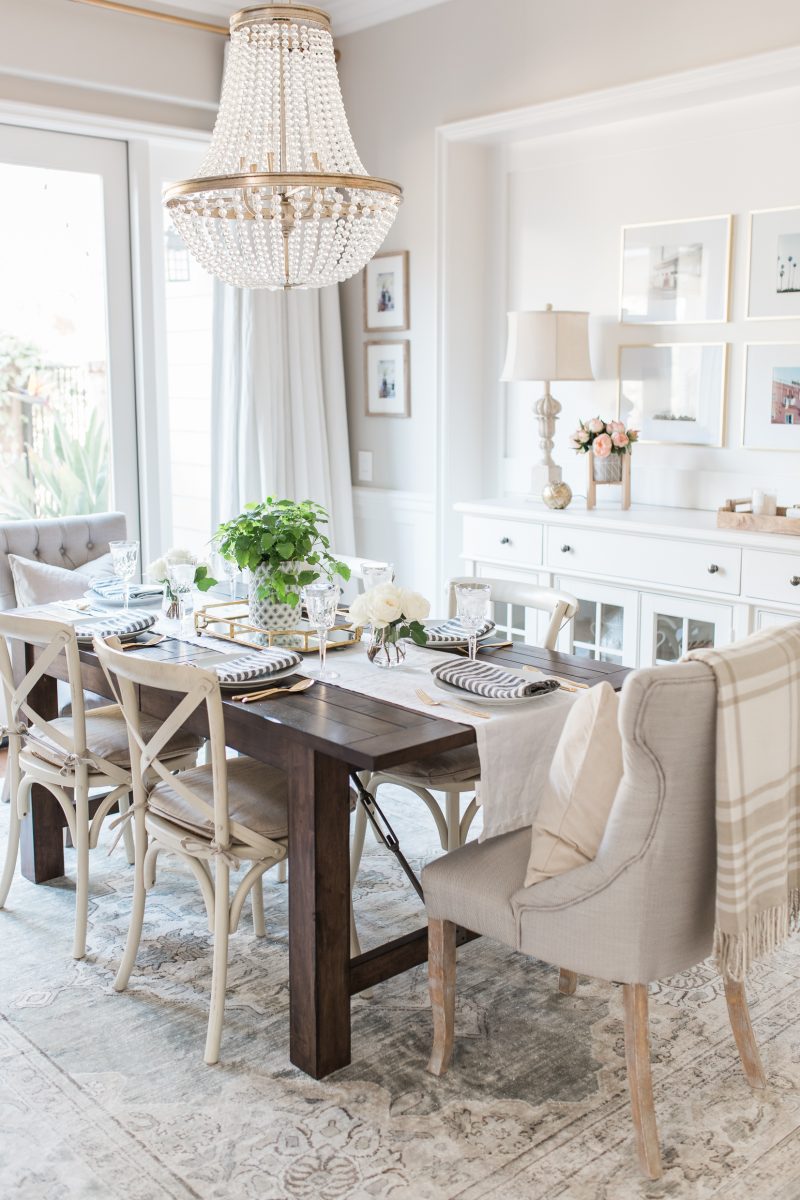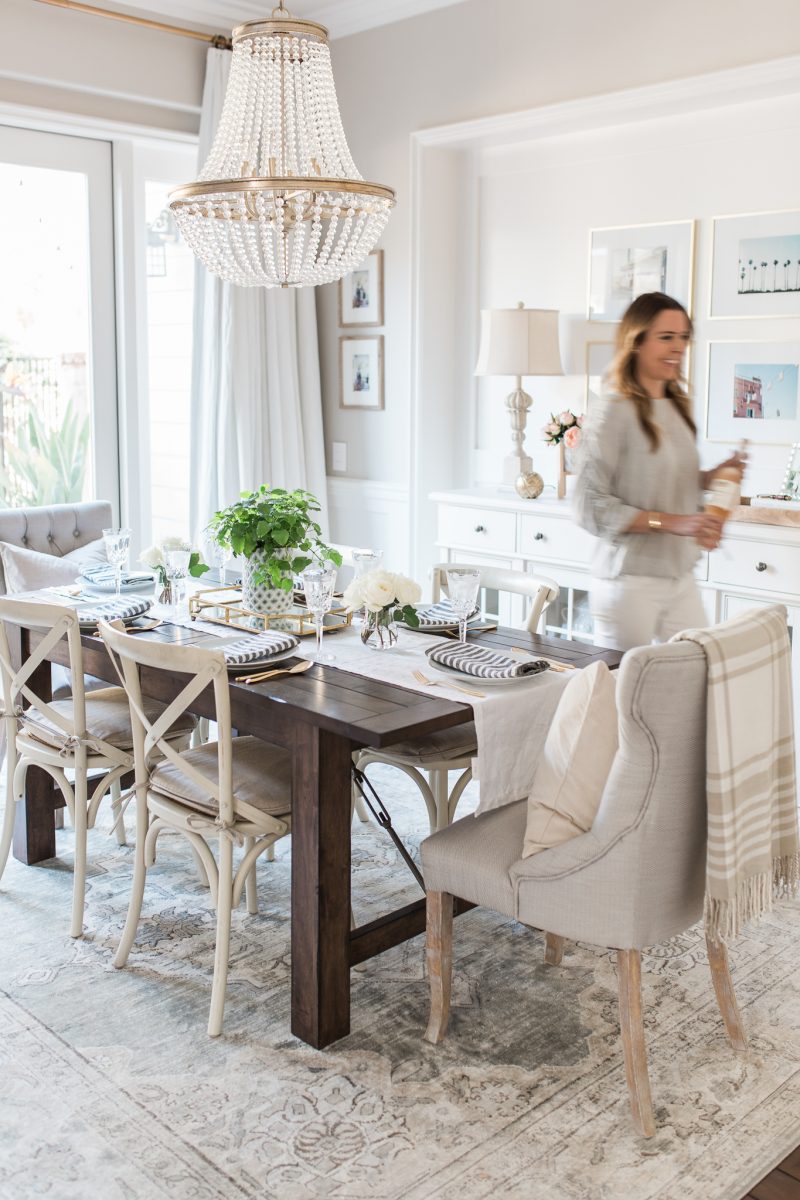 WHERE WE GATHER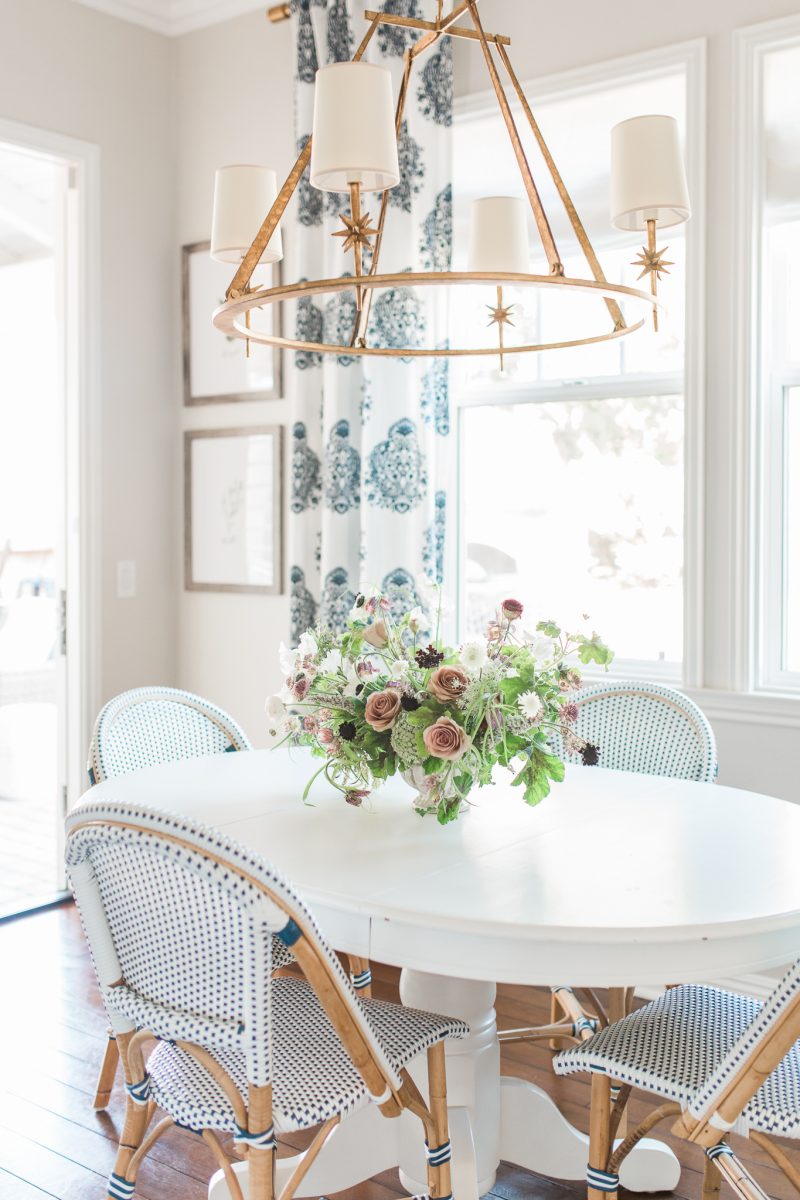 table | chairs | chandelier
We recently shared our great room. We've lived in our house just over 18 months and it took us some time to get this space right. We spend the majority of our time in here and we wanted it to feel warm, fresh and inviting.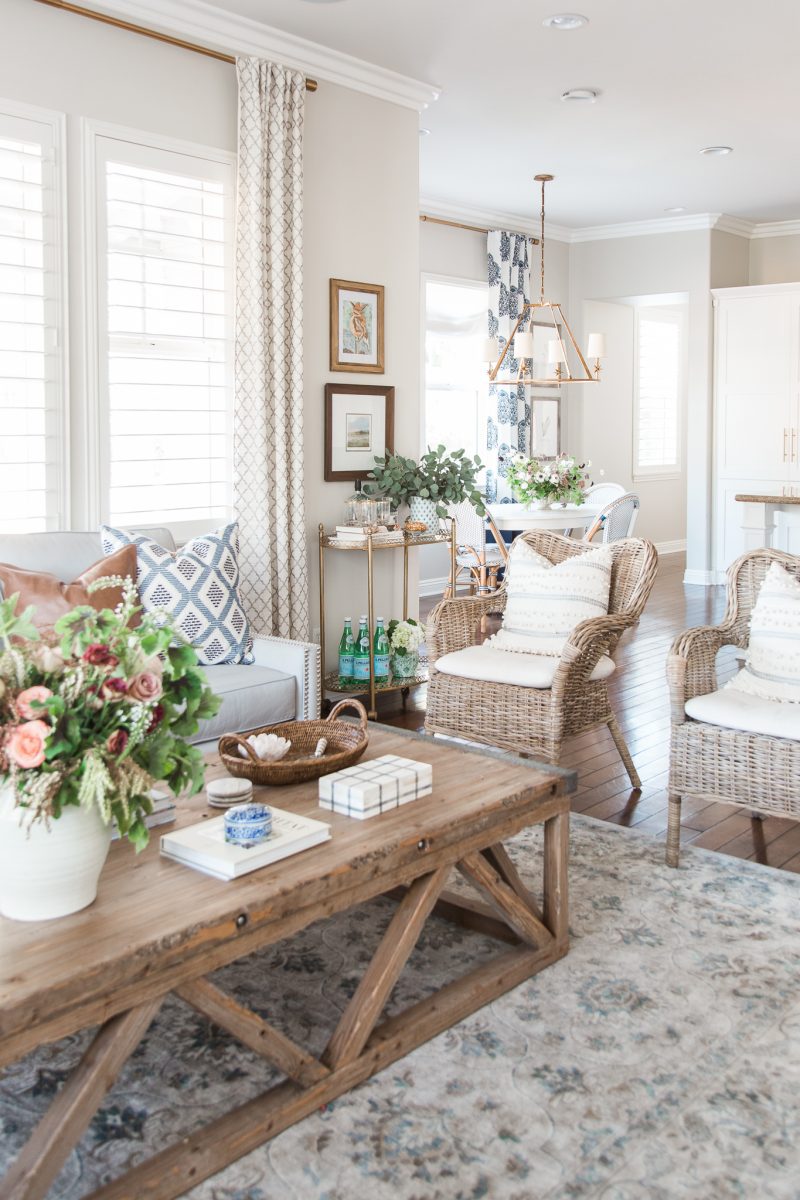 Spring in this space means fresh flowers, less clutter and the light shining in. This coffee table is one of our favorite pieces we've ever owned. This room is definitely a mix of high and low. The leather pillows are a new addition. Sadly the blue pillows are sold out but were from Target.  and the wicker chairs are from Ikea. I made all of the window treatments myself and used these rods throughout the house.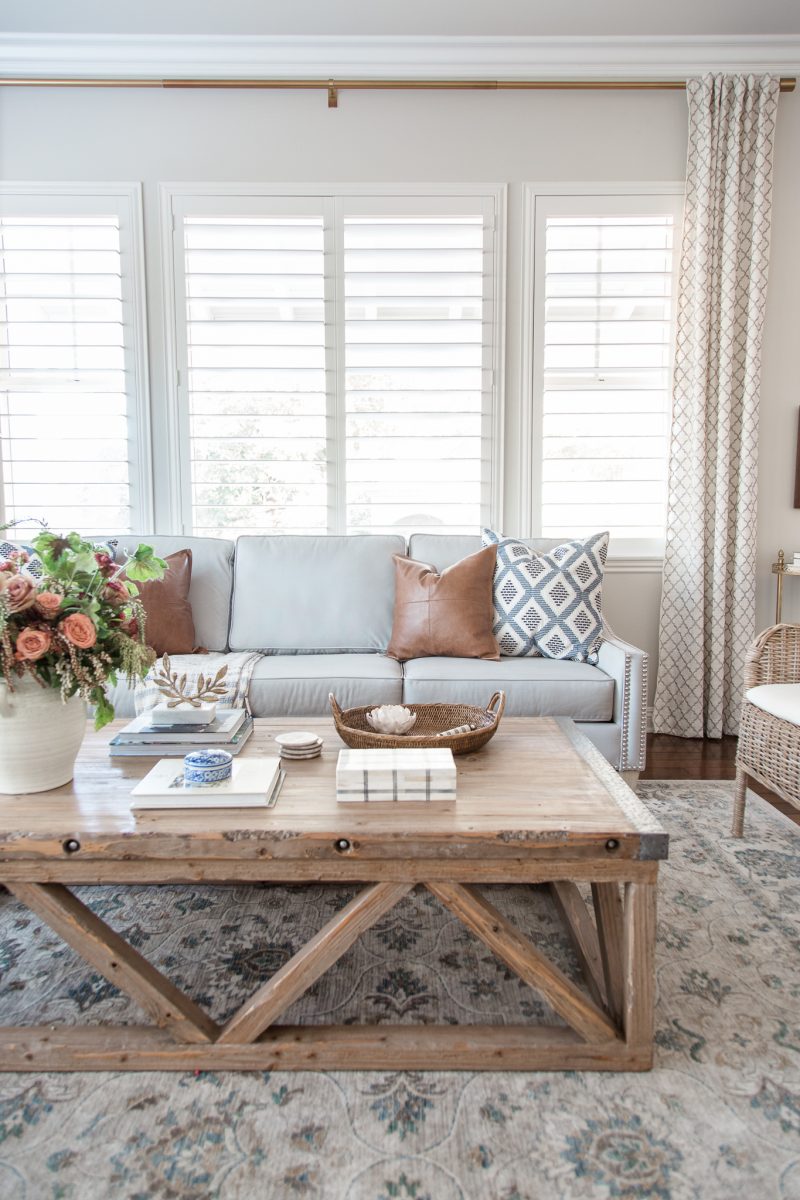 coffee table | grid box | vase | similar sofa | blue box | basket tray | olive branch 
BE OUR GUEST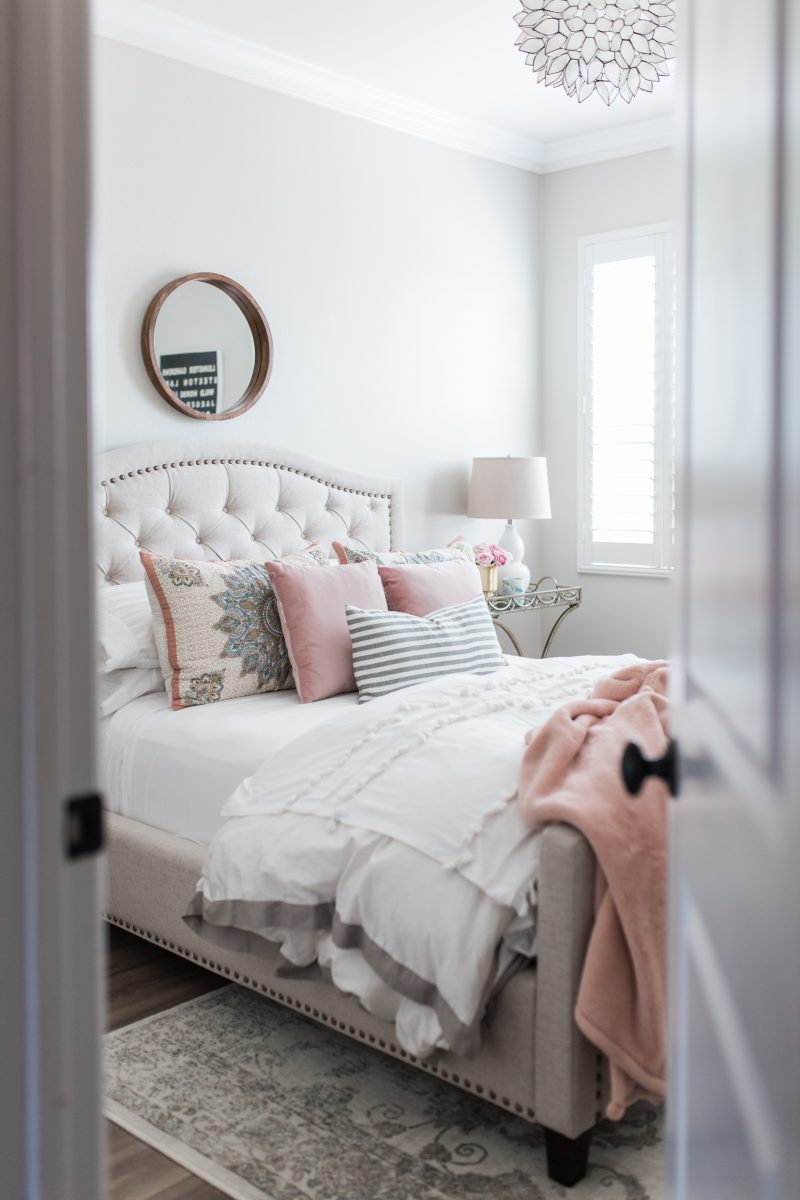 The guest room was one of the first spaces we tackled when we moved in so that guests would feel at home. We had originally gone with a small dose of lavender but my heart was won over by the pretty blush tones. It just seems more quiet and relaxing. Just how I want our guest room to feel. These quilted shams are so pretty.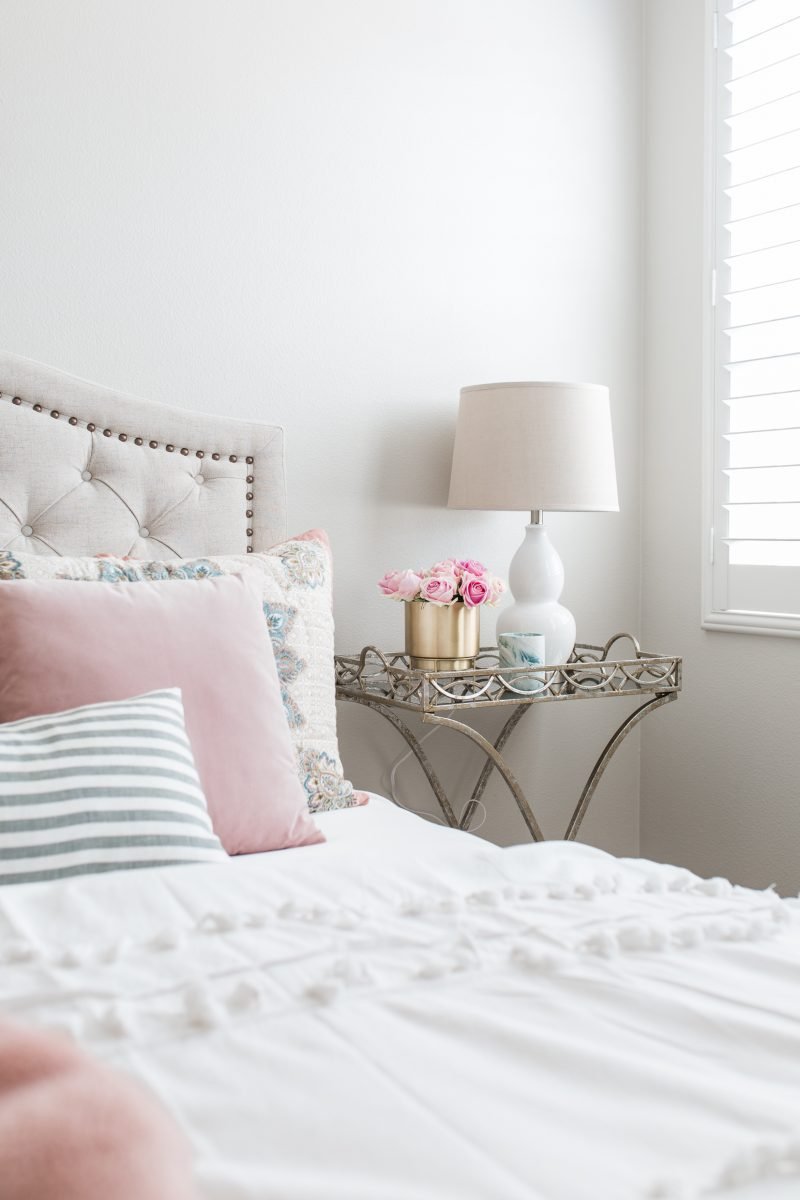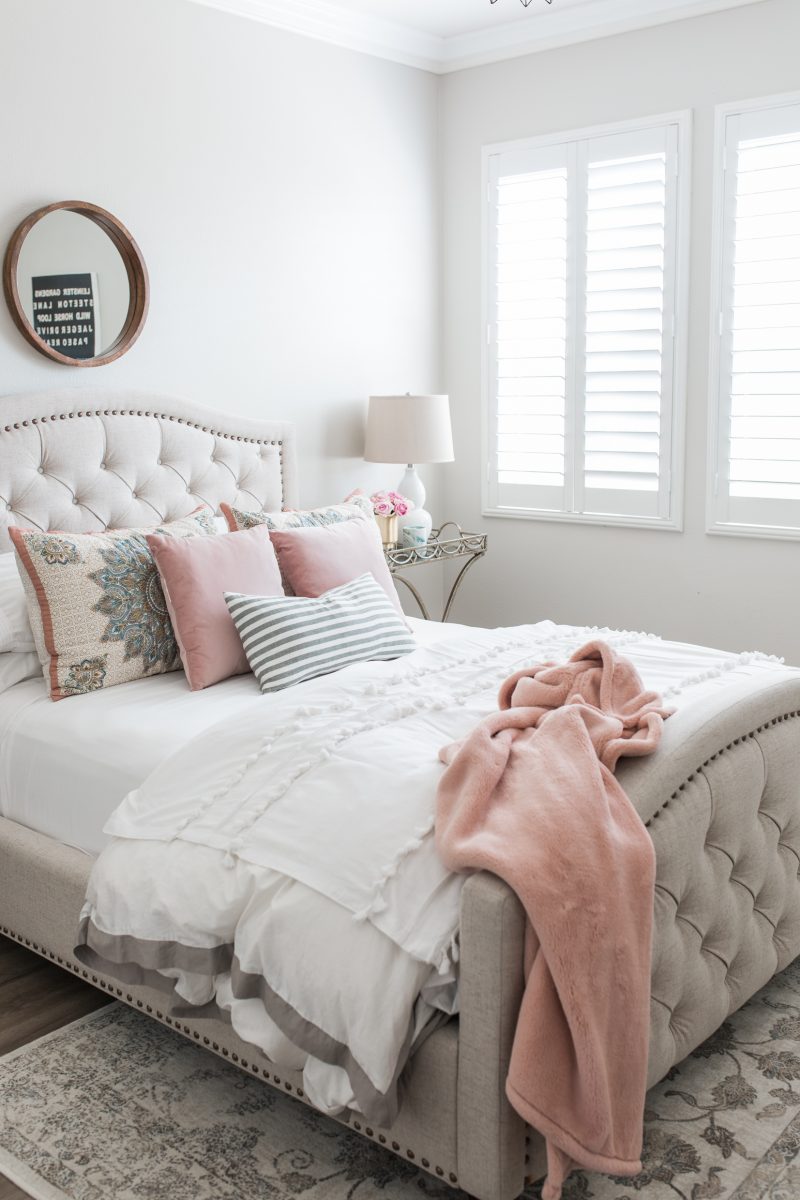 I recently added this tassel coverlet to the end of the bed. The texture caught my eye. But I will let you in on a little secret. It's actually a shower curtain! Don't tell anyone. Just run out and grab one for yourself. It's so good. And only $40. Fresh flowers, a cozy blanket and plenty of natural light. Not gonna lie. You can often find me in here blogging away. It's a cozy space and one of my favorites in our home.
We recently took a family trip to Big Bear and the darling cabin had an empty basket in the master bedroom for laundry. I loved this idea and know I wanted to incorporate it into this space. The stool is an easy way to stack fresh towels for our guests.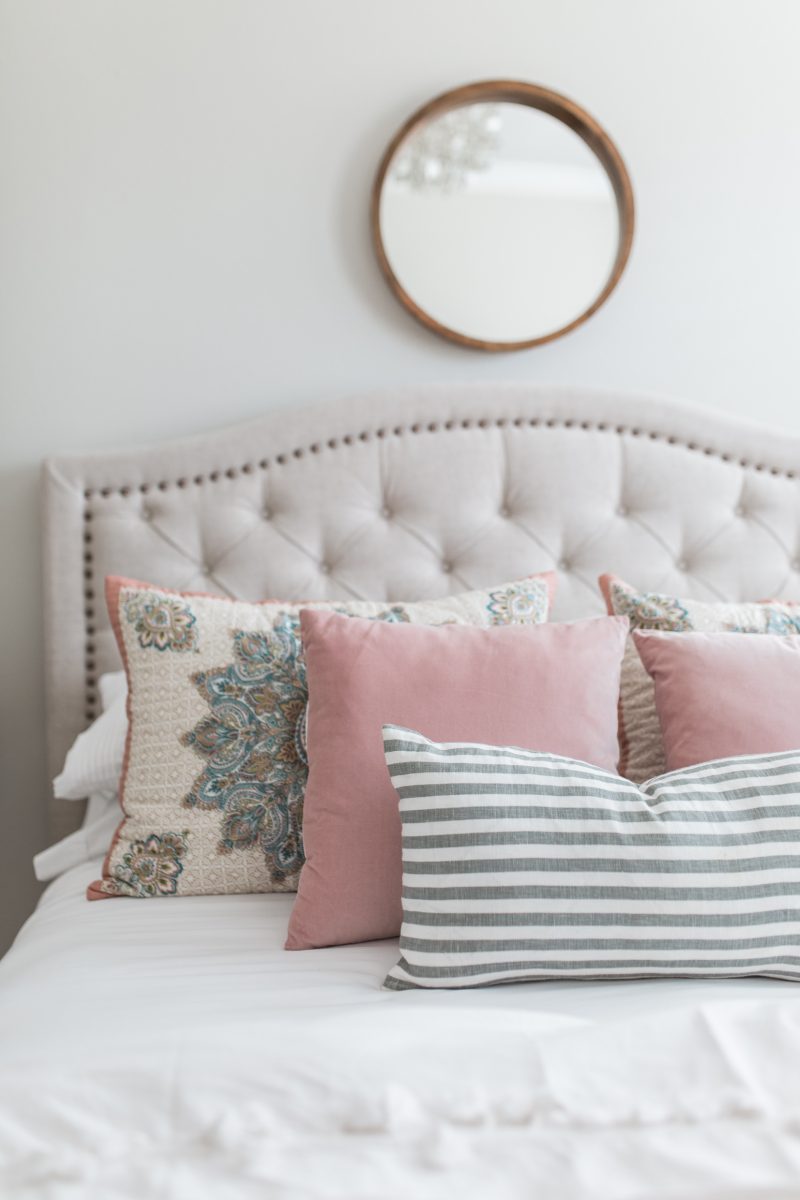 The tufted bed was a lucky Costco find. I hear they have had more lately. It's fantastic quality and we highly recommend it. The gray and white striped pillow is a favorite of mine. It pairs well with almost any color combination you can dream up.
And that is how we add Spring touches to our home. We keep it simple but it feels fresh after the holidays. Thank you so much for taking the tour with me.
NEXT ON THE TOUR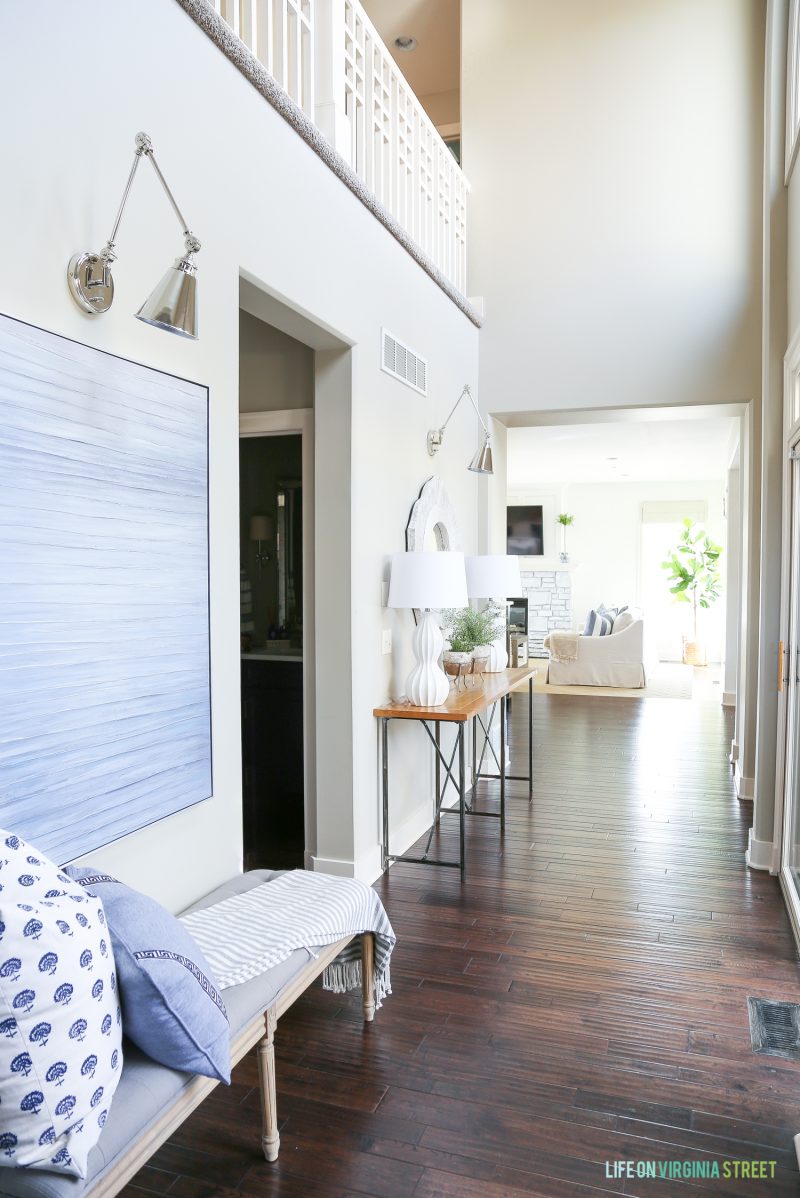 I am now sending you off to Life on Virginia Street. Sarah's beautiful home reflects her impeccable style. Every inch of her pretty home has me swooning. Tell her I say hello! And you can see how Spring is showing up in the homes of the lovely ladies below. Without a doubt, you will be flooded with inspiration. Be ready to start pinning!
If you want to shop any of my pieces that I have shown in today's tour, feel free to do so below. Enjoy your day, my friends. It was another whirlwind of a weekend over here so Monday promises to be a bit slow. And that's fine by me. Thank you for stopping by.
Dining Room Sources

Family Room Sources

Guest Room Sources

*Paint color throughout our home is Pale Oak by Benjamin Moore. I do not have the trim color. 
*Thank you to Vanessa Lentine for the beautiful photos. Affiliate links used.