It's no secret I love to decorate and shake things up around here. But without question I am always looking to save money and repurpose what I already have. I have recovered countless pillows over the years and am endlessly impressed with the power of paint. So I thought it would be fun to share some of my favorite ways to decorate more and spend less.
SPRAY PAINT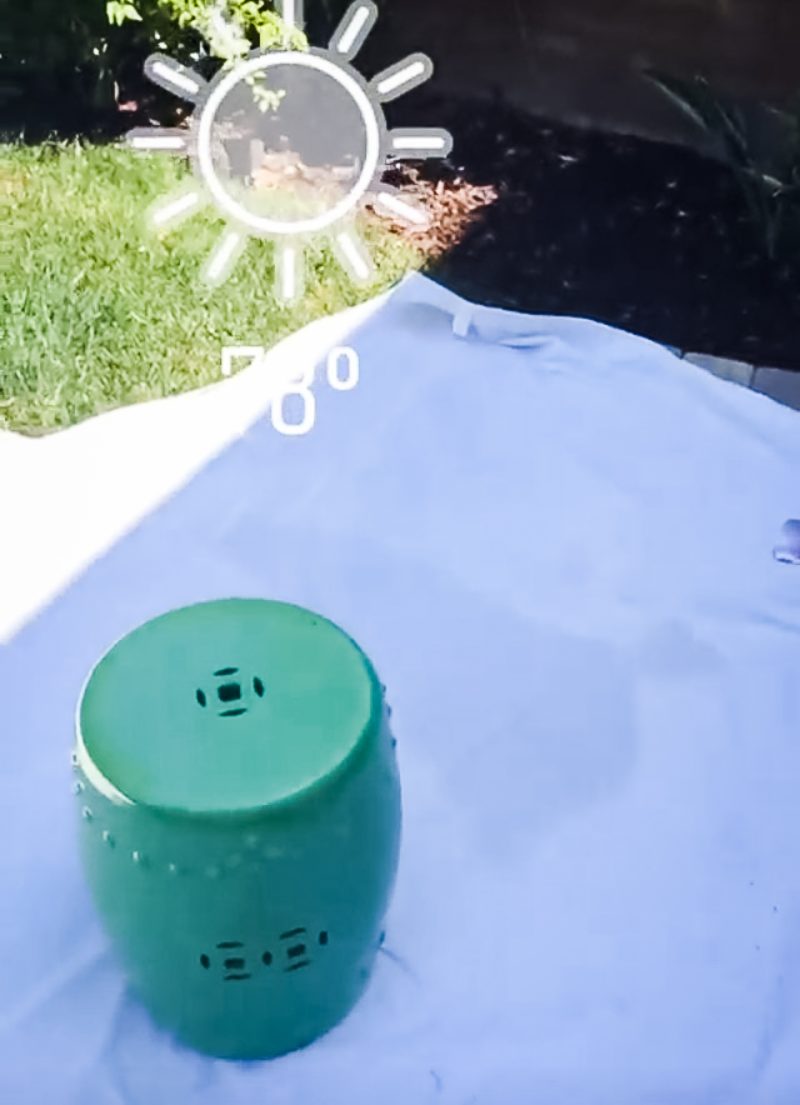 While it's easy to get carried away with spray paint, I am a big believer in having it on hand. This green garden stool has been a part of our home for probably 6 years. This is really the first full summer we have lived in this home so I am working on making the backyard an inviting spot to hang out. In doing so, I am trying to decorate and accessorize with things I already have. This green stool has been traveling around our yard and I suddenly realized it's the perfect candidate for a fresh coat of paint.
I don't know about you, but when I get an idea in my head I pretty much have to carry it out immediately. So I went straight to the garage and found this can of paint I already head. I am a big fan of Rust-Oleum. I find it doesn't drip as much as some of the other brands. The biggest tip I have is to spray paint very slowly. Don't rush the process. It's better to do a few coats (15 minutes apart) than to pile on the paint.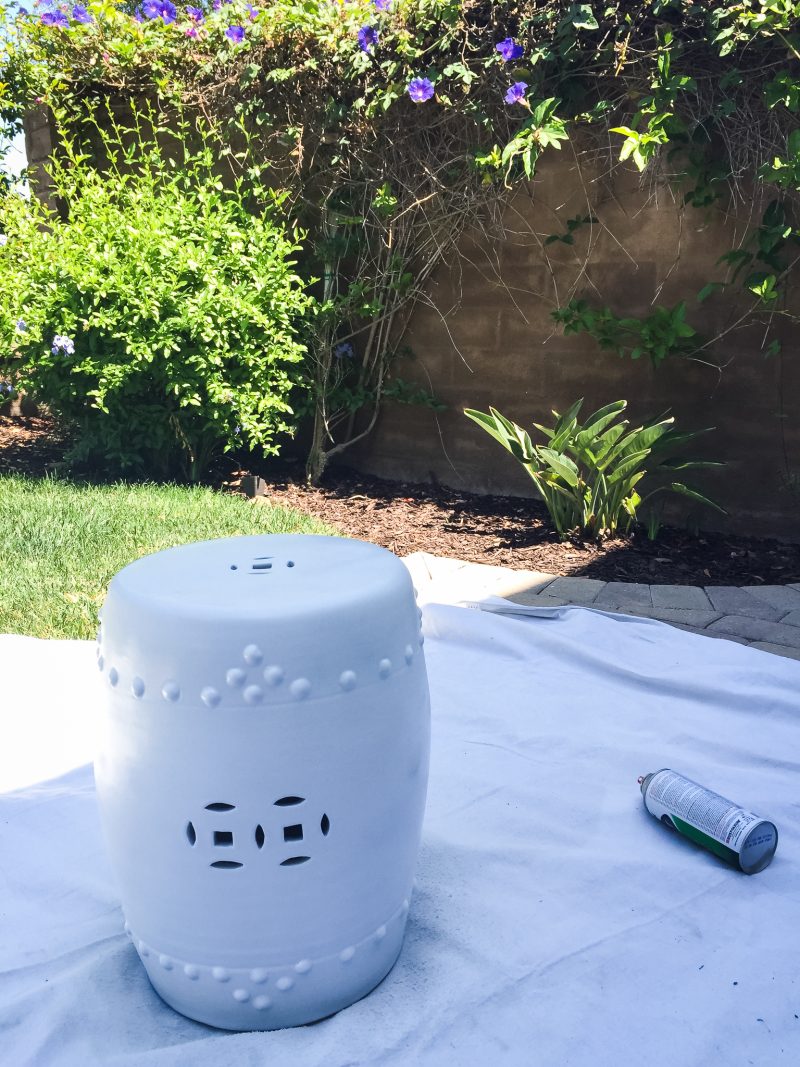 I keep a drop cloth in our garage for projects just like this. It's nice to have one on hand so you can make a mess and then after everything dries you fold it up and store it away. This cost me nothing since I had leftover paint but even if you had to spend $3 or $4 it sure beats buying a new garden stool. Do you have something around the house that just isn't fitting in anymore? Imagine it a different color.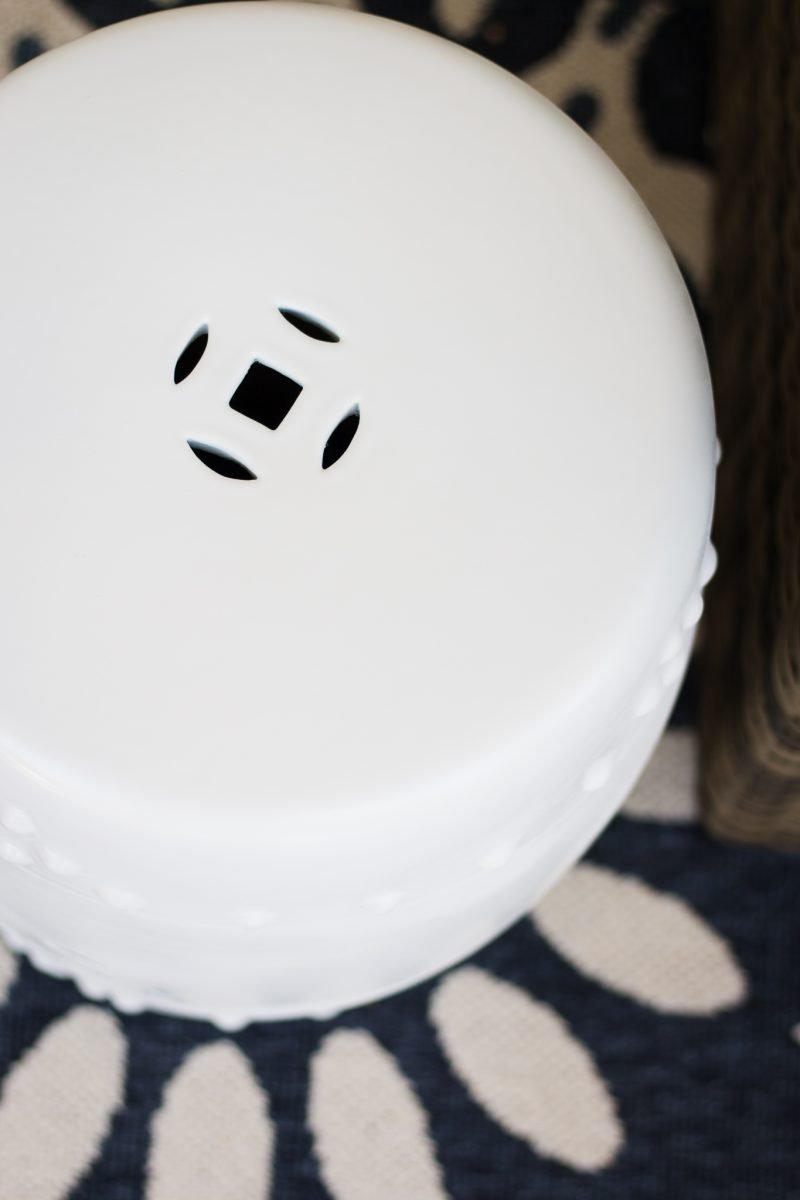 Here is a peek and the white garden stool on our patio. So exited to see it have brand new look
REPURPOSE
This bench belonged to a set we had in our previous home. It's an aluminum bench from an Ikea set. We sold the table and four chairs a few years ago. In fact, it went to a lovely home on Balboa Island so when we go on walks around there we can see the set out on the patio. I love that. This bench is oddly special to us. Our children grew up taking this to neighborhood parties on the greenbelt and used it as a table. They played games on this bench, ate many lunches, and even used it for imaginary play. We have had absolutely no place for this little guy so it's been on our side yard waiting to get donated. For some reason we just never had the stomach to give it away. I am so thrilled we didn't. All of a sudden I realized I needed a long, narrow table for our new patio set-up. It could be perfect with a fresh coat of paint! And free.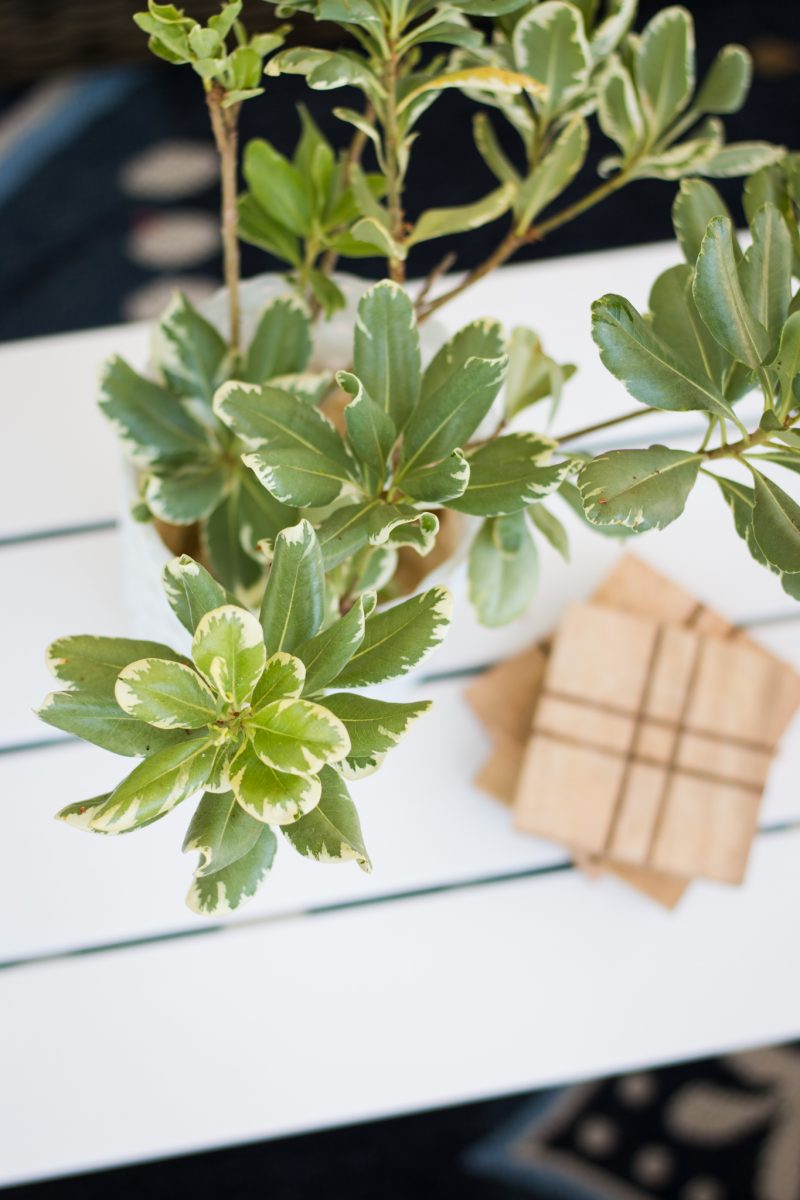 I used leftover paint I had in the garage (Clear Moon by Behr) and it's a whole new piece. This tired, gray bench is now a fresh white coffee table. Now even more memories will be infused in this little bench of ours.
SNEAK PEEK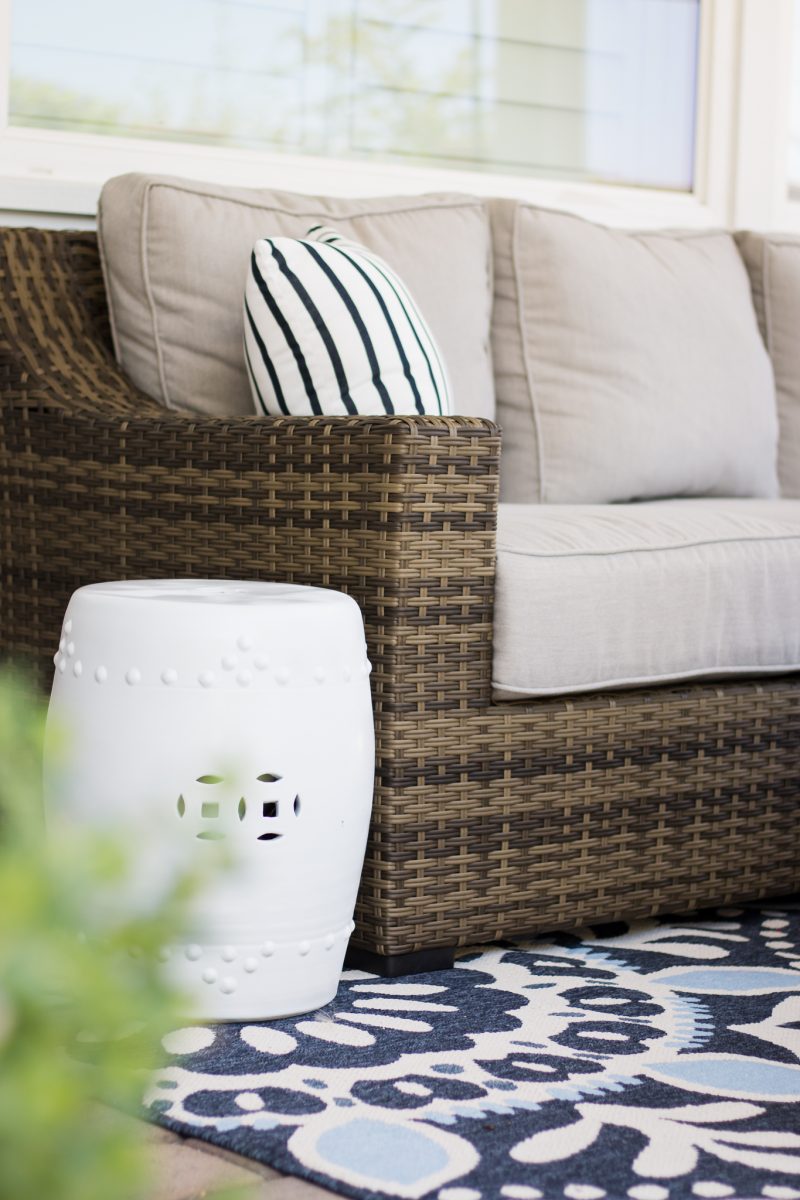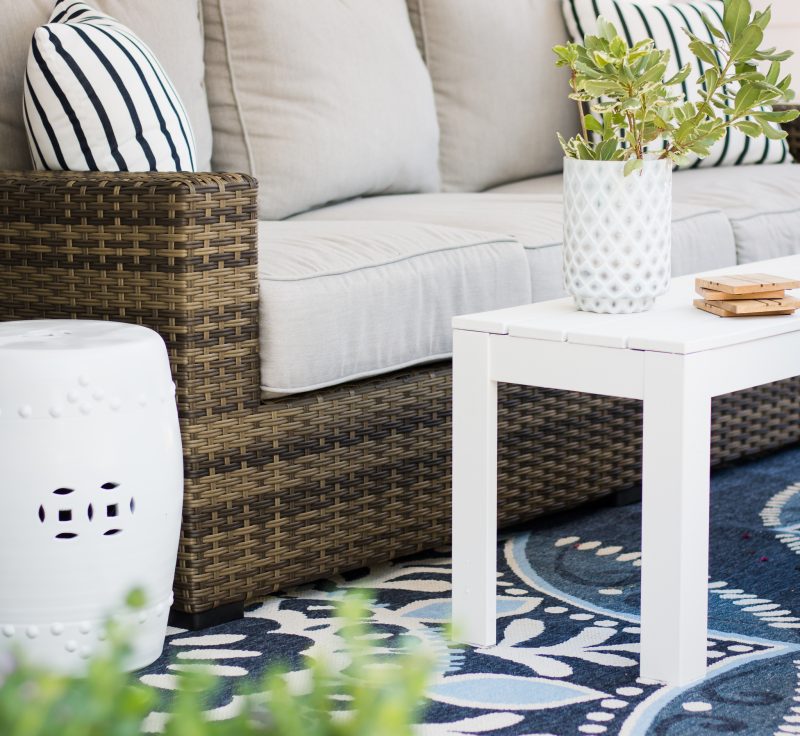 MORE WAYS TO SAVE
So paint is one way to go (and my very favorite) but there are so many ways to get creative and spend less while decorating more. I rounded up some tried and true ways to keep more money in your wallet while adding a fresh look to your home.
RECOVER PILLOWS
Do you sew? Do you know someone who does? I have saved hundreds of dollars recovering pillows. I don't use zippers. That's too fancy for me. I make envelope style covers and they work wonders. I often fall in love with a table-cloth or drapery panel at HomeGoods and use that as the fabric. It always has a nice, heavy weight to it.
SWAP WITH FRIENDS
We often do this with clothes so why not with decor? Start the conversation. "Hey, I'm trying to find a new end table . . . let me know if you are getting rid of one." You would be surprised at how much you can accomplish by swapping items with friends.
SHOP THE HOUSE
You would be surprised how things can take on a whole new look if you move them around. I remember begging my parents to rearrange my room when I was young. When I did, it was like a whole new bedroom. The same holds true with shopping your house and moving pieces around.
SELL YOUR STUFF
Yep. If you are no longer using it, consider selling it. Our sectional from our previous patio was no longer large enough for the new space so we sold it. It was in fantastic condition and I was able to use that money to go towards a new set. Just be sure you find a safe way to sell things. We are fortunate to have a neighborhood website that allows us to do just that. Anytime I sell something, I tuck that money away and it goes towards the new space I am working on. It's a win-win.
CLEAR THE CLUTTER
Do you have built-ins or areas that you haven't touched in years. You may have placed things in the bookcase year ago. Considering clearing it all out. Not getting rid of it, just emptying the space and only putting back the things you love. Maybe find a few decorative pieces that you can spray all the same color. Add those back in to create a consistent fresh look. I promise you. If you clear out a space and reorganize it you will feel like you created something brand new in your home.
ADD INEXPENSIVE ARTWORK
I wrote a post called "Five Ways to Fill Your Walls" and so many of them are ideas that cost very little. We have always believed in hanging things on the walls that have meaning. Whether it's framing our child's birthdate or a DIY sign with streets we've lived on, inexpensive artwork can still hold meaning for your family.
USE FRESH GREENERY
This is my favorite way to decorate more by spending less. Let nature create the beauty. Clip a few stems and fill white vases around the house. It's transformative and cheap!!! I'll show you soon how we are doing this in our family room instead of trying to keep a fiddle leaf fig alive! It's been great.
I hope this helps spark a little creativity as you look around your home. I'll be back soon with the full patio reveal.
You can learn more ways to save money in this post. 
Enjoy your day.