Today's post has special meaning to me and was a bit emotional to create and write about. For the month of April, the #MichaelsMakers were asked to design a DIY gift for Mother's Day. It will be here before we know it. This challenge immediately made me think about how my mom has influenced my life. I can honestly say that I am immensely blessed to have the mom that I do. And without question, he ability to open her home and welcome people in has always been a true gift. She passed that on to all three of her children and creating a warm and pretty environment has always been important to me.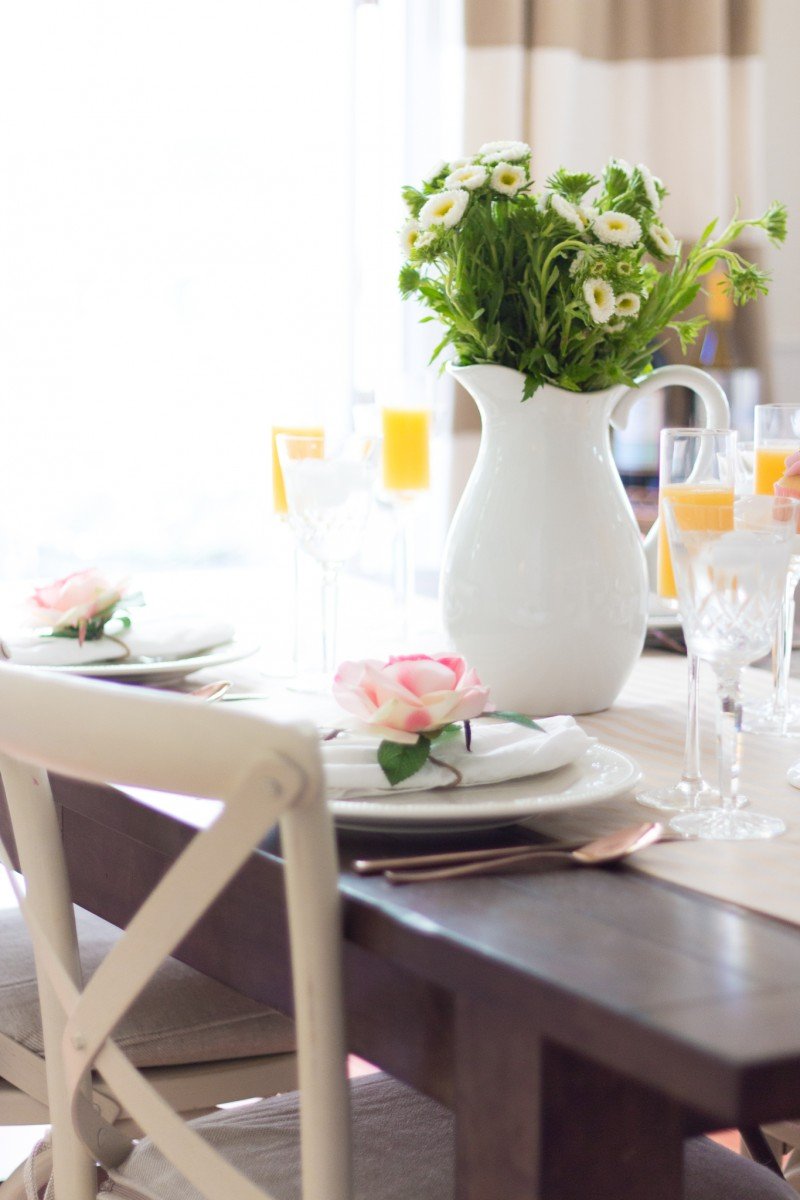 So for this challenge, I created a Mother's Day table setting along with simple DIY napkin rings with my mom's favorite flower. It's something anyone can recreate and give as a gift to any woman in your life on any given day.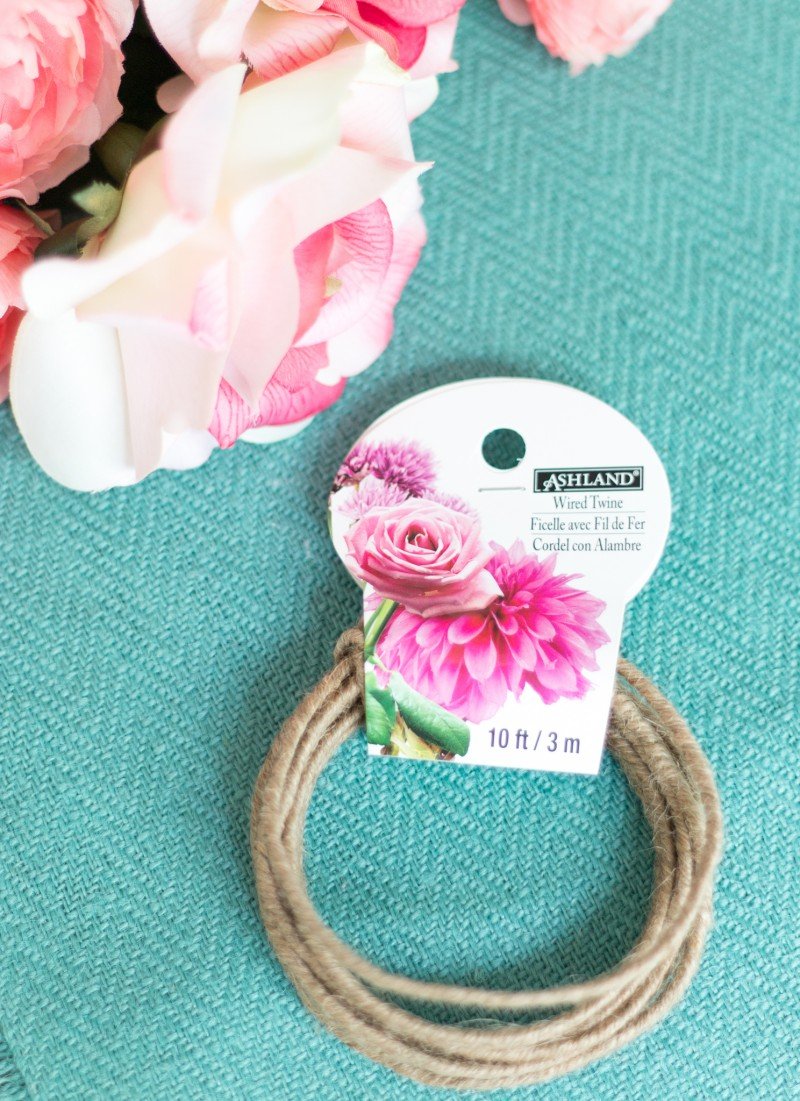 This project could not be more simple. And something you could do for wedding tables, birthday celebrations, a ladies' lunch or just wrapped in a pretty box and given as a gift. All you need are faux stems and wired twine. The tools I used from home are scissors and a glue gun. That's it!
STEP ONE | CUT A PIECE OF TWINE
Cut a 10″ piece of twine wish scissors or wire cutters. Create a circle and twist the ends together.
step two | form a smaller circle
With the ends that are left, create a smaller circle. There is no hard and fast rule on how this looks. You are just creating a nice base for the flower to rest and be glued to.
step three | remove the stem
It is actually remarkably easy to just pull the flower right off of the stem. Cut a leaf or two to add to the back of the flower.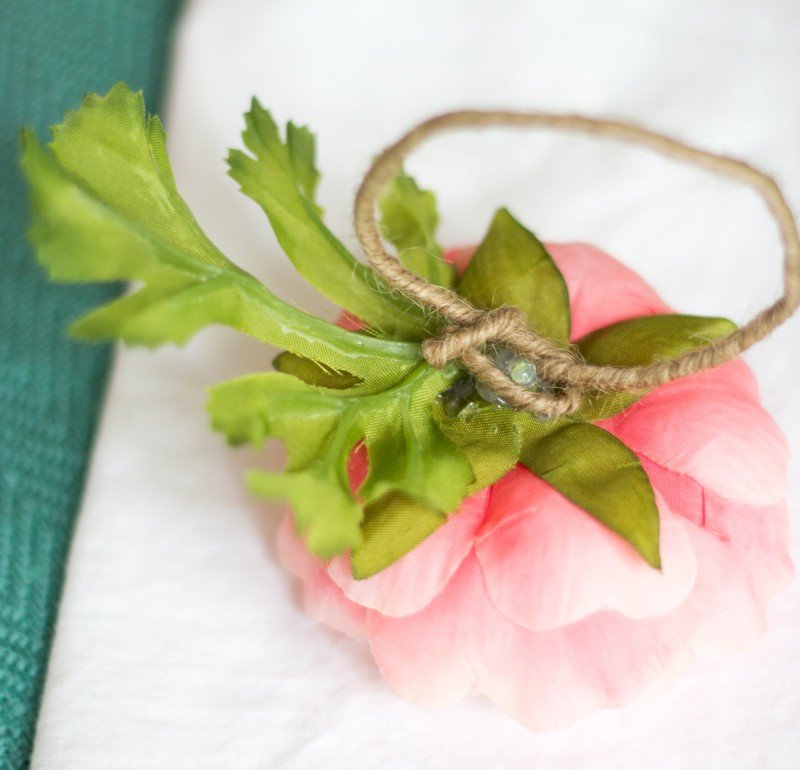 STEP FOUR | Attach Leaves and Flower
Using a hot glue gun, first glue any leaves to the back of the flower. Once dry, glue the flower to the middle of the ring you created. Done and done!
I love how inexpensive but striking these are on a set of white napkins.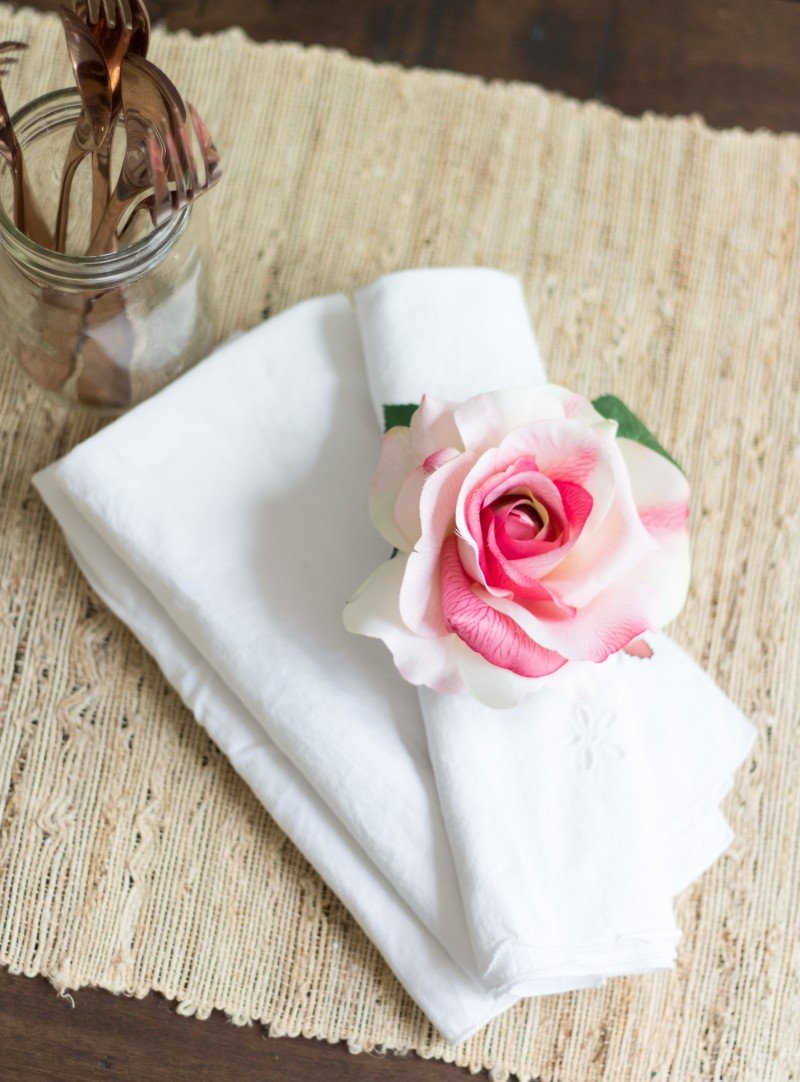 Next up I used a set of roses. My mom and dad have always had gorgeous roses growing in their backyard and these remind me so much of that. I love how real they look. The reason that using wired twine is so great is because you can literally squeeze the ring flat so that napkin and flower sit nicely. Gone are the days of old school napkin rings that need to remain a stiff circle. These look so elegant laying flat on the napkin.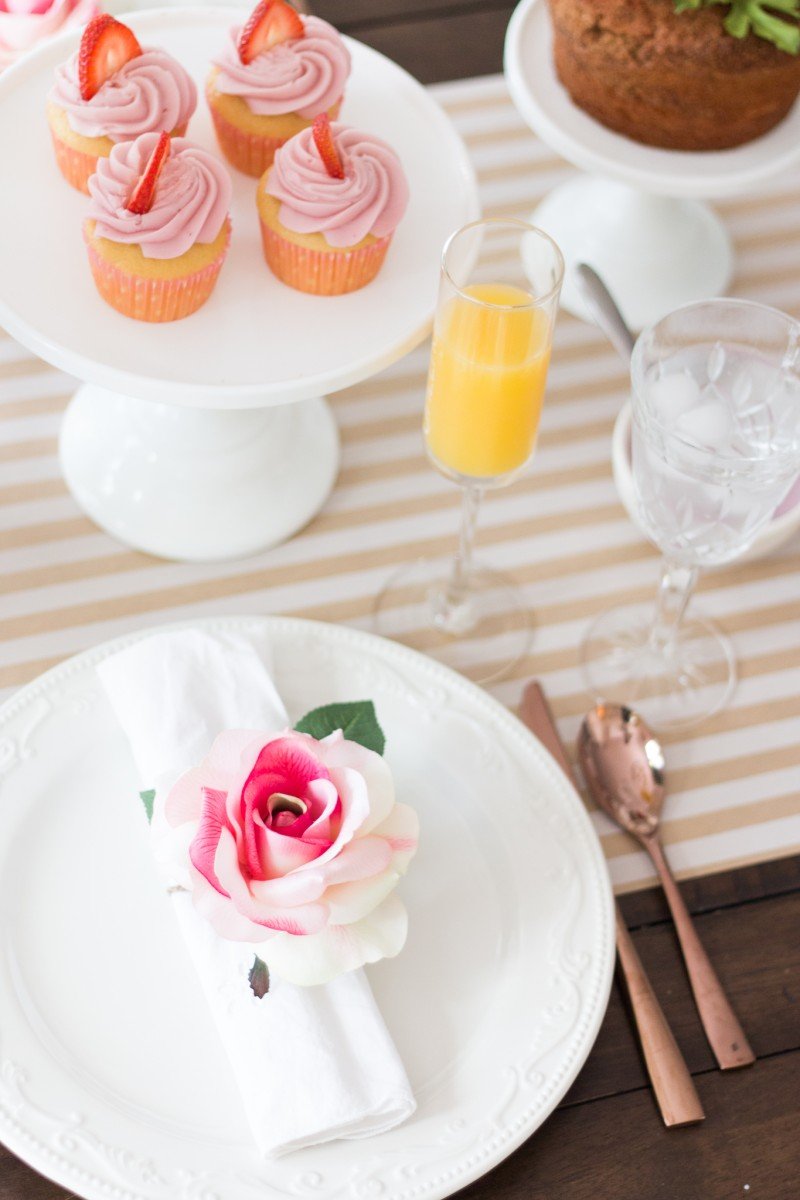 And now prepare for photo overload because I couldn't get enough of this table. It's so simple and yet it was such a fun one to shoot. I used a roll of striped wrapping paper from Michaels as the table runner. I always pick up those short rolls of wrapping paper anytime I see one I love. Such an upside to paper runners! They go in the trash, you don't need to store them, and your table can look different every time. And, well, I love stripes.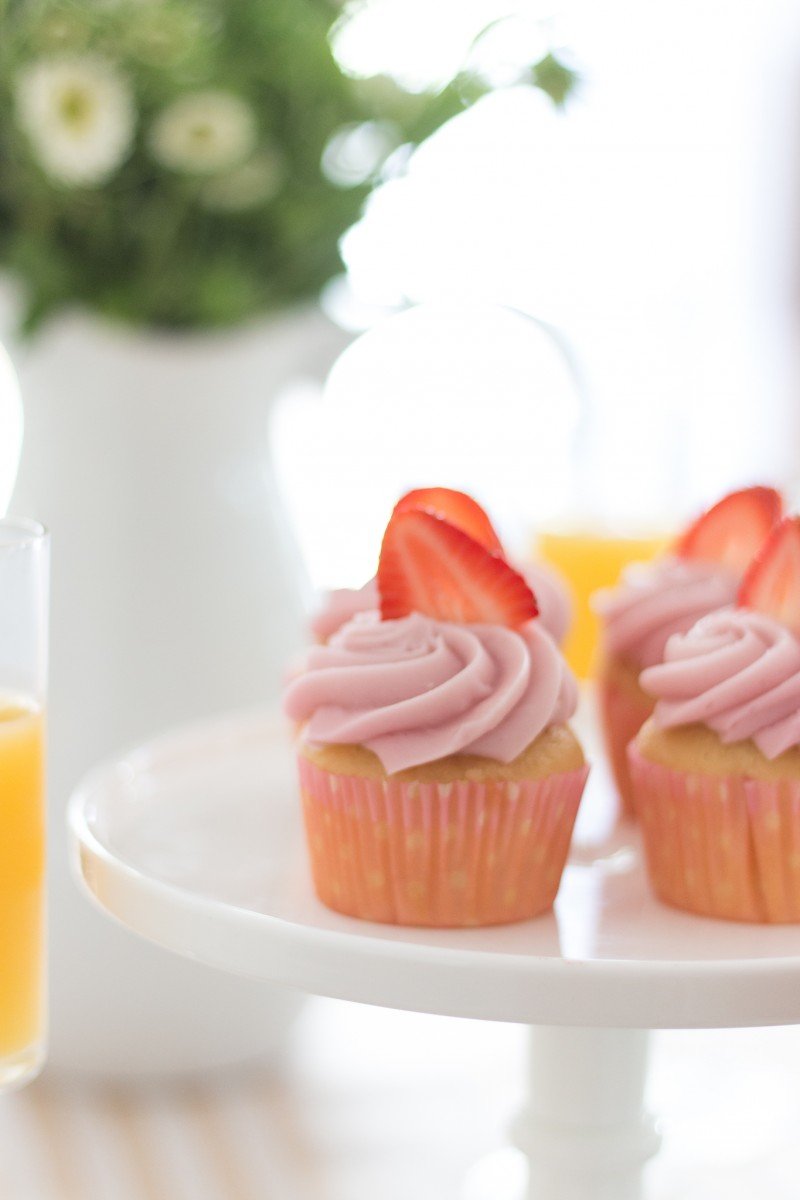 Have you tried these cupcakes from Trader Joes? They are pink lemonade. Needless to say they are a fan favorite with my children. Whenever I buy something store-bought I try to add a little something to make it my own so a sliced strawberry did the trick.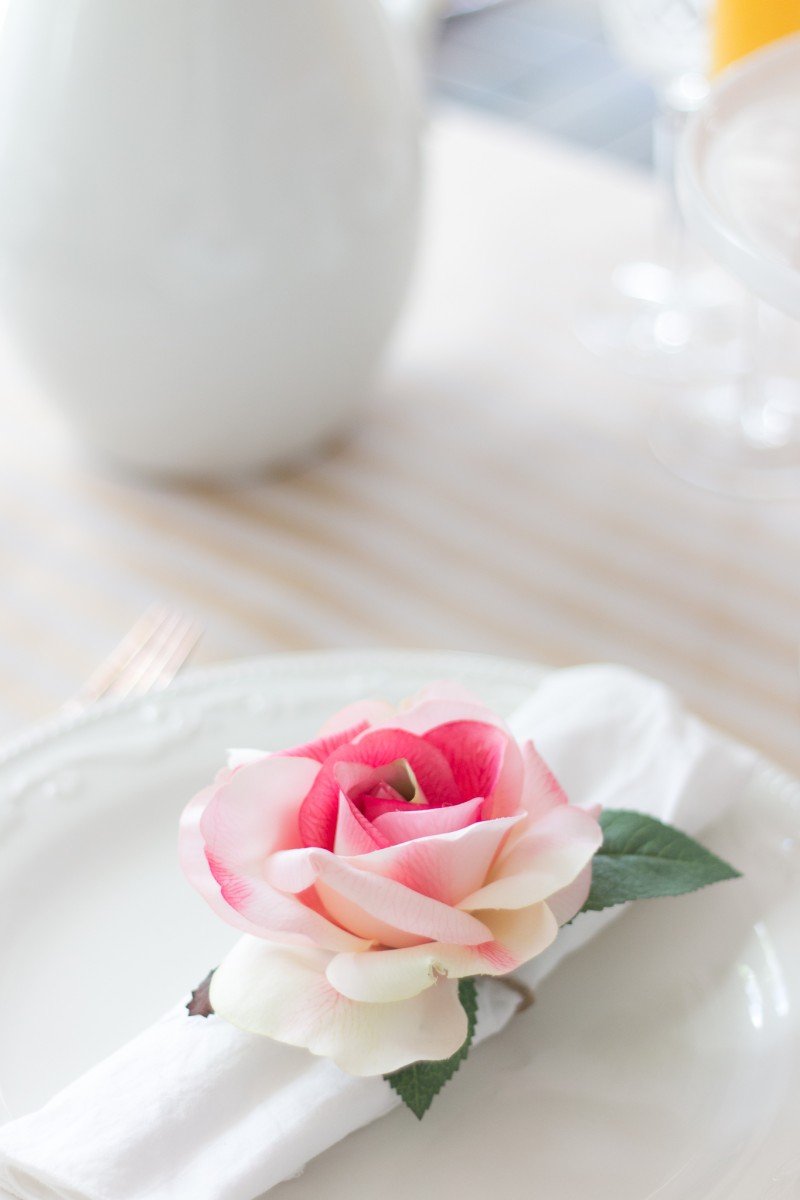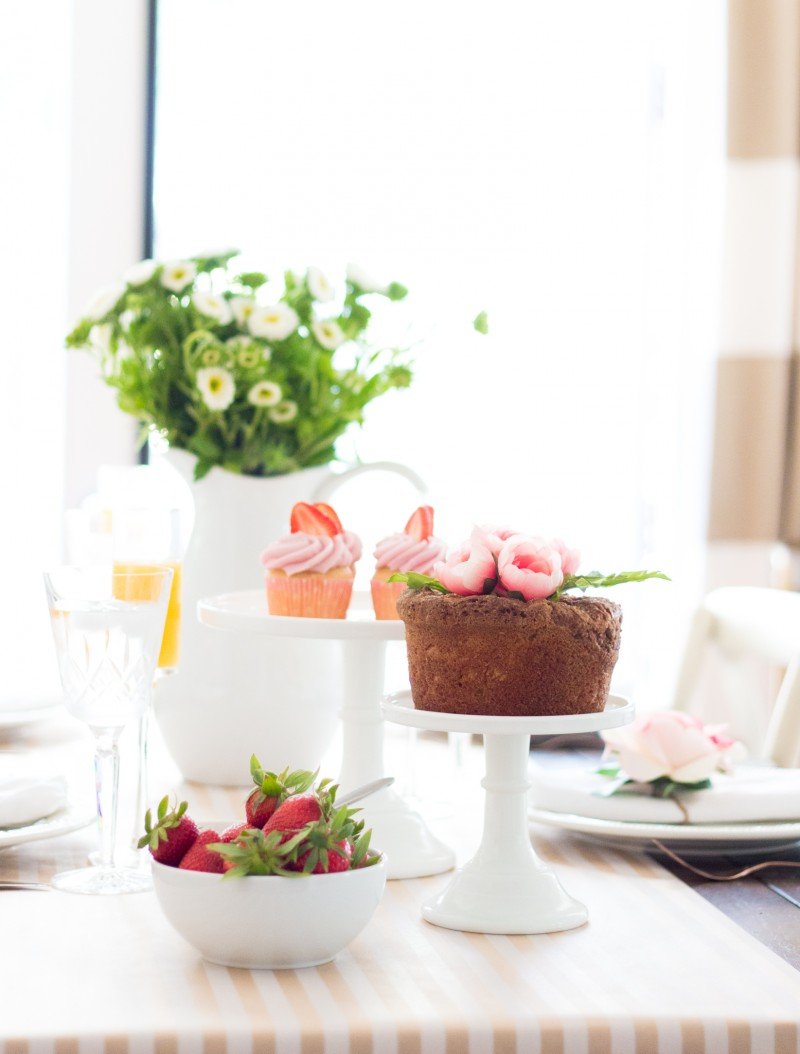 Another trick I learned from my mom over the years is using different levels on the table. By creating different heights you add so much more interest and dimension to the table. I talk more about that in my tips and tricks for styling and photography. And my love affair with all white dishes and serving pieces is undeniable.
With the more formal DIY napkin rings, I chose to use wild flowers as the centerpiece. I think the juxtaposition of the two works well. These napkin rings can be boxed up and given as a beautiful gift to any special woman in your life. Whether it be for Mother's Day or for a hostess gift, they are so easy to make. And the best gift of all is inviting someone you love into your home and allowing them to feel welcome. Life is hectic and goes by in the blink of any eye. It's opening our homes and showing hospitality that defines our days in a more meaningful way. Cheers to many hours spent around the table enjoying those you love.
Thank you to Michaels for partnering with my on my #MichaelsMakers projects. Michaels has everything you need to craft the perfect handmade gift that will make Mom's day. Feel free to  look at some of the fun projects on Michaels.com or the other 49 Makers' ideas on The Glue String for to see their creative posts. You can also snoop around below!
My Past Michaels Makers Projects