My favorite day of the week over here! I love sharing episodes of Fixer Upper and dishing on the takeaways I see. It's so much fun to be able to share little design ideas from Chip and Joanna that we can all implement. It doesn't have to be a huge makeover to breathe new life into a space. The most recent episode was a bit too modern for my taste so I decided to rewind to this darling Baylor cottage. I especially loved this episode because it is a smaller home which is the reality for so many of us. So let's jump into Fixer Upper | The Takeaways.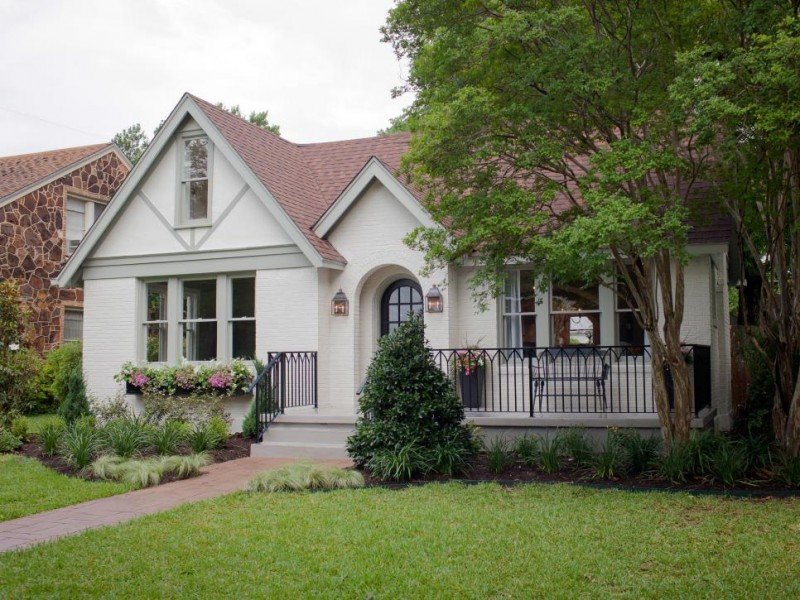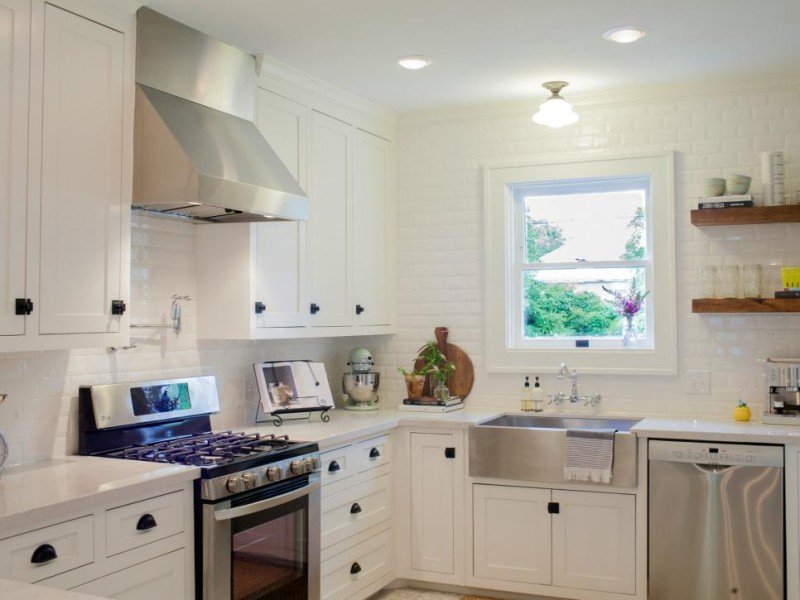 Takeaway #1: Keep it Classic With White Subway Tile
If you are facing a kitchen remodel, white subway tile never gets old. It's classic, clean and so beautiful.  And I spy a cute towel to keep things fresh and chic. I also really like the grouping of cookbooks, greenery and cutting board. That is a great way to style your kitchen counter. I leave a cutting board leaning against my subway tile and use it daily.
Takeaway #2: Consider Changing Cabinet Hardware
Maybe you need a hardware update. I love the way she Joanna used the dark hardware to contrast with the white cabinets. Restoration Hardware has a great selection to browse hardware. You can often find similar styles online for less, too.
Takeaway #3: Oversized Artwork
I have a crush on this Bakery sign. I love the vintage feel and how the black lettering ties in with the details in the kitchen. And look at that foot rest. Attention to detail is spot on. Look for a spot in your home where you can use just one large statement piece. It keeps the overall look so clean and uncluttered. It also gives it a vintage charm. Flea markets are a great place to look for things like that. I did find almost the exact sign here in case you are interested.
Takeaway #4: Soothing Paint Colors
This paint color! I love it. I don't know exactly what they used but it very much reminds me of Silver Sage from Restoration Hardware. It is a subtle and beautiful color that I have seen work in many homes. Then you let the white trim takeover to keep things crisp and clean.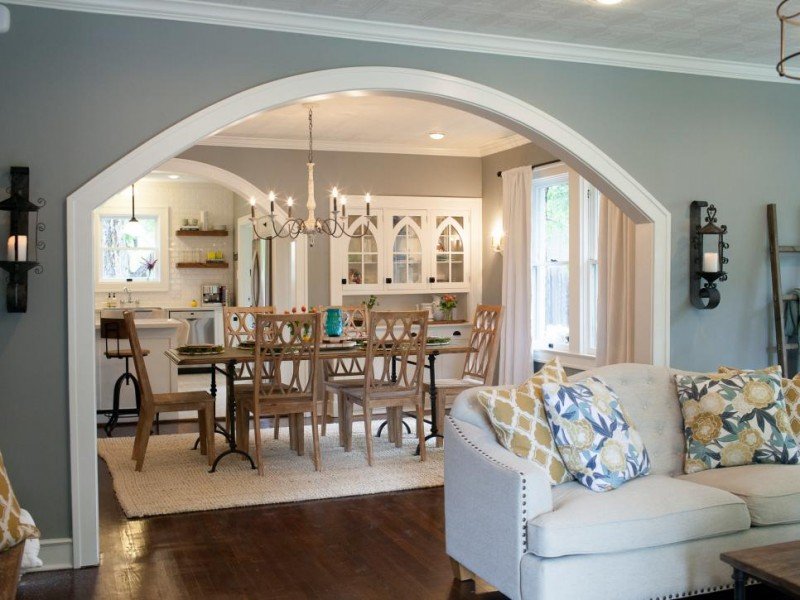 Takeaway #5: Define the Eating Area with a Rug
Now if you have young children, this may not be the route to go, but maybe you can pull that look off in a more formal dining room. I love a rug under a table and chairs and am actually looking for one for our dining area. We are finally to the point where massive spills are not a regular occurrence and a little vacuuming would do the trick. You can also look for rugs that are easy to clean. But I really love the way this defines the space and gives it more of a finished look.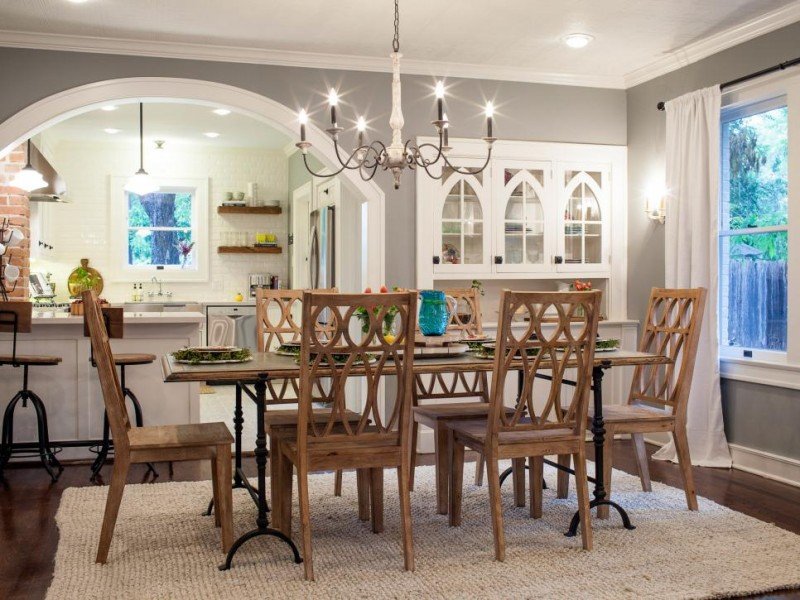 Shop This Room

Takeaway #6: Incorporate White Drapery
I have seen a trend with Joanna's designs. She really does incorporate white drapery panels quite a bit and I love that. Again it reads clean and fresh and you don't need to worry about coordinating. White drapery also allows you to switch up accent colors more frequently. Places like Ikea sell them for pennies and in any length which is fantastic.
Takeaway #7: Pair Iron and Wood
I really do think that the pairing of iron and wood is one of the Gaines' calling cards to achieve that warm rustic feel while still being chic and modern. Look how just the iron table base breaks up the all wood look. It also relates well to the bar stools chosen. And if you imagine something like a white table in this space it just doesn't work. With the white kitchen and airy feel to the space, it needed a nice warm tone table to give it that cozy feel.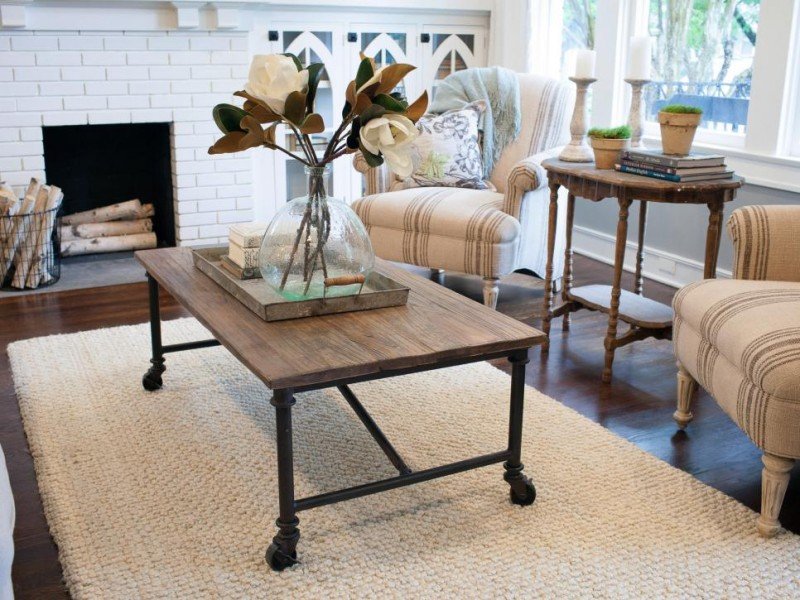 Shop This Space

Takeaway #8: Faux Magnolia Blossoms
It's that simple. Look how great those look! Michaels carries those and all you have to do is stick them in a pretty vase. We are lucky enough to have a magnolia tree but I often forget about brining the blossoms inside. They really are so beautiful and if you cut a few green stems they last forever.
Takeaway #9: Galvanized Metal
This is another takeaway that is easy to implement. Maybe start by clearing off your own coffee table and giving it a new look. Trays like this one can be spotted at HomeGoods and add a bit of a rustic vibe. Combined with the wood and iron table, it's a great industrial feel that is softened with the magnolia blossoms. Joanna also used galvanized containers on the wall in this house for fresh flowers. Such a great look that I don't see everywhere.
Takeaway #10: Don't Underestimate the Power of Texture
There is so much texture going on here it makes my heart happy. The rug, the wood in the wire basket, the brick. the grain sack material on the chairs, the weathered table next to them. . . . see what I mean. That is so key to a space reading interesting and complete. Mix it up, mix it up, mix it up and really pay attention to items having different textures.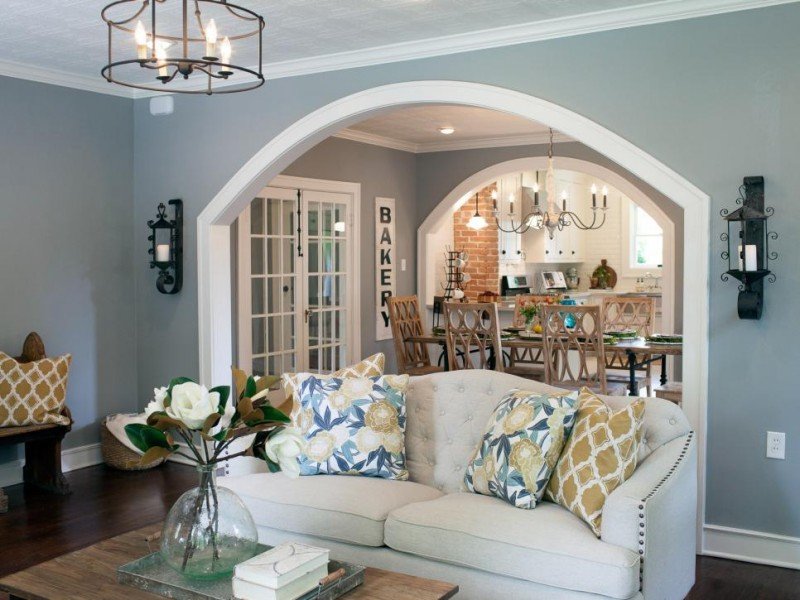 Shop This Space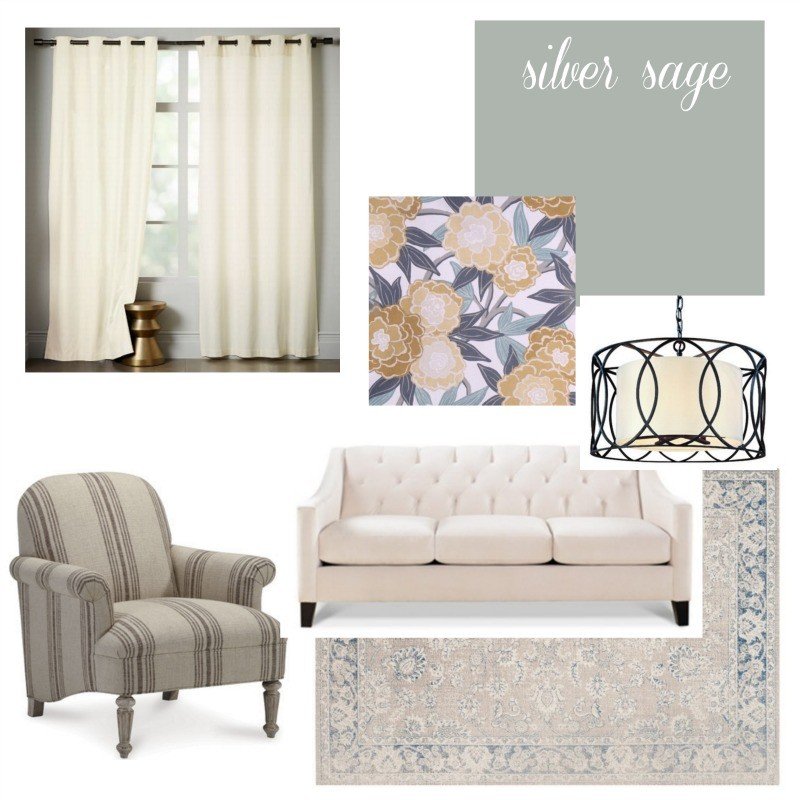 chair | drapes | sofa | rug | light | floral pillow
Takeaway #11: Mix Patterns
Not everyone is confident in their ability to mix patterns. It's not as hard as you think. Choose one floral fabric you love ( I found that exact pillow here) and bring out one of the colors. Then find a geometric print in that color. Done and done. And what a pretty combination that is in this space.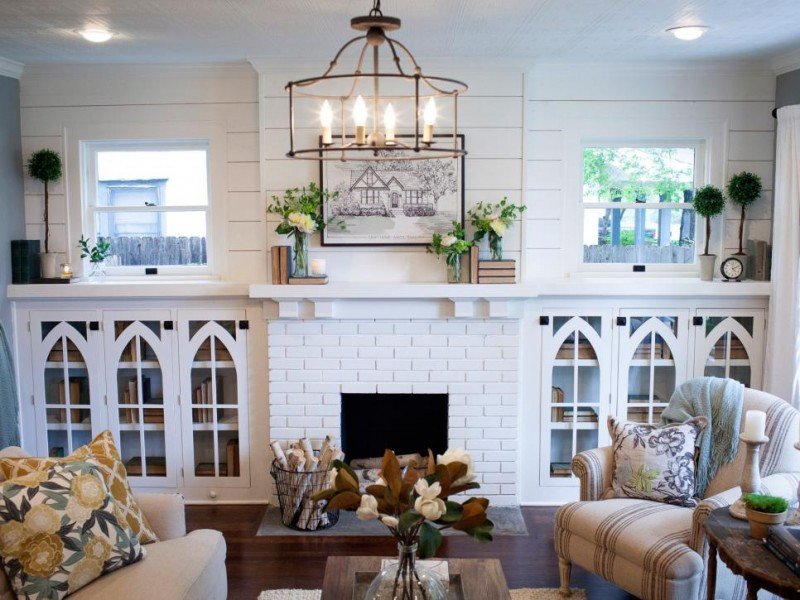 Takeaway #12: Define Your Living Space with a Chandelier
We have seen this one before and it remains one of my favorite design choices that Joanna makes. Define that living space with a pendant or chandelier. As you can see here, it does not need to hang low but it really does make such a statement and lighting completely transforms a room.
Shop Beautiful Lighting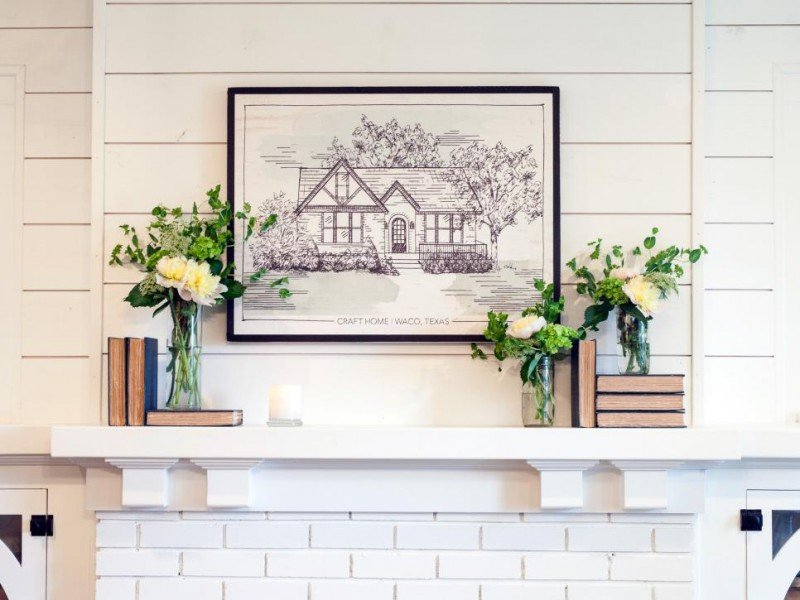 Takeaway #13: Meaningful Artwork
This takeaway reminds me so much of my dad. He has a sketch of the houses he and my mom have lived in and they are so beautiful. They are hung in a hallway of their current home and there is so much history in those sketches. Whether it is using your children's artwork or having someone  you know create something special, it takes on an entirely different feel when it holds meaning to you and your family.
Takeaway #14: Books and Mason Jars of Flowers
Are you seeing a trend?! I hope by now you have a few mason jars lying around the house. Fresh greens, mason jars and old books. Such a recipe to success when styling spaces like this.
Takeaway #15: Incorporate a Charming Ladder
A dear friend of mine had her husband build her a similar ladder and it boasts cozy blankets year round. I love this idea. So simple and yet what a great piece of artwork on the wall. Think outside the box with items that fill a space but may not be just frames. We used an oar from my brother in my son's room and I love the look and the memories it evokes.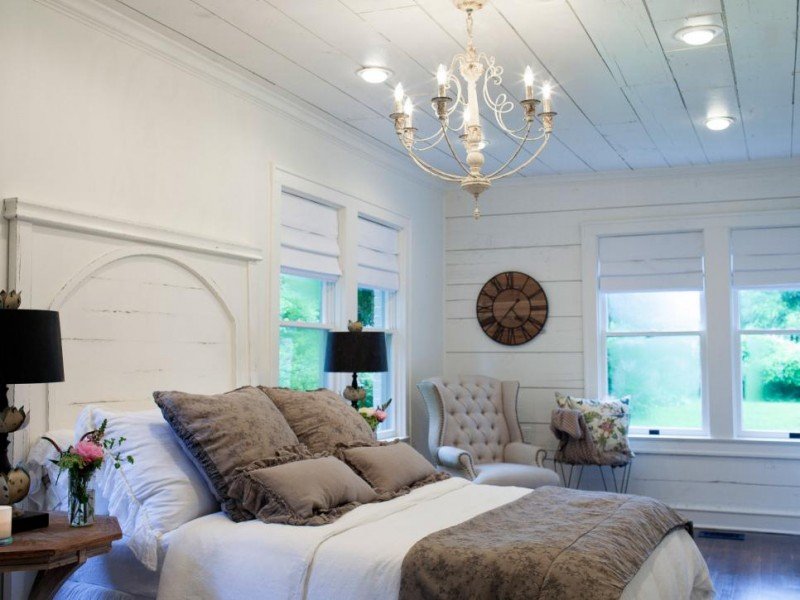 photos by Jennifer Boomer / Getty Images via hgtv for fixer upper
Shop This Space

Takeaway #16: Consider a Seating Area
Do you have a corner or nook that could be turned into a seating area? Notice this chair is not even grand in scale, but combined with the wire bin holding a blanket and pillows it really works. You could also swap out the bin for a pretty table. I think areas like this really provide a cozy look and they are great design wise. We have a similar corner in our bedroom and sit in it daily. This spot with the cute clock is also similar to our son's new reading nook. If you do create a spot like this look for chairs that have either tufting or nailhead trim or something to give it more dimension. It makes a big difference.
Hope you found some easy inspiration to implement somewhere in your home. You can see other installments of this series below. Have a great, great day, everyone!
The Takeaways #1 | The Takeaways #2 | The Takeaways #3
Shop the Post