Welcome back. Did you have a chance to weigh in on the Just Four Things decision from yesterday? My client is ready to purchase side tables and there is a clear front runner according to my readers. Did you cast your vote? Tuesdays are always fun around here because I get to talk about my "It's a Date" look. Now that it is summer and my home is filled with wonderful chaos all day long, date nights are even more necessary. It's just nice to get out and be husband and wife without the distractions. Last week we dressed up quite a bit for my birthday so this week we decided to keep it casual. And I happen to be in love with this skirt and will wear it any chance I get.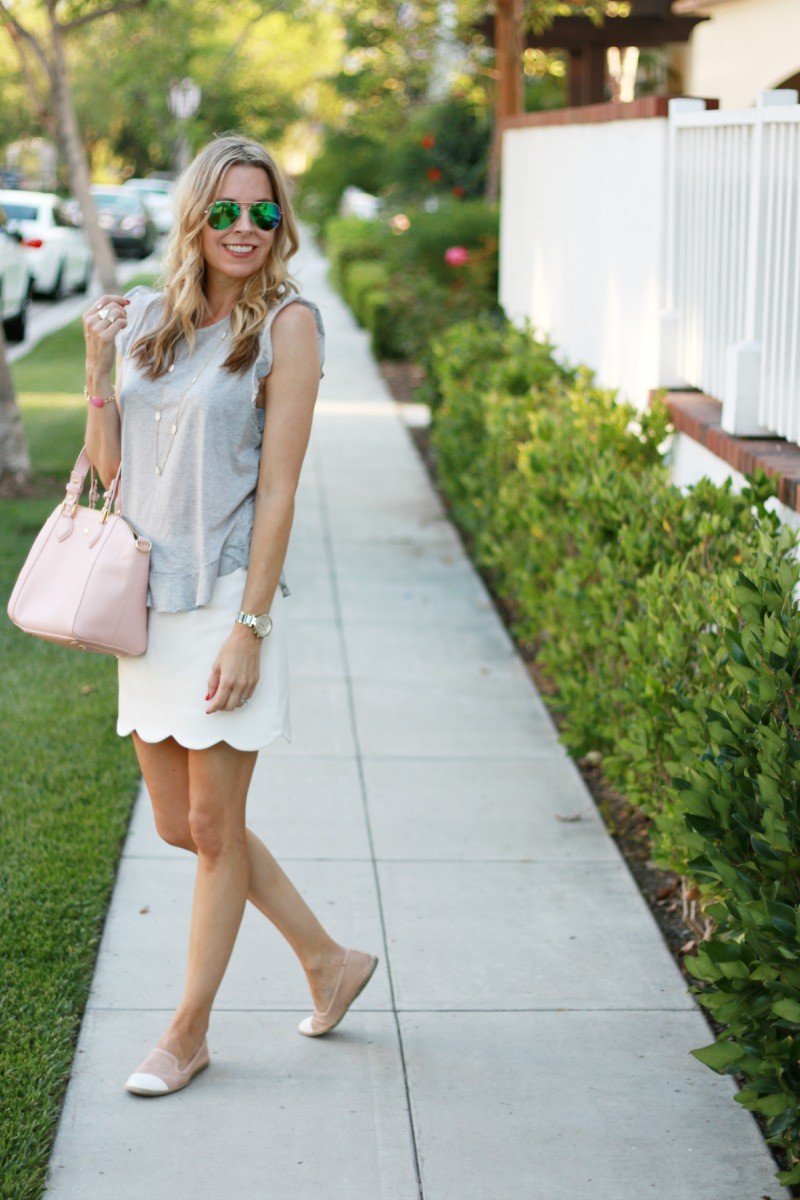 This outfit has been on repeat because I love it so much. The cute scalloped skirt is comfortable and goes well with anything. I have worn it dressed up with heels, sandals, and now espadrilles (which feel more like slippers). The skirt runs a tad small so order up one size. Although the size chart is spot on. I am wearing a size 6. The skirt has a nice thickness and just enough weight to it and that if falls really nicely. If it were too thin the scallops would get lost. The ruffled shirt is a size small and is currently on sale.
Date Night Hot Spot: This week we really did keep things very casual. We headed to the mall to grab a couple of gifts we needed for family and window shopped a bit. It's actually really nice to walk hand in hand and take our time. We didn't stay too long and then headed to BLK Burgrz for dinner and drinks. We like that we can sit outside and enjoy the evening. The decor inside is absolutely adorable, too.
Date Night Question of the Week: This week was all about reflecting on the past. I asked, "How has life been different than you thought it would be?" Sort of a heavy question when you really get into it. It was really fascinating to talk about. The question took us in a lot of different directions and was so thought provoking.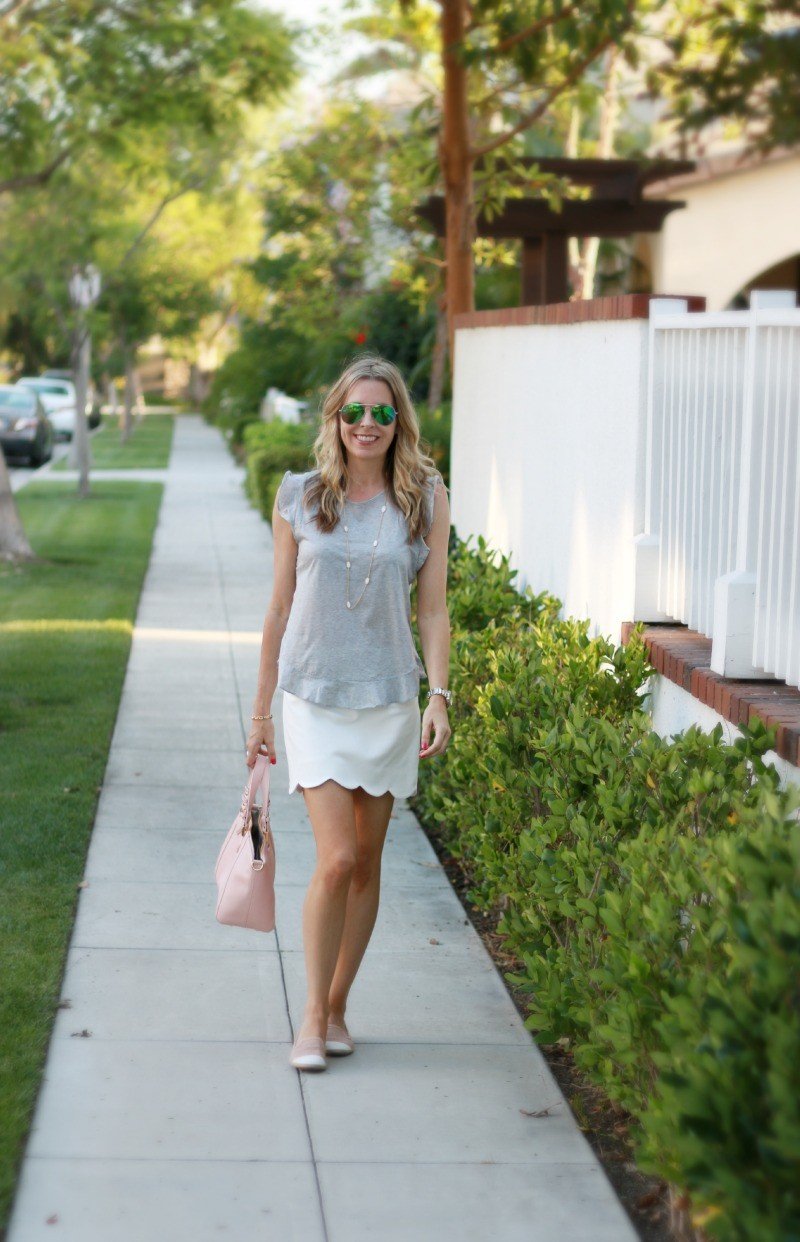 Date Night Style: Shop The Look

Click on any image above for detail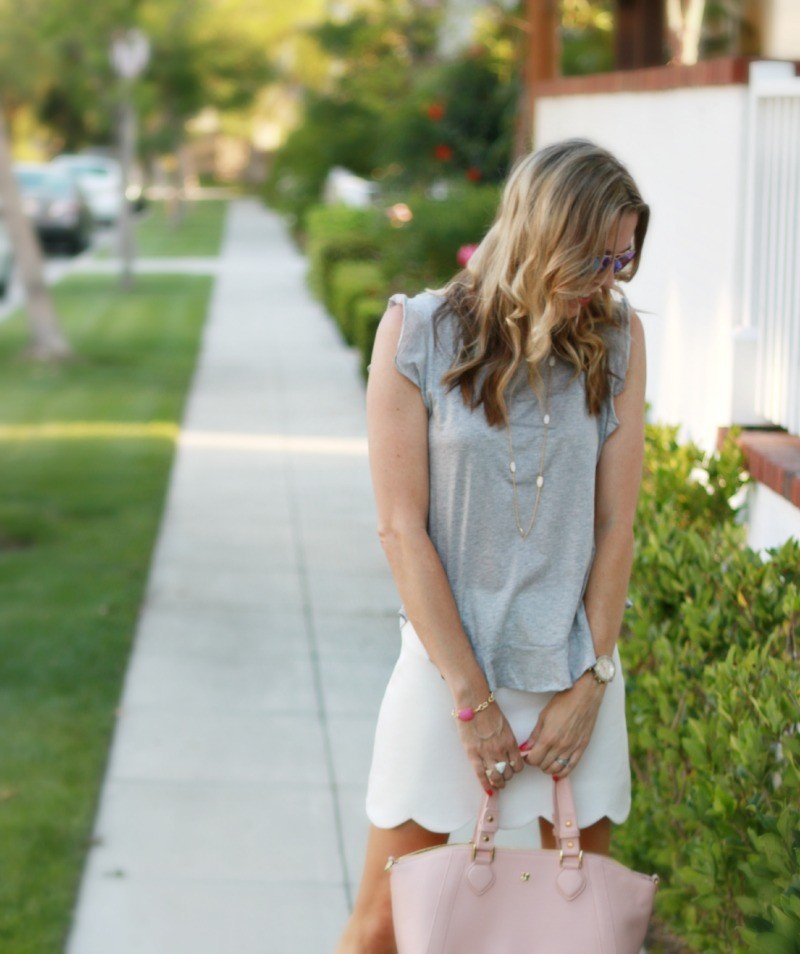 Have you ever owned something and wanted to tell everyone you know that they should scoop it up, too. That is how I feel about this skirt. I always get tons of compliments on it and love those cute scallops. While I have been carrying this purse a ton, I also use my pale pink clutch a lot. It's such a pretty color for summer. I found one very similar with pretty gold detail here.
And in case you haven't heard, Loft is offering 60% off of their sale price. That is so good! I bought these pants yesterday and LOVE them. They have a ton of cute dresses on sale, too. It's worth hopping over and taking a look.

If you don't love searching through pages of sale items, I rounded up some cute items above. Just click on any image for details. And because we are talking about scallops today, hello cute scallop flats!!!! Now less than $20 with the extra 60% off.

click on any shoe above for details
I have not bought any of these shoes (yet). I had no idea they had such a cute selection so I can not tell you about fit and comfort. But I only rounded up the shoes that seemed to have good reviews overall. Hope that helps. And those heels! What?!
I hope you have a wonderful day. Sadly I have an eye appointment. I have always had perfect vision but find myself holding my phone much too far from my face. Ugh! Wish me luck. And I will have both kids in tow and the appointment so here's hoping everyone is in a patient mood!