Do you ever plan a home remodel or major project and then find yourself pumping the brakes. Hard?! We are about to back the train up, my friends. Do you remember how I updated you all on what I wanted to do with our kitchen? Well, it's time to try this again. I thought it was important to share because this is the reality and I think it's best to really think things through. As with all home projects we take on, they evolve over time. This one is taking on a whole new life for financial reasons. I'll explain below.
Are you familiar with the book, "If You Give a Pig a Pancake?" One of my all time favorites and very much the theme of this kitchen remodel. In my head, it seemed so easy to rip out the pantry cabinet, build more cabinets to the ceiling and voila . . .a new kitchen. Well, I was wrong. There are so many nuances to this project that it would bore you to tears. Lets just say that after having three contractors out, the small kitchen upgrade became a HUGE investment. All uppers would have to be taken out and rebuilt. Then the uppers and a custom hood. It's felt like we were about to dump thousands of dollars into making a white kitchen even more white. And might I add, I already love my kitchen.
Where does that leave us? After getting the various quotes my husband and I were so disappointed. It was double what we had budgeted and so not worth it to us. It just wouldn't be worth it in the end. And not something we are willing to do. I was lamenting to my sister and how I just want new countertops and that darn pantry cabinet gone. Being the amazing designer she is, she solved our problem with an entirely new vision. One that we are thrilled with.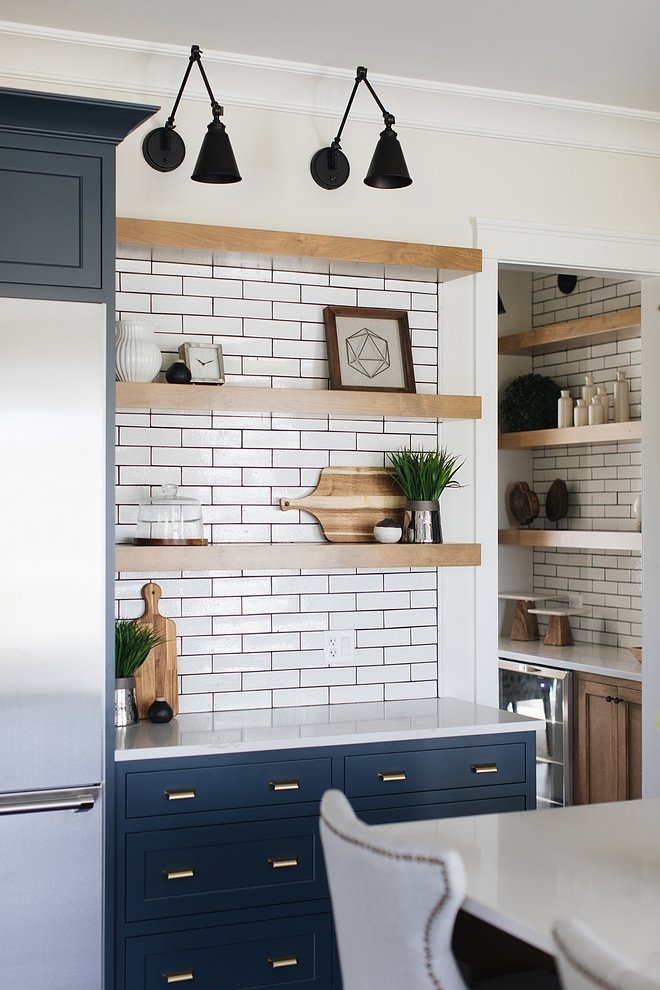 Enter open shelving. Which I LOVE anyway. So how does this help? Well, we no longer need to rip out cabinets. We will have the large pantry cabinet removed and extend the cabinets. Then we will add open shelving. I'll also add some great lighting.
INSPIRATION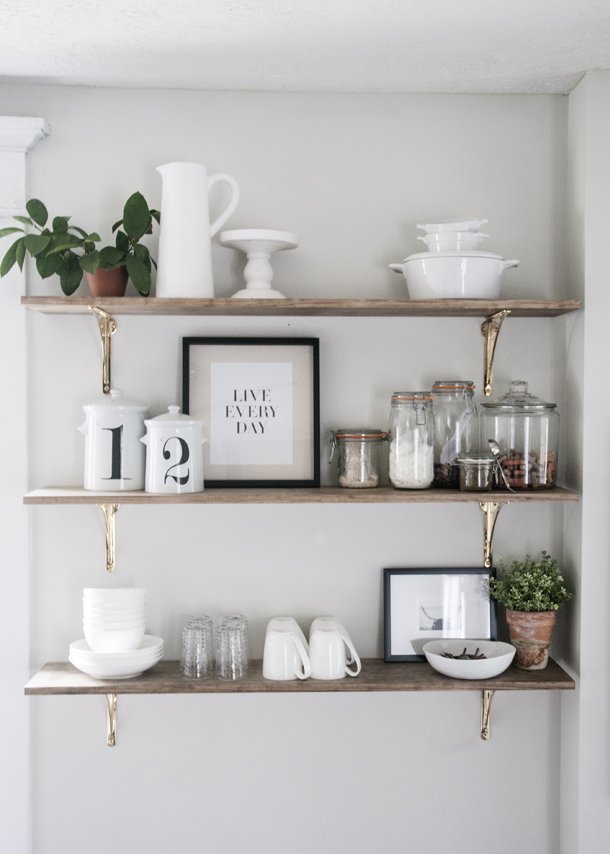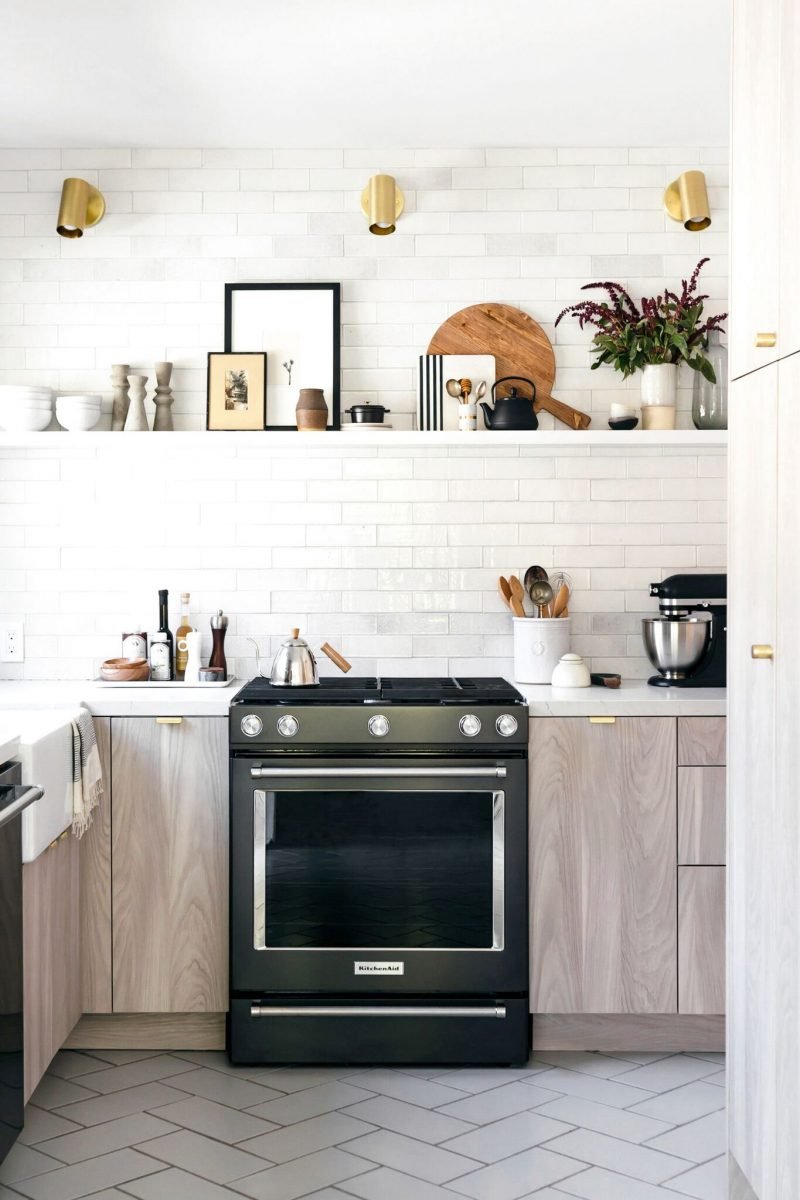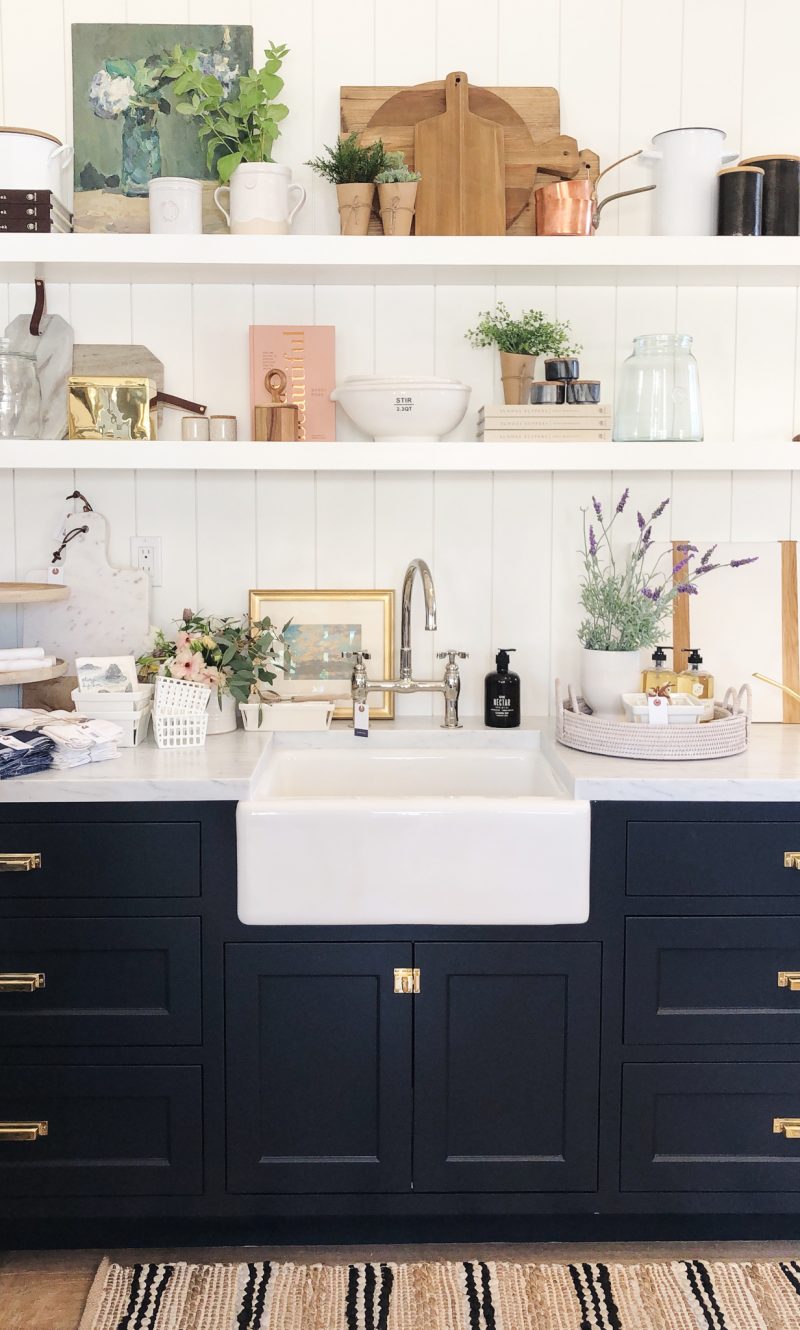 mcgee and co. storefront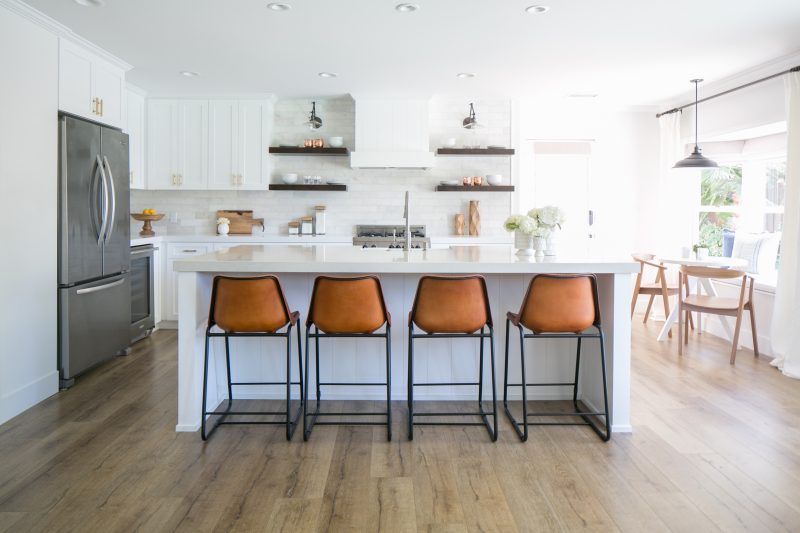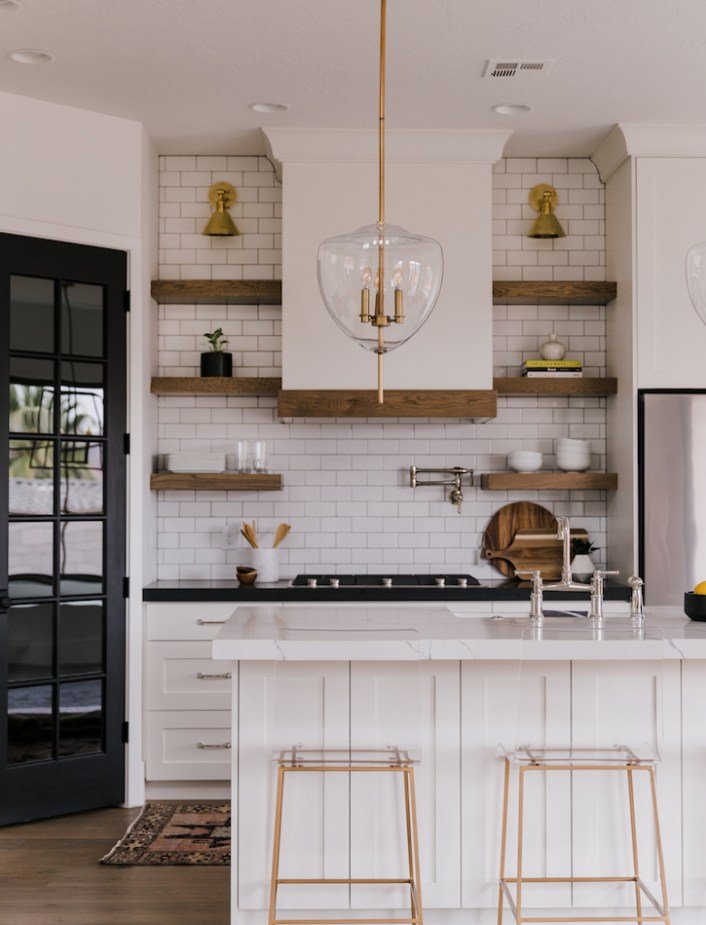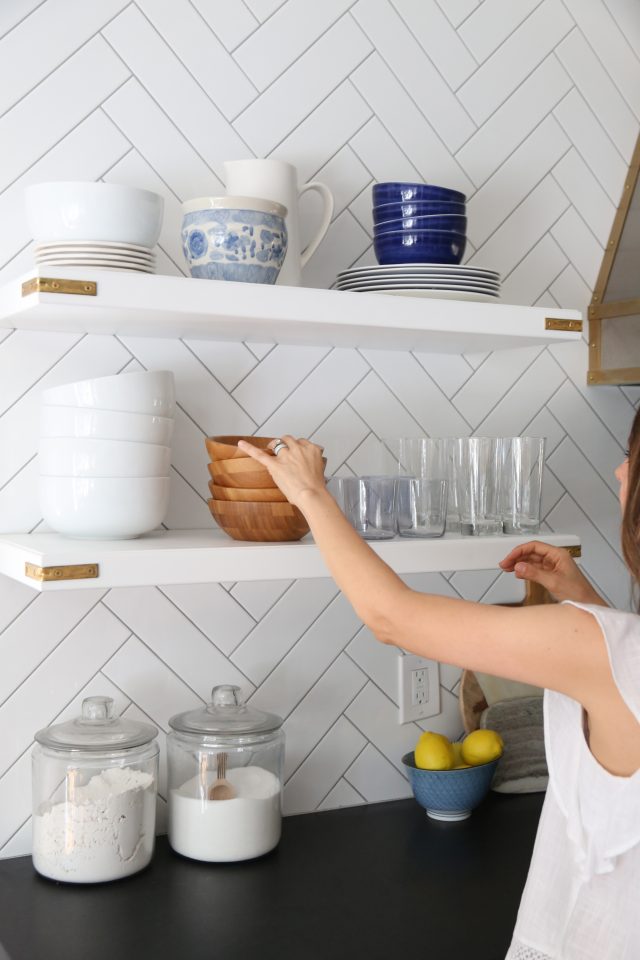 PROS & CONS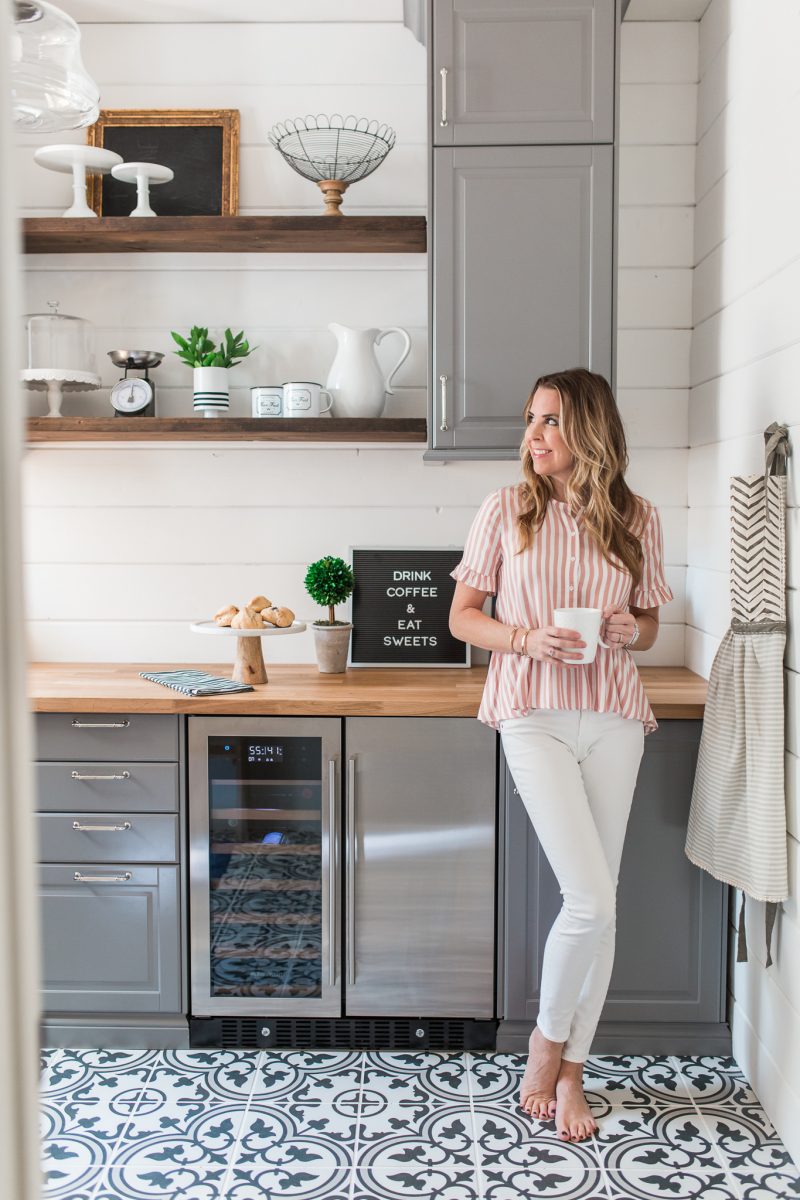 I like that this new plan allows us to tie in the look of our new pantry.  The good thing is that I've had time to process this new plan and I am even more excited about it than the previous one. I can't wait to get my hands on new shelves to style. Below is a breakdown of the pros and cons with plan B.
PROS
so much more affordable (1/3 of the cost)
still replacing countertops and backsplash
gaining more countertop space
won't take nearly as long
open shelves will add warmth and a nice wood element
CONS
no cabinets to the ceiling – but this plan doesn't rule it out down the line
potential loss of storage with a closed cabinet but we plan to customize the lowers for our needs
If you have a project that you have had to dial back, just want you to know you are not alone. And sometimes a take two on the process is just what you need. Excited to get the ball rolling over here. Some demo is taking place on Tuesday. I'll be sure to update you on my Instastories. Thanks for following along!