Good morning from organized chaos. I thought it would be fun to share a first look into the kitchen as well as what all of our rooms look like. Things are going great. Having said that, I think it's easy to see little snippets on stories or pretty before and afters and think renovations are like magic. There is so much planning and designing before it even begins. And once it does, it's not for the faint of heart.
WELCOME TO CHAOS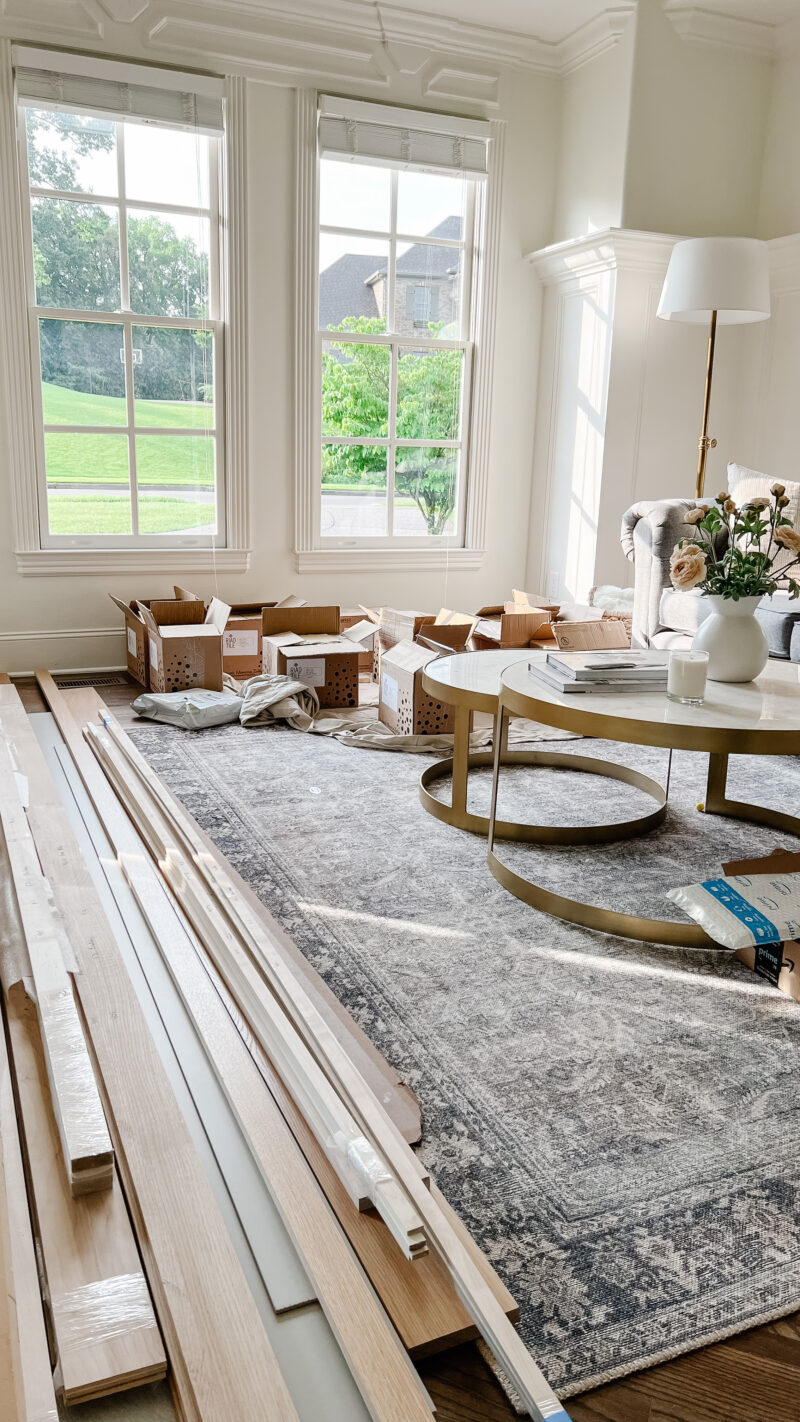 Almost every room on our first floor looks like this. Whether it's tile, drawers, trim work or tools, you need to be careful where you step. I actually appreciate this phase and embrace the mess. It's exciting, that's for sure.
*Rugs in our home found here.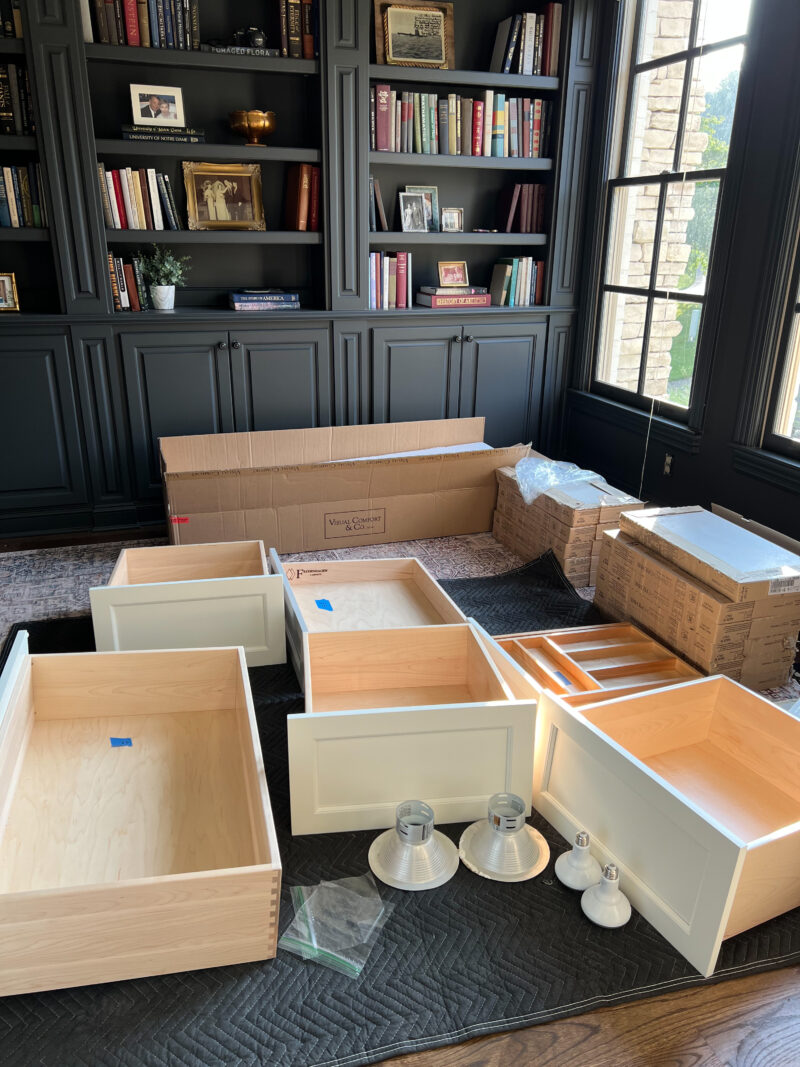 These drawers are so beautiful. We chose a warm white and it's exactly what I saw in my head.
SNEAK PEEK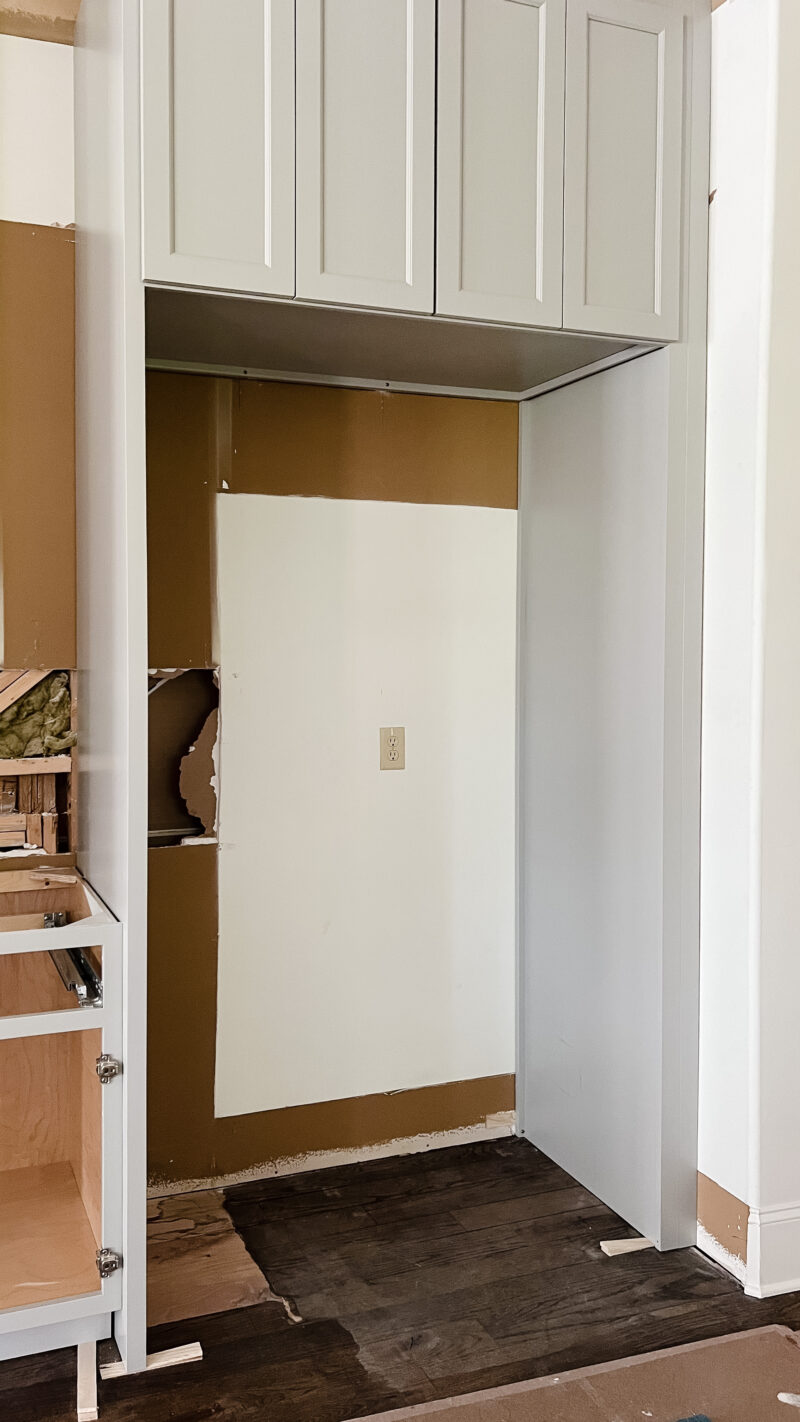 This might be one of the most exciting parts of our new kitchen. The built in fridge changes the whole look for us. Prior to this, the fridge stuck out from the wall a good 6-8 inches. The streamlined look will be really nice and we gained more floorspace for people to pass by. The accent color I chose is called Greige by Clare Paints. It's a beautiful mix of green, gray and beige. Overall it has a really warm feel.
MOVING INTO PLACE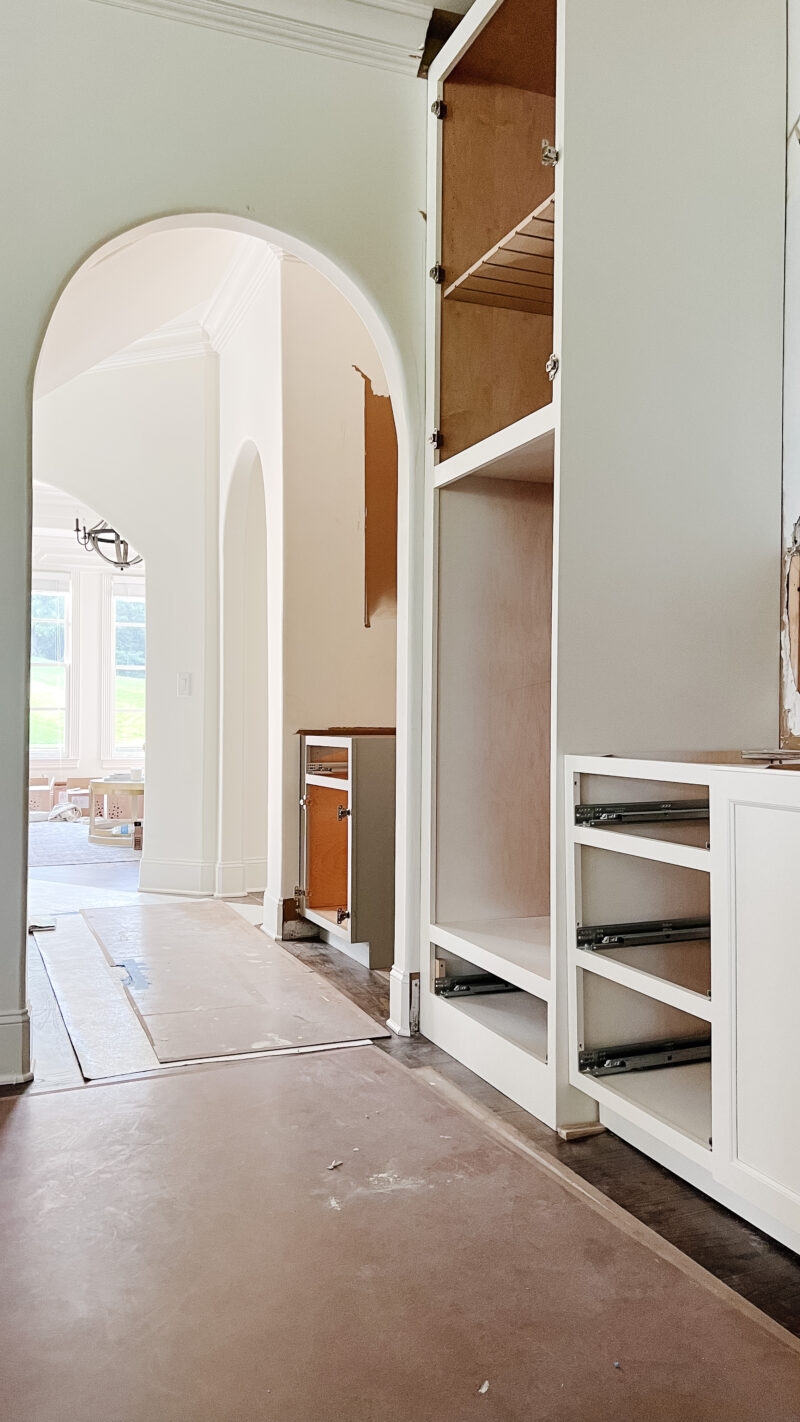 Here is a peek at some of the base cabinets as they are going in. The coffee bar will be a combination of white oak and Greige.
GIDDY OVER THIS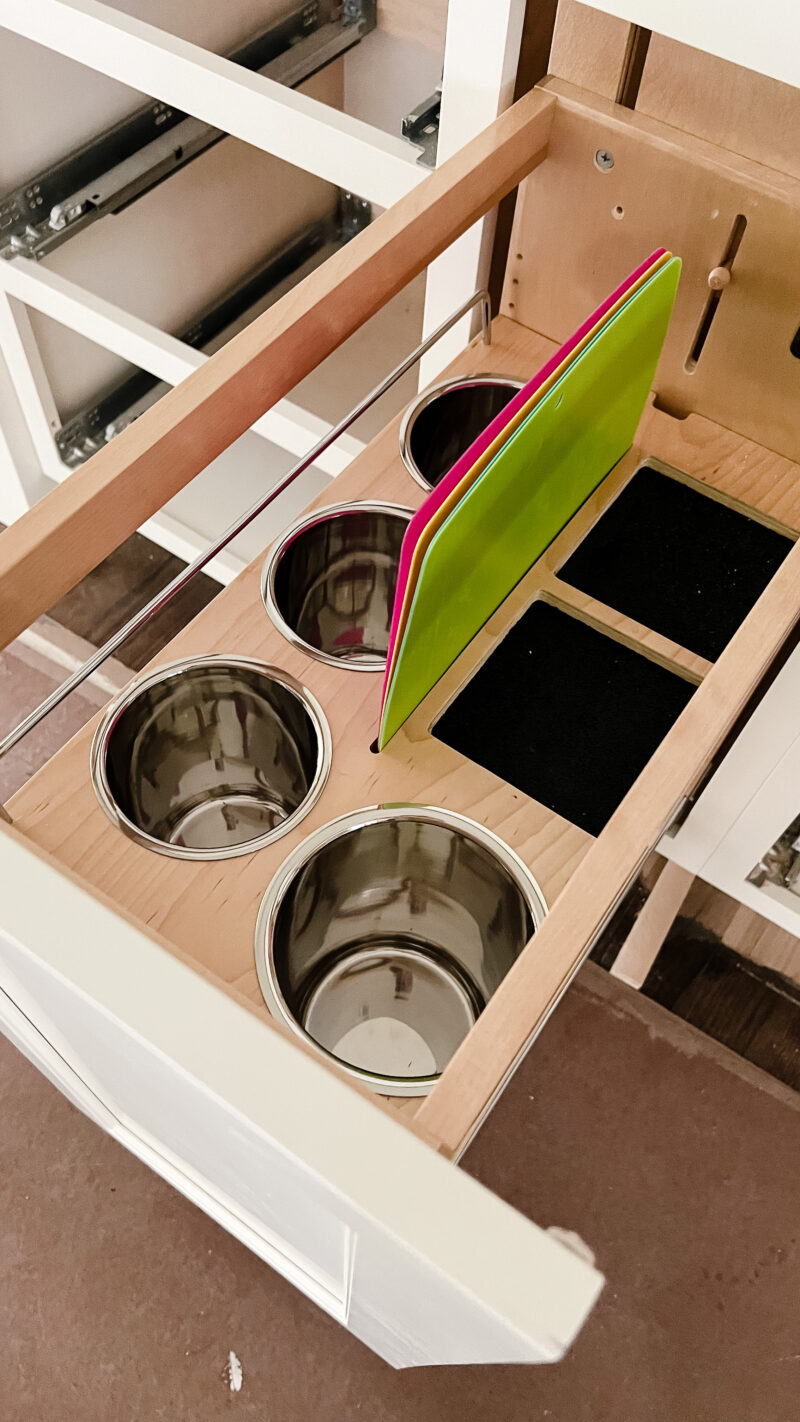 This is definitely a huge perk. I can't believe we have a drawer like this. The knife blocks and utensil caddies are so well thought out and perfect for right next to our cooktop. I guess this means I need to cook more. Can't let this go to waste.
WHITE OAK
Our current breakfast nook. You know I love a classic white kitchen and ours will primarily be that. But I couldn't wait to incorporate warm white oak. This house is quite traditional and I really want the kitchen to read warm and inviting. I am hoping when friends come over to have coffee at the island they want to linger as long as possible. The beautiful oak glass door cabinets will be going in the coffee bar.
THE COLOR SCHEME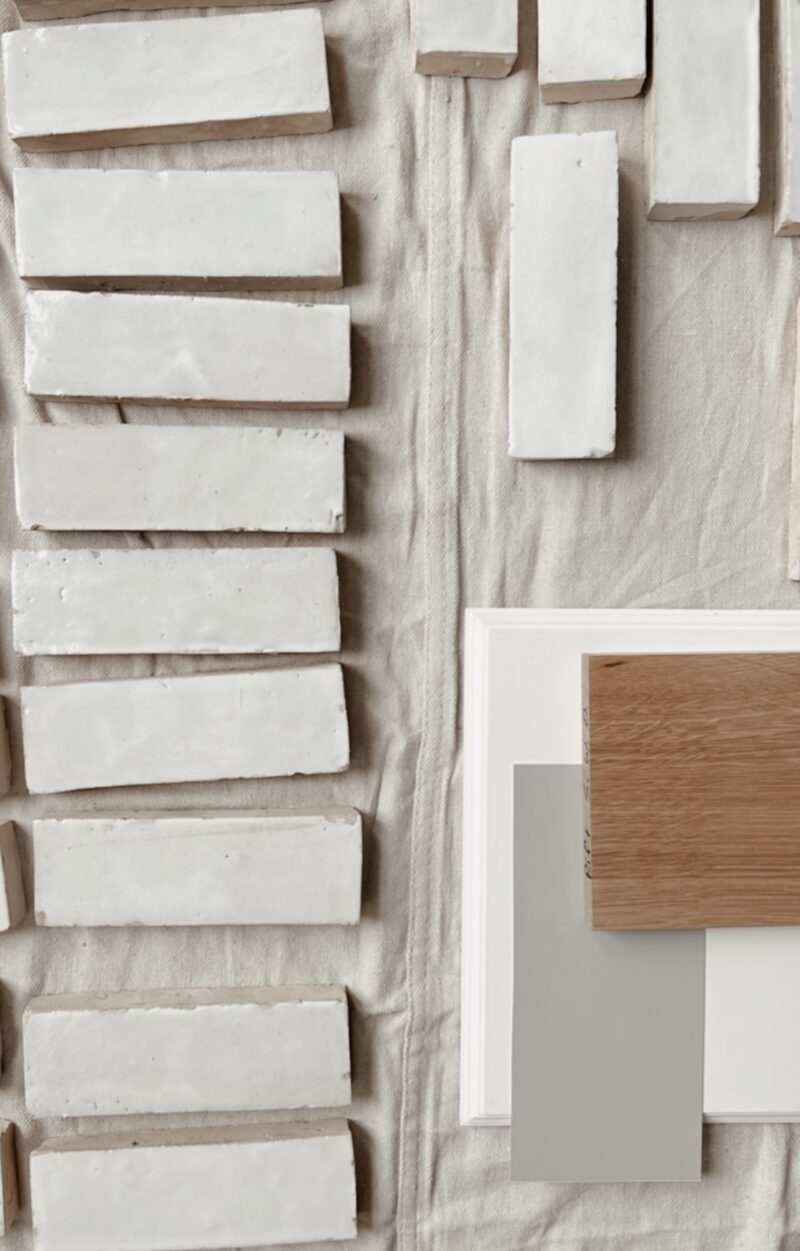 Here is a look at the color scheme. A combination of warm white, Greige, and white oak. We chose Zellige tile for our backsplash in Snow White. Each Moroccon tile is hand crafted so you see the imperfections and uniqueness of each one. I think it adds an aged quality to an otherwise new kitchen.
I am sharing all of this over on my stories (there is a saved highlight as well) and will be back soon to share the hardware I chose. Today more cabinets will be installed and electrical should be wrapped up. We feel so grateful that this project is under way. It's a HUGE sense of relief to see the vision actually taking shape.
*Before photos and the things we are using for a makeshift kitchen are in this post.